Screenshots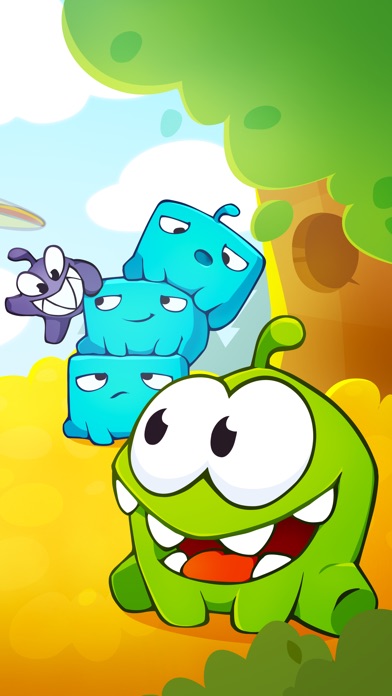 New in version 1.10.0
Wake up and smell the cake: Om Nom is turning seven! The world's favorite sweet tooth is having a birthday party, and everyone's invited!
Join the celebration:
— Play 15 juicy new party levels full of hijinks and puzzle pranks
— Dress up Om Nom: check out his Party Hat, Candy Cake and Sugar Sprinkles
— Hurry and get the limited-time Party Box, which includes the full birthday outfit and a sweet supply of other goodies!

Update now and let the fun begin!
HAPPY BIRTHDAY, Om Nom!
Description
Second part of the legendary Cut the Rope logic puzzles series. Get it now for free!

Cut the Rope 2 is a part of the iconic Cut the Rope franchise by ZeptoLab, which follows the adventures of Om Nom, a cute green creature that adores candies.

Meet Om Nom's friends - the Nommies - and hop on the amazing journey through more than 160 levels that will take you through lush forests, busy cities, junkyards and underground tunnels, all in pursuit of one goal – CANDY!

Familiar to play, yet challenging to master, Cut the Rope 2 brings fresh mind bending challenges and unanticipated obstacles to the casual phenomenon loved by preschool children and adults alike! Keep your brain fit and boost your problem solving skills by mastering the tricky levels based on real-life physics. Tired of mind game? Just sit back and enjoy the cheerful and relaxing game atmosphere of one of the most beautiful free educational apps for kids. If you like Cut the Rope, you'll love Cut the Rope 2!

ALL NEW LOCATIONS TO EXPLORE! Experience 168 entirely new levels of rope cutting, mind boggling action.

ALL NEW CHARACTERS TO MEET! Find 7 new characters, the Nommies, to help you solve puzzles.

ALL NEW HATS TO BRAG ABOUT! Customize Om Nom, choose your favorite candy and select your finger traces.

ALL NEW ADVENTURES FOR OM NOM! Experience completely new graphics, sound and gameplay elements, including the ability to move Om Nom.

MEET OM NOM'S NEW FRIENDS, THE NOMMIES!

• Roto can carry Om Nom to the best candy catching locations. Nom noms, yummy!
• Lick can make small bridges with his tongue to help Om Nom reach his goal
• Blue can lift Om Nom to new levels of candy hunting fun
• Toss can throw objects up in the air. Use her to boost Om Nom, candies and you problem solving skills!
• Boo can scare Om Nom to jump to new heights
• Snailbrow bravely rolls on walls, ceilings and pushes candies around, like a boss
• Ginger can burn away obstacles between Om Nom and the candy

Tired of mind work and cutting ropes? Relax and enjoy Om Nom's exciting adventures with the 'Om Nom Stories' cartoon series without leaving the app!

And don't forget to subscribe to our YouTube channel for more candy crunching videos with your favorite sweet tooth! http://bit.ly/1TO38ex

Already a fan?
LIKE US: http://facebook.com/cuttherope
FOLLOW US: http://twitter.com/cut_the_rope
VISIT US: http://cuttherope.net/cuttherope2

Something's wrong with game? We're masters at problem solving! Just drop us a note at support@zeptolab.com, we can help you!
What are you waiting for, help Om Nom get back his candy! Download Cut the Rope 2 now for free!

About ZeptoLab:
ZeptoLab is a global gaming and entertainment company best known for developing the award-winning, hit franchise Cut the Rope, which includes Cut the Rope, Cut the Rope: Experiments, Cut the Rope: Time Travel, Cut the Rope 2 and Cut the Rope: Magic. Cut the Rope games have been downloaded more than one billion times by users around the world since the first game's debut in October 2010. The company has also released King of Thieves, a massive multiplayer mobile title with more than 50 million downloads so far, as well as Pudding Monsters and My Om Nom games
iPad Screenshots
Reviews
To Simon
scottwalden
on
12/10/2017
I love you too
Can't get enough!!
Fun game I love it greAt job!!!
Too many ads
I can't go one minute without an ad popping up and I can't close it.
Wow
Such a fun game, stop taking my free time 😂
Allen
Om nom om nom yayayayay mlg mlg lol !
AD OVERDOSE!!
I would more than likely play this game just as much if not more than the first if it wasn't for all the ads. Seriously...Every new=level ad, restart level=ad, pause=ad, select settings=ad. You greedy SOB's just ruined a great game that I enjoyed with my kids!! Way to EFF it up. Deleted!
Best game ever
Flutterby440
on
12/2/2017
I love this game I'm 8 years old
How to Get Rid of Ads
How do you get rid of the ads, some of which are inappropriate for a kids game! Can't let kids play this game without getting rid of the ads.
Really fun
hi i loved the game a lot
on
11/22/2017
I love the game. One problem the ads I like playing it but it's the ads otherwise it's fine and really fun. Will be new levels and characters too?
The cake is a lie
WHY CANT HE GET CAKE
Oh yeah!
gogrampy333
on
11/18/2017
Fun!!
The great game: by Jenna Edwards
This game has been great and I love it and I hope you love it too! Bye for now!
Ads
Can't go 10 seconds without watching a ad
Awesome
Savagelizzy101
on
11/10/2017
Love it great time passer
Ssdjseyiwoghiduerujdueuehs :)
cmbowman2007
on
11/7/2017
As Jeudfnrurhriddjyd :)
Why Cut The Rope is awesome 👏🏻 😎🤩
CassidyMayaGstars
on
11/7/2017
Cut The Rope is such a good game! They really deserve 5 stars.I've been playing for half an hour and been entertained THE WHOLE TIME!! No other apps do that for me(besides YouTube!)! Usually I quit and go to YouTube until my phone dies ,BUT NOT WITH CUT THE ROPE!!!!! If you don't like Cut The Rope shame on you 'cause you're missing out!!🤩
Absolutely absurd
DaggerDog123
on
11/5/2017
It's truly sad to to see a great game tainted by a greedy company spamming ads. And ad after every 3 levels? Are you kidding me. The first game only had them every 8 levels. DONT GET.
Too many ads
At least provide an IAP option to remove ads
It's ok
BoxingChildren66
on
10/26/2017
❤️❤️❤️❤️lol
Cut the rope is super cool!
It is so much fun!
Fun but not with add
Thesupercoolrealguy
on
10/16/2017
Fun game but the amount of ads is on par with poorly made games. NTM their all set up in the opposite screen mode so if you do check them out your constantly rotating your screen. I like a good puzzle game but 5 sec to solve a starting level followed by a 30 sec ad is too much.
TOO MANY ADS
8BitHeadset
on
10/15/2017
Just too much
Ads
Just like the first one there are way to many long ads . It really ruins the fun of game !!
I love this game!
xAnomonousKidx
on
10/14/2017
I love the levels,their difficulty,and your cute little monster thing!
A really fun and cute game
This game is fun with more ways to win and epic cartoons this is so goooood
So many cut scene ads, you can barely play
Cute game, good graphics, and play structure BUT for goodness sakes!!! I'm at level 9 and I can take no more!!! Too bad, super cute.
AD AFTER AD AFTER AD
More ads than any game I've played. Super annoying. Delete!
WAY TOO MANY ADS
Why put an ad after every single level. The game is fun but the ads take away all of that. You have to sit and wait after every level just to play again unless you pay $3 which is ridiculous. How can it even be called a game when half the time you're watching an ad?
What Kinsley loves about cut the rope two
kinsley Aaliyah Moyers
on
10/9/2017
I Think that cut The rope 2 is awesome and it is the best game in the world it is better than Cut the Rope one
Still a fun game
Game is still fun but the ads are stupid ridiculous. I deleted the game because it's going to take me so long to catch up.
I tech
1 add after every round is a bit much
The ads.
The ridiculous amount of ads makes this game unplayable. Every minute there's an unskippable ad unless you fork over $3. Pretty stupid for a multimillion dollar company.
Good Game
😆😊😚😋😈😇😆😎😓☺️😈👿😌😐
on
10/8/2017
Its prtty cllll!!!!!! Jake Paul is fridgin' GOD!!!
Too many ads
Game is fun, but way too many ads. Deleting it
Ads
Way too many ads to even be enjoyable. The game itself is fun but the ads have taken from that. I understand ads keep the games free but this is ridiculous. Don't download
Love the game but.. pop up pop up pop up pop up pop up
Olivia413636149
on
10/6/2017
2 MANY POP UPS! Great game though.
Great game
Unexpected_Cats_35
on
10/5/2017
Best game ever!!!!!!!
Awesome game
This game is good for all ages really fun and also addicting
العبه حلوا
ارسل هذاك الي يا علم
on
10/2/2017
ارسل هذاك ال يعلم
Ads
Used to be fun but too many advertisements now.
ADs None F stop... don't download
Annoying ADs none stop
Too many ads
The ads ruin the fun please fix them
Cut the rope 2
Plasticman718
on
9/18/2017
This game is so fun!!😋😜😎🤓👅😂
👁❤️cut the rope
Ariana#chloe
on
9/15/2017
Cut the rope is the best game I've ever played
I love that you have a great game.
Just had to get a good app
الارواح
يجب على المستخدم ان يلعب متى يشاء و ليس عليه الانتظار لكي يلعب 😊
I like cut the rope 2
Follow me on IG : 900trilla_
on
9/8/2017
It my best game
FIV STERS
miracle shot gaming
on
9/4/2017
FIV sters from brick baus wait this isn't candy crush? Oh... was it angry birds? How about that jet pack gun game?
Fact Sheet
Publisher:

ZeptoLab UK Limited

Category:

Games

Released:

Jan 21, 2016

Current Version Released:

Nov 20, 2017

Version:

1.10.0

Size:

173.2 MB

Compatibility:

Requires iOS 8.0 or later.

Recommended Age:

4+

Game Center Certified:

No

Supported Devices:

iPad2Wifi-iPad2Wifi, iPad23G-iPad23G, iPhone4S-iPhone4S, iPadThirdGen-iPadThirdGen, iPadThirdGen4G-iPadThirdGen4G, iPhone5-iPhone5, iPodTouchFifthGen-iPodTouchFifthGen, iPadFourthGen-iPadFourthGen, iPadFourthGen4G-iPadFourthGen4G, iPadMini-iPadMini, iPadMini4G-iPadMini4G, iPhone5c-iPhone5c, iPhone5s-iPhone5s, iPadAir-iPadAir, iPadAirCellular-iPadAirCellular, iPadMiniRetina-iPadMiniRetina, iPadMiniRetinaCellular-iPadMiniRetinaCellular, iPhone6-iPhone6, iPhone6Plus-iPhone6Plus, iPadAir2-iPadAir2, iPadAir2Cellular-iPadAir2Cellular, iPadMini3-iPadMini3, iPadMini3Cellular-iPadMini3Cellular, iPodTouchSixthGen-iPodTouchSixthGen, iPhone6s-iPhone6s, iPhone6sPlus-iPhone6sPlus, iPadMini4-iPadMini4, iPadMini4Cellular-iPadMini4Cellular, iPadPro-iPadPro, iPadProCellular-iPadProCellular, iPadPro97-iPadPro97, iPadPro97Cellular-iPadPro97Cellular, iPhoneSE-iPhoneSE, iPhone7-iPhone7, iPhone7Plus-iPhone7Plus, iPad611-iPad611, iPad612-iPad612, iPad71-iPad71, iPad72-iPad72, iPad73-iPad73, iPad74-iPad74, iPhone8-iPhone8, iPhone8Plus-iPhone8Plus, iPhoneX-iPhoneX,

Supported Languages:

Arabic; Dutch; Flemish; English; French; German; Italian; Japanese; Korean; Portuguese; Russian; Spanish; Castilian; Turkish;