This version of the app is not recommended
App last updated
Dec 19, 2017
Screenshots
New in version 4.2
- Performance and stability improvements
Description
Speak & Translate is an indispensable voice and text translator that allows you to communicate effectively in any corner of the globe.

EXCELLENT TRANSLATION OPTIONS:
* Apple Speech Recognition Technology support - real-time voice recognition significantly enhances the speed of your translations
* 117 languages for text translations
* 54 languages for voice translations
* Language detection for text-to-text mode: if you don't know what the language of the source text is, select Detect language from the language list
* iCloud integration: the history of your translations is synchronized across all your Apple devices
* Voice settings: choose male or female voice and its speed

Note: The Free version may be subject to limitations (ex. number of daily translations) and the limitations are subject to change.

Parts of service translated by Microsoft®. Parts of service translated by Google Translate™.

Speech to speech translations are supported between:
Arabic, Basque, Catalan, Chinese (Cantonese, Mandarin, Taiwan), Czech, Danish, Dutch (The Netherlands), English (Australian, Canadian, Indian, UK, US), Finnish, French, French (Canada), Galician, German, Greek, Hebrew, Hindi, Hungarian, Indonesian, Italian, Japanese, Korean, Moldavian, Norwegian, Polish, Portuguese, Portuguese (Brazil), Romanian, Russian, Slovak, Spanish, Spanish (Mexican), Swedish, Thai, Turkish.

Speech to text translations are supported between:
Afrikaans, Bulgarian, Croatian, Filipino, Icelandic, Latin, Lithuanian, Malay, Persian, Serbian, Slovenian, Ukrainian, Vietnamese, Zulu.

Text to text translations are supported between 117 languages, to check out the list of languages please visit Developer Website Link (http://www.apalon.com/speak_and_translate.html).

Get Speak & Translate Premium and enjoy:
- Unlimited translations
- Offline mode for text translations
- Ads-free translation experience

* Choose from different subscription options. Our standard subscription options are:

1-month Subscription
3-month Subscription
1-year Subscription

* Subscription payments will be charged to your iTunes account at confirmation of your purchase and upon commencement of each renewal term. Subscription with a free trial period will automatically renew to a paid subscription. You can cancel your subscription or free trial in the iTunes settings at least 24-hours before the end of the free trial period. The cancellation will take effect the day after the last day of the current subscription period and you will be downgraded to the free service.
* Please note: any unused portion of a free trial period (if offered) will be forfeited when you purchase a premium subscription during the free trial period.

For complete access to all Speak & Translate features, you will need to allow access to the following:

*Location – so that automatic language selection can be enabled for your host country when traveling.
*Microphone & Speech Recognition – so that speech-to-speech translations will work.
*Notifications – so that you can keep informed about new app features and interesting language facts.

EULA: http://www.apalon.com/terms_of_use.html
Privacy Policy: http://apalon.com/privacy_policy.html
AdChoices: http://www.apalon.com/privacy_policy.html#4
iPad Screenshots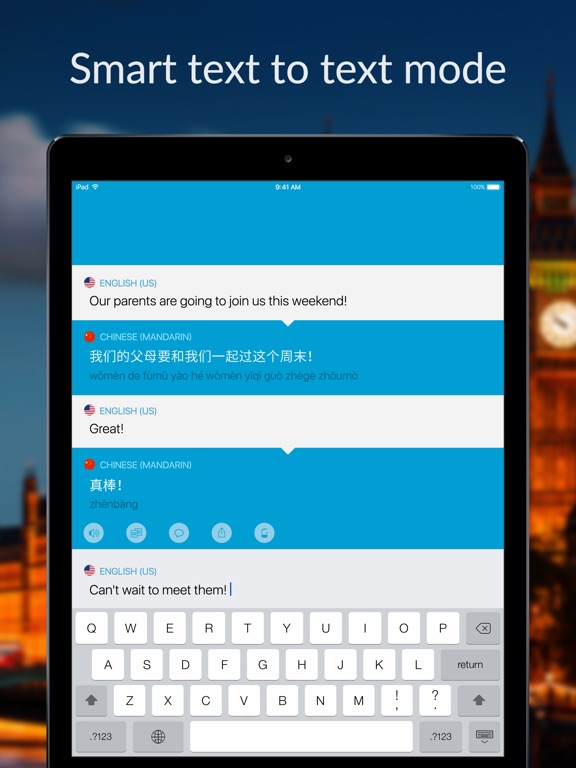 Reviews
New customer maybe
I think I could use this app but not one to pay a yearly fee.
La melaza es buenísima
Buenísima
سؤٌّألَٓ⁉️
Jasøne Bøurne
on
1/22/2018
اتمنى ان يكون مجاني اللغات
Can you please not rip me off?
I tried the free trial and within 10 minutes realized this wouldn't work for what I needed it to so I went to cancel it... and I cant. There's no working prompt anywhere so far that I've found that will let me cancel
شكرًا
السلام عليكم هذا البرنامج من أفضل البرامج في آب ستور من حيث المضمون باعتباره يمكّنك من التحدث بجميع اللغات. لذلك وجب الشكر لصاحب الفكرة و المعدّ والمطور.
Why would we Subscribe to an app that cost $20?
I understand this app is very useful. Our use it almost every day at work. I work in the hospital so he's going to translate Spanish and Arabic and creel. But for $20 a year it is not worth it. Now if it was 10 yes I would be paying in an instant for the premium. The pop ups are annoying and the worst part is it uses some of your translations and doesn't let you finish typing them because the commercial/add cut you off and makes you wait 30 seconds. I believe this app could go if our way. But the price range for it's a little absurd. I would like for y'all to rethink the price range. Maybe offer different packages but 20 bucks to just translate isn't a good deal.
Blows
Not worth the time it took to download
Best thing ever to spy on my mom and dad
pgnpingsheep
on
1/19/2018
Now i can spy on my mom and dad
No sirve
No me gusto solo se trata de dinero
I like
It's very good, but a little difficult to figure out
So funny
This app is a lot of fun.
The best thing
I very love this thing
Phản ánh
Dịch sai nhiều quá. Bạn có chắc đây là ứng dụng tốt không???
سوار الذهب
برنامج رائع جدا ومفيد جدا يجب تنصيبه في كل جهاز
So bad
So bad because so differently translations
Wrong language
I want Mandarin
Terrible
christinewestland
on
1/16/2018
Doesn't work. Tried to use at patient bedside. Embarrassing.
Daniel Flores
This app is all you need to go aboard. It is easy to use, fast and accurate. I have recommended it to friend when they plan to go on vacation to a non speaking country or when they are communicating with non English speaking persons here California and they all have given this app the thumb up.
Spanish
Mexicans don't understand this language
Easy
You are the winner!
on
1/13/2018
Great resource! Easy to use.
Awful
2434356444753687
on
1/13/2018
So GOOD! I enjoy this app
The app is very good
I loved
Not worth it
Add will pop up almost every 10 minutes completely erasing what you've done or entering what you have written and it gets really annoying when you only have so many free things to do and I keep pushing the same ads eventually using up all of your daily translations.
Hablar y traductor
100%recomendado
Awsome app!!!!
Bleach blond
on
1/10/2018
Love using this app to translate.It is so simple.
A waste
marcusbsa1987
on
1/8/2018
It seems to work when it wants to, a total waste of money!!!!!!!!
Love this app.,
I will use it on our next trip back to Africa. Scott P, SA 2012
Filipino language not on list. Why not?
Why not
DO NOT GET THIS APP
Vicky is da bomb
on
1/6/2018
I guess this app is okay by itself, but many things are wrong. The first thing that really bothered me is that I couldn't even hold a proper conversation. I was barely getting into one and then it said, "limit of translation for today". That was terrible! I had barely said anything at all! Another thing that was bad is that their translating accuracy, was not good. I speak Spanish so I know this. I typed, "merry Christmas mommy" and it answered, "Feliz Mami de navidad". If you speak Spanish, you would know that that is very wrong. Another thing that was terrible is there was WAY to many adds. I think this app is really bad and you should not get it. But hey, do what you want.
Free version is a nuisance
The free version is a nuisance! There should be a risk free trial that should let us explore all the features in a painless manner.
Isn't this just Google translate?
I'm not sure what else it has that Google translate doesn't have. Although I didn't have as much trouble as the previous commenter, I felt like the developer response was unnecessarily sassy.
One of the best out there
bobdmarketingguy
on
1/3/2018
Quickly translates and pronunciation is excellent, what more can you ask for.
the worst app ever
I am not going to pay $19.99 for this app because it doesn't translate accurately, and it has a limit of using for a day wth! you guys dont have any "needs" or new or special features and ask for $19.99, google translate plays a better job than you guys, so no thank you! Im going to delete the app now. bye! P/S: I am using google translate app to write this review for you
Bait and switch
Download this free app used 6 Times to translate and then they want me to update. The update is $19 what a rip off.
Speak translation
Excellent app! Very useful
cc: translator Google
NASSER Alsolaim
on
1/2/2018
very good
Ridiculous
So I just downloaded this app and switched it to hear English translated to Hindi because I understand it to see if this legit works and it translated it wrong Also this is literally GOOGLE TRANSLATE on the go why would anyone pay 20 dollars for the premium version 😂😂 This is handy but I think it's dumb how these developers want you to pay 19.99 just to get rid of pop ups when you can use google translate for free on any internet app on your phone
Excelente
Me pareció bastante buena esta aplicacion
Good app only if you pay
Free version is a joke. But don't worry you can just buy a subscription.
Inaccurate, too many ads!
Marc el Dik
on
12/31/2017
I needed a way to translate from English to Arabic. Yet, no words have come out verbally right. This app is very inaccurate. There are also far too many ads. There are so much pop ups that they interrupt translations. I also don't like the fact that their are "Daily limitations" to translate. If you want anything good out of this app, I suggest getting the paid version.
Annoying
Too many ads and interruptions!!!
What a waste of my TIME!!!
Listed Under translation apps for free has cost me $100s because of incorrect translation and then it is hitting me up for money as NOT A FREE APP! I'm Done!!!
Awful
more like a
on
12/30/2017
Can never register what ppl say even after people repeat it many time
Fact Sheet
Publisher:

IAC Search & Media Europe Ltd.

Category:

Productivity

Released:

Feb 13, 2014

Current Version Released:

Dec 19, 2017

Version:

4.2

Size:

116.2 MB

Compatibility:

Requires iOS 9.0 or later.

Recommended Age:

4+

Game Center Certified:

No

Supported Languages:

Danish; English; French; German; Indonesian; Italian; Japanese; Korean; Bokmål, Norwegian; Norwegian Bokmål; Polish; Portuguese; Russian; Chinese; Spanish; Castilian; Swedish; Thai; Chinese; Turkish; Vietnamese;