Screenshots
New in version 3.9
- Performance & stability improvements for flawless work on iOS 11
Description
Speak & Translate is an indispensable voice and text translator that allows you to communicate effectively in any corner of the globe.

EXCELLENT TRANSLATION OPTIONS:
* Apple Speech Recognition Technology support - real-time voice recognition significantly enhances the speed of your translations
* 117 languages for text translations
* 54 languages for voice translations
* Language detection for text-to-text mode: if you don't know what the language of the source text is, select Detect language from the language list
* iCloud integration: the history of your translations is synchronized across all your Apple devices
* Voice settings: choose male or female voice and its speed

Parts of service translated by Microsoft™. Parts of service translated by Google Translate™.

Speech to speech translations are supported between:
Arabic, Basque, Catalan, Chinese (Cantonese, Mandarin, Taiwan), Czech, Danish, Dutch (The Netherlands), English (Australian, Canadian, Indian, UK, US), Finnish, French, French (Canada), Galician, German, Greek, Hebrew, Hindi, Hungarian, Indonesian, Italian, Japanese, Korean, Moldavian, Norwegian, Polish, Portuguese, Portuguese (Brazil), Romanian, Russian, Slovak, Spanish, Spanish (Mexican), Swedish, Thai, Turkish.

Speech to text translations are supported between:
Afrikaans, Bulgarian, Croatian, Filipino, Icelandic, Latin, Lithuanian, Malay, Persian, Serbian, Slovenian, Ukrainian, Vietnamese, Zulu.

Text to text translations are supported between 117 languages, to check out the list of languages please visit Developer Website Link (http://www.apalon.com/speak_and_translate.html).

Get Speak & Translate Premium and enjoy:
- Unlimited translations
- Ads-free translation experience

* Choose from different subscription options. Our standard subscription options are:

1-month Subscription
3-month Subscription
1-year Subscription

* Subscription with a free trial period will automatically renew to a paid subscription. You can cancel your subscription in the iTunes settings at least 24-hours before the end of the free trial period. Subscription payments will be charged to your iTunes account at confirmation of your purchase and upon commencement of each renewal term.
* Please note: any unused portion of a free trial period (if offered) will be forfeited when you purchase a premium subscription during the free trial period.
* You can cancel a free trial or subscription anytime by cancelling your subscription through your iTunes account settings. This must be done 24 hours before the end of a free trial or subscription period to avoid being charged. The cancellation will take effect the day after the last day of the current subscription period, and you will be downgraded to the free service.

For complete access to all Speak & Translate features, you will need to allow access to the following:

*Location – so that automatic language selection can be enabled for your host country when traveling.
*Microphone & Speech Recognition – so that speech-to-speech translations will work.
*Notifications – so that you can keep informed about new app features and interesting language facts.

EULA: http://www.apalon.com/terms_of_use.html
Privacy Policy: http://apalon.com/privacy_policy.html
AdChoices: http://www.apalon.com/privacy_policy.html#4
iPad Screenshots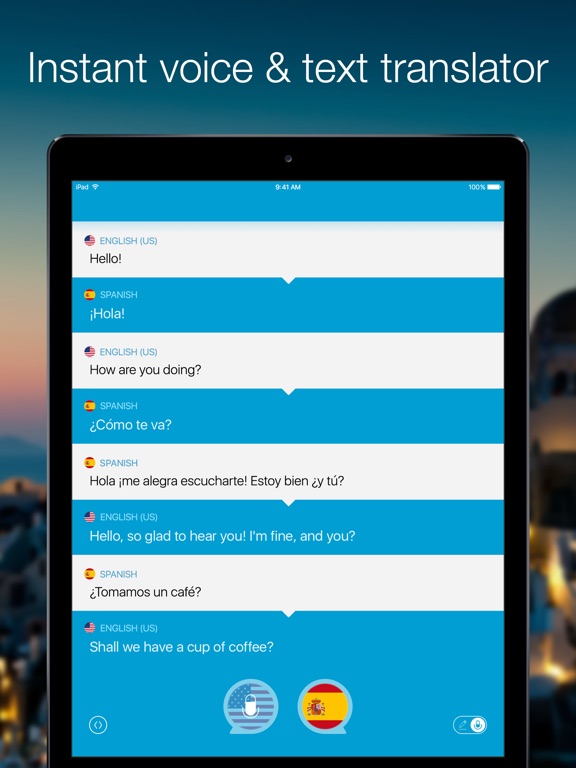 Reviews
Review
Nanna fatty
on
11/18/2017
I love that the app translates in different languages 👍🏼
Francisco
Yegua colorada
on
11/18/2017
Muy buena esta aplicación
Cool
wolfgirl128
on
11/18/2017
Useful, but... There were so many add pop ups and I there is a daily limit unless you buy the upgrade for $20🤔
What a joke
Basic Spanish translation: Does someone speak English in the home becomes Does spitz hav a penis at home.
It's fun.
dabalicious ranch
on
11/17/2017
I like using it not only to translate stuff. But it is fun to know new languages.
LITTTTTTTTLITTTTTT
Littttttttttt
Great 👍
Girlflawless
on
11/17/2017
Best
Don't
The fee is monthly. That was hidden to me when I loaded the app. Second, it will fill your phone with pop up messages of the phrase of the day. Third, it keeps prompting you to buy other apps that do stuff you can get free (like weather ... who pays for THAT?). Basically it works OK but no better than free ones, and the free ones carry none of the irritations. Unsubscribed.
Buena aplicación
Analisamelo
on
11/17/2017
Buena herramienta y muy práctica, es eficiente el reconocimiento de la voz, de todas las aplicaciones que he probado creo que está es la mejor opción
ترجمه
عمل جميل ومنسق لقد احببت ذلك
best in world
i love this app thank you
So far it's awesome!
MotorheadRW69
on
11/16/2017
Needed it for an interview. Work fast! Speaks and writes it.
Needs updating
tamidonelle
on
11/15/2017
The translations aren't correct. There isn't a place to report them for each translation
Grandiosa aplicación,gracias.
Dr.Javier B. Rais
on
11/15/2017
Magnifica apps
Useless
pmt-studios
on
11/15/2017
Quite bad to recognize non-english. Useless!!!
Nothing was correct!
Cinthehouse
on
11/12/2017
Thank you for so many paid reviews of this translator! Luckily I found a nice man who helped me find a bathroom!
Hello
I thought I would be able to type
Full of ads and pop ups
Remove and uninstall Full of unwanted ads
App
Khaos Thrasher
on
11/11/2017
Love this app already it would help me speak with my friends that speak in other languages
Efficient
Jesse Pinkman III
on
11/10/2017
I quickly found this app both easy to use and very convenient as I prepare to travel to Mexico! Thank you!
Нормално
iliamaster80
on
11/10/2017
Токо добавтье грузински
Awesome
GuardRecruiter
on
11/9/2017
Helps me communicate with my Hispanic customers
This app is so amazing it's like my school wherever I️ go 😁
This app is so amazing it's like my school wherever I go 😁!
G
Elizabeth le
on
11/8/2017
I like it
Learning a language
applewoodfarms
on
11/6/2017
Great way to learn a new language helps with pronounce it pronunciations and spelling
Muy malo
Esta app es muy malo debido a que te traduce por muy poco tiempo en la parte gratis
Brilliant app
This is one amazing app. Wish I had this when I worked for my last company and they used to talk in their language in front of me and I always wondered what they were saying. Well done!!!
Horrible!
rootallica615
on
11/5/2017
Pop ups in the middle of typing. Cannot go back and forth with ease. I had an emergency and was not allowed to use due to daily limit of translations. Delete!!
Translation is not accurate. Google translate is much better and is a free app
Translation is not accurate. Google translate is much better and is a free app
Review
Love using the translation it's very helpful
English to Mandarin
12345omgtaken
on
11/5/2017
Awesome! Absolutely.
Future Product on your app
billyelectrician
on
11/4/2017
Stand alone ear bud that listens to conversation and translate all the time Possible blue tooth (low) to phone in pocket Possible vox control to disregard user voice when he speaks Possible whisper mode for user to speak thru phone speaker Just started using app today. Will get full version after test
伟大的发明
太喜欢了,我不知道怎么形容,就想说发明这软件的人太伟大了
Great but......
This app is great but..... Lots of ads pop up and when you try to get back you end up hitting another ad and its really frustrating to have to keep going back and forth.... Other than that this app is really good I wouldn't recommend it though as a convenient app... 😡😡😔😔❓❓🙁🙁😠😠
Poor app
Worthless a waste of time
Nice app
I recommend this app is very cool and nice
Very helpful
Very helpful
Very useful
I am going to Italy soon and this will come in handy while talking to waiters and a lot of tour events and guides .I will be using this everyday in Italy.i think you should continue making apps . I think you should entente a game that also teaches you how to speak the language instead of using an app to translate for yourself.i like the way you're going with this app.😀👍🏻🇭🇺
Ads kept popping up
Sparknostalgia
on
11/2/2017
First the app asked if I wanted to upgrade to remove ads and some other features. I said yes to see the price, and it's 20 bucks. That's fine I said maybe if it works well then it's fine. Go back to the app before I can press the button to speak and have it translate an ad popped up then opened safari with spam. Went back to the app and it shot me Back to safari before I could X out of the ad. Refreshed the app and it did the same thing. I couldn't even try it without getting bombarded by ads
Víctor
Excelente y rápido
Subscription
Hdgjjiddykngfdhio
on
11/1/2017
It won't let me end my subscription.
Lol used slovak.
And it was so off. "You don't know how to be have in English" when I said "do you understand Slovak?"
Fact Sheet
Publisher:

IAC Search & Media Europe Ltd.

Category:

Productivity

Released:

Feb 14, 2014

Current Version Released:

Oct 09, 2017

Version:

3.9

Size:

84.5 MB

Compatibility:

Requires iOS 8.0 or later.

Recommended Age:

4+

Game Center Certified:

No

Supported Devices:

iPad2Wifi-iPad2Wifi, iPad23G-iPad23G, iPhone4S-iPhone4S, iPadThirdGen-iPadThirdGen, iPadThirdGen4G-iPadThirdGen4G, iPhone5-iPhone5, iPodTouchFifthGen-iPodTouchFifthGen, iPadFourthGen-iPadFourthGen, iPadFourthGen4G-iPadFourthGen4G, iPadMini-iPadMini, iPadMini4G-iPadMini4G, iPhone5c-iPhone5c, iPhone5s-iPhone5s, iPadAir-iPadAir, iPadAirCellular-iPadAirCellular, iPadMiniRetina-iPadMiniRetina, iPadMiniRetinaCellular-iPadMiniRetinaCellular, iPhone6-iPhone6, iPhone6Plus-iPhone6Plus, iPadAir2-iPadAir2, iPadAir2Cellular-iPadAir2Cellular, iPadMini3-iPadMini3, iPadMini3Cellular-iPadMini3Cellular, iPodTouchSixthGen-iPodTouchSixthGen, iPhone6s-iPhone6s, iPhone6sPlus-iPhone6sPlus, iPadMini4-iPadMini4, iPadMini4Cellular-iPadMini4Cellular, iPadPro-iPadPro, iPadProCellular-iPadProCellular, iPadPro97-iPadPro97, iPadPro97Cellular-iPadPro97Cellular, iPhoneSE-iPhoneSE, iPhone7-iPhone7, iPhone7Plus-iPhone7Plus, iPad611-iPad611, iPad612-iPad612, iPad71-iPad71, iPad72-iPad72, iPad73-iPad73, iPad74-iPad74, iPhone8-iPhone8, iPhone8Plus-iPhone8Plus, iPhoneX-iPhoneX,

Supported Languages:

Danish; English; French; German; Indonesian; Italian; Japanese; Korean; Bokmål, Norwegian; Norwegian Bokmål; Polish; Portuguese; Russian; Chinese; Spanish; Castilian; Swedish; Thai; Chinese; Turkish; Vietnamese;