Screenshots
New in version 3.7
- Performance and stability improvements

From version 3.6:
- Transliteration for languages with non-Latin alphabets - accept the challenge of instantly speaking and reading in a foreign language!
- We've optimized the UI to make every second you spend in the app even more productive
- The app is now also available in Danish, Indonesian, Norwegian, Polish, Swedish, Thai, Vietnamese
Description
Speak & Translate is an indispensable voice and text translator that allows to communicate effectively in any corner of the globe. Instantly speak 54 languages and hold written conversations in more than 100 languages!

EXCELLENT TRANSLATION OPTIONS:
* Apple Speech Recognition Technology support - real-time voice recognition significantly enhances the speed of your translations
* 117 languages for text-to-text translations
* 54 languages for voice-to-voice translations
* Language detection for text-to-text mode: if you don't know what the language of the source text is, select Detect language from the language list
* iCloud integration: the history of your translations is synchronized across all your Apple devices

Parts of service translated by Microsoft™. Parts of service translated by Google Translate™.

Speech to speech translations are supported between:
Arabic, Basque, Catalan, Chinese (Cantonese, Mandarin, Taiwan), Czech, Danish, Dutch (The Netherlands), English (Australian, Canadian, Indian, UK, US), Finnish, French, French (Canada), Galician, German, Greek, Hebrew, Hindi, Hungarian, Indonesian, Italian, Japanese, Korean, Moldavian, Norwegian, Polish, Portuguese, Portuguese (Brazil), Romanian, Russian, Slovak, Spanish, Spanish (Mexican), Swedish, Thai, Turkish.

Speech to text translations are supported between:
Afrikaans, Bulgarian, Croatian, Filipino, Icelandic, Latin, Lithuanian, Malay, Persian, Serbian, Slovenian, Ukrainian, Vietnamese, Zulu.

Text to text translations are supported between:
Afrikaans, Albanian, Amharic, Arabic, Armenian, Azerbaijani, Bashkir, Basque, Belarusian, Bengali, Bosnian, Bulgarian, Catalan, Cebuano, Chichewa, Chinese (Cantonese, Mandarin, Taiwan), Corsican, Croatian, Czech, Danish, Dutch (The Netherlands), English (Australian, Canadian, Indian, UK, US), Esperanto, Estonian, Filipino, Finnish, French, French (Canada), Frisian, Galician, Georgian, German, Greek, Gujarati, Haitian Creole, Hausa, Hebrew, Hindi, Hmong, Hungarian, Icelandic, Igbo, Indonesian, Irish, Italian, Japanese, Javanese, Kannada, Kazakh, Khmer, Korean, Kurdish (Kurmanji), Kyrgyz, Lao, Latin, Latvian, Lithuanian, Luxembourgish, Macedonian, Malagasy, Malay, Malayalam, Maltese, Maori, Marathi, Moldavian, Mongolian, Myanmar (Burmese), Nepali, Norwegian, Pashto, Persian, Polish, Portuguese, Portuguese (Brazil), Punjabi, Querétaro Otomi, Romanian, Russian, Samoan, Scottish Gaelic, Serbian, Sesotho, Shona, Sindhi, Sinhala, Slovak, Slovenian, Somali, Spanish, Spanish (Mexican), Sundanese, Swahili, Swedish, Tajik, Tamil, Tatar, Telugu, Thai, Turkish, Udmurt, Ukrainian, Urdu, Uzbek, Vietnamese, Welsh, Xhosa, Yiddish, Yoruba, Yucatec Maya, Zulu.

Get Speak & Translate Premium and enjoy:
- Unlimited translations
- Ads-free translation experience

* Choose from different subscription options. Our standard subscription options are:

1-month Subscription
3-month Subscription
1-year Subscription

* Subscription with a free trial period will automatically renew to a paid subscription. You can cancel your subscription in the iTunes settings at least 24-hours before the end of the free trial period. Subscription payments will be charged to your iTunes account at confirmation of your purchase and upon commencement of each renewal term.
* Please note: any unused portion of a free trial period (if offered) will be forfeited when you purchase a premium subscription during the free trial period.
* You can cancel a free trial or subscription anytime by cancelling your subscription through your iTunes account settings. This must be done 24 hours before the end of a free trial or subscription period to avoid being charged. The cancellation will take effect the day after the last day of the current subscription period, and you will be downgraded to the free service.

EULA: http://www.apalon.com/terms_of_use.html
Privacy Policy: http://apalon.com/privacy_policy.html
AdChoices: http://www.apalon.com/privacy_policy.html#4
iPad Screenshots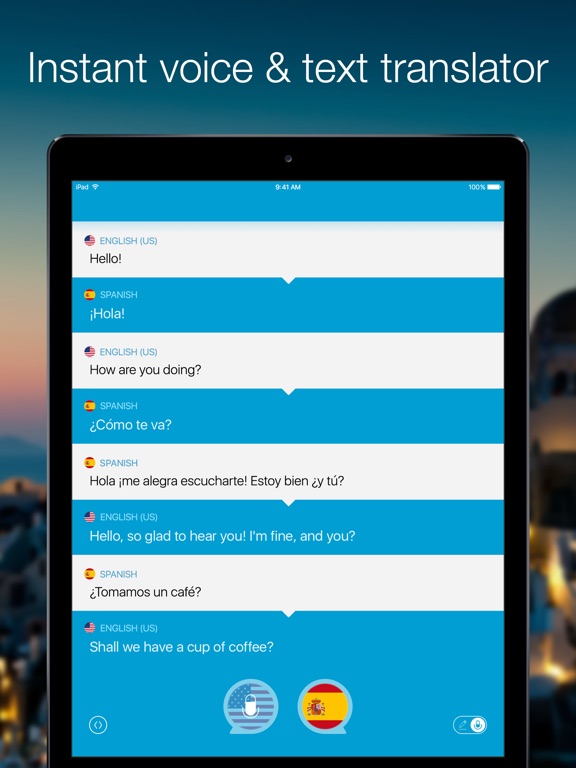 Reviews
No good
I don't normally complain about apps & such, but when I need this app for homework & there's a bunch of obnoxious adds popping up every second I want to throw my phone across the room. I don't just have this app because I want to learn only free time. I'm using this app to get my homework done but I can't get anything done if the adds never go away. Don't recommend this app.
So good
This app is so helpful
Amazing
Yussasif yusuf
on
9/23/2017
Fast and great app for translating easy to use
Quite helpful, thanks
Katrinaceleste
on
9/23/2017
This app is very helpful, I am in a game group with French people and it makes it so much easier.
جيد
تطبيق ممتاز جدآ
on
9/23/2017
برنامج مفيد جدآ
Coś wspaniałego.
Jestem zachwycony- brawo.
To many pop up ads
I have used this app for about 6 months. My wife is Chinese and knows some English but sometimes words, phrases or topics need some explaining or more details. The apps always had ad pop-ups but recently the pop-ups come every time I begin to write something. Not only distracting but requires me to re-type what I was writing because the pop-up came have a sentence in.
Don't waste you time!
As a first responder I downloaded this app to assist me. I downloaded the free version which contained numerous ads. By the time I practiced using it a few times I was notified I had reached my daily limit and would have to download the full version which is 19.99... No thanks... going to delete.
Don't like the app
I didn't like how you had to pay to be able to do the app for a long period of time. Then when I was dong my Italian homework I only got to do 5 questions using the app.
😡
Horrible !!! No lo recomiendo !!!
El peor app en traducción.
This app is the worst for translation.
Big Bang
Try this transition and you learn a lots in a good conversation.
El panda
El loco de la 105
on
9/20/2017
Muy buena aplicación gracias
It's not correct
I am Korean American. I speak three languages perfectly. The translation is not correct when you go into little more sentences, like "how do I get to this place," etc. Small and simple words like " how are you," and "how much is this," will get you by, but other then that it's not correct at all. Needs more improvements on correct translation for all the languages they are offering here on the app.
Thank goodness I never paid fir the upgrade
Crazy busy life
on
9/20/2017
Very hard to use
Translate
Thai translator is a very good way to know ur other languages
The Best !!!!
Sole Breaker
on
9/18/2017
The Translator App is Amazing, I Wasted Time & Money On Rosetta Stone lol , With This App Is Pick What Country U Want Translated & Talk Into Ur Phone & Done !! ConGrats Now U Can Speak Pretty Much Every Language in The World !!! This App is Too Legit Too Quit !!! One Down Fall is, Lot of Adds, But You Can Pay around $19 & No Adds !! Either Way Your Choice, $19.99 Sounds Expensive But I Take Into Consideration the Hundreds Of Dollars I Payed Rosetta Stone Just To Learn 1 Language This is a No Brainer !! Please TrustMe This App Is SoCool & A Must Have !!
Total bait and switch
You don't even get a chance to really try the app before it tries to force you to pay. Not even worth a demo.
The best app ever
Nowordscanexplainhowhappyiam
on
9/18/2017
I love it
البصره
ابوناصر الدوسري
on
9/17/2017
متابعه
Incorrect translation
Viper Victim
on
9/17/2017
I am not sure why people are rating this app soo high. Not one sentence I verbally commanded came out correctly. I am Spanish speaking and wanted to test out this app for accuracy. I tried several sentences and not one was translated correctly and in fact most of the sentences made no sense at all. I even tried several more times to speak out my words slow, clear and high. Still the sentence was translated incorrectly. Good idea, but terrible app. Try making an app that actually can hear and translate your commands correctly.
Too many ads kill it
After about 10 pop ups after you download app, you then get contact ads. Awful user experience that puts me off wanting to learn & use this app. Two thumbs down.
Franklin
Franklin Dirinot
on
9/16/2017
Muy bueno
Add a camera feature
Utilize the camera to take a pic of the menus or map and then translate
Awful
This app is horrible. Too many adds pop up when your trying to translate something then erases what you have typed. Poorly designed.
Help help very good awesome
Janl4everluv
on
9/15/2017
This app is awesome
Not accurate
Can't translate tourmaline into chinese
Not perfect
I use this to communicate with a Mexican friend and sitting together we tried some translations. He was laughing at what came back. Im still trying but hopefully it will get better. i like that they have Mexican Spanish
Best app
This is the best Translation app ever!!!
??
SBO Councilman
on
9/14/2017
It's not working
Cool
Darkstalker19
on
9/14/2017
Good app if you want to entertain yourself
Buena app
Su aplicación es muy buena, lo malo es que tiene un límite de traducciones y a veces uno necesita traducir muchas cosas y no quiero gastar mi dinero en un traductor habiendo tantos gratis su ideames muy buena pero para que ustedes me cobren prefiero Descargar Google traductor que es gratis y le puedo hablar también . lo siento.
Good
Futuregfghhhcggf
on
9/13/2017
Good
Nice app with some drawbacks
So far I like this app. However, I paid for the upgraded version, which is supposed to have NO ads, etc. Well, I immediately started getting ads interrupting me. Bait and switch! I'll be putting this app to the test next month when I go to Barcelona. I'll try reviewing again after that.
Bad
broke ppl problems
on
9/12/2017
The apps will force you to upgrade it for more translations
العراق
والله برنامج جدن جميل
Great app
Wilbur Morales
on
9/11/2017
Great!
No thrilled
Pinterestorian
on
9/11/2017
Too many limitations, too many add, Not worth paying for
Supervisor
Pretty good app too many comerciales
Fact Sheet
Publisher:

IAC Search & Media Europe Ltd.

Category:

Productivity

Released:

Feb 14, 2014

Current Version Released:

Aug 18, 2017

Version:

3.7

Size:

79.3 MB

Compatibility:

Requires iOS 8.0 or later.

Recommended Age:

4+

Game Center Certified:

No

Supported Devices:

iPad2Wifi-iPad2Wifi, iPad23G-iPad23G, iPhone4S-iPhone4S, iPadThirdGen-iPadThirdGen, iPadThirdGen4G-iPadThirdGen4G, iPhone5-iPhone5, iPodTouchFifthGen-iPodTouchFifthGen, iPadFourthGen-iPadFourthGen, iPadFourthGen4G-iPadFourthGen4G, iPadMini-iPadMini, iPadMini4G-iPadMini4G, iPhone5c-iPhone5c, iPhone5s-iPhone5s, iPadAir-iPadAir, iPadAirCellular-iPadAirCellular, iPadMiniRetina-iPadMiniRetina, iPadMiniRetinaCellular-iPadMiniRetinaCellular, iPhone6-iPhone6, iPhone6Plus-iPhone6Plus, iPadAir2-iPadAir2, iPadAir2Cellular-iPadAir2Cellular, iPadMini3-iPadMini3, iPadMini3Cellular-iPadMini3Cellular, iPodTouchSixthGen-iPodTouchSixthGen, iPhone6s-iPhone6s, iPhone6sPlus-iPhone6sPlus, iPadMini4-iPadMini4, iPadMini4Cellular-iPadMini4Cellular, iPadPro-iPadPro, iPadProCellular-iPadProCellular, iPadPro97-iPadPro97, iPadPro97Cellular-iPadPro97Cellular, iPhoneSE-iPhoneSE, iPhone7-iPhone7, iPhone7Plus-iPhone7Plus, iPad611-iPad611, iPad612-iPad612, iPad71-iPad71, iPad72-iPad72, iPad73-iPad73, iPad74-iPad74,

Supported Languages:

Danish; English; French; German; Indonesian; Italian; Japanese; Korean; Bokmål, Norwegian; Norwegian Bokmål; Polish; Portuguese; Russian; Chinese; Spanish; Castilian; Swedish; Thai; Chinese; Turkish; Vietnamese;