Games
Arcade
Action
Entertainment
This version of the app is not recommended
App last updated
Jul 06, 2016
Screenshots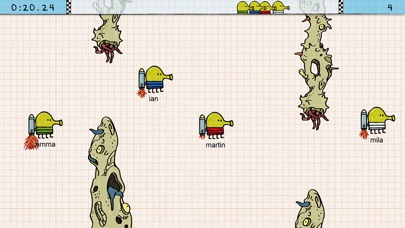 Description
In celebration of Doodle Jump's fifth anniversary we've created this simple mini-game.

*************************************
We hear your comments loud and clear! So:

1. We are working around the clock to improve the speed of connection!
2. We are working on a feature where you can play against your friends!
3. We are adding an option to remove ads.
4. We are reducing the number of ads.
5. We are adding more cool content - levels, outfits, powerups!

Thanks for playing!!!!! And thanks for your patience!
*************************************

@@@@@@@@@@@@@@@@@@@@@@@@@@@@
PLAYER REVIEWS:
- Potentially a 6-star game ******
- It is like flappy bird, but multiplayer. My dream came true
- I pretty much can't put this game down, it's so much fun! I like watching as my global ranking goes up and up.
- Potentially a new classic and makes good use of the Flappy Bird mechanics
@@@@@@@@@@@@@@@@@@@@@@@@@@@@

A tad tired of jumping, our tireless hero Doodle the Doodler grabs his favorite jetpack and joins a semi-illegal jetpack drag race through the treacherous canyons of Doodlandia with one single objective - WIN!

Dominate the global and friends leaderboards by winning as many races as you possibly can in this addictive real-time four-person multiplayer game.

Simple and addictive gameplay: touch the screen to go up, avoid obstacles, and WIN!!
iPad Screenshots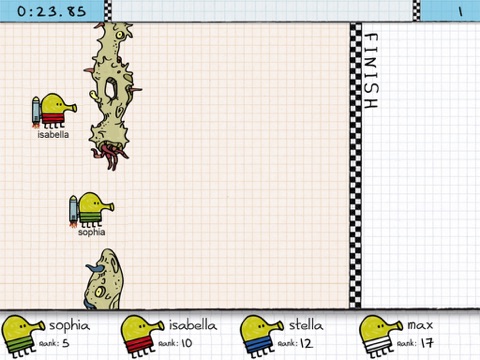 Reviews
TERRIBLE! GET THE ACTUAL GAME!
Cat_Knibble_Knibble_Knibble
on
1/10/2018
Ok. For starters, it takes forever to actually get a person to play with, second, it's FILLED WITH BUGS AND GLITCHES. I AM A MASTER AT DOODLE JUMP AND I GOT IN KAST PLACE.
Filled With Bugs
It's a shame because the gameplay is a lot of fun, but this app is terrible. Has no functionality...it gives you a number where you rank, but no ability to see a leaderboard anywhere. Latest issue, for days now, is that the ad that plays after a race freezes the app every time, meaning the only way out is to force quit. I understand that can happen, but to let several days go by without even apparently noticing is pretty pathetic.
Not very good
Takes a long time to connect and very glitchy
Okay
So I look at the reviews and I say "all right,it looks okay."but I hit play and it sends me to my home screen!
Glitch?!
Lol the games are fun
on
5/9/2017
I can not even open the game just kicks me off really sad about that
I can't play it, but LOVE the loading screen [uninstall]
Again. The connections are crap and I think the loading screen looks great man. It's all I can see.
Are they real players
Find a good app peyt
on
3/19/2017
Just asking
It looks good
It look good but I can't play it but it looks ok
Online
Evan omira Danny
on
1/25/2017
It is not really online. The usernames are really the computer.
Awesome beans
It is awesome I wish it was in real life so I could play it myself and it is vrican so cool
Great game but
Bina19999999994
on
1/2/2017
There's just way too many ads everytime i get into a new round it shows a ad and I always have to exit out every round it gives me less interest.
Addictive but to much ads
This game is so much fun. Right now I am in the 8000 hoping to get higher. It is so addicting and you can't put it down. But after every game there is a add that u have to watch the whole thing.
Not Doodle Jump
This is a very different game than Doodle Jump. Could be fun but not what I'm looking for.
Why do I got is? I'm in 4nd
Do not got it please this game is not what you want it looks fun but it's not fun you we'll see DO NOT GOT IT is this all I got? Do you want to got it well no you don't this is not for you ok who want this I don't do you this is me I'm 7 ok so what I am 7 your 7? Ok who is 7?
BEST FLAPPY BIRD
It's me LUIGIBROOOO
on
3/12/2016
Manananananan ! Nn
What happened??
This app is really fun and cool, but for some reason it seems like I can't even play the game anymore!! I can't even get onto the loading screen!!!!!!
Addictive... But...
Program it so it plays the computer when it takes longer than 15 seconds to load. Excruciating.
It really isn't that good as most people think
Now I love all games honestly but this one I didn't like because it had WAY to many adds , and it made you wait almost ten minutes to start one game and I have really GOOD internet service so honestly I didn't like this game
LOVIN IT!! But...
I am loving this game!! It's addicting. What I don't like, is playing with random people. I mean, don't get me wrong, I love playing with other people. It's just that I wish you could invite people. Invite your friends to play. I have a friend who has the same game but we've never been able to play on the same round, just because game center picks players for you. If you could consider adding an "invite" button, this game would be my perfect, #1 game. Please make new updates, and I hope to see the game better. Thanks!! PS: this is the only game I've been playing today, just because this game is awesome
AWESOME!!!!!! 🙃🤗🙃🤗🙃
I love this app it's awesome 💩😎🤗🤓😇😋🤗🙃
Fun Mini Game
I like this game cuz u get to race against real people from Game Center or your personnel friends. U can also build a score for how well u do. The adds are a little annoying, especially the 14 second ones cuz they take WAY too long but I still love the game and totally give it 5 stars, but could u still get rid of some of the adds. I recommend it for everyone, patience it required though.
Nice
Djkdjsjjdjdj
on
12/28/2015
Probably very good
Great execution but a few annoyances
Aaron Harpole
on
11/30/2015
The gameplay is smooth and fast. I loved the original Doodle Jump and this is a great variant. Lately not many players playing the game, though! That, compounded with the ads after every game (I would pay to get rid of them) makes it a tough game to keep playing. Would love to see a time trial mode as well as a way to pay to remove ads (which I hear is coming).
Takes too long
Cookie Blast-off!🍪
on
11/12/2015
I love the purpose of the game,but what's it worth playing if it takes 10-20 minutes to load,connect,and find players? I mean,if it's gonna half an hour to load make the game longer. It's only 30 seconds itself,plus most of the time your not even the winner! If your patient,and you can wait 30 minutes get the game. Otherwise,don't.
Wait
The wait time to even play a game is like 10 minutes, and the game itself lasts only 35 seconds. There NEEDS to be a single player mode/practice mode..
Fun
This game is fun get it k
Access plz? NOPE.
For some reason, it won't let me on the app. You better fix this. It took like a half hour to download and I don't like to get ripped off by not playing the game. It's a really big bug, you better squash it. Thanks.
Doodle jump race
Don't ever buy this app
on
8/11/2015
I have had this for a long time and I love it!no bugs or lag but I do have some suggestions for future updates. A single player would be nice. And also a way to connect with someone near you with Bluetooth. Also inviting Game Center friends to play so just the people invited can play in that game.
LOVE IT!
Doge loves it so I do
on
8/5/2015
Who wouldn't give this game a five star rate. Or five smiley faces 😄😄😄😄😄! What's that doge? Such fun! No? Oh such many doodle jump games!
WORST GAME EVER I WOULD CHOOSE A GAME WHERE YOU JuST TAP OVER THIS GAME!!!!!!!!!!
MaritzaCaban
on
7/29/2015
I hate this game when I got passed the finished line well before this other person and I got last place instead!!!!!!!!!!!!!!!!!!!!!!!!!!!!!! BUY MINECRAFT ITS MUCH Better
fun
this game is fun because u can go against friends
Love it
Loved doodle jump, loved this. No complaints😄
Very fun and addicting
Gamer reviewer27
on
6/3/2015
I have no problems with this. It's simply amazing!😃
Great game!
The Fan of BIKE RACE TFG
on
5/23/2015
I just love this it's really fun and somtimes I play vs my brother!DOODLE JUMP RACE! :)
This add/score reset
I'm so mad I wrote a review awhile ago and I'm very mad my score has been reset two time and I finally got back to my old score I can't deal with it unless you fix this and I'm actually really good I beat people with ranks of 35 ! So it's not like I'm bad at this game I will give this five stars if you fix this this game ! Now one will play this game if they took so long to get a great score and then poof it's gone! Please fix this and serously you will get many more 5 star reviews please fix thank you so much
Too many ads
Ads are a huge problem
on
4/16/2015
I have just started playing this and already I have a problem way too many ads. I like to look at my score and see how I am ranked but after I hit the x I start another game The game is fun but please fix the ads
A Lima sky shame
patheticpariah
on
3/3/2015
This game is disappointing. Too many glitches. Game play too short. Over-simplified. ADs only add to frustration. The original doodle jump and it's multiplayer option is one of my favorites but doodle jump race is no doubt one of my least. If Lima sky wanted to make a four player game then why did they not just update their already existing multiplayer option? Racing friends on that and winning is much more satisfying in my opinion.
HARD
Destinedtosing6012
on
2/18/2015
My only complaint about this game was that it's really hard. I came in first about 2 times, but it's impossible to finish without hitting an obstacle at least 100 times. Good, but hard.😒
Aghhh
Poodlevacumewierdgirl
on
2/18/2015
I don't like how you have to sign in to the Game Center because none in my house remembers my password I will probably delete the game this is upsetting I didn't even get to play the game
Update
I don't like the characters little rock forward. Go back to the old one where the character doesn't make the annoying movement. And also, reset all the hackers scores so players like me who want to break the top line can get it.
HACKERS!!!!!!!
HACKERS!!!!!!!
on
2/16/2015
Good game but the problem is on my last race when i got 3rd it said i got 4th, and that sometimes the other players hack forward and cheat to beat me to the finish the only time ive seen somebody hack backward is my 2nd to last race where I got 1st or 2nd
Tripp oggfffffg
Youtube6677889900
on
1/31/2015
Gfrdghjcfx😡😡😡😡😡😡😡😡😡😡😡😡😡😡😡😡😈😈👿😈👿😈👿👿👿👿👿👿💂👿👿👿👿👿👿👿👿👿👿👿👿👿👿👿👿👿👿👿👿👿👿👿👿👿👿👿👿👿👿👿👿👿👿👿👿👿👿👿👿👿👿👿👿
Great!
Snickers is cool
on
1/20/2015
I think it is a great game but it has a very slow connection
YAY!!
Tarsay Reamerday
on
1/18/2015
I ❤️❤️❤️❤️❤️ this app!!! It's so fun and awesome! You definitely need this if your a Doodle Jump fan, Doodle Jump races against other people??? Yes please!!
Uhhh
Ok like fr yall need to see wats going on in the game because it's gliching the other players so they will get ahead of me and win and I loose.....so I deleted it and I will never ever get this game again if u don't stop with this mess!!!!!!😠😠😠😠😠😡😡😡😡😡😤😤😤😤😤 and I would rate nothing if I could !!😡😡😡😠😠😠😤😤😤
I Love This App!
This app is so fun! I love playing with other players but it can glitch sometimes. I would very much recommend this app!
Doesn't start
I tried playing this game numerous times, but it'd never start. It would inform me all players had joined, but then it would just glitch and say "Waiting for other opponents."
Good, but...
I am really enjoying this game , but I want a single, local, and a Game Center player version! Until then I'll rate it 5 stars!
Fact Sheet
Publisher:

Lima Sky

Category:

Games

Released:

Mar 19, 2014

Current Version Released:

Jul 06, 2016

Version:

1.2.2

Size:

18.2 MB

Compatibility:

Requires iOS 6.0 or later.

Recommended Age:

4+

Game Center Certified:

No

Supported Languages:

English;