Screenshots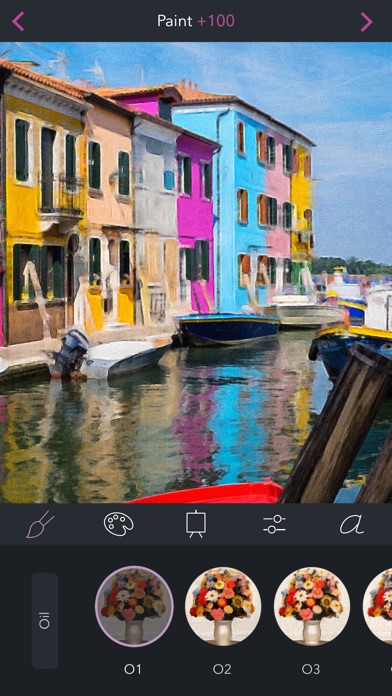 New in version 3.4
• Optimized for the iPhone X
• iOS 11 Drag and Drop support on iPad
• Bug fixes and other improvements

We'd love to hear what you think! If you have any questions or comments, email us at support@codeorgana.com.
Description
Turn your photos into paintings with Brushstroke.

Brushstroke transforms your album photos and snaps into beautiful paintings in one touch. Edit, sign, and share your work on Instagram, Twitter, and Facebook. Want your artwork printed? We've teamed up with CanvasPop to provide the best quality canvas prints available. Pick a frame and size, and you'll have your masterpiece delivered and hanging on your wall in no time.

For something extra special, try transforming your videos into incredible moving paintings at up to 4K resolution with Video Paintings.

Features:

• Automatically transform your photos into one of many painting styles
• Load photos from your Camera Roll and other Albums
• Take snaps and watch them transform instantly
• Experiment with different color palettes
• Adjust your painting to get just the right look
• Select from a variety of canvases and surfaces
• Sign your painting to personalize it
• Share your art on Instagram, Twitter, and Facebook
• Have your art printed and shipped right to your doorstep
• Transform your videos into art with Video Paintings (requires iPhone 5S, iPad Air, iPod touch 6 or later)

For more information, visit us at www.codeorgana.com, or follow us on Twitter and Instagram @codeorgana. Find out more about CanvasPop prints and their 100% "Love it" lifetime guarantee at www.canvaspop.com.
iPad Screenshots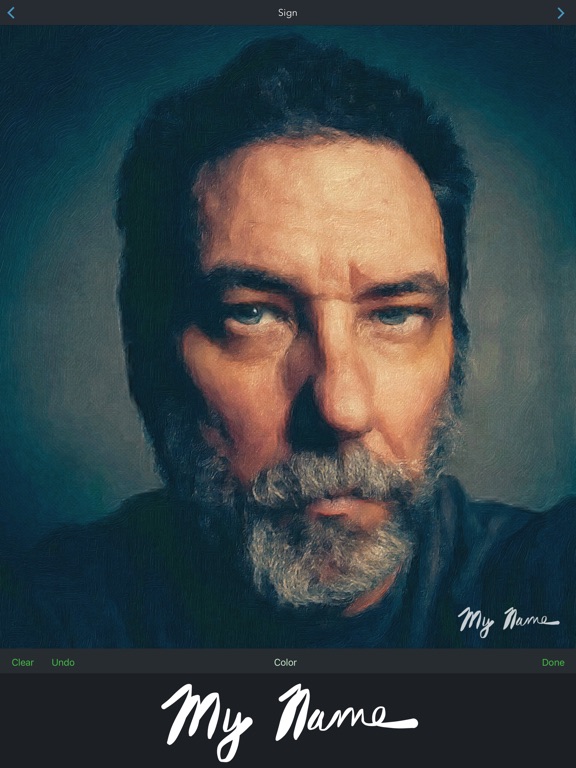 Reviews
I love this app!!
Paint for fun
on
12/12/2017
I love this app! Exactly what I was looking for
Awesome
Bonnielasss
on
12/12/2017
This app is so much fun
Really cool app.
Silverwinged Rat
on
12/5/2017
Having so much fun turning photos into works of art!
Just beginning
Ripsey's Mom
on
11/28/2017
First time and likin it
Good Effects
I gave this app three stars because it's rather confusing. Once I select another photo and crop it, where do I go from there. I was very successful with my first photo results and saved it. I opened another photo and it already had a filter i think I had had used on my first one. I couldn't figure out how to get rid of it to start anew. I tried everything and at first could not get anywhere because I could not close my photo album. I managed but don't know how. Better tutorial is necessary. This app has potential.
Easy-breezy
How To Hypnotize
on
11/19/2017
Within 5 minutes a most remarkable picture suitable for painting.
Oh, what fun!
Seriously fun rabbit hole!
Refund
Skillz____103___Fatal_
on
11/17/2017
Bout the wrong app
Brushstroke
Exactly what I have been looking for in an editor. It is simple and effective so hope you keep it this way.
Outstanding
Great app! Proudly purchased the in app purchase
Helpful tool
I have recently started painting. I am decent at painting a realistic painting from a picture but have always love abstract art better. I couldn't figure out how to learn to do it. This app helps me turn my photos into abstract art so I can use them to learn, and gives me interesting photos to post on social media. Cool all the way around and easy to navigate.
EASY AS PIE
Even an old man can do it.
Great app!
I have been looking for an app like this that was able to provide professional and realistic looking filters... worth the money
Good but.
I love using this app but I recently got a new phone and now it won't restore my in app purchase even tho the App Store recognizes my purchase. How do I fix this for 5*?
Excellent app
I've noticed a few things that can be better. When saving and for printing it needs more resolution/pixels. Also when going into photo app to choose a photo allow for more choices such as favorites (folder). I love it but print quality is not up to par.
Waiting
legacyandlunacy
on
10/6/2017
You know all that time you spend in the waiting room? There's an app for that.
Easy, Feature-Rich App Changes Any Photo into a Painting
The Ignoble One
on
10/5/2017
Brushstroke is an amazing find. With a few easy clicks, any photo can become a realistic looking painting. You can even see the brushstrokes! (Hence the app name.) Want more detail to come through from your photo? Less? Tons of presets make it simple to adjust the effects to your liking. This app isn't made for photo editing. It does one thing and it does it phenomenally. You can even sign your "painting" like a true artist. There's no better app that combines ease of use with such impressive, realistic results.
Back and better than ever!
Thanks, Code Organa, for updating this fantastic app! Such a plethora of beautiful artistic options, it's hard to choose... And so simple to create your masterpieces, too. Highly recommend Brushstroke!
Creative fun
I enjoy seeing how the different filters affect my photos. I even save and reload the manipulated photos to see what other effects I can create.
A fun app
A lot of great combinations!
Excellent!
Useful brushes aplenty!
Definitely worth having - Best Sketch N Art Filters
That I've seen on any app in the store that are easy to access and adjust. Totally unique filters I've never seen anywhere else also. Great signature feature too.
Awesome app!
I love the artistic effects and all the controls... lots of fun and great outcomes!
Art
Great App! Lots of options to get the desired image/art.
Unbelievable!
This app. is the best I've found to change a boring photo into a beautiful oil painting that's simply amazing, plus it's a steal at $3.99.
Voila!! A painting to frame!
This is an easy app for doing something different with pictures. There are lots of variations and it's fun too! Love it!!!
A complex, dynamic paint brush
Clementine Penny
on
7/16/2017
You can bring your images to a new life employing a multitude of realistic techniques, from oil to watercolor to abstract to illustration and a wealth of subtle variations in between. I have my go-to favorites; I'm sure you'll find yours... !
Nice outcome
Studio Photographer
on
7/13/2017
The variety of effects has impressed me. I also bought the additional Illustration package - well worth it.
Great App
This is my newest fav app...so many great features!
Nice app
Enjoying it ver much
Really impressed
This is such a cool concept. I can take any picture and turn it into a painting with full control over every detail. So much potential! Then I have the option to sign it, share it via social media, or actually have it printed, framed, and sent to my house. Outstanding! This app has become a major tool for my decorating as well as gift giving. I love it! I'm working on my 7th picture now! Update..... still great! Loving it!
This update it amazing! You won't be disappointed!
Original app user
on
7/6/2017
I've had this app for a while now and it's still one of my favorites.
Awesome Effects
LindsOmething
on
6/30/2017
Really love this app! It adds an element to my photos I can't replicate anywhere else. User friendly and easy to navigate.
Easy to use (and abuse)
This app reminds me of a lite version of Abode Illustrator's feature to turn photos into paintings...but waaaay easier to learn/use. I make a lot of greeting cards and this is my go to App for making them. My friends and family now request them! 28-Jun-2017 UPDATE: more filters = more fun.
Brushstroke
Great app. Gives the artist a guide for finished product. It will be good if the app can show the sequence of painting.
Best app!
This app tricks my friend that I painted it!😏She thinks that the app is awesome. So she downloaded it. I recommend!!
Awesome transformation app!
Not only can I save a photo but they will ship your photo too! Win-win!
Pintura
jazl-laptopersonal7132016
on
6/6/2017
Very good app. Make the same moment of the picture to transport to another timeline!!!
Great Photo App
This App has lots of features to change your photograph to a beautiful work of art! It is a must have for a photographers library!
Best so far
Pete the bard
on
5/25/2017
I have tried most of the photo to painting apps and I like this the best so far
Fabulous
I love it..works great
Wonderful
The choices of which effect is best is very difficult! Subtle and expressive!
I Love This App!!!! 🎨📱👩‍🎨
I'm giving this app a 5 star rating because this app is really awesome because you can turn your own photos into a work of art and best of all, the paintings look antique and the cool thing about it is that you don't have to worry about making a mess with the real thing and forget those naysayers who like to give this awesome app goose-eggs cause all those naysayers want is a reaction.... this app is way better than any other app because you get to make your photos look really antique and turn them into elaborate paintings without having to worry about making a mess with a real paintbrush. Don't listen to those naysayers who like to give goose-eggs to this awesome app because this app is really fun to use and I would strongly recommend this app to anyone who likes to turn their own photos into elaborate works of art.
So Much Fun!
Crazylegsray
on
4/26/2017
This is my favorite way to dress up good photos, but it is even better at saving my good ideas that didn't turn out as well as they could have! It is a lot of fun!
Great app
I love this app. Has plenty to choose from.
Incredible art is just a button away
I am an amateur photographer and just use my Samsung phone. This app turns my humble photos into professionally tasteful paintings. Very intuitive- didn't even read the instructions!
I'm an "artist'!
Great sleeping pill
on
4/15/2017
I love this app! Though I have little to no artistic talent other than being able to take pictures with my phone, I'm able to create canvases that express my vision of what I want the picture to convey.
Love, love, love!!!
I absolutely love this app. It is easy to use and makes artwork out of your favorite photos that look fantastic blown up & printed on canvas.
Awesome app.
Best painting app yet. Like. That I can turn around and make my creations into real hang-able art.
Love this
Frustrated 12345!
on
4/4/2017
Great filters!
Fact Sheet
Publisher:

Code Organa LLC

Category:

Photo & Video

Released:

Mar 04, 2014

Current Version Released:

Nov 09, 2017

Version:

3.4

Size:

62.1 MB

Compatibility:

Requires iOS 8.1 or later.

Recommended Age:

4+

Game Center Certified:

No

Supported Devices:

iPad2Wifi-iPad2Wifi, iPad23G-iPad23G, iPhone4S-iPhone4S, iPadThirdGen-iPadThirdGen, iPadThirdGen4G-iPadThirdGen4G, iPhone5-iPhone5, iPodTouchFifthGen-iPodTouchFifthGen, iPadFourthGen-iPadFourthGen, iPadFourthGen4G-iPadFourthGen4G, iPadMini-iPadMini, iPadMini4G-iPadMini4G, iPhone5c-iPhone5c, iPhone5s-iPhone5s, iPadAir-iPadAir, iPadAirCellular-iPadAirCellular, iPadMiniRetina-iPadMiniRetina, iPadMiniRetinaCellular-iPadMiniRetinaCellular, iPhone6-iPhone6, iPhone6Plus-iPhone6Plus, iPadAir2-iPadAir2, iPadAir2Cellular-iPadAir2Cellular, iPadMini3-iPadMini3, iPadMini3Cellular-iPadMini3Cellular, iPodTouchSixthGen-iPodTouchSixthGen, iPhone6s-iPhone6s, iPhone6sPlus-iPhone6sPlus, iPadMini4-iPadMini4, iPadMini4Cellular-iPadMini4Cellular, iPadPro-iPadPro, iPadProCellular-iPadProCellular, iPadPro97-iPadPro97, iPadPro97Cellular-iPadPro97Cellular, iPhoneSE-iPhoneSE, iPhone7-iPhone7, iPhone7Plus-iPhone7Plus, iPad611-iPad611, iPad612-iPad612, iPad71-iPad71, iPad72-iPad72, iPad73-iPad73, iPad74-iPad74, iPhone8-iPhone8, iPhone8Plus-iPhone8Plus, iPhoneX-iPhoneX,

Supported Languages:

Dutch; Flemish; English; French; German; Italian; Japanese; Korean; Portuguese; Russian; Chinese; Spanish; Castilian; Swedish;