Recommended app!
App last updated
Jun 02, 2016
Screenshots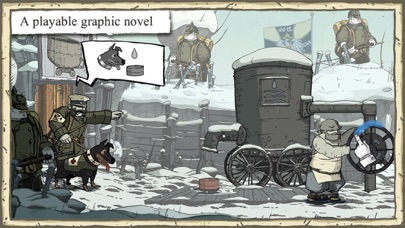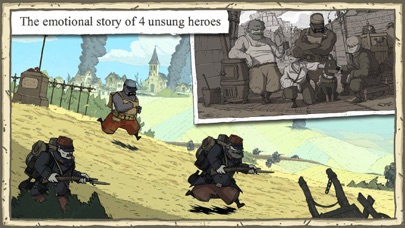 New in version 1.2.61
We regularly bring you updates and new features to improve your experience. Have fun!
Description
** IMPORTANT** This game requires an iPad 2 (or newer), iPhone 4s (or newer), or iPod touch 5th Generation.

Immerse yourself in the touching story of four unsung heroes swept up by World War 1 in this unique interactive graphic novel that combines action, puzzles and adventure.

Valiant Hearts: The Great War is a 4-part, episodic game inspired by letters from World War 1. Additional episodes are available as multipack or individual in-app purchases.

PLAY A GRAPHIC NOVEL
An emotional adventure game delivered with a unique tone and art style.

A MIX OF EXPLORATION, ACTION AND PUZZLES
Move into action and help your heroes survive the Great War by solving puzzles or sneaking through enemy lines…

FOLLOW THE STORY OF THESE VALIANT HEARTS…
Lost in a maze of trenches, play each of these characters and help a young German soldier find his love! All of them will be helped by their faithful canine companion, Walt.

RELIVE THE GREAT WAR
This fictitious story takes you back to famous WW1 locations, revisiting historical battles on the Western Front, such as the Battle of the Marne or the Battle of the Somme!

INTERACT WITH HISTORY
In partnership with Apocalypse World War 1 and the Mission Centenaire 14-18, learn more about the Great War through historical articles and share them with friends.

Included: FREE Art Book and Interactive Comic Book inspired by the game.

***Save 20% on additional episodes by purchasing the Multipack directly in the game***
iPad Screenshots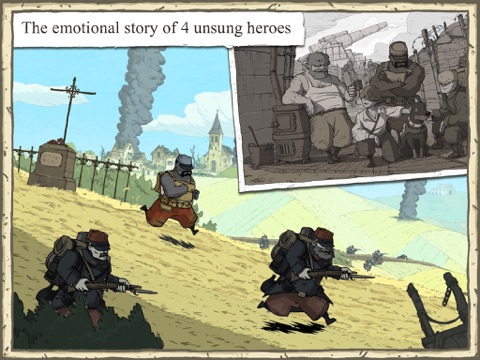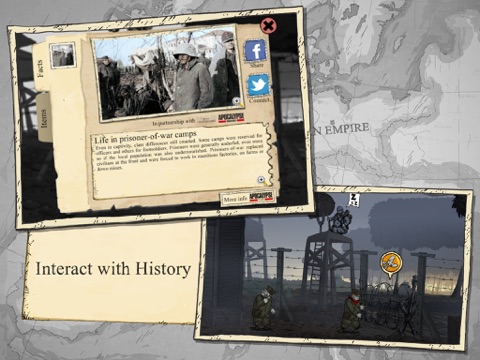 Reviews
Good concept, bad controls
Not a game meant for an iPhone, perhaps the controls are better on an iPad. I had the hardest time doing simple tasks like making a character run or throw when he is supposed to. Badly made controls and very frustrating when you know exactly what you need to do but can't succeed due to game failure. Disappointing.
It neeeds money 😡
It need money 💰
Excelente juego
Definitivamente es un juego estupendo, por los toques históricos y la jugabilidad
Great concept, but UI unplayable
briankangaroo
on
12/15/2017
I love this idea for myself or those younger to mix learning and play for a more apreciable and memorable experience. Sadly I cannot get past the horrid controls. Half the time I want the character to one way he goes another, stalls, is missing behind a screen (needs to walk a bit further to trigger next scene). If these small tweaks are made, im all over this and would highly recommend. As it is, I'm done after five minutes.
BEST GAME EVER!!!
This game is very historically accrete and is so much fun!
Make a long final episode please!
Crazy Ma Joe
on
12/10/2017
Please make the finale Episode 5 about Freddy still fighting on with the American Expeditionary Forces arriving alongside to fight the Imperial Germans with more fun artifacts of collectibles and much much more! Aside for now until the last episode is done, I sincerely thank you all for creating this wonderful game that absolutely deserves much more credits, awards, and valor that this great masterpiece has brought to the gaming universe!
WWI Nerd
Wizard13 31
on
12/10/2017
I am a Word War I nerd and I have been studying this war. The game is fun and I love the little information and collectibles that you can learn about. This is probably the best game Ubisoft was a part of.
Awesome game
I found this by accident and it is one of the best games I have ever played. It is fun and at the same time allows one to learn more about WW1. The artwork and storyline are phenomenal.
Amazing and Beautiful
Bella&Belle
on
11/20/2017
This game is one of the best games ever. It's hard to make me cry, but playing this, I cried. It's very beautiful and it's a huge eye opener. I enjoyed it very much. But it's also a great puzzle game, and challenges your mind. I highly recommend.
Great game
This is one of the great games. Really more a series of stories about friendship, loyalty and stubborn nobility possessed by the characters. It invoked genuine emotions following the characters through their story arcs. Especially impactful, was the short story concerning the War Dogs. The poem at the end has great truth to it about the inherent nature of our canine friends. While 10,000 people will surely let you down in a time of need, dogs are our true partners in survival! A true gem.
Thank you
Timothyesparza
on
11/17/2017
Greatest game i ever played on ios. Very emotional at the end
Touches The Heart
Rarely have I played a game that has caused me to feel so emotionally connected. The score is remarkable, and it draws you into the world in a way rarely seen in gaming. A masterpiece of art and gaming. Thank you Ubisoft.
The worst
It's clear that Apple has sold out their own interests by giving the editors choice award this is the worst control set up of any game I've ever played and I played alot of games
Controls
Jeff Braxton
on
11/12/2017
Awful controls ruin an otherwise great game.
Bad controls
This is a very historic, interesting game but the controls are difficult to use. I never even got past the second story and I'm done because I can't get down the ladder fast enough
Wow
Behind The Wake
on
11/11/2017
I watch a lot of documentaries and I'm a huge history buff. This game is beyond my expectations. The story is amazing, the gameplay is smooth and I love the fact that you guys got Dave Pettitt to be the narrator. I could listen to his voice all day. Truly a great game.
Incredibly well done
Jonathan_Jones
on
11/11/2017
I really like the way they made this game play. Enjoyable and interesting at the same time.
Seems to be a good game
I just cannot pay for it. Literally, when I try to buy more episodes, the system hits me with "Puchase Cancelled - Impossible action. Please Try again" The developers should fix this, please.
Great game but ...
I got pass the part were you have to pay and brought the whole game which is 10$ and then when I got to the battle of vmy it turned into a black screen also there was some other glitches such as everyone thing I try to play the battle of the Somme it glitches but I managed to find a to that battle but I still want to get past vmy and too the end PS also can you valiant hearts two on World War Two plz
Wow
This game is spectacular. Please make another game like this but maybe with ww2?
Epic in every way
This game is must have for every game lover. Simply amazing storyline, interesting gameplay, really fun and challenging puzzels at some point. I even shed a few tears at the end. War is the worst product of mankind, and it's such a shame we never learned that from our history.
Most beautiful game ever.
I have never written a review before, but this game is so beautiful and emotional that I had to. The artwork of the game is amazing. The music is perfect, the list goes on. My favorite part of the game is the last episode. If you play the game you'll understand. I don't want to spoil it so I won't tell you it. This game is truly wonderful. It made me cry. I would give it 5 stars. The controls are swift and easy to use. Overall amazing game.
Great but expensive
The game is great and intriguing yet the episodes cost a lot although I haven't personally played all the episodes (Only the free ones) I'm pretty sure it's overpriced a little.
GREAT game, But PAYWALL killed it.
Rip-Off Buster
on
10/27/2017
Omg such a great game. But only 10 mins until you hit a big fat paywall. So all those trailers of cool sh*t? Nope, paid. If you want money, make it a PAID app. It pisses people off to see a great story and such, only to be hit with that shock. For that, one star for you. Sorry, don't trick people and make their hearts explode.
Great game but frustrating too
I have this for pc (Got it free with purchase) and PS4 (Free game of the month, normally $14.99 I think) and seeing that it is so buggy it's hard to play it. Ubi should fix these problems. Also when the game starts, there is distortion in the audio. Please fix and I'll update review
Great game with perfect soundtrack
You have to try this game with headphone. Beautiful game play with some war history and emotional and joyful music in background. Love it:)
Amazing and truly memorable game
Paul R Kerzner
on
10/15/2017
I don't write many app reviews but felt compelled to leave one for valiant hearts. This game is so well developed it left me feeling quite emotional through out the story line. World War One was terrible, this game brings you right into the middle of the conflict. The sounds, artwork and plot twists are so well integrated. Yes, it did require some of my time to complete but it was well worth it. Highly recommended.
Amazing
Alison's iphone
on
10/14/2017
As a gamer this is the type of game i love!!! To see this game is filled with action and twists and a great like this for 100% free is just amazing to see and i loved it some much and I highly recommend this game to anyone who loves games in general and i love ever bit of it!!!!
Has great potential but the bugs are FRUSTRATING.
I finally gave up because I could not get the most simplest of actions to happen. So frustrating when you have time constraints to throw something, run across the room, climb a ladder than through a door before the guard sees you, and your character won't climb the ladder. Or when he decides to finally climb the ladder the guard has turned around. Too many actions have to be done to do simple tasks. It's almost as if the character has to line up perfectly before it will climb an object but the controls are slow to react when you want them to stop moving.
Loved this game!
Compelling, beautiful, and fun. Great storytelling.
Best game of the year
From the moment I played the first stage of this game I was hooked its very addictive!! But theres a little issue where the sound goes glitchy when I plug in my Airpods otherwise it is amazing in every little aspect and detail! It was a fun experience that is filled with WWI knowledge from different point of views and aspects. And I honestly think you should do another version about WWII
Buena
Solo me gustaría que fuera más larga pero muy buena gracias
Love it
I love the whole story of this game and how much each of the people that are in the game are intertwined with the other ones. I would love to see more games like this one on the App Store.
They don't get any better than this
Get the full version. It is worth your time and money. Nothing more needs be said.
Inspirational
Inspirational is not a word used often in a game, however this game is exactly inspirational. With the stories prespectives in opposite side of the war and historic background information it lends itself heart. In an age where the brutality of a world evolved, the hearts of man grew kinder in singular acts of kindness and bravery amidst chaos.
An amazing storytelling game.
So_unique_101
on
10/5/2017
I hardly ever write reviews for games, but this one is special. The gameplay is very nice and the controls are very smooth. The challenges are difficult, but not to hard. Not only is the gameplay amazing, but the story is what really makes this game. Too often we go about our lives and never think of these people, but this game really makes you realize the sacrifices people made. You become very connected to the characters even though they hardly speak, and I must say I literally sobbed at the end.
Magnificent and beautiful game!
Master of antics
on
9/28/2017
Keep working! I'd love to see more but from different wars, it'd be lovely, this game is well made and a true piece of art! I congratulate the people who made this for such work that is amazing! Keep working!
THEY NEED THIS FOR SCHOOLS!!!
This is a game they need in school It's educational It's fun to play Great characters This is what schools don't have they need this!!!!
Read the exclusive content Please
This game is so amazing and well animated I would recommend you guys to read the dog wars because it shows how the dog got into the game and how he what he went through with his sis yes he has a sis just read it not matter what this almost made me cry 😔😢😢
"... it's hunger was, infinite..."
Stormtrooper190
on
9/17/2017
This is THE best game EVER! I love it so much the graphics, facts, it's all just right! I NEED ANOTHER ONE! I can't be happy till the next one is out I don't care how much money it coasts I NEED IT! "... the war was not yet over..." Spoiler: so Emile dies I want another about umm Freddie? YES HIM!! Ohh his little brother that would be worth playing
🇮🇷
Sakaromaisez
on
9/16/2017
I wish it was free
Ridiculous awesome!!!
This game is ridiculously awesome!!!! I place it along with monument valley 1&2 as great games
NO PAYING IN FREE GAMES
#IHateAdvertisements
on
9/10/2017
Wow you just made me hate this game. I currently don't have any money now so I have to wait for a long time to continue. I liked the story. I liked this game. But if this is not a free game I wont play it, therefore I won't get frustrated by not knowing the end. I know if you make people pay money to play this game you will not get that much money. All about money, huh?
Best I've ever seen
Pupperschnuppers
on
9/9/2017
There's nothing that can say this is a bad game. Extremely good graphics and characters and very good explanation of world war 1
Heartbreaking experience
This game is absolutely wonderful, each story of these soldiers gives me a brand new outlook to the 'war to end all wars.'
Fact Sheet
Publisher:

Ubisoft

Category:

Games

Released:

Sep 04, 2014

Current Version Released:

Jun 02, 2016

Version:

1.2.61

Size:

779.5 MB

Compatibility:

Requires iOS 7.1 or later.

Recommended Age:

12+

Game Center Certified:

No

Supported Languages:

Dutch; Flemish; English; French; German; Italian; Japanese; Polish; Portuguese; Russian; Chinese; Spanish; Castilian;

Parental Advisory:

Mild Alcohol, Tobacco, or Drug Use or References; Mild Realistic Violence; Intense Cartoon or Fantasy Violence;