Screenshots
New in version 2.0.4
Bug fixes and improvements.

◉ By tapping Menu and then swiping to the right, you'll find the Challenges mode!
◉ Play 2048 Multiplayer mode (Coop or Versus) by tapping Menu.
Description
Inspired by Gabriele Cirulli game available on the web: http://gabrielecirulli.github.io/2048/

Join the numbers and get to the 2048 tile!

Swipe to move all tiles. When two tiles with the same number touch, they merge into one.

Get to the 2048 tile, and reach a high score!
iPad Screenshots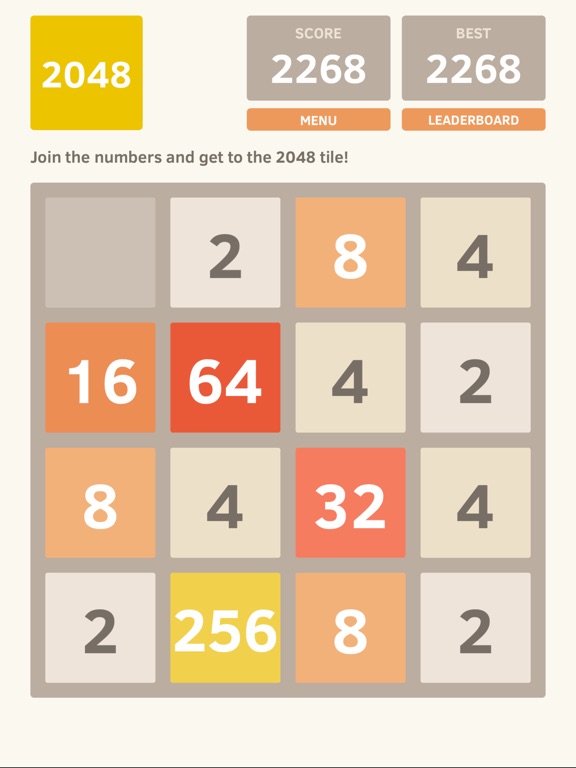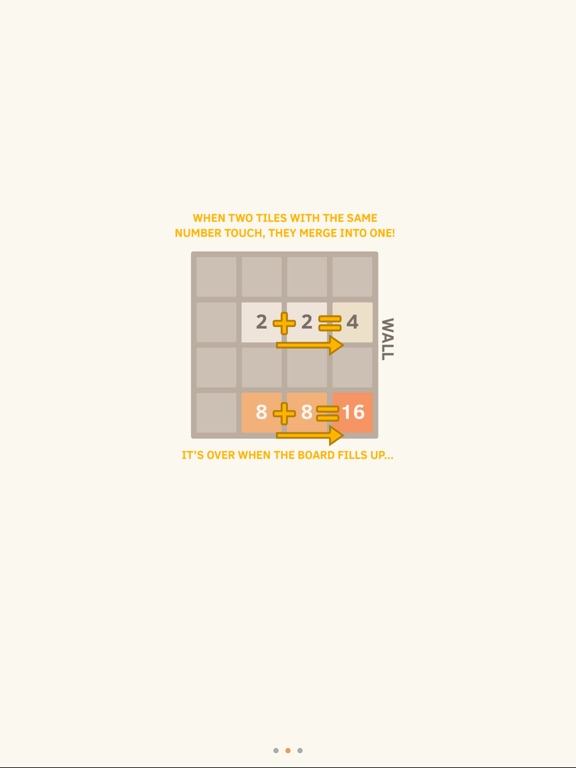 Reviews
Please add a dark theme
LIBeaches2011
on
12/13/2017
I love the app, but I have a light sensitivity that would greatly benefit from a dark mode theme. Thanks!
The UI has priorities of its own
Bunkie in NYC
on
12/12/2017
Something in this app (I suspect it is the ad service) has a higher priority than the user gestures. This means that, about half of the time, your swipes are ignored. Worse, the resulting attempts to double-swipe sometimes result in moves you didn't want to make. I love the game, I would happily pay a few bucks for a version that had no ads and a completely responsive UI.
Aggrivating.
Buestic45775422
on
12/8/2017
My high score is 94k, sit at work playing while people next to me play on Android version of the same game and they have an undo button... So of course their scores are higher, much higher, one guy has hit 250K twice that I know of. Cannot compete against players with an undo button. And I don't get one simply because I bought an iPhone instead of an Android? For that reason I give this a 2. I would have given a 1 but let's be honest, the game's amazing. Just BS that the undo button function is not consistent for the same app.
Not nearly as fun as now gone 32 bit app
Had to download this programmer's version of 2048 after my favorite wasn't updated for IOS 11. This version is frustratingly slow. I have to give slide motions over and over as it doesn't respond to my touch. The fading in/out of moving and appearing numbers is distracting and seems to slow response time. My brain wants it to play at my speed...not like sloughing through mud!
Love the game
Love the game, but I hate that the ads are so loud. I don't mind seeing them, just don't want to hear them.
Too much ads
There are just way to many ads in this game
Doesn't save your game
Older versions saved your game if you quit out to come back later. This doesn't so the app is useless for me now. I used to play it whenever i needed to kill a minute and would come back later. Clearly that doesn't work anymore.
CANT STOP
Can't stop playing this amazing game! LOVE THIS SM!!
Ads killed it
Lemonyfresh625
on
11/30/2017
I had ads taking me out of the app and into the browser about every 2 minutes of play (iPhone 5s). Why the he*! would I keep playing! Deleted app.
AWESOME
ponylover9447
on
11/26/2017
This is a great game😀😌😚😙😗😘😍🤪😛🙂😊😋😎😝🤩🤓😸😹😏😜😻😃😈😽😼😺
iOS different than Android?
I used to play 2048 all the time on a Samsung mid-level Android. For some reason, the game just feels clunkier on iOS. The graphics are less clean and more cluttered. The swipe responsiveness isn't as good either.
Hours of Fun!
Dan Giraldo
on
11/25/2017
Fun little game! Multiplayer functionality isn't working, though :/
Ads
Only writing to let you know that I uninstalled this app because of the ads during the matches. I didn't mind the ads when I lost the games, but as soon as they started to appear mid-game, the app is dead to me.
Please make Apple Watch version!
I play this game all the time and would love to have a way to play it on my watch in moments when I don't have a phone on me. It's so simple and entertaining, it would be perfect for the Apple Watch!
RACISM
This is so not cool bro . I LOVE THIS FREAKIN GAME !!!! BUT of course I went to go sign in AND it shows only face book how ridiculous is this?? Like only old people use Facebook like at least but Snapchat or insta or even better your email like who do you think you are thinking I'm old .... HONESTLY I'm legit a tween soon I will be old and that's when I will have Facebook but I might not be playing this game because I know young people that were my age was just criticize. So like ya I'm just saying social medial apps.
I loved this game...
Cyclegoddess
on
11/19/2017
I loved this game until the most recent update. I'm not sure if the fault is with the app or iOS 11.1.1, but dragging the tiles is so slow now. It used to have a smooth, quick UI, but I probably won't play it again, the lag removed much of the fun. And I agree with other reviews that you should be able to resume on the level you died on.
Ads ruin the update
Used to love this game, but the ad pop-up at start up is very annoying. It seems to have a delay built in to trick you into tapping on it, taking you to a game you do not want. Even after I learned to wait before making my first move it still take you to the App Store even if you tap on the dismiss location. To avoid aggregation I have removed the game from my phone.
Berk's
Zach-a-doodle
on
11/15/2017
Educational. But my Dad thinks the music is annoying! I don't.
Good start, bad game as you develop skills
The game can get annoying after one had developes their skills. A simple "undo last move" could've resolved a lot the issues.
Annoying Adds
The game is great, but the latest version has multiple adds which auto click links. Very annoying.
Great game, adds ruin the experience.
I've played this game forever. I loved it until recently adds started interrupting the game every other minute.
Fun but crashes
This game is fun but it freezes on me a lot. Sometimes it lags when the numbers get really high as well. When I'm finally on 4096, the app mysteriously gets very laggy and then freezes. I press my home button and open the app again (without quitting the app) and then it gives me a brand new game. Very frustrating when I still haven't gotten 8192!
AMAZING AND ADDICTING
This app is so amazing and addicting! U should try it out!
Previous version is cleaner
Interested investor
on
11/2/2017
Not sure why the app doesn't save the game after playing. I have to start all over each time!
Hate new swipe responsiveness
I've been playing a while. Had to uninstall and reinstall because of upgrade (why I don't know!). Anyway the new swipe responsiveness is terrible. It stutters when it used to flow nicely. Probably will no longer play because I really can't stand it.
Slow on iPod
Firstly, people asking for a back button or start from a certain point need to stop. I agree that the unpredictability is messed up. It is supposed to be more strategic than that. I'm deleting this game because whatever software you used gets bogged down on my iPod. It's almost unplayable.
2048
Coolmason515
on
10/22/2017
Well I hate it cuz u nerd know I hate the number 2048,2047 is better
Addictive
printers devil
on
10/22/2017
Fun challenge to go as fast as I can. Hit the 4096 tile several times, but the app did not save the high score. Bragging rights lost. :(
Was once a really good app
Now it frequently crashes and resets my high score
Addicting!!!
I love this game. It is so addicting. Plus, there are several challenges on the game that are super fun too. This game also doesn't require wifi! I am in love with 2048.
Apps are in the way and cause crashes
This game used to be awesome before it was overwhelmed with ads. Ads pop up every few minutes and if you touch the screen while it's loading, the ad automatically goes to the App Store. If you do it without being connected, you get stuck in retry to connect screen with no way back to the game. Get rid of all the apps or lessen the effect. If I could give this 0 stars, I would.
Addicting
One of the best board game
DON'T PAY FOR IT. ADS DON't GET REMOVED
I paid to have the adds removed and they are still on. Tried again thinking that maybe it didn't go trough and I still get adds. WHATEVER YOU DO DON'T PAY ANYTHING!!! WASTE OF MONEY!!
TURN THE ADS DOOWWNNN!!!
Gadget guy in Pa
on
10/10/2017
The ads have become obnoxious and without mobile data on for the game it turns to a no go. Thumbs down
TOO MANY TECH GLITCHES
It is beyond irritating when u finally reach 4096 & your still playing but suddenly there's ad! Which I can live with, but then it won't take u back to same game. You have to start completely over!!
So good I had to repress it
This game is so good that I had to have my girlfriend delete it from my phone and help me work through my addiction. Three years later, I had repressed memories of its existence and upon re-download I am once again completely enthralled. 10/10 must play
IOS11 Crash
A solid 4 star game that has been Rick solid, at least it was until the latest iOS11 update. Now the game will suddenly close and erase the current game data. But I'm sure an update is coming soon... Right?
Opens ads unexpectedly
This is a fine game, very addictive, but suffers from an annoying problem. Every time I launch the app, or reload it after awhile, I get an ad for another app from the same developer. The ad stays until I click it, and even clicking on the X opens up the App Store. Hopefully they'll fix that.
IOS 11
nikidean33333
on
10/7/2017
Does not work on IOS 11 please update? Its an amazing app to pass time, is very entertaining
fun game, but...
MyCousinVinnyVegas
on
10/4/2017
this app is pretty much unplayable when you're on LTE and have disabled cellular data for the app store, because the ads don't quit and keep prompting every time you launch it. once the ad tries to access the app store, you can't do anything, and have to re-launch it. at that point, you've got about ten seconds of playing time before it tries to open the app store again. get rid of the annoying ads.
Ads
Boogermonsta
on
10/2/2017
Good game but way too many adds
Simple and addictive c
It would be 5 stars if I could play the multi-player options. It needs an option for playing against the computer since I've found 1 player only once.
LOVE IT!!!!!!!!
This app is so addicting and it keeps you busy when your on a long car trip or bored! Also you don't have to be connected to wifi it's the best!!
16384 tile problem with iPhone 7 iOS 11
Brian Hulbert
on
9/24/2017
The game causes me to run out of room when I try to get the 16384 tile. I understand that the tile is hard to get but if I'm using a good strategy, the board should have enough room to get me to the 16384 tile. I want this to be fixed in the next update. It's really annoying. I've contacted you guys on twitter and you don't answer.
Unpredictability is killing me!
Good game, the app is fine, the adds don't bother me-they don't cause a crash and you just exit out of them. My problem is the unpredictability that only happens when you're right on the verge of getting a higher tile. Once you hit a new tile, that possibly took months or years-then you can hit it almost every try after that. It's not that your skill drastically increased, only that the game FINALLY let you. For instance, I'll only be 1024 away from my goal tile when suddenly I have to swipe up because the game decides to be unpredictable. Then a number (90% of the time) appears under my highest tile. Then it gives me a four instead of a two, which of course doesn't match, and just like that-poof. The game is lost. I don't give up then, but I'm again irritated at the unpredictability. It's not a learning game at that point. It's chance. Or better yet, a sick sense of humor by the developers. It's not poor planning by the player. Okay, most times that is the problem, but a few times-it's not. You'll play perfectly to the strategy that works all up until suddenly the game starts changing it up for no reason, and with no purpose other than to make you loose. I actually like this about the game-but not after a year or more of being stuck on the same tile.
Advertisements don't load
Stop copying apps
on
9/20/2017
The ads don't load until after a few tics of the game being open so I wind up clicking on them. It makes me leave your app for somebody else's when this happens. Just sayin... best addicting game out there 5/7
Ads etc - ugh
Three times I started playing and was thrust into the app store to download something i had no interest in. Uninstalling now yuck!
From iran
محسن دوست پرست
on
9/14/2017
سلام. من بسيار با اين برنامه سرگرم شده ام. ساعتهاى زيادى كه اعصابم مغشوش بوده، يا حتى عصبى بوده ام ، واقعاً با اين برنامه توانستم خودآرامى (relaxation) كنم. لطفاً امتحان كنيد. چون در اينطور لحظات كه تمركز انسان كم ميشود، اين برنامه، گزينه بسيار مناسبى خواهدبود، زيرا نه چنان پيچيدگى دارد كه تمركز كردن ممكن نباشد و هم مقدار كمى كه حواس جمع ميخواهد، حتماً ذهن شما را از موضوع عصبى كننده مذكور دور ميكند. بقول خودمان ياحقّ. Thanks from your app.
Good
Have been trying to make it to 2048 for months. Felt so good once I finally got it.
Horrible update!!!
Obnoxious sounds that can't be turned off. Deleting!!!!!
Fact Sheet
Publisher:

Ketchapp

Category:

Games

Released:

Mar 18, 2014

Current Version Released:

Aug 16, 2016

Version:

2.0.4

Size:

15.5 MB

Compatibility:

Requires iOS 6.0 or later.

Recommended Age:

4+

Game Center Certified:

No

Supported Devices:

iPhone3GS-iPhone-3GS, iPhone4-iPhone4, iPodTouchFourthGen-iPodTouchFourthGen, iPad2Wifi-iPad2Wifi, iPad23G-iPad23G, iPhone4S-iPhone4S, iPadThirdGen-iPadThirdGen, iPadThirdGen4G-iPadThirdGen4G, iPhone5-iPhone5, iPodTouchFifthGen-iPodTouchFifthGen, iPadFourthGen-iPadFourthGen, iPadFourthGen4G-iPadFourthGen4G, iPadMini-iPadMini, iPadMini4G-iPadMini4G, iPhone5c-iPhone5c, iPhone5s-iPhone5s, iPadAir-iPadAir, iPadAirCellular-iPadAirCellular, iPadMiniRetina-iPadMiniRetina, iPadMiniRetinaCellular-iPadMiniRetinaCellular, iPhone6-iPhone6, iPhone6Plus-iPhone6Plus, iPadAir2-iPadAir2, iPadAir2Cellular-iPadAir2Cellular, iPadMini3-iPadMini3, iPadMini3Cellular-iPadMini3Cellular, iPodTouchSixthGen-iPodTouchSixthGen, iPhone6s-iPhone6s, iPhone6sPlus-iPhone6sPlus, iPadMini4-iPadMini4, iPadMini4Cellular-iPadMini4Cellular, iPadPro-iPadPro, iPadProCellular-iPadProCellular, iPadPro97-iPadPro97, iPadPro97Cellular-iPadPro97Cellular, iPhoneSE-iPhoneSE, iPhone7-iPhone7, iPhone7Plus-iPhone7Plus, iPad611-iPad611, iPad612-iPad612, iPad71-iPad71, iPad72-iPad72, iPad73-iPad73, iPad74-iPad74, iPhone8-iPhone8, iPhone8Plus-iPhone8Plus, iPhoneX-iPhoneX,

Supported Languages:

English; French; Japanese; Portuguese; Russian; Chinese; Spanish; Castilian;