TapNova recommends this app!
New in version 1.2017.22204
* Bug fixes and performance improvements
Description
Create, edit, and collaborate with others on documents from your iPod, iPhone, or iPad with the free Google Docs app. With Google Docs you can:

* Create new documents or edit any that were created on the web or on another device
* Share documents and work together with others in the same document at the same time
* Get stuff done anytime -- even without an internet connection
* Add and respond to comments
* Never worry about losing your work -- everything is automatically saved as you type
* Directly insert photos from your camera
* Open, edit, and save Word documents

Permissions Notice
Camera: This is used to takes photos to insert into documents.
Photos: This is used to access photos under the control of Photos Application to let the users pick images to insert into documents
iPad Screenshots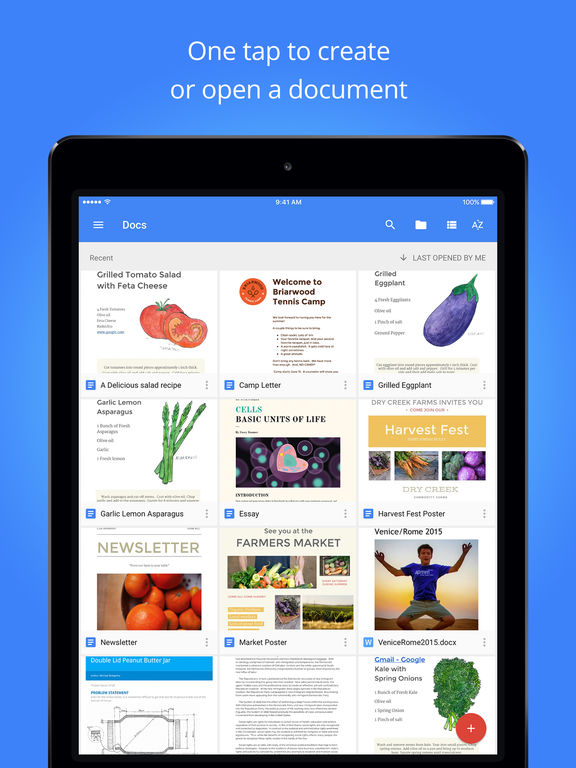 Reviews
Intuitive and versatile
I enjoy working with this program on my IPad mini 2 by utilizing every feature this program has to offer.
Love it!
Fancy Pants 55676432
on
6/26/2017
Use this and the other apps for Google drive all the time. I can work from anywhere!
Very convenient
To use and edit while on the road ie mobile or from a workstation.
Best of the apps!
One of the top go-to apps from google!
Works
Avalanchekat
on
6/26/2017
We use the drive for a group and it has worked great to keep documents we can all access.
Works!
cjtorres1990
on
6/26/2017
Works for my journal!
Amazing
bOB the Beehive
on
6/26/2017
👌 good for anything you might need with docs. Although it has crashed a few times, it automatically saves your work.
Great app!
I love this app!!! My college classmates and I was able to complete a PowerPoint presentation without a hitch!!👍🏾
Perfect
Always works, always saves my data, extremely easy to use.
Good but app needs fixing
If your used to using it on a computer it's a bit different their are some features that are unavailable on the app.
Replaced MS Word with Docs
Gerald Varlack
on
6/26/2017
Love Docs! I have not used Word in years because of the ease of use and cloud advantages of using it on all my devices. Just keeps getting better!
Life saver!
I am part-time student that works full-time and I must say that this app is a life saver! I can work on assignments in bits and pieces while I am on lunch or offline if necessary. This is the ultimate project/assignment app for anyone that is busy but must get work done--especially students! I have not experienced the Docs "autocorrect bug". I think a quick fix to that may be to disable the autocorrect feature in the phone settings. Hope that helps!
GreatApp
Recommend this app if you are looking for a "user friendly" doc app.
The single most valuable app
I have always been a multiple notebook kind of guy, so everything I've written is scattered here and there. With the advent the PC, all my digital texts would be saved in multiple folders in multiple directories on multiple hard drives. Since I've adopted google docs, they are finally in one place and rather than sending attachments I am sharing and actively collaborating with others on the same doc. Couldn't be happier!
Google Docs
Still need to work on ease of creation, use and conversion. Tables and other graphics don't come easily but great job on storage and accessibility of content.
Folders please?
Since everyone's been addressing the predictive word bug, I like this app, but what would make it perfect (besides fixing these bugs) is if it had folders to sort out files (not on drive, on docs itself).
Its Good
But why do i need the can't I use the google drive docs as a standalone.
Great app
J.J.jenny:)<3
on
6/25/2017
Love it
Please do a update
Nicolemlp2000
on
6/25/2017
Every time I try to delete some of the words it takes forever too delete them.🙁
Business solutions
This always helps with our business efforts.
Makes my life easier
Edits, reviews, comments and notes in real time is awesome
Please let us use folders for photos
I love Docs. Use it every day for everything. I'm a big writer for ocs so I make a lot of character sheets. But all my pictures are art with different time stamps, leaving for me to have to scroll years back into the pictures to find one picture I downloaded a week ago. If it would only let me use the folders I created to organize my photos this would be so much easier.
Love jt
I love it but i dont like that i cant put emojis
Easy!
I love how easy this app is to use. It syncs between my iPhone and my
AAAAAAAAAMAZING!:):):):):)
Good job google!
PLEASE FIX THE TEXT
Sandrella123
on
6/25/2017
It's honestly really annoying when you try to go back and fix a word, only for it to be wrong again because it's autocorrect being incorrect !
Nearly Flawless
Six-shooter Tim
on
6/24/2017
The only thing I'm requesting is for when adding page numbers they can also be Roman numerals. Tried it using the keyboard and it wouldn't work as page numbers so well. I was trying to use this app as my tool of making books.
Mediocre
The only issue I have so far is that when I open a doc it starts at the beginning no matter where you left off.
perfect
eliminated laptop and can do everything from a phone and bluetooth keyboard.
Super helpful!
Great app to have on hand for any word document! Create, modify, send to print!
Korean fonts
waviersaucer
on
6/24/2017
It stopped working on Korean font since the last update. Hope they fix it soon.
Great app!
Very handy access to google docs on my iPhone The screen size makes it difficult to edit text heavy documents, but that's a limitation with iPhones, not the app.
Awesome
Little Dagger
on
6/24/2017
Awesome
Love it
Being able to access docs on the go has been great! Always smooth sailing on the app
Lacking feature-parity with desktop version
There are a few problems with making this a true productivity application: - No support for keyboard shortcuts (besides copy/cut/paste) - Cannot update text styles to match the selected text.
Love it.
Oreo Lover 2011
on
6/24/2017
It's really easy to get a hang of and understand. I use it almost everyday.
Couldn't live with out it!
I use this app multiple times every day. Love that it automatically saves.
Best
Escaping the college bubble
on
6/23/2017
Best fondue. Good service too.
Really good for group/team collab
MichaelMad95
on
6/23/2017
Using it for my team venture and it's really great.
Convenient
Google docs is extremely convenient to use. As a college student I can say that it is a must have for several of my classes, and reliable/advantageous for the others. Nothing else available right now really compares.
Excellent app
It is very convenient for people on go.
Reliable
Gabriel Sperry 57
on
6/23/2017
Always handles what I need and gives me access easily across platforms. What technology should do, make things easier.
Love it!
I write all my song lyrics in here, it's amazing SUPER handy!
Easy to use across the board.
Rockabilly Belle
on
6/23/2017
The Docs app works just as well on my computer as it does on my iPhone 6s, and it makes taking documents with me easy. I enjoy the freedom to work on something no matter where I am (as long as I have an internet connection). Two thumbs up!
More features
عاشق تطبيقات
on
6/23/2017
This is best app ever and better than word and pages . But we wish more features coming to this app. Like changing photo place and others
I like having files at my fingertips
I use this Drive a lot when I need a document and I am away from the office. This app comes in very handy!!
Fact Sheet
Publisher: Google, Inc.
Category: Productivity
Released: Apr 30, 2014
Current Version Released: Jun 14, 2017
Version: 1.2017.22204
Size: 202.8 MB
Compatibility: Requires iOS 9.0 or later.
Recommended Age: 4+
Game Center Certified: No
Supported Devices: iPad2Wifi-iPad2Wifi, iPad23G-iPad23G, iPhone4S-iPhone4S, iPadThirdGen-iPadThirdGen, iPadThirdGen4G-iPadThirdGen4G, iPhone5-iPhone5, iPodTouchFifthGen-iPodTouchFifthGen, iPadFourthGen-iPadFourthGen, iPadFourthGen4G-iPadFourthGen4G, iPadMini-iPadMini, iPadMini4G-iPadMini4G, iPhone5c-iPhone5c, iPhone5s-iPhone5s, iPadAir-iPadAir, iPadAirCellular-iPadAirCellular, iPadMiniRetina-iPadMiniRetina, iPadMiniRetinaCellular-iPadMiniRetinaCellular, iPhone6-iPhone6, iPhone6Plus-iPhone6Plus, iPadAir2-iPadAir2, iPadAir2Cellular-iPadAir2Cellular, iPadMini3-iPadMini3, iPadMini3Cellular-iPadMini3Cellular, iPodTouchSixthGen-iPodTouchSixthGen, iPhone6s-iPhone6s, iPhone6sPlus-iPhone6sPlus, iPadMini4-iPadMini4, iPadMini4Cellular-iPadMini4Cellular, iPadPro-iPadPro, iPadProCellular-iPadProCellular, iPadPro97-iPadPro97, iPadPro97Cellular-iPadPro97Cellular, iPhoneSE-iPhoneSE, iPhone7-iPhone7, iPhone7Plus-iPhone7Plus, iPad611-iPad611, iPad612-iPad612, iPad71-iPad71, iPad72-iPad72, iPad73-iPad73, iPad74-iPad74,
Supported Languages: Afrikaans; Albanian; Amharic; Arabic; Armenian; Azerbaijani; Basque; Belarusian; Bengali; Bulgarian; Central Khmer; Catalan; Valencian; Chinese; Croatian; Czech; Danish; Dutch; Flemish; English; Estonian; Finnish; French; Galician; Georgian; German; Greek; Gujarati; Hebrew; Hindi; Hungarian; Icelandic; Indonesian; Italian; Japanese; Kannada; Kazakh; Korean; Lao; Latvian; Lithuanian; Malay; Malayalam; Marathi; Mongolian; Nepali; Norwegian; Bokmål, Norwegian; Norwegian Bokmål; Persian; Polish; Portuguese; Punjabi; Romanian; Moldavian; Russian; Serbian; Chinese; Sinhala; Sinhalese; Slovak; Slovenian; Spanish; Castilian; Swahili; Swedish; Tamil; Telugu; Thai; Chinese; Turkish; Ukrainian; Urdu; Vietnamese; Zulu;