Screenshots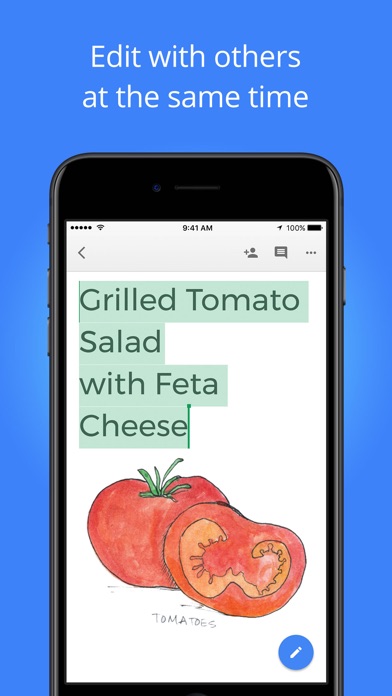 New in version 1.2017.40205
* Bug fixes and performance improvements
Description
Create, edit, and collaborate with others on documents from your iPod, iPhone, or iPad with the free Google Docs app. With Google Docs you can:

* Create new documents or edit any that were created on the web or on another device
* Share documents and work together with others in the same document at the same time
* Get stuff done anytime -- even without an internet connection
* Add and respond to comments
* Never worry about losing your work -- everything is automatically saved as you type
* Directly insert photos from your camera
* Open, edit, and save Word documents

Permissions Notice
Camera: This is used to takes photos to insert into documents.
Photos: This is used to access photos under the control of Photos Application to let the users pick images to insert into documents
iPad Screenshots
Reviews
Depend on it
My go-to word-processing app. Have not used word in years. Forgot pages. Thankfully Google keeps docs running and the export Support is great
All google apps are amazing
Eyes From Dolls
on
10/19/2017
All of the google apps, google docs, google slides, even google classroom have been sky rocketing past the standard word doc, or power points. I enjoy using these for school and for other purposes, I am excited to see what else is added to google.
Use it literally every day
My English class requires me to write mini essays every day. With this app I'm able to do them on my phone in a matter of minutes. It's quick, easy and free.
Lagging system
The system lags so badly that it makes the app unusable. I can't even type a single word without it loading for 30 seconds, with the word lettering being scrambled and incorrect because the lag is so terrible. Deleting app immediately because its absolutely useless on iOS 11.
Great
Aaaaaaaaaaaaaaaaaa auto
on
10/18/2017
Use it on my iPad. Great word doc app
iOS 11 Bug
PizzaPal1234
on
10/18/2017
App was awesome until iOS 11. It's so slow now and it lags so much that it takes me more time than it should to write a simple paragraph. Please fix this.
Great
CjdjdnuhhgRRR
on
10/18/2017
I personally think it is better on a laptop because you have more room and more things. On ipad it is a little hard to do things.
Docs
Jake3478964337
on
10/18/2017
I'm glad you guys made this app it helps a lot of people if they where in a meeting they could show it if they had that plug this is also to Apple because they made the thing to make you screen go to the tv or whatever so congrats guys I say this is a five star!
Thank you
hassan kliet
on
10/18/2017
thank you very much
🌟🌟🌟🌟🌟 awesome app
I've been using docs on my computer do a while, but with the app it makes it so easy because it is portable.
Awesome!!!!
Great tool for students of all walks of life!
Best app for school ever
Amazing but easy and symbol
Love it
I use this as a note pad for everything...because if your phone gets reset you can loose all those notes! I love how all my documents are available on any device, anywhere!
Great for drafting and group work
I love google docs for its ability to allow people to collaborate. We use it every day in my office for solo or group drafting and review of work product. My critiques are: lack of interoperability with MS Word (which we use for finalizing paper); inability to consolidate comments/edits and remove identity; and limited editing capabilities (e.g. Word and WordPerfect have so much more capability). It's great for what it can do, and for that I really appreciate the flexibility it offers.
Super helpful!!
Doubleeagle13
on
10/18/2017
Easy and fun to use!
Needs wifi
sssssssssss16
on
10/18/2017
It says i'm offline unless i'm using Wi-fi. Please fix, otherwise great app.
One line tab
Hello💩💩💩💩💩🍩
on
10/18/2017
NEED TO GET A TAB WHERE IT ONLY MOVES ONE LINE AND NOT THE WHOLE PARAGRAPH BECAUSE IT IS DRIVING ME INSANE. Otherwise it's great and convenient.
The Fact that This Exists for a Cellphone is Amazing.
Please see title. Mobile processing has come a long way, and the fact that I can edit a document stored on a remote server thousands of miles away with a device that fits in the palm of my hand and weighs about as much as my wallet is amazing.
Google docs user
Great product great service specially cause it's free are use this for all my college assignments because it automatically saves the only problem and issue is that it is very hard to edit it because Microsoft word It tells you what is wrong and well you have to figure out that on your own but if they fix that I mean the App will get five stars
A very good way to go
Doodoopancakes
on
10/17/2017
Google docs is a lot more helpful for me than Microsoft word. It is much, much easier to get started with google docs and has high quality document making.
Docs
I am a student and having the docs app makes it so much easier to do my school work super fast. Before i discovered this app I would be sitting for hours on end typing an essay. Now it is super easy and super fast👍🏼
Force-touch pad is screwed up.
Force touch on iPhone allows you to move between spaces. But in Docs it SELECTS and if you type it DELETES. And all I wanted to do was to MOVE MY FREAKING CURSER.
Google apps
Google docs is the most useful and user friendly app, for word processing.
Awesome
Awesome Amazing Ash
on
10/17/2017
This app helps me organize my stuff so well. It is amazing!
Works fine for me
I use it to do some paper work for my business on the go. I like it as it's comfortable and quick. Didn't have any issues to complain about so far. So I recommend it.
I LIKE GOOGLE DOCS👌
aldo so cool
on
10/17/2017
So, I haded google docs for years. I bought this app for a few reasons. But I use mostly on school because I need to do a bunch of stuff. But I mostly work on docs. In the chrome or labtop, u don't need to get the app. But here I do. In the labtop u can't put in pictures but now, in the phone or iPad. ( I dunno yet because I just downloaded right now.) good thing that I have this app for my work or project that I have in couple days. I've been wanting to get this app for years but thankfully I have it right now. I've been waiting to get a computer for years but thankfully google docs is in my phone. But thanks google I've been waiting for this app to download and I need to check it right now.Ok it did not download yet so I have couple time talking to u. But What I don't like about this app is, that their isn't that much themes in it. Well bye google I better work on my docs right now so I need to leave u alone. 😘 100 😏80 😕60 ☹️40 😞10 Answer: 😏
Love google docs!
QuinnEliason
on
10/17/2017
I love being able to edit my book and other documents on my phone. It's super convenient for quickly writing down ideas, especially after getting into bed.
Lovely way to edit documents.
I loved the option of page numbers to the app. And, I love how the developers are constantly coming up with new updates.
On the go
Good for working on the go and then resuming at home on the computer.
Pretty Amazing
I love this app so much! It is like word (which I also love) except that you can access docs anywhere and without having to pay for an account. The only thing I would change is that there are certain features that are only available on the computer (or are very hard to find on the mobile app) that I can't use on my iPad at school. However, overall I LOVE 😍😍 this app. We
Obsessed
Ashbabe91091
on
10/17/2017
I'm OBSESSED with Google Docs! I'm a manager for a fitness corporation and I don't know what I would do without it! All the features, the versatility- amazing!!!! And FREE?!! Common! Can't get any better. Thank you SO much Google!!
Collaborate w/Ease
JazzyMomWife&Teacher
on
10/17/2017
Make this your school-wide, office-wide collaboration tool. It's easy, fast, and compatible with desktop applications. You won't be disappointed!
Docs
Vcvvvvvvvvvvvvvcvvcvccc
on
10/17/2017
I love it
Amazing app
I love this app, and google docs!
Disappointing
Google Docs via a Chromebook or Mac is awesome, and maybe my favorite word processor ever. The iOS app... not so much. Since the last update or two, typing is laggy and slow. I'm not that great a typist, but I can outrun Docs by at least a couple of words. There is no tab key and no ruler, so there is no way to make indented paragraphs. If you want to include images in a document, it only lets you pick images from the Photos app. It won't let you pick from Google Drive. Really. There is a lot of wasted empty space in the menu bars and UI, making the text space for typing kind of small. If I want to write in the print layout view on my iPad, I have to select it each and every time I open each document. I don't expect Docs for iOS to be an exact clone of the web app, but in its current state Docs is just kind of sluggish and rough. It's too bad, because the outlining feature and the method for inserting links are great. But with the missing tab key and sluggish operation, I can't use it as much as I'd like to.
Poor Connection always
I am not happy with this app. I have to use it for school to edit papers on my Google Drive acc, and I have to redownload the app every time I want to use it because there are so many errors with it. It doesn't let me make my docs available offline even when I have full cell service and wifi. It doesn't let me view any docs on my phone or create new ones. It doesn't save my changes sometimes when I am using it on my laptop. Very unsatisfied with this app, need it to work better !!
Perfect.
Great app. Exactly what I need for my iPhone.
Amazingly Convenient
#ThisGuyAndHisCamera
on
10/17/2017
I've been using Google Docs for a while though. I love the fact that any of my projects can be accessed on any of my devices or someone else's in the event I am without mine. Five Stars!
100% Good!
Edu.Education.ConnectionGroup
on
10/17/2017
Over the past 3 years I've been using this application and it is amazing!I can type freely so when I have bad moments I can't type,I type mostly on iOS but it's still fine as long as u guys keep up the good work I will love to keep using this app!Thanks P.S. If Google Docs was a kid taking a test,I would give em' an A+ before they finish! :)
Useful but does not correct grammar well.
This app is SUPER useful and helpful being that I can type and edit documents from almost any device. However, the correction/spelling aspect isn't too great. Google Docs doesn't pick up on a lot of grammar and punctuation mistakes. To ensure that my documents are grammatically correct, I copy and paste my whole document into Microsoft Word and find that there are plenty of mistakes. I couldn't give this app a 5 star rating if I wanted to because grammar is everything. Can we fix this perhaps?
OMG
acne removal
on
10/16/2017
Really good. I like pizza. My cat is biting me
Good for on the go
Bossie _girl 56
on
10/16/2017
This app is good for on the good I'm in the sixth grade now and if I don't have my laptop I would go on my phone and use this app it's always with me and I can add my thing without wait hour at a time
Wonderful!
Evelyn Morris
on
10/16/2017
I tremendously enjoy writing, and this app is perfect for organizing my thoughts/ideas! It's a wonderful multi use tool. I greatly recommend.
AMAZING
Crystalfire's the deputy!!
on
10/16/2017
This is awesome!! I do enjoy the computer better, but this is no wifi, and portable on my phone! You can do almost everything from the computer type, and you can work on school assignments anywhere! I love this app!
I like this app
I have Google docs on my Chromebook usually for schoolwork or I can notes whatever but it is very hard to type on the app but I think it is useful for when you do not have Wi-Fi so you cannot get on your laptop so you can get on your phone and use it
999.99/1000
This is a GREAT way to do my homework, and it is very helpful when I don't have a computer to use. Although the only thing is that it is a challenge to type sometimes, and my hands get awfully tired after doing book reports, short responses, opinions, etc. If there is SOME way to fix this typing way, that would be lovely! Thanks google for being SO awesome! I appreciate all the awesome apps you make for me to be productive! 👍🏻
I ❤️ Docs
Celestial64
on
10/16/2017
I've been using docs for 5 years now and it's been my go to word processing app though it's better on computer I never haven't used Microsoft in 3ish years (don't get me wrong Microsoft is a viable option) but at the end of the day DOCS ROCKS
AMAZING
SuperSushi07
on
10/16/2017
This app is so helpful! My dad is usually on our house computer and mine is currently broken. This is helpful for school because my teacher makes me use google docs. It has all the features of google on the computer.
Love it bro
He is the light of my life
on
10/16/2017
Bro. You need this bro. It's so cool bro. Saves your freakin life bro. Who needs Microsoft. Those guys are lame bro. Stick to the script. Get at it boi. You gotta do work so stop procrastinating.
Fact Sheet
Publisher:

Google, Inc.

Category:

Productivity

Released:

Apr 30, 2014

Current Version Released:

Oct 16, 2017

Version:

1.2017.40205

Size:

211 MB

Compatibility:

Requires iOS 9.0 or later.

Recommended Age:

4+

Game Center Certified:

No

Supported Devices:

iPad2Wifi-iPad2Wifi, iPad23G-iPad23G, iPhone4S-iPhone4S, iPadThirdGen-iPadThirdGen, iPadThirdGen4G-iPadThirdGen4G, iPhone5-iPhone5, iPodTouchFifthGen-iPodTouchFifthGen, iPadFourthGen-iPadFourthGen, iPadFourthGen4G-iPadFourthGen4G, iPadMini-iPadMini, iPadMini4G-iPadMini4G, iPhone5c-iPhone5c, iPhone5s-iPhone5s, iPadAir-iPadAir, iPadAirCellular-iPadAirCellular, iPadMiniRetina-iPadMiniRetina, iPadMiniRetinaCellular-iPadMiniRetinaCellular, iPhone6-iPhone6, iPhone6Plus-iPhone6Plus, iPadAir2-iPadAir2, iPadAir2Cellular-iPadAir2Cellular, iPadMini3-iPadMini3, iPadMini3Cellular-iPadMini3Cellular, iPodTouchSixthGen-iPodTouchSixthGen, iPhone6s-iPhone6s, iPhone6sPlus-iPhone6sPlus, iPadMini4-iPadMini4, iPadMini4Cellular-iPadMini4Cellular, iPadPro-iPadPro, iPadProCellular-iPadProCellular, iPadPro97-iPadPro97, iPadPro97Cellular-iPadPro97Cellular, iPhoneSE-iPhoneSE, iPhone7-iPhone7, iPhone7Plus-iPhone7Plus, iPad611-iPad611, iPad612-iPad612, iPad71-iPad71, iPad72-iPad72, iPad73-iPad73, iPad74-iPad74, iPhone8-iPhone8, iPhone8Plus-iPhone8Plus, iPhoneX-iPhoneX,

Supported Languages:

Afrikaans; Albanian; Amharic; Arabic; Armenian; Azerbaijani; Basque; Belarusian; Bengali; Bulgarian; Central Khmer; Catalan; Valencian; Chinese; Croatian; Czech; Danish; Dutch; Flemish; English; Estonian; Finnish; French; Galician; Georgian; German; Greek; Gujarati; Hebrew; Hindi; Hungarian; Icelandic; Indonesian; Italian; Japanese; Kannada; Kazakh; Korean; Lao; Latvian; Lithuanian; Malay; Malayalam; Marathi; Mongolian; Nepali; Norwegian; Bokmål, Norwegian; Norwegian Bokmål; Persian; Polish; Portuguese; Punjabi; Romanian; Moldavian; Russian; Serbian; Chinese; Sinhala; Sinhalese; Slovak; Slovenian; Spanish; Castilian; Swahili; Swedish; Tamil; Telugu; Thai; Chinese; Turkish; Ukrainian; Urdu; Vietnamese; Zulu;