TapNova recommends this app!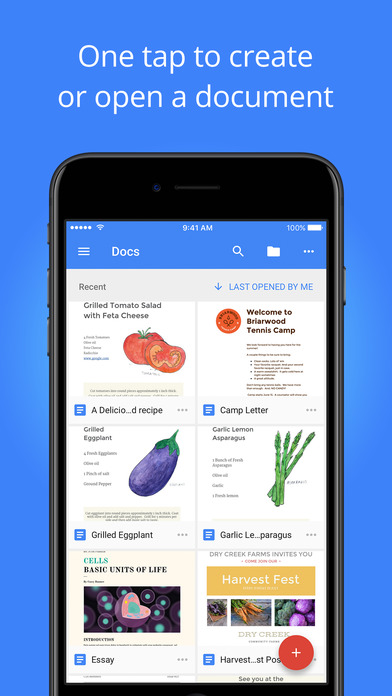 New in version 1.2017.32202
* Suggest edits to a document without changing the original text
* Bug fixes and performance improvements
Description
Create, edit, and collaborate with others on documents from your iPod, iPhone, or iPad with the free Google Docs app. With Google Docs you can:

* Create new documents or edit any that were created on the web or on another device
* Share documents and work together with others in the same document at the same time
* Get stuff done anytime -- even without an internet connection
* Add and respond to comments
* Never worry about losing your work -- everything is automatically saved as you type
* Directly insert photos from your camera
* Open, edit, and save Word documents

Permissions Notice
Camera: This is used to takes photos to insert into documents.
Photos: This is used to access photos under the control of Photos Application to let the users pick images to insert into documents
iPad Screenshots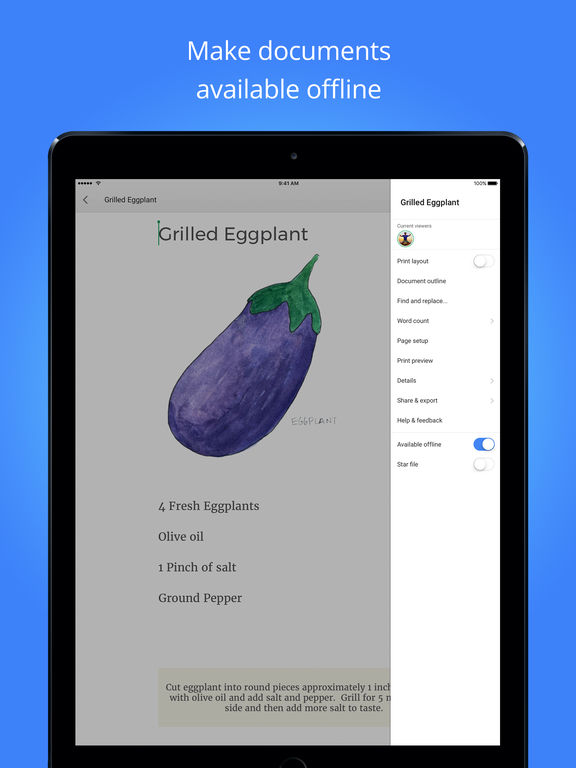 Reviews
It's fabulous
What a great way to write scripts with a partner
It's pretty Lit👌👌
Yea pretty good m8
Like
Mia Tennessee
on
8/16/2017
Very use full I like it slot
Sofiyathefirst1
Grabova is 😎
on
8/16/2017
It is a great app. I would totally recommend it to anyone and I honestly think that it is better than any other.
Awesome app
God's Gal(HLJH)
on
8/16/2017
This app simplifies my life. All of mine and my children's papers in one place. To top it off we can start a file on one device and finish it on another. Simplicity at its best! Thank you!
Love the usability
And flexibility of course
Please fix
CrIstInaSSSS
on
8/16/2017
It won't let me open the app and when it does it immediately exits me out. Please fix thanks
Excellent App
It works for me perfectly without the use of a computer am able to send and receive documents thanks to my Google Drive. I highly recommend it!!
Good
James1324853
on
8/16/2017
Good
Awesome
I love Google docs I wouldn't be able to do all my homework
Works with multiple different formats
I work in a job where I have to change my phone often but I like to write stories on the side and I use Google documents to use on my apple or also my android to make everything easier compatible. I also use Google drive to save everything and everything is seamless and portable it's fantastic
Amazing!
Trashy Hoebag
on
8/16/2017
Very easy to use
Great
lularoecarridillistone
on
8/16/2017
Really helpful
Love G-Docs!!!!!!
Easy on the eye and simple to use. That is it!!! Must have!!!
I finished my book because I can Write anywhere, anytime.
MelodyLightWork
on
8/16/2017
I love that I can open Google Docs on my iPhone while I'm in line at the post office and write a few paragraphs. I like to edit the layout and formatting of my outlines and rough drafts on my desktop and type late at night while I'm in bed on my pad. Everything is automatically synced and easy to find on all my devices whenever I need them. Thank you again Google! 📚
Can't do work without it
I heavily rely on this app to complete my work. I don't even own a computer anymore! I enjoy using it and can't think of any issues I've had so far. I've been using this app for a few years now.
Docs App
Being able to use my documents and being able to access them everywhere is amazing. I can access the documents anywhere I am at anytime and can share them with whomever I need too.
Life saver
I love being able to start something on my computer and being able to continue it anywhere else, even on my phone
Complete necessity
I don't know what I'd do without docs. I rely on it for mobility with my collaborations and writing. I love the fact I can sit and edit my work on my phone in comfort. (Or fall asleep with it! Hah.) It's an absolute necessity in my life.
Great for College
Polyolyoctopus
on
8/15/2017
This app is great because I do and view my notes for college anywhere on any electronic device.
I need better support
It would be fantastic if I could learn all the tasks in docs if someone would come up with how to's and compare it to MS word. Now that would be awesome and I'd use it more. Hello google, do that plz!!!
Good
cierraazraelle
on
8/15/2017
I give the app 3 stars because it's much more easily handled on a laptop, but has gotten me out of plenty late essays (because of the convenience of finishing them on my phone) and hopefully lots more.
Great! But could we fix the messaging...
I love docs, I use it almost every day and it works really really well for online collaboration, which I love. I do wish that the messaging system was more reliable- even when I use docs on my computer it craps out as often as not, making me go to a secondary site to talk to the person I'm collaborating with, and on mobile there isn't a messaging option at all. For simple easy collaboration in writing though, this is by far the best app I know.
Great
It awesome especially for students
Awesome
A bioshock fan
on
8/15/2017
Can write reports on the go and finish where I left off on at home on my computer, although it does not have some of the features that are on the computer.
lit
Lil' ninja ness
on
8/15/2017
lit
Makes life easy
Swimbikerungrl
on
8/15/2017
I thoroughly enjoy the ease at which I can move documents between devices! Makes my life easy!
Docs
Pumpkinlicious
on
8/15/2017
Great most of time but hard to open sometimes.
Working as expected
Nice app.
Works well!
This works well for long-distance editing between several people on a song or other text document.
Love it
It is the best, doc writer around. I love how it syncs between all my devices. And it's so great that google offers it for free. As a new busy dad blogger like myself, who lives on a budget, it is quite simply awesome!! Thanks google!
Good app
It is great for school work
The Awesome App
This is so reliable! I truly love ❤️ the offline accessibility👌. I highly RECOMMEND this App!
Great app
Love the seamless integration with the cloud.
Love Google Docs
The whole Google suite is awesome and simple to use on desktop or mobile.
David
HE is My Pastor
on
8/15/2017
The best.
Perfection
Wow. I have never really used this before fairly recently and Wow. It works seamlessly and actually makes writing fun. I can log in anywhere, use this anywhere. The app itself works flawlessly. Big fan!
Like it
Very reliable and effective
So good
It's so useful how you can right away write anything at any time
Omg life saver
ghost emoji reviews
on
8/14/2017
This is so freaking helpful totally necessary!!!!!!!! 👻👻👻👻
Good, but horrendous keyboard experience
The app works well except for one crucial flaw: on my iPhone (running iOS 10.3.3), editing Docs means having to deal with a keyboard that constantly switches between SwiftKey and the Apple default. It is impossible to type or edit text amid the maelstrom. As Docs is an app that sells itself on mobile typing and document editing, this bug is all but unbearable.
High quality doc sharing
No problems so far
Uff
Great app thanks google
Simple, thorough, handy
I like that this word processor is simple, but has all of the features I desire to write text. With Drive, anything I write is available immediately on my PC and iPad. I use it most with my iPhone, because it is just so darn handy. Does not work in my Kindle Fire--Amazon blocks the app.
Wonderful
Dddddddddqqqqq
on
8/14/2017
Wonderful
Slick, fast, stable
BfSkinnerPunk
on
8/14/2017
Works beautifully. There is something about Google Docs in general....and in iOS specifically...that gives confidence that it is working as it should, works quickly, and won't crash mid-stream!
Poor excuse for a Word Processor.
bye bye yahoo email
on
8/14/2017
It is a real step down from using Microsoft Word. Most of the Apps for the Ipad, with a few exceptions like Google translate, and Google Maps, are not on the same level as programs on Windows 7. It is no Emacs.
Wonderful
Kshark:)Bluedragon:)
on
8/14/2017
It's a great app that provides what I need for college. I love that it stays updated even if I've closed the app. Favorite!
Fact Sheet
Publisher: Google, Inc.
Category: Productivity
Released: Apr 30, 2014
Current Version Released: Aug 16, 2017
Version: 1.2017.32202
Size: 199.9 MB
Compatibility: Requires iOS 9.0 or later.
Recommended Age: 4+
Game Center Certified: No
Supported Devices: iPad2Wifi-iPad2Wifi, iPad23G-iPad23G, iPhone4S-iPhone4S, iPadThirdGen-iPadThirdGen, iPadThirdGen4G-iPadThirdGen4G, iPhone5-iPhone5, iPodTouchFifthGen-iPodTouchFifthGen, iPadFourthGen-iPadFourthGen, iPadFourthGen4G-iPadFourthGen4G, iPadMini-iPadMini, iPadMini4G-iPadMini4G, iPhone5c-iPhone5c, iPhone5s-iPhone5s, iPadAir-iPadAir, iPadAirCellular-iPadAirCellular, iPadMiniRetina-iPadMiniRetina, iPadMiniRetinaCellular-iPadMiniRetinaCellular, iPhone6-iPhone6, iPhone6Plus-iPhone6Plus, iPadAir2-iPadAir2, iPadAir2Cellular-iPadAir2Cellular, iPadMini3-iPadMini3, iPadMini3Cellular-iPadMini3Cellular, iPodTouchSixthGen-iPodTouchSixthGen, iPhone6s-iPhone6s, iPhone6sPlus-iPhone6sPlus, iPadMini4-iPadMini4, iPadMini4Cellular-iPadMini4Cellular, iPadPro-iPadPro, iPadProCellular-iPadProCellular, iPadPro97-iPadPro97, iPadPro97Cellular-iPadPro97Cellular, iPhoneSE-iPhoneSE, iPhone7-iPhone7, iPhone7Plus-iPhone7Plus, iPad611-iPad611, iPad612-iPad612, iPad71-iPad71, iPad72-iPad72, iPad73-iPad73, iPad74-iPad74,
Supported Languages: Afrikaans; Albanian; Amharic; Arabic; Armenian; Azerbaijani; Basque; Belarusian; Bengali; Bulgarian; Central Khmer; Catalan; Valencian; Chinese; Croatian; Czech; Danish; Dutch; Flemish; English; Estonian; Finnish; French; Galician; Georgian; German; Greek; Gujarati; Hebrew; Hindi; Hungarian; Icelandic; Indonesian; Italian; Japanese; Kannada; Kazakh; Korean; Lao; Latvian; Lithuanian; Malay; Malayalam; Marathi; Mongolian; Nepali; Norwegian; Bokmål, Norwegian; Norwegian Bokmål; Persian; Polish; Portuguese; Punjabi; Romanian; Moldavian; Russian; Serbian; Chinese; Sinhala; Sinhalese; Slovak; Slovenian; Spanish; Castilian; Swahili; Swedish; Tamil; Telugu; Thai; Chinese; Turkish; Ukrainian; Urdu; Vietnamese; Zulu;