Screenshots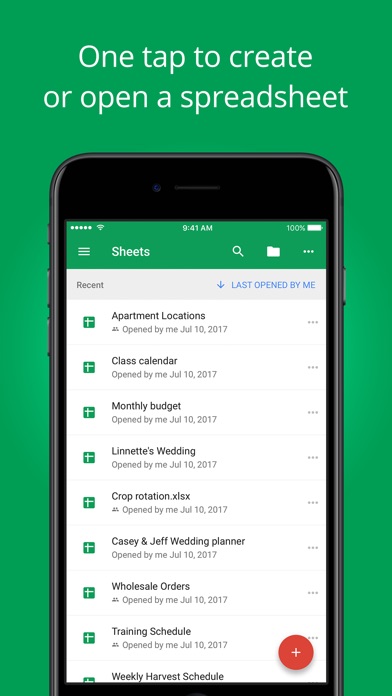 New in version 1.2017.38205
* Bug fixes and performance improvements
Description
Create, edit, and collaborate with others on spreadsheets from your iPod, iPhone, or iPad with the free Google Sheets app. With Google Sheets you can:

* Create new spreadsheets or edit any that were created on the web or on another device
* Share spreadsheets and work together with others in the same spreadsheet at the same time
* Get stuff done anytime -- even without an internet connection
* Format cells, enter/sort data, view charts, insert formulas, use find/replace, and more
* Never worry about losing your work -- everything is automatically saved as you type
* Protect your spreadsheets with a 4-digit passcode
* Open, edit, and save Excel files
iPad Screenshots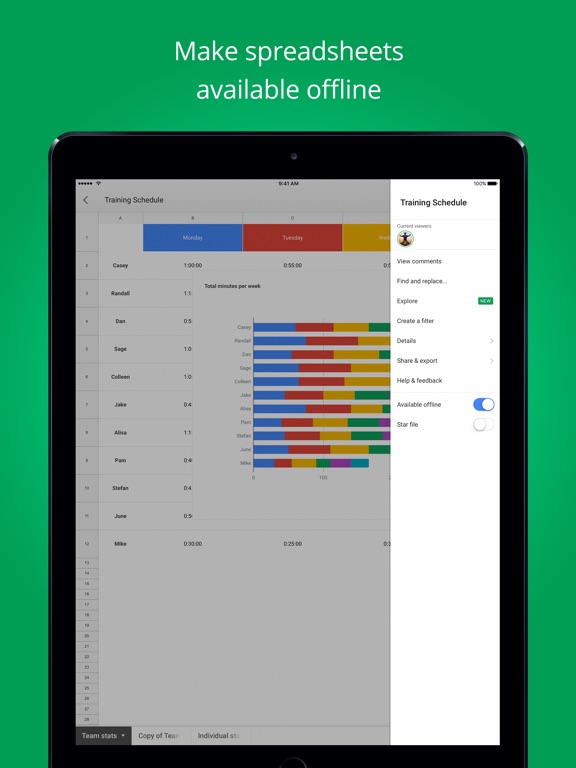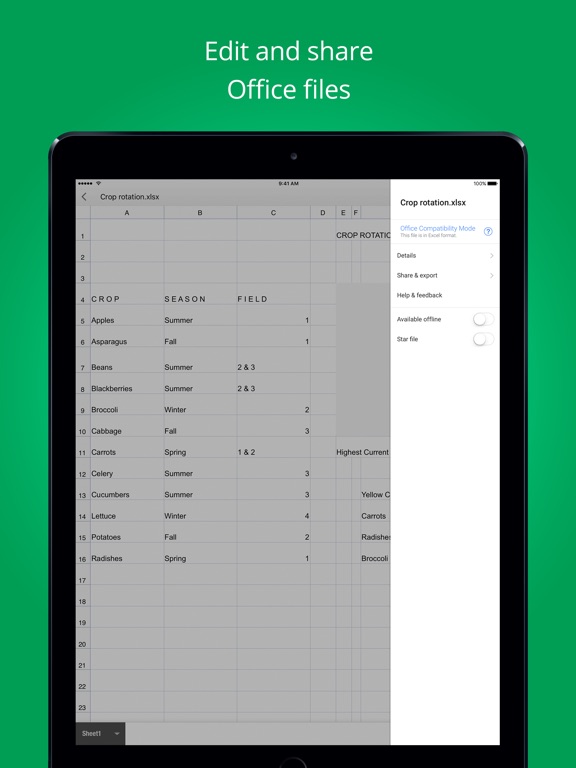 Reviews
Best tool for life!
I use this for work, school, and my finances. Easy to use and accessible on every device. Saves all the info, too! 10/10!
Works great!
Love this app! I can do all my work communications easily on my phone.
Love this app
Love this app. So easy to use and share/edit data quickly.
Great App
Have had no problems with it so far.
Works for me!!
Isarexwhitesalmon
on
10/18/2017
I use it to schedule my staff, super easy and shows up on all my devices.
Sheets in iOS with External Keyboard = Frustrating
hsteacher33
on
10/18/2017
The sheets app is slow to respond to touch input, it is impossible to resize a column, difficult to select multiple cells, and very difficult to move from cell to cell. Keystrokes are dropped when typing in cells. It is not a viable option to do anything but the most simple tasks on an iPad.
Sales
pcah home care
on
10/18/2017
Easy and quick to use
Good app
Good app does good job doing spreadsheets. Good app makes good feelings with fools like me.
Google sheets!!
Seriously LOVE this app.
Great app
I use it every day to keep a work log, work times and calculate pay. Works great.
use it every day my number one go to over Microsoft excel
pcHarmonE iTunes Account
on
10/18/2017
This application is extremely helpful with my day-to-day business. I use it to collaborate with other coworkers and to communicate with all of my customers The only thing that is negative is that the interface for iPhone is not as robust as the web application. does not display the same graphical representation as a webpage. It does not allow you to unhide tabs. If google can tighten up the iPhone integration a bit better I would give this five stars.
:-)
mayor alekx
on
10/18/2017
Super handy to have on-the-go!
Generally great!
Nikki Castiglione
on
10/18/2017
It's super easy to see and edit the documents. I sometimes have weird glitches with importing stuff from my email in gmail where it doesn't work and takes like 5 tries. But generally great!
Crashes on startup
Willziakness
on
10/17/2017
This version needs an update!
I love google spreadsheets
Mr music owl
on
10/17/2017
Great collaboration tool
Convenience at my fingertips
I absolutely love this app. I especially love that I can share files with people and be able to update those files remotely without having to send out a whole new sheet (unlike excel.)
Love this app
Use it every day - couldn't run my business without it!
App freezes
Tonka town trukker
on
10/16/2017
App freezes when trying to edit. Real annoying
Business Usage
Golf cool j
on
10/16/2017
Easy to share documents and communicate.
Great app
Where's the "new" song
on
10/16/2017
The app works smoothly and automatically saves my information when I have a good connection.
Not updated?
Having a hard time logging into my sheets from this app. This has been happening in the last few days.
What did you do?
Have used this app a long time. Since the Sept. update it won't open or work correctly. Frustrated!!
A84Evans
Will not download on iPad Mini with iOS 9.3.5. No error message pops up. Instead just resets.
Good free spreadsheet; needs more intuitive menus
Make 1-click menu for creating "hyperlinked text."
iOS version has improved a lot
Amazingly easy to use and update on the go. Virtually no lapses even when group updating. Love it.
Would be perfect if it let me insert pictures
Jessica1635352729
on
10/15/2017
Love this App for work would be perfect if it let me insert pics!
Google Sheets
Love the ease of use and compatibility to Excel with the benefits of being to access on all my devices regardless of where I am! Highly recommend it!!!
Great product
Ravinder1986
on
10/15/2017
This app is really nice and time saving. I am using this from long time and have all information there saved properly and get any time when required. Thank you for this amazing product
Mostly great with a few minor issues
Probably 1/4 of the time it doesn't open the doc correctly and I have to restart the app. And I dislike that it doesn't seem to be very intelligent about what I want to put in a column. If everything in the columns is alpha numeric, why do I get the numeric keypad by default? But otherwise it's pretty handy.
Love this app!!!
Using google sheets has made my wedding planning super easy. I've been able to create spreadsheets of everything and be able to work on it at home on my computer and on my phone. It's super easy to use and has kept my planning organized and shareable with my wedding party.
Google Sheets is Great!
I have google drive, sheets and docs installed on my iPad, iPhone and laptop. I can access my data wherever I am and with the exception of a few instances where I hadn't updated my app, it works great! In my attempts to go green, these apps have come in very handy.
Functionality anyone?
No really, does anyone have any functionality they can give to this app. It's missing so much it is all but useless.
SIMPLICITY
This app is by far the easiest to navigate through if your not the best at computer savvy, like me. It pretty much walks you through each step. Definitely recommend!!!
Solid app
wokoglopulator
on
10/13/2017
Effective alternative to Microsoft Excel. Not as good as the desktop version, but its convenience outweighs any detriments.
Awesome
Fast, simple, and hassle free
Great alternative to MS Excel
Love google sheets. Google is great for providing this free alternative Microsoft Excel.
Love it for work and home
Great app for data analysis
Useless on the iPad Pro
This app is effectively useless on the iPad Pro 12.9 in. Moving around the site works marginally and trying to use the same keyboard and shortcut keys I use on the desktop does not work at all. Until the app gets updated to handle to pro, keyboard, pencil, etc... it is useless for actually trying to get anything done.
Great help
I've needed to share financial surprisingly often and I don't know an easier way to do it!
Excellent App!
BattlezMode
on
10/13/2017
Very Very Good! Thanks again Google. Always paving the way and making life easier.
Bad app
LmaMusicWorld
on
10/12/2017
Always error when I want to save my work and open again
Love this app
Bill4Shorts
on
10/12/2017
This app works seamlessly between my iPhone and my Chromebook. I use it almost daily.
This app is TERRIFIC!
I love this Google Sheets! In fact, I love Google Drive. It has changed my life...lol! I am a list maker. I've always used excel and then needed to find time for updating. Google Sheets allows me to take my lists wherever I go. Making updating super easy. You can create folders and share them easily. LOVE! Great job Google!
Annoying af
Glitches, freezes, wont translate conversions, overall is more of a hassle than a convenience but it is all i have access to, and i need to create/edit spreadsheets. Wastes so much of my time trying to click things over and over and then freezing, when i type things it mysteriously erases them and makes me start over.
Just great
homeromaldonado
on
10/12/2017
This app it's just great. Tnx
Love it!!!!
Noah Penman
on
10/12/2017
It works really good and very good to keep track of different things
Very helpful app!
Bobo hut dude
on
10/11/2017
Really useful and easy to edit
Best spreadsheet app ever!
I use Sheets every day to track investments, budgets and taxes. I think it is fairly easy to pick up after using other spreadsheet software over the years. Having it in the Cloud making access where ever you are is a breeze. More limited than some spreadsheet software but great for everyday personal use.
Great App
I use the google sheets to do our monthly budget. I love that you can use it on your phone or desktop and it saves your changes automatically. Very reliable app.
Fact Sheet
Publisher:

Google, Inc.

Category:

Productivity

Released:

Apr 30, 2014

Current Version Released:

Sep 27, 2017

Version:

1.2017.38205

Size:

289.9 MB

Compatibility:

Requires iOS 9.0 or later.

Recommended Age:

4+

Game Center Certified:

No

Supported Devices:

iPad2Wifi-iPad2Wifi, iPad23G-iPad23G, iPhone4S-iPhone4S, iPadThirdGen-iPadThirdGen, iPadThirdGen4G-iPadThirdGen4G, iPhone5-iPhone5, iPodTouchFifthGen-iPodTouchFifthGen, iPadFourthGen-iPadFourthGen, iPadFourthGen4G-iPadFourthGen4G, iPadMini-iPadMini, iPadMini4G-iPadMini4G, iPhone5c-iPhone5c, iPhone5s-iPhone5s, iPadAir-iPadAir, iPadAirCellular-iPadAirCellular, iPadMiniRetina-iPadMiniRetina, iPadMiniRetinaCellular-iPadMiniRetinaCellular, iPhone6-iPhone6, iPhone6Plus-iPhone6Plus, iPadAir2-iPadAir2, iPadAir2Cellular-iPadAir2Cellular, iPadMini3-iPadMini3, iPadMini3Cellular-iPadMini3Cellular, iPodTouchSixthGen-iPodTouchSixthGen, iPhone6s-iPhone6s, iPhone6sPlus-iPhone6sPlus, iPadMini4-iPadMini4, iPadMini4Cellular-iPadMini4Cellular, iPadPro-iPadPro, iPadProCellular-iPadProCellular, iPadPro97-iPadPro97, iPadPro97Cellular-iPadPro97Cellular, iPhoneSE-iPhoneSE, iPhone7-iPhone7, iPhone7Plus-iPhone7Plus, iPad611-iPad611, iPad612-iPad612, iPad71-iPad71, iPad72-iPad72, iPad73-iPad73, iPad74-iPad74, iPhone8-iPhone8, iPhone8Plus-iPhone8Plus, iPhoneX-iPhoneX,

Supported Languages:

Afrikaans; Albanian; Amharic; Arabic; Armenian; Azerbaijani; Basque; Belarusian; Bengali; Bulgarian; Central Khmer; Catalan; Valencian; Chinese; Croatian; Czech; Danish; Dutch; Flemish; English; Estonian; Finnish; French; Galician; Georgian; German; Greek; Gujarati; Hebrew; Hindi; Hungarian; Icelandic; Indonesian; Italian; Japanese; Kannada; Kazakh; Korean; Lao; Latvian; Lithuanian; Malay; Malayalam; Marathi; Mongolian; Nepali; Norwegian; Bokmål, Norwegian; Norwegian Bokmål; Persian; Polish; Portuguese; Punjabi; Romanian; Moldavian; Russian; Serbian; Chinese; Sinhala; Sinhalese; Slovak; Slovenian; Spanish; Castilian; Swahili; Swedish; Tamil; Telugu; Thai; Chinese; Turkish; Ukrainian; Urdu; Vietnamese; Zulu;