TapNova recommends this app!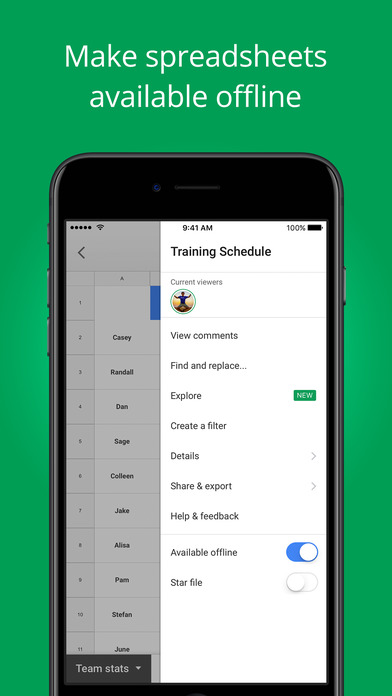 New in version 1.2017.32202
* Bug fixes and performance improvements
Description
Create, edit, and collaborate with others on spreadsheets from your iPod, iPhone, or iPad with the free Google Sheets app. With Google Sheets you can:

* Create new spreadsheets or edit any that were created on the web or on another device
* Share spreadsheets and work together with others in the same spreadsheet at the same time
* Get stuff done anytime -- even without an internet connection
* Format cells, enter/sort data, view charts, insert formulas, use find/replace, and more
* Never worry about losing your work -- everything is automatically saved as you type
* Protect your spreadsheets with a 4-digit passcode
* Open, edit, and save Excel files
iPad Screenshots
Reviews
It's good
If you use excel a lot to plan out expenses and you like to see hard numbers when you're making lists, it's great.
Google Sheets
Easy to locate. Easy to read. The only problem I have in my iPad is that sometimes the last user to a document will leave their name in an important field-covering up information.
👍
star spangeld princess
on
8/16/2017
Love it so helpful
Google sheets
Excellent App! Much better than Excel.
Good replacement for Excel
12121212121212121212121212
on
8/16/2017
It has replaced Excel for my entire company, as the other Google apps have replaced the entire Microsoft Office suite for us.
Very good App
Very good and productive. It would be great if it had more functionality, as the browser version does!
Convenient!
I love being able to access this as an app. Easy to use for more basic and complicated needs without the hassle of needing a computer!!
Love it
This app does everything you need a.c. Spreadsheet to do and you can share it with friends or co-workers for collaboration. Awesome!
Everything I need
Joeydoesbackflips
on
8/15/2017
I run a business from my phone. Sheets are pivotal in making that happen
Love it. Depend on it.
Georgia Jill
on
8/15/2017
I depend on all my Google apps when I am out and about. Sheets is no different. Easy to use and all the basics are similar to Excel, but easier to share.
Great for mobility and collaboration
BaconMathColorado
on
8/15/2017
As a spreadsheet user going back to the early days of Microsoft and even Peachtree Accounting, I appreciate so many things about the newer versions of spreadsheets. Formatting cells, using formulas, locking rows and columns, all of that is more user-friendly. But now there's the added features of working on a sheet on any device, and also being able to collaborate as multiple users access and edit the same sheet. Heaven! I'm in heaven!
So good
Use sheets for so many things. Makes my life more organized
Makes my business easy!
caseyelmore0714
on
8/15/2017
Love being able to take my business everywhere and sync it with our team!
Even Better!
Player-2-player
on
8/15/2017
Sheets has always been a great app, but the newest version for iOS is even better. The shortcut math keyboard is especially useful in iOS. The new version adds a menu for the edits you use most. Nearly all the benefits of Excel + online access to ALL your files = Amazing! You will not be disappointed w/ this app!
Perfect
Great-great10
on
8/14/2017
Perfect
Great job G!
It is so quick and handy!
Invaluable
It has so many of the features of excel.
Very handy
Wwwwwwwwwwwwwwww
on
8/14/2017
Love being able to whip out a quick spreadsheet on my phone. And of course multiple user simultaneously accessing!!!
Ms. CB
I like that many people in our group have access and can work off the same spreadsheet adding (as administer enables) and then the updated data is available to all users. It seems a bit old skool but it could be the admin who set it up for our sharing. Otherwise it's working fine for our/my needs
Amazeballs 10/10 would bang
I did not know that our overlord (the big G) made a version of excel that is accessible to the public for free Amazing
Fix date
I'm frying fix date app It's like this 8/8/17 I try edit it like this 8-8-17 it goes back what had it first time. It also cuts off the last date number. When finished editing save it.
Love it
Absolutely love the ability to collaborate, love the UI, love the folder structure and so much more. As soon as you fully beef up the ability to do complex spreadsheets w/ complex formulas, Excel will become a distant memory
Very Convenient
Really easy to share data (like attendance tracking for volunteer groups I'm involved with) and allow others to make their own inputs.
Sheets
Vickeryvoyager
on
8/13/2017
I use sheets at work and for personal planning. I am a teacher and use it for planning events with coworkers. Our principals have used it for attendance during summer school. It's so accessible on my phone or iPad. I have also used sheets to plan parties and showers. People sign up for things they want to bring. I love it because I can check it on my phone!
Nice
I switched to google sheets a while ago for portability, the app makes its even easier.
Great!
That's very easy and convenient to use my Google spreadsheets from my phone
Needs better input methods
It would be better if it had a ten key feature. It works well. Allows you to keep your work safe. Pretty easy to use.
Sheets is a good spreadsheet app
A clever nickname goes here
on
8/13/2017
Works great on a phone as long as spreadsheet isnt too complex in which case it can overwhelm the capacity of the phone.
Great for organizing
Irregular me
on
8/13/2017
Awesome!
Ok
It does what I need it to do.
Happy
BigCurtyCurt
on
8/12/2017
I'm pleased with the App. Now that I have it, I use this app almost a couple times a day because it's so easy
Excellent
TheAJHarrison
on
8/12/2017
Good
Amazingly designed and useful. Better than one would have expected for a small screen
I'm a spreadsheet junkie and power user since the days of Lotus in the early 90's. Google Sheets on the web still has a ways to go with the feature set but it satisfies 80% of my needs, and allows me to collaborate on spreadsheets with those in my office, cross departments and entirely other companies. That alone makes this (and the rest of G-Suite) one of the most useful tools I use. Designing a well functioning spreadsheet app for the size of a phone screen is an incredible challenge. And I didn't expect much initially. But Google just keeps making it better. Sure, it's not easy to do the complex formatting, formulas and move back and forth between worksheets, but I do the heavy lifting on my laptop. The fact that I can do almost anything I need to do on my phone with fair ease is amazing. Everything is either where I would expect it to be or easily found. It might take 5 more taps than on a computer but it's all there. They've put a lot of thought into the design and it really makes this tool not only useful but actually a joy to use.
Thanks for the updates
me fish2many
on
8/12/2017
Love this. It's very easy to use.
It is good
I like using it in conjunction with the web version. Great on the go.
Love that this is an app but
Every time I try to open a spreadsheet from Facebook it only gives me the option to download the app not open the spreadsheet in app. This seems like a huge flaw as I have to go open the spreadsheet on my computer first in order access it in my google docs. Please fix and this app will be so much more useful!!
Awesome
fffgggghhhhh
on
8/12/2017
I usually use sheets on my laptop. With this program on my phone I am able to quickly look at spreadsheets and share them when I am anywhere. I usually do not edit while on my phone but simple changes are easy to make.
Great functionality
And free!
Handy
This app is straight forward. Easy, simple to use. No bells or whistles with the app version. But I like it because of the Easley use of it.
It works ok
...and it helps make projects more collaborative.
Excellent for Groups!
We tried several "group" methods of communication before we discovered Sheets. Other programs/apps were impossible to access by many of our computer-challenged members. When Sheets was set up and our reluctant members were encouraged to try it out, they were absolutely enthusiastic after trying it on computers, phones and tablets! Here's what several of them said:"Yes!! I can do it! ...and if I can do it anyone can!" Hooray! It's a huge relief to have a workable immediately updatable program. Thank you Sheets creators!
Works well
This works well across all phone platforms. I've had no issues with it
Great app
I really appreciate the ease of use and the instant response of the app. Thanks Google!
Easy to collaborate 5 stars!
Easy to collaborate 5 stars!
Very helpful
Assists in communicating in real time.
Terrible on Mobile
Every time I try to edit a spreadsheet that I opened on another app like safari or Facebook, it says I cannot edit the spreadsheet unless I have the sheets app downloaded and tells me I need to download the app, and takes me to the App Store, EVEN THOUGH I ALREADY HAVE THE APP DOWNLOADED. Then when I open the sheets app, she sheet isn't even there. Very frustrating and should be fixed. Ridiculous, pointless app
Muy Buena App
Lo único q pediría sería una interfaz más amigable para ser usada como base de datos
Great.
Yo Boi Frazier
on
8/10/2017
Is a great way to make many different things. For me a make football standings and season,s for soccer football and basketball. It's so much better then using google slides like I used to.
far far too big
fuzzywuzzywaza
on
8/10/2017
300Mb is just flat unacceptable size for what this app does. High probability i will delete it.
Fact Sheet
Publisher: Google, Inc.
Category: Productivity
Released: Apr 30, 2014
Current Version Released: Aug 16, 2017
Version: 1.2017.32202
Size: 289.4 MB
Compatibility: Requires iOS 9.0 or later.
Recommended Age: 4+
Game Center Certified: No
Supported Devices: iPad2Wifi-iPad2Wifi, iPad23G-iPad23G, iPhone4S-iPhone4S, iPadThirdGen-iPadThirdGen, iPadThirdGen4G-iPadThirdGen4G, iPhone5-iPhone5, iPodTouchFifthGen-iPodTouchFifthGen, iPadFourthGen-iPadFourthGen, iPadFourthGen4G-iPadFourthGen4G, iPadMini-iPadMini, iPadMini4G-iPadMini4G, iPhone5c-iPhone5c, iPhone5s-iPhone5s, iPadAir-iPadAir, iPadAirCellular-iPadAirCellular, iPadMiniRetina-iPadMiniRetina, iPadMiniRetinaCellular-iPadMiniRetinaCellular, iPhone6-iPhone6, iPhone6Plus-iPhone6Plus, iPadAir2-iPadAir2, iPadAir2Cellular-iPadAir2Cellular, iPadMini3-iPadMini3, iPadMini3Cellular-iPadMini3Cellular, iPodTouchSixthGen-iPodTouchSixthGen, iPhone6s-iPhone6s, iPhone6sPlus-iPhone6sPlus, iPadMini4-iPadMini4, iPadMini4Cellular-iPadMini4Cellular, iPadPro-iPadPro, iPadProCellular-iPadProCellular, iPadPro97-iPadPro97, iPadPro97Cellular-iPadPro97Cellular, iPhoneSE-iPhoneSE, iPhone7-iPhone7, iPhone7Plus-iPhone7Plus, iPad611-iPad611, iPad612-iPad612, iPad71-iPad71, iPad72-iPad72, iPad73-iPad73, iPad74-iPad74,
Supported Languages: Afrikaans; Albanian; Amharic; Arabic; Armenian; Azerbaijani; Basque; Belarusian; Bengali; Bulgarian; Central Khmer; Catalan; Valencian; Chinese; Croatian; Czech; Danish; Dutch; Flemish; English; Estonian; Finnish; French; Galician; Georgian; German; Greek; Gujarati; Hebrew; Hindi; Hungarian; Icelandic; Indonesian; Italian; Japanese; Kannada; Kazakh; Korean; Lao; Latvian; Lithuanian; Malay; Malayalam; Marathi; Mongolian; Nepali; Norwegian; Bokmål, Norwegian; Norwegian Bokmål; Persian; Polish; Portuguese; Punjabi; Romanian; Moldavian; Russian; Serbian; Chinese; Sinhala; Sinhalese; Slovak; Slovenian; Spanish; Castilian; Swahili; Swedish; Tamil; Telugu; Thai; Chinese; Turkish; Ukrainian; Urdu; Vietnamese; Zulu;