Screenshots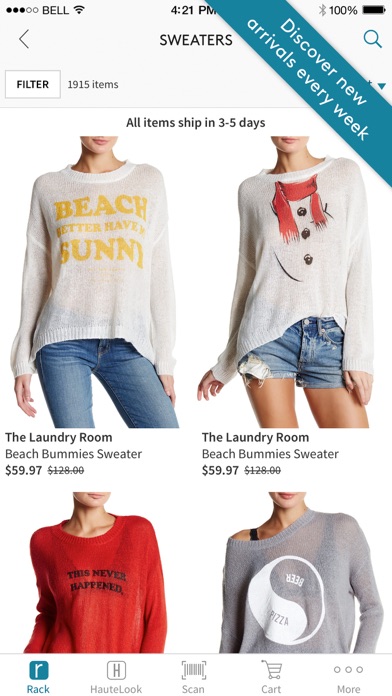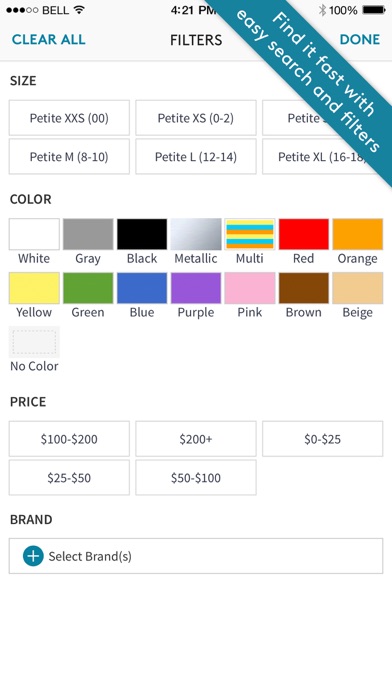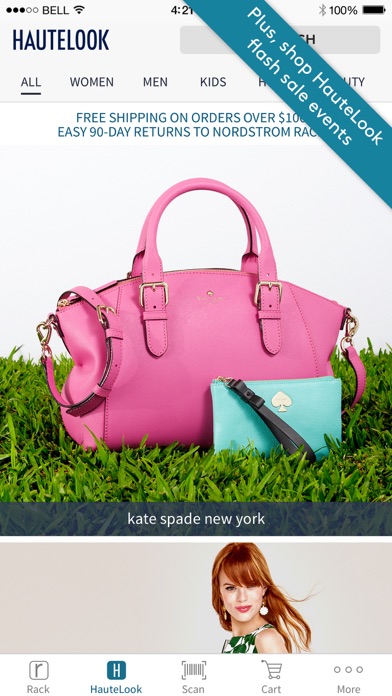 New in version 4.7
- Users can now shop without having to create and account.
- Users can view product ratings and reviews.
- Bug fixes and improvements
Description
The all-new Nordstrom Rack App for iPhone and iPad puts the brands you love at up to 70% off right at your fingertips. Plus, it gives you instant access to HauteLook's exclusive, limited-time sale events—all from the same app! Now you can shop and browse the latest looks from both stores wherever you are.

App Features:
* 2 Stores, 1 Cart: Shop the best of Nordstrom Rack and HauteLook using one shared account.
* Quick Search: Convenient search and filter features help you find what you want fast.
* Easy Checkout: One simple checkout makes it effortless to shop and buy.
* Store Locator: Find your nearest Nordstrom Rack location and see what's in store.

And, enjoy free shipping on orders over $100 and easy 90-day returns by mail or to any Nordstrom Rack store. Download the app now!

ABOUT NORDSTROM RACK:
Nordstrom Rack is where style meets savings. We offer the most current trends and brands you love for 30-70% off original prices—each and every day. Whether you prefer the convenience of online shopping or crave the thrill of treasure hunting at one of our many stores, we've got you covered.
iPad Screenshots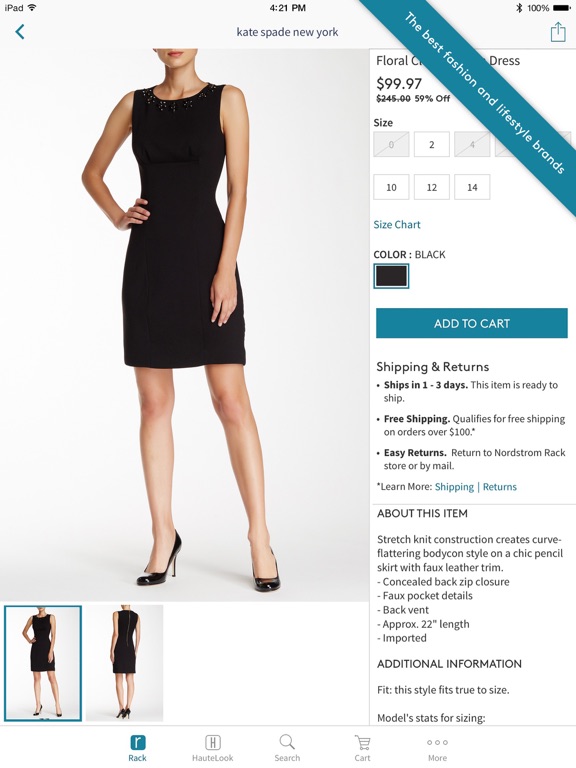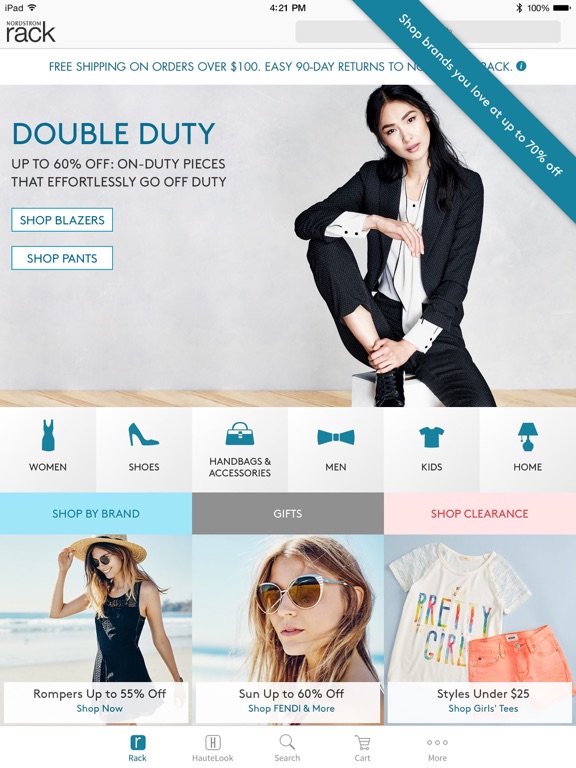 Reviews
Nothing will load
I can't use the app because nothing will load. I would spend tons of money if I could get this app to work...
Why take away filtering options?
nicholas042893
on
12/10/2017
I'm not sure why many filtering options were removed. In men's underwear for example, you now have all types together in the one category. I hate wasting my time scrolling through hundreds of items and having to scan everything to find what I'm looking for, and so wouldn't the designers who made that decision? It doesn't make sense. It's like if shorts, jeans, dress pants, etc. we're all under "Bottoms." Why go backwards in convenience? The previous way of filtering was much more helpful, which is by style. I shouldn't have to view "all pants" when I want slim straight jeans. I have found just searching certain terms doesn't bring up all items in a category as it should.
Fast & easy
I tried ordering online and i had issues placing an order. I decided to check out the app to see if i had any luck. The app allowed me to find some Palladium boots very quickly and on sale. I liked the ordering process was very quick and easy. One thing that can help in the future is the integration of apple pay to make it even quicker. Overall great experience.
I'm addicted!
This site's genius is that one can check in everyday for new deals! I find myself doing so, and with the amazing prices I don't feel TOO bad about picking up new items on a regular basis. And because it's Nordstrom, who has the BEST customer service of any high-end retailer, I know I will always be satisfied with my purchases.
Love it!!!
My new favorite place to go!
Painful slow
Devilwearprada
on
11/25/2017
The app is really slow, and that's really frustrating.
Switching address
I placed order to my sister's address. I checked address before I placed order. I saw after my address. I cancelled order. I replaced my order from my sister's address. I checked the address before I placed order. After that I saw my address. Second I cancelled. Frustrating!!!!!!!!!!!
Online Ordering
I Ordered My Son An Outfit Four Days Before His Party Which Was Tuesday Nov. 14 His Birthday Party Was Nov. 18 They Told Me My Package Will Be Here Nov. 16 Because I Added Some Extra Money For The 2 Day Shipping And Its Still Not Here They Say It Will Be Here Nov. 20 If That Was The Case I Should Have Had It Shipped The Regular Shipping
Excellent inventory of on-trend clothing. Great Prices
If your work environment is business casual, then you will love this place! Great variety of fashionable clothes and sizes at prices that can't be beat. Allows returns at the retail stores if you're lucky to live near one , as I am.
Nordstrom App
Russell Hutcheson
on
11/19/2017
All shopping at my fingertip and account information also so convenient from phone away from computer
Easy
This app has made it so easy to shop, order and receive items. Love it
Hit or Miss
Overall I think the app is super easy to use, but I've had numerous times where I my order has been canceled days later due to limited volume which is super frustrating. Once an item is sold out, the item should not still be listed for sale on the site. I've also ordered items and when they arrive they are not even the same brand item that I ordered.
Sure beats getting ran over at the store!
Keyser Sose
on
11/10/2017
The one thing that all Nordstrom Rack stores have in common is that as soon as those doors open, people swarm in, just to be the first to get the good deals! I never have been one to shop in stores that are at discount prices, because I have a big thing with authenticity and people with knowledge of what I am buying. The app takes a lot of the stress out of going shopping, especially somewhere where you never know what you're going to get. Highly recommended if you're a bargain shopper, that's for sure, and it turned me into a believer!
Does not save items
Like the app. However, it can't save items in the cart for too long.
Such great deals - good filters
Roorphx9mm.
on
10/26/2017
Easy breezy
I love shopping at Nordstroms !!!!
This App is great!!!!! I love shopping here, its quick and easy to use!!!
This app is KILLIN' IT! 🔥
slamdunker🏀
on
10/18/2017
I absolutely LOVE the Nordstrom Rack app. It gives me a quick, simple, and easy way to do shopping. I can just open the app, search up what I need, and it will be delivered to my house in 1-3 days tops. If some days I need to do some shopping, but I don't want to get out of bed. I can just open this app and I'll find whatever I need on this. I definitely recommend this to anybody who wants a quick, simple, and easy way to shop. Love love LOVE it!
Love it!!
Love this app it's great!
Love it but excited for new filtering options
I think it is a great way to find deals!
Slooooow
Takes a couple minutes to load images. I don't have this problem with regular Nordstrom app. Tried reloading rack app... Restart etc. Still slow.
Best shopping app
vviiiiiiiiiiiiiiiiiiiiiiiiiiii
on
9/11/2017
Easy to shop, good features. A one of my favorite shopping app for me .
Things have changed... for the worse. And very slow shipping
So many problems with this now, they need to focus much more on customer experience. Nordstrom Rack used to be a good and dependable shopping app with great customer care. Now it's a mess. Shipping usually takes weeks now, regardless of what they say in the item description. There have been problems with my last two orders. And returns have been a total, complete mess. How can it be this difficult when you have both the items AND my money. Nordstrom is known for great customer service but now no one steps up to resolve. After more than 7 weeks and a dozen calls and emails with customer service, no help at all. Yet Rack still had my return merchandise AND my money, around $250 or so. I eventually called the corporate office and the exec VP of Nordstrom Rack / Haute - Terrence Boyle. A little later someone finally called me and immediately refunded my purchases. So in asking why I had to waste so much of my own time, pursuing this, for which they had no answer, they said they could not offer me any compensation in my account because they use good customer service as a selling point for the brand and that would be admitting they had a problem! Incredible! So then believe it or not I was told if I had a NEW order, they could help me with that on a price basis so I said 'ok, I'll call you back when I need to buy something. Thank you.' So I call her back at her direct line, same voice mail, left 3 messages referencing the prior problem and her offer to help, no returned call at all. Pitiful. This is definitely NOT the Nordstrom most of us are familiar with. I'm surprised Nordstrom even lets them use the name. Finding a new place to shop starting today and I suggest you do the same. They have permanently screwed up what used to be a good thing.
My new found shopping
I love shopping at Nordstrom. I love their customer service, quality products and special events. They make shopping so easy, especially online. I shopped online at Nordstrom Rack and found great prices. Standard shipping is 1-3 business days, so awesome. So I will be shopping more both in the store and online. Love it! 😁
Love the app!
Easy to use, coupons are always handy, love Nordstrom rack!
Can't place order
I have a bunch of items in my cart, and when I go to place the order, it says one or more items are no longer available. It doesn't show which one it is!!! What am I suppose to do?? Delete the items one by one??? And if it wasn't it go back and try to look for it again to add to my cart??? Terrible! What the heck!
Great clothing
luvrealsingers
on
9/1/2017
Great buys on quality clothing!!
Shopping made easy!
Love this app, easy navigation and filtering!
Addiction!
This app is tooo good. It is one of the better consumer apps. Makes it very easy to satisfy my addiction.
Great values! Great products!
Too $&@? Busy!
on
8/30/2017
I have so much fun in the pursuit of great buys at the Rack! Can't wait for the new location in Bellevue, WA!
Great app
Can sort and browse. Great app
great selection/terrific price range
Love this app-iPhone and iPad Nice clean layout, easy and simple user experience. V nice selection, all great brands and price range is on target! loyal user in nyc:)
Me and this app are like this 🤞
The prices and selection are perfect.
Good
LuckyLefty7945
on
8/26/2017
Great site that is easy to navigate through the savings!
Nordstrom Rack! ❤️!!! So many beautiful things!
I enjoy shopping here.
Nordstrom Rack
Best store ever
Awesome
Sarahisgettingirritated
on
8/22/2017
I love this app! Easy to navigate and I rarely have issues. Customer support is super helpful!
Wonderful app
I love this app
Sale beginnings and endings
Can't see start and end dates for sales.
Best customer support!
I love shopping from this app! If I ever have a problem or need a question answered I always get friendly and prompt customer service.
Good deals
This app has good deals, but I wish it could remember your sizes and filter for them automatically.
Fabulous
Nurse girl 20
on
8/17/2017
Great prices and awesome selection!!
Love this app!!
TonyaLuvsNords
on
8/17/2017
❤️❤️❤️
Slow load
This used to be my favorite app! I was always on here hunting for deals, but lately the app won't load any images! I downloaded the newest version and reset my phone... no different, now I can't shop bc I can't see anything! Horrible mistake.
Karpis Barseghyan
The best shopping app ever thanks Nordstrom !!!
Love Rack
Same jeans. Lower prices. Can sort and browse and relax shopping.
5 star if it had a wish list ability
I love the app..only fault is not having a wish list or light option to find items one liked the day before. I understand there's only a limited amount available but they could just be labeled as sold out it that happens. My go to app though for all of our families clothing shopping!!!
Great to use
Karinrebbecca
on
8/12/2017
Great app and easy to navigate!
Slow!!!
Takes so long to load the products. Once it does come up, the choice you make takes forever to show you.
Fact Sheet
Publisher:

Nordstrom, Inc.

Category:

Shopping

Released:

Apr 30, 2014

Current Version Released:

Nov 13, 2017

Version:

4.7

Size:

57.9 MB

Compatibility:

Requires iOS 9.0 or later.

Recommended Age:

4+

Game Center Certified:

No

Supported Devices:

iPad2Wifi-iPad2Wifi, iPad23G-iPad23G, iPhone4S-iPhone4S, iPadThirdGen-iPadThirdGen, iPadThirdGen4G-iPadThirdGen4G, iPhone5-iPhone5, iPodTouchFifthGen-iPodTouchFifthGen, iPadFourthGen-iPadFourthGen, iPadFourthGen4G-iPadFourthGen4G, iPadMini-iPadMini, iPadMini4G-iPadMini4G, iPhone5c-iPhone5c, iPhone5s-iPhone5s, iPadAir-iPadAir, iPadAirCellular-iPadAirCellular, iPadMiniRetina-iPadMiniRetina, iPadMiniRetinaCellular-iPadMiniRetinaCellular, iPhone6-iPhone6, iPhone6Plus-iPhone6Plus, iPadAir2-iPadAir2, iPadAir2Cellular-iPadAir2Cellular, iPadMini3-iPadMini3, iPadMini3Cellular-iPadMini3Cellular, iPodTouchSixthGen-iPodTouchSixthGen, iPhone6s-iPhone6s, iPhone6sPlus-iPhone6sPlus, iPadMini4-iPadMini4, iPadMini4Cellular-iPadMini4Cellular, iPadPro-iPadPro, iPadProCellular-iPadProCellular, iPadPro97-iPadPro97, iPadPro97Cellular-iPadPro97Cellular, iPhoneSE-iPhoneSE, iPhone7-iPhone7, iPhone7Plus-iPhone7Plus, iPad611-iPad611, iPad612-iPad612, iPad71-iPad71, iPad72-iPad72, iPad73-iPad73, iPad74-iPad74, iPhone8-iPhone8, iPhone8Plus-iPhone8Plus, iPhoneX-iPhoneX,

Supported Languages:

English;