Screenshots
New in version 4.4.2
Bug fixes and performance improvements
Description
The all-new Nordstrom Rack App for iPhone and iPad puts the brands you love at up to 70% off right at your fingertips. Plus, it gives you instant access to HauteLook's exclusive, limited-time sale events—all from the same app! Now you can shop and browse the latest looks from both stores wherever you are.

App Features:
* 2 Stores, 1 Cart: Shop the best of Nordstrom Rack and HauteLook using one shared account.
* Quick Search: Convenient search and filter features help you find what you want fast.
* Easy Checkout: One simple checkout makes it effortless to shop and buy.
* Store Locator: Find your nearest Nordstrom Rack location and see what's in store.

And, enjoy free shipping on orders over $100 and easy 90-day returns by mail or to any Nordstrom Rack store. Download the app now!

ABOUT NORDSTROM RACK:
Nordstrom Rack is where style meets savings. We offer the most current trends and brands you love for 30-70% off original prices—each and every day. Whether you prefer the convenience of online shopping or crave the thrill of treasure hunting at one of our many stores, we've got you covered.
iPad Screenshots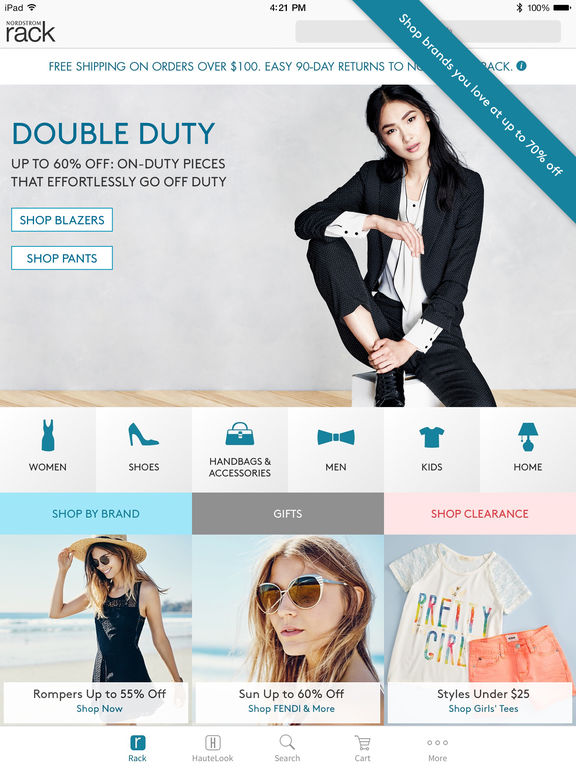 Reviews
Best customer support!
I love shopping from this app! If I ever have a problem or need a question answered I always get friendly and prompt customer service.
Good deals
This app has good deals, but I wish it could remember your sizes and filter for them automatically.
Fabulous
Nurse girl 20
on
8/17/2017
Great prices and awesome selection!!
Love this app!!
TonyaLuvsNords
on
8/17/2017
❤️❤️❤️
Slow load
This used to be my favorite app! I was always on here hunting for deals, but lately the app won't load any images! I downloaded the newest version and reset my phone... no different, now I can't shop bc I can't see anything! Horrible mistake.
Karpis Barseghyan
The best shopping app ever thanks Nordstrom !!!
Love Rack
Same jeans. Lower prices. Can sort and browse and relax shopping.
5 star if it had a wish list ability
I love the app..only fault is not having a wish list or light option to find items one liked the day before. I understand there's only a limited amount available but they could just be labeled as sold out it that happens. My go to app though for all of our families clothing shopping!!!
Great to use
Karinrebbecca
on
8/12/2017
Great app and easy to navigate!
Slow!!!
Takes so long to load the products. Once it does come up, the choice you make takes forever to show you.
Men's shoes
Great price, look awesome, shipped fast
Convenient App
I really like this app. It's easy to navigate and user friendly.
Diva
Simply love the ease of the entire experience
Nordstrom Rack App
Very user friendly! Makes online shopping a breeze!!
Returns
Very confusing! Multiple sign-ins to different websites. NOT user friendly!
Good app in most ways however it is severely lacking the option to create a Favorites list
Once you identify something you like the only way to save it is to put it in your shopping cart and it disappears a bit afterwards with no ability for you to go back and look at the items
Terrible experience
Freakiecharlie
on
7/31/2017
Probably one of the worst online app shopping experience. Went from mobile browser to app (lost items in cart), found items from within app and tried tip check out (lost items after I logged in), logged in and found items and checked out (long time processing and said error with payment, but PayPal said order processed). Omg, I'm trying to give money but they are making it incredibly difficult. The product manager for this app should be fired immediately!!!
Latest update bad!
App opens ... check.... select category... check... choose specific items (e.g. Dress shirts) .... no products displayed. Website displays products. Basically unusable now.
Love it!
This makes bargain shopping too easy!
Love it
Great app one of the best for online shopping
Not so great app
The app doesn't display all clearance items as shown on website. I also notice that even thought the price in my cart was marked certain way, when I reopened the item the price changed to the higher, when I put it back into the cart. Then when I looked on website for the same item, the price was marked correctly..... very strange. I will be deleting this app and using the website from now on.
Love it
armstrong2002
on
7/28/2017
Great app But one of your first apps showed merchandise in store and what sizes when scanned
Love the app
I can shop any time I want however hate that the items expires so fast when in my cart.
One of the best shopping apps I've used!
I love how Nordstroms provides so many images of their products! Front, back, side etc. it really helps to give me a better idea of the products I'm interested in. Thank you Nordstroms!!
My favorite shopping app!!
Definitely the best app with the best deals. I get the most for my money here I love it
Great app
Super easy to shop
Store locator doesn't work
You would think that the store locator would work. Try entering a city. Nothing happens. Talk about missing the boat. DUMB
Very responsive and clean
Curious viewer
on
7/13/2017
Great app that helps me plan ahead before I make my purchase online and watch/buy a product/shoes on the go. AMAZING SHIPPING SPEED!
Dreams do come true!!!!
This is my new favorite clothing/shoes app! So easy to navigate and what I love most (besides the massive savings and top quality selection) is that when you put items in your cart the app stays on the screen you're shopping on vs. changing screens to your cart like most other apps. NR App saves you time by not taking you to a cart page then having to go back to your original shopping screen. I review my cart at check not EVERY purchase! At the stores they make life easier by having ALL Green Team members on the sales floor carry mobile CC swipers; if you use a CC they can ring you up anywhere, anytime, and then lastly they email you your receipt upon request instead of using paper receipts! All this AND I never wait in line!!! The app is just as customer friendly!
Cart trouble
cart trouble
on
7/10/2017
When you come back to add more items to the cart, it's empty!!! Everything disappeared and I had to go through thousands of items again to put in cart. And then it happens again!!! And then you say f*** it and not buy anything. I'm not going through thousands of clothes again and again. Fix the glitch
Shop easy breeze
I love the simplicity of this app thank you Rack.
Easy and Affordable
Rabbit_hearted_girl
on
7/6/2017
This app is awesome. It's very easy to navigate and shop. Most importantly, it does not feel like you are shopping an outlet. Their selection and description are vast and informative.
Summer mckeen !!
Alexcarpenterboo
on
7/1/2017
Downloaded it because I saw summer mckeens ad on instagram
Can't checkout!! :(
The app seems fine.... till it's time to checkout. PayPal is presented as an option, but just does not work (on the app and website)!!
Check out problem
The app is great except that when I'm about to check out and an item is no longer available it doesn't allow me to check out of course but it doesn't tell me which item is out of stock, is it just me or there is something wrong with the app. I usually have to open a browser to check out, the browser does tell me which item is sold out and removes it for me...
My favorite app
Smarty pants67
on
6/26/2017
Not only is everything I buy exactly as pictured, but the quality is great. Best return policy!!! Very quick turns around once order is placed until it arrives. I can't say enough about the app and the company. Has always been my favorite store.!!!
Love it
It's very helpful app
Love It!
SeattlePride
on
6/20/2017
Just a wonderful, well thought out app, just like the company behind it.
ALWAYS SOMETHING INTERESTING !
I can always find something interesting, from HOBO wallets and a great price; to finding a wonder top to go with jeans or shorts. Love the ease and enjoyment of finding something unexpected. Love the Rack!
Say what you mean
Cinderella hopes
on
6/19/2017
I ordered two different pairs of shoes the Saturday before my bridal shower, shipping stated 1-3 days. Great, they would be here for the shower; however, after sitting in a "queue" for two days, I called. Come to find out the 1-3 days shipping, is for when it ships out of the wear house NOT when you receive it. Thanks for the communication- now I have to find something in a shower time frame.
Seeking Summer Clothes
Great finds at my Pasadena NR. For the cutest shorts and sandals that are plus size full figures. Come on beach time is now!
Good
Wendy good 2002
on
6/17/2017
Good
Simple & Easy
Title speaks for itself AND.... I can take things back to the local store if I do want the app purchase to get a Full refund! How do you go wrong with that(!)?
Love App Wrong Items
Absolutely love app and ease of ordering! Now if we could just get person(s) filling orders to pull correct items, it would be almost perfect! I have ordered some jewelry of late that fell apart upon first wear-SO DISAPPOINTED 😔
I love the Rack App
I love the store and everything about the app. Easy to use app and the store accepts returns with no fuss!
Easy, Great Dealss
koolkiddkeena
on
6/11/2017
I love how easy it is to browse through and find my favorite designers! Shipping is always quick, on time or early!
Gift Card Option Blows
I downloaded this app hoping the gift card option was more user friendly compared to their direct website via desktop, mobile, etc. It is not. They want you to confirm a credit card number once you finalize said purchase (No Problem--I complied) However, once you put in a credit/debit card number based on a purchase made from a gift card--this too will not finalize payment. Also, on an order of $50+ you're still going to charge people $7.95 for shipping? Stay simple and keep up with the times you cheap SOB's.
Fact Sheet
Publisher:

Nordstrom, Inc.

Category:

Shopping

Released:

Apr 30, 2014

Current Version Released:

Aug 14, 2017

Version:

4.4.2

Size:

52.6 MB

Compatibility:

Requires iOS 9.0 or later.

Recommended Age:

4+

Game Center Certified:

No

Supported Devices:

iPad2Wifi-iPad2Wifi, iPad23G-iPad23G, iPhone4S-iPhone4S, iPadThirdGen-iPadThirdGen, iPadThirdGen4G-iPadThirdGen4G, iPhone5-iPhone5, iPodTouchFifthGen-iPodTouchFifthGen, iPadFourthGen-iPadFourthGen, iPadFourthGen4G-iPadFourthGen4G, iPadMini-iPadMini, iPadMini4G-iPadMini4G, iPhone5c-iPhone5c, iPhone5s-iPhone5s, iPadAir-iPadAir, iPadAirCellular-iPadAirCellular, iPadMiniRetina-iPadMiniRetina, iPadMiniRetinaCellular-iPadMiniRetinaCellular, iPhone6-iPhone6, iPhone6Plus-iPhone6Plus, iPadAir2-iPadAir2, iPadAir2Cellular-iPadAir2Cellular, iPadMini3-iPadMini3, iPadMini3Cellular-iPadMini3Cellular, iPodTouchSixthGen-iPodTouchSixthGen, iPhone6s-iPhone6s, iPhone6sPlus-iPhone6sPlus, iPadMini4-iPadMini4, iPadMini4Cellular-iPadMini4Cellular, iPadPro-iPadPro, iPadProCellular-iPadProCellular, iPadPro97-iPadPro97, iPadPro97Cellular-iPadPro97Cellular, iPhoneSE-iPhoneSE, iPhone7-iPhone7, iPhone7Plus-iPhone7Plus, iPad611-iPad611, iPad612-iPad612, iPad71-iPad71, iPad72-iPad72, iPad73-iPad73, iPad74-iPad74,

Supported Languages:

English;