TapNova doesn't recommend this app.
New in version 4.3.10
Bug fixes and performance improvements
Description
The all-new Nordstrom Rack App for iPhone and iPad puts the brands you love at up to 70% off right at your fingertips. Plus, it gives you instant access to HauteLook's exclusive, limited-time sale events—all from the same app! Now you can shop and browse the latest looks from both stores wherever you are.

App Features:
* 2 Stores, 1 Cart: Shop the best of Nordstrom Rack and HauteLook using one shared account.
* Quick Search: Convenient search and filter features help you find what you want fast.
* Easy Checkout: One simple checkout makes it effortless to shop and buy.
* Store Locator: Find your nearest Nordstrom Rack location and see what's in store.

And, enjoy free shipping on orders over $100 and easy 90-day returns by mail or to any Nordstrom Rack store. Download the app now!

ABOUT NORDSTROM RACK:
Nordstrom Rack is where style meets savings. We offer the most current trends and brands you love for 30-70% off original prices—each and every day. Whether you prefer the convenience of online shopping or crave the thrill of treasure hunting at one of our many stores, we've got you covered.
iPad Screenshots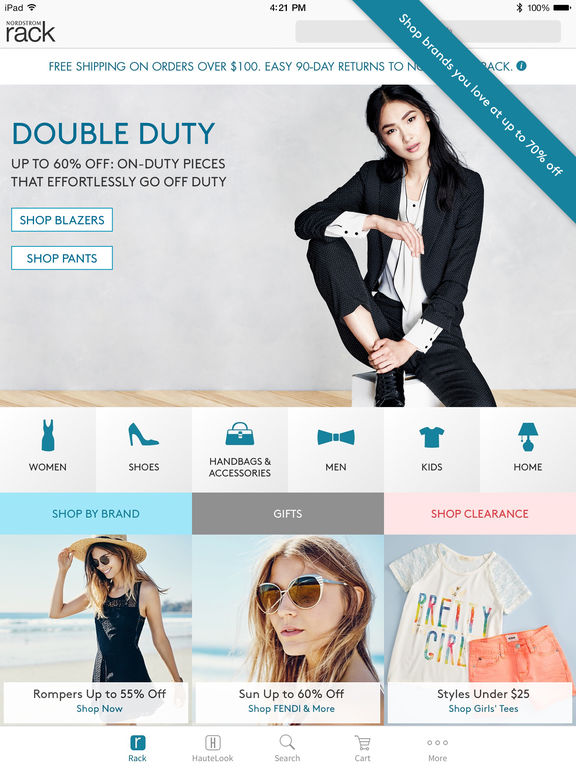 Reviews
My favorite app
Smarty pants67
on
6/26/2017
Not only is everything I buy exactly as pictured, but the quality is great. Best return policy!!! Very quick turns around once order is placed until it arrives. I can't say enough about the app and the company. Has always been my favorite store.!!!
Love it
It's very helpful app
Love It!
SeattlePride
on
6/20/2017
Just a wonderful, well thought out app, just like the company behind it.
ALWAYS SOMETHING INTERESTING !
I can always find something interesting, from HOBO wallets and a great price; to finding a wonder top to go with jeans or shorts. Love the ease and enjoyment of finding something unexpected. Love the Rack!
Say what you mean
Cinderella hopes
on
6/19/2017
I ordered two different pairs of shoes the Saturday before my bridal shower, shipping stated 1-3 days. Great, they would be here for the shower; however, after sitting in a "queue" for two days, I called. Come to find out the 1-3 days shipping, is for when it ships out of the wear house NOT when you receive it. Thanks for the communication- now I have to find something in a shower time frame.
Seeking Summer Clothes
Great finds at my Pasadena NR. For the cutest shorts and sandals that are plus size full figures. Come on beach time is now!
Good
Wendy good 2002
on
6/17/2017
Good
Simple & Easy
Title speaks for itself AND.... I can take things back to the local store if I do want the app purchase to get a Full refund! How do you go wrong with that(!)?
Love App Wrong Items
Absolutely love app and ease of ordering! Now if we could just get person(s) filling orders to pull correct items, it would be almost perfect! I have ordered some jewelry of late that fell apart upon first wear-SO DISAPPOINTED 😔
I love the Rack App
I love the store and everything about the app. Easy to use app and the store accepts returns with no fuss!
Easy, Great Dealss
koolkiddkeena
on
6/11/2017
I love how easy it is to browse through and find my favorite designers! Shipping is always quick, on time or early!
Gift Card Option Blows
I downloaded this app hoping the gift card option was more user friendly compared to their direct website via desktop, mobile, etc. It is not. They want you to confirm a credit card number once you finalize said purchase (No Problem--I complied) However, once you put in a credit/debit card number based on a purchase made from a gift card--this too will not finalize payment. Also, on an order of $50+ you're still going to charge people $7.95 for shipping? Stay simple and keep up with the times you cheap SOB's.
Almost Perfect
Very easy to use. I love that it allows me to look back at my previous purchases and saves such detailed information in case I need to return something. The only thing that could improve the app is if there was an option to create a wishlist while shopping . That way I could look at all of my favorites at once before proceeding to checkout.
Very nice app! Love it!
Very nice app! Love it!
Annoyed customer
Thisisnotfree
on
5/28/2017
Credit card info will not work keeps saying wrong number when numbers are correct! This was very annoying!! Ended up just using pay pal.
Great
parisuget2💜💜me
on
5/28/2017
🤗my new favorite store😍
Love it
12311225665678865555?
on
5/27/2017
Easy to find things with quick shipments
Works well
Charlotte's Dux
on
5/27/2017
... as demonstrated by the innumerable representation of Rack my credit count statement.
Just got it
Haven't ordered anything yet...when I do.. I will rate based on that.
Great App
No issues and items arrive super fast
Spent time finding items to order
App will not let me use my credit card. This app is too difficult to use. Going back to Amazon and Macy's. waste of time.
Find sweet stuff at great prices efficiently
As someone who shops around for items before spending money i use to repeatedly search items on google to find the best prices. After doing this many times and being directed to Nordstromrack.com I figured it would be best to download the app. I now no longer have to search on google to find the stuff I need! Incredible selection have yet to find lower prices on things I want. Works well finding additional sizes while shopping in store as well!!!!
Solid App
The App works, but I wish it had more filtering options.
Where's the love?
Why doesn't this app have a wish list option?
Great
Great app and awesome prices!
HM
COACH HUMPTY
on
5/13/2017
First time user, but what I seen so far is what I am looking for. Now if catching the items I want on sale, would be satisfactory !
💙💙
Love this app! Easy returns to nearest store!
Worst shopping experience
I ordered several items from Rack. Returned several and kept several. Rack has refunded only one item after 15 days! They were all returned in one box. Unresponsive customer service replies. "In transit" & "When received..." etc. i will never shop Rack by mail again. And I will complain to business sites- as many as I can find. Furious!
Awesome App & then some 😍
Pierpontgirl1616
on
5/10/2017
Great job & thanks for the detail in your filters. Much luv to us shoppers on the fly by ....
Good App
It is an easy app to use and find items
Never Again
As a longtime customer of Nordstrom's, I decided to download the Nordstrom Rack app and order a pair of sandals. I'm still waiting for them, but in the meantime I checked the site and noticed that they are now over $80 cheaper. I spoke with customer service, who said they never do price adjustments. My only option is to find a Nordstrom Rack store (nothing is nearby) and return the sandals. I can repurchase them 24 hours later... but only if they're not sold by then. Rack won't even hold them for me. Awful service. When I do finally receive them, they're immediately going back. Then I will delete this app and tell all of my friends to shop elsewhere.
Scanner
Everything else is good but when you select scan history or try to scan a barcode, it'll kick you off the app.
😍😍😍
Farmer Joe Joe
on
5/9/2017
Love it!!
Love it!
Great app, that works just as well as their website.
The best!!!!
Choose to be nameless
on
5/7/2017
Love the convenience of this app!!!
Best store ever
COOLSHOPPER17
on
5/5/2017
I love shopping here it's the best place to shop for anything and everything...
Love getting the deals
Easy to buy and get deals. Thank you for the app.
Doesn't work
Mine doesn't work on my iPad at all. I tired installing and reinstalling it and it still doesn't work...
Amazing
Something_amazing
on
5/1/2017
This app is the best thing ever 😍
Love this app!
I love this app!
Love the store in Wilmette,Illinois
A lot options and the person that helped me find what I need was amazing
Luv Nordstrom
I absolutely love this site. It is easy to maneuver and i love the ability to view photos of what i have already purchased. The sales are fantastic. I find myself shopping all the time. Now what i dont understand is why there is no explanation for why orders are cancelled. I have had this happened 2x's now and then saw the same item back on sale. Aside from that one of the best dept. store sites around.
Great App
PGH user 412ggg
on
4/27/2017
Easy to use. Always great deals available!
Amazing
There's a Nordstrom Rack about an hour from where I live, so having the app makes it much easier to shop and look around. Such a great store/site/app 😁
Love it!
curlyhairgirl80
on
4/26/2017
I love love love the rack, in fact it's my favorite shop. Just wished that there would be more availability in larger sizes. Seems like only smaller sizes are fully stocked and it's hard to find jeans in a 12/31 or 14/32 or even 33 would be great.
Fave
callMEafashionista
on
4/25/2017
My favorite new app! Great daily sales and easy to use!
Elegant design
Firesheep2009
on
4/24/2017
Beautifully designed app, great discount for real, love this app, 5 stars
Fact Sheet
Publisher: Nordstrom, Inc.
Category: Shopping
Released: Apr 30, 2014
Current Version Released: Jun 19, 2017
Version: 4.3.10
Size: 54.1 MB
Compatibility: Requires iOS 8.0 or later.
Recommended Age: 4+
Game Center Certified: No
Supported Devices: iPad2Wifi-iPad2Wifi, iPad23G-iPad23G, iPhone4S-iPhone4S, iPadThirdGen-iPadThirdGen, iPadThirdGen4G-iPadThirdGen4G, iPhone5-iPhone5, iPodTouchFifthGen-iPodTouchFifthGen, iPadFourthGen-iPadFourthGen, iPadFourthGen4G-iPadFourthGen4G, iPadMini-iPadMini, iPadMini4G-iPadMini4G, iPhone5c-iPhone5c, iPhone5s-iPhone5s, iPadAir-iPadAir, iPadAirCellular-iPadAirCellular, iPadMiniRetina-iPadMiniRetina, iPadMiniRetinaCellular-iPadMiniRetinaCellular, iPhone6-iPhone6, iPhone6Plus-iPhone6Plus, iPadAir2-iPadAir2, iPadAir2Cellular-iPadAir2Cellular, iPadMini3-iPadMini3, iPadMini3Cellular-iPadMini3Cellular, iPodTouchSixthGen-iPodTouchSixthGen, iPhone6s-iPhone6s, iPhone6sPlus-iPhone6sPlus, iPadMini4-iPadMini4, iPadMini4Cellular-iPadMini4Cellular, iPadPro-iPadPro, iPadProCellular-iPadProCellular, iPadPro97-iPadPro97, iPadPro97Cellular-iPadPro97Cellular, iPhoneSE-iPhoneSE, iPhone7-iPhone7, iPhone7Plus-iPhone7Plus, iPad611-iPad611, iPad612-iPad612, iPad71-iPad71, iPad72-iPad72, iPad73-iPad73, iPad74-iPad74,
Supported Languages: English;