Recommended app!
App last updated
Jan 17, 2018
Screenshots
New in version 2.24.0
Several stability improvements and bug fixes
Description
Your customers are looking for your business on Google. Help them find you.

With Google My Business, you manage your business information on Google Search, Maps, and Google+.

- Update business name, address, and hours
- Manage and respond to customer reviews
- Custom insights on where and how many people are searching for you
- Notifications when customers are talking about your business
iPad Screenshots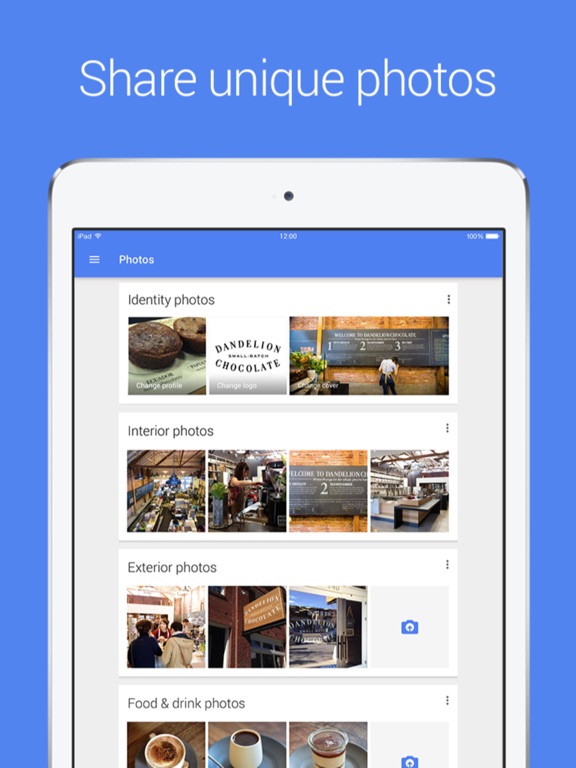 Reviews
Flaky
Fix it already please!
on
1/23/2018
It doesn't let you log in to manage your page. Every time you try to do something basic like update hours it says you have to verify your business, then confirms that your business is already verified, then asks you to verify again. Come on, Google.
Good app for concise reporting.
not-monte-not
on
1/22/2018
This is a good app for concise reporting. I like how I can compare similar business. It's also easy to make Posts and upload images. I use this app every day. Thanks and keep up the improvements!
If your business is on Google this is the must-have app.
carmelo defranco
on
1/21/2018
Great way to manage a google place page, Allows me to respond to customer reviews, post pictures and create posts. - Most of all I love to love to look at the insights. Every day I learn new stuff about this app. Hopefully in the near future Google will let us customize the website a little bit more.
Great!
La Sabrosita
on
1/21/2018
Out of all the business management apps this is the best one
Need video
I love the app but supposedly posting 30" video instead of pictures is available nationwide now but it's not here yet.
Easy to use
mopedinginkona
on
1/20/2018
Helps keep me on top of my business postings and reviews.
Super easy
Jeanniweanni
on
1/20/2018
This app has been very easy to use and I am extremely happy with it.
Great Application
This app has allowed me to upload photos and manage our listing from anywhere. The analytics are very nice and I can only hope that they are real. Compared to Facebook Google is far ahead with much better results. Real results.
Helpful
Very easy and nice way to keep you business updated
The App is great, but....
The app is great, but getting verified on Google My Business for my branch office in Tampa, FL was a huge waste of time, causing my branch to lose exposure and revenues. After not receiving the post card in the mail that Google sends to verify your location, I requested a second card. After weeks, we never received. I was then told my next option was to supply interior and exterior photos of the office. So I did exactly that, supplying approximately 10 photos, yet was denied again. I was then told I had to do a video conference with Google. After installing Google Hangouts, I provided the time frame my business was open for the video conference. I specifically provided the time frame, including the time zone, yet the Google rep called when we were closed. This happened (3) times before they finally called during the provided 8 hr. time frame we were open. This process took several months which we lost possible revenues from lost exposure. Very disappointed in the amount of time and the hoops we had to jump through to get our real office verified, yet I have similar competitors who have fake listings, pretending to have real offices by using private mailboxes to disguise and mislead the general public into thinking they are real offices. For this, you get one star. I hope nobody else has to go through this experience because it was a huge slap in the face and waste of time!
Makes my job easy!
As a marketing director, this app gives me all the tools and information I need at a moments notice. Super convenient and works great!
Fake Reviews
Alex Farnsworth
on
1/16/2018
Google does not delete fake reviews also their platform allows 4 year olds and up to join and write reviews and in turn gives them "points" for writing reviews which encourages people, kids mostly, to go and give reviews to places just because they are getting points and not because they have actually been or have used the service. This review will stand until this is fixed or until they delete the fake review I have been complaining about for over a year now... Also people's competition will go on their pages and leave fake reviews and google does not do anything about it. And another huge complaint I have is that their is no option hours for seasonal businesses such as carnivals haunted houses Christmas lite shows and stuff like that. If im a seasonal business I only have the option to open up every week on google and apparently if your hours are not consistent then Your SEO ranking for google is a lot lower which is BS so now you have to put that your open every week which leaves customers confused and upset when your not open and can also lead to another fake review. Time to get your sh*t together google!
Nice application
Rudy Montoya turtle trail
on
1/16/2018
Nice application to stay in contact with customers about latest listings on the market and share ideas and information
Another way to get the upper hand
The ability to switch between accounts is seamless. The notifications are relevant and the tips/ suggestions are helpful!
Review removal
I wish there would be more options & actions to submit a false review removal. As business man we all know there are haters and competitors will put bad reviews.
Awesome Tool
Yellowworldservices.com
on
1/15/2018
Love being able to keep an eye on my business wherever I go!
Just missing one thing
I really like this app, but I wish "special hours" could be tagged as to why. I mark 2 weeks closed while I'm on vacation, but my clients have no idea that's why. Since there isn't a way to see more than the current week, clients can't get useful information regarding regular hours or changes. I'd suggest: vacation, weather, personal/illness, & other (with the ability too add a few word description) as options that could be toggled on as needed. Add this feature, and I'll rate it 5 stars.
Awesome
Great app fast and easy to use thanks
Simplified App for Everyone
The Google Business page makes it very convenient and easy to upload photos or edit changes. If it wasn't for the Google Business app. I probably wouldn't keep up with my page as often. However, I wish they had a way to request reviews from past clients or a link that you can provide to them.
Awesome app
BlondieMWade
on
1/12/2018
Love for adding pics and being able to be reached.
Easy to use and professional
Concise and to the point
A useful tool for businesses, but...
This program makes it easy to describe your business, post hours, etc.; however, it is lacking in one area. There is a small contingent of businesses that close seasonally. There isn't a way to post a "seasonal" closure. Our business is closed for the first three months of the year, but I cannot effectively communicate that to my Google-using customers. Please add this feature and I will up my rating to 5-stars.
Great app, keeps me organized
San Francisco Fishing Charters
on
1/12/2018
Having tons of tracking info and the ability to post and make changes to our business all in one place is more than convenient!
Good business app.
Bill from mass
on
1/11/2018
Legal services
Salon owner
Dø|\/| ¡§ ߣå$t
on
1/11/2018
This app is very easy to navigate through. I feel it's a great value to my business. Shari Osredkar
Life saver!!
As a new business owner this app has been a favorite tool for me in all aspects of getting my brand out there and getting noticed. I had no idea what to do when I was getting ready to open as far as getting found on google and google maps. I tried calling google but I could only get someone trying to sell me ad space and not answer my questions. This app saved me. Thank you for making it so easy!!
Good work
Fix Fonez Fast
on
1/11/2018
Easy way to stay on top of your business.
Great
Like the app a lot easy to use
Great easy app for a business owner
What I like most, you're notified immediately of a new review, and have the option to respond just as quickly.
Perfect app
Uglystick1111
on
1/9/2018
I am an owner and operator of my business and managing reviews and google posts is rarely on my priority list but this stuff has to be done. This app allows me to take 5 minutes a week and make a new post and respond to new reviews easier than ever.
Owner Able locksmith 24 hr
Gurdatar Singh
on
1/9/2018
This is best app very easy you can work by your phone anytime and updates your business
Top notch
Learn how to use it and you will succeed. Promise you that.
Google
Very helpful app manager of all things Google Business related!
What a piece...
Won't let me click on the "Ads" portion to promote my business. Won't let me add the business categories says they're "invalid". It's extremely frustrating. This app is a joke. The only thing it accomplishes is letting you set your business hours of operation.
nice app but no seo tracking
This app is great in helping you manage your business online presence. What will be helpful if this app could help with search engine optimization strategies. when i created a google my business page and verified my business, i thought that my business will be visible in local search and on the map, but that wasn't the case. Google is not clear on how you can make your business rank higher in local search and this app does not help you achieve or measure your local search standing in any way. If this app offered an tracking mechanism for local search that would be great!
Five Star App
I love using the My Business Google app I can check on my business I can upload photos I can post postings. Super easy
Basically very bacic
I like that app. Pretty basic so it makes it much more user friendly. The reminders on Post expires is kinda nice. I'd like to see it stay as a portfolio of posts for my real followers. With this being said. I wish Google would remove obvious fake reviews. Especially when a company can prove they never even associated with these fake accounts.
Owner
Bikes and Coffee
on
1/4/2018
Very helpful in responding to reviews, updating hours, and quick analytics.
I like it
md zohirul islam
on
1/4/2018
Good & way
Great so far!
Dustin Morrow
on
1/3/2018
The app is straight forward and let's you accomplish what is needed to manage your business content on Google.
Well done and simple!
Well written, simple app that allows me to manage our online reputation. Like everything from Google, it's top notch.
Wonderful app
It's a great app but I took a star off because they don't have the category for my business in the business category and in the word ads too. Even yelp got my business category but Google. Otherwise it's great! Very useful.
User friendly
I haven't been using the app for a long time but I have already done so many great things with our listing. Super user friendly!!!
So far so good...
Looking for ways to update time for Googlers to see if business is open or closes on special holidays. Satisfied so far...
Autosmith Towing
Autosmith Towing & Recovery
on
12/31/2017
Great app!
Pres
Good app for tracking reviews and managing your business listing.
Great stats and easy to use!
We are a small business that loves data! Works well very useful!
Fact Sheet
Publisher:

Google, Inc.

Category:

Business

Released:

Jun 28, 2014

Current Version Released:

Jan 17, 2018

Version:

2.24.0

Size:

96.2 MB

Compatibility:

Requires iOS 9.0 or later.

Recommended Age:

4+

Game Center Certified:

No

Supported Languages:

Afrikaans; Albanian; Amharic; Arabic; Armenian; Azerbaijani; Basque; Belarusian; Bengali; Bosnian; Bulgarian; Burmese; Central Khmer; Catalan; Valencian; Chinese; Croatian; Czech; Danish; Dutch; Flemish; English; Estonian; Finnish; French; Galician; Georgian; German; Greek; Gujarati; Hebrew; Hindi; Hungarian; Icelandic; Indonesian; Italian; Japanese; Kannada; Kazakh; Kirghiz; Kyrgyz; Korean; Lao; Latvian; Lingala; Lithuanian; Macedonian; Malay; Malayalam; Marathi; Mongolian; Nepali; Norwegian; Bokmål, Norwegian; Norwegian Bokmål; Persian; Polish; Portuguese; Punjabi; Romanian; Moldavian; Russian; Serbian; Chinese; Sinhala; Sinhalese; Slovak; Slovenian; Spanish; Castilian; Swahili; Swedish; Tagalog; Tamil; Telugu; Thai; Chinese; Turkish; Ukrainian; Urdu; Uzbek; Vietnamese; Welsh; Zulu;