Screenshots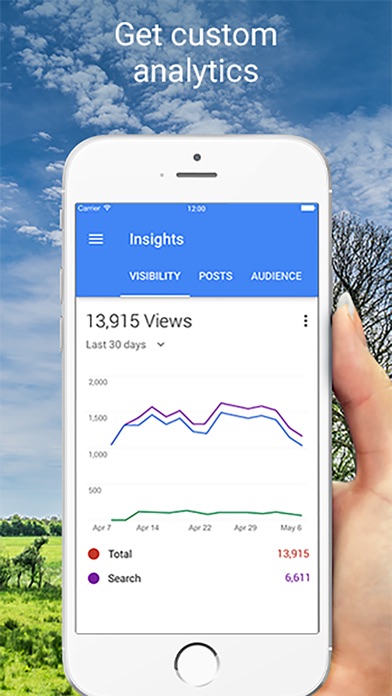 New in version 2.20.0
Several stability improvements and bug fixes
Description
Your customers are looking for your business on Google. Help them find you.

With Google My Business, you manage your business information on Google Search, Maps, and Google+.

- Update business name, address, and hours
- Manage and respond to customer reviews
- Custom insights on where and how many people are searching for you
- Notifications when customers are talking about your business
iPad Screenshots
Reviews
Easy!!
WiCk3D Cris
on
10/22/2017
So easy to manage your business/reviews with google and your customers.
Useful, informative, and simple to use.
BabyNedBdead
on
10/22/2017
Useful, informative, and simple to use.
Great App
Great App: easy to use, immediate results and fantastic price
Very nice app easy and powerful tool to use for your business.
Brianpctech
on
10/21/2017
Very easy app to use
Google = Great
Dustinleeparker
on
10/21/2017
This app alone has enhanced our business listing tremendously. Love.
Unfair
Poor customer service and a generic platform. Hard to manage and impossible to get help
Deep Roots Natural Medicine
acupuncturist Chicago
on
10/21/2017
This app is great, it's easy to add photos, videos, and allows my customers to post reviews that I can easily respond to.
Reviews
Dr. Hanifen
on
10/20/2017
Have had a disgruntled employee's friends post 1 Star reviews and there is no way to get them removed. This is hurting our business.
easy
easy to add pic info
I highly recommend Google My Business.
Prosthetic Ink
on
10/20/2017
It may take sometime getting your business location verified. Once you receive the PIN on a postcard US Mail. Call google, and they'll help you get your address verified. Easy set up, start build your listing, set up Ph# and Message notifications. Your prospects, and clients can write reviews, message you via text or call. Get going, you have work to do... Google My Business. Thanks Google!! Dan Horkey Founder/CEO ProstheticInk.com
Changing the way we advertise
Bluecrabrob
on
10/20/2017
I am able to see the number of customers that search and how they contact us based on the click through. We have shifted focus to our web site have live chat because the numbers on this app show 5 times as much traffic visiting our web site as we have calling or asking for directions. Thanks Google!
Must have for business owners
jack cordes
on
10/19/2017
I manage my entire business page via this app. Write posts, add photos and gain insight. This is the best app for gaining visibility for your business online
Useful yet unnecessarily complicated & contradictory.
First off, there is absolutely NO point in "forcing" users to download an app to perform basic, simple CRUD operations. What if I didn't have a cell phone and my business only had a land line and a laptop? What are my options? The usefulness of the app is only shown in two ways. 1: Because the mobile experience of the website makes me want to punch a baby in the face and on a more pleasant note, 2: when I am on the go but even then, there is a absolutely nothing compelling about the app that makes we want to use it "on the go." Both of those points are contradictory to your motto of "Do no evil" as well as your design principles and best practices regarding user experience. You clearly made this for tracking purposes under the guise of usefulness which means you didn't really have the end user in mind - it's like your (Googles) version of "keyword stuffing" - "app bloating" — lets see how many apps we can get the user to use which in all reality would have been just fine to manage on a responsive site. Yay for numbers that make executives happy but mean absolutely nothing!! Wooo The help isn't so helpful and is full of circular references and no practical examples of everyday business operations... it's like as if product owner only had an idea of what a real business does instead of practical experience with day to day operations. It would be forgiven if they had empirical evidence to support their UI/UX decisions. Lately: QUIT choosing my cover for me - especially when I took the time to format my image according to your own standards and uploaded and tagged my images appropriately. FFS- the picture for my cover is an exterior photo that NOBODY in the company or any customer uploaded. Not only that but the image isn't of my building nor is ANY entrance visible in the picture. So despite the fact that I provided multiple accurate pictures and reporting this issue on numerous occasions, you still persist to use what YOU think is good for me when in all reality this has LEGITIMATELY HURT MY BUSINESS with client testimony and financial proof. Other than all those annoying factors that I expect Google - of all companies- to get right, the is performant for the things that it does do. Hint: If you want to make this app into something that is truly useful and compelling to use to the point of "can't live without," give me a shout and we will talk: software engineer and business owner to corporate giant overlords with mostly gold intentions. I'm serious and I think you (Google) need to seriously listen because at this point your slowly dying and even search has prove to be a near jnconvenience with those ads...
It does the job
It is nice to be able to see how many people are looking for you plus much more.
Great for business owners!
Thanks Google for making an app for business owners! This app really helps owners promote there business. Just one great feature is It gives you statistics so you know where you can improve to get more customers in the door. There is so much more to this app check it out.
Review
rooferchris
on
10/17/2017
A customer told me that she sent me a review but it never showed up on google and I wish they would send me a link to send my customers so they can review me that way also but other than that i love google it's awesome
aotgunn
So far so good! I like the ability to make changes on the fly. When your busy doing a 101 things during the day this app definitely saves me time.
So far so good
HomeTeamCottonwood
on
10/16/2017
We like the presentation and the confirmation of our business location. This is a pretty friendly app for us as we are not so tech savvy. As we discover more ways to use this app perhaps we will post a higher score.
Helps me keep up
Jillmatthews67
on
10/16/2017
I am able to track and follow up on reviews very easily. So much to juggle with a business and this makes this task easy.
Staff
BethanyPopwell
on
10/15/2017
Was not very friendly
Great
Great application for small businesses!
Awesome service!
Google my business is a must have for being in business!!!!!
Business owner
Bozzzzzzzzzzz
on
10/15/2017
This app saves, time, money and keeps you focused on what's important. Your business operations
Very Useful On the Go
Managing our business page has never been easier. Uploading pictures and current post are very easy to do straight from GMB app. The only suggestion I would make is to correct the legitimacy of the reviews from customers.
Great App
This version of the app is very good. It integrates many aspects that are useful to a business owner. The biggest improvement is the ability to correspond with customers in the review section. One area that I would like to see some improvement is on Photos that Customer's post. It currently takes you to all the photos but it would be very helpful to see the individual photo that was posted. Other than that minor issue it is a very good and stable app.
Does Not Support Swipe Navigation
Google's apps, as top notch as they are, always seem to be late to implement swipe navigation. Since they're Material Design puts navigation buttons at the top of the screen, something as simple as going 'back' to the previous view is harder than it should be. The app itself, as with most if not all of Google's other apps, is both functional and aesthetically pleasing. The only issue I have is what seems to be an inconsistency with receiving of push notifications for new customer reviews. Some I get and some I don't. But I haven't seen anybody else mention that so it may just be me. Add swipe navigation and it'll be 5 stars.
Very easy
Thank you for making an app that's easy to navigate, it works very well for my business. 👍🏼👍🏼
Great app!!
Makes everything alot easier to keep track of and update!! Great stuff Goggle!!
Love This App
Hoparashvili
on
10/12/2017
Great App
Makes it easy to stay on top of your Google business information. Awesome app!
Get this app!
Good app
internet his here to stay
on
10/11/2017
Reviews can kill or help a business. People who love your business always needs encouragement to leave reviews. People who hate you will lie and do everything to run you out of business. Have to stay on top of the negative reviews. Social media isn't going anywhere.
I got verified in two days
This app real help my casting business Arab American Casting and it website. People writing reviews and my Business shows up on top of google! Get it now y'all
Hard to figure out and get listing to show
Kind of hard to figure out but even harder to figure out how to get your listing to show up. Even months later if I use maps my site won't show in my area. I'm a photographer not a computer programmer so that's my down fall.
Good app
Texas-t.com
on
10/10/2017
Helps out a lot
Gets your Business noticed!!
Ronstur-Middletown-Ohio
on
10/9/2017
I love it! Once verified, I've gotten lot of traffic to my business page!$$$!
Not a fare app .
rain-or-shine
on
10/9/2017
I received a review from a customer from a different location that I did work for but had quit working for over a year ago . I did not work for that location at the time of her inspection . I had already been gone for months but that location failed to change the phone number on the Internet so I received the complaint . I have tried to reach Goggle about this but was not able to get any response . Goggle does not allow for mistakes that a customer makes such as getting the wrong location like in this case . The customer had gone to rain or shine inspections on Bastrop Highway not to Bob's inspections on Wolf Lane in Del Valle . So the questions the integrity of Google for their failure to allow for someone to contact them in an appropriate manner and have this rectified . I made every attempt to contact the customer even offering to pull up their inspection report and show them that they have the wrong location but they never responded back either . If google doesn't allow for a business to dispute a claim from a customer than they are allowing cyber bullying and abuse !
Love it
Undertaker94562136
on
10/9/2017
Has given me a lot of business and taken it to the next level.
Amazing App!
ThirdCoast Chad
on
10/8/2017
For someone like myself in the locksmith service industry this app is a savior for our industry. The ease of use and weeding out the unprofessional locksmith scammers that are prominent in our industry has been a game changer.
Way easier to use than I thought
Love being able to quickly add photos and posts right from my phone
Helpful
SofiaNosheen
on
10/8/2017
Outstanding amazing app .really helps in Bussiness .
Excelente
Orange coin laundry 24 hr
on
10/8/2017
Perfecta App muy completa y muy fácil de administrar
Cool analytics
It's really cool to see how getting my patients to leave reviews has increased my self referrals. I love following this info for my Podiatry office.
Owner
Richie Rich 47
on
10/7/2017
Awesome app
Great
Bbbbbsdsddddddd
on
10/6/2017
Nice app
Quick and painless
Just as the title says it lets me quickly see what's going on respond to reviews and place ads easily.
Good app. Could use more features.
RickHorowitz
on
10/4/2017
It's a good app for what it does, although sometimes it confuses. Right now it says I have 0 reviews, and that I have 8 which I haven't responded to. How is that possible? (And I actually have 9, I believe.) Still it's usually a decent app. I wouldn't pay for it, but it's a decent app.
A must!
Definitivamente una herramienta esencial para mí negocio! Recomendada!
The cheapest & best insights into your business
You might hate that you have to deal with this stuff, but this app is well designed, and gives you a lot of free insights into your web traffic that we used to have to pay for. Just get it!
Fact Sheet
Publisher:

Google, Inc.

Category:

Business

Released:

Jun 28, 2014

Current Version Released:

Oct 17, 2017

Version:

2.20.0

Size:

90.3 MB

Compatibility:

Requires iOS 9.0 or later.

Recommended Age:

4+

Game Center Certified:

No

Supported Devices:

iPad2Wifi-iPad2Wifi, iPad23G-iPad23G, iPhone4S-iPhone4S, iPadThirdGen-iPadThirdGen, iPadThirdGen4G-iPadThirdGen4G, iPhone5-iPhone5, iPodTouchFifthGen-iPodTouchFifthGen, iPadFourthGen-iPadFourthGen, iPadFourthGen4G-iPadFourthGen4G, iPadMini-iPadMini, iPadMini4G-iPadMini4G, iPhone5c-iPhone5c, iPhone5s-iPhone5s, iPadAir-iPadAir, iPadAirCellular-iPadAirCellular, iPadMiniRetina-iPadMiniRetina, iPadMiniRetinaCellular-iPadMiniRetinaCellular, iPhone6-iPhone6, iPhone6Plus-iPhone6Plus, iPadAir2-iPadAir2, iPadAir2Cellular-iPadAir2Cellular, iPadMini3-iPadMini3, iPadMini3Cellular-iPadMini3Cellular, iPodTouchSixthGen-iPodTouchSixthGen, iPhone6s-iPhone6s, iPhone6sPlus-iPhone6sPlus, iPadMini4-iPadMini4, iPadMini4Cellular-iPadMini4Cellular, iPadPro-iPadPro, iPadProCellular-iPadProCellular, iPadPro97-iPadPro97, iPadPro97Cellular-iPadPro97Cellular, iPhoneSE-iPhoneSE, iPhone7-iPhone7, iPhone7Plus-iPhone7Plus, iPad611-iPad611, iPad612-iPad612, iPad71-iPad71, iPad72-iPad72, iPad73-iPad73, iPad74-iPad74, iPhone8-iPhone8, iPhone8Plus-iPhone8Plus, iPhoneX-iPhoneX,

Supported Languages:

Afrikaans; Albanian; Amharic; Arabic; Armenian; Azerbaijani; Basque; Belarusian; Bengali; Bosnian; Bulgarian; Burmese; Central Khmer; Catalan; Valencian; Chinese; Croatian; Czech; Danish; Dutch; Flemish; English; Estonian; Finnish; French; Galician; Georgian; German; Greek; Gujarati; Hebrew; Hindi; Hungarian; Icelandic; Indonesian; Italian; Japanese; Kannada; Kazakh; Kirghiz; Kyrgyz; Korean; Lao; Latvian; Lingala; Lithuanian; Macedonian; Malay; Malayalam; Marathi; Mongolian; Nepali; Norwegian; Bokmål, Norwegian; Norwegian Bokmål; Persian; Polish; Portuguese; Punjabi; Romanian; Moldavian; Russian; Serbian; Chinese; Sinhala; Sinhalese; Slovak; Slovenian; Spanish; Castilian; Swahili; Swedish; Tagalog; Tamil; Telugu; Thai; Chinese; Turkish; Ukrainian; Urdu; Uzbek; Vietnamese; Welsh; Zulu;