Games
Trivia
Entertainment
Word
Not Recommended
App last updated
Jan 18, 2018
Screenshots
New in version 3.7.4
3 new levels and 9 new themes! Be the first to finish them!
Do you have a theme you'd like to see in the game? Send it to us via a store review, on our Facebook page or in an email!
Description
If I say "Something you eat with your hands", what comes to mind first? Hamburger? Corn on the cob? Ribs? In 94%, the object of the game is simple: find 94% of the given answers!

Try the third app from Scimob, the creators of 94 Seconds and 94 Degrees with more than 25 million players worldwide!

Examples of questions:
The first thing you do in the morning
Something you don't have time to do
Animals hatched from an egg
Something that is often out of order

Download 94% today to discover hundreds of questions based on words, expressions and images!
iPad Screenshots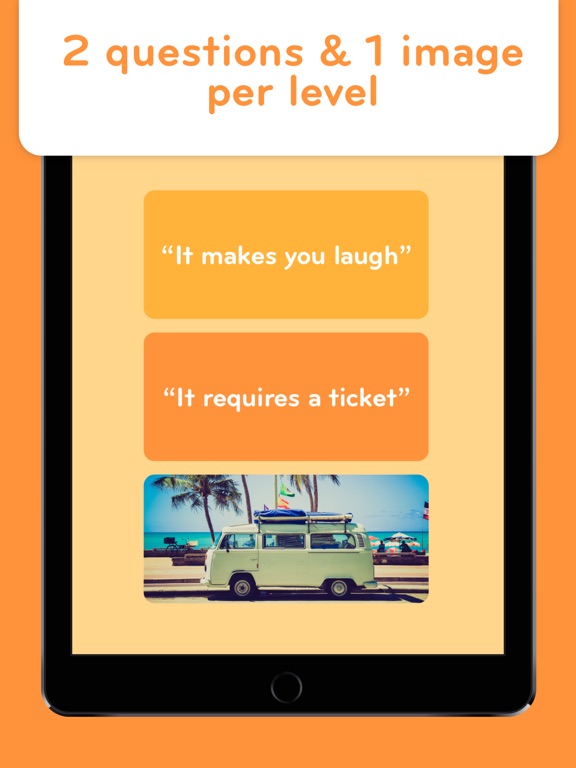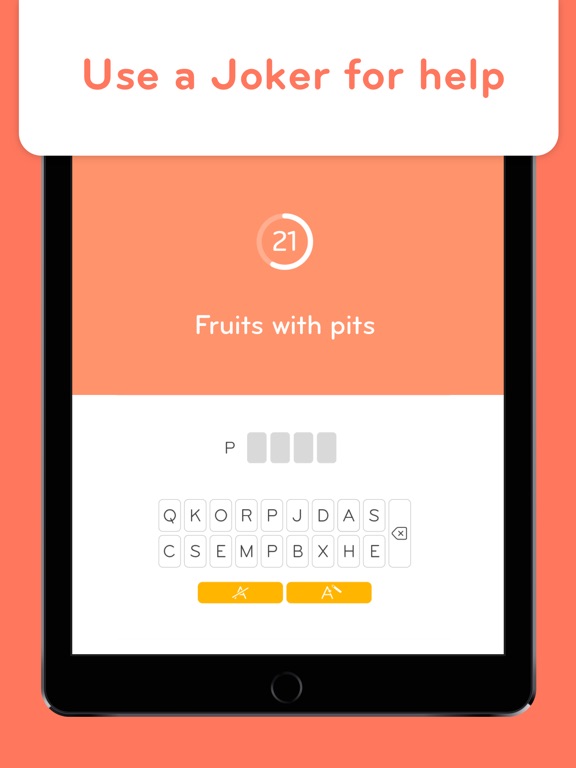 Reviews
94
I personally loved this very entertaining app. All-though I do think it could improve by opening up more challenges and have more categories.
Is there an ad free version?
The excessive ads are incredibly annoying. And many of them have a loud sound and make you watch it for a while before exiting out. This is a fun game, but I can't stand the ads anymore.
Won't load
The latest update won't open. Five days later and it still won't open.
Subjective
Westicles459
on
12/27/2017
First off, we should be able to vote on every question. If a question gets X amount of dislikes, have it removed. Some questions are completely, 100%, subjective. Example: Something you always forget at the supermarket? Who are you to tell me what I forget? You don't know me! Then, have the audacity to say I "ALWAYS" forget. No! Wrong.. I don't ALWAYS forget milk, bread, cheese, and eggs!!! I don't have Alzheimer's! That question, you literally have to start naming every single thing you find in a supermarket until you get lucky enough to guess it. That's not a valid question. It's a complete 100% guessing game. At least with 94% of all the other questions, there's actual scientific or educated answers to. Get rid of those asinine questions! Thanks!!
Fun
Great for all ages!!!
Intriguing
This is pretty much an interesting little spin on the classic Family Feud game show. You're guessing what the majority of the people answered for each topic. Some of them can be pretty tricky, like "The first thing you do in the morning". I never would have guessed "check my phone" even though it's something I actually do sometimes.
Cool 👍
Bunny Ball🐰
on
12/14/2017
It's cool 👍 how they make you think 💭 outside of the box 📦. It makes you wonder if you actually can think 💭 of your every day basics that you have surrounding you. But I absolutely love 💗 the video game 🎮
Loved the game, but.....
Somewhat addicted to this game, lots of fun. The Google "commercials " became so political that I deleted the app. Sorry to see it go, Google.
Awesome!
Whiskey Priest
on
12/3/2017
This is so great for brain stimulating! And you do get stuck! I love it and I'm addicted!
Great!
Pinkladyeleven
on
11/25/2017
You really need your thinking cap for these puzzles!
Hints
After the most recent updates, the hints aren't the same and it is ridiculous. You don't get the option for an actual hint anymore. You get a "letter joker" which you either spend 30 coins on every time or have the option to watch a video that isn't an actual video and never actually gives you a free one. My goal used to be to 3 star everything, and I've used coins and actually purchased some with which to do so. Not anymore. Google can do the work for me now if the hint button and 10 coin letters don't come back.
Love
Love love love love love Love love love love love Love love love love love
Hard and easy
Its easy and hard
Addicted
VinnyMartinez
on
11/13/2017
Love the game. Can't stop myself from playing this game pretty much any time I unlock my phone.
Stop it with the ads
Devil_Dog_84
on
11/13/2017
The ads are extremely annoying and intrusive.
Addictive
RainSeattleMom
on
11/9/2017
I play this all the time. My kids introduced me. However I am getting so frustrated that it doesn't recognize different versions of words. For example it didn't accept anger for angry. That made me angry.
Fix the pics
I love this game and I want to finish it, but I've now made it to level 130 and I can't see the pictures anymore. I tried going on to level 131, but it has the same problem. Please fix it.
No photos
Photos aren't displaying
Level 3
The picture for level three is gone, there's nothing there now
Glitch
The newest update is missing a question from each level.
Love it, but needs bug fixes!
Kathacapobiango
on
11/5/2017
I love this game, but now on leve 17 and 18 there is no picture on the category. It's empty, how am I supose to guess the picture?
This game is bad
The pictures don't load, I can't play.
Blank levels??
thisismynickname.com
on
11/4/2017
So with the new update I'm getting several blank levels. No picture, no words, nothing. Please fix ASAP!
Won't load picture clues
I think after like level 186 it stopped loading the picture puzzles for me
So cool
haltermatt1102
on
11/4/2017
This is a great game. It really challenges you to think. Good Brain exercise. I highly recommend this.
Fun
I need a better Twitter
on
10/25/2017
Fun fun fun
So Far, So Good
Detroit Delta
on
10/20/2017
I just installed and began playing this game today. Right now it's loads of fun. I hope my position doesn't change.
Fun, but the ads are invasive.
Great, fun game, but the ads are beyond annoying. I would happily download a paid version of this app in order to avoid the incredibly invasive interruptions.
Theme suggestions
Gamma Bubbles
on
10/11/2017
Golf Basketball Football Baseball
Loved it for a year but then...
After the latest update, it crashes upon launching. I even tried reinstalling it but it still crashes. It sent me back to level 1 even though I was on level 250. But it won't load the level anyway so I guess it doesn't matter.
Ads play sound when muted.
Unsolicited ads play in this game. The biggest problem is some will play sound even when the phone is muted. This is unacceptable.
crashed
i have the iphone 7 with the ios 11 update, and every time i try to use this app it crashes...
Addictive but glitches lately
TIFFANY BREAUX
on
9/28/2017
I love this game but if it wouldn't just kick me out before even fully loading the main page after updates half the time I would give it 5 stars and don't know why it started doing this lately 🙁🙁 cause it is really one of my favorite games to play 🙏🏼🙏🏼
Please fix app!!!!!!!
I've been playing everyday and it keeps me sane and all of a sudden since I updated to the IOS 11 it now shuts down every time I try to click on it. Please fix so I can keep playing!!
Glitches/Crash
When I typed in "lemon" for the question "fruits with seeds or pits", it showed the answer "watermelon(melon)" for the last one. After a little time, the app crashed by kicking me out of the game and showing the screen on my phone. I tried to go back into the app a few times, but each time I did so, the app would load, show an add, and then show the screen on my phone again.
Just Began
Momma-BearX3
on
9/23/2017
A little too particular for some answers but getting the hang of it. Enjoy the brain work:)
Love it
I mean I personally don't play it that much.. but now I'm hooked my sister and I like to play this play A few months ago We Played. Beat You. She Won but the game isn't Bad That's why I give 5 stars! Congratulations BWT I'm 10 and my sister is 17
Great game
Fun time passer
So fun!
It is just addictive enough to be fun and the right amount of challenge for it to not be addictive! My kind of game. :)
Letters not so good
We used to get two rows of letters, now only one row shows up so we can't fill in the word from the letters page. Give us back the second row of letters!!!! Everything costs coins now, letters used to come up free and you could buy a letter or delete a letter for coins So many ads it's not fun to play.
Download it!! It's so fun😁😁
I luv this game! It always keeps me thinking and it it a true time killer❤️love it😘🙈🙉🙈🙉🙈💕💕💕💕
I used to love this game
Your ads with this last update have become so intrusive I can't deal anymore. They interrupt my audiobook playing in the background and force me to switch apps to restart it after the annoyance finally is done. I won't be using this any more until an alternative is made available.
Nana
Loved this game. All of a sudden it ends. 😟 Very disappointed.
Amazing!!!!!😃😃
Rachelbaetoni26
on
9/10/2017
Just wan the money hard game
Challenging
TheRedHeadWizard
on
9/4/2017
I LOVE this app! I got addicted a week ago and I haven't stop playing since! If I could suggest one thing it would be to add a wider variety of questions like, for example, things about Anime, Tv shows, Video Games, or Movies would be nice.
👍🏻👍🏻👍🏻👍🏻
Love it!! So entertaining!!!! Don't even think twice about getting it!!!!!
WTH!!
The Dirty North
on
8/28/2017
Please remove the excessive animations. It takes forever to load next levels and after an item is answered.
Fact Sheet
Publisher:

SCIMOB

Category:

Games

Released:

Feb 09, 2015

Current Version Released:

Jan 18, 2018

Version:

3.7.4

Size:

152.4 MB

Compatibility:

Requires iOS 9.0 or later.

Recommended Age:

4+

Game Center Certified:

No

Supported Languages:

English; French; German; Italian; Portuguese; Russian; Spanish; Castilian; Swedish; Turkish;