Screenshots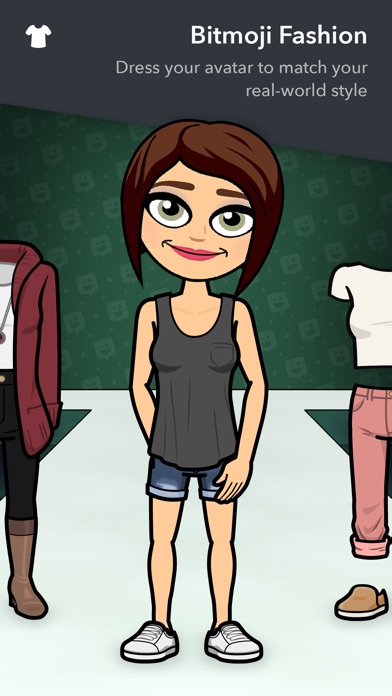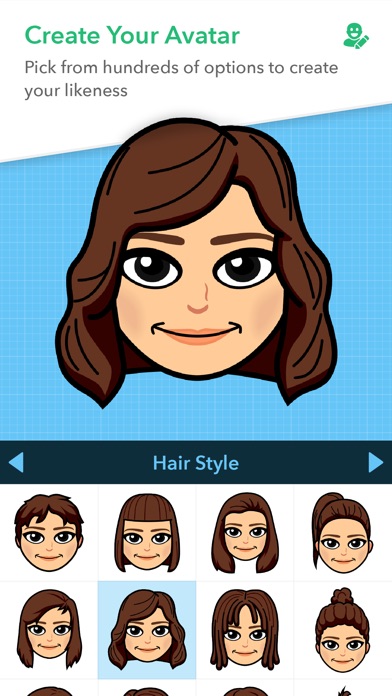 New in version 10.21.1
* Improved usability of the Bitmoji iMessage Extension.
* Fixed crash issues and enhanced overall functionality of the app.
Description
Bitmoji is your own personal emoji.

• Create an expressive cartoon avatar
• Choose from a huge library of stickers – all featuring YOU
• Use Bitmoji in Snapchat, iMessage and wherever else you chat

Using Bitmoji in Snapchat unlocks friendmoji – 2-person bitmojis featuring you and your friends!
Reviews
In need of changes!!
Herfty Derfty
on
11/19/2017
Let me choose parts of my outfit. Create a color wheel so we have better options to give blondes a legitimate hair color other than neon yellow and platinum! I love this app, but with as much popularity as it has it's lacking some obvious features..
More options
Kitttttyyyyyyy123458416
on
11/18/2017
Definitely needs more hair color options, currently I am dark purple and there's only lavender. More skin tone options are needed, I feel like it's all just odd white and too dark. Also body type options need to be better
Not as good as bitstrips
I'm miss bitstrips. I don't like the changes they've made to this and I don't like how much access it requires. It doesn't seem to be as interactive as bitstrips was. Uninstall
More clothes
I think you should add soccer clothes
Great
Just needs more hairstyles for short hair :(
More hair colors
Long Space Dog
on
11/18/2017
It would be five stars, but I change my hair color frequently, and sometimes there isn't a matching color. There is absolutely no purple, which is frustrating.
My Wonder Woman cloths have been stolen 😭
SOMEONE STOLE MY CLOTHS! Whoever took my cloths PLEASE return them! I can't walk around like a skeleton much longer 😭 I'm SO sad! I wasn't going to change into my Halloween outfit because I was afraid I wouldn't be able to change back into my Wonder Woman cloths. My friend assured me it would be ok. Turns out it wasn't. Now I'm stuck as a skeleton until someone returns my Wonder Woman cloths, and it's getting colder out. My bones are going to freeze if I can't change 😐 With Justice League released and running, you'd think they would give back those options.
Cool Beans
Fluffybunny360
on
11/18/2017
Not going to be satisfied until you make a Bitmoji that says "Cool Beans" with my character making a pot of beans.
Awesome app!!!
It is an awesome app for making your own personal emojis! I just wish it had more clothing styles. Ex: Cowboy outfit(Sorry I'm a Texan).😇😂
Hairstyle
Chuchowebon15
on
11/18/2017
You have to update the hairstyles from mans .!
Could be better
Toxicmerrrp
on
11/18/2017
You should add more color choices when it comes to hair, clothes and makeup. Also add cat ears!
Missing Game of Thrones and Wonder Woman
nutmegtella
on
11/18/2017
This is a great app, fun for all. I particularly liked the Game of Thrones and Wonder Woman costumes and bitmojis. I tried to find the Brace Yourself and discovered it's not here. None of the cool ones are here! Instead there are hundreds of NFL, NBA team costumes. Not cool. I'll never ever use any. I'd be happy to pay .99 for access to the deleted emojis.
outfit request!
Can we please have a camouflage outfit? I want to be a deer and my husband be a hunter :) he would love camo!! Also can we have more modest choices with sleeves that are fashionable?
Wish their were more outfits
It's cool the clothes are just really guy looking, there's nothing girly & cute
More Customization!
Andromeda1999
on
11/18/2017
As a girl with short, dark purple hair, it's impossibly to make my bitmoji look like me. I'm sure many others are having similar problems. We need more options!
Pregnancy outfits!!
Young Home Buyer
on
11/18/2017
There need to be more pregnancy outfits! Or make being pregnant a body shape so our Bitmoji's can wear any outfit while pregnant.
On Mission to Marry Creator of Bitmoji
Kelcey M Zac
on
11/17/2017
This has changed my life for the better. I look forward to changing the outfits of my bitmoji every day like the pathetic loser I am. Not only does this add personality to your average uninteresting texting banter with co-workers, but it has created a new personal low standard of dating (male must have bitmoji enabled with Snapchat) that I will not let slide. Not all heroes wear capes. Get yourself a REAL man- get yourself a BITMOJI.
Can you add scars
Your app is amazing but my character doesn't look like me without scares because I have one on my cheek and on my eyebrow I hope you can add it and the app is awesome
Please add
A-b-c why did u make this
on
11/17/2017
Please add emo , metal head style clothes and hair please & thank you
Add more hairstyles 😒
Cubanlove23
on
11/17/2017
Need more curly hairstyles
Love it
Crown Ether
on
11/17/2017
I love and need more options because it's so popular now.
Needs updates
Kelsey_Violet
on
11/17/2017
1. I change my outfit daily and yet we get new outfits only every 6mons or less? Bull. 2. I'm a curvy lady and your "curvy" body type has no waist but it has a thigh gap? How about you represent real human bodies. Maybe then we wouldn't look so jacked. 3. This is an idea from Lizzie McGuire. We all know. Fun idea. Needs improvement for sure. Keep working!
Great! But....
Onghfbdbhch
on
11/17/2017
Please add more clothes!!! 😊😊😊
i gave 5 stars but
Corday latta
on
11/17/2017
u need more hair colors the app is awesome but dont really like the hair colors
C
This needs some varsity jackets and more hair styles
Doesn't work
I loved the app, but for my phone it does not connect, i'm only able to use over wi-fi.. which makes it unusable most times
I love Bitmoji
I love how you are incorporating world religions and I would be thrilled if you could include the Winter Solstice!!!!! Thank you
We need more features
IG:Dank_flavored_bleach
on
11/17/2017
Bitmoji is awesome but i just wish they had a feature to add piercings/stretched earlobes of different sizes. It'll make the experience better and i also think the Body modification community will agree.
Search
Please add a search engine that allows me to search for the phrase I want to use. Thanks
Good but....
Taylor Bleu
on
11/16/2017
I love this app a lot and I like how u can have the more realistic bitstrip option in it, but I have hazel eyes and often confused on what to do for my eye color. They are not brown. But not green. They really should add hazel in. ALSO.... I have ombré hair so it's not exactly accurate when I do all brown hair. I'd like to see an option for that maybe. Just all in all you need more options for a lot of things if u expect a lot of people to be able to customize and be happy with the app.
Great app!
This app is great , but i wish you were anle to also add tattoos to your bitmoji. Make them more unique! Add tattoos for the inked community!
Reform for the elephants
awesomeguy6666673829
on
11/16/2017
I love the concept of this app, however options are very limited for certain things. There are so many types of hairstyles in the world and you, an app with hundreds of thousands of downloads, can't reflect more than like 20? But, most importantly, MAKE SOME DUMBO EARS FOR THE ELEPHANTS OF THE WORLD! I can't find any ear styles that look close to mine! I hope you solve this great issue of elephant discrimination. Thanks!
Awesome app
I really like how you can text your friends a bitmoji picture with both of you in it but I have one small concern and that is that there should be more skin tones and colors. Thanks for reading this!🤑🤑🤑
Needs a search field for the App like it does when messaging!
What I said above!
ONE WORD: HATE
E5000artcfaft
on
11/16/2017
Ok so here's my review: love it! Jk I HATE IT. So you need to be a little old for it...Idk how much but I can tell u it's older than 10! They really don't want users do they...what a stupid app!
Loveee
The only reason I'm writing this is because I want an elf/santa costume for the holidays. Other than that it's perfect! The only thing that could make it better would be more outfits and hairstyles!
Racist
I was so excited to create my bitmoji until I saw that they excluded Asian features. I just wanted my bitmoji to look like me but it looks like every other round eyed person. The point of creating a bitmoji is so it can look like me in cartoon form but it doesn't? I am a very disappoited bitmoji user and refuse to use it until they make Asian eyes.
I Wish
Nolakid1234
on
11/16/2017
I wish you could make your own outfits
More
Dmab2002liveo
on
11/16/2017
I love the bitboji, but I feel like you should be able to save outfits from holidays or special Events and I feel like you should be able to have tattoos; face, arms, or legs
Fun app
Fun app! Please add more ethnic features and wider range of skin and hair colors. The dark skin colors are unrealistic and extreme.
Nice emojis but too much control
The emojis are cute however when sending texts, I cannot use my I phone keyboard with spellcheck which I prefer. Then when I tried to delete the app from my phone it will not delete. That is not acceptable. Being unable to delete the app makes me doubt their claim they will not misuse my personal data. The support center does not allow questions on how to remove the app or any question that cannot be found in their FAQs. I no longer thrust this company and I want this app off my phone.
Love
Love Bitmoji. So many fun expressions :)
More hairstyles and better blonde options please
Obviously very fun to have an avatar but I'd like more options when it comes to hair. Obviously it's hard to satisfy everyone with hairstyles so that's less of an issue. But I'd really like better options for blonde color. For blonde, the best options are either really light brown that's kind of blonde or just straight up hilighter ink yellow and it's kind of gross. Please help!
Help !
I can't change the length of my characters hair.
I love Bitmoji but I would LOVE a lil more if
Jennie❤❤❤The Awesome
on
11/16/2017
I love Bitmojis I use them all the time however I wish that there were separates in the clothes so if I like a certain blouse I could place it with maybe a denim skirt or black skirt or something like that I only wear dresses and skirts and I want to dress my Bitmoji like I dress myself. Maybe add some purses and separate shoes 👠!!!
Service Dog
Jacocarr123
on
11/16/2017
Add a bitmoji and a dog profile on the top left corner
Awesome But
Mctntfixplease
on
11/16/2017
How come you can get NFL and MLB outfits but not NHL please bring NHL outfits
App Purpose's GONE
thatsbadkarma
on
11/16/2017
It was supposed to be an awesome app where people can express themselves as a Superman, Catwoman, their favorite idols and much more. Dressing up uniquely, separate jewelries and more. I love the wedge boots, but not with assigned outfits. Let us choose ourselves. Needs to come with more color pickers and patterns. When it was pulled off the app, it defeats the purpose being able to express creativity ourselves on Snapchat.
Needs searchable option
I love that I can search for a specific bitmoji in Snapchat or iMessage, but why is it not an option in the actual app? That's the only complaint I have of the app.
Fact Sheet
Publisher:

Bitstrips Inc.

Category:

Utilities

Released:

Oct 28, 2014

Current Version Released:

Nov 13, 2017

Version:

10.21.1

Size:

65.8 MB

Compatibility:

Requires iOS 9.0 or later.

Recommended Age:

12+

Game Center Certified:

No

Supported Devices:

iPad2Wifi-iPad2Wifi, iPad23G-iPad23G, iPhone4S-iPhone4S, iPadThirdGen-iPadThirdGen, iPadThirdGen4G-iPadThirdGen4G, iPhone5-iPhone5, iPodTouchFifthGen-iPodTouchFifthGen, iPadFourthGen-iPadFourthGen, iPadFourthGen4G-iPadFourthGen4G, iPadMini-iPadMini, iPadMini4G-iPadMini4G, iPhone5c-iPhone5c, iPhone5s-iPhone5s, iPadAir-iPadAir, iPadAirCellular-iPadAirCellular, iPadMiniRetina-iPadMiniRetina, iPadMiniRetinaCellular-iPadMiniRetinaCellular, iPhone6-iPhone6, iPhone6Plus-iPhone6Plus, iPadAir2-iPadAir2, iPadAir2Cellular-iPadAir2Cellular, iPadMini3-iPadMini3, iPadMini3Cellular-iPadMini3Cellular, iPodTouchSixthGen-iPodTouchSixthGen, iPhone6s-iPhone6s, iPhone6sPlus-iPhone6sPlus, iPadMini4-iPadMini4, iPadMini4Cellular-iPadMini4Cellular, iPadPro-iPadPro, iPadProCellular-iPadProCellular, iPadPro97-iPadPro97, iPadPro97Cellular-iPadPro97Cellular, iPhoneSE-iPhoneSE, iPhone7-iPhone7, iPhone7Plus-iPhone7Plus, iPad611-iPad611, iPad612-iPad612, iPad71-iPad71, iPad72-iPad72, iPad73-iPad73, iPad74-iPad74, iPhone8-iPhone8, iPhone8Plus-iPhone8Plus, iPhoneX-iPhoneX,

Supported Languages:

Arabic; Danish; Dutch; Flemish; English; Finnish; French; German; Greek; Indonesian; Italian; Japanese; Korean; Bokmål, Norwegian; Norwegian Bokmål; Polish; Portuguese; Romanian; Moldavian; Russian; Chinese; Spanish; Castilian; Swedish; Chinese; Turkish;

Parental Advisory:

Mild Profanity or Crude Humor; Mild Cartoon or Fantasy Violence; Fear Themes; Mild Alcohol, Tobacco, or Drug Use or References; Suggestive Themes;