Screenshots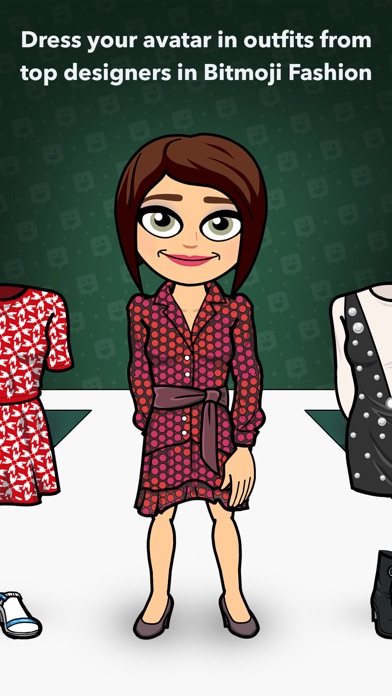 New in version 10.17
- Improved usability and search for Bitmoji keyboard
- Bug fixes
Description
Bitmoji is your own personal emoji.

• Create an expressive cartoon avatar
• Choose from a huge library of stickers – all featuring YOU
• Use Bitmoji in Snapchat, iMessage and wherever else you chat

Using Bitmoji in Snapchat unlocks friendmoji – 2-person bitmojis featuring you and your friends!
Reviews
Great but want search!
I love using these, but wish each one had keywords that I could search for to find them right away! They won't load on my Apple Watch in iMessages
One Time Use
KyleJames0408
on
9/25/2017
I downloaded this application, created an account, made my avatar, linked it to Snapchat, uninstalled the application, still have the avatar for my Snapchat. Works like a charm.
Photo recognition
I love bitmojis I use it all the time!!!! I think that there should be an option where you take a picture of your face and it will automatically make a Bitmoji to look like the photo
New Clothes
Please add more like pjs hoodies jeans w holes boots ls NFL jerseys
Add more sports outfits
Hockey and football season started and you have not added them to the dress avatar section. Can you add them please. My Bitmoji wants to wear them.
MY HEART ❤️
Excellent but i would like more ethnic hairstyles such as braids and more curly hair options and new outfits!!!
Believe me I love this app but...
Clemson tiger🐯🐯🐯
on
9/25/2017
I love this app a LOT, but I think you should add some things: pajamas, ballerina clothes, Nike clothing, and some uniform clothing for people that go to school and have to wear a uniform(navy blue shirts, white shirts, khaki shorts, khaki skorts, navy blue shorts, navy blue skorts, khaki pants, and navy blue pants.). Just some suggestions but maybe you can add some of those on the next update. Thanks!!!!!!!😀😃😄😁😆☺️😊🙂🙃😇😉😌😋😜😝😛🤗
Variety
I'm a fan of this app but I just wish there was more variety. From hairstyles to clothing options. Hopefully you can bring more variety into your next update.
Slay
S v g at. Bxdgcrct wxt
on
9/25/2017
I love it sooooooooooooooo much
Eye glasses
tyler the tease
on
9/25/2017
I would like to be able to change the color of my glasses. I don't wear black or brown framed glasses.
Curly hair
Mary Lee 101
on
9/25/2017
I LOVE my bitmoji. The only thing is, I have curly hair. Not wavy an not poofy, long little ringlet type curly hair. Just wondering if y'all could add some more hair options for people with curly hair? :)
It's football season
Instagram Cj da Dj
on
9/25/2017
A update with nfl logos on shirts would be nice!!! Lol
👚👖👗👠👛👓
I love Bitmoji I use it almost everyday, especially on Snapchat! I just wish there were more options for outfits, outfits, OUTFITS.
Love it! But I have a request..
I love this app! I use it way more than what a grown man probably should but they're hilarious. Any way we can see more professions added? Like a construction worker possibly? If not I'll still use it all the time anyway but thought I'd throw it out there!
More Clothes Pretty Plz (:3
Okay, let me just say that I love this app so much! My only exception is that there's just not enough clothing styles to go around. Some clothes are just different recolored versions. If you guys could make more clothes for our avatars then I'll be set with this 5 star rating :3
Please
Can you guys add a cigarette to the items please
Need more
RJayjjjjjjjjjjjjjjjjj
on
9/25/2017
I dont know about female bitemojis but males need more options like for example i have a chin beard & there's no option for that..
I love its addictive
laylay11056😊🤞
on
9/25/2017
Love it 💖💖😘😘
Good app
Should add nfl and nhl outfits
A few suggestions
I love this app! It's so much fun! My main suggestion is that I wish there were more clothing options. There hasn't been an update in a while, the most recent one was for spring but now it's fall... I feel like a lot of the clothing options aren't something I'd wear so it makes my bitmoji look less similar to me! Please consider adding more clothing options and maybe making all bitmoji able to wear any gender clothing?
It's cool
Jrgonzalez44
on
9/25/2017
I think it's really cool but I wish there were more hairstyles and facial hair options because it's really har to match myself to my butstrip
Awesome but needs a feature
I love using Bitmoji & all, I think it's super cute & funny, but I think it can be personalized a bit better. I have a birthmark on the right side of my face, I absolutely adore my birthmark, & people really know me because of my birthmark. Every time I use my Bitmoji on Snapchat, I always have to draw my birthmark on my face. A few people thought that the Bitmoji app can let you put a birthmark on your person, but I told them that I drew it on there. If Bitmoji gave us an option to put a birthmark on our person, Bitmoji will be outstanding. Please consider the people who have birthmarks & please do think about making an update so people with birthmarks can put one on their Bitmojis. Let us chose where to put the birthmark & the size of the birthmark. I think with that update, Bitmoji will be an unstoppable fun app. Thank you! 💕
I'm triggered 🤦‍♀️🙄
Why isn't there a TWINSIES bitmoji?!?! Like come on people we r in 2017!!!! MAKE A TWINSIES BITMOJI PLZZZZZZZZZ
Love it but new clothes please
Love bitmoji but you haven't put out new outfits in a long time?!? Can we get some new gears to wear??
Love it... but can you get NFL outfits?
Runner Mommy
on
9/25/2017
I love this emoji app! It's so cool how you can change your outfits that include NBA and MLB themes. Please, please, please get NFL teams!!!
It's a great app
I'd love to get some new outfits and maybe hair that has the option to put highlights in? Otherwise, you guys are doing a great job with the app
I like it
XD12334556699
on
9/25/2017
I like it
NFL
Vincentackers
on
9/25/2017
I like the app with Snapchat but where is the NFL jerseys at???????
New clothes please!
I love bitmoji. Please update the clothes.
Hairstyles with Haircuts
CareySmith123
on
9/24/2017
Hi Bitmoji People , I love the App & how it's connected with Snapchat & all but there's Pros & cons to the app . The Pros are it's a great app it's fun making your very own avatar but the cons are the selection of hairstyles are horrible for the next update is it possible if you guys can possibly had Haircut styles , preferably edges lol . thank you PS. great app btw
More personalization please!!
I LOVE my Bitmoji, and I am only giving it a 4 star rating because I would love more personalization options!! Eyelashes, eyeliner, accessories, more hat options, more updated clothing options as the seasons and trends change. Better shoe options, hair options. Like another user said, piercing options!! I know it takes time to develop everything and I have high hopes that all these things are coming!! Love everything else about this cute little app!
PLEASE
Jadedcrayfish96
on
9/24/2017
Ok I love bitmoji like a lot but can you guys please bring back house of hoops please that would make the app so much better
Love love
Funsummer911
on
9/24/2017
I love this app, but I suggest adding pajamas to the clothing options so we can dress up our characters at night!
so cuteeee but
EmmersTomlinson
on
9/24/2017
i love bitmoji! it's a fun way to express yourself! but can y'all come out with more outfits bc the ones you have now are starting to get boring !
Bring back nike
Tinselpenny21
on
9/24/2017
I truthfully like Bitmoji and think you should get it I only put a one star to get there attention. Bring back the Nike hoodie and sweatpants I don't like any of the other ones that are available.
More options?
I love this app but I feel like there aren't enough choices in hair and outfits. I feel like you should expand on the hair choices, and make mix-and-match options for the outfits.
I want new hair types
I want new hair types
We need more men haircuts
It's an awesome way to make your chats more fun and show more impressions! BUT please add more men haircuts
new outfits
pretty please make new outfits bc i look on the map and i'm twinning with people i don't want to!! thanks
Clothing
Life line please!!
on
9/24/2017
You have baseball & all kinds of others but in the "uniform " jobs u don't have a postal person..😕
LOVE IT
This app is so cool. You can make your own avatar and it's like a mini you. There are sooo many different pictures you can use there is one for everything you can think of. You can change their outfit and hair and everything. The only thing is I wish they came out with new clothes more often
Love
I love using these cute things. But I wish that you could add more clothing options more often. Thanks!
Piercings.
steven's still born brother
on
9/24/2017
This app is great especially when paired with snapchat. My only complaint would be piercings. i have an eyebrow piercing and ear piercings. When creating your avatar, females may choose to equip a set of earrings of your choice but as a male i don't have this option. But neither males nor females can wear any other piercings. If this was implemented i would be completely satisfied.
!!!!
PLEASE PUT FOOTBALL OUTFITS BECAUSE ITS FOOTBALL SEASON YOU GUYS DID IT WITH BASKETBALL NOW DO IT WITH FOOTBALL PLEASE
NFL Attire
This would be so much better if you added NFL uniforms or jerseys!!!
Outfits pls?
Dhfyjgukgykhdt
on
9/24/2017
I love Bitmoji but we need new outfits pls update soon!
Quick question
flfgfshhrcfeytdwrsgioifg
on
9/24/2017
Im 11 can I still use this app? It's says 12+ . 1 star Bc that's mean
Hair color
I like the choices, but I can't change my hair color. I don't have black hair it's dyed☹️
Broken Bones
Sometimes there needs to be where you can add casts and stuff. My boyfriend and my brother recently broke some bones and they want bitmoji casts too. Other that this I think the app is amazing! Super creative
Make new outfits!!!
I love this app but I wish you put more new outfit choices in more often
Fact Sheet
Publisher:

Bitstrips Inc.

Category:

Utilities

Released:

Oct 28, 2014

Current Version Released:

Sep 21, 2017

Version:

10.17

Size:

149.1 MB

Compatibility:

Requires iOS 9.0 or later.

Recommended Age:

12+

Game Center Certified:

No

Supported Devices:

iPad2Wifi-iPad2Wifi, iPad23G-iPad23G, iPhone4S-iPhone4S, iPadThirdGen-iPadThirdGen, iPadThirdGen4G-iPadThirdGen4G, iPhone5-iPhone5, iPodTouchFifthGen-iPodTouchFifthGen, iPadFourthGen-iPadFourthGen, iPadFourthGen4G-iPadFourthGen4G, iPadMini-iPadMini, iPadMini4G-iPadMini4G, iPhone5c-iPhone5c, iPhone5s-iPhone5s, iPadAir-iPadAir, iPadAirCellular-iPadAirCellular, iPadMiniRetina-iPadMiniRetina, iPadMiniRetinaCellular-iPadMiniRetinaCellular, iPhone6-iPhone6, iPhone6Plus-iPhone6Plus, iPadAir2-iPadAir2, iPadAir2Cellular-iPadAir2Cellular, iPadMini3-iPadMini3, iPadMini3Cellular-iPadMini3Cellular, iPodTouchSixthGen-iPodTouchSixthGen, iPhone6s-iPhone6s, iPhone6sPlus-iPhone6sPlus, iPadMini4-iPadMini4, iPadMini4Cellular-iPadMini4Cellular, iPadPro-iPadPro, iPadProCellular-iPadProCellular, iPadPro97-iPadPro97, iPadPro97Cellular-iPadPro97Cellular, iPhoneSE-iPhoneSE, iPhone7-iPhone7, iPhone7Plus-iPhone7Plus, iPad611-iPad611, iPad612-iPad612, iPad71-iPad71, iPad72-iPad72, iPad73-iPad73, iPad74-iPad74,

Supported Languages:

Arabic; Danish; Dutch; Flemish; English; Finnish; French; German; Greek; Indonesian; Italian; Japanese; Korean; Bokmål, Norwegian; Norwegian Bokmål; Polish; Portuguese; Romanian; Moldavian; Russian; Chinese; Spanish; Castilian; Swedish; Chinese; Turkish;

Parental Advisory:

Suggestive Themes; Mild Profanity or Crude Humor; Mild Cartoon or Fantasy Violence; Fear Themes; Mild Alcohol, Tobacco, or Drug Use or References;