Screenshots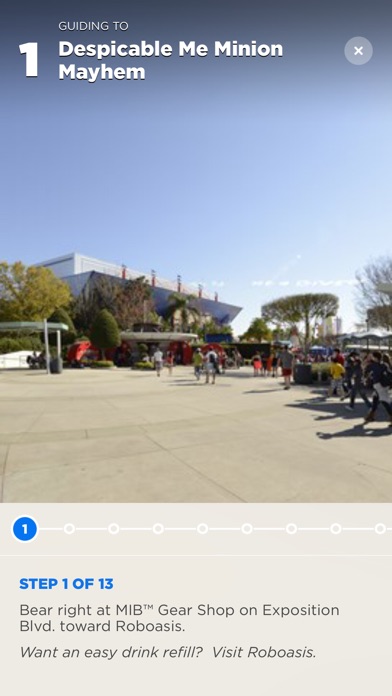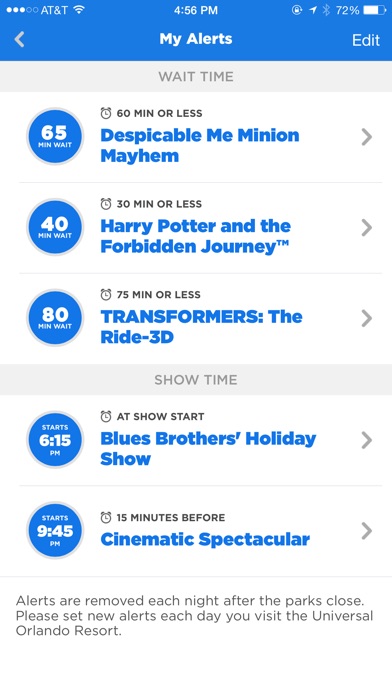 New in version 1.8.5
• You can now buy Halloween Horror Nights Event Tickets using our app!
• Enhanced event support
• Minor bug fixes and enhancements
Description
Put everything you need to know about your vacation in the palm of your hand. Download The Official Universal Orlando Resort™ App. It's free!

It's the easy way to:
• Create a Universal Account Profile in order to manage contact information, addresses and view purchased tickets.
• Purchase 1-Park, 2-Park or 3-Park 1-5 Day Theme Park Tickets and bypass any lines at the gates by using your phone to enter!
• Check ride, show and attraction wait times at home, on the go or in the parks.
• Customize your park experience using filtered lists and the map to plan your day.
• Set ride wait time and show time alerts to make the most of your time in the parks.
• Stay up-to-date with in-park notifications and news about upcoming special events.
• Create your own favorites list.
• Guests with visual disabilities can access Voiceover support to better utilize the app and enhance their in-park experience.
• Share your Universal Orlando Resort experience on Facebook and Twitter.
• Explore the parks using detailed maps and photo navigation with the "Guide Me" feature.

NOTE:
-Continued use of GPS running in the background can dramatically decrease battery life.
Reviews
Great!
RosalieFritoLay
on
9/19/2017
Incredibly helpful and let us plan out our day. Most of the wait times ended up being shorter than advertised!
The Negative Reviews Are Outdated
Annoyed Rock Fan
on
9/16/2017
Was hesitant to download after looking at the 2-star average rating and all the problems with "the app closing itself." Glad I went with my gut. It works wonderfully as of Sep 17 (as well or even better than the Walt Disney World app) in or out of park, and it hasn't closed out on its own after an hour of use, so I will definitely be using it on the upcoming trip! Highly recommend for anyone going to Universal Orlando soon.
Always use it!!
Perfect ❤️
Very convenient!
The Other Clark Kent
on
8/31/2017
The app was very informative and was usually accurate on wait times. I understand it may take some time to communicate current/changing wait times to the app. I had no issues with it closing unexpectedly. Everything we needed to know was listed on the app. We used it the entire time. I highly recommend downloading this app when visiting the park.
The Walking Dead
Remington Ratt
on
8/28/2017
The Orlando version said that The Walking Dead was at the Orlando park, but it was not!!!
Disappointing
Looks like it could be a great app...if it would just stay open. The app constantly closes itself before you can even tap on an area to go to. Disappointing. Had hoped to use it on our upcoming trip. Don't waste your data down loading this.
Continually closes
Johnnybowler
on
8/23/2017
I have an iPhone and every time I tried the app it closes after a few seconds. Never gives me a chance to do anything. Thus it's useless. I even tried removing it and installing again. Also tried on multiple days and no luck.
Garbage app !!
Wait times are completely inaccurate. It tells us 10 minutes wait time and we show up to a 45 minute wait. This happened with multiple rides. You're not able to link your annual pass to the app either. The map is poor. What a waste!!!
Boo-tiful
I have to be the first 5 star, really guys?
Annoying Useless App
Can't create an account within the app. Successfully created an account on PC, but still can't log on to my profile through this app. Can't purchase tickets within app at all. The app keep crashing itself. Perhaps it's good for mapping and wait times. Other than that, it's purely brick. Disney's app is much much better. Don't waste your time. Deleted it.
Won't stay open
Could be a useful app but it keeps closing itself. There's hardly time to look at anything them it shuts itself off. Can't find info about how to fix. Maybe it only works when you are in the park?
Not like the website
Tiredofbeingaskedtorateapps
on
8/1/2017
Can't see any bundle deals or special packages on app
Map is helpful, not much else
The ride wait times on the app have no connection to reality. There is, as I'm writing this review, a 50 minute wait for the ride I'm standing in line for. The app says 10 minutes. Painfully bad execution.
Really?
The real actionjack
on
7/29/2017
Do I understand this correctly? I'm supposed to pay to get labels on the map so I know where things are. Pahleeeze. DELETED.
Amazing
Pug lover baked potato
on
7/14/2017
Best app and helpful
Universal.com
It was creative but cheesy.they could have did a better job😒
Love it
Easy to use and navigate. Recommendation: * Ability to add Theme Park tickets to Passbook
Horrible
Barely worked, kept freezing. It made our day at the park frustrating. For what they charge to get in, this app should be flawless.
A great idea but very slow and the map is virtually unusable.
This app is horrible and Universal should be embarrassed! The app is very slow and would frequently freeze up. The map was useless because it was so slow. It was impossible to scroll around the map without it freezing up. Plus, my position on the map was rarely ever correct. Pay someone else for a better app because this one is worth exactly what you pay...NOTHING!
Turn off location services
Yurdeath2010
on
6/26/2017
I'll be generous and give it 3 stars because it does give some useful information. And up until our vacation we used to see what kind of wait times we could expect during the day. Very useful. But as soon as we got to the park, the app became inoperable. Was very frustrated with how it just would not function for the first day in our vacation. Come to find out it was the location services. Turned that off and it continued working like a charm. Just wasn't able to use the guidance in the park.
Unusable - how did this get past QA?
This is horrific and someone deserves to be fired for releasing an app that locks up and is unresponsive as soon as it is launched. To make matters worse, no timely update has been made available to fix this. I'm guessing this is a product of foreign outsourcing. I can't imagine that anyone who takes pride in their work would allow this.
Almost Useless
This seems like a failed attempt at trying to match the Disney Experience App, which actually works and has an intuitive and user friendly interface. This app is very frustrating to use in many ways, but the lack of refresh in regards to wait times and location services, along with the lack of intuitive interface makes this app almost useless. You'd be better off using a paper map at this park.
Much worse after update
Used this app before the recent update, it was fast and responsive. Now it's really slow, hangs frequently and crashes.
Very disappointing app
I find the app very unuser friendly. The tracking part freezes and the only way to force it to correct is to restart the app. There are little things that are frustrating. It knows my location but still forces me to select a location to get started. While trying to get wait times, it doesn't update the times without a restart. I expected a lot more from the app.
Absolute garbage
thomas_patrick
on
6/17/2017
Frustrating, poorly executed, and not well-thought out. Performance issues. Crashing. No global views between parks. Terrible UI and navigation. Wish I could give this dumpster fire a -1. Disney puts you to shame. Inexcusable and detracts from the overall experience of the amusement parks.
Awesome!!
I love this app!!
Cannot even sign in
hardcoredrum13
on
6/12/2017
Can't sign in, despite working on the website, I get a "info doesn't match" whenever trying to sign in
Last update makes it unusable
Nole_Nurse00
on
6/11/2017
The last update on 6/5 makes the app unusable and locks up after using once. You have to kill the app each time to continue using.
Works at home, not at the park!!!
TERRIBLE APP! Can not connect at park. Ticket takers told me, "Yeah, the app doesn't work. Do you have your paper tickets?" Aughhh! $1450 for family of 4 park hopper tickets for 3 days and told to return to hotel to get paper tickets! Just lovely :-(
Useless with Location Services enabled
The map interface completely freezes on my iPhone 6 when I turn on location services, making the ability to find a location from my current impossible. This is a basic app functionality that should work.
Horrible and frustrating
Matthew Csady
on
6/8/2017
I had all of our tickets loaded in along with a credit card and the entire families information. Was working fine....until we got to the park. Couldn't connect to my account the if I tried to logout and login it would give a 'read ECONNRESET' message. There is no information to be found in regards to the error. Later I tried to make a new account with a different email and it said it couldn't create the account at this time. If it worked it would be awesome. But it's been nothing but irritating and frustrating. Glad we took our paper tickets with us.
Horrible
Freefoam632795
on
6/8/2017
Can't purchase tickets...can't update personal info without an 'oops something went wrong' or the entire app crashing.
Has been running very slow since last update
When I go to the ride list with wait times it causes the app to massively slow down.
Doesn't work
myhonestreviews
on
6/2/2017
For iPhone 7, Stuck on maps , filters don't work,useless , can't submit a zero star review doing set it to one.
Awesome
I have an annual universal pass and I use this app every time. It is hard to run around the entire park looking for good wait times. So this app is very useful. One problem is that for the notification for the wait time you don't get to change it.
Awesome app
TheGamingArt
on
5/26/2017
Extremely straightforward, it does miss some advanced functionality thought.
Maps Broken on 5/23/17 Version
The interactive maps aren't working anymore. They don't show anything, no matter what you do with the filters. Still no detailed Volcano Bay map.
It's great but..
I love this app, it's very useful. However I don't know how to use the "guide me" feature. Can some one please tell me how to use it?
Don't loose your time...
Hugo_Marques
on
5/16/2017
Hi Universal Team! Please do a benchmark with Walt Disney app! Just learn what they made and replicate the best practices to your app, seriously! Your app just doesn't work!
Needs work.
Ok app. It needs work, though. Restaurants don't show menus If I set an alert for a ride wait time, it seems to only alert on that exact number and minutes, not that number and BELOW.
Ancient, Intrusive and useless
activereader
on
4/11/2017
Once you create an online account with an email that has a dash in its domain, the apps does not allow the dash and therefore says it's not matched. Terrible.
App crashes
Has some nice features but crashes as soon as you switch to view in list mode.
Great app
Wait times accurate and map is great!
It's okay for a park app
Glad has ride wait times and lists which ones have the express. Though I called and bought my vacation package over phone then setup and account on app...frustrating as there is no place to enter confirmation number and access information from app. Looks like you can purchase it all directly from app and have it show.
Great park - excellent app!
This app is awesome. Love how easy it is to find wait times, and I love the "guide me" feature for the directionally challenged; it shows a photo of the landmark you should see as you're walking along. Also the "alert me" feature to tell you if the wait time for a certain ride reaches a certain limit is very helpful. I liked it a lot!
Fix Your App
I bought my tickets through your app. Received the confirmation email that they had been loaded to my wallet. Waited in line only for the tickets to not be on my wallet. Sent to guest services only to wait in an even longer line. Seriously???? This is worthless!!!!
crashes constantly
terrible app. when you try to filter on Venue, it crashes every time. they need to fire the app developer and hire a better one.
Needs Work
The park is so amazing, I really expected much more. I keep comparing this to the Busch Gardens app, which is much better. My main problem with this app is that there is no way to save your annual pass info. It would be nice to be able to pull my pass up in the wallet so that I can use it instead of my physical pass for parking, admission, and discounts. Being able to administer my AP account would be nice too. Not a horrible app, but no real value to it.
Wait times off
I used another site for the wait times. The wait times were 10-5 minutes longer in the app. It made it hard to plan where to go. We would skip rides only to find out the wait time was shorter. But I never needed a map because of this app.
This App is Garbage
I bought my tickets for the park through the app. The tickets never processed. When I called customer service the Rep said they have issues with the app all the time but there was nothing they could do. All she could offer was refunding the original order within 10 days. Disappointing
Fact Sheet
Publisher:

NBCUniversal Media, LLC

Category:

Travel

Released:

May 17, 2014

Current Version Released:

Jul 24, 2017

Version:

1.8.5

Size:

100.3 MB

Compatibility:

Requires iOS 9.0 or later.

Recommended Age:

4+

Game Center Certified:

No

Supported Devices:

iPad2Wifi-iPad2Wifi, iPad23G-iPad23G, iPhone4S-iPhone4S, iPadThirdGen-iPadThirdGen, iPadThirdGen4G-iPadThirdGen4G, iPhone5-iPhone5, iPodTouchFifthGen-iPodTouchFifthGen, iPadFourthGen-iPadFourthGen, iPadFourthGen4G-iPadFourthGen4G, iPadMini-iPadMini, iPadMini4G-iPadMini4G, iPhone5c-iPhone5c, iPhone5s-iPhone5s, iPadAir-iPadAir, iPadAirCellular-iPadAirCellular, iPadMiniRetina-iPadMiniRetina, iPadMiniRetinaCellular-iPadMiniRetinaCellular, iPhone6-iPhone6, iPhone6Plus-iPhone6Plus, iPadAir2-iPadAir2, iPadAir2Cellular-iPadAir2Cellular, iPadMini3-iPadMini3, iPadMini3Cellular-iPadMini3Cellular, iPodTouchSixthGen-iPodTouchSixthGen, iPhone6s-iPhone6s, iPhone6sPlus-iPhone6sPlus, iPadMini4-iPadMini4, iPadMini4Cellular-iPadMini4Cellular, iPadPro-iPadPro, iPadProCellular-iPadProCellular, iPadPro97-iPadPro97, iPadPro97Cellular-iPadPro97Cellular, iPhoneSE-iPhoneSE, iPhone7-iPhone7, iPhone7Plus-iPhone7Plus, iPad611-iPad611, iPad612-iPad612, iPad71-iPad71, iPad72-iPad72, iPad73-iPad73, iPad74-iPad74,

Supported Languages:

English;