TapNova recommends this app!
New in version 1.2017.26211
* Bug fixes and performance improvements
Description
Create, edit, and collaborate with others on presentations from your iPod, iPhone, or iPad with the free Google Slides app. With Google Slides you can:

* Create new presentations or edit any that were created on the web or on another device
* Share presentations and work together with others in the same presentation at the same time
* Get stuff done anytime -- even without an internet connection
* Add and rearrange slides, format text and shapes, and more
* Present right from your device
* Never worry about losing your work -- everything is automatically saved as you type
* Present slides to video calls - scheduled meetings will automatically appear
* Open, edit, and save PowerPoint files

Permissions Notice
Camera: This is used for camera mode in video calls and to insert images taken with the camera.
Microphone: This is used to transmit audio in video calls.
Photos: This is used to access photos under the control of Photos Application to let the users pick images to insert into slides.
iPad Screenshots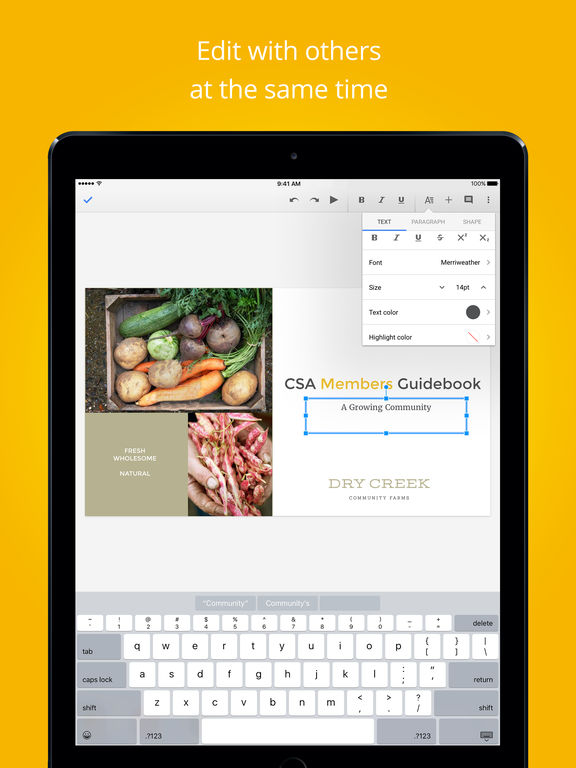 Reviews
Loving this app!!
This app is really useful and fun to use. I usually make presentations for my ideas, job, goals, and things that I like. And then present it to people that actually care about me. It's also really fun because let's say you have an idea for the company that you work for, and rather that just telling your boss about your idea on how to increase sales, I can just get almost everyone from the company in a room, and present my idea to the entire company in a fancy, organized, and easy to understand way.
Fantastic
Has saved my butt many times. This is great way to review slide decks on the go.
Awesome
Really helped me out with last minute college stuff
Good collaborative tool
This is a good alternative to passing PowerPoint back and forth. It has a slim feature set so don't expect to get all transition fancy. Just share good ideas.
Simple
Truthfriend7
on
7/18/2017
Simple, powerful and very useful. Has nice bonus features like Q and A etc. use it weekly.
First time EVER
I've never had to do a PowerPoint presentation before and I was paralyzed by fear of not being able to do it. After canvas crashed on my computer I wound up opening this in my phone and doing the first half of the presentation so far. I love that it saved as a Google doc as well as PowerPoint doc. And the sharing feature is very helpful.
Awesome app!!!!
It's all I use anymore!! Love it!!!
Powerful and Lean
Excellent app for mobile. Best collaborative slide program
Awesome product... Love the updates
I've become an habitual user of Google slides and love the constant flow of product updates. Keep then coming!!!
Awesome
A life saver when you don't have PowerPoint!
Slide feedback
Good interface and easy to use.
WHAT THE
soccerb0ss10
on
7/13/2017
I CANT MAKE LETTERS BIG
Seemless creations
This is way better than Apple's slides and microsoft's powerpoint.👍🏽
Best wife app!
I'm biased because my wife works on this, but she's pretty awesome and so is this app.
Does not work well with others...
I use an iPhone and I wanted to use chromecast to display a keynote file, so I made it a powerpoint.. this app would not work as promised.
Great
Fanatic Fedoras
on
7/9/2017
Great for personal projects and others. And have a good about of features and template to choose from. Plus does a good job integrating images! But I would say to the developers to keep on adding pictures.
Awesome
This helps me with my homework and it helps me organize everything.
Doesn't have backgrounds on iPhone or iPad!!!
If the title didn't give it away, for iPhone or iPad users, there is no way to add a background onto your slide! THIS IS VERY FRUSTRATING!!! If you are a procrastinator (like me) and you don't carry your laptop around with you there can be some issues. Ex: Once I was on vacation and missed a few days of school. The google Slides presentation at school was due the day before I had to go back to school. My teacher accepts presentations and other schoolwork if you missed a day or two (because he assumes that you were sick 😏) so on the LONG car ride home I had to finish the presentation, but I only had my phone and couldn't put my backgrounds in (you might be thinking "just use your laptop when you get home" BUT MY LAPTOP CHARGER SNAPPED IN HALF!!!)😩😩😩 SO THERE YA GO!!! THEY NEED TO ADD THIS SO OTHER STUDENTS WILL NI LONGER SUFFER!!!
Great for school
In my classes usually the teachers will assign something like make a slideshow on cells and I don't have a computer so this is especially useful!!
Thank god for this
SpiraledStyle
on
7/3/2017
Google has made it so easy to make presentations for my school while away from my group members.
Great for Students
This app is wonderful for students to use. It is much better than powerpoint.
Great product!
Glad to google had created this! Makes my work a lot easier!
BEST APP FOR FUTURE PLANS!!!!!
It is AWESOME!!!!!!
Coool
This is a good slide show maker not as good as power point but ya cool
Great app
And you don't have to pay microsofts fee.
Way better than PowerPoint in so may ways
Jamie Grenney
on
6/27/2017
I'm a huge fan of Google slides for B2B marketing.
Best slide maker!!
David in Wichita
on
6/26/2017
Excellent and very east to use. Made my first presentation in about two hours, super fast.
Google Slides rock
Still has some UI work to be done, especially on mobile, but I Love it. I recommend the full Google suite.
Love ❤️
**Please add audio feature to narrate slides** I need to animate to upload to edpuzzle.com. Thank you!! Love this app - more than Power Point More than Keynote Easy to use. Colorful graphics.
Useful
TGfbdhdjfvdbd
on
6/25/2017
Google Slides is extremely useful when you are on the go. The app is extremely detailed and fast. I recommend Google Slides for anyone who needs a software to make slideshows and presentations.
Love it 👌🏼👌🏼
Does what it supposed to. It's a pocket version of PowerPoint which is very useful to make changes at the last minute in case you don't have a computer on hand.
help??
the app always says it's downloaded in the App Store but I can't find it anywhere even when I search or anything like that- so it won't let me re download it...
Great!
The Creator of Minecraft
on
6/21/2017
I enjoy using google slides for different college projects.
i wanted to be the first one to give it 2 stars
Really the critic
on
6/20/2017
oops
Google slides review
I give Google slides an 💯❗️ because it helps me know when I made new slides and also so I can look at some of my old slides.
Awesome
It was awesome because Iam doing a summer book report and I needed to use google slides so thanks
Love - but tablet/mobile needs little work
I am a huge fan of Slides. Only thing I really desire is a better experience when creating decks on an iPad Pro.
Very helpful app
I use this app quite a bit in presenting classes where I can connect my iPhone via HDMI to a tv for groups of about 20. I build me slides on a computer but update them and display them from my phone. Very handy
Very useful
Kevintye dude
on
6/18/2017
Very useful for school
Animations
I want to add animations to my slides done on my phone tablet
On its way to being really great!
I am loving where this app is headed. Two important feature are missing. 1. Speaker notes while presenting to AirPlay 2. Insert videos from the app It would be nice to have a laser pointer option like in PP app.
Amazing
Amazing to write papers ,assignments,speeches. I love this program to write my presentations.
Save Confirmation
Can we please get some kind of way to know our work is saved. I often feel like some of my work wasn't saved when I open the application again a day or 2 later. Obviously this is a huge problem if constantly have the feeling of work being lost, or at least potentially.
Simple and just what I need
Dmoneyteacher
on
6/16/2017
Really simple to use and excellent if I am in a hurry and I need to do some quick editing.
Amazing
Johnny Cornbread
on
6/15/2017
Power Point had a good run. I can't imaging using anything but Sheets for creating presentations after using for just 3 weeks. The collaboration features are spectacular.
5 stars
thehockeykid265
on
6/15/2017
I'm rating this app 5 stars because I can enjoy the slides with my friends and I have a lot of fun making slides and typing with my freeness it's a really, really good app I highly recommend it.
Hi
Deathshadow35
on
6/15/2017
Fan ahh
Needs a improvement
Tsunami says
on
6/14/2017
I can't figure out how to change the background to a picture. So other then that I think it is a really good app. (You should add that in the next update) it is very helpful for school presentations and assignments. So for that I had to use a bad working computer. Overall it would be ⭐️⭐️⭐️⭐️and a half stars. Very helpful and cool😎! lol 🤣 don't forget to add that little adjustment. Thanks 🙏 bye 👋
Fact Sheet
Publisher: Google, Inc.
Category: Productivity
Released: Aug 26, 2014
Current Version Released: Jul 12, 2017
Version: 1.2017.26211
Size: 259.5 MB
Compatibility: Requires iOS 9.0 or later.
Recommended Age: 4+
Game Center Certified: No
Supported Devices: iPad2Wifi-iPad2Wifi, iPad23G-iPad23G, iPhone4S-iPhone4S, iPadThirdGen-iPadThirdGen, iPadThirdGen4G-iPadThirdGen4G, iPhone5-iPhone5, iPodTouchFifthGen-iPodTouchFifthGen, iPadFourthGen-iPadFourthGen, iPadFourthGen4G-iPadFourthGen4G, iPadMini-iPadMini, iPadMini4G-iPadMini4G, iPhone5c-iPhone5c, iPhone5s-iPhone5s, iPadAir-iPadAir, iPadAirCellular-iPadAirCellular, iPadMiniRetina-iPadMiniRetina, iPadMiniRetinaCellular-iPadMiniRetinaCellular, iPhone6-iPhone6, iPhone6Plus-iPhone6Plus, iPadAir2-iPadAir2, iPadAir2Cellular-iPadAir2Cellular, iPadMini3-iPadMini3, iPadMini3Cellular-iPadMini3Cellular, iPodTouchSixthGen-iPodTouchSixthGen, iPhone6s-iPhone6s, iPhone6sPlus-iPhone6sPlus, iPadMini4-iPadMini4, iPadMini4Cellular-iPadMini4Cellular, iPadPro-iPadPro, iPadProCellular-iPadProCellular, iPadPro97-iPadPro97, iPadPro97Cellular-iPadPro97Cellular, iPhoneSE-iPhoneSE, iPhone7-iPhone7, iPhone7Plus-iPhone7Plus, iPad611-iPad611, iPad612-iPad612, iPad71-iPad71, iPad72-iPad72, iPad73-iPad73, iPad74-iPad74,
Supported Languages: Afrikaans; Albanian; Amharic; Arabic; Armenian; Azerbaijani; Basque; Belarusian; Bengali; Bulgarian; Central Khmer; Catalan; Valencian; Chinese; Croatian; Czech; Danish; Dutch; Flemish; English; Estonian; Finnish; French; Galician; Georgian; German; Greek; Gujarati; Hebrew; Hindi; Hungarian; Icelandic; Indonesian; Italian; Japanese; Kannada; Kazakh; Korean; Lao; Latvian; Lithuanian; Malay; Malayalam; Marathi; Mongolian; Nepali; Norwegian; Bokmål, Norwegian; Norwegian Bokmål; Persian; Polish; Portuguese; Punjabi; Romanian; Moldavian; Russian; Serbian; Chinese; Sinhala; Sinhalese; Slovak; Slovenian; Spanish; Castilian; Swahili; Swedish; Tamil; Telugu; Thai; Chinese; Turkish; Ukrainian; Urdu; Vietnamese; Zulu;