Recommended app!
App last updated
Nov 17, 2017
Screenshots
New in version 3.6.1
* Analytics Intelligence now understands follow-up questions. For example, if you ask "How many users on mobile last week?", you can then ask "What about from NYC?".
* You can now refresh using the icon on top right (or pull down to refresh) on 'Select View' screen.
Description
The official Google Analytics mobile app helps you monitor your business on the go. With this app, you can:

1) Check key metrics in built-in reports
2) Compare date ranges and apply segments
3) Monitor real-time data
4) Explore in order to build your own reports with any combination of metrics, dimensions and segments that you care about
5) Save any reports to your dashboard so that you can easily come back to them


Optional Permissions Notice
- Photos: Needed if user desires to save reports in Photos
- Microphone: Needed for voice commands
* You can opt out of optional permission requests and still use the app.
iPad Screenshots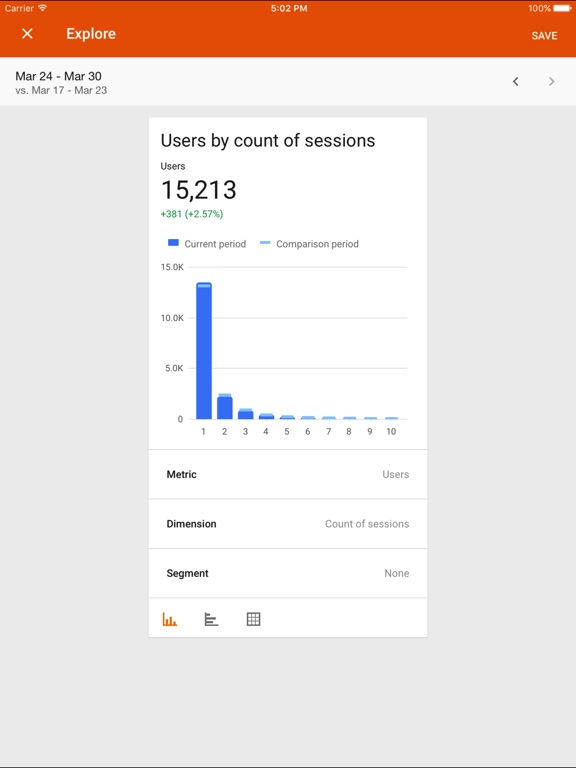 Reviews
Amazing and very helpful but could be better!
HotToFoxTrot
on
1/17/2018
I love that I can check in real time who is visiting my website from where and how many times they've seen it. Being able to see which pages are visited most and the search engine hits really helps me out a lot! I just wish the app was organized better and easier to understand, some of the terms I had to Google (ha ha) to understand. I am very thankful this app is free and I will can you use every day, I appreciate this at being free so very much thank you Google!!!
great for on-the-go
Desktop version is better though
Sumamente útil!
Muy buena! Bastante intuitiva, no hay que ser un experto para utilizarla.
Get this app!
This is an excellent app and perfect for mobile! Quick data-based insights at any time is clutch. Google has delivered a world class mvp here. As the great Notorious B.I.G once said, "sky is the limit" 👍🏼🤙🏼👊🏼🍻🕺🏼
Yes
GeryWebmaster
on
1/1/2018
Great app for quick look at your website. Let's you know if FB is driving people to your website. Don't trust FB pixels exclusively.
Love it!
Works great on mobile since the online version does not. Allows me to check analytics when mobile. Great ux!
Very Confusing... but
Iphoner 5er
on
12/27/2017
After spending many hours setting things up and understanding how things work, it's actually an excellent app, I've tried them all over the years and am very pleased now with Googles' native app. Don't let the complication scare you away initially, spend some time with it and you'll suddenly connect with the app and should start loving it... like I did.
Very difficult to use
How hard would it be to have each tech term linked to an explanation and instructions for use? I mean a step-by step guide, not one that starts with half a dozen assumptions. The list of what pages visitors land on etc shows the beginning of my url but I can't tell what the actual pages are, because it cuts off the relevant info with the narrowness of the chart. Needs some simple, intuitive clicks. Setting up a filter to filter out my own activity requires a degree in filterology. It's so complicated and jargon-ridden that only computer professionals could use it with any ease (I assume).
Very helpful to keep on top your numbers
Love it
.
The RainBow Man!
on
12/16/2017
I HATE THIS I TYPE THE RIGHT PASSCODE AND NAME BUT OPS LOOK WHAT HAPPENS IT DID NOT WORK
Super Useful App
DigicelSucks
on
12/11/2017
This is a great little app that allows you to, at a glance, see useful traffic data without having to go to your computer.
Works great
Fast and easy to use!
Good basic reference to traffic
Mcgreer135797531
on
12/7/2017
This app is convenient for seeing basic how many visitors are on your site at the moment, and how many total for the day, but make no mistake, I have another analytics service that tells me who is visiting and what they are doing on the site.
It's ok.
Most of the UI needs improvement, as it is horrible like most google apps. The organization of the pages containing information is not organized well. However, this apps shows me what I need and I have found 0 bugs so far.
Please make a widget!
I use this app every day to spot changes in traffic on my apps and websites. The new version brings the most important information to the front in a clean mobile experience for when you're on the go and can't access the desktop version of Google Analytics. Update: Please make a widget!
Useless in iPhone X
AntonMolleda
on
12/1/2017
Good luck trying to navigate. It's impossible
Amazing!
This app is truly an amazing app! Download now!
Top Notch
This app is amazing. I have learned so much about my business that I could not have learned any other way. It's a little cumbersome navigating at the beginning but once you get used to it the whole layout seems to work. DE
Awesome app
Mustafa Icer
on
11/25/2017
Easy to use. And synchronization is so fast.
No Complaints
I think it works just fine. There are some reports I can't seem to find, but it's an app, I wasn't expecting the full program. It's great for checking reports on the go, but don't expect to do everything you can do on the desktop version.
Sheer garbage
App don't work
The natural language query is almost impossible to use
AlbuquerqueFan
on
11/17/2017
If you say any of the following: - How many users on mobile last week? (google's own recommended query!) - How many users visited the website with their cell phone last week? - What proportion of users visited the website via their mobile phone last week? All result in the same output: "Users for the city of Mobile" (Alabama) I can't believe this made it out of testing at Google.
Custom reports?
Where are our custom reports?
Go Google
YoDaddy010101
on
11/5/2017
Awesome app as usual from the Alphabet team. Functional for large and small scale users.
Thankfully you can tell they're working on it
Great app to keep up with GA. The user interface needs help with organization and user experience, but thankfully you can see improvements (slowly but surely).
Useful for quick status
not-monte-not
on
11/1/2017
I find this app useful for quick status especially because I can create a custom dashboard.
Nice.!!!
Well organized. Tons of data and presentation is nice .
Love it!
Stellaandnashboutique
on
10/23/2017
Helps me keep a daily eye on my website traffic for my boutique. I also use it to gage ads, sales, and customer behaviors.
Easy to find analytics
DanFurfark86
on
10/19/2017
This app makes it easy for me to track behavior flow, and manage Inbound Marketing. It's exactly what I'm looking for in a web analytics app. I'd give it six stars if possible.
Very useful!
Thank you google
works great!
I get the info I need quickly.
I'm not an expert but I like it
a Circus Clown
on
10/13/2017
This app is very basic and simple to use if you know a little bit about analytics. It gives a quick snapshot while your in the go and the data loads pretty fast. Helps you monitor the performance of your online and social media campaigns.
Gets the job done.
Biotech Genius
on
10/12/2017
Does what I need. Not looking for all the bells and whistles. Gets the job done very well for a free app.
Google analytics on your phone
LooseMongoose9812
on
10/8/2017
Not the best UI, but it's google analytics on your phone sooooooo it's better than being at your computer.
Great way to keep tabs on analytics while on the go
Mrpodcastman
on
10/7/2017
I use this app everyday. I love how robust the reporting is, all neatly stored in a mobile app.
Works!
Works great! Easy to use. I've had no issues. All the analytics for ny site at my fingertips
Lots of website info! In a highly confusing package!
There's so much good info about my website contained within the Google Analytics app, but, unfortunately, it's locked deep within one of the most confusing interfaces I've ever used. I'm decent using the desktop version of Analytics, but the iOS (iPad) version of the app frustrates me every time I use it. (Oct 2017)
Just awful UX
Frederick Jabre
on
10/3/2017
I'm pretty horrified about what passes for good UX these days. This app is poorly organized, hard to view important data, and presents me with mostly useless information in a confusing format. This is not a useful tool. This is a kitchen sink of features fitted into a boring design template that I can hardly use because I feel like I can't get to important data easily. Google stop letting robots design your software. Give it some personality and make it more digestible for humans. Is this really the best you can do for a flagship product? Gmail app redux is what this is. Why does google think applying the same UX methodologies to analytics is the same as it is for gmail? They are two very different products with different needs.
Useful, Helpful, Works like a Charm!
I love everything about this app and it really shows you the important inner workings of what is going on on your website! They make it so easy and organized! There is some of the information I don't use, that isn't relevant to my page specifically, but I could see how others would find additional information just as useful. So much to learn about your own page!!!
Quick and Insightful
HeavenHillHammock
on
9/28/2017
Great app. Somewhat clunky but it's really snappy and insightful. Tips for improvement: geo/maps and notification options.
Love!
I love being able to keep an eye on analytics on the go and get my data whenever I need it.
Works well
Interesting to see what you can all see from users.
Simple and Helpful
This app gives a simple overview of our website information and has been very helpful.
Cool app I use it everyday
I keep track of four different websites works pretty well
Fact Sheet
Publisher:

Google, Inc.

Category:

Business

Released:

Jul 17, 2014

Current Version Released:

Nov 17, 2017

Version:

3.6.1

Size:

58.7 MB

Compatibility:

Requires iOS 8.0 or later.

Recommended Age:

4+

Game Center Certified:

No

Supported Languages:

Arabic; Bulgarian; Catalan; Valencian; Chinese; Croatian; Czech; Danish; Dutch; Flemish; English; Finnish; French; German; Greek; Hebrew; Hindi; Hungarian; Indonesian; Italian; Japanese; Korean; Latvian; Lithuanian; Norwegian; Bokmål, Norwegian; Norwegian Bokmål; Polish; Portuguese; Romanian; Moldavian; Russian; Serbian; Chinese; Slovak; Slovenian; Spanish; Castilian; Swedish; Tagalog; Thai; Chinese; Turkish; Ukrainian; Vietnamese;