This version of the app is not recommended
App last updated
Mar 20, 2018
Screenshots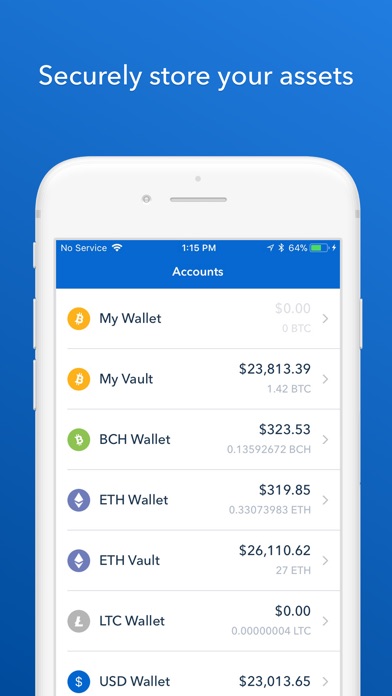 New in version 3.0.19
Thanks again for joining us on this journey! We're constantly working to bring you a better experience. With this release, we've made a few updates we think you'll love:
- Fixed an issue when adding bank accounts
- New and improved buy and sell experience
- A few other bug fixes

You can read more about our improvements at blog.coinbase.com.

Until next time!
Description
Coinbase is the world's most popular bitcoin, bitcoin cash, ethereum, and litecoin wallet. We make it easy to securely buy, use, store, and accept bitcoin, bitcoin cash, ethereum, and litecoin. Coinbase for iOS has been designed from the ground up to to provide the best possible digital money experience on mobile.

More than 10M customers trust Coinbase:
- "Slick design and very easy to use to send bitcoin on the move."
- "Works like a charm for checking your account and sending & receiving bitcoin."
- "Send, receive, scan QR codes and monitor your Coinbase account - What more could you want?"

With the sleek and simple Coinbase iOS app you can:
* STORE BITCOIN, BITCOIN CASH, ETHER, AND LITECOIN SECURELY - Securely store it in your Coinbase wallet or vault for zero fees
* BUY IT EASILY - Instantly buy and sell bitcoin, bitcoin cash, ether, and litecoin using a combination of bank accounts, PayPal, credit cards, and debit cards
* START SPENDING - Send money to friends or shop with merchants who accept bitcoin

Additional features include:
- Send and request bitcoin, bitcoin cash, ether, and litecoin
- Track bitcoin, bitcoin cash, ether, and litecoin price anywhere with bitcoin price charts, bitcoin price ticker, and price alerts
- Check balance, transaction history and transaction details for all your accounts in a glance
- Send bitcoin, bitcoin cash, ether, and litecoin via email, QR code
- Bank level security means your bitcoins, bitcoin cash, ether, and litecoin are safe
- Set a passcode to protect the app
- Remotely disable your phone's access if it is lost or stolen
- Realtime and historical bitcoin, bitcoin cash, ether, and litecoin price charts

If you're having issues with the app, or have some feedback, please send us an email at support@coinbase.com.
Reviews
Great Service!
J.J. Pimentel
on
3/21/2018
I transfer bc without a problem.
Trash
stock trader robinhood
on
3/21/2018
Makes you wait weeks after purchasing a stock to get the stock by then all the gains are gone and you've lost. Terrible then makes you wait again after selling to receive your money.
Could be better
Etan1234457890
on
3/21/2018
One of the better apps to use to purchase crypto, but it is very limited on the crypto you can buy. Also don't expect coinbase to provide alt coins if there is ever a split. Fees are a little higher than others.
Foreign fess and unathorized charges to my bank.
It turns out that eventho I downloaded the app in the US store there are foreign fees and transaction fees per transaction without being told about it. Bitcoing and my bank had me calling them back and forth a contacting Bitoin was an impossible.
Garbage
It's garbage customer service is the worst I have ever dealt with, 10 days for my money to be available is ridiculous, 10 days a whole change a whole a lot......I cannot say enough how much I hate this.....but this is the last straw , I'm trying Changelly next.....
Worse place to do exchange
Live bitcoin and coinbase price are always vast different. For example if live bitcoin value is 8822.27. Coinbase price will be 8808.15. That's how Coinbase steal our money when we trade. If we try to buy it increase by itself and if we ask question in support center. They will tell us it increase in the time you buy it.
There are better options
Coinbase was a good on-boarding ramp in the 'early' days of crypto. However, they have fallen very far behind in the blockchain technology as many other platforms are offering a much better, MUCH SAFER option. In addition their support system is possibly the worst in all of technology. It's almost amazing how bad it is. Check out there reddit page for a live look of the ish show. If your money gets locked up for what ever reason, and they make the rules, it could take months or even over a year to get back. If you use, I urge you to send to an offline wallet immediately. Do not keep your crypto Coinbase.
Don't believe the hype!
My wallet was hacked and Coinbase watched my wallet drain sending my coins to multiple accounts in seconds and did not do anything to stop it. Only one that knows my Cell and email that is linked to this account is Coinbase so why the text to tell me that there is incoming deposit and yet minutes later they got in my account and sent it to multiple wallets. Coinbase I want my hard earn cash back and coins that I mined for months. Cryptocurrency is not the future I use to believe in it but for no insurance and company just walking away is not the future.
Great beginner and intermediate site.
This site really helps beginning coin traders get started. It remains the easiest way to transfer cash back to your bank account when you sell. Zero problems so far!!
Most likely a Ponzi scheme
Shycompany 12985
on
3/19/2018
They will steal your money. This is most likely a Ponzi scheme the wallets they assign you are not real or verifiable on any 3rd party ledger, which is really the whole point of blockchain. So good luck throwing your money down the tubes for the benefit of these more likely than not white collar criminals who own a multi billion dollar company but can't afford to have a support staff of more than 50 people for any technical issues. Something is rotten in Coinbase, to say the least.
Don't do business with coinbase
They have taken a month now to fix an issue they caused by opening a vault account I did not ask for and after 5 calls or more same run around answer they have a person working on it after 30 days and not being able to see my money return back is ridiculous and I definitely would have made money off it.
Fine, but...
Seems like if it knows you're about to buy suddenly the price starts going up. Try it. Preview a buy then don't do it. Now wait a few minutes. Come back. Magic! The price went up. Other than that it's a fine app.
Safe
Goodamericangirl
on
3/18/2018
It's a good investment app for those that want safety and security. The con is the high surcharge for purchasing.
There is a Limit Glitch!
Give me my limits back! I've been with coinbase a year and have put in thousands, now I can only buy 400$ worth a week?!
Scam
They charged my card for $100 of coins that I never received because my bank denied it because it was a sketchy foreign charge. However, Coinbase still says I owe them $100 because I reversed the charge on my bank. Now I can't use Coinbase unless I pay them $100. Tried to talk to customer support for months but they are clueless. High fees, bad support, don't listen to these other reviews.
A 5 day hold with no Cancellation...
What kind of service is this? A 4-6 day hold not including weekends and I cannot cancel it realizing that this is a crap deal? What happens if the price goes down in that amount of time, oh yea I lose money and you guys just collect your fee and move on right? Don't use Coinbase ever! I'm sick of these rip off businesses. And anonymous buying forget. They report everything to the government. Useless company. Find better if you're a real buyer with better things to do then wait .
Pending period is too long
It shouldn't take that long to purchase. The purchase price is locked once the buy order is issued but still the status says pending for a long period.
Slow processing
Coinbase takes forever 🐌to process transactions and has hefty fees. Too slow...🐢🐢🐢🐢 There are several other crypto trading platforms that do the transactions much quicker with lower fees. It's strongly recommended that options are explored before using this sluggish and expensive option. 👎👎
Cool and simple
Rickrick112357
on
3/17/2018
The app is very simple, has a nice layout, fast and direct. Cool app
Doesn't work
I'm 18 and I put in my birthday and it said I'm not 18 so I can't sell what I have than on top of there is no costumer service and then on top of that it takes 24-48 hours to reset or do anything and by that time the price is completely different from what it was this app has to many holes to work properly and tries to tell you you are wrong when it comes to identifying yourself
Terrible
Terrible. Way to many glitches with payment options. I wish I could give it about 100 1 stars just to drop the overall score
Ram
Awesome app. Easy to buy!
Cant withdraw money
thedavidhayes
on
3/17/2018
It's very easy to deposit and it's convenient. My only difficulty came when verifying a bank account. It took too long and the process was tedious due to some technology issues. Once i successfully got ahold of the team tho, within another week and a half the issue was resolved. Recommendation would be to verify bank early on in case you are ever in a spot to need to withdraw funds in a very quick or emergency basis.
Review
Great application, very easy to manage
Abra is way better
Been all around the world
on
3/17/2018
I tried them all. Abra supports the most cryptocurrencies and has the best funding methods. Coinbase is way behind.
Best and simplest for buying cryptos
Easy to buy sell and exchange
Yea
Hshvehdidhbdjjz
on
3/16/2018
Throw your money in a campfire or flush it down the toilet. It will be more entertaining.
Better customer service
I email you guys about issues that never get handled
Won't give me my money
Jgdkdidnebsosh
on
3/16/2018
But the laptop will
Coinbase owes me money
Coinbase sold my litecoin before I could even touch it or move it, when I emailed them they emailed me within two days saying they would get back with me however it took another two months for them to reply and tell me that their priorities lie on login troubleshooting and sign ups first so in other they didn't care I invested thousands of dollars and yet have not received my litecoin pretty ridiculous I would say invest at this place at your own risk you never know if they will ever help you out if your in trouble
Won't authenticate
King Cyrus III
on
3/15/2018
I changed phone number in the app. Had to reset my phone then when I try to authenticate it send code to old number. Now I can't get in. There is no e-mail, phone number or any type of support.
long time user but fees are higher then ever
its got better with the instant availability of coins when you buy now but the fees are ridiculously high you cannot send a dollar without the fee being more then sending ,i thought this was the point of coins was to rid of high fees also ,ive notice when the market is say at 200 per coin .when you goto buy it the price is higher then market even before you complete the buy they tack on fee after fee . if your new buy all you can at one time to avoid .
All my money is gone
Top master locksmith
on
3/15/2018
So I signed up everything was ok I deposited 7000$ in the app Wallet Then I bought coins Then I was trying to sell my coins I could not sub my coins close my ID was not verified so I went ahead and verify my ID 11 different times and each time my ID was updated in the system but when I try to withdraw my money it would say my ID is not verified and there is no customer service does not support team that can help you no one can help you with your money is completely gone I do not recommend anybody to use this app this is ridiculous they put a phone number on the on the website but no one is there to answer your phone no one is here to help you you are stock you are screwed your money was taken away from you and no one can help you
Missing ltc
I've conducted 2 trades recently and there is a discrepancy between the the total amount of coin that should be available to sell and what was actually available by a tiny amount (.00000004). Skimming off the top now are we?
They don't listen to their customers
There's a high demand for XRP on their twitter page. But Coinbase does not care for their customers request. As a result the crypto markets continue to suffer. Coinbase needs XRP. It's the obvious.
Scammers
Scamm, run away from this
Alerts do not work
Good app. Although alerts don't work which is annoying.
Rad
president_reagan
on
3/14/2018
Works like a charm
Love the app
I'm new to crypto and Coinbase makes it super easy to get started. Keep up the great work!
Love it!
Geneva.sparkles
on
3/14/2018
This works great for me. I'm new to crypto and this app is easy for me to use! Love it!
No longer able to buy as of most recent update using voiceover
I am a totally blind iPhone X voiceover user. As of the most recent app update The accessibility to the keypad to enter in either the desired amount is not present. . This means myself and other visually impaired voiceover iPhone users will be unable to buy digital currency until this newly created accessibility issue is corrected. I hope someone with the ability to fix this inconvenient accessibility issue sees this
Can't Even Use It
I'd love to use this app, and if I could, I'd likely be extremely satisfied and have a 5 star review. However, when I try verifying all my information, my address isn't on the list they have, so I enter in manually and it says "Location could not be found", and thus, I'm unable to continue on and use the app. No other app that needs my address has given me this problem.
Chart support! BCH Alerts
I wish there was more time frames like a 3 Month and a 9 Month, also, BCH price alerts would be excellent.
Digibyte
Add Digibyte. Good for business.
App
Easy to use and understand
Rip off
They still owe me 200 dollars, I want my money back. This app is a joke. I deposited 100, checked back and it wasn't showing. And when it showed 100 dollars in my account, i went to buy 100 of bitcoin and got charged another 100. I want my money, 200 dollars back, I closed my accounts in hoping to get my 200 back. If I have to sue and take bitcoin to court I will. One of my friends is an attorney. All I want is my 200 dollars back in my account
Great app
ParadiseIsle
on
3/13/2018
My 1st time, very straight forward!
Could be better
I have had a difficult time transferring my coins to my hardware wallet. I don't know how much if any blame belongs with coinbase or Ledger and GDAX. Coinbase did make buying coins pretty easy. But until I am happy no one is getting 5 stars. GM
Consumer Alert!
I was considering investment until I saw a well researched and well reported local news story in Tucson, AZ where Coinbase kept an investor's $30,000 and stalled him indefinitely and still has not returned it. I'm deleting this App right now. Untrustworthy company!
Fact Sheet
Publisher:

Coinbase, Inc.

Category:

Finance

Released:

Jun 21, 2014

Current Version Released:

Mar 20, 2018

Version:

3.0.19

Size:

76.4 MB

Compatibility:

Requires iOS 10.0 or later.

Recommended Age:

4+

Game Center Certified:

No

Supported Languages:

Dutch; Flemish; English; French; German; Indonesian; Italian; Japanese; Korean; Polish; Portuguese; Russian; Chinese; Spanish; Castilian; Chinese;