Screenshots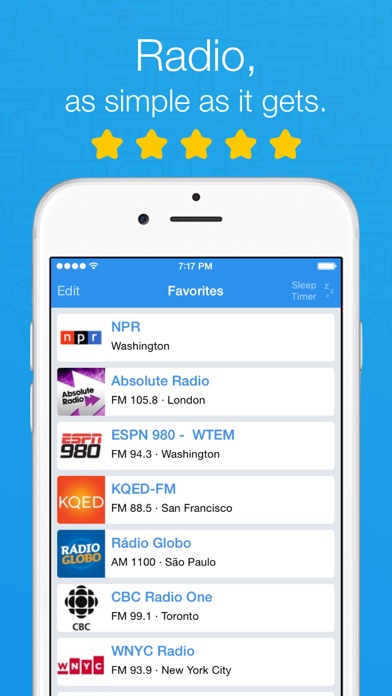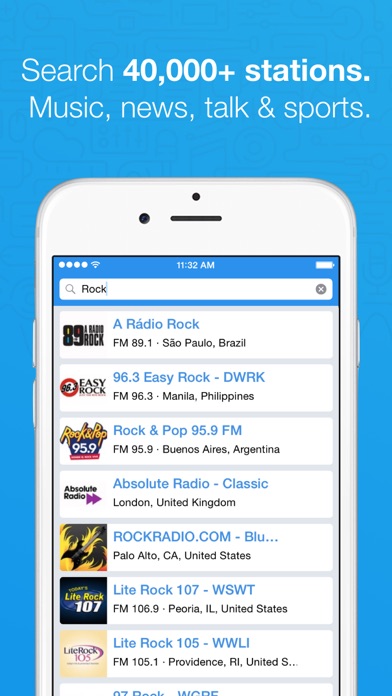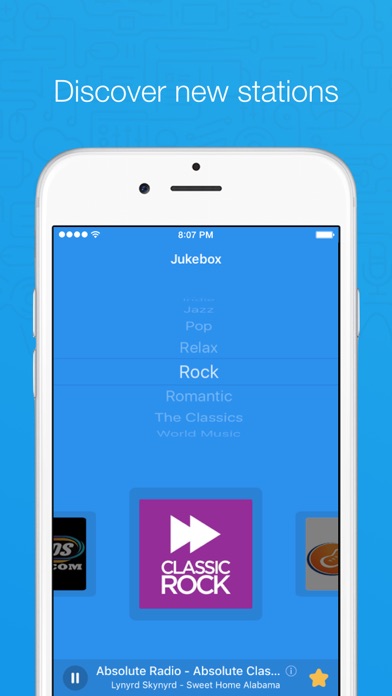 New in version 4.2.7
• Bug fixes & improvements

Your feedback makes Simple Radio better. Keep it coming! Please email us at simple@streema.com. We read it all.
Description
The simplest and most reliable way to listen to your favorite AM, FM and online radio stations with an iPhone, iPad or Apple Watch. Join millions using our radio tuner today!

Listen to Simple Radio for free:

• Play 40,000+ worldwide radio stations on your iPhone, iPad and Apple Watch
• Enjoy our extremely reliable radio tuner. Eliminating drops is our top priority
• Save your favorite stations and listen to them in one tap

Simple Radio's free radio tuner is ideal for:

• Listening to your favorite radio stations
• Discovering new music
• Staying connected to home while living abroad
• Making your commute more interesting
• Practicing a foreign language

Find specific content based on your interests:

• Trending music
• Specific music genres (Rock, Pop, Jazz, Country, Folk & more)
• Live sports like NBA, NHL, MLB and Nascar
• Breaking news
• Talk radio

Tune in to your favorite Radio Stations like NPR, Fox News, ESPN, KEXP, WBLS, WNYC, WJR, La Mega, W Radio, WTMJ, Moody Radio, Radio 24, WSB, WBLS, Radio Love, KQED, Radio Caraibes, WBUR, WCBS, Radio Javan and many more.

Why are our Premium Features the best purchase you will make this year?

• You'll be able to set the Sleep Timer to fall asleep to your favorite station, and doze off like a baby.
• You'll never see a display ad within our app again!


——— Download Simple Radio Today For Free ———


What others are saying about Simple Radio:

• "A pleasant journey back to childhood every time I tune in. An array of stations at the tap of a finger. Doesn't get much better." Dan K., London
• "It gives access to my hometown radio station over 1200 miles away!" - Roxanne L., New York

Love Simple Radio by Streema?

• Follow us on Twitter: https://twitter.com/streema
• Like us on Facebook: https://www.facebook.com/pages/Streema/566615950033225

Questions or feedback?

• We love hearing from you and we read every single email you send us!
• Want us to add a specific radio station? Have suggestions? Please, feel free to reach us at simple@streema.com.


This software uses code of FFmpeg (ffmpeg.org) licensed under the LGPLv2.1 (www.gnu.org/licenses/old-licenses/lgpl-2.1.html).

Privacy policy: http://streema.com/about/privacy/
Terms of use: http://streema.com/about/terms/

Third party trademarks are owned by the registered owners of those trademarks. Streema is not affiliated with these companies. If you have any questions, please contact us.
iPad Screenshots
Reviews
Actually Does What It Says (and does it well)
I normally put up with ads on free apps and rarely rate apps. While Simple Radio's free version is more obnoxiouly aggessive with its ads than most free apps, it does perform exceptionally well. On many apps (even the NPR Public Radio Tuner), my favorite (and sometimes obscure) stations aren't even listed. For a while I was using an Indian app that allowed me to enter the URL and port # of the streaming service, but these data were often hard to find. Everything I want is in this app's database and so far works as advertised.
Qusiera que siri la reconociera
Cuando le doy el comando a siri que la habrá si lo hace. Pero no toca la estación que le digo
Simple radio app
Great for Packer stuff!
💜💜💜💜💜
I love this app! I've been using it for a few months now and it's all I ever listen to. I'm far away from home [Mexico City] and this radio app provides all of my favorite stations from over there. During the earthquake it helped me keep me calm because I was able to listen to everything without any problems. Thank you for creating such an awesome app for free!
Data?
Is this app going to use data and end up costing me on my cell phone bill? I've had other similar apps do so and I need radio stations with some offline options or better iPhone could include the radio component on phones like they use to do on older versions of iPod.
Great but
I'm not sure if you can do this , I miss home so listen to stations from the states but the adverts are British ! This kinda makes me miss home even more , I like the ads from USA can you engineer that to have only ads from USA rather than uk ?
Easy navigation for your favorite music!
Many options for numerous genre! Save to favorites and you are done ! Easy !
Awesome
Easy and awesome!
Absolutely love this app
Great radio station from where ever you are or from where ever you want to listen
Great option
Sadieruffles
on
9/20/2017
I love listening to moody radio in the car and hate to stop in the middle of a conversation. This allows me to take it with me. Thanks
Great to hear public radio on my iPhone
Greatly appreciate this app Was looking for the one/app that receives actual radio signals, but this works great for me. Apparently our local public radio in NH doesn't submit its broadcast to Simple Radio. -- I'm listening now to VPR - Vermont Public Radio and I'll probably soon check out other stations too, but very very relieved and satisfied to get this station w great quality.
Great Radio App
Great awesome radio app in this times of crisis internationally. Thanks
Pretty good
Just like a real radio, you get what you need and you don't what you don't
Works well, but sleep timer should fade out
Person385395
on
9/19/2017
The radio works very well. Ads are a bit annoying but tolerable, they come up once after selecting a station. They "close" button on the ad is sized much too small so I have to hit it 3 or 4 times! I just upgraded to get sleep timer. It needs to fade out slowly. Abruptly stopping wakes me up!
Radio Gloucester
Like being home from home listening to my home town local radio
Doesn't Work
I only downloaded this to listen to a station that was recently relocated. I was excited to find the station, but every time I try to listen, it just says "connecting" and won't play. It worked once since downloading, but I cannot get a connection now. Any other station I try works flawlessly. I will only try a couple more times before deleting this app.
THEE Best! 🎶
So my SiriusXM subscription expired and I desperately needed to find an App that streamed Bruce Springsteen. The Apps I have used in the past no longer carry springsteen.net out of Canada. This App DID indeed carry it, and SO much more! This is a simple, free App with a friendly user interface and consistent streaming of high quality. I HIGHLY recommend this FREE App. It goes above & beyond what most free Apps offer! ~🐍ViperGlen Tu.Sept.19.2017
SWEET!!
It's like being HOME in Sweet Home Chicago even if I'm in outer Mongolia ... LOVE WLS!
The Best app Ever!!
Angelino2014
on
9/18/2017
What a great find!!! This is the Very Best app I ever dreamed of!! Entire world with different cultures, music and news are in just one app!!! It's awesome!! Thank you sooooo much!!!
Fair
It seems to get all the local stations one may listen to one needs several radio apps, Dumping this once an app comes out supporting all. If you can stream the station live from their own respective website then it can be streamed thru a service. I won't have this app for long.
Doesn't work
Received an error on every station
Great selection
Great selection of foreign radio stations.
Great!
So simple. So perfect. Thanks you.
Radio
Chunkyfunkydonky
on
9/15/2017
Hermoso!!
Great Radio, excellent app!!
Advanced Bible Reader
on
9/14/2017
Thanks
Not all stations come up
If you know the station Number and call letters your better off than a search . The sound is fair, has some crackling . Talk shows or news is the same with some cracking in back ground ! I'll keep app to hear my station while I'm on the go is why I recommend it and give it only 3 stars. Oh, you can get other country and languages if listed !
The best tuner app
ALL my favorite local stations are finally on the app. Five Stars!
Finally American radio!
I currently live overseas and the music streaming apps that I had before don't work here. I'm happy to have this app as an option!
Love Simple Radio
Pleased and Informed
on
9/12/2017
Helps me quickly connect to the radio sources I rely on for news... such as NPR. No hassle listening.
Best the best
Baqer Rezaei
on
9/11/2017
Nothing is more simpler and more powerfull than this Radio app. Thank U ❤❤❤
Battery drain
Wonderful app but it uses a ton of battery. 73% more than any other apps in the App Store.
Nhận xét
Phan Trung Du
on
9/11/2017
Good app
Great app
Great radio app, easy to use, very simple
Consider being helpful rather than needing to make money
Weeksoftherapy
on
9/10/2017
Downloaded this to follow broadcasting about Hurricane Irma, as I live in South Florida. Be better citizens... cut the ads in emergency situations!! Precious and potentially life saving info is missed when the ads pop up.
Nice app
Access to a wide variety of free content without a lot of hassle
Muy buena
jhoan reynoso
on
9/8/2017
Muy buena
Brings you the music you can see...
The app is so clear I feel like I'm listening to the tv... awesome! Keep up the good work!
Excelente transmisión
Estoy 100% satisfecho por este servicio, mismo que no deja nada que desear.
Poor quality
This app had really poor quality. It keeps cutting out every time I play a song from 93.3. I will be deleting this back off my phone
Best option ever
Bay Area Patriot
on
9/6/2017
I love this. I found a great radio station while on a weekend getaway in Monterey California. Now I can hear it whenever and wherever I want.
Awesome
Great app to use on the go or at work! So many choices! :-)
Easy!
Goatwhisperer007
on
9/4/2017
Great app! Plenty of stations and simply the easiest radio app available! Fast and clear Reception!
Not working
Carmen Mmmmmm
on
9/3/2017
I just downloaded this app on my iPhone 6p and it shows it is playing but can't hear anything. :-(
Radio Maria Nicaragua.
Love listen radio Maria. God bless you.
SMOOTH JAZZ FAVORITE
LOVE THIS APP, UNMATCHED, AS FAR AS FREE APPS. MUSIC, NEWS TALK, AND SO MUCH MORE
Some suggestions for owner
Hello I think icon can be better and also application ui so. After all this is awesome!!
WMBI 90.1FM
Really appreciate listening here❣️
Fact Sheet
Publisher:

Streema, Inc.

Category:

Music

Released:

Jun 29, 2014

Current Version Released:

Sep 21, 2017

Version:

4.2.7

Size:

37.7 MB

Compatibility:

Requires iOS 8.0 or later.

Recommended Age:

4+

Game Center Certified:

No

Supported Devices:

iPad2Wifi-iPad2Wifi, iPad23G-iPad23G, iPhone4S-iPhone4S, iPadThirdGen-iPadThirdGen, iPadThirdGen4G-iPadThirdGen4G, iPhone5-iPhone5, iPodTouchFifthGen-iPodTouchFifthGen, iPadFourthGen-iPadFourthGen, iPadFourthGen4G-iPadFourthGen4G, iPadMini-iPadMini, iPadMini4G-iPadMini4G, iPhone5c-iPhone5c, iPhone5s-iPhone5s, iPadAir-iPadAir, iPadAirCellular-iPadAirCellular, iPadMiniRetina-iPadMiniRetina, iPadMiniRetinaCellular-iPadMiniRetinaCellular, iPhone6-iPhone6, iPhone6Plus-iPhone6Plus, iPadAir2-iPadAir2, iPadAir2Cellular-iPadAir2Cellular, iPadMini3-iPadMini3, iPadMini3Cellular-iPadMini3Cellular, iPodTouchSixthGen-iPodTouchSixthGen, iPhone6s-iPhone6s, iPhone6sPlus-iPhone6sPlus, iPadMini4-iPadMini4, iPadMini4Cellular-iPadMini4Cellular, iPadPro-iPadPro, iPadProCellular-iPadProCellular, iPadPro97-iPadPro97, iPadPro97Cellular-iPadPro97Cellular, iPhoneSE-iPhoneSE, iPhone7-iPhone7, iPhone7Plus-iPhone7Plus, iPad611-iPad611, iPad612-iPad612, iPad71-iPad71, iPad72-iPad72, iPad73-iPad73, iPad74-iPad74,

Supported Languages:

English; Portuguese; Spanish; Castilian;