This version of the app is not recommended
App last updated
Feb 09, 2015
Screenshots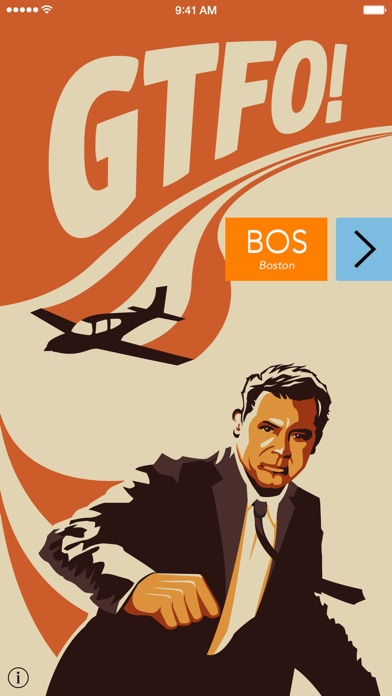 New in version 1.1.1
What's this? Yep, Flight Tonight is now called GTFO - Get The Flight Out!
We've also improved support for iOS8, iPhone6 and iPhone6+.
And we fixed the crash bugs that some of you reported.
Wait, have you tried Hopper's new Flight Prediction App? Tell us what you think!
Description
Want to get out of town in a hurry? Just fly somewhere, anywhere, right the flight now? GTFO helps you be spontaneous. Get The Flight Out of there! Find and book the best available roundtrip flights leaving from your location tonight and tomorrow morning.

- You want to surprise your beloved with a weekend trip
- You forgot your anniversary and need an awesome gift right now
- You want to impress a cute girl or guy by showing how spontaneous you are
- You need to escape the zombie apocalypse
- You are stressed out by your job and need to relax for a few days

GTFO monitors airfares found by travel agents for last-minute round-trips departing today and tomorrow morning. Runaways, outlaws, and impulse travelers will find the best available options to escape from their city.

Enter your home airport and discover a destination. Flights are updated every second, so results may vary throughout the day.

THE DETAILS
- Free to download and no booking fees.
- Prices are round-trip; all taxes and fees are included.
- Includes domestic and international destinations.
- Book your flight directly from your mobile device.

THEY LIKE US
- "Thanks to this app, I'm sipping Mai Tais in Hawaii instead of paying for my crimes" - Guy who robbed a convenience store*
- "Finally, I can impress girls at bars with ostentatious displays of wealth and my free-spirited attitude." - Dakota (employee)
- "This is the best app ever" - You (hopefully)

SAY HELLO
contact@hopper.com

* That's a joke, silly. We absolutely do not condone crimes against convenience stores.
Reviews
Perfection
Awkward Mom
on
10/31/2017
Perfect
Great app.
I love travel. This app. Lets you know we're ti go last minute. Love it!!
Deals are not even good
OveritUnistalling
on
7/29/2017
Did side by side comparison. This app fails.
Great app
Look it ai it wveryday
Interesting idea. Poor Execution
Uninstalling because just not that useful. Need to be able to filter (exclude/include) by airline (i.e., never show me Spirit or Frontier or Ryan). Need to be able to filter by duration (i.e., weekend trip ok, don't show me 7-day trip). Would love to be able to set alerts (overnight trip from home airport to anywhere in Europe under a set price sends me a notification).
Brilliant
Julianjuliangoetz
on
6/1/2017
Simple, easy, gave me an amazing adventure and a wonderful excuse to see old friends.
Great
TravelingKay
on
5/28/2017
Needed it, and it was clutch for my breakup!!!
Was nice while it lasted
Doesn't work anymore 😞
Love it!
Justinian tazer
on
2/19/2017
Cheap flights Abound !
Great App!
Collared greens
on
2/8/2017
Great app!
Amazing
hindustanforever
on
1/13/2017
Love this app
Yes! Get (me) The Freak Outtahere!
I check this app daily! This is the perfect tool for inexpensive spontaneous getaways!
A hoax
For those of you dreaming to someday use this app to get away, forget this app. BWI to Melbourne kept popping up for $182 round trip. I accepted their days of travel, airlines exactly as posted. Guess what? Nothing cheaper than $800.00. A real waste of my time.
Great app for that budget travel junkie!!!
I needed a quickie getaway for my birthday and I found a flight to St.Thomas for $300!!!
Too pricey
The app is well designed, but the flights are too expensive. If you're looking for a deal, keep looking.
Fantastic
This is exactly what I have been looking for. Put in your home base and it gives you a list of places to go in the next 24 arranged by prices. In the past few hours I saw roundtrips from NYC to Vietnam, Hong Kong, and Tokyo under $600 and a roundtrip direct to Frankfurt under $550. Plus a bunch of roundtrip excellent Latin America tourist spots for under $500 some under $400. Gotta move fast - app updates every few minutes and the best deals only stay up for a few minutes.
Meh
Pros: -easy to use -nice aesthetic Cons: -not much to the app, you can see the flights leaving within 24 hours and book it but that's about it Recommendation: -I would like a notification system. If I'm trying to fly at a certain price range - let's say under $100 roundtrip, then it notifies me about flights for that price. -Also, if there's certain locations I want to visit, having a favorites tab that lets me see what price they're at each day would be convenient
Please add filtering options
DorkyGirl188
on
9/11/2016
The app is simple and good, but would be 300% better if it allows users to filter/select certain destinations and airlines.
Amazing app!
Fashion Cappuccino
on
7/14/2016
This is a genius app and actually motivated me to save and travel as much as possible!
Great app for quick trips at the cheapest rate.
I love this app for the great prices you can choose from and for inspiring to take trips to places I may not have explored just because it's affordable!
Epic!
Free The Vision
on
6/2/2016
This app is so dope! Great for a quick spontaneous weekend or time off. I love it! Download Hotel Tonight, which works as a great compliment to the immediate fares.
Just use google
The pricing on this is exactly the same as if you used google to find flights. Pretty lame...
Don't bother....
I think someone created this app as a joke. Tried it 3 times, and laughed at my attempts. You can get way cheaper flights at any of the common travel sites
Not great!
Prices are to expensive. You can get a better deal with the dates that you want elsewhere.
Love it BUT...Request one addition
No location services
on
2/24/2016
I love this app but I wish there was an option to change the search to only show by the length of the trip.
I'll keep dreaming!
This is one of my favorite app. I check this out when I need to take an imaginary "What if I could fly away tomorrow" getaway. Someday it will actually happen. Until then it's fun to pretend.
Love this app BUT LET US FILTER BY DAYS
PLEASE FOR THE LOVE OF GOD LET US FILTER BY DAYS
Spontaneous travelers paradise
Composition teacher
on
2/8/2016
Perfect tool for booking last minute flights
Finally!
Been waiting years for an app/website that does this. Well done.
Great idea
If you are looking for spontaneous travel, you have found it. I love this app, I just wish the dates were a little more flexible. Overall awesome job!!!
Fun to dream!
I have not actually bought tickets yet, and it's really fun to imagine the possibilities. I agree with another reviewer that wanted to be able to plan a little farther ahead than 24 hours. The upcoming weekend would be a nice option.
Awesome
I'm completely addicted to this app
This app is so fun and handy!
I check it every day!
Yes
Simple, well-designed, easy to use, and a great addition to my life.
Brilliant app
Eric374gd77
on
10/18/2015
The first travel app you should check if you have a barely positive bank balance and spare vacation days. Ease-of-use, humorous copy, and great value make it a winner. Pair it with Airbnb or Hotel Tonight and your impromptu adventure will be a good one, dysentery aside.
Awsome App
Excelent for impulsive travelers like me!!
Provides good info!
I particularly like the direct link to Delta.
Great concept
Needs improvement
Got to go on the run !!!
Accurate and cheap
Good stuff
pocketplanes is good
on
6/4/2015
Great at telling you the price of a flight you might be going on. Hopefully they'll make an update to connect with Twitter though. I'd really like to be able to tweet the flights out of certain airports more easily.
Would like to be able to select this weekend, not just today
mchinsomboon
on
5/27/2015
Today is Wed, but I want to find some place to go this weekend … would be a nice feature to add! The benefit of this app is the "open" Destinations that I haven't been able to find elsewhere.
Crap!
Ninjalover25
on
5/11/2015
Only has select cities. No real information, not customizable! Kinda of a waste!
An indispensable tool in the wanderer's toolbox
LiquoriceKrish85
on
4/30/2015
Really really awesome
Very cool
I haven't had the chance to use this wonderful app but I see the potential!
Great App!
Makes me tempted to pull the trigger most days, but not quite yet.
Prices not real
Looks nice but the prices advertised aren't available when you go to book. More than a bit useless.
Great for fantasizing at work
Ggydchfhgyufg
on
2/27/2015
This app is great for fantasizing about walking out of my job and hopping on a plane, never to return again. I'm so depressed.
Fact Sheet
Publisher:

Hopper Inc.

Category:

Travel

Released:

Jul 27, 2014

Current Version Released:

Feb 09, 2015

Version:

1.1.1

Size:

5.5 MB

Compatibility:

Requires iOS 7.0 or later.

Recommended Age:

4+

Game Center Certified:

No

Supported Languages:

English;