Games
Puzzle
Education
Strategy
Recommended app!
App last updated
Mar 07, 2016
Screenshots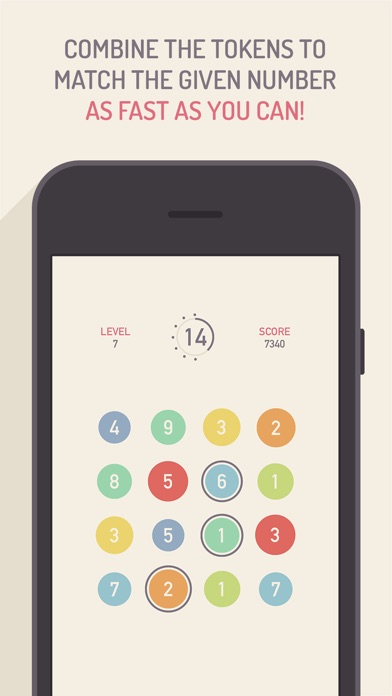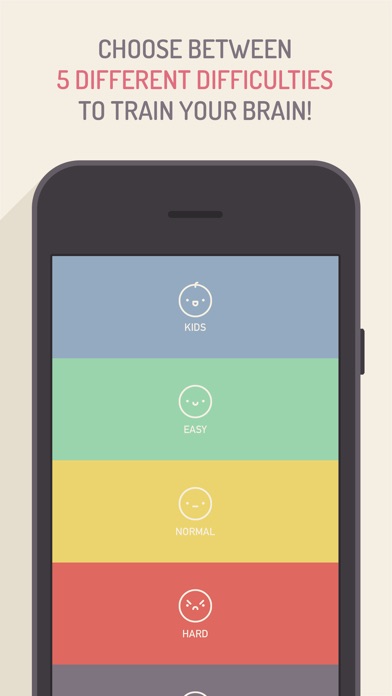 New in version 3.1.5
• Added a "News" section;

If you like GREG, please consider leaving an App Store review. It really helps small developers like ourselves.
Have a problem? Want to give us a feedback? Remember: we can't respond to App Store reviews, so email us at greg@marcotorretta.com.
Description
###
• Apple Best New Games
• #1 Puzzle Game App
• "A puzzle game that will test your speed and math skills, a gameplay mechanic both invigorating and challenging." - AppAdvice
• "An excellent, fun way to kickstart the grey matter." - Gamezebo
• "A solid game with nice graphics, good gameplay and a practical learning." - AppGefahren.de

WHAT OUR USERS SAY
• Polished interface. Mentally beneficial and challenging gameplay. What else do you want?
• Extremely addicting and fun game. Who knew that adding numbers could be so exciting!
• Very fun game and it really helps me with my math skills. One of my favorite downloads.
• If you love numbers, this is for you. If not, you will learn to love numbers!
• In no overstated terms, I'm obsessed with the game. I hate phone games. But GREG is inescapable.
###


Do you think additions are easy?
Challenge yourself and play GREG, a simple mathematical game that will enhance your mental flexibility!
The main purpose of the game is to combine the numbers in the grid to match the given one. The more you go ahead, the more difficult the game will become.


GAMEPLAY
Simple and addictive gameplay, suitable for both quick and long-lasting matches.
The better you play the more points and gold you earn!

ITEMS AND SPELLS
Need some help? Use special items and spells to help you in the game!
You can easily get more items by using the gold you earn within the game.

MULTIPLAYER
Challenge your friends like never before in an innovative multiplayer mode!
Show your friends who is smarter by defeating them in a game where cleverness, reflexes and strategy combine.
Multiplayer is available only on iPhone 4S or newer.

GAME CENTER
Climb the leaderboards and prove you are the best player!
And if you feel good enough try to earn all the 35 engaging and unique achievements.

UNIVERSAL
Enjoy GREG on your iPhone and your iPad too, so you can test your mathematical skills in every moment.

ICLOUD
All your progress and game stats are synced between all your devices, so you don't have to worry about having different data on your iPhone and your iPad.


SPECIAL NOTES
• Follow @playGREG on Twitter for the latest!
• Have a problem? Want to give us a feedback? Remember: we can't respond to App Store reviews, so email us at greg@marcotorretta.com
• Developed in collaboration with Stefano Figurelli.

Have fun playing GREG!
iPad Screenshots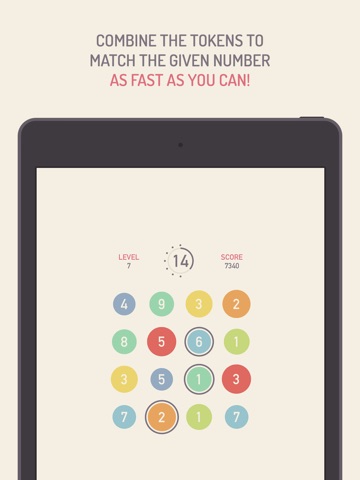 Reviews
Awesome!
everimprovingme
on
10/4/2017
Very interesting game I recommend it as something to play for fun and learning.
Fun and addictive!
Good game. Fun and addictive.
I hate math but I love this game
Awesome Game. Hopefully this game will continue to get updated for along time.
Great
Enjoy the math. It's the numbers!! Great fun. Give it a try you'll enjoy it!
TRYING TO BEAT OLD AGE
Pablopicaso70
on
3/25/2017
Game keeps my brain energized. Hope it helps create more neuron connections and a healthier mind
Great to stay sharp
My name is Ł'š
on
1/13/2017
GREG is a fun game to keep your mental math sharp. It's a game for all ages to challenge themselves.
Great game to practice math skills
KnittingMom6
on
12/21/2016
A great game to practice your math skills. Many levels to choose from. I get stressed with the timer and the color changes.
Numbers grid good for attention retention
The first few times were frustrating but playing it more calmed the reaction to the action on the board and resulted in accumulation of more points and GOLD.
A game for everyone
Great game for challenging your mind and reflexes
Not Fun, waste of money
Flabbergausted
on
10/17/2016
Much better things to spend your time and money on, painfully annoying, frustrating.
Fun
CommitKindness
on
9/27/2016
Fun
Fun
I love math and this is a fun way to enjoy math. It help build your memory and speed. Two thumbs up.
Great game for my kids
I like it too, but don't often get to play ; ) No annoying music or crazy blinding graphics. Thanks!
Awesomr
J54321stupid
on
8/14/2016
This game is the perfect brain teaser. I love that my boyfriend and I can challenge each other!
Educational and fun
Kerry-reviews
on
8/5/2016
Educational and fun!
Keeps your brain working
BrookeHighlander
on
8/5/2016
Like it for keeping my mental math sharp.
Challenging
This game forces you to use your brain. And it hones your mental arithmetic skills.
Greg
Easy to use Play and Learn
Awesome
Supadoopadoopamodelll
on
6/29/2016
Fun and good for your brain!
Greg
This app is quite fun!
Bee a fun game
Enjoy this game!!
Fun
And oddly challenging
Intense
The more it speeds up, the intensity grows!
Cool Game
JennyRocks <3
on
4/29/2016
Def gets my brain going! Love it!!!
Keep your mind sharper
Great mind exercise game that involves mental addition and subtraction, no time for pen to paper or calculator!
Great game...
Simple, fun and challenging.
Fun
Lissa around the world
on
4/11/2016
Helpful for brushing up on my math speed skills.
So far so good
Game keeps my mind active
Great game
Mamamama29mama
on
4/4/2016
Makes you think faster than ever.
Fun
Fun and addicting! Very hard to put down after starting a game!
Fun game for practicing
fuch me senpai
on
3/29/2016
It's a good app for practicing quick thinking and number skills because it puts you on a time limit which makes you either think faster or lose
Fun
Gbshjtgfdgywhjgcv
on
3/28/2016
Challenging to think on the spot like this but gets boring after a while
Great game but needs variety
I love thinking games and I like this one but after 30 or so levels it gets a bit boring - need a twist every so often to keep it from getting boring and deleted off my phone... (Hug)
Great game
Meep your math skills sharp while having fun.
Awesome game
Very simple, yet, a very challeging game.
Math-tastic
CoolioQKninja
on
3/5/2016
Fun math game.
Really great game
Mistercolombian
on
3/2/2016
It is a really great game to keep your math skills sharp. Also helps you to keep your Brain working it is like a brain workout. Highly recommend it
Fun & challenging
It's a good way to brush up on basic math skills and it's fun playing against the clock.
Great came, simple in concept challenging in play.
Great game., tests your math skills,fun to play, easy to learn but can be challenging.
Challenging but Fun
A fun way to sharpen your brain with math. Goes a bit too fast at times, but still fun.
Kill time game
App asked for a review to get 150 in game golds.
Brain training
Good game, addictive
Challenging game
Fun game that will help you improve your arithmetic skills.
Fact Sheet
Publisher:

Marco Torretta

Category:

Games

Released:

Sep 03, 2014

Current Version Released:

Mar 07, 2016

Version:

3.1.5

Size:

6.2 MB

Compatibility:

Requires iOS 7.0 or later.

Recommended Age:

4+

Game Center Certified:

No

Supported Languages:

English; Japanese; Chinese;