Screenshots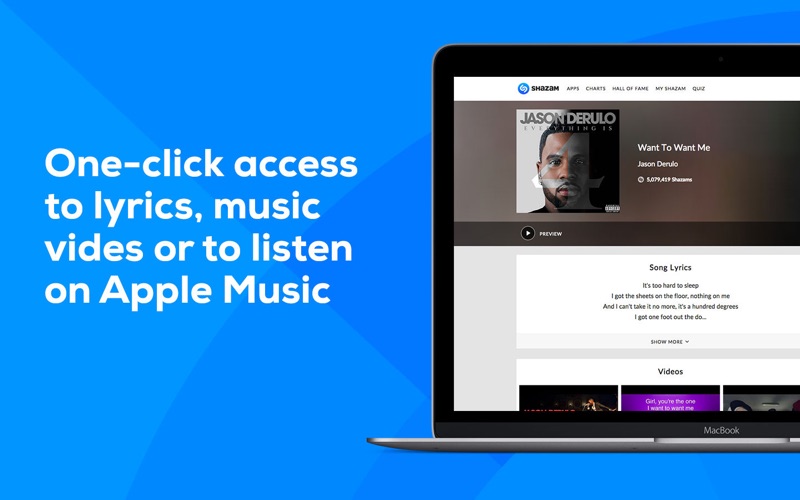 New in version 1.2.4
Thanks for Shazaming! We're always working hard to make the app faster and better than ever. Update to the most recent version to enjoy the latest and greatest Shazam.

Love the app? Rate us! Your feedback is music to our ears, and it helps us make Shazam even better. Got a question? Visit support.shazam.com.
Description
Shazam for Mac takes your music discovery to a whole new level. Catch the music playing around you without ever digging a phone out of your pocket. Go nuts, match it all!

Shazam runs quietly behind the scenes, but springs to life when it finds a song you should know about, creating a playlist as it goes. You can now effortlessly find it, share it or buy it.

HIGHLIGHTS
• Operates magically in the background, ready to name that tune at a moment's notice.
• Instant, seamless access to all the music that makes up the world around you.
• One-click access to lyrics, music videos or to listen on Apple Music.
• Discover like never before, share like always.

Let Shazam teach your Mac a few new tricks and bring the magic home!
Reviews
Caveat: spoiler alert
The folks at Apple ought to have their licenses revoked—or whatever these nincompoops get to allow them to make this a Pick! Please don't insult our intelligence. Living with Shazam is like living in New York: a love/hate relationship. for years it never worked. then 6 months ago, it miraculoulsy came to life and actually ID'd music. Of course, in the past few weeks "no result" appears after every push of the button. if you're a died in the wool masochist this is the app for you. For the rest of the world, drive on!
Shazam is great for check sound info at the moment, but you only need siri
If you want to know "what sound is", in your laptop or external sound, just ask siri, what soing is?, and siri gonna check in Shazam server. For that reason I think this versión of shazam is a background checker and is not usual as phone versión.
Great app, but had to uninstall because...
I've been having issues lately where two processes on my mac have been running like crazy, locationd and his trusty sidekick trustd. I've searched and searched to try and figure out why they've been gobbling up so many resources and running my fans on high. Finally I started quitting certain applications one at a time to see what is requiring these processes. Turns out it was Shazam. For whatever reason, this app is calling locationd and trustd to run at a high cpu rate whenever it is running. I've uninstalled for now but will gladly reinstall and give 5 stars if this issue is addressed.
Does not work
Doesn't work at all. Please delete from the app store so people stop wasting their time. Just web-base shazam you noobs. Ever think about how impossible it is to shazam a song that's playing out of your phone??
doesn't work
Useless… just takes space on my mac, doesn't recognize any music, very bad mac support
Doesn't Work at All on my MacBook
Lilkha777712
on
9/17/2017
Doesn't work at all on my MacBook. No easily identifiable support feature or way to get Help. Unfortunate cuz mobile app rocks. Deleting and finding something better. Sound Hound? Any Recs?
still not working
Not working at all plz fix it
It was really amazing!
I really feel that this app served its purpose. It listened and waited and whenever I unlocked my laptop it was able to identify songs. Even when I really didn't want it to. I don't understand how the app crashes or anything. It works completely fine. If you want to let it open when you unlock your computer, you can change that in the settings. And it will always be there like the stars. It's there when you need it and it won't bother you too much. So I'm not sure why it's getting all the hate when it's actually serving it's purpose and works completely the way they had created it for.
Crashapalooza
Richard in Miami
on
8/20/2017
Shazam is fantastic but the current version crashes like the dickens almost immediately on macOS 10.12.6. Crashes consistently and often. Crashed Thread: 2 Dispatch queue: com.shazam.siggenerator.queue Exception Type: EXC_CRASH (SIGABRT) Exception Codes: 0x0000000000000000, 0x0000000000000000 Exception Note: EXC_CORPSE_NOTIFY Application Specific Information: terminating with uncaught exception of type std::runtime_error: Invalid sig: Invalid - No peaks in signature abort() called
This app have never worked for more than 6 years for my Macbook pro
This app doesnt work. It appears to be record your suroundings for hours and hours but it does not identify songs.
Something is not right.
The app continually crashes. It will not stay opened.
Something is clearly wrong….
The desktop version identifies only 1/2 the songs your iPhone will. Even worse, Shazam for desktop doesn't seem to interact with any other Shazam interface. When a song is identified on my laptop, I'd expect my iPhone to know shortly afterwards. Am I missing something!?
Impossible to save tracks to "My Shazams"
The app does not ask for any e-mail or login. So, the shazams cannot be exported to Spotify or even to My Shazams. If i install on iPad, that's OK. But when installed on Mac, there's no syncing at all! Please FIX IT!
Wrong most of the time (and always has been)
Terrible batting average. Use Midomi/SoundHound instead. That IDs songs very well.
Not too bad
Shazam can detect songs from far away and close by but sometimes it doesnt notice the songs at all whuch sometimes can be at an inconvenience
Doesn't work
ChristopheMenassa
on
3/12/2017
App stopped working after this update: can't switch it on, it's always off no matter what I do. Tried reinstalling it, still doesn't work.
Lacks ability to sync with my Shazam account
Song recognition works resonably well, however, it lacks the ability to sync with my Shazam account.
Fast recognizing
Have been experiencing for a while. 90% of times when I used it, the app recognized the song. Usually it take from 5 to 10 sec to find the song. I like how easy it is in use.
Bug With Wireless Headphones (BeatsX)
Makes audio tinny and really compressed-sounding when listening through wireless heaphones. The audio only sounds like this when shazam is open. Whatever they are using to monitor the mic is making the music sound aweful.
Doesn't Work - No Results!
No matter how well-known or obscure the song, no matter how loudly I play it, the application doesn't register ANYTHING. I've done Shazam's troubleshooting to make sure that both the Built-in Microphone and Built-in Output devices are both set to 44.1kHz/2ch-24bit integer, and despite that supposedly being the definitive fix it still doesn't work. Absolute garbage.
Absolute Trash
App is slow and has a difficult time picking up any detection of any song. This should be fast and reliable and its the complete opposite. ios app is a lot better. Expect better. Should be able to click the shazam logo to turn it on and let it detect music that way instead of turning it off/on with the 5 hour clock running for no reason. Should be able to delete previously streamed songs. All around mess! You guys need new Mac devs to recode this app from top to bottom.
Great
Interesting app,love it.
Disappointing
FluffyWhiteWolf
on
1/18/2017
Hadnt used it in a fee years and thought id get the new version for my new MBP. Just give us a standalone app we can launch. Not another piece of clutter for the menubar. Let me tell it when to listen. Not sit there the whole time listening to everything. Make it more like the ios app. Only has recognized one song out of 10 so far. ios app got 5 of the 10 Not impressed.
Works - But Clunky
I got this to work after a minute of waiting or so But….all it does is tell you what song is playing (which any app that monitors iTunes can do. But, the big deal for me with Shazam is that for iOS, it allows you see dynamic lyrics in the app. Here, for the Mac version, it links you to their website which will show the lyrics. Not the same thing, and rather pointless.
Shazam
Purchased Shazam thinking it would be as good as the one on my previous iPhone. Man, am I disappointed! Playing a CD that should be easy to identify songs….BTW had immediately popped up on the iPhone. Several it could not find and any others took minutes, if at all, to find. This thing doesn't work and I'm trying to not use the "S" word while look for how to get it off my computer.
Works for Me
sirnippalot
on
12/31/2016
Just downloaded on my Macbook Pro and having no issues. Haven't tried yet on my iMac. Thanks Shazam!
Not working at all
It's not working at all for me either, wish I had listened to the previous reviews. Not picking up a single song, while Shazam apps on ipad and iphone are having no problem.
Absolute junk!
I installed it and no matter what I played from something popular to obscure it failed to pick up anything. Absolute junk, save your time and avoid this.
It's now horrible!
The outspoken voice113
on
12/10/2016
The last update made it useless on my mac. The phone version can find songs in seconds. The version on my mac either won't find the same song my phone just did or when it does it took it 8 times as long. What once was a good mac app is now crap!
Do not download this
Used to love Shazam but the new version simply wont work at all. It's a huge waste of your time.
DOESNT WORK!!!!!!!!!!!!!
applefanboy93
on
12/8/2016
after the update the app wont open, please fix it ASAAAAP
👎
Alfred E Neuman
on
12/7/2016
stoped working after last to updates! 😡😡😡😡
for music fans
a great solution for music fans
Recognized ONE Song and NOTHING Else Since
This app is crippled by it's inability to recognize anything that wasn't sampled at 44.1 kHz. It doesn't matter if your hardware is configured properly. If the song was sampled down stream at a different rate, then you're screwed. If you're using the app to find out what song is playing in an internet video, then nine times out of ten Shazam's macOs app is just going to waste your disk space and time. It's also exactly four times slower on my 2012 MacBook Air than its iPhone counterpart on my iPhone 6. All told, they've delivered a deeply disappointing experience for what should be an amazing app.
No My Shazam or Manual Options
This is nice and all, but one of Shazam mobile's best features is missing. It doesn't allow you to log in and save your recognized tunes to your MyShazam listing. Kinda defeats a major purpose, iMHO. Also, the ability to do things on demand instead of constantly listening would be nice. I don't want Shazam tagging Stitcher commercials or YouTube videos when they come on. Let me make that decision (better still, make it an option like in the mobile apps). It's easier to remember to turn it on when you want thatn to turn it off when you don't. Nice enough otherwise, but really needs MyShazam and a manual option. Does what it says, but fails to go above and beyond, so three stars.
fix it , please
ater i updated the lastest version 1.2.0., it doesn't work any more
1.2.0 not working at all…
The small badge on Shazam menu icon is stuck… as if it is in endless loop..This update seems to be not fully QA tested. Not picking up anything… nothing at alll since this update came out… I wish I could revert back to previous…. Have to rate it 1 star till it's fixed… earlier, I would rate it 5 stars but now 1.
Upgraded to newest version lost everything on Macbook Pro
musicalsoftee
on
11/20/2016
When it works this is a great app. It seems everytime I upgrade on the MacBook Pro 2013 Retina there are problems. With this upgrade it no longer picks up music and worst of all I lost all of my previous tracks that were shazamed! The desktop version is the most inconsistent. Losing the email log in was terrible. Not everyone wants to log in using Facebook for everything.
Doesn't work for samples of music
thefrenchnerd
on
11/13/2016
Title
Doesnt actually work
MaxPower720
on
11/13/2016
This app works when it decides to work. You have no control of it. Even if you decide to turn it off. It still gives you notifications about the song playing in the BG. also, If you have music playing on your computer, it will only tell you about that song and nothing about the music that might be plying around you. Overall this app fails to do what its intended to do.
I don't think its working!
Does this app work????
greate app
I'm very glad that this app is free
Works, but it
Needs some work, definitely - It didn't work for me until I set my input device to be 44.1 24bit, the default for an apple cinema display seems to be 48 - seems like a pretty basic bit of coding to fix that to work with a very standard hardware configuration.
Doesn't work on desktop
mobile actually works, not sure why desktop doesnt
Didn't work at all
I had better luck on a $30 tablet. Not sure why the Mac version didn't work.
A lot of bad ratings but I'm very impressed with it!
JustinTime4Life
on
9/22/2016
Shazam has it's job, does that job, and doesn't try to do anything else. All you have to do is do is click start listening and it will pick up any music playing near you. In my experience it took a minute before recognizing songs that came on, but that's fine! Most songs are at least a few minutes long. I was also in a room with a bunch of people talking and the music was at a low volume but it was still able to pick up what was playing. Great app!
wow
wowowowowo you are best
Great App! Should Include Lyrics!
blackthursday
on
9/8/2016
I enjoy this app. Maybe you should include in-app lyrics!
Is the purpose of this app to ouput incorrect titles??
Bob 12367743463363256635643!
on
9/6/2016
Out of the 23 listings its given, only 3 were correct, around 1/8 of the time. If youre alright with an error of about 88% then this is your app!
Horrible.
Tried all of the songs on my phone and shazam didnt pick up any of them. Finding a different way to identify music.
Fact Sheet
Publisher:

Shazam Entertainment Limited

Category:

Music

Released:

Jul 31, 2014

Current Version Released:

Sep 28, 2017

Version:

1.2.4

Size:

5.5 MB

Compatibility:

Requires iOS 10.10 or later.

Recommended Age:

12+

Game Center Certified:

No

Supported Languages:

Czech; Dutch; Flemish; English; French; German; Italian; Japanese; Korean; Polish; Portuguese; Russian; Chinese; Spanish; Castilian; Chinese;