TapNova recommends this app!
New in version 1.2.0
- 2 new abilities
- New parasitic organism
Description
How long will you survive in the abyss?

Dive now into the abyss, in an endless quest for survival. You are born as a fragile jellyfish, struggling to maintain a fading light in the darkness of the deep ocean caves.

Explore this mysterious underworld and absorb all the light you find on your way to live a few more seconds. But be aware... As poetic as this place seems to be, bizarre creatures and plants lurk in the obscurity, waiting to take a bite of you!

Survival of the fittest inside nature's most well kept secret, the depths of the ocean.

- Explore a gorgeous and endless underworld full of unknown dangers and strange creatures.
- An unlimited experience where each game is unique. You'll never face the same challenge twice.
- Intuitive controls specially made for touch devices.
- A beautiful dynamic soundtrack reacting to the environment.
iPad Screenshots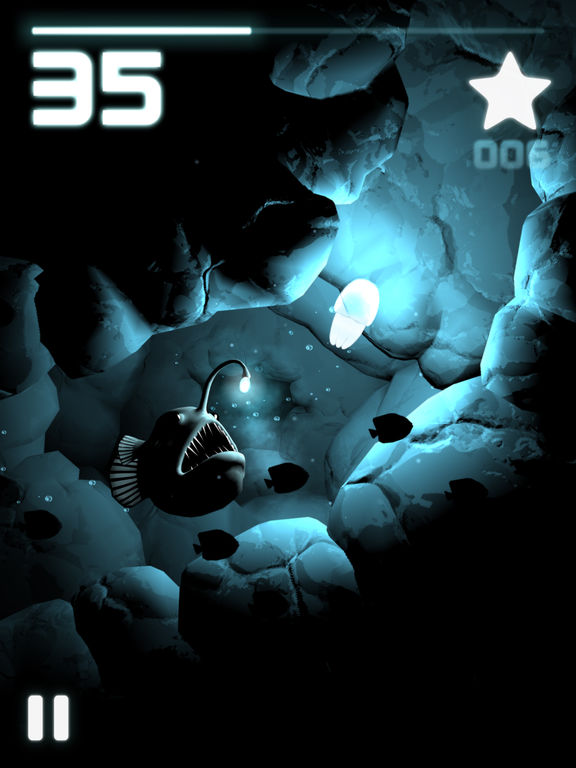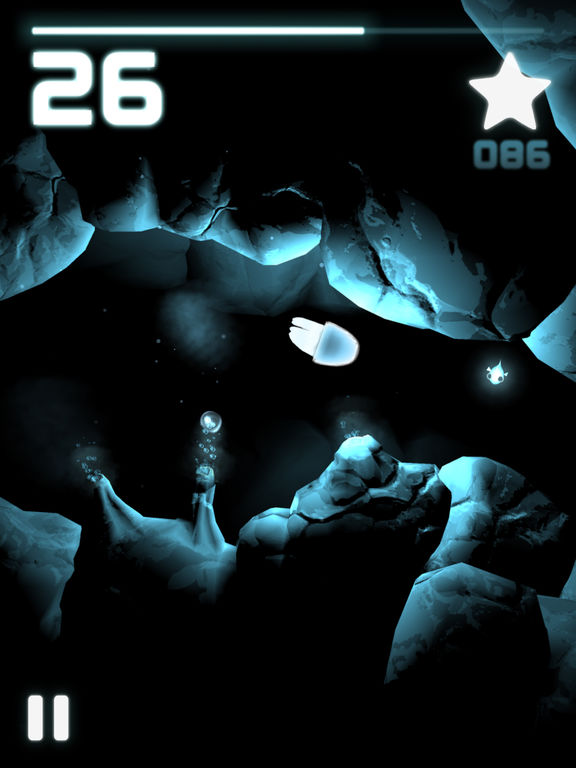 Reviews
Love it, on its way to being magical
Please keep adding more as you grow! The usual add ins--more area, more fish to find, etc. I wanna get spooked by more stuff like the huge squid in the background in the beginning; harmless stuff that throws you and your focus off. I'd say add a map but I kinda like the feeling of being lost, it's adds a special element to the game. I love the idea of the deep ocean being boundless and full of countless new discoveries. Releasing a few new fish regularly would give us a sense of "realism" and give something to do for those that have already found everything. Man, I love this game and the creepy adventurous playful idea of it!
Hidden gem of the app store
If you love the deep ocean, that is! Amazing game with beautiful sound and endless fun. Maybe in the next few updates more fish and fauna could be added. Love the game!
Noice
11/10 would jelly again. Thx for the fix.
This app is awesome
This game is awesome!!!! It filled with so much to do and is so addicting. I can never put it down and will never.
Incredible Game!
MajesticDuck9
on
6/18/2017
This game is among the great mobile games I have played. This game is fun and the semi-random terrain ensues that every game you play will be different. The whale noises in the background and the light piano played when you move makes the experience even better. The graphics are incredible, being very pretty to even the heaviest graphic junkies. Whether the cute ( or creepy ) animals in the deep ocean may be fake, the horrifying animals like the Mutamara seem too real. 10/10. Should be best mobile game of the year!
Gets a bit lame....
Fun game gets sort of boring. All u do is swim. GREAT plane game
Important!
This game is technically endless, but the tunnels repeat, so if you see something cool, you will see it again in the same place. Yes, there is a moving submarine and a sunken ship you can find. There are various spawn points, and many predators. Awesome game.
Not what I expected
When I looked at the video I thought you were just getting chased but after I got the game it was not anything like I expected but add more characters such as one of the monsters or other fish you discovered like you would be able to play as any discovered fish or monster even the thing that comes out in the dark places like that huge thing that you have to be aware of in dark areas that would be really cool so please add this in the game I would love this if you add it but it's good overall😬P.S that's because it's so scary😶
Good
Pretty fun, but a little scary. The music is soothing, and I would recommend to anyone.
Great!
Digging Master
on
6/8/2017
I hope for more jelly fishes! Gain experience?
Excelente
Me encantaría una actualización sobre mapas y ect pero es el mejor juego
An idea
Really cool game! I would like if you would add more fish that are like the mutama or maybe a giant isopod or a giant crab. And playable characters would be really cool like a gulper eel, crab or anything. And please say something about a strange submarine that I saw.
Looks great
Djajqjkciqwkdmcmemkd
on
5/26/2017
It looks really great and is fun to play. I wish there was a story mode. That would make it so good.
Genius
Fix your Garbage
on
5/25/2017
All I can say is wow. Good job!
Love it
Argeth Savanté
on
5/24/2017
It's a great game. Love the environment. Calm and peaceful yet deadly. Feeling of relaxation and calm comes over me when I play even while being chased by a predator.
My review of Seashine
I think this game is one of the most beautiful relaxing games I've ever played and I use it to get over my phobia of fish so well done, the art style If gorgeous and the game is very well thought out
SOO COOOL!!!
I am so addicted to this game because it can be peaceful for a little bit but then scary! U need to get this game!!!
An idea
The large sea monster is a cool idea but I think we need some more large monsters like that squid at the beginning I like the jellyfish and it whould be cool if they changed colors
Excellent!
This game is really fun, like addictingly so. The darkness and gentle music and sound effects are also quite soothing, so it's great for calming anxiety and playing before bed. I would give it more stars if I could. The updates have added a lot of cool features that keep the game from getting old. My favorite is the different jellyfish types.
Update
Update the photos on the page in the App Store, it's outdated and new photos of some of the wildlife are bound to get the app more attention, it definitely deserves it! Also, you should tone down the level of aggressive fish, and add some more beautiful ones to make the journey more beautiful and wonderous while still making most aspects terrifying. Also add some other creatures like the deep sea lizardfish and ESPECIALLY the frilled shark, and maybe a giant squid encounter like the one in the tutorial. It will make the whole game more beautiful! Love the game, keep up the awesomeness!!
Super cool
fearMyLazerFace
on
4/28/2017
The graphics are awesome and it's super creepy
Thank You
Thanks for adding my creature :)
Review
This game is actually pretty fun. I just wish there was missions or objectives 🙄
I LOVE THIS GAME!
savannahmccool
on
4/25/2017
Seashine is a beautiful game with great graphics. The light music that plays every time you move really emphasizes the beauty of the small jellyfish taking on the deep abyss.
Amazing
Fun and a great game. It has very beautiful graphics. Please keep the updates coming. :)
Here is an idea...
In my opinion, this has got to be the best game that I have ever played, but I have an idea or two to make it even better. #1. Being able to play as different creatures, such as fish, octopi, or crabs. #2. Having different game modes, such as timed, free play, and hardcore. #3. Having the ability to fight back against predators, like using your jellyfish stingers. #4. Different maps, such as coral reefs, which could be a more colorful version of the game, underwater volcanoes, which could have fire-related hazards, extreme abysses, which could have more predators and less prey, prehistoric seas, which could be teeming with prehistoric sea creatures, boss arenas, where a player would have to fight a boss in order to continue on, outer space, which could have alien fishes and ufos, sunken ships, which would be like labyrinths of rooms, oceanic trenches, which could have tube worms and hydrothermal vents, meshes, which would be a mixture of all of them, but can be rarely encountered, etc. #5. Having the ability to upgrade your creature, such as defense, brightness, and speed. You don't have to do all of my ideas, but you can.
Beautifully designed game
Cool dude 12345678
on
4/15/2017
I must say, some games like this aren't good at all. But the developer really took the time to make the graphics beautiful and the gameplay is simple. I have just downloaded it and played for a while, but I LOVE this game. It is beautifully designed and I would highly recommend it for people who are on the fence on it.
Amazing work!
My brother Joe
on
4/1/2017
Couldn't be better.
fixed!!!
all the problems i were having got fixed in the newest update so im back to loving it!! the upgrades are kinda expensive but its still fun to play 💫
Very awesome... but,
This is my most addictive game and when made a song about it, but when you get bored after you get all the things, like the fish, secrets, all the jellyfish, so could you maybe add more. Thanks.
Interesting...
not so nerdy after all
on
3/31/2017
Wow, only on lvl 2 but I can tell this is gonna be fun. Its also super adorable!
Beautiful but boring
Stunning view and controls, very ethereal. But kinda repetitive. Awesome if that's what you're looking for.
Absolutely love this game
Absolutely love this game. Stunning visually, soothing music and effects, my kids (almost 3) love to play this too. The developer is also super responsive when fixing issues. Can't wait to have a 'zen' mode to just play endlessly
Leaves you wanting more
Excellent game. Easy to control, amazing experience with wonderful graphics. The environment, while fun to explore at first, soon becomes repetitive. A great addition would be more areas to explore and even more fish to discover with even more attributes. Still, amazing game.
Beautiful Game
Easy to learn too...
Good game
Sea I octopus monkey35790
on
3/26/2017
This is the best game I've ever played thanks for fixing the problem
Super fun!
I love all the new changes to the game. Really addicting! Thanks for fixing the bugs!
Welcome Back
Manuelle Olson
on
3/25/2017
Need more stuffs!!!
Good game
MythGeek 2026
on
3/25/2017
Good game but needs a little more of both flora and fauna
One Of The Funnest Apps I have Played!
Amazing Pie Popcorn
on
3/25/2017
Wow, this game is extremely fun and addictive! I enjoy the how much content this game has! It's very action packed and filled with a lot of enemies to avoid while eating smaller glowing fish!
Game will not start
Crashes Everytime I try to open it
Disappointing
I guess I agree with all the previous reviews. The game has beautiful graphics and seems to be quite entertaining (going by reviews on previous versions) but it crashes immediately after opening the app. The screen doesn't even have a chance to start loading yet when it crashes. What a shame. I hope it gets fixed soon.
WILL NOT OPEN!
Pitbullover2525
on
3/22/2017
After downloading the app, whenever I try to click on it to play it, it crashes or closes me out immediately. But, the app seems like a fun game, please fix this bug or glitch. Thank you.
Game Crashes
As soon as you click the game icon it crashes and closes! Plz fix!
Glad I'm not the only one
Downloaded the app and played it a few times but like everyone else after the newest update the app crashes and closes every time
Is this for real lol
PhilyyFangsta
on
3/21/2017
all it does is crash crash crash no matter what, should be called one second game
Won't ever open
Fuzzy Weenus
on
3/21/2017
I tried to download it, and it wouldn't ever load 😒
Never got to play
Simply never opened
Immediate crash – app does not open
OfficialDeveloper
on
3/21/2017
Unfortunately I'll probably forget about this game and never download it again. :(
Problema por la actualizacion
Hola estoy teniendo problemas con el juego. Acabo de actualizarlo y no me deja entrar para nada espero q puedan resolver el problema
Fact Sheet
Publisher: Patrick Ellis
Category: Games
Released: Sep 03, 2015
Current Version Released: May 17, 2017
Version: 1.2.0
Size: 250 MB
Compatibility: Requires iOS 7.0 or later.
Recommended Age: 9+
Game Center Certified: No
Supported Devices: iPhone4-iPhone4, iPad2Wifi-iPad2Wifi, iPad23G-iPad23G, iPhone4S-iPhone4S, iPadThirdGen-iPadThirdGen, iPadThirdGen4G-iPadThirdGen4G, iPhone5-iPhone5, iPodTouchFifthGen-iPodTouchFifthGen, iPadFourthGen-iPadFourthGen, iPadFourthGen4G-iPadFourthGen4G, iPadMini-iPadMini, iPadMini4G-iPadMini4G, iPhone5c-iPhone5c, iPhone5s-iPhone5s, iPadAir-iPadAir, iPadAirCellular-iPadAirCellular, iPadMiniRetina-iPadMiniRetina, iPadMiniRetinaCellular-iPadMiniRetinaCellular, iPhone6-iPhone6, iPhone6Plus-iPhone6Plus, iPadAir2-iPadAir2, iPadAir2Cellular-iPadAir2Cellular, iPadMini3-iPadMini3, iPadMini3Cellular-iPadMini3Cellular, iPodTouchSixthGen-iPodTouchSixthGen, iPhone6s-iPhone6s, iPhone6sPlus-iPhone6sPlus, iPadMini4-iPadMini4, iPadMini4Cellular-iPadMini4Cellular, iPadPro-iPadPro, iPadProCellular-iPadProCellular, iPadPro97-iPadPro97, iPadPro97Cellular-iPadPro97Cellular, iPhoneSE-iPhoneSE, iPhone7-iPhone7, iPhone7Plus-iPhone7Plus, iPad611-iPad611, iPad612-iPad612, iPad71-iPad71, iPad72-iPad72, iPad73-iPad73, iPad74-iPad74,
Supported Languages: Chinese; English; French; German; Italian; Japanese; Korean; Portuguese; Russian; Chinese; Spanish; Castilian;
Parental Advisory: Mild Cartoon or Fantasy Violence;