This version of the app is not recommended
App last updated
Jan 09, 2018
Screenshots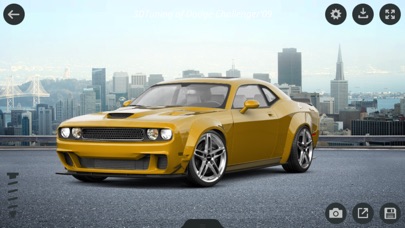 New in version 1.7.31
- brand new HD renderings;
- minor bug fixes and UI optimization.
Description
Unique 3D car configurator!
More than 1000 cars in photorealistic quality!

--------------------------------------------------------------------
Current update:
- custom chopper builder;
- possibility to vote for the cars to be added or updated;
- minor bug fixes and optimizations.
--------------------------------------------------------------------

Unique 3D car configurator!
More than 1000 cars in photorealistic quality!

1. Huge selection of cars, exterior design and tuning options;
2. Brand new car models, as well most popular cars of the 20th and 21st century;
3. Unique collection of wheels, front and rear bumpers, grills, headlamps and tail lamps, spoilers, fenders, mirrors, as well as a variety of air intakes and much more;
4. Available features include exterior color change, suspension level customization, car paintings and many more;
5. Application is integrated with 3DTuning.com, so your unique car garage is always at your disposal, while constant and frequent site updates are immediately available on your mobile devices.

Create and share your garage of unique cars with individual tuning projects!
iPad Screenshots
Reviews
Okay game could use improvement
I just spent money on this game and it's not even letting me customize what is in my garage. Fix it.
Awesome
Flights ffdfg
on
1/22/2018
Not gonna write this big thing, keep adding cars and more parts and it will continue being awesome. Maybe be able to chage tire width on trucks so they stick out
Give me vip back
I had to replace my phone and it didn't save the vip so please give me it back
Needs a lot of work
The idea behind this app is really good, but you need to fix all the bugs and things that are wrong with it, can't even load a car and have to reset the app 3 to 4 times, when you are in it, it starts acting crazy and i know you have the 06 WRX sedan but add the wagon also
The 06 gto
Can you add more parts for the 06 gto please l, such as sap grills, wide body, fender flares, duck tail spoilers, carbon fiber parts, and fix it where when you lower it all the way down on suspension it still doesn't have 2 feet of ground clearance.
More cars
I love this app!!! Please put in a Devil 16 Prototype and an Aston Martin Vulcan please
Please!!
Can you please add the 2016 and 2017 Honda Civic coupe and sedan along with the Si model and type R?
Add this plzzzzz
We can put wide body kits AKA fender flairs but the wheels need to put brought out to fit the wide body kit. STANCE
Under Construction...
Blackwaterdsm
on
1/20/2018
The guys who made this must be City Workers, because some of the cars on here have been "Under Construction" for over a YEAR while they continue to add new cars before finishing THE ONES ALREADY ON THERE! I own 2 Datsun 240Z's (and it's DATSUN btw... not Nissan), and have been dying to see what my finished car could look like, but the car has been under construction since I got this app over a year ago. Literally, it's the only reason I downloaded it. Now it's glitchy as hell and takes forever to load, and my car STILL cannot be customized beyond paint and rims. What could have been 5 stars, gets ONE from me!
In App Purchase
NitroFreak18
on
1/20/2018
Hey im pretty frustrated that the in app purchase i bought a while ago no longer works and i dont want to spend 20 more dollars to fix it.
Just a small request
Would like to see some Late 80's to early 90's Chevy S10s
Hi
Really like the app helps me get car ideas however could you guys add in a Subaru Legacy B4
UPDATE
Add Scion Tc 2015.
Add Subaru
A 2008-2014 STI Hatchback should be added to the app. Otherwise it is awesome!
👍🏽👍🏽👍🏽👍🏽
GOOD APPS!!! i love it
My Opinion
Nicholas Revels
on
1/18/2018
As a car/truck/Jeep enthusiast, I love this app..! However there are a couple things I would consider adding to the app.. 1. A matching spare tire and wheel for the Jeep Wranglers when selecting an aftermarket tire and wheel. 2. Add the Jeep Wrangler Tj and it's MANY accessories that it has to offer. 3. Add blown engines to the hood category.
I love the game but...
When you go to a car and put on a finder and don't like it and you try to change it the hole car goes invisible but other then that it's ⭐️⭐️⭐️⭐️⭐️ stars 🙃
Plagdrism!
Most of the models are from Forza, don't use it. Use S-tuner.
More free trucks
Like it but needs more free fords like 1995 f-250 or just more diesel trucks
Needs some fixes
Stop with the taken nicknames
on
1/16/2018
Every time I try to use the Tesla it glitches and disappears
Glitches
Saxyphone702
on
1/15/2018
This recent update makes the game run a lot smoother, but their is a glitch sometimes when you put on a part, the car disappears until you turn the screen, then you can't see the car from that angle.
Omg
It used to be so fun to no on now I can't do anything it's so bad the update they need to fix it
Eh
Travisfrancoeur
on
1/14/2018
The newest update is great when it works!
Add more cars!!!!!!
King of drifting
on
1/14/2018
I think this this game is great but I feel like it needs more cars like the challenger demon and the aston Martin db10 but the game is great
Entertaining!!
Such a practical app that allows car enthusiasts like myself to build your own car! Amazing
Vehicle add
I would like to see a verity of s10s like 89 ext cab short bed and regular cab short bed and as well as the s15 versions and first gen Oldsmobile bravada other than that love the app
Vehicle update years!
It would be better if they have newer year trucks and cars that's my big thing!
Awesome
This game let's you customize your own car how ever you want
Add a 2006 2500HD and the k10 body style
bring the old chevy
on
1/12/2018
Only trucks I've been waiting for this whole time
Lags a lot
Dummy Dumb Dumbs
on
1/12/2018
I know this is usually a laggy app but ever since the update it's been lagging the worst it's ever been, plz fix and I'll give it 4 Stars
Great game but...
piercemywrist
on
1/12/2018
I love this game so much. It helps me be creative with my love for cars, but here are some things that we need for the game:first off I know you guys are hard at adding the new models into the games, but I really want to put some really cool things onto the koninsegg agera. Second I wish for a 3D sort of racing element built in if that is possible. And last I just wanted to say if I had a job(I'm only13)I would donate so much money to the makers of this game to kick off some other projects for this game.
Add cars
Add Kia soul please
Fun but glitchy
Abathingcrepe
on
1/11/2018
The game is entertaining but it is very glitchy. -My garage won't load from time to time. -you spend time building a car then an error message pops up halfway when you are in the middle of saving it. -when you select wide fender's, the image of the car disappears. -sometimes the color you apply will not apply -when you toggle between parts, the part on the car won't show or disappears -the background you select just remains the same even if you toggle between different ones These are just a few that I have encountered
Restore Purchases
Chief Sosa312
on
1/11/2018
Where is the Restore Purchases. I bought the Camber and Offset Add on a week ago and it telling to buy it again. Fix The Game
Needs improvement
GhettoHulk420
on
1/11/2018
This app would be such much better if there weren't so many cars constantly in construction and if there weren't so many bugs, everything else is great though
Add Volvo S70
Please add Volvo S70!!!!
Game changer
This app is fantastic, but we need more boring cars! We need boring cars so we can't make them cool, for starters, the 2007 Buick Lucerne. I'll change my rating to 5 stars once this happens
3DTuning
Diz game iz likez dat💪🏾💪🏾
Car
Jhonathan829
on
1/10/2018
I need Honda Civic type R
Car wish list
1936 FORD PICKUP 1970 Plymouth roadrunner 2017 Ford F-250 1972 Ford pickup 1972 Chevy pickup 1972 dodge pickup Dodge Magnum Dodge Dakota Plymouth satellite Chevy avalanche Older suvs
Seems unfinished
Jaheiwbdjwnbdbjwndid
on
1/9/2018
Update: The new update includes new angles which don't work and frequently crash, with the car hard to see from most angles. The new cars and parts are cool, if only they would actually work. please fix this and return it to the original view I really like this app, but it has many problems. Such as: 1. Very frequently crashes 2. Some cars such as the Mercedes C class won't even load 3. Kind of weird that the app requires wifi and has no online capabilities whatsoever 4. Recently there are only single cars updated, just update the whole game not one car at a time It would be nice to see a game wide update or an improvement on quality. Thanks
MIATA
Please add the Mazda Miata
Dodgeman1207
Put some diesels on here like an 07.5 Dodge Cummins or some newer diesels.
TOYOTA CAMRY
Pretty good but you need to add more parts for Toyotas, specifically for the 2007 Camry, as many parts as possible
Cool but still needs tweaking
This is a really cool app especially if you like cars as much as I do. It does have a tendency to lock up and requires WI-FI which I don't understand. Needs some more old classics.
You should add team hot wheels
WOW 😲
70's & 80's pickups
Tuner cars are ok but the growing square body trend is really what a lot of people want. Everything from low rider and pro street to touring and lifted. Could really help the app downloads!
Car request
Would love to see a 2004 4x4 S10 LS to design it was my favorite truck and need to give us more wheels and tire options to best help us create our dream vehicle please
Good App
It is a good app but there is stuff you have to pay for and stuff is locked if you don't pay
Fact Sheet
Publisher:

Ishkhan Kazinyan

Category:

Entertainment

Released:

Dec 30, 2014

Current Version Released:

Jan 09, 2018

Version:

1.7.31

Size:

88.5 MB

Compatibility:

Requires iOS 7.1 or later.

Recommended Age:

4+

Game Center Certified:

No

Supported Languages:

Czech; Dutch; Flemish; English; French; German; Italian; Japanese; Korean; Polish; Portuguese; Russian; Chinese; Spanish; Castilian; Swedish; Chinese; Turkish;