Screenshots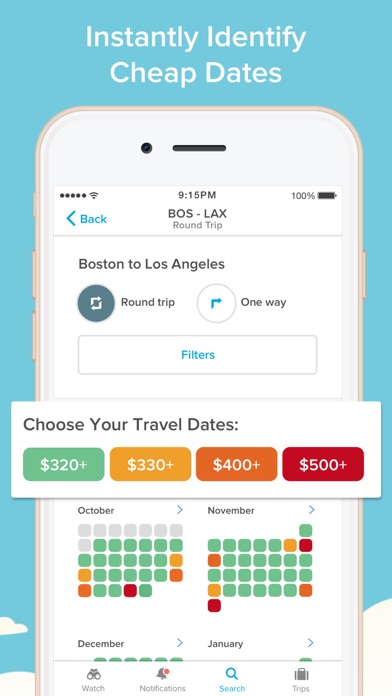 New in version 4.2.1
Surprise! Hopper now has hotels!

Find the cheapest days to stay, set up a hotel watch, get expert price predictions, and book your stay, all right in the Hopper app you already love! Hopper Hotels is available in NYC starting today, and it will be rolling out to more cities soon.

Also in this release: We've made signing up and signing in much quicker and more secure — no password needed!

This release also contains bug fixes and performance improvements.
Description
Save up to 40% on your next flight! Hopper predicts the future of airfare prices. Watch your next flight in the app and get a notification as soon as the price drops to its lowest point. Never miss a deal!

Users save on average $50 per flight by following the bunny's advice. Know if you should book now or wait for a better price using the price prediction feature.

Hopper is like a super-fast, all-knowing travel agent that analyzes up to 15 billion flights prices every day and predicts the future cheapest price with 95% accuracy!

• PREDICT the best time to fly and buy so you'll score the cheapest fares.

• WATCH a trip to receive price alerts via push notifications the instant prices drop.

• BUY cheap flights in 60 seconds or less with just a few taps and a swipe.

• FLY with confidence knowing you've found the best plane tickets on the airlines you like.

Hopper is an award-winning travel app. No spam. No ads. No popups. No time wasted. Just the confidence you're booking the best flight and saving money.


Other things you can do with Hopper:

• Find the cheapest travel dates using the color-coded calendar
• Get smart travel tips about nearby airports and dates to save even more on your trip
• Use filters to get custom predictions about the best flight for you. Remove long layovers, stops, or basic fares that have lots of extra fees and restrictions
• Compare prices and amenities from over 250 airlines around the world including most low-cost and north american airlines
• Use our price tracker for round-trip or one-way flights
• Receive personalized recommendations about deals to destinations you might like based on flights you are tracking, your past vacations and your travel budget
• Find out about breaking fare sales, hacker fares, and exclusive deals available from your home airport
• Last minute travel? Find great travel deals that leave in the next days. Check out our companion app GTFO for more last minute deals
• Save your traveler profile and your payment details securely for even faster booking
• Get an overview of all of the important details in the fine print from Fair Bear. He'll let you know about the policies and fees related to flights cancellation or changes, carry-on allowances, first & second checked bags prices and seat selection
• Receive help 24/7 from our support agents if you need to cancel or modify your flight

• NEW: you can now watch & book some of the best hotels in New York City!

Download Hopper and let's start planning your trip!

HOPPER LOVE

App Store Best of 2015
"The 10 Best Free Apps for Air Travel Junkies" - TIME
"23 Life-Changing Apps We Downloaded This Year" - BuzzFeed
"How Well Do Airfare Predictors Work? Hopper: 8/10, Kayak: 6/10, Google Flights: 0/10" - WSJ
"Hopper, Expedia and Skyscanner Use Big Data to Find You the Cheapest Airfares" - Paste Magazine

SAY HELLO

Facebook: https://www.facebook.com/hoppertravel
Twitter: @hopper
http://www.hopper.com

Have a question or some stellar feedback? Give us a shout at support@hopper.com
Reviews
Awesome app!
I'm reading a lot of reviews saying they cost me money blah blah blah as a consumer it's your job to watch prices on your own along with using this app as a tool to help buy at the right time. I decided to not buy way ahead of time and give this app a shot and it saved me about 90$ per person on tickets flying to Florida from California I watched as prices rose and rose over the past few months but just as the app predicted they dropped this last week and saved me money. All in all a good tool to help the flying process
Saved me money where other sites couldn't
whynotdostuff
on
11/17/2017
Bought tickets to Paris and 5 different sites couldn't get the deal that hopper showed. Extremely satisfied.
Easy and secure
RissoLovera
on
11/17/2017
Always buy my tickets here! Easy to use and secure
😍😍😍😍
Guccithadon
on
11/17/2017
BEST APP EVER
Not what is advertised
I tried the app to track prices for a flight in Europe. I'm not sure what their parameters are, but the ticket prices could change by $100 or more and the app would never let me know. It spams you with unwanted flight options and doesn't alert you for the flights you track on purpose. I deleted it as soon as I bought the ticket I was tracking. Kayak does a much better job with flight prediction and notification. I also enjoy that the "developer response" only appears for good reviews. Apparently they have no defense for their poor performance.
Awesome
Best site to buy tickets,my only concern is they send you all the way to the back end of flight
Best app
Illkkkkkkkkkkkkk
on
11/13/2017
Found the cheapest flight out of all the apps I went on. Best flight, even better app
Fantastic & Relevant
Neoneptune101
on
11/13/2017
Saves me hundreds in flight costs by telling me when to book or suggesting alternative dates if I'm flexible.
If I could give negative stars I would
Mamamama112
on
11/12/2017
This service is a rip off they fail to notify you of baggage costs till after the flight is booked! Then will not refund you they tell you you need to contact the airline which big surprise will charge you a cancel fee and you will not receive the fee they (hopper)charge back took me over an hour of talking to a hopper rep to get this answer!
Great timing on prices
Great timing on prices and trip dates
Inaccurate at Best
I've been watching a few different possible itineraries to Spain for months with Hopper. The app consistently told me to wait...meanwhile prices rose $400 and never was there a "book asap" notification. Last week I started getting notifications that my trip was $800 via American Airlines. Every time I clicked the notification it took me to the current fares which were between $1400 and $1800 and even still the app told me to wait. I double checked against American's site and the price was always $1900. Worth noting that I clicked on the notifications immediately every time I saw them. Sometimes the time lag was as little as 30 seconds. Not only is their fare predictor flawed, they serve notifications for fares that don't exist.
Where the hell is my deal?
So I set up a notification for a deal, it notifies that it found me one, I click on it and I'm shown the graph on when to fly, then nothing. No deal no next nothing to click on to advance to the deal. What is this crap?
Time to save
Thep Chesterfield
on
11/10/2017
Love the fact that this app help you pick the best flight date to save money. Can't ask for any more. Thank you
Best flight search
Awesome app!
My favorite app of all the time!
I've used hopper for booking many intl return tickets✈️ several times. It provides me with the best money saving🤑 rates along with great comfortable flight😇. I just kept looking👀 for the great deal and it notified me every time😻 the price went up or down. Honestly I haven't seen a good app like this yet👍🏼. The rabbit🐰 has actually been my favorite guide😃
The best
I've been using hopper for years and it's saved me time and money
Mixed Messages
I've been watching a single round trip flight for a month now (the fare has not changed) and the app keeps notifying me to "Buy Now". When I open the app and click on the flight, the app says "Wait". Well... which is it? Essentially I'm just manually checking airfares everyday on my own via the app notifying me. I don't need an app to remind me to manually check fares. I could do that on my own. So... what is the app actually doing? 3 stars for working as a fare finder, but as a way to monitor fares, I'm still skeptical.
Vegas here we come
I needed 6 tickets. Was looking at spending over $2000 and leaving out of an airport a little further away. Received an alert from hopper and got all 6 tickets for $980.
South west
Wish hopper included south west flights too
Ludicrous Deals
Jonathan_Cook_
on
11/7/2017
After combing all of the top browser based websites and finding a deal I was happy with, I decided to check Hopper for chits and gigs. The exact same flight ($98 online) was $10 cheaper on Hopper. Basically 10%. And the app is really easy to use, and I didn't have any hiccups. 5/5 would recommend
Am I the Only One?
1) Has not been useful for me in looking up international flights. Very often tells me there are no flights for dates selected, though other apps/ sites are able to provide times and prices. 2) Yes alerts are enabled on my phone, yet I never receive one when the price drops or rises. 3) Absolutely none of its predictions have been right. In fact, after advising me to wait and informing the prices could drop by almost $100 within a certain time frame, the prices did the opposite, they jumped, costing me way more than if I had just bought to begin with. 4) The prices are rarely what they are advertised for. If you actually click on that flight, I find often the price is more than what is showing on Hopper's app and I have found other sites will have the same flight for almost $30 less ( yes including taxes and fees). Overall this app has not performed well for me. Maybe I'm the only one.
Trip to Australia
Was glad that I used Hopper because it sent me notices when fairs changed and gave me the bast price I could find really happy with the app
Travel
Kaylyn Pang Ting Rmah
on
11/5/2017
Easy to book tickets and i can find better price.
Loving this!
Quick and easy way to filter flights to nonstop low flight fares. Loved this!
Great tool
It is just a great and easy to use tool
Definitely not the cheapest flights
This app doesn't even include all airlines. I found significantly cheaper flights on the Southwest app.
Accurate predictions, cheap prices, and simple to use and buy tickets
RonaldinhoBarca10
on
11/4/2017
It is pretty accurate telling you when the prices will be the cheapest. The notifications are great. And nice that it can sync with your google account. Prices are great as well and very easy to use and purchase tickets.
Save yourself some$$$$
Booked flights for the family and saved 203.87 on four tickets. Tried booking from cheap-o and also from the airline directly. Super easy and fast. Very happy!
Great app!
Using this app to plan my second trip, it is very helpful
Deleted Hopper
I booked a flight using Hooper, and few minutes later decided to check out the same destination prices using another app. I found a better price, with a direct flight using the other app. I immediately deleted the Hopper app!!
Not impressed
Bungleteuropa
on
11/4/2017
Interface is not obvious and strange. Problems began when first launched on my iPad. App wanted to be in portrait mode so I had to rotate. Flex search allow multiple destination airports but only a single starting airport. Search dates are nowhere near flexible enough . Has a long way to go before it will be useful to me
Almost Perfect
This app is a great tool. Although I occasionally have found slightly better rates on other sites, it does que me to when I should do an airfare search. The only thing I wish you could do in this app is choose which airlines I wish to see deals and predictions from. There are just some airlines I WILL NOT fly.
So easy!
Love this app; I can look at fares anytime. It is SO easy. (And fast)
Awesome, easy way to save big!
I've used Hopper for about a year and have saved $1700+ on just 3 international flights. The app finds lesser-known options and alerts you at the optimal time to buy - and it works great! Only feedback: add more filtering options (specific departure time, airline, etc.) and also the ability to search across multiple days and airports without having to create more than one tracked search. This would be super helpful for those of us who are stuck choosing from several expensive airports! :) Otherwise, this app is perfect!
Dad Here I Come
Ouchitnowork
on
11/2/2017
Just as a whim went ahead to browse my flight. Better time and MUCH better price.
App rocks
Downloaded the app and then added a few itineraries. And then I wait for a notification. Nothing. I waited for two weeks and nothing. I was about to delete the app thinking it didn't work and then on Halloween night at 5PM a notification popped up. Nonstop trip from Chicago to LA. Best price I've ever seen. And it allows you to filter out the new basic economy flights. Seriously fantastic app. Love it!
Totally unreliable
I used it for almost a year and tried to follow and book around 10 flights (mostly international) strictly following the advices of the app. Most of the time it was suggesting to wait (to save around 100$) and then suddenly a week later the prices were much higher and the app was suggesting to buy now. I have seen too many contradictory predictions and wasted too much money using this app.
Service Class
Not a bad app but there's no choice for service class other than coach
Must download app if you like traveling
The_Kenny_Lee
on
10/31/2017
Get this app!!! It's a great way to save money on your trips!
Best app ever
Caligirlzzz
on
10/31/2017
Literally the best app I have ever used. It's super simple and I love the ease of not having to login to watch fares. I got round trip airfare for $57 because of this app. I recommend it to everyone looking for a travel site. I can't wait to try the new hotel feature. You will not be disappointed with this one!!!!
Trip to Buffalo
Hopper was so easy!!!
La mejor App para conseguir vuelos
Siempre que tengo que sacar un aéreo sea con tiempo o last minute uso Hopper! Best deals always!!!!
Get it now!
Works just as advertised. Hopper saved us $$!
The best app for buying cheaper flights
At first I was scared because my ticket was less than half of the original price.. I taught that I would have an issue. But not at all I strongly recommend this app. Try to search for your ticket at least 3 months in advance.
Booking airline tickets
I don't travel much, and I hate to do this but it seems like Harper did a nice job, my son told me this is the best way to get your ticket
Too limited
I've used Hopper in the past to determine when I was going to buy my flights. I may be mistaken, but in the past it showed a few more airlines to book with and now it only shows me prices for TWO airlines?! What's the point in that. I'm deleting the app now, I can do better than that and take up no space on my phone. 🙄
Nice app
HabibisoHot
on
10/29/2017
Saves time and is a great tool in finding good airfares.
Fact Sheet
Publisher:

Hopper Inc.

Category:

Travel

Released:

Jan 27, 2015

Current Version Released:

Nov 17, 2017

Version:

4.2.1

Size:

122 MB

Compatibility:

Requires iOS 9.0 or later.

Recommended Age:

4+

Game Center Certified:

No

Supported Devices:

iPad2Wifi-iPad2Wifi, iPad23G-iPad23G, iPhone4S-iPhone4S, iPadThirdGen-iPadThirdGen, iPadThirdGen4G-iPadThirdGen4G, iPhone5-iPhone5, iPodTouchFifthGen-iPodTouchFifthGen, iPadFourthGen-iPadFourthGen, iPadFourthGen4G-iPadFourthGen4G, iPadMini-iPadMini, iPadMini4G-iPadMini4G, iPhone5c-iPhone5c, iPhone5s-iPhone5s, iPadAir-iPadAir, iPadAirCellular-iPadAirCellular, iPadMiniRetina-iPadMiniRetina, iPadMiniRetinaCellular-iPadMiniRetinaCellular, iPhone6-iPhone6, iPhone6Plus-iPhone6Plus, iPadAir2-iPadAir2, iPadAir2Cellular-iPadAir2Cellular, iPadMini3-iPadMini3, iPadMini3Cellular-iPadMini3Cellular, iPodTouchSixthGen-iPodTouchSixthGen, iPhone6s-iPhone6s, iPhone6sPlus-iPhone6sPlus, iPadMini4-iPadMini4, iPadMini4Cellular-iPadMini4Cellular, iPadPro-iPadPro, iPadProCellular-iPadProCellular, iPadPro97-iPadPro97, iPadPro97Cellular-iPadPro97Cellular, iPhoneSE-iPhoneSE, iPhone7-iPhone7, iPhone7Plus-iPhone7Plus, iPad611-iPad611, iPad612-iPad612, iPad71-iPad71, iPad72-iPad72, iPad73-iPad73, iPad74-iPad74, iPhone8-iPhone8, iPhone8Plus-iPhone8Plus, iPhoneX-iPhoneX,

Supported Languages:

English;