Screenshots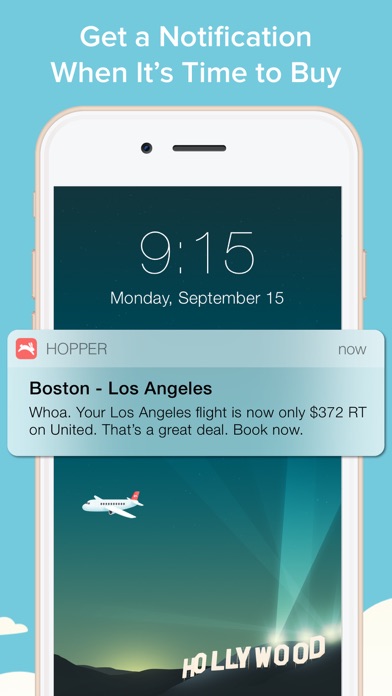 New in version 3.6.10
Woohoo! We're introducing a shiny new feature soon. Can't say what it is quite yet, but this release helps The Bunny prepare for launch. (And it's something you've been waiting for, so get excited.)

It also contains some bug fixes & performance updates.
Description
Save up to 40% on your next flight! Hopper predicts the future of airfare. Watch your next flight in the app and get a notification as soon as the price drops to its lowest point. Never miss a deal!

Users save on average $50 per flight by following the bunny's advice. Know if you should book now or wait for a better price using the price prediction feature.

Hopper is like a super-fast, all-knowing travel agent that analyzes up to 15 billion flights prices every day and predicts the future cheapest price with 95% accuracy!

• PREDICT the best time to fly and buy so you'll score the cheapest fares.

• WATCH a trip to receive price alerts via push notifications the instant prices drop.

• BUY cheap flights in 60 seconds or less with just a few taps and a swipe.

• FLY with confidence knowing you've found the best plane tickets on the airlines you like.

Hopper is an award-winning travel app. No spam. No ads. No popups. No time wasted. Just the confidence you're booking the best flight and saving money.


Other things you can do with Hopper:

• Find the cheapest travel dates using the color-coded calendar
• Get smart travel tips about nearby airports and dates to save even more on your trip
• Use filters to get custom predictions about the best flight for you. Remove long layovers, stops, or basic fares that have lots of extra fees and restrictions
• Compare prices and amenities from over 250 airlines around the world including most low-cost and north american airlines
• Use our price tracker for round-trip or one-way flights
• Receive personalized recommendations about deals to destinations you might like based on flights you are tracking, your past vacations and your travel budget
• Find out about breaking fare sales, hacker fares, and exclusive deals available from your home airport
• Last minute travel? Find great travel deals that leave in the next days. Check out our companion app GTFO for more last minute deals
• Save your traveler profile and your payment details securely for even faster booking
• Get an overview of all of the important details in the fine print from Fair Bear. He'll let you know about the policies and fees related to flights cancellation or changes, carry-on allowances, first & second checked bags prices and seat selection
• Receive help 24/7 from our support agents if you need to cancel or modify your flight

Download Hopper and let's start planning your trip!

HOPPER LOVE

App Store Best of 2015
"The 10 Best Free Apps for Air Travel Junkies" - TIME
"23 Life-Changing Apps We Downloaded This Year" - BuzzFeed
"How Well Do Airfare Predictors Work? Hopper: 8/10, Kayak: 6/10, Google Flights: 0/10" - WSJ
"Hopper, Expedia and Skyscanner Use Big Data to Find You the Cheapest Airfares" - Paste Magazine

SAY HELLO

Facebook: https://www.facebook.com/hoppertravel
Twitter: @hopper
http://www.hopper.com

Have a question or some stellar feedback? Give us a shout at support@hopper.com
Reviews
Great fare finder site
The application is easy to use and fare finder is very effective.
Simple and awesome!
Highly recommend
Not a money saver !!!
You can find the tickets cheaper by dealing with the airlines directly. They ask you for your bank statement, picture ID and sensitive information just to confirm your reservation. There are much better apps for cheap travel tickets
Not enough seats available
This error comes up whenever it prompts me to buy because it's "the lowest price" seen in 2 months. If there's no seat, why bother?
Great app.
Saved me $105 today on a better airline!
Not enough data
I tried a few times and each time they tell me they don't have enough data for the date and destination I chose. I won't even bother using now because even if I happen to plan on a date you have data how do I know you have all the data from all airlines? What if the cheapest airline is not in your data? Can't trust this, bigger companies like Expedia is more guaranteed for lower price.
Love this app
I love using this app to track down the best prices on flights. So far the flights I've booked are non refundable. So what I do is go to the airlines website and buy the flight that I saw on the app. This allows me to pick my own seat 😊
Can't imagine flying without hoppin
I have been using Hopper for more than a year now and I can't imagine booking airfare without using it as a prediction tool. Hopper has saved us hundreds already by giving me push notifications when the lowest price is available. And so far it's been 99% accurate for the flights we have booked. One time we flew to Mexico. I booked the flights. Then the next day I got a notification from Hopper that the prices dropped significantly so I was able to cancel and rebook for the savings. Also helped book flights to Aruba, Canada, Turks & Caicos and Iceland so far. Just a note here. Remember that not ALL airline information is listed in search engines like this and Kayak, especially when booking international flights. Domestic airlines such as Southwest and Delta also don't appear so remember to do research and go directly to those airline websites. For example, for a recent trip Hopper showed cheapest was $250. But we booked for $200 on an airline that doesn't list in Hopper or any other search engine like Kayak either. ALSO. I would recommend ALWAYS booking your flights DIRECTLY with the airline for many reasons. I don't recommend booking via Hopper, Expedia, or any third party for many reasons. Main reason is that when you book directly you can handle things directly with the airline if you have any issues. Also. Sometimes the prices are even cheaper on the airlines website. Just do your research.
Hello World...Here I come
With this app, I intend to travel the world. So simple to find cheap flights and book. The hopper rocks
Best prices
I love this app I get the best flights and prices and very easy to use.
Worthless!
This app is worthless!! I keep getting notifications of price changes that look good, but when I click on them to see the details it's a different price which is typically higher. When returning to where notifications are displayed, the notification then will show the real price. Sounds like a scam to me where they are just trying to get you to click in their app more often. I have since deleted this horrible app!!
Pleasantly surprised!!
This app works extremely well!! I always use it.
Bucket List Retreats LOVES of this app
Bucket List Retreats
on
9/21/2017
Having the time of our lives in Belize thanks to this incredible app! Vlog coming soon. Check out our YouTube channel.
Sucked
Tried to book a round-trip flight through Hopper, got to the confirmation page and had a notification that said "there was an issue," but "don't worry, your card wasn't charged," so I figured it was a glitch. Tried to book the same flight, then got a notification that my credit card was declined. Turns out they had charged me Twice, and I still didn't have tickets to show for it. I called the help line, they confirmed that I did Not have tickets, nor could they give me the tickets over the phone, and they couldn't reverse the charges for 36 hours. So now my credit card is maxed out and I'll have to wait for them to delete the charges before I can buy tickets somewhere else. I wouldn't be writing this review if the help line operator had been even the slightest bit helpful or sympathetic. Terrible waste of time.
App not working
For the past few days, I get a notification of a cheap fare from ORD to LAX; I click almost instantaneously and the price more than doubles.
App works great but Airlines are missing
Everything works perfectly even I like the rabbit letting me know my options but I noticed there some International airlines missing when the app searches for flights example (NYC to Moscow) Aeroflot never appears in the search even when they offer direct flights and even cheaper that the ones shown -
Cool interface, poor accuracy
Tried a flight search from Tokyo to Seattle, and Hopper showed lowest price $150 more expensive than other services for same date.
Great app for cheap flights
I have been using this application for the last 2 years, so easy to navigate , I highly recommend this app.
Great tool
Carmen Acevedo
on
9/17/2017
I like use this app always I get the cheap prices for my trips Me encanta usar esta app he conseguido los precios más bajos para mis vuelos
Why is Southwest not apart of the flights
Why isn't Southwest Airlines added to the list of Airllines
Worthless App
Planning on booking months ago when Main Cabin fares were $307. Hopper told me to wait. Kept telling me to wait. Now prices are $367. Hopper tells me to wait over the next 3 weeks, it could drop $20, which is still a lot more $$ than weeks ago when the app told me to keep waiting. Thanks for costing me more $$, deleting this app.
Prices WAY off
I just checked the prices through Hopper for a round trip fare and it showed $310. I checked Kayak and the cheapest fare was $414 so I decided to go back to Hopper to see what I was missing. I clicked the dates, got it all ready and it searched ... the cheapest Hopper could find was $1,160 round trip. That's quite a TREMENDOUS jump from their $310 quote (even if that was $310 each way and the total should have been $620). I'm not sure I trust this app when it's that far off and a quick Kayak search reveals something much cheaper.
Tickets
Aceman Acedillo
on
9/14/2017
Gave me a very good deal. Thank you!!
💚
I LOVE THIS APP ..IM LIKE A FLIGHT BOOKER WITH MY FAMILY SINCE I GOT THIS APP LOL
It's cool, but...
I'm not really sure what all the fuss is about. I'm able to consistently find flights cheaper through google flights.
Great app!
It's so useful! I love this app it's great!
Awesome. Please use this app.
RandomnicknamedD504
on
9/13/2017
Absolutely worth using. Saves money and time.
Airfare
Crime breaker
on
9/13/2017
This is the best way I have ever purchased an airline ticket. Thank you so much. Or my tickets mailed to me or do I pick them up at Alaskan air in Boise Idaho
Hopper
This app makes searching for flights so much easier and faster.
Excellent
Brooklyn hot stuff
on
9/12/2017
Super way of keeping up to the hr changes in fares to make your bookings at a cheaper price
OUTSTANDING!!!!!
OUTSTANDING!!!!!
Easy as walking on the beach
kids told us about this app. we downloaded and tried for the 1st time and everything was like walking on the beach and went very smoothly. Thank you. great app!!
LOVE HOPPER !
I love the updates and how it tracks the prices. You can always find great deals on Hopper!
Seriously, why can't booking flights always be like this?
Alistrtng2hppn
on
9/8/2017
Hands down, the best UX I've ever experienced while booking a flight. The fact that they save my info for future bookings just kills me (in a good way). Basically as easy as clicking a button. I don't know how airlines always make checkout miserable, but they do, but have no fear, hopper is here. Also, the predicting and watching flight prices feature is pretty rad too.
Amazing Application
jimmydonlogan
on
9/8/2017
Having tried so many reservation tools and apps, it was refreshing to see an app that actually stands out in so crowded a market place.
Best tracker you can find!
Ridiculously easy to use.
Quick like a bunny
Wow! Way to get flights. Will do Hopper from NOW ON!
Terrible Advice!
I was watching airfare for December holiday travel. I knew I was taking a big risk waiting, but the app said, "Prices will drop." They did drop to $304! It told me to continue to wait! Now the prices have increased and availability is zero for the times we want to fly. I wish I had gone with my gut at booked at $304 instead of trusting this stupid app. Watch your own ticket prices and ignore the app's advice.
Booking discrepancies
Great price for flights but when checking in my flight itineraries are different than what I booked
Life saver
It make happen something I thought was imposible.
Really wanted this to work, but now I have no confidence
Hopper claims 95% accuracy, which is impressive. It's the 5% inaccuracy that makes me leery of trusting this app again. In January, 2017, I started watching Boston-Reykjavik flights for December, 2017. The fare was $598 but Hopper said to wait, and I did, faithfully, even when the price started to rise, which it did consistently through June, when Hopper indicated fares would decrease. Well, in July, they reached $848. Yet Hopper said to wait, even as the price hit $1048, with the caveat to purchase by September 23rd since the fares would be no lower. I made the decision to buy in July when there was a momentary drop to $818 for three reasons: 1) I didn't trust Hopper anymore, 2) it was quite apparent that fares would not drop to the initial level, and 3) the plane had very few seats left. Trusting Hopper cost me $880 that I did not have to spend, four tickets that would have been purchased at $598 each were bought instead at $818 each, and when I started watching the fare, every seat on the plane was available! I had to settle for seats at the rear of the plane. I know, I know, there is a risk to everything, and I lost out. Next time I will not put my full faith in Hopper.
👍🏼
Excelente en búsqueda de vuelos económicos
Superb application
There are very few apps that deliver what they promise. This is one of them
Poor suggestions
I set some alerts on this app, and it did not alert me when the price of my flight dropped. Additionally, the app kept suggesting I go to places that are totally dissimilar than my intended destination. I was looking for flights to the Caribbean and the app continued to suggest I go to Denver.
A worthy notification to receive
This is a great app for watching flights to get my daughter to and from college and home the cheapest way possible!
Cheapest, fastest, easiest airfare site
I've been using Hopper for about one year and I've found it to be painlessly easy, fast, and reliable. It saves the name, age, and sex of anyone for whom I want to buy a ticket. That way, when buying subsequent tickets, the information is right there and I just tap the individual (s) name. Easy as pie! It also shows a calendar and the days it will be cheapest to fly. Once you make a choice, Hopper will you when it is best to purchase your tickets. You can ask the site to watch the dates for you and they will send you updates of when it's best to purchase. I love Hopper, and you will, too. BTW, I am a senior citizen.
So easy
This is exactly how and app should be. Extremely quick and easy to use, but it's also helpful in its suggestions. It lists other options if you want a cheaper ticket. First time using it and it was so easy. Only going to buy plane tickets through hopper now.
Wonderful help!
cape cod drsigner
on
9/4/2017
This will always be my go to app for airfares! Only wish you had business-class fare options.
Good App, Lousy Customer Service
I love my freaking iPhone
on
9/2/2017
It's no doubt a useful service but it needs better customer service and detailed purchase info. I did one live chat session and their rep left me hanging after I answered their question of how they could help me. I tried a second time and wasn't even greeted. They sent me an email hours later for which I responded and hours after that I still have not received any response. Lousy customer service. The other issue was they didn't detail which type of fare I received so I wasn't sure on whether or not a carry on was permitted with my flight. A simple fix would be to have the fare designation next to the ticket price to clarify this, just to be safe. It's not such a big request. Most travelers would appreciate it.
Fact Sheet
Publisher:

Hopper Inc.

Category:

Travel

Released:

Jan 27, 2015

Current Version Released:

Sep 23, 2017

Version:

3.6.10

Size:

110.2 MB

Compatibility:

Requires iOS 9.0 or later.

Recommended Age:

4+

Game Center Certified:

No

Supported Devices:

iPad2Wifi-iPad2Wifi, iPad23G-iPad23G, iPhone4S-iPhone4S, iPadThirdGen-iPadThirdGen, iPadThirdGen4G-iPadThirdGen4G, iPhone5-iPhone5, iPodTouchFifthGen-iPodTouchFifthGen, iPadFourthGen-iPadFourthGen, iPadFourthGen4G-iPadFourthGen4G, iPadMini-iPadMini, iPadMini4G-iPadMini4G, iPhone5c-iPhone5c, iPhone5s-iPhone5s, iPadAir-iPadAir, iPadAirCellular-iPadAirCellular, iPadMiniRetina-iPadMiniRetina, iPadMiniRetinaCellular-iPadMiniRetinaCellular, iPhone6-iPhone6, iPhone6Plus-iPhone6Plus, iPadAir2-iPadAir2, iPadAir2Cellular-iPadAir2Cellular, iPadMini3-iPadMini3, iPadMini3Cellular-iPadMini3Cellular, iPodTouchSixthGen-iPodTouchSixthGen, iPhone6s-iPhone6s, iPhone6sPlus-iPhone6sPlus, iPadMini4-iPadMini4, iPadMini4Cellular-iPadMini4Cellular, iPadPro-iPadPro, iPadProCellular-iPadProCellular, iPadPro97-iPadPro97, iPadPro97Cellular-iPadPro97Cellular, iPhoneSE-iPhoneSE, iPhone7-iPhone7, iPhone7Plus-iPhone7Plus, iPad611-iPad611, iPad612-iPad612, iPad71-iPad71, iPad72-iPad72, iPad73-iPad73, iPad74-iPad74,

Supported Languages:

English;