This version of the app is not recommended
App last updated
Nov 14, 2017
Screenshots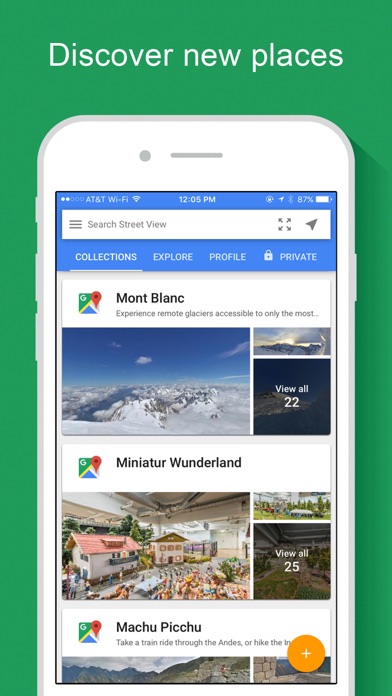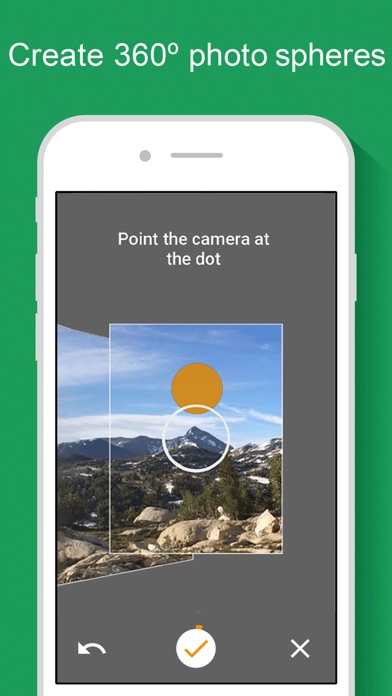 New in version 2.13.0
• Many UI improvements and bug fixes.
Description
Explore world landmarks, discover natural wonders and step inside locations such as museums, arenas, restaurants and small businesses with Google Street View.

Also create photo spheres to add your own Street View experiences. Start with your phone's camera or add a one–shot spherical camera (like the Ricoh Theta S) for easy 360º photography. Then, you can publish to Google Maps to share your photo spheres with the world.

Content galleries:
• Browse — or be notified of — Google's newest special collections
• Explore all of Street View (including contributions from others)
• Review your public profile of published photo spheres
• Manage your private photo spheres
• Immerse yourself in photo spheres with Cardboard mode

Creating and sharing photo spheres:
• Use your phone's camera (no camera accessories required)
• Connect to a spherical camera to capture in one tap
• Share to Google Maps as immersive photo spheres
• Share privately as flat photos

Continued use of GPS running in the background can dramatically decrease battery life.
Reviews
No good
Paul Hotel Searcher
on
1/22/2018
Doest work I cannot search my house 14602 178th ave I cannot dear my friends house in Australia 35 Point Road Mooney Have your coders to check it out and fix the problems Please ask the coders to fix the bugs. I cannot find the house "20818 28th Ave se Bothell wa 98012" It was working before they fixed the last bugs
Local guide
Goku Garra Gohan Yay
on
1/15/2018
I downloaded originally with an interest in seeing what the views listed of places are. Never knew at the time I'd become one of the contributors. This isn't just an app, it's the next step.. download and evolve.
GSV was great...
ThisIsWillYum
on
1/14/2018
Over the past few weeks, GSV crashes 9/10 times, and I must reinstall. Then déjà-vu...it crashes 9/10 times. Please fix this, Google!
AWSOME!!!!!!
I LOVE THIS. Even tho I'm only ten it's makes looking up stuff even better!!!!! You should get WAY MORE downloads!!!! And have a good day and be save out there world!!!
Good app but current version has lot of bugs!
The app itself is good to handle, but the current version brings some bad bugs. Sometime the app freezes on startup. In addition, Panorama pictures cannot be uploaded (and there is no description of the problem). Please fix those issues.
More fluff than function
Munchkin2406
on
1/13/2018
Why is there some tile taking up screen space for Uncle Bob's photos? I just want to street view? If I click on Bob's photos how do I go back? Thus should be intuitive. The interface is sketchy as well. Sometimes there are arrows to move sometimes not. Love street view on a desktop, this is barely useable, and certainly not enjoyable. You're better than this Google. Focus on functionality.
Works... sometimes
I along with a ton of users have been having issues with iPhones. App gets stuck and you have to delete it and reinstall if you want to use it again... Fix this google! We all love the app and contributing but your making it impossible
Google local guides
Georgi Khoshaba
on
1/13/2018
Its amazing app ,i am one of the google local guides in iraq , i love to share image 360 D* to the whole world 🤓 My ID I n google local guides is :Georgi Khoshaba
Anyone having trouble with the app?
App freezes when I open it, can't select anything. I have had it for awhile and have submitted 17 pictures. And now the app freezes can no longer use it. I have deleted it and reinstalled several times.
La peor aplicación en un iPhone
Cristian.Labra
on
1/12/2018
No funciona! Es una porqueria! La peor aplicación en compatibilidad con un iPhone! Si hubiese una clasificación menor a 1 estrella se la merece.
Not sure what's going on
Leon Herbert
on
1/12/2018
Street view has been broken for a few days now freezes upon opening. Reinstalling on both my iPhones does not help, most recent iOS. Left numerous messages with google maps, no response. Actually use this app a lot.
Not working for iPhone SE
Deborah O'Leary
on
1/12/2018
Google street view app not working on iphone se. please fix it. Screen keeps on freezing up after u open it.
useless for iPhone x
Tried to use it kept crashing and wouldn't bring up keyboard. Absolutely useless
App doesn't work anymore.
I open the app and it's frozen. It doesn't respond at all.
freeze after iOS. 11.2.2
Well, very nice app before. After update to iOS 11.2.2, this app stop to work. After delete and reinstall, work once but again freeze from next use. Needs an update.
Freezes
The app is freezing on iPhone. Fix the darn thing.
Totally Unresponsive
The app freezes immediately after launching. I can't move the map, it's stuck on the explore tab, and it won't open the menu. Just does not work.
Too many glitches
I have had to delete and re-download this app multiple times because it constantly freezes and crashes
Used to be great - now just crashes
I was obsessed with 'virtually' traveling via this app, but recently it stopped working on my phone (an iPhone 7), and just crashes every time I open it. I hope it gets fixed soon, because it was an amazing app.
Usually awesome, but now crashing
Aragon the Traveler
on
1/11/2018
Perhaps it's the result of the latest IOS, but this app crashes every time now. It's normally an awesome app, but it's unusable now.
Needs update
BoboTheBaller
on
1/11/2018
On my new iPhone 8 with iOS 11 this app is unusable. Very disappointed with Google.
Crashy
Nicht Zu Rasch
on
1/10/2018
It sure does crash a lot.
App crashes & unresponsive on iPhone
Street view app crashes and unresponsive on both my iPhone 5s and iPhone 6 Plus. I have better response on my iPhone 5s but rather use my iPhone plus. I have tried all common trouble shooting steps: remove app and re download, force close all apps, reset both phones. No difference on cellular or wifi, problem still persist on both networks. Super super super annoying for a google app to be so unresponsive.
Freezing and Crashing
I love this app but recently I haven't been able to use it. When I open the app it automatically freezes. If I leave it open and go to another app when I come to street view it seems to unfreeze but will immediately crash when I click anything. I really would love to use this app again!
The app is in coma for now
Iaintgointhere
on
1/10/2018
Fourth update 01/10/18 2:33pm: I just deleted the app and reinstalled it and all looks good. But, I had about 90 images in the Private section, and they are all gone. So, now I have find all the lost images and re-upload all of them.😤😤😤 Third update 01/10/18 10:06am: now, not only the app under a coma; it's crashing Second update 01/10/18 12:52am: It's not working again, same symptom as my original review. Update 01/10/18 12:49am: For some unknown reason, it's back to normal. I think Google needs to take a look the app. I launch the app; it opens with splash screen but does not respond at all. I have the latest iOS 11.2.2.
What kind of broken app is this?
It suddenly stopped responding to my touch and force-quitting and rebooting the app doesn't fix it.
Buggy
The app keeps freezing on my iPhone X. I'd expect Google do better.
Opens and freezes
Nick name is not taken
on
1/9/2018
Freezes every time i open it. Once it asked me if I liked the app, but then it froze and wouldn't let me answer. I would really like to use this app.
Great app, needs an update for iOS 11.2.1
I've been using this app for months and it's a great addition to the street view experience. Works great on my Galaxy S6 (Android 7.0) and iPad Pro (iOS 11.2.1), constantly crashes on iPhone X (iOS 11.2.1).
Issues with iPhone X
The app is unresponsive with iPhone X. I hope to see an up date in the future to address these problems.
App has been crashing lately
The app works great. We are a google trusted agency and we need this app to upload the google business 360 views. It doesn't help when the app doesn't respond at all on iOS.
Broken
Please fix. Freezes.
No funciona en iPhone X iOS 11.2.1
El App abre en iPhone X pero no funcionan los botones al estar en la primera pantalla. Ya lo desinstale y volví a instalar y sigue igual.
Great
This app is greatness
App is having big issues with iPhone X.
Jonny Stanciu
on
1/8/2018
The screen freezes on "Explore" tab. Please fix this bug ASAP. The only way to get it to work again is to reinstall the app. And then it freezes again. I'm not the only iPhone X user with this issue.
Hangs!
The app is pretty much useless since last update. It just hangs and does not accept any touch input. Reinstalled, no-dice.
Don't waste your time
Isn't like street view on google itself. Only pictures that other have taken.
Keeps freezing
I can't take good pictures if the app keeps freezing in the middle.
Not working iOS 11.2.1
Not working anymore. Freezing and crashing.
App crashes on iOS 11.0.3
I love this app for its ability to take sort of flawless 360 photos. I have been using it very frequently on my iPhone for the past few months. All of a sudden this app started to freeze and became unresponsive and finally crashes after a few minutes. Hoping that Google will push an update soon with a fix.
Maravillosa Aplicación
Tenemos la posibilidad con la fotografía de captar lo más real posible el entorno de donde te encuentres, bien sea un espacio natural o un espacio cerrado, la aplicación literalmente hace magia para en corto tiempo unir las fotos tomadas y lograr el 360 corrigiendo los errores que tengan
Seems to be broken
App hangs on launch, unresponsive after it loads the initial map and then crashes. Have force quit and restarted phone. ¯\_(ツ)_/¯
Cool app but please fix
Each time I go into it, it doesn't do anything on iOS but it's a great app
Doesn't work on iPhone X
App locks up, and when it isn't frozen it refuses to give search results. Come on, Google - fix this.
Crap App for iPhone X
I am using Google Maps since its launch. I used to admire the street view of UK when I visited there. I use GSV in U.S even now from the maps when I go to a new destination. I was too eager and installed it as soon as I saw it in App Store. But the app is unresponsive and keeps crashing. It worked only once and I saw a view of some Astronomical Lab that was on home page by default. However the app went unresponsive and kept crashing just after that. I can't imagine the app could be so crappy on iPhone X running 11.2.1 (latest). I'm highly disappointed with Google Street View. Please fix the bugs and release a better version. I'm not uninstalling it hoping there will be an update. I will come back and edit this review if the app starts working again.
Let iPhone X rule the land!
Me: Ok Google, update street view app for iPhone X. Google: hm.. lets see about that. Me: thank you.
For contributors, a BAD app!
Bloonick1235
on
12/29/2017
December 29, 2017 1. Can't scroll through your photos in either iOS or Android. 2. No easy way to connect or stitch multiple photos together. 3. ZERO guidance on mass delete/file management (learned after the fact that deleting from app also "unpublishes" the photos) 4. No interoperability (using GSV on two phones, a flagship Android and an iPhone 6S+) and contributions from one don't transfer to another (that's ok, but at least note that contributions are being made from other device or note that the total # of contribs is counting contributions from all sources) 5. Etc. The one star is being given for the irony that the iPhone app works better than the Android app for a GOOGLE product. C'mon, Googy, you can do much better with this.
iPhone X
It's a great app I just wish they fixed it for iPhone X users.
street view
wonderful app really
I would say five stars
I would say five stars but I just got it yesterday and it's to soon to tell! I will update once I have more to tell!
Fact Sheet
Publisher:

Google, Inc.

Category:

Travel

Released:

Aug 19, 2014

Current Version Released:

Nov 14, 2017

Version:

2.13.0

Size:

97.1 MB

Compatibility:

Requires iOS 9.0 or later.

Recommended Age:

4+

Game Center Certified:

No

Supported Languages:

Arabic; Catalan; Valencian; Croatian; Czech; Danish; Dutch; Flemish; English; Finnish; French; German; Greek; Hebrew; Hungarian; Indonesian; Italian; Japanese; Korean; Malay; Norwegian; Polish; Portuguese; Romanian; Moldavian; Russian; Chinese; Slovak; Spanish; Castilian; Swedish; Thai; Chinese; Turkish; Ukrainian; Vietnamese;