Screenshots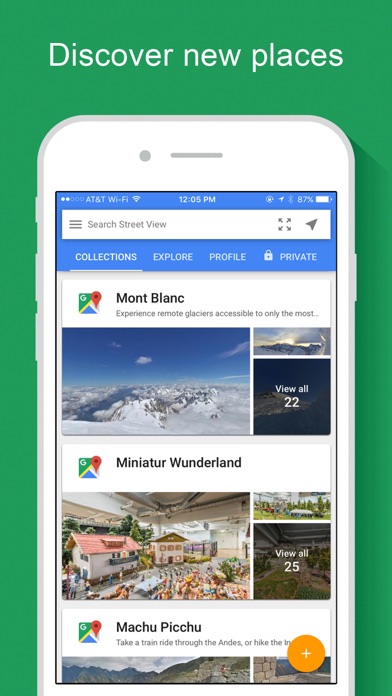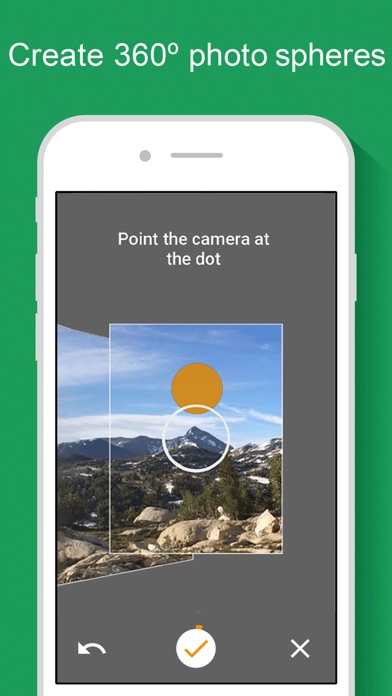 New in version 2.12.1
• Many UI improvements and bug fixes.
Description
Explore world landmarks, discover natural wonders and step inside locations such as museums, arenas, restaurants and small businesses with Google Street View.

Also create photo spheres to add your own Street View experiences. Start with your phone's camera or add a one–shot spherical camera (like the Ricoh Theta S) for easy 360º photography. Then, you can publish to Google Maps to share your photo spheres with the world.

Content galleries:
• Browse — or be notified of — Google's newest special collections
• Explore all of Street View (including contributions from others)
• Review your public profile of published photo spheres
• Manage your private photo spheres
• Immerse yourself in photo spheres with Cardboard mode

Creating and sharing photo spheres:
• Use your phone's camera (no camera accessories required)
• Connect to a spherical camera to capture in one tap
• Share to Google Maps as immersive photo spheres
• Share privately as flat photos

Continued use of GPS running in the background can dramatically decrease battery life.
Reviews
360 picture is not saved after publishing yo google
tnnrocksagain
on
9/25/2017
latest version doesn't save pictures to local device. please fix
Street view is an adventure
Saintsavage727
on
9/25/2017
I love the ability to walk up to a building and then be able to walk in it amazing!!
Great work
Candice23101
on
9/22/2017
But one needs to know how often the photos are being updated and there should be a live view to see what's going on currently at differ on places
Slow app
App is very unstable and lags a lot.
Takes blurry photosphere photos
I was hoping for better! Cmon Google!
LG-R105 camera not working with the app!!
After a year of sending feedback of the app problems still LG-R105 camera not working with the app
Google great job
Great app
Street View
I love to see what's out on the road and on the inside of the buildings.
Fun to virtual vacation
Brandon Major
on
9/9/2017
I love "cruising" around vacation spots before I go with this app!
Not all roads
Very limited app. Doesn't have all roads.
excited
d b d s j s j s j j d
on
9/9/2017
The best map!
Pop up menu completely ruins experience
Got the app after watching VICE where they highlighted the street view ability to look at coral reefs. But whenever I try to actually look around the ridiculous pop up menu keeps coming up and disrupting the experience. How is there not a way to turn that off completely? Unusable.
Interesting!
Great glimpses into fun places visited, along with possible new adventures. Helpful to view needed destinations and see surroundings. Hope to add some photos now that I have the app. It has an occasional slight 'hissy fit', but nothing so far as to deduct a star.
Dog-eared from use...
This and Google Maps are my two favorites. I've loved all things maps and photographs since I was introduced in grade school. This Street View is perfect. I get a kick out of coming up with good locations at unique times to capture and publish 360 photos. In addition, some businesses request photos that the Google teams simply do not accommodate with their blanket Street View coverage projects. That's where I am able to step in independently and make an positive impact on my local community. Perfect for a early-retired youngster...
Don't update!
Spokenwithhonesty
on
9/3/2017
Besides the issues reported by others after updating, the app is too stupid (poorly programmed) to allow users to enter google map plus codes. Furthermore, one can't enter coordinates. I tested by copying from google maps. It's time developers yanked this app.
Still not working
The annoying profile banner still randomly pops up when viewing a panorama. Please fix to allow full screen
Doesn't work for me
Beta?
Uninstalling app.
Not sure I want to support Google anymore.
Super Awesome!
I love how easy it is to take pictures and in the end it merges everything real nice. I will use this app as much as I can!:)
Street view
One of the best navigation apps period, highly recommend this app for everyone.
Great app
This app is very easy to use. You can use it alone or with Google cardboard glasses. It's been fun looking back at places I've visited or lived at; feels like I'm genuinely back.
Great
Perfect app for looking at some places you may wanna visit
Excelente aplicación fotográfica
Excelente aplicación fotográfica
It won't stay on
Timmy thomsony
on
8/13/2017
It used to work perfectly but now for some reason whenever I turn the app on it turns off a few seconds after I try to hon on cardboard view so I can't play it please fix it
g
great app because is a very good interface
Excellent
Having used this app for recreational as well as for business purposes. I find this app to be very accurate.
Too Much!
Paco Blutowski
on
8/9/2017
Can I just see the street views without being bombarded with all of this extra nonsense? Tuck all of it away in a menu somewhere that I can access when/if I want. I'm sure many people enjoy all of the extra functions but no one needs this much clutter when opening an app for the first time.
Why
Elmoication Diary
on
8/6/2017
I just wanna go on street view I don't want to look at what other people posted on here where's the google cars that takes the pictures 360 and put them up where's that at why do we have to look at random pictures in a certain town that might not even pull up
Not optimized for iPad
One of those relics of an app that gives you a blown up portrait screen for iPad. Get out of 2010 google.
Super App and easy to use
I only use Street View on Google+ since it first came out although there were certain problems with it it was still better than nothing at all. It was able to show me surrounding areas of the place I was looking for or in advance putting the data in give me a better idea of the route I was going to take. It also allowed me to look at certain places other than United States such as relatives in Ireland or England, or using it for genealogy reasons. When Skyping with a distant cousin I opened up Google Maps Street View on a laptop with my three-year-old grandson at my side while the arrow drove up the street's made turns looked around the area and got up to where the house should be and scanned the area and of course in this case there was a car in the driveway so his comment to me was why don't we just go up and knock on the door! Everyone broke into hysterical laughter.
Lame.. can't find basic addresses.. doesn't work.. waste of time..
Doesn't work at all for address lookup.
Transcendent Fun
Once you get used to holding a cardboard box to your face, the available views are breathtaking.
Terrible. Very buggy
Crashy only in iPhone app? Where's the iPad version. Can't see crap with all the pop-up cards in the way
Now on the ISS!
ClimbingAndy
on
7/28/2017
So cool! So useful!
It makes photospheres
Not a bad app. You can see the exact location on the road where the photosphere was taken.
Map street view
I haven't had a chance to use this app. I am going bye what my friends have told me. I will be sure to use it on Tmr Morning... I'll be back.
Great App
Easy to use, this version is excellent.
Great tool for work
rubberpeeler
on
7/26/2017
Use it to get to houses quickly to serve and protect
Get this app!
Replaces all GPS in the car, no need for Tom Tom, Works seamlessly with Bluetooth!
Una buena app
Merenguito29
on
7/21/2017
La verdad que es una app que ayuda mucho al menos a mi
unusable
i mean it's google so i wasn't expecting much. all of their stuff is half a$$ed stuff. whoever designed the ui for this though, gets the cake. messy unintuitive drek.
Good
Carzzzzzzzzzzzzzzzzzzzzz
on
7/16/2017
Amazing app
app crashes a lot lately
Using latest os on iPhone 6 Plus, too.
Awesome
I like this version alot better than previous versions I am really enjoying it
Fact Sheet
Publisher:

Google, Inc.

Category:

Travel

Released:

Aug 19, 2014

Current Version Released:

Sep 12, 2017

Version:

2.12.1

Size:

95.6 MB

Compatibility:

Requires iOS 9.0 or later.

Recommended Age:

4+

Game Center Certified:

No

Supported Devices:

iPad2Wifi-iPad2Wifi, iPad23G-iPad23G, iPhone4S-iPhone4S, iPadThirdGen-iPadThirdGen, iPadThirdGen4G-iPadThirdGen4G, iPhone5-iPhone5, iPodTouchFifthGen-iPodTouchFifthGen, iPadFourthGen-iPadFourthGen, iPadFourthGen4G-iPadFourthGen4G, iPadMini-iPadMini, iPadMini4G-iPadMini4G, iPhone5c-iPhone5c, iPhone5s-iPhone5s, iPadAir-iPadAir, iPadAirCellular-iPadAirCellular, iPadMiniRetina-iPadMiniRetina, iPadMiniRetinaCellular-iPadMiniRetinaCellular, iPhone6-iPhone6, iPhone6Plus-iPhone6Plus, iPadAir2-iPadAir2, iPadAir2Cellular-iPadAir2Cellular, iPadMini3-iPadMini3, iPadMini3Cellular-iPadMini3Cellular, iPodTouchSixthGen-iPodTouchSixthGen, iPhone6s-iPhone6s, iPhone6sPlus-iPhone6sPlus, iPadMini4-iPadMini4, iPadMini4Cellular-iPadMini4Cellular, iPadPro-iPadPro, iPadProCellular-iPadProCellular, iPadPro97-iPadPro97, iPadPro97Cellular-iPadPro97Cellular, iPhoneSE-iPhoneSE, iPhone7-iPhone7, iPhone7Plus-iPhone7Plus, iPad611-iPad611, iPad612-iPad612, iPad71-iPad71, iPad72-iPad72, iPad73-iPad73, iPad74-iPad74,

Supported Languages:

Arabic; Catalan; Valencian; Croatian; Czech; Danish; Dutch; Flemish; English; Finnish; French; German; Greek; Hebrew; Hungarian; Indonesian; Italian; Japanese; Korean; Malay; Norwegian; Polish; Portuguese; Romanian; Moldavian; Russian; Chinese; Slovak; Spanish; Castilian; Swedish; Thai; Chinese; Turkish; Ukrainian; Vietnamese;