Screenshots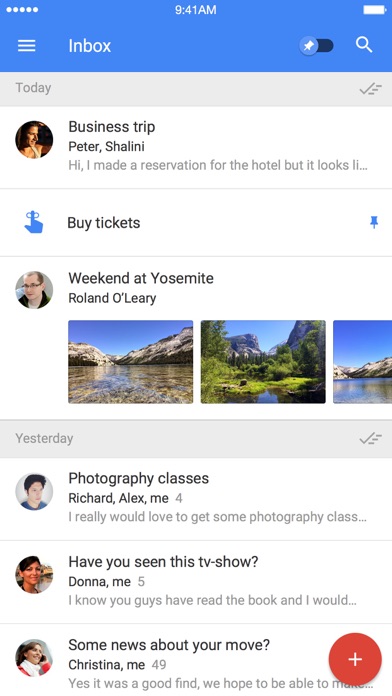 New in version 1.3.171119
• Bug fixes and performance improvements
Description
Your email inbox should help you live and work better, but instead it often buries the important stuff and creates more stress than it relieves. Inbox, built by the Gmail team, keeps things organized and helps you get back to what matters.

• HIGHLIGHTS - Get the most important information without even opening the message. Check-in for flights, see shipping information for purchases, and view photos from friends right up front.

• BUNDLES - Similar messages are bundled together so you can deal with them all at once. And get rid of them with one swipe.

• REMINDERS - More than mail, you can add Reminders so your inbox contains all the things you need to get back to.

• SNOOZE - Snooze emails and Reminders to come back when you are ready to deal with them: next week, when you get home, or whenever you choose.

• SEARCH - Inbox helps you find exactly what you're looking for— from your upcoming flight to a friend's address— without having to dig through messages.

• WORKS WITH GMAIL - Inbox is built by the Gmail team, so all your messages from Gmail are here, along with the reliability and spam protection of Gmail. All of your messages are still in Gmail and always will be.
iPad Screenshots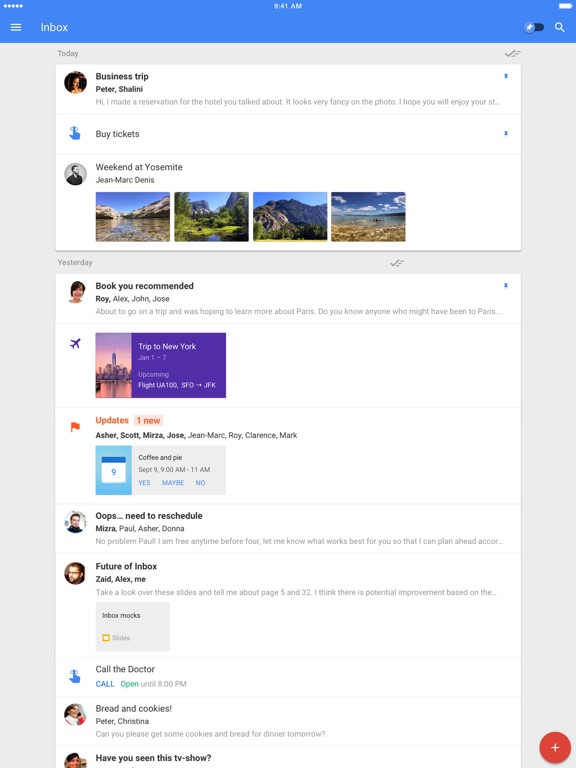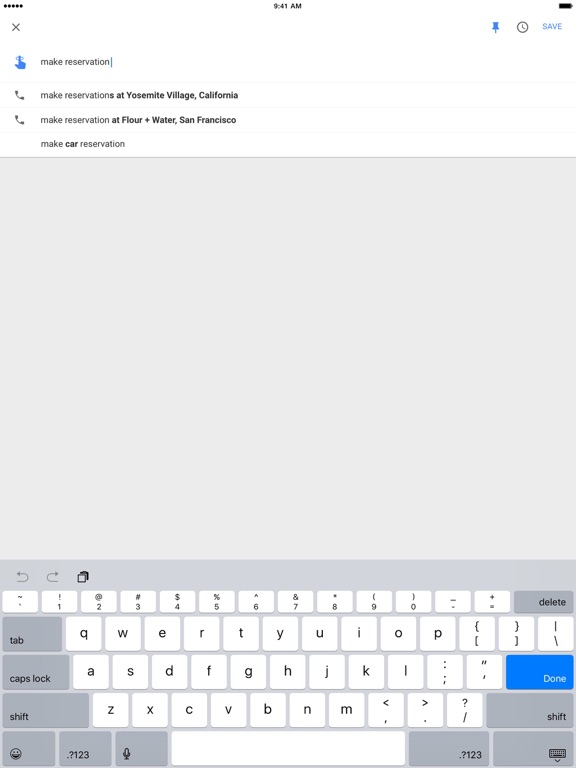 Reviews
Did iPhone X catch Google by surprise?
BooyaShakah
on
12/11/2017
So, the Apple's new phone -- called the iPhone X -- has a new display, which requires developers to update their apps to take advantage. Please forward this note to the Product Management team.
iPhone X support
Still waiting to get iPhone X screen support. It shouldn't talker this long.
Needs iPhone X support
What's going on google? Lol
Please update for iPhone X screen
Please update for iPhone X screen
Needs iPhone X optimization
This used to be my favorite mail app, but I've switched over to airmail. There have been multiple updates since iPhone X was released, and they still haven't added support. I don't think time or resources is a big issue for a company like google...
iPhone X
Can we please get iPhone X optimization? That is the only negative to this app.... Otherwise it is perfect! Please!!
Love Inbox
Marcus Anderville
on
12/11/2017
Idk what I would do without Inbox. It changed the way I use email. I used to hate choking email, but Inbox helps me keep my Inbox organized. The snooze feature is excellent and bundles are great. Highly recommend it.
iPhone X
MyNickname123987456
on
12/11/2017
iPhone X support is needed
Notification badge bug!
Still shows a permanent one message notification badge. Drives me crazy.
iPhone X
AhmedSheshtawy
on
12/10/2017
Can't believe it's taking forever to optimize the app for iPhone X screen!
iPhone X
Please update for the iPhone X. Every other developer that cares has done it. Even the other half of Google. Gmail included. Either support your own work in full or don't and just let it fade into typical google abandonware. But don't keep slapping us with half-a$$ed work you decided to phone in because it wasn't on your platform.
Awesome app for email
This is the best email app ever!!!!
Best mail app
bradbelan333
on
12/10/2017
I love being able to create reminders and set a snooze/show time for emails and reminders. I keep track of my whole life using this capability.
Useless update descriptions
Tomatoman95
on
12/10/2017
The last 10-odd updates are the same text copied and pasted. Not helpful or transparent at all. Disappointed in Google's lack of attention to detail.
Please optimize for iPhone X
The new iPhone has been out for over a month. Please update the app. And while you're at it, it would be nice to see some detail in the release notes.
No iPhone X support yet?? Really?
This is lame after a month of its release. Perhaps Google Android team is still resented? In any case. it doesn't give you lots of confidence to keep it as your email client. Time to move to other email clients.
Please optimize for iPhone X
Aindrius Refulgens
on
12/10/2017
It's a great app. There's just huge black bars at the top and bottom of the app on the iPhone X. Really disappointing.
Looks nicer than Gmail
Walter Araldi
on
12/10/2017
It is nicer than Gmail.
Support for iphone X
Been over 6 weeks! Need support for iphone C ASAP!
Update for iPhone X
Pharaoh_DuLa
on
12/9/2017
Just need an update to properly fit iPhone X. Other than that it's the best google mail app. Even better than gmail.
Please update for iPhone X
AppleManifesto
on
12/9/2017
Please, please update to take advantage of iPhone X display. I believe Yahoo Mail was updated for iPhone X on day 1! How long will we need to wait?
iPhone X support
NotNewtonsApple
on
12/9/2017
Not optimized for iPhone X.
FFS, optimize the app for the X. It's so annoying.
The app itself it amazing. The inbox service is awesome. Just optimize it please. It shouldn't take a company like google this long to optimize an app.
iPhone X update🚨🚨🚨
Inbox update for IPhone X
iPhone X
Gh,,jhudthgxhjbhjlgyi?igvj
on
12/8/2017
Please add iPhone X support!
😒
Another update..another un-optimized iPhone X experience 😒
Please add IPhone X support!
This is the best mail app but far, better than Gmail. But, still waiting for iPhone X support. So, only 4 starts.
May use again when updated for iPhone X
Xmas piece of plastic
on
12/8/2017
Love the app, but I guess not enough since I am switching to another email client that supports the later screen of my newer iPhone. I guess not much loyalty here.
Need all inboxes view feature and iPhone x support
The subject says it all. Please add these fixes and I will come right back to this app.
No sorting option by attachment mor date or inread
@navigator69
on
12/8/2017
Not very useful
Achieving < Deleting
It's a good app. Except it says I have 6 emails when I, someone who really does keep that stuff at a solid 0, doesn't. I check spam, trash, in:unread... they don't exist!
No iPhone X optimization
Please optimize for iPhone X.
Feels like iPhone 4 on iPhone X
Big fan of inbox. The grouping feature is great, and as a frequent traveler a super appreciate the travel cards and updates if there is a delay. Prevents me from having to use TripIt with that feature alone. With that said, this app is pretty awkward and maybe even embarrassing to use on the iPhon X. What a waste of screen space, so much so that it feels like I'm on an iPhone 4. Will gladly update to 5 stars when a true iPhone X update arrives.
Great app for high-volume e-mail accounts
Nickname is available
on
12/7/2017
There are a few features that would make it perfect for me. First, I'd really like better support for non-bundle labels. In the Gmail app, all of a message's labels are visible from the message list. This lets me be certain that my filters have correctly applied non-bundle labels before I archive them (mark them done). I do prefer Inbox's interface and how it groups all messages into a few broad yet distinct bundles. But when I have to go digging through old e-mails, I prefer to have my labels available to easily search for messages about specific topics or from specific companies. But the support for non-bundle labels in Inbox is lackluster at best. Second, I'd really like a setting/option buried somewhere that lets me disable loading remote images. I realize the Gmail app doesn't support this any more either, but I have remote images turned off in the browser version of gmail, and I would really appreciate being able to do the same here. I'm just asking, realizing perfectly well that it'll never happen.
Where is the iPhone X support?
mapsisawesome
on
12/7/2017
The sdk was released by Apple two months ago!
Needs iPhone X support
Wrscomputers
on
12/7/2017
It's almost been a month and we still see no support from most off Google's Apps for iPhone X support this is very disappointing as big as a company as Google is and from my understanding the changes needed are just not that challenging to support the iPhone X.
Haven't had a chance to use it yet
I'm all Harley Girl
on
12/7/2017
I guess it's cool... don't really know... I haven't used it yet but this pop up keeps coming up so ok there you go 1 star for now
iPhone X???
Yo. Update this. Where's my full res?
No iPhone X optimization
Title
Update for iPhone X
awolowiecki720
on
12/6/2017
Please. Even Allo got updated ☹️
Amazing
Sarah is AWESOME!
on
12/6/2017
It is easy to use and understand. It sorts all of your mail. It is perfect
Where is iPhone X support?!?!
Why is your regular gmail app updated for iPhone X when this app is apparently suppose to be the future of gmail? Makes zero sense.
Unread messages?
I'm one of those people that can't stand unread messages, and that's the great part of this app, it's easy to clear out all the junk with on tap. Unfortunately there is something going on where it tells me I have 3 unread messages-only I don't. Every email I have has been read, I've been through it all on other email apps and on the computer, everything is marked read. Yet I have a badge saying 3 unread emails. It's enough to make me go crazy.
iPhone X support needed
Heftyfunseeker
on
12/6/2017
Yep
Super convenient
Loved using it to group trips and generate auto replies.
Iphone X support???
It's well past due, how hard is to update this?
Badge App Icon Notifications Broken Since iOS 11!
I love me some Inbox but damnit, Google, it's been nearly 3 months since the release of iOS 11 and the badge app icon notifications are still broken (they don't disappear after reading).
Please fix for iPhone X
Please fix for iPhone X
Notifications Don't Work
EricLangston357
on
12/5/2017
The notifications don't work properly. The app will badge the icon (put the red circle with the white numbers in the corner of the app icon) and then the numbers will be wrong. I assume it is supposed to be unread email or maybe emails not yet marked done. Alas, no matter what I did the red circle just wouldn't go away. The only solution is to turn notifications off completely. I do not recommend this app for anyone that needs to be notified of their email.
Fact Sheet
Publisher:

Google, Inc.

Category:

Productivity

Released:

Oct 22, 2014

Current Version Released:

Dec 04, 2017

Version:

1.3.171119

Size:

209.8 MB

Compatibility:

Requires iOS 8.0 or later.

Recommended Age:

4+

Game Center Certified:

No

Supported Devices:

iPad2Wifi-iPad2Wifi, iPad23G-iPad23G, iPhone4S-iPhone4S, iPadThirdGen-iPadThirdGen, iPadThirdGen4G-iPadThirdGen4G, iPhone5-iPhone5, iPodTouchFifthGen-iPodTouchFifthGen, iPadFourthGen-iPadFourthGen, iPadFourthGen4G-iPadFourthGen4G, iPadMini-iPadMini, iPadMini4G-iPadMini4G, iPhone5c-iPhone5c, iPhone5s-iPhone5s, iPadAir-iPadAir, iPadAirCellular-iPadAirCellular, iPadMiniRetina-iPadMiniRetina, iPadMiniRetinaCellular-iPadMiniRetinaCellular, iPhone6-iPhone6, iPhone6Plus-iPhone6Plus, iPadAir2-iPadAir2, iPadAir2Cellular-iPadAir2Cellular, iPadMini3-iPadMini3, iPadMini3Cellular-iPadMini3Cellular, iPodTouchSixthGen-iPodTouchSixthGen, iPhone6s-iPhone6s, iPhone6sPlus-iPhone6sPlus, iPadMini4-iPadMini4, iPadMini4Cellular-iPadMini4Cellular, iPadPro-iPadPro, iPadProCellular-iPadProCellular, iPadPro97-iPadPro97, iPadPro97Cellular-iPadPro97Cellular, iPhoneSE-iPhoneSE, iPhone7-iPhone7, iPhone7Plus-iPhone7Plus, iPad611-iPad611, iPad612-iPad612, iPad71-iPad71, iPad72-iPad72, iPad73-iPad73, iPad74-iPad74, iPhone8-iPhone8, iPhone8Plus-iPhone8Plus, iPhoneX-iPhoneX,

Supported Languages:

Afrikaans; Arabic; Basque; Bengali; Bulgarian; Catalan; Valencian; Chinese; Croatian; Czech; Danish; Dutch; Flemish; English; Estonian; Finnish; French; Galician; German; Greek; Gujarati; Hebrew; Hindi; Hungarian; Icelandic; Indonesian; Italian; Japanese; Kannada; Korean; Latvian; Lithuanian; Malay; Malayalam; Marathi; Norwegian; Bokmål, Norwegian; Norwegian Bokmål; Persian; Polish; Portuguese; Romanian; Moldavian; Russian; Serbian; Chinese; Slovak; Slovenian; Spanish; Castilian; Swahili; Swedish; Tamil; Telugu; Thai; Chinese; Turkish; Ukrainian; Urdu; Vietnamese; Zulu;