TapNova recommends this app!
New in version 1.3.170604
• Bug fixes and performance improvements
Description
Your email inbox should help you live and work better, but instead it often buries the important stuff and creates more stress than it relieves. Inbox, built by the Gmail team, keeps things organized and helps you get back to what matters.

• HIGHLIGHTS - Get the most important information without even opening the message. Check-in for flights, see shipping information for purchases, and view photos from friends right up front.

• BUNDLES - Similar messages are bundled together so you can deal with them all at once. And get rid of them with one swipe.

• REMINDERS - More than mail, you can add Reminders so your inbox contains all the things you need to get back to.

• SNOOZE - Snooze emails and Reminders to come back when you are ready to deal with them: next week, when you get home, or whenever you choose.

• SEARCH - Inbox helps you find exactly what you're looking for— from your upcoming flight to a friend's address— without having to dig through messages.

• WORKS WITH GMAIL - Inbox is built by the Gmail team, so all your messages from Gmail are here, along with the reliability and spam protection of Gmail. All of your messages are still in Gmail and always will be.
iPad Screenshots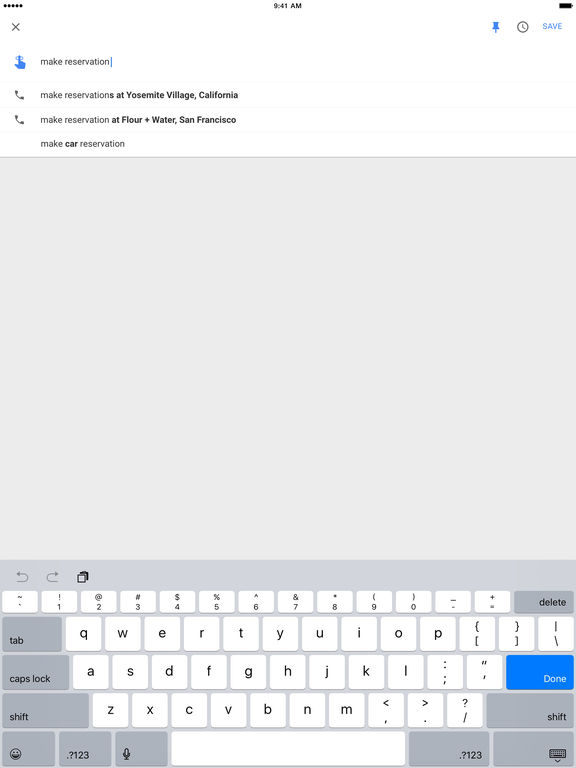 Reviews
Superb & Easy
Finally a email program that is intuitive
Amazing
It is easy to manage all inbox e-mail and even though reply sentence they are suggesting.
This js great!
I couldn't be happier with inbox! By a long shot the best mail organisation app I've used. Totally recommend it!
Helpful
I find InBox helpful for my personal email. It's like my own personal assistant.
Best way to Manage Email
I was so bummed when Mailbox went away but have come to love Inbox. The bundles and ability to train the Inbox is fabulous!! So much easier to find what I really need to see. Great job!!!
Nice interface but poor functionality
Too many bugs… Not available i
on
6/25/2017
The interface is great but the functionality is poor. There is no intelligence built-in and setting notes and reminders is terrible experience
Love it!!!
It keeps me organized
Good and Bad
The Good: Nice clean interface. Smooth to work with. Love, love, love the snooze feature! Love the bundles Love the trip feature Love the reminder feature. The bad It won't play with the IOS contacts~very annoying😡. It ONLY works with Google accounts. UPDATE They are pestering me for a review I already gave them. So I'm adding to it. If they keep it up I'll take another star away.
Pretty awesome email
Inbox is a pretty sweet email client. No complaints!
Love this app!!!
I found this app and used it to replace outlook. I use regular gmail for my normal email and use this app for my security camera emails and love how it groups the emails so I can just scroll through the shots in one email.
Latest version started consistently crashing on open
I really love the app overall, but it becomes a liability for me when I can't get to my email because the app starts crashing every time I open it.
Good work here
BiblenotBrian
on
6/25/2017
When Mailbox was discontinued I figured I'd never find an email app I liked as much, but I might like Inbox more. I especially appreciate the Reminder feature and the option to turn on notifications for "Important Messages" only.
Better way to think about email
I have tied a number of email solutions, and while it took a bit to get use to, this app does a great job at making email more then a list of old messages.
Good app
Villas claudia fc
on
6/25/2017
I like the form that you can organize your emails and look it as to do's
Love the app... but...
Me and my shadow!
on
6/25/2017
This is a great app once you get used to it's interface. It would be outstanding if it had a more integrated calendar and contact management system. Inbox is my number one mail app and I am hoping the improvements I mentioned will be forthcoming. In the meantime I will continue to evaluate new or improved mail apps. Thanks Google team!
Best mail App
Misfer Almaymouni
on
6/25/2017
Identical UI on web and phone. I have been using inbox for more than a year and it's my main mail app.
Hard to imagine going back to any other email app June 2017
mistahcummings
on
6/24/2017
The best app for managing lots of email across multiple accounts.
Xolesx
I love this app. Great way to check my email!
Requires Improvement
While the UI of Inbox is sleek and enjoyable, the overall functionality of this App/System still requires a fee improvements. If you are a inbox-zero fanatic or a light emailer then Inbox is worth a try.
Forces use of in-app browsers Safari
Lame decision and will push me back to using another client. It's not even using a safari extension since I'm not logged in to any of my accounts when it launches pages - I still end up having to go open each link in safari regardless. Pls change this back.
Links no longer launch safari
Daniel Plainview 1981
on
6/24/2017
Don't like the new behaviour. Just open safari for me. Don't use the built in safari sheet. I want the full experience.
Please allow us to disable embedded browser
New embedded browser may be fine for some people, but it feels like hijacking my browsing experience to force me to stay in the Inbox app. Please let us disable it permanently!
Safari is no longer default in app browser
I greatly dislike the in app browser. I respect giving people this option, but forcing people to use it is not what I have come to expect while using Inbox. You do allow links to open directly in the iOS Chrome browser please don't discriminate against Safari. Please at least give us the option to get what we want. This will significantly affect my experience in a negative way and if it is not addressed I will likely move to a different app.
Give an option to disable embedded browseR
Not everyone likes it
Forces you to browse by default in-app
New update opens links only in-app. There doesn't appear to be an override to default always open in the browser app. You have to load the page twice: first in app, then tap the browser icon.
Keeps your mail organized
If you are looking for an app that will keep your important mail, finances, social from promos or Junk this is the right APP.... believe me I tried so many of them and so far this has been the best.
Miss H
I love the organization of my emails where I can keep purchases in one place.
Great
NerminKladnjak
on
6/22/2017
Love this app even more so than gmail app
Very Productive
techEntrepreneur
on
6/22/2017
This is way better than normal email. I would only add the ability to bundle calendar invites.
Safari View Controller
Jeremy Kanter
on
6/22/2017
Thank you so much for adding Safari View Controller!
Excellent Gmail App
Martin and Delilah
on
6/22/2017
Works perfectly
Unparalleled
hey!specialmonksmarts
on
6/22/2017
I've tried so many email clients... and I've gone back and forth on this one. But the smart bundling and swipe features have won me over, and this is now my go-to.
Useful
I don't know anything like inbox. I've been using it since the beta and it has only been getting better. It has changed the way I look at mail, Everything else is old fashioned now that I have Google inbox.
Great
Nice app, well executed.
Best app for gmail!
Jay the hustler
on
6/21/2017
Hands-down best app for quickly prioritizing and clearing emails. The only reason for 4 stars instead of 5 is some lacking functionality when it comes to attachments from other applications.
Much better
Much better than the Gmail app but I must be an airhead becuz I could not figure out how to print a simple email.
Easy use
Too easy on the utility setup. Perfect for the on the go and need quick in cluttered emails. Just use it. You will see what I'm pointing out!
Great app
NIG.Soulless
on
6/21/2017
I tested many email clients, but Inbox is the best
Super smooth
I love this app!! I can get super organized and once I send an email to a folder all the similar emails follow suit. So I stay organized. Gmail is awesome but Google's inbox takes the win with amazing. Thank you Google
Great
Very good and easy to use, Just can say I love it, عالیه، راضیتون می کنه
Best email app ever.
the W'rkncacnter
on
6/21/2017
Best email app I've come across. Some bugs near the beginning but google seems to constantly be making improvements. If only it had better integration into iOS it'd be perfect, but I don't blame google for that.
Perfecto!
I love how they implemented inbox on iOS, works perfectly!
top
Fabiano Barcellos
on
6/20/2017
getting things done
Most useful email app
Simple setup. Easy to use. Download and find out.
Solid e-mail client
Very useful e-mail client with handy features.
I love it
Snooze an email for when you want it to pop again as if it had just arrived. This feature alone makes it worth downloading it. Do it and find out more cool stuff. I love Google so much. I want to buy chocolate for the devs. They're so awesome. In so many ways with their many products they have improved my life - no kidding. And currently the Google app voice search is better than Siri. Give it a go.
Best email client
curiouzgeorge
on
6/19/2017
Hands down the best.
Fact Sheet
Publisher: Google, Inc.
Category: Productivity
Released: Oct 22, 2014
Current Version Released: Jun 22, 2017
Version: 1.3.170604
Size: 224.4 MB
Compatibility: Requires iOS 8.0 or later.
Recommended Age: 4+
Game Center Certified: No
Supported Devices: iPad2Wifi-iPad2Wifi, iPad23G-iPad23G, iPhone4S-iPhone4S, iPadThirdGen-iPadThirdGen, iPadThirdGen4G-iPadThirdGen4G, iPhone5-iPhone5, iPodTouchFifthGen-iPodTouchFifthGen, iPadFourthGen-iPadFourthGen, iPadFourthGen4G-iPadFourthGen4G, iPadMini-iPadMini, iPadMini4G-iPadMini4G, iPhone5c-iPhone5c, iPhone5s-iPhone5s, iPadAir-iPadAir, iPadAirCellular-iPadAirCellular, iPadMiniRetina-iPadMiniRetina, iPadMiniRetinaCellular-iPadMiniRetinaCellular, iPhone6-iPhone6, iPhone6Plus-iPhone6Plus, iPadAir2-iPadAir2, iPadAir2Cellular-iPadAir2Cellular, iPadMini3-iPadMini3, iPadMini3Cellular-iPadMini3Cellular, iPodTouchSixthGen-iPodTouchSixthGen, iPhone6s-iPhone6s, iPhone6sPlus-iPhone6sPlus, iPadMini4-iPadMini4, iPadMini4Cellular-iPadMini4Cellular, iPadPro-iPadPro, iPadProCellular-iPadProCellular, iPadPro97-iPadPro97, iPadPro97Cellular-iPadPro97Cellular, iPhoneSE-iPhoneSE, iPhone7-iPhone7, iPhone7Plus-iPhone7Plus, iPad611-iPad611, iPad612-iPad612, iPad71-iPad71, iPad72-iPad72, iPad73-iPad73, iPad74-iPad74,
Supported Languages: Afrikaans; Arabic; Basque; Bengali; Bulgarian; Catalan; Valencian; Chinese; Croatian; Czech; Danish; Dutch; Flemish; English; Estonian; Finnish; French; Galician; German; Greek; Gujarati; Hebrew; Hindi; Hungarian; Icelandic; Indonesian; Italian; Japanese; Kannada; Korean; Latvian; Lithuanian; Malay; Malayalam; Marathi; Norwegian; Bokmål, Norwegian; Norwegian Bokmål; Persian; Polish; Portuguese; Romanian; Moldavian; Russian; Serbian; Chinese; Slovak; Slovenian; Spanish; Castilian; Swahili; Swedish; Tamil; Telugu; Thai; Chinese; Turkish; Ukrainian; Urdu; Vietnamese; Zulu;