Screenshots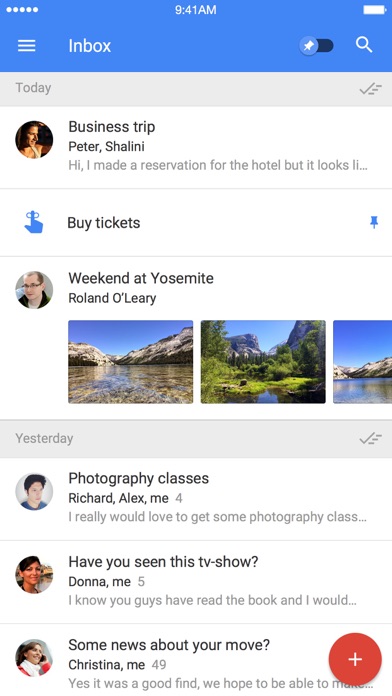 New in version 1.3.170910
• Bug fixes and performance improvements
Description
Your email inbox should help you live and work better, but instead it often buries the important stuff and creates more stress than it relieves. Inbox, built by the Gmail team, keeps things organized and helps you get back to what matters.

• HIGHLIGHTS - Get the most important information without even opening the message. Check-in for flights, see shipping information for purchases, and view photos from friends right up front.

• BUNDLES - Similar messages are bundled together so you can deal with them all at once. And get rid of them with one swipe.

• REMINDERS - More than mail, you can add Reminders so your inbox contains all the things you need to get back to.

• SNOOZE - Snooze emails and Reminders to come back when you are ready to deal with them: next week, when you get home, or whenever you choose.

• SEARCH - Inbox helps you find exactly what you're looking for— from your upcoming flight to a friend's address— without having to dig through messages.

• WORKS WITH GMAIL - Inbox is built by the Gmail team, so all your messages from Gmail are here, along with the reliability and spam protection of Gmail. All of your messages are still in Gmail and always will be.
iPad Screenshots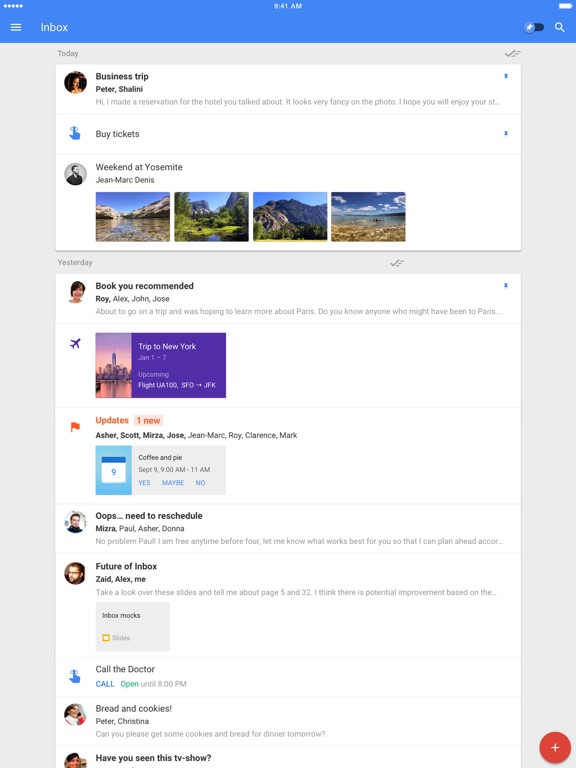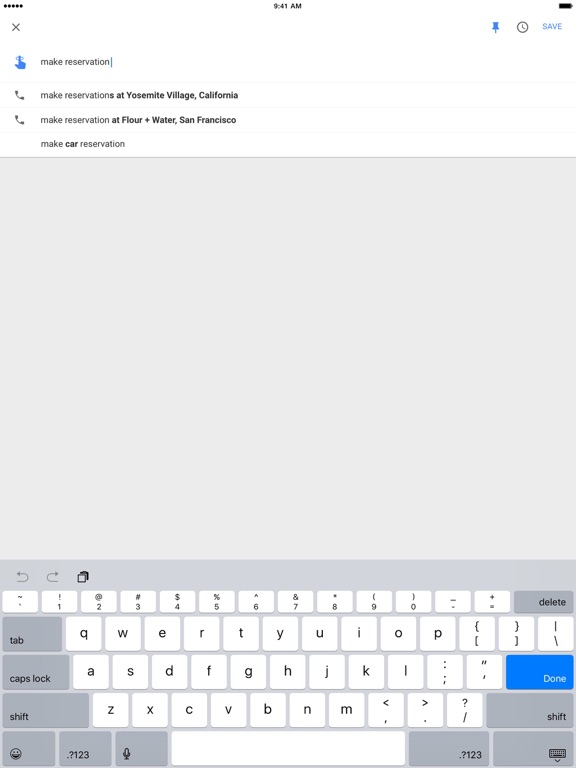 Reviews
Broken Text Size
A recent update borked text size in the app for anybody who has turned down their phone's Text Size a notch or two. Unreadably small UI font. (Shame. Otherwise an excellent email client.)
Little Number Stays
I love the app, but ever since the last update or maybe the iOS update, the app badge never leaves. It always says I have one (or two) unread emails when I don't. Frustrating to my OCD. Please fix for a 5 star review.
Out with Outlook - In with Google Inbox
It took my IT head years to convince me to drop Outlook and when Google Inbox was presented it finally sunk in. I could not be happier.
I Can't Live ...
"If living is without you" or so the song goes. I don't know what I'd go back to at this point.
New message icon does not update
shahanshah11
on
10/17/2017
I have been using this app for a while and it has been great. However, recently I noticed when when I check my e-mail it does not update the icon on my homepage. For example, it will still say "1" in the corner of the inbox icon. I have triple-checked my messages and the icon is still there. Today, I opened 4 new messages, but the 4 has remained there hours later.
Good email app
Good functionality and easily navigated
Great app but the badge notifications—ARGH
Katillathehun
on
10/16/2017
I really depend on this app with its modern lightweight design, but the constant problems with stuck badge notifications is driving me crazy. Please, for sanity's sake, fix it.
Love the organization; hate the lag!!!
princonbanham
on
10/16/2017
I love the organization of this app, and being able to snooze emails! I hate that since the iOS 11 update, all my google apps have the lag where my notifications badge icon stays on ALL the time, no matter that I have no unchecked items. So frustrating.
Bout time
Gdjkxnxmkkjss
on
10/16/2017
I'm sooo happy I have a clean and great looking email app I'm finally able to keep myself organized with this along with google keep 👍🏼
Notifications won't go away
Every time I get an email the red email notification stays even after I have read/open all my emails. Beside that BEST Mail app out there!
Almost there
hard working student/employee
on
10/16/2017
For the most part you guys got everything right it's just for the work schedules that I get sent it's kind of annoying that I can't have them not like look into my emails and recognize that this certain email has "event" as you guys call them processed in google calendar. If you guys could just add that or add a button of some sort to see if I want to add events in that are within my email that I have since it's for the whole week.
Not Working
Since the last update of IOS I can not access my mail. The app does not enter, hangs up and returns to the initial screen.
Inbox app for gmail
I like the way it separates my emails and deals with spam! What I don't like is it doesn't accurately keep track of read emails. I'm talking about that annoying red dot saying that I have unread emails, but I've read them all!! Even searching in:unread and it can't find the unread emails. As a programmer this is just lazy programming!! Enough of ranting on a silly issue( but that red dot man!!). Nope I'm not ocd either!! Lol
Great when it works
Retired athlete
on
10/15/2017
I love this app. It's easy to mass delete emails and see all of your accounts too. However I constantly see an unread email notification bubble when all of my inboxes are empty. Very frustrating.
False badge app notifications
Lately it has been showing that I have 1 or 2 unread emails, even though I don't. It's pretty irritating.
Badge icon count is always wrong
Perhaps this is due to iOS 11, because that's when it seemed to break. The icon almost always says "1" even though I've read everything. If it's not fixed this week I'm going back to Gmail. With this bug I never know if I have new email and I waste too much time opening the app because the badge says "1", but it's generally wrong.
Badge out of sync all the time
Damon Achey
on
10/15/2017
Since iOS update badge never syncs.
Fix the red bubble!
houseofjones
on
10/14/2017
The red bubble notification doesn't go away forever even when all email is read and inbox is empty!!
My go to email app
Zap Branighan
on
10/14/2017
This is my go to email app for Google. It definitely works the best for Google accounts. It's way better and faster than the stock Apple Mail app.
Stellar
NickC-Bradenton
on
10/14/2017
Stellar! Googles AI is incredible!
Since iOS 11 the notifications are terrible
Previously it was decent, notifications worked as you would expect. Push has always had issues because google will not fix it. Now you should expect between 3 and 23 unread notification badge on the app at all times. This needs to be fixed ASAP but it seems it is not a priority for google since there have been 2 updates already this is why you get only 2 stars
Awesome app!
This works and keeps me organized so much more than the stock version.
Badge count almost always off
1 star until the badge count bug is fixed, which has been ongoing for months and before iOS 11.
Great App, but...
I really like this app, but I wish it was a Push Button app. It works very well, because but I wish that Google and Apple could work together as a team to make this happen. Google mail is just flat out better than any other email platform because it is easy to use and it works well. If it was a Push Button app again, it would be perfect.
Broken on iOS 11
Doesn't show an accurate badge count of number of messages. It hasn't been right since I updated. Tried restoring my phone to factory and reinstalling the app. It's just broken. Other than this core feature, the app is great!
Inbox by gmail
Number one!
Feature Rich App
compcomplex
on
10/13/2017
I use it all the time. Does a great job if providing features for filing away emails in you preferred manner.
Unread notification
I see I'm not the only one who is having an issue with the app badge showing unread emails when there are none. This isn't something I can deal with so I will probably be uninstalling this app. I love most other things about, but this is ridiculous. It just starting after almost a year of using Inbox so I'll give it a few days but it doesn't seem like google addresses the issue...
Clear bug in recent update
I have deleted and reinstalled multiple times as there is a clear issue with notifications for unread emails when there are no unread emails. I'm going to switch to another app as this is actually damaging my productivity rather than helping
Great App. Scary Company.
I will admit Inbox by Google is a wonderful app and many days I wish Apple would get its act together on some of these service. Google in general does scare me with how big they are and the things they do with people's information.
A bug with notifications
This app is pretty great and it works well, but I have noticed that I'm not getting any notifications or sounds when I get important emails. I'll find out I have new mail when I see the red number by the app and I thought it was maybe because the notifications had somehow been turned off. Turns out they're not and it might just be a bug. But otherwise, works well, just that issue.
Very Useful
Great functionality. The bundling feature is extremely useful
Not Working Well
App has now reverted to not removing the badge app icon after opening all emails. Takes hours to remove. Need to fix it.
Won't show unread mail
Extremely displeased with the quality of this app. I have no unread mail and I still get a notification that something is unread.
Inbox by Google
avandergust
on
10/12/2017
Very functional app, easy on the eyes, does what it's supposed to. I'm impressed.
Almost...
Great program, but my one annoyance is that the unread badge on the icon has literally nothing to do with anything. It's always been sketchy, but these days even work around like restarting my phone don't work. Today with no unread messages it showed 5 for part of the day and now shows 2 for no particular reason. Maybe I'll just turn badges off for now.
iOS 11 lag
Badge number continues to be wrong. Please fix. Great app, otherwise.
Great email app.
Works great for quickly going through email. Has a nice interface. They just need to implement the option to have bundled messages contribute to the badge count on the notification.
Stuck notification badge
On an iPhone 6 recently updated to iOS 11, inbox refuses to update the notification badge properly. It shows I have new emails, even after I've gone in the app and archived anything unread. I have deleted and reinstalled the app multiple times and issue remains. Please fix!
New update leaves new email number on icon
New update leaves new email number on icon even though I've deleted all new emails. Usually stays that way for an hour or so. I've tried closing and reopening the app and nothing. It's very annoying
Update needed
The latest update has made inbox unusable as it crashes repeatedly on my iPhone 5s and iPad.
Was working great until iOS11
App worked great until I updated to iOS 11. Now the app displays notifications for emails I have already opened and closed. Have already installed updates for "bug fixes" and still have yet to see the issue corrected.
Love it
Alicialovely68
on
10/9/2017
I love how you can organize your messages and how you can send messages to the assigned folders
EXCEPTIONAL APP
CRISPIAN1217
on
10/9/2017
While Relaying Information To My Constituents. Technology World Is So Great.
iPad Pro 10.5 Screen Support
Inbox is my primary email client, but it really needs to adopt the 10.5 iPad screen size and include split view support!
Badge bug
Still getting false badging on the app, saying I have unread emails when I don't.
Try it ou
ccchristopher
on
10/9/2017
The only feature I dislike at the moment is I don't like seeing promos in my inbox I want them to be invisible altogether and only view them when I want to. Or if they were a stagnant tab rather than a constant email Otherwise this app is a life saver. I'd say the desktop version is better than the handheld version for sure. But definitely worth a try
Its the best
To keep on top of daily emails, thats the best. Still use Gmail on occasion when i need powerful search.
App badge still showing 1 email
Love this app but I'm having the same issue as a few others I've read where the app badge still shows a red "1" even though all my emails are read. Please fix for the OCD people among us!
Fact Sheet
Publisher:

Google, Inc.

Category:

Productivity

Released:

Oct 22, 2014

Current Version Released:

Oct 05, 2017

Version:

1.3.170910

Size:

195.1 MB

Compatibility:

Requires iOS 8.0 or later.

Recommended Age:

4+

Game Center Certified:

No

Supported Devices:

iPad2Wifi-iPad2Wifi, iPad23G-iPad23G, iPhone4S-iPhone4S, iPadThirdGen-iPadThirdGen, iPadThirdGen4G-iPadThirdGen4G, iPhone5-iPhone5, iPodTouchFifthGen-iPodTouchFifthGen, iPadFourthGen-iPadFourthGen, iPadFourthGen4G-iPadFourthGen4G, iPadMini-iPadMini, iPadMini4G-iPadMini4G, iPhone5c-iPhone5c, iPhone5s-iPhone5s, iPadAir-iPadAir, iPadAirCellular-iPadAirCellular, iPadMiniRetina-iPadMiniRetina, iPadMiniRetinaCellular-iPadMiniRetinaCellular, iPhone6-iPhone6, iPhone6Plus-iPhone6Plus, iPadAir2-iPadAir2, iPadAir2Cellular-iPadAir2Cellular, iPadMini3-iPadMini3, iPadMini3Cellular-iPadMini3Cellular, iPodTouchSixthGen-iPodTouchSixthGen, iPhone6s-iPhone6s, iPhone6sPlus-iPhone6sPlus, iPadMini4-iPadMini4, iPadMini4Cellular-iPadMini4Cellular, iPadPro-iPadPro, iPadProCellular-iPadProCellular, iPadPro97-iPadPro97, iPadPro97Cellular-iPadPro97Cellular, iPhoneSE-iPhoneSE, iPhone7-iPhone7, iPhone7Plus-iPhone7Plus, iPad611-iPad611, iPad612-iPad612, iPad71-iPad71, iPad72-iPad72, iPad73-iPad73, iPad74-iPad74, iPhone8-iPhone8, iPhone8Plus-iPhone8Plus, iPhoneX-iPhoneX,

Supported Languages:

Afrikaans; Arabic; Basque; Bengali; Bulgarian; Catalan; Valencian; Chinese; Croatian; Czech; Danish; Dutch; Flemish; English; Estonian; Finnish; French; Galician; German; Greek; Gujarati; Hebrew; Hindi; Hungarian; Icelandic; Indonesian; Italian; Japanese; Kannada; Korean; Latvian; Lithuanian; Malay; Malayalam; Marathi; Norwegian; Bokmål, Norwegian; Norwegian Bokmål; Persian; Polish; Portuguese; Romanian; Moldavian; Russian; Serbian; Chinese; Slovak; Slovenian; Spanish; Castilian; Swahili; Swedish; Tamil; Telugu; Thai; Chinese; Turkish; Ukrainian; Urdu; Vietnamese; Zulu;