Recommended app!
App last updated
Nov 23, 2017
Screenshots
New in version 3.3.1
*Fixed: Some users were having a hard time trying to log in. It was very unfriendly of us to slam the door in front of our users. Our app will be acting politely now, as the login issues have been solved.

*Fixed: No more logging out after an update. Updates are exciting, so from now on you will skip that credential-entering and password-remembering step and go straight to exploring what's new in our app. Way more fun!

* Did some polishing and grooming within our code, plus, introduced relevant bug fixes and improvements for stability and reliability of the app.
Description
Enjoy safe and private Internet access with the world's most advanced VPN.
With NordVPN app for iPhone and iPad you can privately surf the Web and secure your Wi-Fi connections against various cyber threats. Sign up for your free trial now.

Read on for more!

PROTECT YOUR PRIVACY
Open the app and pick one of our 1500+ remote servers that are located in 60 countries. This will hide your IP address and you will appear to be somewhere else.

STAY SECURE NO MATTER WHAT
With the NordVPN app on, all your Internet traffic is strongly encrypted and extremely difficult to decipher. What is more - we don't keep any logs of your activity.

ENJOY YOUR ENTERTAINMENT CONTENT
It's nice to know that using the NordVPN app, you can securely access websites and stream your favorite videos. It's also a bliss for travelers!

JUST TAP AND RUN
Click the activation button to turn your protection on and off. To select a server, simply click on the map or browse the country list.

TAKE US FOR A TEST DRIVE
Still not sure? NordVPN offers a 7-day free trial on all subscription plans, so you have nothing to lose.

YOU MAY ALSO LIKE THESE FEATURES:


-No bandwidth limit
-Friendly 24/7 support
-Automatic Kill Switch
-Servers for extra security: anti-DDoS
-Connect up to 6 devices under one account
-Military-grade encryption protocols (IKEv2/IPsec)

Ready to go? Try NordVPN for free now.


Automatic Renewal

• NordVPN is a paid service so you'll need a subscription to get started. You can choose from three subscription plans: $11.99/month, $41.99/6 months and $68.99/12 months.
• The payment will be charged to your iTunes Account at confirmation of purchase.
• The subscription renews automatically unless the auto-renew is turned off at least 24 hours before the end of the current billing period.
• Your account will be charged for renewal within 24-hours prior to the end of your selected subscription.
• You can turn the auto renewal off by going to your Account Settings.
• The current subscription cannot be canceled.
• You are welcome to read NordVPN Terms of Service and Privacy Policy here: https://nordvpn.com/terms-of-service/
iPad Screenshots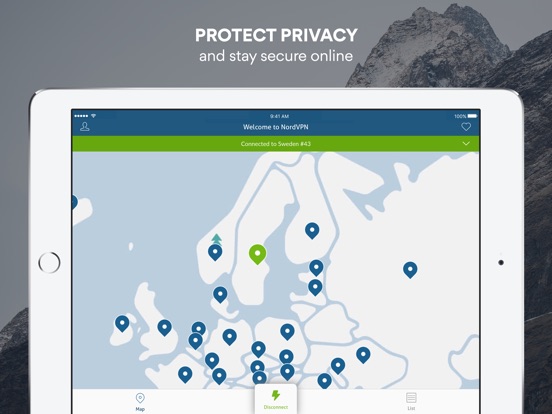 Reviews
Awesome
It's so simple to use, NordVPN.
Great
Great app works well.
Easy to use
This app and the surrounding infrastructure is extremely to use and quite helpful to ensure privacy Definitely a five star app in these days of no net neutrality.
Easy and works great
Dirk Wheeler
on
1/20/2018
SSIA
Too Inconsistent
Sometimes it works fine. Other times, no matter which server I use it just sits there doing nothing and I have to close the browser, remove NordVPN, and then reinstall everything. The problem is NOT on my end because without NordVPN my connections are excellent. If I spend to much time viewing a website then try to go elsewhere, that is when it stops working. Also, I do not like seeing content of older pages when I go to a new website. It is like NordVPN is creating a cache and then drawing content from it instead of refreshing.
Positive experience
VPN by NordVPN works smoothly. I'm pleased.
Fast VPN
Trippingatlarge
on
1/20/2018
This is a fast VPN. Almost double the speed of my previous one which I didn't know was that bad.
Usually good
Yghhdfuhfddghh
on
1/20/2018
But choppy app sometimes.
Very Good & Fast
Atlantafan88
on
1/19/2018
So far so good I haven't really had any issues with it at all. Lots of times I can stream faster than without it
Security at its best
Stunning Mindventure
on
1/19/2018
Fantastic
Def one of the best
Works great does the job!
Works like a charm
FOX News freak
on
1/18/2018
Does what it should
Great
Easy to use, works great.
Happy now I have the following iPhone Settings
I was looking for something I didn't have to fiddle with all the time. I want to turn it on and leave it on all the time. I stuggled with it disconnecting or not recieving email and determined that you have to use settings in NORDVPN app and not in iPhone Settings. New update outlines instructions. Since turning off iPhone settings and using app, with kill switch, has been perfect. 1. Download app MAKE ALL VPN SETTINGS IN APP ONLY. iPhone provides additional capabilities...do not use them. Update (01/18). Continues to be a positive experience. I had issues using Amazon app (likely don't like VPN's), but Nord's customer service suggested using Canadian servers and solved the issue.
Nord VPN is GREAT!!!
I can feel safe as I swim the web. Being a tech guy there are a few things I believe can be added but I'm sure within time Nord will do it all, seeing how they have regular upgrades and work to stand above the rest.
Protection when needed
I am new to VPNs. There are so many to choose from, that you should be cautious about just picking something because it's free, or because you don't know where to start researching and sorting out what's available in the VPN world. Because I was new to using a VPN, I went and talked with someone who had a lot more experience than I had. NordVPN came highly recommended, and I happen to catch one of the discount offers available. I've been using my NordVPN for about 4 days now, and I can see where my peace of mind has changed, and my confidence in this "in perfect " world has increased. The app is easy to navigate, very intuitive, and offers various levels of services based upon the user's experience. I would recommend this product.
Works great
I've had this for about two weeks. Works great, no problems yet. Also installed it on two computers and works just as well on those.
Surf Safe
Surf safe with Nord VPN
Happy
Great app and VPN service!
scam. don't buy
fuzzywuzzywaza
on
1/17/2018
Paid for a 1 month subscription through in-app purchase. got nothing. was never able to connect once. App just says account inactive.
Was good Now it's junk
I liked this app interface was simple But for the last couple of days if I sign out and sign back in It won't connect Keep asking for to subscribe Even though I'm subscribe and paying for the service! To make matters worse when I click on start my free trial It still would Not connect. Deleting it and getting another VPN
Security on the web
With all that is going on in the web. One would be crazy not to have a VPN to protect themselves. NordVPN is so quick and easy to use and protects your internet!!
Horrible quality and poor service
Bad service and bad customer service. Their advice is useless. Do not buy
Nice privacy and easy to use
Very nice layouts and outstanding servers and very fair price
NordVPN
Always connects, never been slow while using.
Working great!
Super easy to use. I wish there was a function where I could have it automatically connect anytime I'm on WiFi.
Decent VPN
marinerugger
on
1/16/2018
No complaints. Connects quickly and provides stated service.
Great service
Works great in Panama
Works!
Adam Clayton III
on
1/15/2018
Use it!
Best VPN I have found
Tried several, at least 3. All paid, this is so far the best. Runs fast, able to run services in other countries. Very good
Cool app
Very cool. Just need to figure out it's nuances...
Great and reliable security
Nord VPN has been a great and reliable way to security search the web on a public network. The program is self explanatory and easy to use. Highly recommend!!!
Constant struggle
I'm trying to give this app a chance since the system works flawlessly on Mac but the connection periodically drops off on my iPhone making it impossible to open any pages. It works for 5 minutes and stops working for 5 minutes :(
It's great
LemurLemurLemurLemur
on
1/14/2018
Love it
Great vpn
Michael48742
on
1/14/2018
NordVPN is the first and only vpn I've tried. I was skeptical about how good it would work but we love it. I would recommend it to anyone!
Great interface
The interface is easily to navigate. Easy to turn off and on and very handy when connecting to public WiFi
Solid performance
Good encryption,speed could be a little better
It just works
Gets the job done
Best VPN I've used! Easy to setup and use!
I've tried other VPNs and NordVPN beats them in ease of use, dedicated connections, and UX! Highly recommended 😊
One of the best VPNs out there
Great VPN.
Nord VPN Your device is helpless w/o it
Surfing the web is like walking down a dark alley with $100 bills hanging out of your pockets. You can do it but why? A virtual Private Network is like driving down that alley in an armored Brinks truck. NordVPN works automatically cloaking your connection from prying eyes. Get it and protect all your internet connections.
Cob
Made mobile browsing more productive!
Satisfied!
Easy setup. Got it working in about five minutes. Stable with just a slight lag now and then. Love how you can choose a particular server from the list and save it as a favorite. On their FAQ page you can see which servers are working for common services like Netflix or Amazon Prime Video.
Excellent VPN software!
Angrybutcher
on
1/12/2018
Very powerful, updated often, does the trick
No trouble
Using it because Canada & the US can't admit they have citizens on both sides of the border.
Simple, easy to use and comprehensive
Favorite VPN software
Fact Sheet
Publisher:

TEFINKOM & CO S.A

Category:

Productivity

Released:

Dec 08, 2014

Current Version Released:

Nov 23, 2017

Version:

3.3.1

Size:

87.8 MB

Compatibility:

Requires iOS 9.0 or later.

Recommended Age:

4+

Game Center Certified:

No

Supported Languages:

English; German; Chinese; Spanish; Castilian;