Screenshots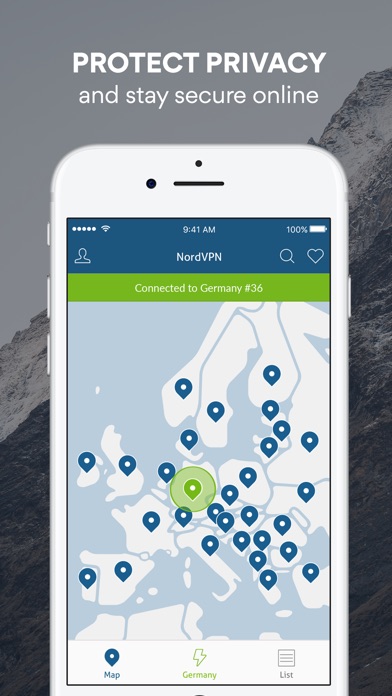 New in version 3.3.0
*¡Hola! Hallo! Nǐ hǎo! We are rolling out our first localizations. If your iOS runs in Spanish, German or Chinese (Simplified), so will NordVPN.

*Rolled up our sleeves and implemented advanced improvements, which help NordVPN to perform better in heavily restricted countries.

*Our developers did some magic, also known as code refactoring, so the app now works even more efficiently and smoothly.

*Fixed: our connection state indicator seemed to be acting crazy when in airplane mode but now it should be fine. We implemented relevant fixes, so our mountain-loving app doesn't mind flying anymore!
Description
Enjoy safe and unrestricted Internet access with the world's most advanced VPN.
With NordVPN app for iPhone and iPad you can privately surf the Web and secure your Wi-Fi connections against various cyber threats. Sign up for your free trial now.

Read on for more!

PROTECT YOUR PRIVACY
Open the app and pick one of our 1100+ remote servers that are located in 60 countries. This will hide your IP address and you will appear to be somewhere else.

STAY SECURE NO MATTER WHAT
With the NordVPN app on, all your Internet traffic is strongly encrypted and extremely difficult to decipher. What is more - we don't keep any logs of your activity.

ENJOY YOUR ENTERTAINMENT CONTENT
It's nice to know that using the NordVPN app, you can securely access websites and stream your favorite videos, even if they are censored in the country you are traveling. It's bliss for travelers!

JUST TAP AND RUN
Click the activation button to turn your protection on and off. To select a server, simply click on the map or browse the country list.

TAKE US FOR A TEST DRIVE
Still not sure? NordVPN offers a 7-day free trial on all subscription plans, so you have nothing to lose.

YOU MAY ALSO LIKE THESE FEATURES:


-No bandwidth limit
-Bitcoin accepted
-Friendly 24/7 support
-Automatic Kill Switch
-Servers for extra security: anti DDoS
-Connect up to 6 devices under one account
-Military-grade encryption protocols (IKEv2/IPsec)

Ready to go? Try NordVPN for free now.


Automatic Renewal

• NordVPN is a paid service so you'll need a subscription to get started. You can choose from three subscription plans: $11.99/month, $41.99/6 months and $68.99/12 months.
• The payment will be charged to your iTunes Account at confirmation of purchase.
• The subscription renews automatically unless the auto-renew is turned off at least 24 hours before the end of the current billing period.
• Your account will be charged for renewal within 24-hours prior to the end of your selected subscription.
• You can turn the auto renewal off by going to your Account Settings.
• The current subscription cannot be canceled.
• You are welcome to read NordVPN Terms of Service and Privacy Policy here: https://nordvpn.com/terms-of-service/
iPad Screenshots
Reviews
Doesn't Work in Beijing
Tried again and it still doesn't work in Beijing. Disaster. It was blocked on all Wifi networks i tried to use.... another person had express vpn and it was working perfectly in china
Fast. Reliable. Missing CyberSec.
Android Convert Kal
on
11/18/2017
Moved to NordVPN from VPNUnlimited. NordVPN is a big step up in speed, reliability and security. I am impressed by the way the app can reconnect so quickly after I switch from WiFi to cellular and back again. All I need now is CyberSec in the iPhone app.
Get Nord, All You Crazy Wonderful Paranoids!
TL;DR cancel your next therapy appointment and use the money to sign up for Nord. A big slice of us shopping for VPNs need therapy more than another layer of computer security. But a VPN is way cheaper than therapy! So let's get to it. Nord is running smoothly for me on OS X, iOS, and Ubuntu. Easy to install, start, and stop the service. More advanced users will appreciate the extensive server list. Servers are available with anti-ddos, onion, etc which is occasionally handy. Nord lists server loads on their site and in the apps, so can make a manual selection if you wish, but the auto selection is always fine. Speeds are good. Video streams fine. In the unusual event that there's a slowdown, you can be on a new server in two clicks Customer service response by email was fast. I fumbled the sign up screen, and a few weeks later discovered that I'd double charged myself. Customer service replied same day and resolved this cleanly. Etc. etc. if you've read this far, just face it. You want to get this service.
Wonderful
Simple the best
Reliable and safe service
Reliable and safe service
Awesome
Easy to use, plenty of servers worldwide!
Safe and secure
Now i feel safe making transactions on my iphone with Nord VPN. Quality with affordability.
Protected!
Happy to have a program in the background protecting me.
Great product.
No issues whatsoever.
Sketchy "business" model
Although their connections were not perfect, inconsistent leaks, service nothing to marvel at, etc.. The most abrupt, and annoying, unprofessional and final thing to stack up was their sudden out of nowhere shutdown/force-fed nag screen to upgrade to a "new" contract without warning. Being that it is a hinderance to shop, I would have considered an upgrade if approached with some civility and not this BS.
Seamless, smooth, reliable
Ready as long as I am. Service is seamless, smooth and reliable even when there's high demand on some servers. Highly recommended for those favouring reliable service when using multiple network operators
Stopped working about 3 weeks ago
UPDATE: 13-Nov NordVPN support was very helpful on chat. They could not fix the problem on my iPhone (see below), but acknowledged the software isn't working on iPhone predictably. They issued a refund...no hassle, no BS, which was awesome. Bc of support accessibility and effort and bc of no-hassle refund, I am raising from 1 star to 2 stars. Sad this product stopped working. —— Original Review: I was a happy NordVPN user on my home PC and on my iPhone until about 3 weeks ago. The iPhone app stopped working and will not allow me to log in even though I can do so on my PC. I have uninstalled and reinstalled numerous times to no avail. No idea how to request help from developer.
App is a breeze
Thank you!
Great VPN great app
Ethan iPad user
on
11/13/2017
Easy to use and trusted
Really good VPN
I've tried others but NordVPN seems to just work with less fiddling. Good selection of VPN types enable easy versatility for your needs. Worth the price - fair value.
Grrrrrrreat
Professor Geiger
on
11/12/2017
Super simple UI and tons of features, make this one of the best VPNs for the money
Best VPN
Been looking for a VPN service and tried many out there. Nord VPN does everything I am looking for. Great purchase.
My first choice
Very easy to use. Tons of servers and easy to connect.
Pretty good BUT
I've been using NordVPN a while. As long as you don't use Netflix, expect Amazon to be faster than dial up, don't plan to use all xfinity hotspots, or due electronic deposits at capital one you may be happy with it. The MAC version also has some major flaws under the latest OSX. For instance it just won't keep a connection, kill switch won't work. Good tech when it's connected and working, the support is ok but a bit of a mess.
Good app
Best vpn I've used so far, better than almost all
Works once set up
I had to download and install the NordVPN IKEv2 certificate from their site to get it working. Works great now.
STILL No Longer works
UPDATE: It's been almost a month and nothing has changed with the app. It was working just fine before the update. Having to go through OpenVPN does NOT help the Nord app a single bit. This is getting ridiculous. The reason I paid for 2 years of VPN service was so that I could have VPN on my phone. And I haven't got that in over a month. I would give 0 stars for 0 functionality if I could. The latest update no longer works! I enter my login, and it just recycled me to the map screen. It will NOT log me in! After a week I still cannot use the iPhone app AT ALL. Customer Service basically told me that it's a known issue, and I'll just have to do without until...?
tired of poor service
Perros sucios!
on
11/9/2017
When you make an investment to use a service like this you expect to have the best result, this time for me, there it was, I never connect or use the service, including for logging my user was a challenge, try to use it on multiple device and the problem was the same the only thing salvageable was the response of technical support, but that is worth if you can not do for what you paid. In the end I got tired.
Solid service
Zerodarkinbox
on
11/8/2017
Easy to set up
Photographer
PhotosmithLA
on
11/8/2017
So far great! Have used it internationally.
Migration to IOS
Hello , I am having difficulty with my nord account . I had it on an android device but I switched device to IOS. So I downloaded the nordvpn app and logged in with active email from android device . It worked for few days and went caput!!! I've exchanged emails with support who I don't want to mention their names here..still nothing has been done, instead my active account with over 2weeks remaining was cancelled and now I log in the same email associated with my android on the new IOS device and it tells inactive account. What happened to my remaining periods and why can't I use the same email from my old android device to log in to my new IOS device with same ID associated with the account ?
Great
Badeofenheizer
on
11/8/2017
Nice
Excelente aplicación,
Muy fácil de usar y segura
Great VPN, great price
Kemp Mullaney
on
11/6/2017
I have Nord running on my iPhone, iPad and Mac and love it. Nord has great customer support the few times I've written.
Good for iOS, so so for pc
Very fast and reliable for my iPhone and iPad. Been struggling to connect NordVPN with my pc. Works well with Hulu, not with Netflix
NordVPN stopped working 👎
I've been a subscribed NordVPN customer for about 3 months. Online customer service came with attitude when I had questions about correct setup. Now the app (doesn't matter if it's iPhone or iPad) constantly disconnects. Killswitch doesn't matter if it's on or off. I'm sorry I signed up. I want my money back 🙁
Great!
Works fast and as advertised
Easy to use, reliable
Easy to purchase and it's always protecting my phone unless I turn it off. I got a special deal through PCMag, I believe. Two years for $4 a month.
Best therr is
Jd74$37282828
on
11/5/2017
This is the best vpn service period!!!
Easy to use and Fast!
Great product with great price
Best International VPN
Great design, always works. Better than others I have tried.
Simple but Functional
This app doesn't have a lot of bells and whistles (I'm not sure what could be added) but it works great just as it is.
Excellent product
Works well; good coverage; simple interface; unobtrusive.
Do NOT BUY IT!
I bought Nord for my Mac Pro. It worked fine the first day. For whatever reason the second day I got to spend four hours on chat with their tech specialist downloading other files so that I could actually work on the Mac. It worked for about two days and then certain website start dropping off you couldn't get them. Then the second week it started cycling on and off we couldn't connect to any servers. The real problem is you have to have a VPN to contact their service tech so I have an app and a continual loop of emails. He finally gave me a way to talk to the technician the technician is all of about 10. How the technician will do for you is have you flip switches on and off uninstall and reinstall the program I've now been on with them for another hour and a half. Still nothing works and I don't want to refund my money because I've been working with them for almost 3 weeks now, which means that I've gone over the 30 day moneyback portion of their agreement. I've told them that they can keep their one-month that worked I'm willing to pay for that and they could refund the remainder. But they are insistent that I should stay with them and continue to waste my time or just let them keep the $100 I paid for a service that doesn't work.
Broken
It worked for a while at first; however, it has been months since I have been able to sign in. I will attempt to log in using the correct log in details, but after I enter the info, it closes the page and asks me to sign in again. Not sure why they have neglected to fix any of the bugs since there are multiple reviews acknowledging this problems.
What? A VPN with great tech support? YES!
I've used several different VPN providers. The others gave me a secure connection and everything was fine until I had a technical issue. Then I found NORD. Extremely easy setup. Stable connections to any country I choose. Best of all, they have fantastic tech support! I recently had an issue with my service, submitted a tech request and had an answer within the hour! A VPN is only beneficial when it works correctly and the folks at NORD will keep you connected at great speeds.
Nordvpn makes me feel secure!
gitfiddlerist
on
11/3/2017
It's good to know, with nordvpn, that I can use the internet and know that my information stays my business!
VPN Inhibits Sending Cox.net Email
Evidently Cox and VPN do not get along. I am unable to send mail from my phone unless I turn off the VPN. This needs to be fixed
Good for a beginner
I know nothing of VPNs, but was told that it is dumb to not use one when using unsecured free WiFi. Did some research and this had some good reviews. Works great 95% of the time. 5% of the time nothing will load up and I have to either reconnect, or disconnect all together. Minor inconvenience, but annoying nonetheless.
Fact Sheet
Publisher:

TEFINKOM & CO S.A

Category:

Productivity

Released:

Dec 09, 2014

Current Version Released:

Oct 16, 2017

Version:

3.3.0

Size:

87.8 MB

Compatibility:

Requires iOS 9.0 or later.

Recommended Age:

4+

Game Center Certified:

No

Supported Devices:

iPad2Wifi-iPad2Wifi, iPad23G-iPad23G, iPhone4S-iPhone4S, iPadThirdGen-iPadThirdGen, iPadThirdGen4G-iPadThirdGen4G, iPhone5-iPhone5, iPodTouchFifthGen-iPodTouchFifthGen, iPadFourthGen-iPadFourthGen, iPadFourthGen4G-iPadFourthGen4G, iPadMini-iPadMini, iPadMini4G-iPadMini4G, iPhone5c-iPhone5c, iPhone5s-iPhone5s, iPadAir-iPadAir, iPadAirCellular-iPadAirCellular, iPadMiniRetina-iPadMiniRetina, iPadMiniRetinaCellular-iPadMiniRetinaCellular, iPhone6-iPhone6, iPhone6Plus-iPhone6Plus, iPadAir2-iPadAir2, iPadAir2Cellular-iPadAir2Cellular, iPadMini3-iPadMini3, iPadMini3Cellular-iPadMini3Cellular, iPodTouchSixthGen-iPodTouchSixthGen, iPhone6s-iPhone6s, iPhone6sPlus-iPhone6sPlus, iPadMini4-iPadMini4, iPadMini4Cellular-iPadMini4Cellular, iPadPro-iPadPro, iPadProCellular-iPadProCellular, iPadPro97-iPadPro97, iPadPro97Cellular-iPadPro97Cellular, iPhoneSE-iPhoneSE, iPhone7-iPhone7, iPhone7Plus-iPhone7Plus, iPad611-iPad611, iPad612-iPad612, iPad71-iPad71, iPad72-iPad72, iPad73-iPad73, iPad74-iPad74, iPhone8-iPhone8, iPhone8Plus-iPhone8Plus, iPhoneX-iPhoneX,

Supported Languages:

English; German; Chinese; Spanish; Castilian;