Screenshots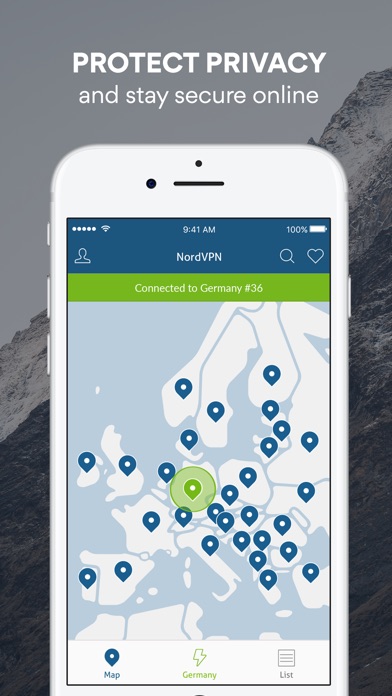 New in version 3.2.0
*Introducing a new feature: Search. If you don't like tapping, try typing – now it's one way or another. Easily find the right server by simply typing in a country, service or a specific server and – it's here!
*Minor design tweaks to make the interface even more pleasing to the eye.
*Crafted the widget, so it accurately shows the connection status, Kill Switch status, and your favorite server.
*Crashes are no fun. That's why we rolled up our sleeves and resolved the issue causing the app to crash while hopping the map. Now you can keep calm and browse on.
*Other bug fixes for smoother user experience.
Description
Enjoy safe and unrestricted Internet access with the world's most advanced VPN.
With NordVPN app for iPhone and iPad you can privately surf the Web and secure your Wi-Fi connections against various cyber threats. Sign up for your free trial now.

Read on for more!

PROTECT YOUR PRIVACY
Open the app and pick one of our 1000+ remote servers that are located in 60 countries. This will hide your IP address and you will appear to be somewhere else.

STAY SECURE NO MATTER WHAT
With the NordVPN app on, all your Internet traffic is strongly encrypted and extremely difficult to decipher. What is more - we don't keep any logs of your activity.

ENJOY YOUR ENTERTAINMENT CONTENT
It's nice to know that using the NordVPN app, you can easily access websites and stream your favorite videos, even if they are not available in the country you are travelling. It's bliss for travellers!

JUST TAP AND RUN
Click the activation button to turn your protection on and off. To select a server, simply click on the map or browse the country list.

TAKE US FOR A TEST DRIVE
Still not sure? NordVPN offers a 7-day free trial on all subscription plans, so you have nothing to lose.

YOU MAY ALSO LIKE THESE FEATURES:

-P2P-friendly
-No bandwidth limit
-Bitcoin accepted
-Friendly 24/7 support
-Automatic Kill Switch
-Servers for extra security: anti DDoS
-Connect up to 6 devices under one account
-Military-grade encryption protocols (IKEv2/IPsec)

Ready to go? Try NordVPN for free now.


Automatic Renewal

• NordVPN is a paid service so you'll need a subscription to get started. You can choose from three subscription plans: $11.99/month, $41.99/6 months and $68.99/12 months.
• The payment will be charged to your iTunes Account at confirmation of purchase.
• The subscription renews automatically unless the auto-renew is turned off at least 24 hours before the end of the current billing period.
• Your account will be charged for renewal within 24-hours prior to the end of your selected subscription.
• You can turn the auto renewal off by going to your Account Settings.
• The current subscription cannot be canceled.
• You are welcome to read NordVPN Terms of Service and Privacy Policy here: https://nordvpn.com/terms-of-service/
iPad Screenshots
Reviews
AWESOME
Easy to use, and works like a charm. Definitely recommend 👍🏽.
Works well!
I had my reservations when my PC froze but after an update it all works well.
Solid performance
NordVPN is easy to use and works well. Just be ready for the onslaught of profiles.
nice
This app is spectacular to use! Its simple interface allows you browse websites in a safe and quick way. I'm definitely spending more time on this thing
great
I tried at school and it worked perfectly with the school's tough security, it was able to pass it. I hope they keep their work up and continue to improve this app
Maybe safe but unstable
lino.brescia
on
9/25/2017
I find myself using Nord less and less. The connectivity bounces often. Sometimes the connection hangs in a limbo state and causes issues too. Hoping these issues get resolved as I am on a two year subscription.
Works Well
Not perfect, but I really like NordVPN. I recommend you at least try it for a month. I've been using them for a year and they've been making incremental improvements. I'm sticking with them for now.
Has bugs
This and all their other apps I've used have serious bugs. This app running on an iPad cuts the battery life by more than half. I usually charge my iPad every 4 or 5 days. Running Nord with a server connected, my battery will be completely dead in just 2 days with typical usage! Also, it takes probably 10 to 15 seconds for the wifi / VPN to connect when I wake up my iPad. Often, the VPN just simply won't start or will disconnect for no obvious reason. The Nord app I got to run on my MacBook Pro is equally as buggy. I have spent a lot of time chatting with tech support but to date, they have not been able do anything more than to tell me to re-download and reinstall which I have done several times. Made no difference on either app. I think these apps were not properly tested and tweaked during the beta stage of development. I'm not impressed.
Good app, great vpn service
nuclearspook
on
9/25/2017
Title says it all, been using nord for years, the app does it complete justice.
Great works as advertised
Great product
Positive experience
VPN by NordVPN works smoothly. I'm pleased.
Awesome VPN
Fast, secure service, slick app, can use on multiple (up to six) devices — what's not to love?
Do not install it
André Nozawa
on
9/24/2017
You cannot use with LTE. Yes, you heard me, you can't.
How can I use this app
I'm finding it difficult to login or create a free account help as to how to go by it?
So far so good
What can I say, it works.
NORDVPN EASY
I have always wanted to have a VPN on my phone and computer but never got around to it, I finally took the plunge after reading lots of reviews on the Internet and I am signed up for six months trial after one month I am completely satisfied with Nord VPN. I love how simple it is to set up, simplicity equals functionality
Works well on Mac and no logs
Wish it would continuously stay connected to a server on iPhone, disconnects when phone locks and has to reconnect after it unlocks
Perfection
Crafter32034
on
9/21/2017
A perfect, self-working VPN. Nothing could be easier.
Do NOT buy. This is a scam
sojourneryouth
on
9/20/2017
I purchased the 1-month free trial only to receive a confirmation of my payment ($11.99) and an "inactive subscription" notification every time I log in. Their terms and agreement states there are no refunds for purchases made through the App Store or iTunes, and that there are no cancellations to a subscription during an "active subscription" period. You can turn off "auto-renewal" which will suspend the reoccurring payments, but you will never receive your initial payment back. Their "tech support" will not help you or respond. I've never written an iTunes or App Store review in my life until now - Please do not use this service. I have no idea why it is so highly rated by server reputable websites. This product is a scam and you will never recover your money or service back. DO NOT BUY.
No problems here
Great VPN service! Wish the app had access to Control Center so that VPN can be quickly turned on and off.
Find a different VPN
When I first subscribed back in April the service worked well but iOS integration was lacking. They redid their iOS app and in the process made a good VPN service terrible. The app continually drops connections which can take a minute or more to reestablish (usually within 30 sec., but sometimes 3 minutes). Connections speeds are absolutely atrocious. I'm subscribed to this service until next spring; learn from my mistake and pick a different VPN.
Reviewed most
NordVPN after thoughtful analysis, was the best holistic VPN for my iPhone.
Is there anything below 1 star?
Irishnotsane
on
9/18/2017
Because that's what they should get. I paid for the yearly subscription because people I trusted liked this software but within 7 days I'm being told my account expired. I'm paid through September of 2018!!! I would recommend you go with anyone else as these people will rip you off. I contacted support because their help page said too and all I got was a link to the help page in response. DO NOT BUY!!!!!!!!!!!!!
Best vpn
Hands down best vpn
Woks great
Love this app.
Great VPN
rogerrabbit1963
on
9/18/2017
Very easy to setup and understand. Hardly notice a slower speed.
Solid connection and App for iOS
asdzxcmicrozen
on
9/17/2017
Great product and great price. I can't wait to use it next time I am out of the country. I appreciate all the OpenVPN files too. They work perfectly on Linux box. We can't be too safe!
Awesome
Baron Bodissey
on
9/17/2017
Great service.
My first VPN experience
KadeemTheDream
on
9/17/2017
I'm radiatively new to the personal VPN scene and NordVPN makes the experience seamless.
Best of available VPNs
NeighborTotoro
on
9/17/2017
Like everyone else, I'm slightly frustrated that it takes so long to reconnect after waking your mobile device up. But I'd rather it take a little bit longer to connect than leak any data packets, wouldn't you? And if it stayed connected literally all the time, your battery would drain far too quickly. So it seems like an okay compromise, especially since the desktop version is pretty seamless. My only 'complaint' for mobile is that I wish you could change servers, or connect/disconnect, directly from the widget, without it automatically launching the app.
Terrible app, very disappointed
I was supposed to get a 7 day free trial but All this app does is it brings you to subscription page over and over and the only way to get it off the screen is to select one of their paid subscriptions! Then it completely froze my new iPad Pro!!! It seemed like my iPad was hacked!!! I managed to uninstall this terrible app but now instead of free trial I have multiple charges on my credit card account for a service I could never use or any longer want!!! And it seems like there's no way to dispute this with anyone! I'm going to report them to my credit card company and to apple!!! They should be banned from here! Shame on you!!!
Auto disconnect doesn't reconnect
Ironworker84
on
9/16/2017
I did love this service. Used to be fast stayed connected and never had an issue. Lately I am having the same trouble everyone is. Nord tried saying it was Verizon throttling my connection is why it wouldn't connect. If that were the case I wouldn't be able to stream hdx movies. Soon as I put the phone to sleep I also get disconnected and have to open vpn and hit reconnect about 30 times waiting for it to finally catch. Please fix vpn
Excelente
Must have. I give it 4.5 stars.
Easy to connect & reliable
NordVPN is a great app. It is easy to install and get started. The connection is very reliable.
Pretty good BUT
I've been using NordVPN a while. It is far from perfect. Once it connects if you let your iPad or phone accidentally fall sleep for an instant it disconnects. Reconnecting takes frustrating time. Certain activity does not seem to trigger a connection at all leaving you waiting and waiting until you figure out it isn't trying exit your desired app to open NordVPN connect and return to your desired function. Besides the usual Netflix fighting VPN it seems Xfinity wifi hotspots are also allowing connection to their severs but block your browsing. Amazon is dialup slow via NordVPN. The MAC version also has some major flaws. Can't relaunch and connect after reboot despite having the option, asks for the username and password randomly. The distance to server does not seem correct compared to the locations given by NordVPN previously and the MAC version is actually less functional in this respect. Good tech when it's connected and working but a bit of a mess.
Basically a scam
Hopfensperger
on
9/16/2017
You'll hear about Nord through "reviewers" that make a commission on every sale. They don't tell you the service spontaneously disconnects without warning, defeating the entire purpose of a vpn.
Good VPN
JayOfDelaware
on
9/16/2017
It works great.
Excellent app for online privacy.
00111001001100
on
9/16/2017
This app works just as advertised, and has a very intuitive and easy to use interface. Also, the speed of browsing is fantastic. No lags. I have this service on my iPad, Android phone, and Windows desktop PC. It works on every device and OS consistently. I bought a 2-year discounted service package, and considering the monthly breakdown, plus my substantial use of this app, it just can't be beat. If you're on the fence, this is the VPN app to get. Not quite sure why other users are having issues.
Great Costumer Service Horrible Unstable VPN
Great Costumer Service Horrible Unstable VPN Costumer service does there best but this VPN is filled with broken promises that can't get a stable connection. This is a horrible VPN. Do NOT use this vpn if you leave in China IT WILL NOT WORK
Great Service
Easy to install. Easy to operate.
Great app
Works as advertised and robust.
One of the best VPNs
Great product. Very user friendly. Easy to install and very reliable. Minor impact to internet speed. Secure connections in many locations and provide peace of mind.
Strong and easy
Chose based on PCMag and CNet editor's choice reviews. Easy to use, friendly interface, strong server network
Borderline unusable on phone
Service works as it should on my laptop but since I'm on my phone 90-10 compared to my laptop, this app is terrible. Barely works, takes a long time to connect, and stays connected for less than 3 mins at a time. Complete waste of money
Overall, it works
putalittleouzoinyourtank
on
9/14/2017
Been using Nord for about 6 months. Really easy to use and does what it says. Speeds are generally pretty good, no real issues there. Use it primarily on my iPad and have started using on my iPhone. Have not had many issues with smart reconnect unlike other users.
Absolute waste of money and time
Campione9898
on
9/14/2017
I am writing this and don't want anyone who is ready this to get screwed same as I did by this scammers!! Guys most free VPN providers have better connection and service than these guys trust me. Absolute disaster no connection no service no customer support not even a phone number you can call them and they never answer email or web inquiries. Absolute waste of $80 hard earned money!!!!!
Easy to use
Easy to use with awesome documentation as well
Poor network speeds
Whenever i connect to NordVPN i always get 79% of less network speed compared to without VPN and when i reached out to NordVPN support, they told it because of issues in openvpn but their website calims it is lighting speed VPN . i paid upfront for 2 years service without knowing this issue.I wouldn't recommed it and there are many other VPN services out there better than NordVPN.NordVPN is got it name becuas of marketing rather than quality of its service.I would suggest to test the speeds before buying the subscription. I also tried the openVPN,ikev2 suggested by nordVPN customer care but nothing seems to be working. There were also webRTC leaks by nordVPN which will display IP address and ipv6 leaks as well. Continous connection drops.i don't see any stealth VPN feature in nordVPN, which hides vpn packets so that ISP can't throttle the speed becuase of VPN usage.i wouldn't give any rating to this misleading nordVPN. i unfortunately paid for 2 yrs without knowing their flase claims . please don't buy VPN services which have exclusive marketing on internet.
Fact Sheet
Publisher:

TEFINKOM & CO S.A

Category:

Productivity

Released:

Dec 09, 2014

Current Version Released:

Sep 25, 2017

Version:

3.2.0

Size:

82.7 MB

Compatibility:

Requires iOS 9.0 or later.

Recommended Age:

4+

Game Center Certified:

No

Supported Devices:

iPad2Wifi-iPad2Wifi, iPad23G-iPad23G, iPhone4S-iPhone4S, iPadThirdGen-iPadThirdGen, iPadThirdGen4G-iPadThirdGen4G, iPhone5-iPhone5, iPodTouchFifthGen-iPodTouchFifthGen, iPadFourthGen-iPadFourthGen, iPadFourthGen4G-iPadFourthGen4G, iPadMini-iPadMini, iPadMini4G-iPadMini4G, iPhone5c-iPhone5c, iPhone5s-iPhone5s, iPadAir-iPadAir, iPadAirCellular-iPadAirCellular, iPadMiniRetina-iPadMiniRetina, iPadMiniRetinaCellular-iPadMiniRetinaCellular, iPhone6-iPhone6, iPhone6Plus-iPhone6Plus, iPadAir2-iPadAir2, iPadAir2Cellular-iPadAir2Cellular, iPadMini3-iPadMini3, iPadMini3Cellular-iPadMini3Cellular, iPodTouchSixthGen-iPodTouchSixthGen, iPhone6s-iPhone6s, iPhone6sPlus-iPhone6sPlus, iPadMini4-iPadMini4, iPadMini4Cellular-iPadMini4Cellular, iPadPro-iPadPro, iPadProCellular-iPadProCellular, iPadPro97-iPadPro97, iPadPro97Cellular-iPadPro97Cellular, iPhoneSE-iPhoneSE, iPhone7-iPhone7, iPhone7Plus-iPhone7Plus, iPad611-iPad611, iPad612-iPad612, iPad71-iPad71, iPad72-iPad72, iPad73-iPad73, iPad74-iPad74,

Supported Languages:

English;