Recommended app!
App last updated
Mar 13, 2018
Screenshots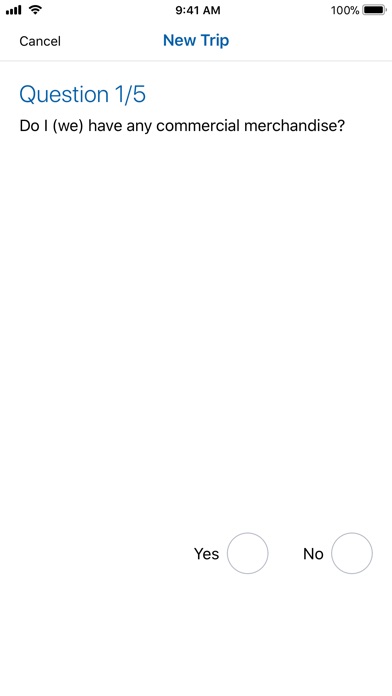 New in version 2.8.2
+ Minor improvements and bug fixes

Your reviews & feedback are important to us. If you like our service, show us some love with a 5-star rating. We are always happy to hear your ideas & improvements – write to flightcrew@airsidemobile.com
Description
The Mobile Passport app speeds you through U.S. Customs when entering the USA at 1 cruise port and 24 airports!
Officially authorized by U.S. Customs and Border Protection, MOBILE PASSPORT allows U.S. and Canadian passport holders (on B1 or B2 visas) to submit their passport control and customs declaration information via their iPhone or iPad and bypass the regular line to enter the United States. This app effectively replaces the traditional blue-and-white paper declaration form required of all travelers entering the U.S. by air or sea.

1. Complete your profile with basic passport information.
2. Answer CBP's questions about your trip.
3. Submit your information UPON YOUR ARRIVAL and get a receipt from CBP.
4. Follow the signs to the dedicated Mobile Passport Control lane.
5. Scan your receipt and show your passport to the CBP officer.

MOBILE PASSPORT service is currently available at:

AIRPORTS:
- Atlanta Hartsfield-Jackson International Airport (ATL)
- Baltimore-Washington Thurgood Marshall International Airport (BWI)
- Boston Logan International Airport (BOS)
- Chicago O'Hare International Airport (ORD)
- Dallas-Fort Worth International Airport (DFW)
- Denver International Airport (DEN)
- Fort Lauderdale-Hollywood International Airport (FLL)
- Houston George Bush Intercontinental Airport (IAH)
- Los Angeles International Airport (LAX)
- Miami International Airport (MIA)
- Minneapolis-St. Paul International Airport (MSP)
- Newark International Airport (EWR)
- New York John F. Kennedy International Airport (JFK)
- Orlando International Airport (MCO)
- Phoenix Sky Harbor International Airport (PHX)
- Raleigh-Durham International Airport (RDU)
- Sacramento International Airport (SMF)
- San Francisco International Airport (SFO)
- San José International Airport (SJC)
- Seattle-Tacoma International Airport (SEA)
- Tampa International Airport (TPA)
- Washington Dulles International Airport (IAD)
- William P. Hobby International Airport (HOU)

CRUISE PORTS:
- Port Everglades (PEV)
with more airports and cruise ports to follow.

U.S. and Canadian citizens (on B1 or B2 visas) are eligible to use MOBILE PASSPORT. Household members who are traveling together may be included in a single submission.

Submissions must be sent upon arrival at the port of entry. Receipts are valid for 4 hours. Receipts may NOT be re-used or transferred.

****YOU MUST ENTER YOUR NAME AS IT IS ON YOUR PASSPORT.
****MOBILE PASSPORT IS NOT A REPLACEMENT FOR YOUR PASSPORT. BRING YOUR PASSPORT!
iPad Screenshots
Reviews
Easiest thing ever!
Followed the steps in the app and skipped the lines. It was great!
Police state
Franklin Bynum
on
3/17/2018
As a lawyer who defends people against police, let me give you some valuable advice: don't hand your unlocked smartphone to a CBP officer. Just don't. Wait in the line if you have to. Think the app is cool and you have nothing to hide? You'll be a great client when they go after you. I tried it today. I had a trigger finger on my power button to rapid fire lock and disable Touch ID just to see how easily the agent could take the phone. Guess what? It's easy for them. Don't give DHS any more power. Don't use this app.
Zero Wait
Was the best experience in the DFW airport I've ever had returning from an international flight. There was no wait at all
Savior from long lines!
Weary Int'l Traveler
on
3/17/2018
After getting home from an international flight, the last thing I wanted to do was stand in a long line for Customs. I downloaded the app while standing in line and submitted my information. Before I knew it, I had received my receipt. I was then able to use the designated lane for Mobile App customers, which got me through inspection in a matter of moments, saving me at least 20 minutes from using the kiosk. Thanks for coming through! This is a great service!
Didn't wait at all!!
Excellent- thank you!!!
Works like a charm!
We used the app and breezed through customs with ZERO waiting! I'll never travel outside the country without it. If you're a world traveler you've got to get this app.
Worked great
Saenz Family
on
3/17/2018
I was able to skip the line and walk right through customs. Great app to have!
Worked very well. Super easy and fast.
Saxophone645
on
3/17/2018
Great
Sweet deal
Yes, we did indeed zip right through customs at LAX. No line whatsoever. They must be pushing this app because we were nearly treated like royalty. Soon everyone will be using it, like QuickCheck.
Crazy fast
Mohammed @akabigmo
on
3/17/2018
Don't sleep on this app!!! We got off an 11-hour flight from Paris to San Francisco and made it through customs in 5 minutes. I'm not exaggerating. There wasn't a soul in the mobile passport line, which helped of course, but we zipped past the crowds waiting for customs and were out of the airport within minutes. It was incredible. I couldn't believe it.
So easy!
So fast and easy - wish I had downloaded this sooner!
Excellent
Rodolfo de Oliveira
on
3/17/2018
Great experience
Got me through in 10 minutes in MIA.
kaworunagisa
on
3/17/2018
Everyone else took 45 minutes. We exited with the crew!
I wasn't able to use it bc my friend received an error message over and over
I am giving it three stars because I love the idea and it was super easy to register and get my approval notice. I literally learned about it as I was landing on the tarmac, found the app and registered and had my receipt in literally less than 10 minutes. The line for those with the app receipt was way shorter and I could have zipped through customs BUT - my friend tried to download the app and was given an error message over and over so we couldn't use the service. I think it's an awesome idea and should work perfectly if the app doesn't error out!
Mobile passport
Quick, easy, efficient. It's great.
The best transit app
I go through US customs 4 times every month. I use Global Entry and Mobile Passport. One is expensive and requires a lengthy interview; one is free. Global Entry certified citizens (application, fee, interview) now have to wait behind everyone who has a wheelchair, Mobile Passport and airline crew. This is such a scam by the US Government. Mobile Passport is free, quick and easy. It is a reliable way to re-enter the US for everyone.
Depends on Airport
The app works great, as long as someone is there to work the station; come on JFK, get it together!
Global Entry and Mobile Passport NOT allowed
Since we have a Global Entry Pass, We were told by the Customs & Immigrations Officer at Newark Liberty International that we have to use the Kiosk for Global Entry and not the Mobile Passport app
Miami arrival was fast
Arrived in Miami and jumped into the same line as Global Access. Very quick and good experience.
Long line special visas
Cincibspittin
on
3/17/2018
Once committed to mobile pass had to go in one line with some sort of team of 16 people, waited 40 min, regular line was faster. Once got up there quick. Need a dedicated lane!!
Yep, easy!
ESTTheAcnickoulousOne
on
3/17/2018
Saved about 15 minutes at a very empty HOU airport. I'm sure this really pays off at very crowded places like DFW/JFK/LAX. Looking forward to using it again! 5 stars because it worked as designed and it was helpful
ORD (Chicago)
Customs Agents at ORD actually told me they did not accept the electronic mobile pass. Put me in three different lines and finally had to start over with the usual system. I'm certain they were confused...but. App took 4 attempts to generate the receipt.
Didn't Work at Newark
Got off the plane, hit submit and it said it could not process. Maybe I am lucky because another passenger did use it and customs didn't know what to do with it and she was there for 30 minutes having issues getting cleared. Good idea but not ready for prime time at Newark which is a dump to begin with.
Great App
Used the app for the first time upon entry into US from Dubai. Worked like a charm! Essential for the professional traveler as well as the occasion traveler. Takes out the guess work and trying to hang onto a form!
best app i've gotten
julesJPpaldino
on
3/17/2018
let's you cut the lines and is very effective and easy. it takes seconds for you to go through the questions and get approved.
Awesome
Kate3738495958483737
on
3/17/2018
Went through customs in a flash at Port Everglades. Could not believe how well this app worked. Love it. Five stars.
If time is money...
If time is money, then this app has saved me plenty. I've been using it for a year now, and it's like being royalty. I came in from Europe yesterday and was surprised to see how many people were still using the paper form method and queued up. I walked right by the que, was first in line at the passport check, and then straight to the baggage carousel. I did do a quick count of the people waiting in line and I passed over 200 people. Seriously--over 200. I can't thank you enough for such a great app!
Mobile passport
I came in from Dubai to JFK. Worked great , very fast, well worth the app..
Easy, simple, works
Easy to use, just input your passport / declaration info and take a selfie. Good job, CBP!
End of cruise
What a great app. Made going through customs a breeze
Don't tell too many people!
Czechmate2000
on
3/17/2018
This app lets you fly thru customs bypassing long lines. It is easy to use and transforms the experience of coming home. If we keep it a secret - lines dedicated to using it will stay short (LOL)
Quick zip through passport control
I filled out my info on the app upon landing in Houston and bypassed a long line by going to a dedicated mobile app line. Very convenient.
Best Travel Secret
Basically the benefits and speed of Global Entry, in a free app. When I look at all the people I pass waiting in line, I'm surprised more people haven't caught on. There are signs and even movies promoting the app, yet I guess some people just like lines. Probably saved my wife and I over an hour on our last trip.
App
App is great but could not use it coz the time limit of hour is small my flight is 12 hrs long I like to use it before getting in US specially when I have internet coz the airport internet is weak. Why not use the flight # with the reservation or boarding pass since u know that the flight coming I am on it that specific date otherwise it is a great app to be used Thx
Way to arrive!
Speedy is an understatement! We barely had to pause before walking out of the airport.
Best App in a Long Time
A flight attendant from Tokyo to LAX suggested this app to my family. The three of us tried it and were amazed. I have Global Entry and this app worked more quickly than that. You can take all the pictures and answer all the questions on your phone. I wouldn't use any other way. Can't wait for more airports to become capable. It's really easy to use!!!
Fast
Fast and efficient through customs
THE BEST APP ON THE APP STORE.
ChimpazeeThat
on
3/16/2018
This app really optimizes the process of going through CPB at our nation's major int'l airports EDIT: Just went through LAX bypassing a line of hundreds of people and getting through their famously slow customs in under 5 minutes! This app is the greatest thing since sliced bread. 5 Stars!
Outstanding APP!
Was waiting in line for passport control to clear at Seattle-Tacoma Int'l when the attendant mentioned that if we had mobile passport we could go to the front of the line. I downloaded the app, followed the steps and proceeded to save about 2 hours by bypassing passport control and going straight to customs.
Best app ever!
He Wore Black
on
3/16/2018
I was in chicago today standing in a line that would have taken me 90 minutes. Thankfully they were looking for people who had the mobile passport and I skipped the line!! Awesome!
SBH
I used the app for the 1st time today at ATL. Took me 2 minutes to fill it out. It worked great. I bypassed so many people standing and waiting in customs who had to fill out the paperwork. I went to a separate line and was in and out of customs in less than 5 minutes on a Friday afternoon. Will use it again.
The Best!
The is the best App I've downloaded and used in a long time!!! Easy to use and I was through customs in 3 minutes!!!
First time used
Just awesome. Best experience ever!!!
Awesome
Went through customs in minutes
Tried the app for the first time
Didn't work. Tried submitting it four times and each time got this error message that says it's not available at this time.
Incredibly useful
This app is definitely the way to go if you're going through customs. It took me about 5 minute to get through customs coming back from Mexico to the US.
Speed and ease
Filled it out and walked quickly through the screening process
Frustrating
It's great when it works. When it doesn't-and there is no explanation as to the problem-it nullifies all the benefits. When you count on the app to help you make international connections, it should be rock solid. It's not.
Total game changer
NY Chiver - Nolan
on
3/16/2018
If you live in NY and travel internationally it's a must
Junk
the doctor953
on
3/16/2018
Never works when you attempt to use to clear
Fact Sheet
Publisher:

Airside Mobile LLC

Category:

Travel

Released:

Aug 11, 2014

Current Version Released:

Mar 13, 2018

Version:

2.8.2

Size:

53 MB

Compatibility:

Requires iOS 10.0 or later.

Recommended Age:

4+

Game Center Certified:

No

Supported Languages:

English;