Screenshots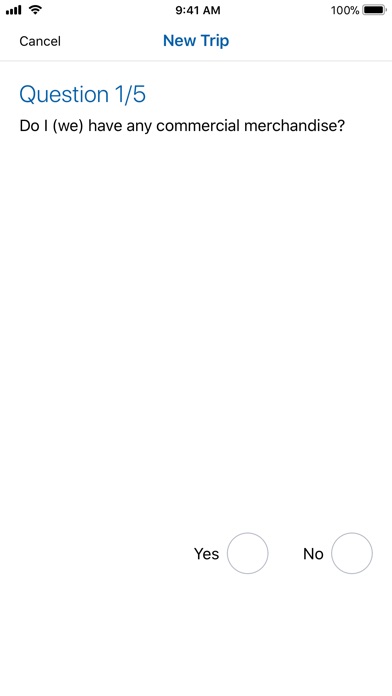 New in version 2.6.1
+ Minor improvements and bug fixes

Your reviews & feedback are important to us. If you like our service, show us some love with a 5-star rating. We are always happy to hear your ideas & improvements – write to flightcrew@airsidemobile.com
Description
The Mobile Passport app speeds you through U.S. Customs when entering the USA at 1 cruise port and 24 airports!
Officially authorized by U.S. Customs and Border Protection, MOBILE PASSPORT allows U.S. and Canadian passport holders (on B1 or B2 visas) to submit their passport control and customs declaration information via their iPhone or iPad and bypass the regular line to enter the United States. This app effectively replaces the traditional blue-and-white paper declaration form required of all travelers entering the U.S. by air or sea.

1. Complete your profile with basic passport information.
2. Answer CBP's questions about your trip.
3. Submit your information UPON YOUR ARRIVAL and get a receipt from CBP.
4. Follow the signs to the dedicated Mobile Passport Control lane.
5. Scan your receipt and show your passport to the CBP officer.

MOBILE PASSPORT service is currently available at:

AIRPORTS:
- Atlanta Hartsfield-Jackson International Airport (ATL)
- Baltimore-Washington Thurgood Marshall International Airport (BWI)
- Boston Logan International Airport (BOS)
- Chicago O'Hare International Airport (ORD)
- Dallas-Fort Worth International Airport (DFW)
- Denver International Airport (DEN)
- Fort Lauderdale-Hollywood International Airport (FLL)
- Houston George Bush Intercontinental Airport (IAH)
- Los Angeles International Airport (LAX)
- Miami International Airport (MIA)
- Minneapolis-St. Paul International Airport (MSP)
- Newark International Airport (EWR)
- New York John F. Kennedy International Airport (JFK)
- Orlando International Airport (MCO)
- Phoenix Sky Harbor International Airport (PHX)
- Raleigh-Durham International Airport (RDU)
- Sacramento International Airport (SMF)
- San Francisco International Airport (SFO)
- San José International Airport (SJC)
- Seattle-Tacoma International Airport (SEA)
- Tampa International Airport (TPA)
- Washington Dulles International Airport (IAD)
- William P. Hobby International Airport (HOU)

CRUISE PORTS:
- Port Everglades (PEV)
with more airports and cruise ports to follow.

U.S. and Canadian citizens (on B1 or B2 visas) are eligible to use MOBILE PASSPORT. Household members who are traveling together may be included in a single submission.

Submissions must be sent upon arrival at the port of entry. Receipts are valid for 4 hours. Receipts may NOT be re-used or transferred.

****YOU MUST ENTER YOUR NAME AS IT IS ON YOUR PASSPORT.
****MOBILE PASSPORT IS NOT A REPLACEMENT FOR YOUR PASSPORT. BRING YOUR PASSPORT!
iPad Screenshots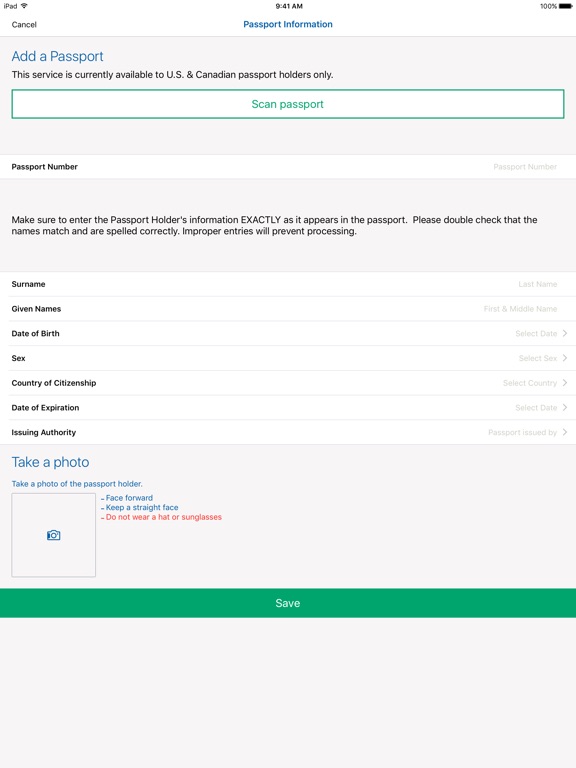 Reviews
Love this app!
A savvy traveller
on
10/17/2017
First time user and it was the fastest time ever getting through CBP!
Great when it worked
Nu Usr in USA
on
10/17/2017
Worked well for several trips but stopped working recently. I reinstalled the app just to be sure but unfortunately the same problem. Failure to receive the receipt. Updated 10-16-17, the issue turns out was my Son's passport who was with me during that trip when the app failed to work. The issue was that his passport was expiring in less than six months which apparently is a restriction for this Mobile App use. The error message did not specify so. I learned about it in the small print. The app has worked like a charm for me except for that one trip.
A breeze!
Used this app for the first time coming through SFO. App was very easy to use. Only hang up was the line for Mobile Passport was closed but the agent was able to open it up me when I asked for Mobile Passport. I was able to bypass long lines and it was literally a breeze!!!!
Awesome!
Spitzer Yanky
on
10/16/2017
Walked in to the USA like a boss while everyone else waited in the line. Great app
Best thing to ever happen to travel
Where were you till now! Unbelievable great app
Great improvement
This app is a great improvement over the traditional way of entering the country. No more filling up the blue form. It captures passport details automatically. At least for now it saves a lot of time. Not sure what will happen when more people use the app. Anyway, no matter what, this app simplifies the border crossing process.
Great app- what line?!?
lamberts2396
on
10/16/2017
We recently used this in Boston, late evening after a trip to Mexico. There were several flight arriving to customs at the same time and a lot of rude people in line. Once we were able to find the sign we were ushered through immediately and this app saved us about 1.5 hours of waiting in line. I agree with other reviews that the signage at the airport needs improving. Ours was a tiny gate that was blocked by the line. Had there not been an airport attendant to ask, we may have missed it entirely. Again- that's not the app, it's the airport. Will never dread customs again!!
Through checkpoint in under 2 mins
Great app that allows you to bypass 30-45 mins of wait time. Highly recommend to everyone! Only area of improvement would be increased signage at ORD showing where to walk. But by showing your phone to any attendant, they immediately move the ropes and guide you to the front of the line.
Sailed through LAX
livingtheITlife
on
10/16/2017
Great App took me less than 1 minute to get through immigration at LAX. No waiting. Scan, show passport and off to collect luggage.
Mobile Pass
I seen the signs at San Jose international to get this app and breeze through customs. Filled out the app while waiting for my flight to Mexico. Completed customs questionnaire submitted when landed back SJI they sent me a receipt and walked right to the front of the line. Awesome maybe I should not have given it 5 stars
Signage and training at LAX terminal 7
Zipped through but there was confusion as staff do not clearly pronounce "mobile" or "global" (or very well could be my hearing as I just disembarked a 10.5 hour flight). It didn't help that the Mobile app line was right beside the Global access line either! Anyway, the app itself is great! I was so pleased to not have to deal with LAX's highlights unorganized custom lines! Let's just work on LAX staff please as they typically aren't informed in my experience coming through customs. I'd recommend this app to everyone though!
Re-entry a breeze!
Have used the app several times in Chicago. No lines, easy. Takes literally a few minutes from start of process to clearing customs with luggage!
Quick, easy and gets you to the front of the line
Tried it today for the first time as I was returning to the US from Europe. By using app, I was able to wait in a line of 2 vs 150+. It's the wat to go when clearing customs.
Faster than global entry
I beat my wife through every time, & she has a Global Entry. Only once was the system that this app uses unavailable when I was trying to use it. Pretty cool!
Awesome App!
Rector Family
on
10/15/2017
Breezed through customs in Atlanta with this app. Very convenient and easy to use!
Awesome - The New Global Entry?
Super easy. Fastest if you upload your passport information before you're in line but great overall.
Works great every time
Can't tell more people about this. Living overseas but coming back to the states often. I got to baggage claim before the first class passengers (that must not be using the app). Smooth and great.
App fine but no airport support
Recently flew to Europe. Set my husband and myself up on the app. United had encouraged using, even announced on way home. On flight home to Newark NJ today, filled out the info and got the "receipts". As we made our way through customs lines, a representative shuttled us to kiosks. I even said to my husband, why did I bother with the app as they asked all the same customs questions. Got into next line and the officer was like did you try the app and it didn't work? I said it did work but kiosk asked me again. She said I should have asked where the mobile pass line was. Really? So unless you know ahead or the airports/airlines start to make it clearer, it was useless. No issues with the app itself.
The Best
I flew into JFK and literally because of this APP was through customs in less than 1 minute. All others took up to 20 minutes.
Great signage at DFW airport!
metgirl4ever
on
10/15/2017
Easy to find & the security guard "danced" us into the security checkpoint. The only perk I need now is Global Entry.
Worked like it was supposed to
LaFellowShepherd
on
10/15/2017
Breezed right through customs!!
Awesome
birthday travler
on
10/15/2017
We used this app at JFK an it worked awesome got us through customs very quickly
Worthless
Cruiser96532
on
10/15/2017
Took the time to fill this out, what a waste, gives you a QR code and they don't even look at it
Well worth setting up
This system is very helpful and worth setting up in my opinion. My only hesitation is the security of my passport data in an app on my phone being hacked. The signage needs improving as we had to constantly ask where to line up. The staff at ORD were helpful and pleasant which was a nice change from our usual arrival home. Good work. Will there be a Mobile exit to speed up security? Our TSA precheck interviews don't seem valid overseas and would be nice if it work both directions!?
Worked great
Worked great
Great App
Used this app entering Newark from Paris and was more than impressed. Basically had our own private customs agent. Keep up the great work!
Supper!
Bubble guppy show
on
10/15/2017
It is great! It took me less than 5 minutes to get through!
Works!
Customs was a breeze-of course if too many use it, it will lose its ease. But for now... it's great!
Getting through customs was a breeze!!!!
Nurse in need!
on
10/14/2017
Bypass the long lines going through customs the traditional way! Super easy and quick! I hadn't heard of this until we landed and the flight attendant told us about this. Downloaded from the App Store, scanned our passports, answered a few questions. Bypasses several hundred people going the traditional way. Highly recommend!
Excellent App
Memereyoung
on
10/14/2017
Used this when returning to FLL from a vacation in Jamaica. Very easy to use. Only complaint would be that it is still new so new users may get confused. Although you are told to NOT use your phones when going through immigrations, you must have your phone out and show your receipt in the app to officers as soon as you enter customs. Definitely fast tracked my trip home!
Naomi G
This app is wonderful! I zipped right through Customs with this wonderful tool! It made travel easy and manageable.
Flew right through customs
This is the most improved methods of getting through customs in directly. We have used it twice and have spent less than 10 minutes both times traveling through customs. Absolutely love it
App is Great. Customs Needs More Equipment.
CiscoKid12Mezcal
on
10/14/2017
The app is incredibly useful and it consistently helps me avoid long lines at immigration. However, most Customs checkpoints seem to be under quipped, forcing people to jump into the same line that you just bypassed. It just seems to create a bottleneck that defeats the purpose of the app.
Speedy entry once you find lane
App is simple to use and works very well. Hard to find lane to use at O'Hare
K2
Enormous facilitation of borders entry. I just used it for the first time and greatly appreciated its help.
Easy
Great! Does exactly what it's supposed to do and it's easy to navigate
Clearly the best kept secret in international travel
I zipped through customs today, having no one in front of me in line. It took me more time to walk the length of the Mobile Pass lane, which was quite long, than it did to get through customs. When everyone else on my flight was queuing up for the regular line, I was all by myself. So, either this is a well-kept secret or the natural hesitation to try something new has kept a lot of people away. So, to all those thinking about using this app: JUST DO IT. Now 😘
So easy So quick
A wonderful app that speeds you through the crowds. Thank you Mobile Pass!
Saves Time and Continued Updates
NothingWorks!
on
10/14/2017
This app has improved considerably over time. The first couple of times that I have used it, it would not load or would close out. But they have made improvements over time and it is more stable. I've used it on a handful of occasions at SFO and I always breeze through customs much faster than those on the same flight.
Awesome timesaver
Generation352574
on
10/14/2017
Avoided the massive lines several times now. Never an issue with the app.
Easy to use & super convenient!
zippyjohanson
on
10/14/2017
I used this app for my recent return from Europe to the USA. The lines for immigration using this app were almost non existent. I breezed through customs and made it to baggage claim in 4 minutes.
It's GREAT!
Wow! What a welcome relief for the returning weary traveler. At MIA it's been working great! Thank you to USCBP for this! #proudtobeanamerican
Zipped right through
TheBanterousMonkey
on
10/13/2017
Just used it for the first time today. Worked great, no paper forms to fill. There was no line for mobile pass. Easy setup and easy to use.
Great app!
bradleychambers28
on
10/13/2017
App works great. It saved me 2+ hours. Signage in Atlanta could be better on the ground though.
Would give 6 stars if I could
G1243576421682367
on
10/13/2017
Only took 2 minutes to clear customs!!! Easy to use and works great.
Great app but keep it secret :)
Bunnylicious1
on
10/13/2017
Fast and easy, but getting more popular so it's no longer the super fast line it used to be!
App works, Border Control doesn't!
brooklyn spuds
on
10/13/2017
I just arrived from Europe today and was dismayed at the glacial pace of the mobile app line! People with paper customs forms zipped through quickly while we took ages - not the way it's supposed to be. And of course, we were greeted by the always-surly agents. I know it can be done better, I just don't believe our Border Control cares one way or the other.
Breezed through customs!
I don'theart radio
on
10/13/2017
We BREEZED through customs at LAX! I completed the form while still on the plane. As soon as I had internet, I submitted it. Receipts showed up immediately in the app. When we got to customs, there was a special line for mobile pass. We were done within 2 minutes!!!! This app was recommended to me by a friend. I'll be all of telling my traveling friends!!
Saves time
johnny jenga
on
10/13/2017
If you travel, this it's the app for you. It is like global entry, but without the expense.
Easy , convenient, and efficient!!!!
Amazing!!!! Always easy! Super efficient and quick! As the use of the app increases the lines become slightly longer depending on time of day but I look forward to a time when more officers can process mobile passport. The use of the app is extremely easy and super convenient!!!
Fact Sheet
Publisher:

Airside Mobile LLC

Category:

Travel

Released:

Aug 11, 2014

Current Version Released:

Oct 10, 2017

Version:

2.6.1

Size:

52.1 MB

Compatibility:

Requires iOS 10.0 or later.

Recommended Age:

4+

Game Center Certified:

No

Supported Devices:

iPhone5-iPhone5, iPadFourthGen-iPadFourthGen, iPadFourthGen4G-iPadFourthGen4G, iPhone5c-iPhone5c, iPhone5s-iPhone5s, iPadAir-iPadAir, iPadAirCellular-iPadAirCellular, iPadMiniRetina-iPadMiniRetina, iPadMiniRetinaCellular-iPadMiniRetinaCellular, iPhone6-iPhone6, iPhone6Plus-iPhone6Plus, iPadAir2-iPadAir2, iPadAir2Cellular-iPadAir2Cellular, iPadMini3-iPadMini3, iPadMini3Cellular-iPadMini3Cellular, iPodTouchSixthGen-iPodTouchSixthGen, iPhone6s-iPhone6s, iPhone6sPlus-iPhone6sPlus, iPadMini4-iPadMini4, iPadMini4Cellular-iPadMini4Cellular, iPadPro-iPadPro, iPadProCellular-iPadProCellular, iPadPro97-iPadPro97, iPadPro97Cellular-iPadPro97Cellular, iPhoneSE-iPhoneSE, iPhone7-iPhone7, iPhone7Plus-iPhone7Plus, iPad611-iPad611, iPad612-iPad612, iPad71-iPad71, iPad72-iPad72, iPad73-iPad73, iPad74-iPad74, iPhone8-iPhone8, iPhone8Plus-iPhone8Plus, iPhoneX-iPhoneX,

Supported Languages:

English;