TapNova recommends this app!
New in version 2.5.0
+ Los Angeles International Airport (LAX)
+ Your passports are now accessible directly in the side menu
+ Minor performance improvements and bug fixes

Your reviews & feedback are important to us. If you like our service, show us some love with a 5-star rating. We are always happy to hear your ideas & improvements – write to flightcrew@airsidemobile.com
Description
The Mobile Passport app speeds you through U.S. Customs and Border Protection at over 20 major U.S. airports and 1 U.S. cruise port.
Officially authorized by U.S. Customs and Border Protection, MOBILE PASSPORT allows travelers to submit their passport control and customs declaration information via their iPhone or iPad and bypass the regular line to enter the United States. This app effectively replaces the traditional blue-and-white paper declaration form required of all travelers entering the U.S. by air or sea.

1. Complete your profile with basic passport information.
2. Answer CBP's questions about your trip.
3. Submit your information UPON YOUR ARRIVAL and get a receipt from CBP.
4. Follow the signs to the dedicated Mobile Passport Control lane.
5. Scan your receipt and show your passport to the CBP officer.

MOBILE PASSPORT service is currently available at:

AIRPORTS:
- Atlanta Hartsfield-Jackson International Airport (ATL)
- Baltimore-Washington Thurgood Marshall International Airport (BWI)
- Boston Logan International Airport (BOS)
- Chicago O'Hare International Airport (ORD)
- Dallas-Fort Worth International Airport (DFW)
- Denver International Airport (DEN)
- Fort Lauderdale-Hollywood International Airport (FLL)
- Houston George Bush Intercontinental Airport (IAH)
- Los Angeles International Airport (LAX)
- Miami International Airport (MIA)
- Minneapolis-St. Paul International Airport (MSP)
- Newark International Airport (EWR)
- New York John F. Kennedy International Airport (JFK)
- Orlando International Airport (MCO)
- Phoenix Sky Harbor International Airport (PHX)
- Raleigh-Durham International Airport (RDU)
- Sacramento International Airport (SMF)
- San Francisco International Airport (SFO)
- San José International Airport (SJC)
- Seattle-Tacoma International Airport (SEA)
- Tampa International Airport (TPA)
- Washington Dulles International Airport (IAD)
- William P. Hobby International Airport (HOU)

CRUISE PORTS:
- Port Everglades (PEV)
with more airports and cruise ports to follow.

U.S. and Canadian citizens (on B1 or B2 visas) are eligible to use MOBILE PASSPORT. Household members who are traveling together may be included in a single submission.

Submissions must be sent upon arrival at the port of entry. Receipts are valid for 4 hours. Receipts may NOT be re-used or transferred.

****YOU MUST ENTER YOUR NAME AS IT IS ON YOUR PASSPORT.
****MOBILE PASSPORT IS NOT A REPLACEMENT FOR YOUR PASSPORT. BRING YOUR PASSPORT!
iPad Screenshots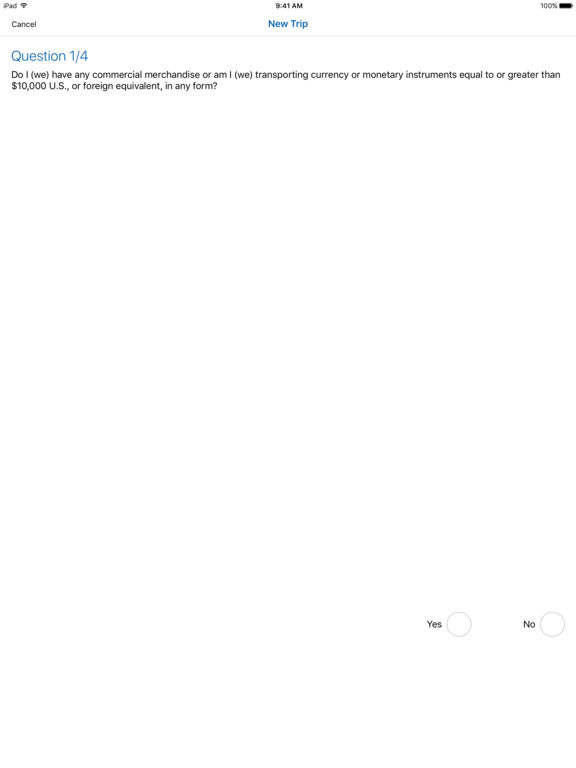 Reviews
Does not work
First time using it. Answer all the questions and it tells me that it can't process my request. Tried couple times and same error. There is no message why it can't process it There is no place to put redress info
Get this app!
This app literally helped me to "breeze through customs" 11/10 recommend if you want to quickly get through customs without hassle
Perfect!
We (3 of us) returned from a cruise out of Port Everglades and were through customs in under 5 minutes! Do note that your receipt is good for 4 hours after you submit and you need have your device not in airplane mode. Once I had the passport info and pictures in, it took under 5 minutes to answer the questions. We will use this again on our next international trip!
Garbage
Horrible..wouldn't work and still required us to wait in a huge line at DIA. Completely worthless
Best Passport Going
Recently returned from an international vacation and compared Mobile Passport to GOES. Mobile Passport was best by far, easier to use and just as fast getting thru customs.
Very fast
I didn't have to wait at all. In Newark the line for Mobile Pass was the same as for diplomats so there was no one in it. Just a quick scan and then through. Very convenient.
You're dumb if you don't use this app
Delayed into DFW from CUN, the flight attendant suggested we download this app. Downloaded the app, scanned the passports, answered the questions and flew through DFW Immigration. If you don have global entry this is a must have. I give this app a 10!
Amazing
Who needs global entry when you have mobile passport for free. Truly incredible how well it worked, I hope no one else adopts it
Zip through customs .
Helfrich's firefish
on
6/24/2017
Awesome way to cut out standing in line.
This App saved me at least an hour at JFK!
RedRiverRanger
on
6/24/2017
You can load your customs information in the time it takes taxi to the gate. Then you save time during the customs process!
Perfect!
I created our profiles before we got on the flight then opened the app and filled out the declarations after we landed. There was a long, slow line at customs but we skipped the whole thing and walked right up to a desk. 👍👍
Zipped through immigration!
Wonder Twin Power
on
6/24/2017
I've used this app 3 times now and each time I've been able to bypass the lines, and get through quicker than the global entry passengers! This last time, arriving in Seattle from the Netherlands, was the easiest time yet. This app allowed me to completely skip the lines and get to baggage claim before anyone else. Highly recommended!
Wow!
Sailed through Fort Lauderdale customs and immigration! Saved an hour!!
Great app!
NatalieCarson
on
6/24/2017
Worked great!
Convenient
So easy to get through customs at the cruise port.
Fast
I was blown away how fast I got through LAX customs today. Took 30 seconds.
Speed through customs
Got through customs very quickly
Works great now
Last two trips, total of 5 minutes in customs, old bugs worked out, must have international travel
Time Saver at Ft. Lauderdale
Used for the first time today at Port Everglades Cruise Terminal. Normal line was huge and we blitzed right out with all of my parties passports in a single app! Definitely recommend
THE BEST APP EVER TO SKIP THE LINES
THE BEST APP EVER TO SKIP THE LINES THROUGH CUSTOMS!! I WOULD HIGHLY ADVISE THIS IF YOUR TRAVELING
Makes customs simple
Almost as good as global entry
Awesome!!!
Matttmwandstuffyolo
on
6/24/2017
Came back from an international cruise and the regular customs line was more than a 30 minute wait and not one person in the mobile pass line. No wait, we zipped through security. Amazing app and easy to download and complete. Highly recommend it.
Saved us so much time
bellevueisbooming
on
6/24/2017
Took me 3 mins to set up. Saved me about 1.5 hrs of wait.
Port Everglades
Used app today on return from cruise on Royal Caribbean. App itself worked great. Only 2 mobile lines open at port, non mobile lines moving much faster. Think it was more user error, we got through very quickly. Would recommend
International travelers dream it is the best app I ever used
I have been flying internationally for 20 years I am so happy with this app. Customs officials are helpful if you can find a directing officer. I saved hours waiting in line. I am so happy with it. Only complaint is not all checking officials have understandings on the app.
Great app
viajera divertida
on
6/24/2017
Returned to a long slow line in customs and jumped at the chance to add this app and we moved out of the line and up front for a quick and simple clearance as we headed home. This will be especially crucial in future travels when making a connecting flight. We made our connecting flight while still in Mexico to avoid snags @ LAX. No need for that any more. Thanks
That was fast!
Worked perfectly. So easy and fast! Can't believe I waited that long to download it.
Helpful app but not a passport replacement
This app helps you get through the customs questionnaire but you still need your passport to get through customs. Can't stamp an app, at least not yet 😉
When it works it's fabulous
I had used it with no problems several times in the past, the second time didn't work, few years back. It was fast an easy to install and to use. My family came back two days before me and it didn't work at the Houston airport. Not sure why. When I came back it worked perfect I was in and out from immigration and customs so quickly that I was able to switch to an earlier flight to my final destination. Not sure why it sometimes does not work. When it works it's great.
Wouldn't work
Last few times I have tried to use the app it wouldn't work. The last time I tried to use it was when we came off a cruise.
Worthless
Unhappy Itunes Customer
on
6/24/2017
This did not speed up customs one bit. We were sent through the exact same line at ORD as everyone else. Uninstalling.
Excellent!!!!
Using this app was the fastest custom check point I've ever gone through at one of the busiest airports in the world "JFK" Literally took less than 1 minute at the counter That is AMAZING!!!!
Madeline
madelinetravels
on
6/24/2017
I had to try a few times before the receipt came up, and I had some difficulty at the end when it was required for another scan, but the lines were shorter and faster. I definitely want to do this on future trips!
App Works Great
I used the app yesterday and worked like a charm. Technology is there but there is still a human dependence on passport verification vs using the details and leveraging facial recognition to zip through.
Awesome
Very good it was a very smooth process and fast.
Amazing
Got through customs in about 30 seconds. The best
Lifesaver
Our flight from Cancun was delayed as we were on the tarmac for over two hours. We finally arrived to IAH four hours after our scheduled arrival. My six year old was sick and my two year old was over it. A friend had told me about the app and I used it. I bypassed the over two hundred people and went up to the front of the line. Made it out in no time at all. Thank you! Thank you! Thank you!!
Amazing! A Must Have.
If you like saving 90min at the customs line while traveling internationally this ap is for you. I've used it twice and have walked past mile long lines like a rock star each time.
Great way to zip through Customs
Beekster1969
on
6/23/2017
Coming back from Mexico, I was faster than my boss who had Global Entry. I literally walk right through customs without stopping to speak with any agent. I felt like something was wrong and looked around several times to make sure nobody was going to arrest me. 😁
Whizz thru Immigration
Farsight2012
on
6/23/2017
Have used it twice now. Each time, I got thru immigrations in under 5min given there is a separate line for Mobile Pass and apparently only a few people are taking advantage of this option. Added benefit is you don't have to complete the immigration form.
Great App
Big Allie 68
on
6/23/2017
A passenger told me about it as we were about to deplane I downloaded it and was able to scan my passport, add a picture and submit the request all before I got off the plane! Then I zipped right through! This made my life a little easier today!!!
Saved us a lot of time at DFW
davidsrosser
on
6/23/2017
Used today fir the first time and zipped through customs in 5 minutes.
Worked today at LAX
Was returning from Mexico today day and the app probably saved me at least 45 minutes. Only drawback was not all the customs agents trained on it. Smooth and effective.
Awesome
Greatest app created ! Love it !
Skip to the front of the line
ImSoAmaZing1982
on
6/23/2017
Mobile Passport makes my Jet-setting life a breeze! You fill out the forms while walking to the Customs area via the app, by the time you make it to the "Mobile Passport" designated line, your probably gonna be next in line. Its that simple. What could take over an hour is now condensed into 10-15 minutes
Fantastic
Through in 5 min!!!
Works as advertised and that's awesome
Wellington00
on
6/23/2017
Does what you hope it'll do - let's you skip to the front of the immigration line, which is awesome esp after a long intl flight.
Awesome
PreacherPhil
on
6/23/2017
Cut through the line. Worked perfectly and it's free. What could be better?
Once you set up, it's great
Setup is a pain. Otherwise it really helps you fly through customs.
Fact Sheet
Publisher: Airside Mobile LLC
Category: Travel
Released: Aug 11, 2014
Current Version Released: Jun 19, 2017
Version: 2.5.0
Size: 39.2 MB
Compatibility: Requires iOS 9.0 or later.
Recommended Age: 4+
Game Center Certified: No
Supported Devices: iPad2Wifi-iPad2Wifi, iPad23G-iPad23G, iPhone4S-iPhone4S, iPadThirdGen-iPadThirdGen, iPadThirdGen4G-iPadThirdGen4G, iPhone5-iPhone5, iPodTouchFifthGen-iPodTouchFifthGen, iPadFourthGen-iPadFourthGen, iPadFourthGen4G-iPadFourthGen4G, iPadMini-iPadMini, iPadMini4G-iPadMini4G, iPhone5c-iPhone5c, iPhone5s-iPhone5s, iPadAir-iPadAir, iPadAirCellular-iPadAirCellular, iPadMiniRetina-iPadMiniRetina, iPadMiniRetinaCellular-iPadMiniRetinaCellular, iPhone6-iPhone6, iPhone6Plus-iPhone6Plus, iPadAir2-iPadAir2, iPadAir2Cellular-iPadAir2Cellular, iPadMini3-iPadMini3, iPadMini3Cellular-iPadMini3Cellular, iPodTouchSixthGen-iPodTouchSixthGen, iPhone6s-iPhone6s, iPhone6sPlus-iPhone6sPlus, iPadMini4-iPadMini4, iPadMini4Cellular-iPadMini4Cellular, iPadPro-iPadPro, iPadProCellular-iPadProCellular, iPadPro97-iPadPro97, iPadPro97Cellular-iPadPro97Cellular, iPhoneSE-iPhoneSE, iPhone7-iPhone7, iPhone7Plus-iPhone7Plus, iPad611-iPad611, iPad612-iPad612, iPad71-iPad71, iPad72-iPad72, iPad73-iPad73, iPad74-iPad74,
Supported Languages: English;