This version of the app is not recommended
App last updated
Jan 19, 2018
Screenshots
New in version 2.26.0
• Bug fixes and performance improvements.
Description
Get the official Google Calendar app for your iPhone or iPad to save time and make the most of every day.
• Different ways to view your calendar - Quickly switch between month, week and day view.
• Events from Gmail - Flight, hotel, concert, restaurant reservations and more are added to your calendar automatically.
• To-dos - Use Reminders to create and view to-dos alongside your events.
• Goals - Add personal goals—like "run 3 times a week"—and Calendar will schedule time for them automatically.
• Quick event creation - Smart suggestions for event titles, places and people save you time when creating events.
• All your calendars in one place - Google Calendar works with all calendars on your device, including Exchange and iCloud.

Google Calendar is integrated with Apple Health to track your workouts and mark Goals as done automatically.
iPad Screenshots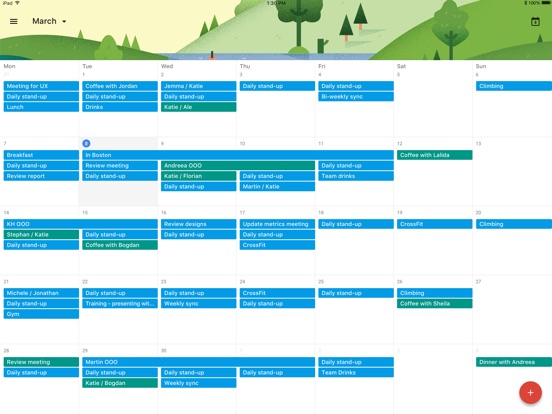 Reviews
problem
an odd thing happens when a calendar appt is shared with someone else - it gets cancelled 24/48 hrs before appt even if they accepted the appt
Slow and glitches
App is very slow. I get the spinning wheel of death very often. Very glitchy on my iPad. Quits often. When it works it's wonderful. But lately it's not been working, despite updates.
PLEASE FIX IT GOOGLE: So disappointed on how buggy it is
I wanted to love this app so much because I love my Google Calendar on my computer. And initially I did love this app because it functioned fine and brought a lot of color and visuals to my calendar which I really liked for organization. However as of the last couple of weeks at least this app has been nothing but a headache. It just freezes up whenever I open it. Then it's completely lagged out. I can hardly ever get to be able to create an event before it just shuts itself down and app disappeared. Every little thing will be logged out. Opening the app and loading it, creating an event, typing each individual letter (which could take 10 seconds before a letter while actually appear), list goes on and on. Now I highly doubt that there is an issue with my phone because I have only a fraction of my memory used and I keep my phone software pretty squeaky clean. I don't even have a lot of videos or photos, and I don't even stream very much. Everything else on my phone functions fine except when it comes to trying to operate this app. Until google fixes this issue, This app is really intolerable and unusable.
What's going on?
I've used this app for a very long time. It's really bad now. It won't even work. It's totally lagging and is ridiculous. What's going on? Supposedly you updated it a few days ago. I think you need to take a second look.
Tasks function
PLEASE ADD TASK FUNCTION ON MOBILE!!! I only use google calendar on my desktop just because it has the task function, and mobile does not. It doesnt make sense. I rely on google calendar to keep my life together. Please make the mobile app more user friendly and more similar to the desktop version !!!!!!!
Lack of calendar sync
Running Deer 12345
on
1/23/2018
I switched to Google calendar over Apple because Google appeared better at syncing events from the Facebook calendar. Now, I'm just noticing that it no longer includes the option to add a FB calendar, and now I have to manually enter anything that I'm interested in attending. How many things have I been missing? I can't seem to find anything online Also, it annoys me to no end that the app will not say today's date on the front like the Apple calendar. It always just says the 31. But Google doesn't care about all of this anyway because I have an Apple product.
No Apple Watch support
Stuart Olivera
on
1/22/2018
Missing support for Apple Watch face
It IS Google calendar, BUT...
This app is horribly glitchy. Freezes, doesn't load, randomly speeds through time (calendar for August 1996?) So much wrong at this point I'm going to have to go back to the Apple calendar. Please fix these problems! Also, the new quick schedule feature slows everything down with bad predictions and confusing screens.
Love calendar but need ...
We really need access to calendar graphics or emojis!!!!
Always crash
No matter I do anything, it just hang and crash.
Ugh
Kate Linebacker
on
1/21/2018
Crashes all the time since the last update
Search
So far it has been great. Able to search for things like doctors, jobs, and other. Able to connect several e nails & platforms.
The Best Digital Calendar
My family has IOS devices and we all use the Google Calendar app rather the native iOS Calendar
Erased all custom settings
GirlFridayJS
on
1/21/2018
Everything I read said this was the BEST calendar app ever, even on iPhone. In an effort to make life easier, I downloaded it. During set up it asked for permission to access my contacts. I granted because I didn't think they would do anything to my contacts list. WRONG. It reset every custom ringtone and text tone for all 4,000+ of my contacts to default. ALL OF THEM! I'm so furious right now. What kind of bullsh-- is this?! Instead of making life easier, it's given me weeks worth of settings to change back to how I like them in my phone. Deleting the app and signing out of all google accounts to NEVER be used again. D*cks.
Great app...but the "31" messes me up sometimes
WhatHappened2thisApp
on
1/21/2018
Hi Google Develops, You should consider making the app cover dynamic to the current day number. The "31" can be a bit misleading and distracting. Thanks! Chris
Not happy
The same thing is happening to me. You can't get your calendar. It goes off on me. It's useless. You chick on it and the circle just keeps going and when it does sometimes opens you calendar it goes out of it.
Great app before recent update
This app is a lifesaver for me and my family but it has become a challenge to use since the recent update. It is very slow or often it will just freeze- usually at the most inopportune times. Please fix it! I'm sure I'm not the only person with this problem.
Doesn't work on my iPhone X
Normally I love this app, but it doesn't now work on an IPhone X. PLEASE FIX.
It Really Brings Life Together
I can link all of my calendars, work, play and life, to one calendar that rules them all. My Precious!
Disappointed
Freezes all the time. Pretty but doesn't count if the app freezes and slows down so much. Going back to default iPhone calendar until I can find a better alternative.
USELESS & SLOW!!
Not sure what is up but used to be a good app now you can't even scroll your calendar or make changes without huge lag and delays.
Crashes constantly
Ann Katherine
on
1/21/2018
Great tool and I hope they get the bugs worked out.
Good app!
everythingistaken_
on
1/20/2018
Very good app, but please add more colors to the calendar! Please more colors.
Good app
If this app had a reminder text message to a contacts or assigned phone numbers it would be everything I want.
Love, true love
Shelbatron84
on
1/20/2018
Don't tell my boyfriend, but I am in love with this app. It is essential in helping me plan my life. Used to be late to everything and—well, actually, I'm still usually late—but I am more aware of my tardiness and working on it. Plus I don't completely forget about events anymore. I also love the colors 😍 My favorite app in existence!
Needs a few tweaks
I want to rate this app five stars. However, there are a couple of annoyances for iOS users that need fixed: 1. The current date should show on the app icon. It's very handy on Apple's calendar and I would think most users would love this subtle, but highly useful fix. 2. There is no Watch app to compliment this. It's very handy for iPhone users with a Watch to get notification on their watch. I'd really love to see this added, and I am sure not alone.
Display enhance features
Hard to read the event names for week view unless in landscape - still tough. The date of month is always 31 on icon of google calendar - would like current date. Apple calendar app icon view is the current number of date. Would be nice to attach an image of an invite. Thank you.
Could be better
My biggest complaint is that the current date doesn't show up on the app icon like the iPhone calendar did.
Used to be my favorite
silvervknight
on
1/20/2018
Google Calendar is indispensable in my daily routine but recently has been slowed to a crawl. Please fix the app!
Icon
Can you update the icon to reflect the current date? Like the apple iPhone calendar
Major Missing Feature
I like the app, but there's basically one thing that's such a huge oversight that I can't believe they haven't fixed it yet. Once a new event is created and saved, you can't change the calendar that it belongs to. Why not!?!? I use google cal heavily for work and need to do this multiple times a day, but I need to go to another app to do this. It's infuriating. Update 1/19/2017 - How is it possible that they've issued multiple updates to this app without addressing the issue above. This makes an otherwise great app very, very hard to use. PLEASE FIX. Reduced by a star until this gets fixed.
Google Calendar Good Planning Tool
Find the above "user friendly ", easy to find items on a monthly basis. Really like how entries are color coded, including holidays.
This used to be a favorite
This used to be a favorite. The most simple of apps but it became essential to me. And now, with every software update, it ceases to work like it should: freezing, not coming up on the wrong date, etc. when things cease to work and disappoint me, I search for something that does work.
Okay, but need improvements
Its pretty good, and like the schedule view, but hate that I can only have reminders sent to my email, not phone. If I don't read my email, or go into app, I won't see reminders
Love the Google Calendar
johnlaujolind
on
1/20/2018
It's the main tool I use for my business. I have been using it for eight years, and it gets better with each upgrade/revision.
Helpful so so helpful
This app is probably, if not, my best app because it helps me know what me and my family are doing today and the week.
Question
I'm loving the calendar but is there anyway that the icon can reflect today's date? That would be helpful. I'm used to being able to glance at my phone to see the date. Thank you!
My Life evolves around it
Cannot live without Google calendar!
Game changer
Coloradokayla58
on
1/20/2018
I've tried other calendars but I just love this one so much nothing else compares. I love the different color options so at a glance I know who in my family has something going on that day. I love that I can add addresses and reminders to leave on time. I love inviting people to events. I love the layout, I love the look, I love everything about it. You go Glenn Coco
Need appointment time invites
I love this calendar, however, the ability to select times I am available for appointments and send a link for clients to select a time convenient for them would make it extremely valuable.
Family together
My whole family is able to see or add to the calendar.
Love it.
Fattykins2340
on
1/20/2018
I use it to run my business.
Great Calendar App
Use this app all the time. Love the graphics you've added for hair appts and doc appts/dentist appts. Suggestion: would love it if the widget icon would show the current date instead of the #31 that is stationary. It would be a more helpful app having the current date always on the entry widget/icon/appearance button. Also, it would be a neat feature to be able to attach photo or photos of my own to events. Side note: love that I can attach Google Maps to event locations...awesome! Thanks for listening and thanks for a great calendar 😊
Five stars all around
Bruh I love this app so much I even deleted the calendar app on my iPhone. You log into your Google account and it's synced anywhere. What more can you ask for? Perfection.
Best calendar app
This is the best calendar app I've ever used. I have been using it for about three years with no problems at all. I love that I can color code the entries and that I can set multiple reminders for events. It's easy, it works and it's free.
If it could only show the actual date
I realize it may be an apple issue but if you could display current date on the icon I would get rid of Apple's calendar app
Good app but with issues!!
New York-Google maps
on
1/20/2018
This calendar is good, however, it has several issues. I don't like the fact that when you are looking at the calendar for certain month, it shows half of the month all together!!!!! Second, when I try to search for an event which happened a year before , it'll display "not found" if you ever fix those issues, i'll give it a five star.
Not functional for a team application
Erniesfriend
on
1/20/2018
I tried and tried to find a way to use this app for my team. I even asked for support from Google, with no response whatsoever. I figured out a workaround so my team could use it, but Google "upgraded" the app so my "fix" no longer works. Fortunately, I found another app that works PERFECTLY for my team. No thanks, Google, especially for the lack of response.
Too cutesy - redesign graphics
Rules Lawyer
on
1/20/2018
Layout and graphics are annoyingly cute and lack professionalism of Outlook. Functionality is still just OK. Too hard to enter quick entries.
App opens->freezes
Studysmart12345
on
1/19/2018
This app is the worst. It opens and then freezes and I have zero access to view events on different times and days. The only reason I like this app better than the calendar app on the iPhone is that the event sync is extremely quick and vital when you share a calendar. Otherwise this app is awful.
Fact Sheet
Publisher:

Google, Inc.

Category:

Productivity

Released:

Mar 10, 2015

Current Version Released:

Jan 19, 2018

Version:

2.26.0

Size:

135.3 MB

Compatibility:

Requires iOS 9.3 or later.

Recommended Age:

4+

Game Center Certified:

No

Supported Languages:

Bulgarian; Catalan; Valencian; Croatian; Czech; Danish; Dutch; Flemish; English; Finnish; French; German; Greek; Hebrew; Hindi; Hungarian; Indonesian; Italian; Japanese; Korean; Malay; Norwegian; Polish; Portuguese; Romanian; Moldavian; Russian; Chinese; Slovak; Spanish; Castilian; Swedish; Thai; Chinese; Turkish; Ukrainian; Vietnamese;