Screenshots
New in version 2.12
• Bug fixes and performance improvements.
Description
Get the official Google Calendar app for your iPhone or iPad to save time and make the most of every day.
• Different ways to view your calendar - Quickly switch between month, week and day view.
• Events from Gmail - Flight, hotel, concert, restaurant reservations and more are added to your calendar automatically.
• To-dos - Use Reminders to create and view to-dos alongside your events.
• Goals - Add personal goals—like "run 3 times a week"—and Calendar will schedule time for them automatically.
• Quick event creation - Smart suggestions for event titles, places and people save you time when creating events.
• All your calendars in one place - Google Calendar works with all calendars on your device, including Exchange and iCloud.

Google Calendar is integrated with Apple Health to track your workouts and mark Goals as done automatically.
iPad Screenshots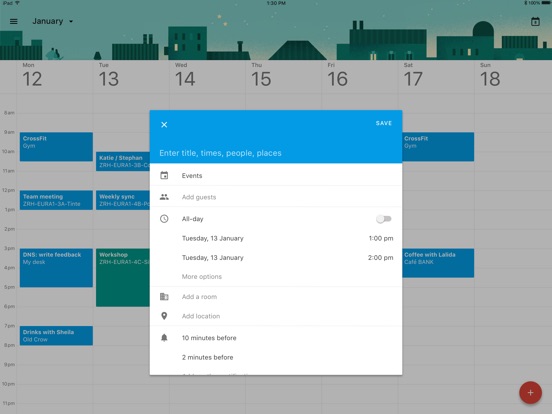 Reviews
Won't open all the way
Secrets8805
on
10/16/2017
The App won't open all the way, I'm constantly closing it 3 or 4 times just to get all my reminders and appointments to show.
Great app!
I love this app but the only downfall to it right now is it will not turn on holidays no matter how many times I click the box
No access to tasks
Pope in the woods
on
10/15/2017
I'm pretty adept at finding my way around apps and I can't seem to access the tasks I added to my calendar on my laptop. This is either a silly lack of compatibility or some terrible user interface design. Either way let's get this fixed eh?
One issue
Hsjjebve evic
on
10/15/2017
It really bothers me that the app icon doesn't show what day it is the way the normal iPhone calendar does
It's great!
The beat apps to organize events and appointments. One problem is there, there is a option yo send mail for birthday wish, but can't send sms from apps directly. Hope you will add this option.
Show date on app icon
JjhabfijbVc
on
10/14/2017
I love that apple calendar has the date on the app icon. Please do that is good.
Calendar icon should show the date!
Dancing 247
on
10/14/2017
I love this app. Switched to it from apple calendar. But is it just me, why does the icon always show "31" and not the real date?!? Seems so obviously overlooked.
Needs dynamic icon
I was really interested in switching from iOS calendar to Google calendar as my main app - but the fact that the icon has the number 31 always on it, is quite frustrating. I'm used to having the actual date (today's) like in iOS - and this is a known issue. Even if they had an icon instead of a number, it would solve some issues... please fix. I switched back to using iOS native. Thanks. (Many others have complained about this issue too.)
GOOGLE CALENDAR
I LOVE THIS CALENDAR!!! 😎👵💕❤️🌈
Not a fit for my lifestyle
Sorry, Google, the calendar screenshots on your info page are just not "me." Kandinsky exhibit? Naw, man, I'm a Matisse guy. Flight to Dubai through LHR? Whatevs! I always go direct to the middle east. And I have no time for "Vintage clothes faires." Too busy hitting up the Farmers' markets.
Crash Monster
This has to be one of the most buggy apps I have ever installed. I am compelled to use it because my job posts my daily tasks on Google Calendar. I really like the functionality of going from calendar to maps to see where I am going. That is, if it does not crash or lock up. Update Oct 2017: I have been running this on an iPhone 6+. This app still takes the cake for bugs and crashes. It works 100x better on an iPad, but for my iPhone, it is hopeless
Struggling college student
Always honest dan
on
10/12/2017
This app is saving my life. God bless
Not Responsive
Every other time I open the app it stops responding. It is just frozen on whatever I had last looked at. Even when I force close the app and restart it is sometimes frozen.
Fading feature is gone and it is buggy
1) I love the app although, the past schedules are not fading away like it used to. This has caused me some confusion and I hope it gets fixed soon! 2) I cam not able to access the calendar while I am in the phone with someone. I sometimes want to check my schedule immediately while I speak to people to make appointments. The app worked fine before the update but now it is not.
Nice calendar!
Would love to see Apple Watch support.
My favorite App
Amanda Colp Itunes
on
10/11/2017
I LOVE LOVE LOVE google calendar. My husband can add all his appointments I can add mine and the kids al color coded and everyone can see everything. It's awesome. I love it.
Ew
So over crowded and small. Even the weekly view is so crammed you can't make out any schedule patterns. Also the aesthetic part- it's chunky and very android. I don't like it.
Good app
Paul WS. Makonnen
on
10/10/2017
I recommend it for everybody.
Change the date!
I really enjoy the app, but so wish that it would change from the static "31" to actually give you today's date! Is that too much to ask?
Not usable
Pw henderson
on
10/10/2017
I got 3 audible announcements of my appointment this morning. There is only 1 listed in the event. And audible notifications are toggled off. Bad coder oversight will be the end of Google.
Fix the Icon to include Date!!!!
Fix the Icon to include Date!!!!
App icon
Would be better if Ivón showed the actual day date..other then that it's better then stock iOS calendar..
Show the date on the icon
DemFranchiseBoyz
on
10/9/2017
App icon should show the current date instead of the #31. Pleaee make this update.
Great app but!!!
I would like the app icon to change to the current date. This is the only reason why I don't use this app 100% of the time. I just want to look at the home screen and see the current day of the week. Mine is stuck on 31. Please change this and then get 5 stars. Other then that great app.
Keeps crashing
It's great that everything syncs but the app continuously crashes. All the features go to waste if a user can't open the application. This became a recent issue and has only gotten worse.
Won't open
Pediatrixjlr
on
10/9/2017
App worked until last two updates. Now it won't open on iPhone.
Love it except for "31"
My favorite attribute is the month view. My family can also see my calendar. The "31" on the app icon bugs the hell out of me. Please, Google, put the current date on the icon.
Change the date!
Gator family man
on
10/8/2017
This calendar is fantastic except for one glaring flaw. CHANGE THE APP FACE TO TODAYS DATE! It's the most basic function of the app and is the major difference between this app and the iPhone calendar. Please find a way to incorporate this into the next update.
Add Watch Complication feature or similar
I would love to use Google Calender on my Apple Watch instead of using the IOS calendar as the default. My calendar on my watch face is my most used feature, and I would love to be able only use Google Calendar on my laptop, iPhone, and Apple Watch!
Need to see a real calendar
Maybe It's there somewhere but I never could find a real calendar which I must have . Because of this I uninstalled it
Stuck showing "1" push notification
Drove me to madness... Happened every day... no unread email, yet still showed as 1 notification on the home screen. Froze sometimes, too. Waste of time; had to uninstall.
Love it when it works!
Christymonster
on
10/7/2017
I use gcal for work and when I try to look at other calendars it just doesnt load. Even my own calendar won't load!
Big feature missing
Orlando Review
on
10/6/2017
Need to be able to move/copy events from one calendar to another.
Great app
Twinsmom92207
on
10/6/2017
This is a great calendar app that works very well to consolidate all my different calendars in to one place. Only this is I wish the app button showed the actual date instead of always showing 31
Dynamic App
sravankumar610
on
10/5/2017
Come on.. Google.!! U can do better. How many days that date will be 31. Please change it to dynamic app.
None of my events showed up
Even though I gave google calendar access to my default calendar and contact's, none of my events or birthdays show up in Google calendar. What a waste. Deleated that Turkey app.
Calendar
PushModelRocks
on
10/4/2017
Easy to navigate !!
Very convenient
I had a busy schedule and I love this calendar helps me connect with co-workers to help coordinate appointments with out clients
What happened to my lock screen widget?
I'm so sad. The update removed it. :'( Edit: It's back!! :D 5 stars, my dudes.
My/Our life line
I would be lost without this!!!My husband has cancer treatment and it hasn't failed me yet.
Support, please, help me. Can't use it normally because of bug!
It's good app. But there is a bug: giit notifications alert set to SMS. And every time it's using as default easy of reminders. Try to send feedback to support 3 times, but nobody answer. Please solve this annoying issue and feel free to contact me.
Horizontal Weekly Calendar View
I was using another calendar that had a great horizontal Weekly calendar view. Definitely awesome!
Need more colors and customization options
APZipsofacto
on
10/3/2017
Appointment colors too limited and can't be renamed.
It's great
It always reminds me and has a great set up
No invitees
After updating I don't have the option to invite or share events on calendar.
I WOULD love this app IF...
you guys could just make the front picture of the app reflect today's date!!! it's super annoying to have to open it every single time i want to check what today's date it.... please!!!!!! it should not show 31...
Just ok
Actual day of month should be the icon as sometimes that's the only info I need, but am forced to open it to see. Should be able to edit calendars after event is saved. Adding events is clunky. Do not need all the predictive options. It's better than calendar that comes with iPhone. Could be better.
Not the easiest to use
Not the easiest to use.
Reliable organizer
I don't know what I'd do without it. Easy to use. A calming affect in my life. There are two people in my family who I can't convince to use this. Of course they forget things so i have to remind them.
The date
The calendar is fine. But could the people at google please allow the closed app to show the date. Thank you.
Fact Sheet
Publisher:

Google, Inc.

Category:

Productivity

Released:

Mar 10, 2015

Current Version Released:

Oct 14, 2017

Version:

2.12

Size:

127.2 MB

Compatibility:

Requires iOS 9.3 or later.

Recommended Age:

4+

Game Center Certified:

No

Supported Devices:

iPad2Wifi-iPad2Wifi, iPad23G-iPad23G, iPhone4S-iPhone4S, iPadThirdGen-iPadThirdGen, iPadThirdGen4G-iPadThirdGen4G, iPhone5-iPhone5, iPodTouchFifthGen-iPodTouchFifthGen, iPadFourthGen-iPadFourthGen, iPadFourthGen4G-iPadFourthGen4G, iPadMini-iPadMini, iPadMini4G-iPadMini4G, iPhone5c-iPhone5c, iPhone5s-iPhone5s, iPadAir-iPadAir, iPadAirCellular-iPadAirCellular, iPadMiniRetina-iPadMiniRetina, iPadMiniRetinaCellular-iPadMiniRetinaCellular, iPhone6-iPhone6, iPhone6Plus-iPhone6Plus, iPadAir2-iPadAir2, iPadAir2Cellular-iPadAir2Cellular, iPadMini3-iPadMini3, iPadMini3Cellular-iPadMini3Cellular, iPodTouchSixthGen-iPodTouchSixthGen, iPhone6s-iPhone6s, iPhone6sPlus-iPhone6sPlus, iPadMini4-iPadMini4, iPadMini4Cellular-iPadMini4Cellular, iPadPro-iPadPro, iPadProCellular-iPadProCellular, iPadPro97-iPadPro97, iPadPro97Cellular-iPadPro97Cellular, iPhoneSE-iPhoneSE, iPhone7-iPhone7, iPhone7Plus-iPhone7Plus, iPad611-iPad611, iPad612-iPad612, iPad71-iPad71, iPad72-iPad72, iPad73-iPad73, iPad74-iPad74, iPhone8-iPhone8, iPhone8Plus-iPhone8Plus, iPhoneX-iPhoneX,

Supported Languages:

Bulgarian; Catalan; Valencian; Croatian; Czech; Danish; Dutch; Flemish; English; Finnish; French; German; Greek; Hebrew; Hindi; Hungarian; Indonesian; Italian; Japanese; Korean; Malay; Norwegian; Polish; Portuguese; Romanian; Moldavian; Russian; Chinese; Slovak; Spanish; Castilian; Swedish; Thai; Chinese; Turkish; Ukrainian; Vietnamese;