Screenshots
New in version 2.18
• Bug fixes and performance improvements.
Description
Get the official Google Calendar app for your iPhone or iPad to save time and make the most of every day.
• Different ways to view your calendar - Quickly switch between month, week and day view.
• Events from Gmail - Flight, hotel, concert, restaurant reservations and more are added to your calendar automatically.
• To-dos - Use Reminders to create and view to-dos alongside your events.
• Goals - Add personal goals—like "run 3 times a week"—and Calendar will schedule time for them automatically.
• Quick event creation - Smart suggestions for event titles, places and people save you time when creating events.
• All your calendars in one place - Google Calendar works with all calendars on your device, including Exchange and iCloud.

Google Calendar is integrated with Apple Health to track your workouts and mark Goals as done automatically.
iPad Screenshots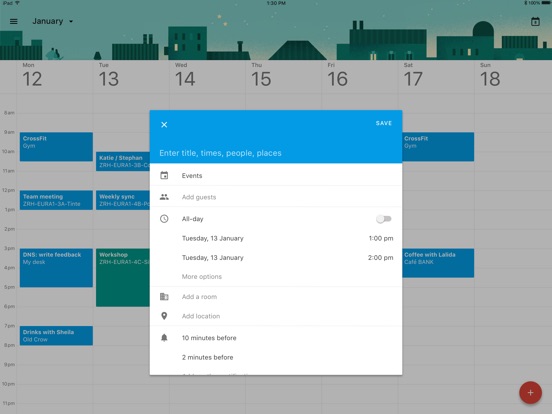 Reviews
Optimized for iPhone X
Thanks
Good but still have questions
TheAutoAlly
on
12/11/2017
How can me and a family member share the same calendar for events??
A Lack of iPhone X Support
I love using Calendar to manage my calendar, but the improper iPhone X support has me considering other alternatives. The main reason for this is that the new event button is much too close to the bottom bar, in that it overlaps it almost.
No support for iPhone X
It is incredible that such an important app has not yet updated to fit the flagship iPhone of 2017. Gmail and most of the Google apps have already been updated.
Add copy paste feature
hawlettjames
on
12/11/2017
I would like to copy an event or task. If google add this feature then it would be super helpful
Love(d) this app!
black_mystery
on
12/11/2017
NEEDS AN UPDATE FOR IPHONE X. I love using this app and being able to then access my calendar from any device that has WiFi, BUT I recently got the iPhone X and it bothers me how other google apps have been updated to use the new full front face screen, but calendar hasn't :/.
Reminders need help.
Chuy @ Sacramento CA
on
12/11/2017
Your reminders alert need help.
Just came to iPhone X from Google Pixel
Alfonzo McGeegerson III
on
12/11/2017
I use Google everything except my phone now. Please update to take advantage of iPhone X screen ratio. Will change when updated
Fonts
Teenmusicbeautydance
on
12/11/2017
Give us font options.
Waze
FormerNewYork
on
12/11/2017
Bring back the Waze integration! Great app but now I'm back to copying and pasting the address instead of one quick click to start my drive.
Love It
Absolutely love this app to keep all my bills and appointments organized. One thing I wish would be added is push notifications for reminders. This would push the app over the top
Please update for iPhone X!
Monstermash54321
on
12/9/2017
The bars are annoying
Polished in what it has, but lacks some stuff
█ I would want a "month+scrolling schedule" view; I've seen "month+selected day schedule" in the default Apple Calendar, it's nice; but being able to scroll to other days in the schedule without having to tap the specific days would be a great addition █ Something you can do on web but not the app: 1) Add/Remove/Edit sub-calendars of the account 2) Holiday calendars are all mixed together, at least on web you can have different colors! █ Reminders do not sync across devices! █ What is the point of reminders if I am not going to get any kind of notification/reminder about them!
Not good for the avid traveler
Google calendar is nice because it puts events from your email directly into your calendar, especially for flights. It's easy to use, but if you travel there is a major flaw that will frustrate the living hell outta you. When you put things in your calendar, it automatically resets them to the time zone you're in. I live abroad in NZ for school and have events planned for when I come home for Christmas, however in my calendar my 7 pm on Tuesday even shows up as a 2 pm on Wednesday. Even distinctly telling the phone, it's in a different time zone. It doesn't let you keep it at the time it's supposed to be. There is no way to set it so that I can put my events in and it will keep there the time I want regardless of time. I'm trying to plan things for when I go home and my calendar is all messed up, it makes things in a different time zone impossible to plan
Please add iPhone X support
Please add iPhone X support. This is the best calendar app for iPhone, but still missing IPhone X support!! So, only 4 starts.
Date on App Icon
The only reason I keep the phone default calendar app is it has the current date viewable on the app icon itself. Would love to see this feature on google calendar then I could get rid of one calendar.
Love the interface
I love this calendar app more than the stock iPhone calendar as it gives a nice visual on upcoming events. The only downside is that it will not let me switch an event from one calendar to another, it instead locks the event to which ever calendar you assigned it to. The the iCal stock app allows that functionality. It's a minor annoyance but I hope someone looks into it and changes it.
Spinning circle of death
Most every time i open the app it spins this circle forever and my google calender never comes up.
Apple Watch
Only thing missing is a good Apple Watch complication!!
iPhone X Support please!
Ke'Von Morrow
on
12/7/2017
Black Bars are annoying!
Please update for iPhone X
Hopefully they will update for iPhone X. The app keeps crashing on iPhone X.
Great app
It would be great if you can change calenders for events instead of having to delete the event and add it to another calendar. It also needs native iPhone X support It's a phenomenal app otherwise!
Calendar constant freezing
Last few updates for iOS have rendered the calendar useless. Constant freezing on every attempt to open.
Receiving Calendar Invites
Phillysdon04
on
12/6/2017
I love Google Calendar but I hate that I'm unable to receive invites on my iPhone easily. Outlook calendar invites goes to my default calendar with no problem.
One minor detail
I am a huge google-apps guy. They keep me well organized regardless of what device I'm on, and I love them dearly. One thing that I'd like to see be fixed on the calendar app is the ability to specify WHICH calendar when creating an event. If you're someone who manages multiple calendars all together, it can be frustrating when making a new event on your phone and having it default to the general calendar when you need it on a specific calendar.
So close.
This would be the perfect calendar app. If only the date shown on the icon was the current date. Didn't the ability to dynamically change app icons get added in iOS 10.3?
Can They Do It or has common sense been deleted?
I have Google everything... If Google made Google underwear... I would have the beta version. But this app annoys me for one simple reason... The app always shows the 31st. I think they under estimated how many iPhone users look at the app to get the date. Its very convenient to check the app with the time being also on top of the screen. For some reason they will not make it a dynamic app that updates its preview daily... Even though this app in particular and out of all their other apps... Is focused on date and time. They just refuse to fix it and take great joy in annoying us with their oversight. It is as if we should rename this app Google Bothersome or Google Annoy or maybe even Google Cmoooon Man. How did the app work you ask? I don't know as I refuse to open a calendar app who can only get the date correct 8 days a year.
Almost perfect
It still need to be resized for the iPhone X screen.
iPhone X support?
Google is too large of a company to need this much time to incorporate the iPhone X screen size.
Never alerts me
NotUrAverageRobot
on
12/5/2017
Broken. It's been broken. It will never work with the alerts I set. I have missed so many appointments. Even if I put two alerts, allow cellular and background app refresh, persistent notifications for the app, I still don't get any alerts that I set in the calendar. I am deleting this app and buying a paper calendar.
no iPhone X support after 6 weeks
what's the deal Google?
It doesn't show the real date on the icon
YarnArchitect
on
12/5/2017
I find it annoying that it shows a generic "31" on the icon instead of the actual date like the default calendar. Some days I don't know what day it is and to have to open the app to see it is frustrating. Deleted and went back to the regular calendar
Google Calendar
The Google Calendar is the easiest calendar I've used makes things so simple. I just would love for it to fit my iPhone X display instead of having the black bars. Keep up the awesome work Google! Please update the App. 😀
Wow...
I don't normally write app reviews often, but wow this calendar is everything this ADD person needs to stay organized. It seamlessly works with my work and personal calendars and has a simple yet amazing layout. Where was this years ago??
Icon Day not showing
Everything works well but the correct date is not showing on the icon. It appears that the App is not a dynamic icon. That is, it is just a logo of Google calendar and not programmed to change with the date. So the icon shows "31". Really!!! Major inconvenience for me. Delete!!! Jonathan
Love......d it!
Got Google calendar on iPhone but the refresh button is not in the top Rh corner like Android and can't figure out how to refresh my calendar
App doesn't download to iPhoneX
Doesn't download. Always fails
Amazing Organization and Format!
Slow Loris 09
on
12/3/2017
This app is absolutely incredible. You are able to organize all your events, reminders, and goals into one location. The app is beautifully visually appealing and has an impressive assortment of functions. I recommend it to all and especially when it is linked to a computer—if there was one thing I could improve, it would be to have all the computer functions in the app.
ok
xxhatsunelukaxx
on
12/3/2017
👌🏻
What happened?
Julia_Rose_90
on
12/3/2017
All of a sudden the app crashes and starts re-downloading itself on time my phone every time I try to open it, education takes forever, or never finishes. It's become functionally useless. What happened????
How about iphone X optimization?
I recently started using an iphone and I am so disappointed with google's products as their functionalities seem so limited compared to their Android versions. Anyhow, as a long term android user I am very much inclined to using many Google services and wish to cling to them. Please optimize the app for the iPhone X display and take my 5 stars
Now crashes/hangs
On my 6s, iOS 10.3.3, it hangs on the calendar view when I open it. Have to re-open several times to make it responsive.
Excellent calendar
What iOS should have. Great monthly view. Easy to use.
Don't waste your time with Google Calendar App
Online/Conputer version is great. App if horrible. Don't waste your time with the app unless you only want to visually see your appointments. Entering is worthless. I'll only state two issues: 1) You can't copy and paste and event/appointment on the app. You can only move it. So if you're entering an appointment that you've had before you have to re-enter all the details from scratch. Waste of time. You can do this directly in google via a computer, but the feature is not available on the app. 2) People that need a calendar app are typically busy people with multiple parts of their lives. It's great the google allows you to create multiple calendars for different activities. However you can only do that online via a computer. When you create an event/appointment in the app there is no option to decide which calendar you're creating the event for. I could go critique the app some more, but these 2 features, which are easily done if you have a computer and are signed into google, do not carry over to the app. They are essential features. Soo essential and intuitive that when you first get the app you send lots of time looking for where the features would be because you would never think that they don't exist on the app. You literally find yourself scratching your head as to why the features aren't there. It basically renders the app as just a tool to view your events and nothing else.
They don't both to implement split screen for iPad...
They don't both to implement split screen for iPad...
Current month does not display
Hikerlikergp
on
12/1/2017
I loved this app until recently, when it stopped displaying the current month. It shows prior and future months but in the current month the icon just spins. If you select any day you can scroll through the month but I prefer to see all the days at once so I can easily see my schedule.
Add Drag and Drop please!!
It's the only thing missing!!
Five stars if.......
Would love if the App face would display actual date. So far that Is the only thing I've found. Calendar works great and I love the ability to customize repeats, reminders, and occurrences. Top notch
iPhone X
Music_Guy__
on
11/30/2017
Please update for the iPhone X. Also, it takes forever to start up, which is frustrating when I'm running to a meeting
Who is rating this app?
Stacywinston
on
11/30/2017
I've used a calendar app for years that just decided to create a new app that costs more. So I defaulted back to google's app. It wasn't good to begin with, but this one is way worse. Creating a new entry is the least intuitive way to do it. Takes way to long. In the week view window, tasks are written so strange. I would pay double what I paid for my last calendar app to never use this again. O N E L E T T E R A T A T I M E
Fact Sheet
Publisher:

Google, Inc.

Category:

Productivity

Released:

Mar 10, 2015

Current Version Released:

Nov 18, 2017

Version:

2.18

Size:

132.8 MB

Compatibility:

Requires iOS 9.3 or later.

Recommended Age:

4+

Game Center Certified:

No

Supported Devices:

iPad2Wifi-iPad2Wifi, iPad23G-iPad23G, iPhone4S-iPhone4S, iPadThirdGen-iPadThirdGen, iPadThirdGen4G-iPadThirdGen4G, iPhone5-iPhone5, iPodTouchFifthGen-iPodTouchFifthGen, iPadFourthGen-iPadFourthGen, iPadFourthGen4G-iPadFourthGen4G, iPadMini-iPadMini, iPadMini4G-iPadMini4G, iPhone5c-iPhone5c, iPhone5s-iPhone5s, iPadAir-iPadAir, iPadAirCellular-iPadAirCellular, iPadMiniRetina-iPadMiniRetina, iPadMiniRetinaCellular-iPadMiniRetinaCellular, iPhone6-iPhone6, iPhone6Plus-iPhone6Plus, iPadAir2-iPadAir2, iPadAir2Cellular-iPadAir2Cellular, iPadMini3-iPadMini3, iPadMini3Cellular-iPadMini3Cellular, iPodTouchSixthGen-iPodTouchSixthGen, iPhone6s-iPhone6s, iPhone6sPlus-iPhone6sPlus, iPadMini4-iPadMini4, iPadMini4Cellular-iPadMini4Cellular, iPadPro-iPadPro, iPadProCellular-iPadProCellular, iPadPro97-iPadPro97, iPadPro97Cellular-iPadPro97Cellular, iPhoneSE-iPhoneSE, iPhone7-iPhone7, iPhone7Plus-iPhone7Plus, iPad611-iPad611, iPad612-iPad612, iPad71-iPad71, iPad72-iPad72, iPad73-iPad73, iPad74-iPad74, iPhone8-iPhone8, iPhone8Plus-iPhone8Plus, iPhoneX-iPhoneX,

Supported Languages:

Bulgarian; Catalan; Valencian; Croatian; Czech; Danish; Dutch; Flemish; English; Finnish; French; German; Greek; Hebrew; Hindi; Hungarian; Indonesian; Italian; Japanese; Korean; Malay; Norwegian; Polish; Portuguese; Romanian; Moldavian; Russian; Chinese; Slovak; Spanish; Castilian; Swedish; Thai; Chinese; Turkish; Ukrainian; Vietnamese;