TapNova recommends this app!
New in version 2.7.0
• Drag & Drop - easily reschedule events, reminders and goals directly from day, 3 day and week views.
Description
Get the official Google Calendar app for your iPhone or iPad to save time and make the most of every day.
• Different ways to view your calendar - Quickly switch between month, week and day view.
• Events from Gmail - Flight, hotel, concert, restaurant reservations and more are added to your calendar automatically.
• To-dos - Use Reminders to create and view to-dos alongside your events.
• Goals - Add personal goals—like "run 3 times a week"—and Calendar will schedule time for them automatically.
• Quick event creation - Smart suggestions for event titles, places and people save you time when creating events.
• All your calendars in one place - Google Calendar works with all calendars on your device, including Exchange and iCloud.

Google Calendar is integrated with Apple Health to track your workouts and mark Goals as done automatically.
iPad Screenshots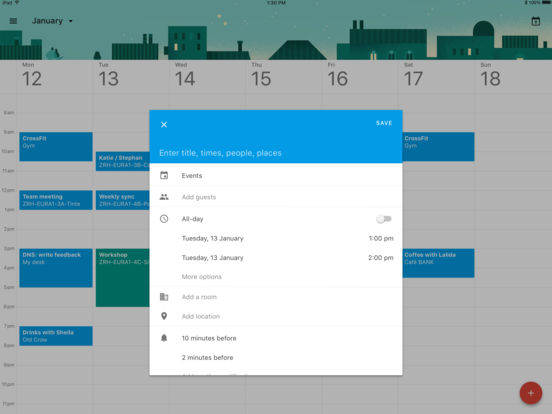 Reviews
FINALLY DRAG AND DROP!!!!
Serendipity24
on
8/17/2017
Drag and drop was missing for years but it is there now. THANK YOU!!!! Next feature to be added needs to be "tasks". Another one is to be able to extend or reduce the duration of an event by dragging. I can tell that resources have been allocated and this app will now be improving at a fast pace.
Great app
Great app but could you please add option to make the date appear on the badge app icon. Thanks
Fits all your needs
Amazing app. Fits all your requirement.
Love it!!
This is fabulous and helps so much with 2 offices and a busy schedule!
Pretty good
Three.OneFour
on
8/14/2017
Helpful for syncing multiple google calendars. But something happened after the last update & I can no longer edit a calendar event to switch it to a different calendar. Which is annoying. Also, I'd like to choose the location image. I'm pretty sure I used to have that ability. But now it's either a preselected image (I don't know where it's from probably Yelp) or no image. When my location is an address & not a business, the image is its pin on a map. That's fine, even helpful. I'd like to be able to choose the map image over somebody's dumb photo of a half-eaten croissant.
Love it!
I love google calendar and have been using it regularly for years. The only thing I wish it would do would be to let the app's icon reflect today's date.
Awesome, but NEEDS an Apple Watch app
ipodtouch1234567890
on
8/13/2017
Please make an Apple Watch app soon!!
Touch date to add event doesn't work
Love this app but the one thing it needs to do well is to add an event. My phone works perfectly in every app but tapping the day to add an event on this app doesn't work.
Suggestions
1. Why can't you drag & drop all day events? 2. Why can't I search my entire calendar all the way back to the beginning of time? I should be able to find events form a year ago, etc.
A great product!
Really enjoying the google calendar. It has made it so much easier for my husband and I to keep track of our busy schedules!
Sync
Love how it syncs across all my devices.
Perfect... except for one big thing
The app version of google calendar doesn't allow you to add an event to a specific calendar. Very frustrating
Awesome
My fave calendar app
Semi Organized
Semi Organized
on
8/13/2017
I love the calendar and I depend on the reminders. Very helpful for my busy life.
Google Calendar
If this app could merge with my calendar app on my iphone-this app would be smoking HOT!
Best calendar!
Easy to use. FREE.
Cannot live without google calendar
This is a necessary and an outstanding tool that I have been living with for many years now and cannot live without it. Helps me plan my one of and recurring events, pay bills, remind me of actions due and much more.
Very versatile and reliable
This calendar sets the bar for a perfect calendar. I use gmail and chrome alone with it. I am able to import calendars from work, my kids sports teams, and have flights and hotel reservations automatically place themselves on my calendar. I can't live without it.
Google calendar rocks!
horsevetcolorado
on
8/13/2017
I'm not one who uses every app and I don't like change. But Google calendar is super user friendly and I can look at multiple calendars with the click of a button. I can be out riding a horse and if a client calls, easily book them an appointment. Great app!
I I love the simplicity of the interface and agenda view.
I love the agenda layout and simplicity of the interface. The only thing it needs to improve is access to settings in the mobile app. Currently that is only available in the desktop version.
Excellent app. Far better than generic that comes on iPhone.
Fantastic!!
Love it
This is the only calendar I use and I'm able to share it with my husband and his calendar and then we have a shared calendar we use. I can use it on my mobile and on my laptop. It's perfect
Great product
If only the icon on the home screen showed the current date!
Helpful
Really am enjoying how helpful this has been in helping me keep my schedule in order.
Good calendar
The calendar is good but needs improvements if you want to print it out.
Go to calendar app
Essential tool for daily living, for work and play. Use it for events, reminders, setting goals.
Convenient calendar with enough functionality
Happynoteuser
on
8/13/2017
I do everything Google if possible. This calendar is the perfect image to my desktop--colors, reminders, invite guests, etc. syncs and shares nicely too.
Love my calander
Princess shopper
on
8/12/2017
Love to share with my family. Easy to use.
Great calendar
Love this calendar. Especially since it works seamlessly with Amazon Echo.
Great App!!!
Segunnatural
on
8/12/2017
This is a must-have for everyone. It easily integrate to every other apps. It has all the necessary capabilities to ensure it's outstanding usefulness.
Only calendar needed
Great multifunctionality
Super helpful
Ahfownscaufogm
on
8/12/2017
It communicates directly with my laptop computer with no lag! I also love the ability to create as many different calendars as I want
Great Calendar
69bigblockhead
on
8/12/2017
This is my log book for daily schedules, easy to use, reliable, its great!
My main calendar
I like it and have been using it to manage all my activities. However there exist problems in sync with iCal. Scheduled events on iCal are difficult to show up on Google calendar. I wish this problem can be resolved soon.
Terrific calendar
Simple, easy to use. And great monthly view. (Could lose the cutesie graphics, and, for those who complain -- the icon lacking the current date is not a developer issue.)
Lovin' It
Stepping Stones To
on
8/12/2017
I enjoy being able to schedule & color code activities! Unlimited notes. Will be exploring printed schedules and calendar sharing next!
Gets me thru life
Not everyone is good at life or schedules or even remembering things. So the Google Calendar App and I are a pretty good fit--he completes me.
Perfect except...
Treasuredude
on
8/12/2017
I had this calendar up and running in seconds. Looks great and works great but I did end up uninstalling it. Once they get it so the app icon displays the correct date, I will re-download and install. Until then I'll stick with the generic iOS calendar.
no option to add event from gmail
Unlike apple email, events do not show up as links that you can add to the calendar automatically from gmail. Frustrating, but if there is a way, I will increase stars.
Please update so that...
Gave 1 star hoping to get Google's attention, but this app overall is 4 stars but for one change requested - PLEASE make it so that the app icon is actually helpful by displaying the current date (number) rather than the same static number every day. Apple's calendar app does this and is helpful.
Need Day # on Calendar icon
Instead of saying 31, how about putting the actual day it is. Then I'll change to 5 stars and this does beat Apple's calendar with ease! Otherwise I love all the animations and how easy it is to use. It also puts in correct dates and times, which Apple's seems to miss a lot. Another must have from Google!
Not bad BUT
Jesususmyfriend
on
8/11/2017
This stupid thing was working fine for months--now it constantly buffers every time I open it and I can't even see what's on my calendar. Also, the app cover always shows the number "31," so you have to open the app to see what day it is.
App doesn't display actual date
I love the app. It works just like on the computer. The only reason I am rating it 4 stars instead of 5 is because the app icon is fixed on the number 31 and does not display the actual date. Please fix this!!
What Apple Calendar should be like
I'm so glad Google allows me to include my iCloud calendar!! I enter dates into my google calendar app and then I see them on my iPhone and Mac calendars in the cloud! That integration is so important. For some reason, the iPhone calendar is the only one in the apple ecosystem that they just messed up royally. No fixes. No attempts at making it what it once was since iOS 7/8. I wish Google had a desktop calendar app for Mac/Windows. But nothing official yet. I just can't keep logging into my emails to access it online. A desktop app would be better. But...as far as this iPhone app goes. It syncs beautifully with my iCloud calendar and it updates/syncs across all my apple devices that use iCloud/calendar immediately!!!
Absolutely broken
I don't know what happened with the new update, but now every time I do three actions (a tap, a swipe, whatever) the app freezes, breaks, and won't work until I force close it for a half hour or fully restart my phone. It's COMPLETELY unusable now.
Love the concept, eh the implementation
Derek DeBellis
on
8/10/2017
- the calendar invites are not mine to send out to others. Something in googles backend "owns" the event - adding other people seems to be a personal reminder that they're coming; they're not invitees and because it's not my event, I cannot add them. - the increments for moving events is weird - rescheduling goals kinda falls short. I lose a lot of goals in rearranging my calendar. If I reschedule a goal, it automatically moves my other goals. That is cool, but if it doesn't find a spot, it deletes for the week. Give me a chance to fit it in! - give me a dashboard for my goals - wait, I can't even move an event from the app - hold on, I can't even resize the event from the calendar
Who needs "drag and drop" on a phone???????
seriously- please Google get back to your magic!
Great App
Earlbrownmath
on
8/9/2017
Best calendar app I've used, especially if You're also using Google Calendar for a computer. The two link
Google Cal for iPhone
Like the functionality
Fact Sheet
Publisher: Google, Inc.
Category: Productivity
Released: Mar 10, 2015
Current Version Released: Aug 17, 2017
Version: 2.7.0
Size: 126.8 MB
Compatibility: Requires iOS 9.3 or later.
Recommended Age: 4+
Game Center Certified: No
Supported Devices: iPad2Wifi-iPad2Wifi, iPad23G-iPad23G, iPhone4S-iPhone4S, iPadThirdGen-iPadThirdGen, iPadThirdGen4G-iPadThirdGen4G, iPhone5-iPhone5, iPodTouchFifthGen-iPodTouchFifthGen, iPadFourthGen-iPadFourthGen, iPadFourthGen4G-iPadFourthGen4G, iPadMini-iPadMini, iPadMini4G-iPadMini4G, iPhone5c-iPhone5c, iPhone5s-iPhone5s, iPadAir-iPadAir, iPadAirCellular-iPadAirCellular, iPadMiniRetina-iPadMiniRetina, iPadMiniRetinaCellular-iPadMiniRetinaCellular, iPhone6-iPhone6, iPhone6Plus-iPhone6Plus, iPadAir2-iPadAir2, iPadAir2Cellular-iPadAir2Cellular, iPadMini3-iPadMini3, iPadMini3Cellular-iPadMini3Cellular, iPodTouchSixthGen-iPodTouchSixthGen, iPhone6s-iPhone6s, iPhone6sPlus-iPhone6sPlus, iPadMini4-iPadMini4, iPadMini4Cellular-iPadMini4Cellular, iPadPro-iPadPro, iPadProCellular-iPadProCellular, iPadPro97-iPadPro97, iPadPro97Cellular-iPadPro97Cellular, iPhoneSE-iPhoneSE, iPhone7-iPhone7, iPhone7Plus-iPhone7Plus, iPad611-iPad611, iPad612-iPad612, iPad71-iPad71, iPad72-iPad72, iPad73-iPad73, iPad74-iPad74,
Supported Languages: Bulgarian; Catalan; Valencian; Croatian; Czech; Danish; Dutch; Flemish; English; Finnish; French; German; Greek; Hebrew; Hindi; Hungarian; Indonesian; Italian; Japanese; Korean; Malay; Norwegian; Polish; Portuguese; Romanian; Moldavian; Russian; Chinese; Slovak; Spanish; Castilian; Swedish; Thai; Chinese; Turkish; Ukrainian; Vietnamese;