TapNova recommends this app!
New in version 2.2.1
• Bug fixes and performance improvements.
Description
Get the official Google Calendar app for your iPhone or iPad to save time and make the most of every day.
• Different ways to view your calendar - Quickly switch between month, week and day view.
• Events from Gmail - Flight, hotel, concert, restaurant reservations and more are added to your calendar automatically.
• To-dos - Use Reminders to create and view to-dos alongside your events.
• Goals - Add personal goals—like "run 3 times a week"—and Calendar will schedule time for them automatically.
• Quick event creation - Smart suggestions for event titles, places and people save you time when creating events.
• All your calendars in one place - Google Calendar works with all calendars on your device, including Exchange and iCloud.

Google Calendar is integrated with Apple Health to track your workouts and mark Goals as done automatically.
iPad Screenshots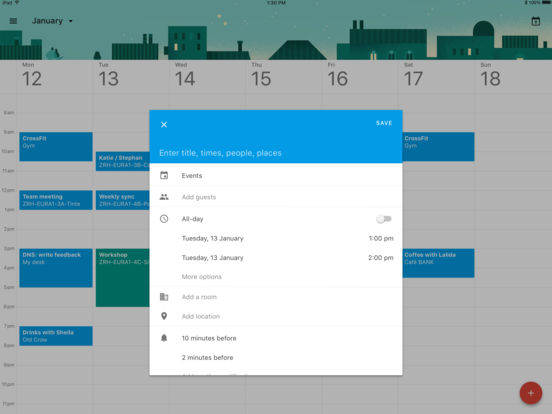 Reviews
Best calendar app out there
Best calendar app out there
Love it
Thebabymaker
on
6/22/2017
Helps me arrange everything I need, can't live without it now!
Google Calendar
I use this for work in the home health care industry. I love it!
Need to make 1 day a standard notification.
Overall the app is very good. Biggest annoyance is that a single day isn't remotely close to the standard notification options- and there is no way to save it as a preference. I put an event in It is time consuming to have to go into custom notifications, roll the options all the way back to one and select day. To do this multiple times persist is time consuming and inefficient. I would give it five stars if saving a custom notification or having the option of a one day notification was standard.
Almost perfect
1. Add widget for iphone notification screen 2. Need drag and drop editing on iphone 3. Add additional notification style for specific times, ie "notification at 6am" rather than having to figure out "notification 6 hrs earlier" 4. Add more picture themes 5. Make app icon show actual date
Fantastic App
I love the look and feel of Google Calendar especially in comparison to the stock iOS calendar. The colors and graphical representation of events make it easier at a glance when looking at your schedule. Developers one issue, I am not always getting notifications for some reason. I checked and my notification settings are fine but the app failed to send an email or push notification. Would love to see Travel Time added. Otherwise keep up the brilliant work !!!
Great App
Bankappfriend
on
6/22/2017
Love the colors and pictures for the appointments. Keeps me organized. Love this App
Great App! Where's My "Time To Leave" Notification!
Love this app but I'd love a "time to leave" notification integrated with Google Maps!🙏🏼
Great but
Hairofthedog8
on
6/22/2017
Love it, just wish you could click on the phone number and automatically call, not send me to maps.
Keeps crashing
Funnygirlnyc
on
6/21/2017
I love g-calendar on my android and it works great. But it just keeps crashing on my new iPhone.
Google Calendar
Very user friendly
Great
It allows me to keep my schedule organized with alerts & driving times. Very pleased!
Love it
Chick thank you
on
6/21/2017
So easy to use to keep all the family schedules straight. The app is also very easy to share between users
Great calendar
Ms. Beauty 1982
on
6/21/2017
I enjoy using the google calendar app. It keeps me organized and on task. It also syncs with other calendars.
Google Calendar
Audaciouslive
on
6/21/2017
Love it - syncs with android phone, laptop(pc) and iPad without problems.
Excellent calendar
Use it every day and like it a lot.
Excellent calendar
This calendar synchs perfectly with my iPhone, iPad, and Mac Book. And I love the way you can rotate the iPhone by 90 degrees and get a view of the week.
Good Cal
Great way to keep up with Family.
Plans my life
Sharing calendars, separate colors, easy to use, accessible, and everything you need
Terrific
Djisieisufjjdif
on
6/21/2017
Been using Google Calendar for years. It syncs perfectly with my phone. Excellent tool highly recommend it
Best Out There
Campus Activities
on
6/21/2017
I live by my calendar. If it's not on my calendar, it doesn't exist. I love the visual way events are displayed and how intuitive the app is.
Nice product
World seamlessly with my work calendar. I don't like the weekly view on a mobile device
Works Great!
Does what I need a calendar app to do. Integrates well with Google email as well as Exchange.
Like having a social directory.
Excellent helpful and at my fingertips
This calendar is so smart
I love how it links to my online appointment scheduler, so I don't have to go into the online scheduler to update every time I add something to my Google calendar. Great time saver!
Quick and Easy
DocNightRider
on
6/21/2017
This calendar is well thought-out with appealing aesthetics yet ease of use that makes it perfect for my business!
Best Ever
I love this nice and sleek design calendar.
Google Calendar
Super Awesome! Use it every day!
Google Calendar
angelface11803
on
6/21/2017
Very essential tool for me in planning!
Easy
This app is super easy to use. I like how it automatically gives me the day view until I turn my calendar sideways and get the week view.
Business owner
Meadowood Stables
on
6/21/2017
I've Google calendar!! Can't run my business with out it!!!
Love it
nwalkingshaw
on
6/21/2017
I have four young boys in sports etc. without g.cal our days/lives would be a mess!!
Love it
Easy and accessible
Love it!
I like the ability to quickly add events and reminders and to share my calendar with others. Would like to be able to hide events from others like surprise parties for them, but still make the rest of the calendar show or better yet to name a bogus event for them but the real invited event for others.
Better than icalendar!
LaurieInTheBerkshires
on
6/21/2017
Use this exclusively. It would be nice to be able to input reminders when I'm using the computer version though.
Better and better
I rely on Google calendar and didn't want to give it up when I got my first iPad. This app is great now that the monthly view is populated and my color coding shows up. Very pleased with performance.
Stopped missing appointments
My calendars were not syncing properly, and it resulted in me missing things that I needed to be at. Once I switched over to go all Google, that stopped. Also had a bunch of other great features to help me remember what I need to do. Easy user interface. Five stars!
Keeps me organized
I share my calendar with hub. We can organize our lives. Love it. Can access from any of our devices
Love it
Soooo much easier than the default on iPhone especially for gmail account synchronization.
Highly automated and pretty
Sjonesrones12
on
6/21/2017
I was a little skeptical of the natural language data input line, but I've come to appreciate it. The pics of the destination are a nice touch. The automatic send of the invite is a little unnerving but great for personnel communication
Couldn't work without it!
frankfrancais
on
6/21/2017
Works well in the app, and on my laptop.
I hated using calendars.
I had a bad rep for keeping up with events dates, reminders, and/or notes. Whether I was physically writing it in a notebook, using the app that came with iPhone, nothing worked as flawlessly and was more user friendly than Google Calendars. I'm so much more attentive to every detail of every event of my life. Seriously became one of the most commonly used apps, of the many used apps on my iPhone. Highly recommended if you had a bad habit like I did. I love this app!
Adoration
To say that I adore google calendar is an understatement.
Perpetual "31"
GrannyLittle
on
6/20/2017
Google has brilliant programmers doing amazing things! Too bad showing the current date on the app icon is not a priority. Why not just remove the 31, Google?
Good but could be better
Why does the icon not display the actual date??
Display Current Date on App Icon
Great app, seems bizarre to have to ask, but please enable the current date to display on the app icon.
Some issues
Connor O'Rourke
on
6/20/2017
I absolutely love this app but I am experiencing a few issues. The first issue has to do with glitches, in that when I scroll up and down the app will glitch a lot and that can get annoying. And the second issue that really isn't a huge deal but I would love for the home screen image to show the current date rather than the same image, would make this app 10x better
Fact Sheet
Publisher: Google, Inc.
Category: Productivity
Released: Mar 10, 2015
Current Version Released: Jun 05, 2017
Version: 2.2.1
Size: 148.5 MB
Compatibility: Requires iOS 9.3 or later.
Recommended Age: 4+
Game Center Certified: No
Supported Devices: iPad2Wifi-iPad2Wifi, iPad23G-iPad23G, iPhone4S-iPhone4S, iPadThirdGen-iPadThirdGen, iPadThirdGen4G-iPadThirdGen4G, iPhone5-iPhone5, iPodTouchFifthGen-iPodTouchFifthGen, iPadFourthGen-iPadFourthGen, iPadFourthGen4G-iPadFourthGen4G, iPadMini-iPadMini, iPadMini4G-iPadMini4G, iPhone5c-iPhone5c, iPhone5s-iPhone5s, iPadAir-iPadAir, iPadAirCellular-iPadAirCellular, iPadMiniRetina-iPadMiniRetina, iPadMiniRetinaCellular-iPadMiniRetinaCellular, iPhone6-iPhone6, iPhone6Plus-iPhone6Plus, iPadAir2-iPadAir2, iPadAir2Cellular-iPadAir2Cellular, iPadMini3-iPadMini3, iPadMini3Cellular-iPadMini3Cellular, iPodTouchSixthGen-iPodTouchSixthGen, iPhone6s-iPhone6s, iPhone6sPlus-iPhone6sPlus, iPadMini4-iPadMini4, iPadMini4Cellular-iPadMini4Cellular, iPadPro-iPadPro, iPadProCellular-iPadProCellular, iPadPro97-iPadPro97, iPadPro97Cellular-iPadPro97Cellular, iPhoneSE-iPhoneSE, iPhone7-iPhone7, iPhone7Plus-iPhone7Plus, iPad611-iPad611, iPad612-iPad612, iPad71-iPad71, iPad72-iPad72, iPad73-iPad73, iPad74-iPad74,
Supported Languages: Bulgarian; Catalan; Valencian; Croatian; Czech; Danish; Dutch; Flemish; English; Finnish; French; German; Greek; Hebrew; Hindi; Hungarian; Indonesian; Italian; Japanese; Korean; Malay; Norwegian; Polish; Portuguese; Romanian; Moldavian; Russian; Chinese; Slovak; Spanish; Castilian; Swedish; Thai; Chinese; Turkish; Ukrainian; Vietnamese;