Screenshots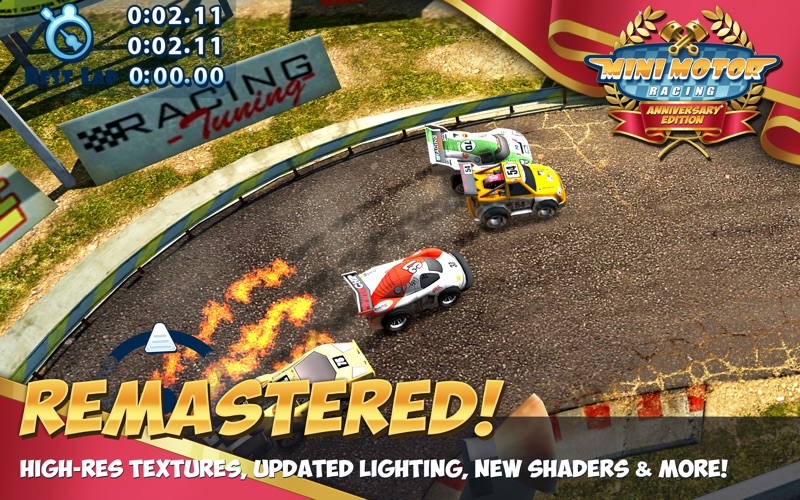 New in version 2.0.0
To celebrate five years of Mini Motor Racing excellence, we're going into the future with a massive overhaul and to show our gratitude to the fans who made the game such a success, we're making the update free!
- Full Sierra & High Sierra support!
- New Championship
- New Tracks
- New Cars
- Revamped multiplayer with new online matchmaking
- Remastered textures, lighting and effects
Description
Little Cars, BIG Fun!

Start your engines! The most vibrant, super-charged racing game you've ever seen is here! And now it's better than ever with the massive Anniversary Update!

Mini Motor Racing plays like a favorite remote-controlled car showdown, combined with modern tech to nitro-boost your engines! Play multiplayer against your friends or rivals via WiFi and ONLINE! Race in campaign competitions for big rewards! Upgrade your skills and cars to win more! It's all here in Mini Motor Racing.

FEATURES:

* HUGE new update featuring new Championships, four in total. Now over 400 races to conquer!

* CUSTOM CONTROLS
Play Mini Motor Racing like you never have before with our all new mouse and track-pad control scheme! Designed to give you that great Mini Motor Racing feel, without any additional hardware!

* CONTROLLER SUPPORT
3rd party controller support

* YOUR CHOICE OF CARS. Race in fully upgradeable cars, each with their own unique handling and style! Whether it be Sports, Hatch, Big-rig, Pick-up, School Bus, Hot Rod…the list goes on!

* WIN RACES, WIN CARS! Win races throughout the game and you'll find yourself behind the wheel of the sweetest rides around including the official Fruit Ninja buggy!

* MANY RACE TYPES. Race on over 50 tracks, day and night, in varying weather conditions

* ONLINE MULTIPLAYER. Up to 4 players – WiFi, Bluetooth or over the internet via random games or with friends.

All this, and no assembly required! There's never been a better time to join in on the fun that is Mini Motor Racing!
Reviews
Confusing controls
This style of racing game where you drive from a fix position instead of from behind the wheel like a normal car were never fun in the old days of video games and they still aren't fun now.
FUN GAME
Bought this on my iPad last year. Had a blast with it. Found for mac and bought it again! Great little racing game! If you have trouble at first with your car turning around on you at the start of a race, goto settings / controls and uncheck mouse steering.
Won
Had_High_Hopes
on
1/25/2015
Running on 10.6.8 and it won't even start. Anyone?
GRAND DADDY
KID GRAND DADDY
on
1/5/2015
Where else for $6.00 can you have this much fun. My kids and grand kids love it. It will be a precious memory to my grand children. Children and grand children all gather around the Mac, and have a ball. It serves as a great bonding experience, as we try to beat each others time. There's so many tracks and cars to choose from, and the graphics are wonderful. I feel sorry for parents and grand parents that have gotten to old to be a child with all their children, and children's children. Time is well spent anytime you're having fun together. All homes need this experience. Most don't. That's why we have so many broken homes. Sad. ——Anthony
good game
i NEED TO PLAY THIS GAME IN MULTIPLAYER !!!
Fun but annoying
The game is fun and the graphics are great. What annoys me most is when you start a race your car automatically goes in the opposite direction so you have to double back while all the other cars have taken off in the proper direction. I would like to see more tracks. I was bored with playing the same tracks forward and reverse after awhile. I gave this 4 stars for the graphics.
great game
I love this game. I'm old but have always loved racing games. It's lots of fun and not a serious as some games. Great grafics and just plain fun to play. It loads instantly and never crashes. Get this game if you have a desire to race. Use a mouse or gamepad though as it's much easier than the keyboard.
Had high hopes, but disappointed
Tracks are tiny, zoomed in way too close. Joystick configuration has 20 options and isn't obvious what to assign to what. I wasn't able to get mine configured as a result. Graphics are clean and fun looking though.
Good Quick Arcade Racing Game
This game is fun! Quick and easy and there are good goals to work towards to keep you from getting bored. This is not a driving simulator like some racing games which often involve putting in way too much time to get the hang of and progress through the game. This is quick and easy! Works with XBox 360 controller. Thanks dev for the auto accelerator fix. Much better now!
Auto Acceleration
I was looking through the options and i noticed auto acceleration and i unchecked it to see how much of a difference it makes and when i tried to turn it back on it would no longer work for me. Please fix because it isn't as easy to steer and it just made my game expirence much less enjoyable.
Ugh…in-game purchases
This game has in-game purchases which means it wants you to buy items for a better game playing experience. Wish I read the fine print since I don't like to buy games with in-app purchases.
does not open
The game is extremily good, only that the game does not open some times. I try quitting and restarting my computer but the game still does not open. Also you should allow cmd+tab with the game to be able to multitask.
Jagged text on Retina display
Pixelelated
on
10/14/2014
I love this game on iOS, and was excited to see it on the App Store. Unfortunately, it looks like the assets aren't retina-enabled, so the text is very jagged. Also, it would be great if this synchronized with Game Center across iOS and Mac OS X.
Great
Its a great app just to open and race, plain, simple and fun.
Stuck in loading screen
Fix the bugs! Game is stuck in loading screen. It fun when it was working though.
LOADING...
16gb of ram, 3gb of video ram, 1TB hd on my new macbook pro and this app just sits there…LOADING…hmmmm.ok?
thumbs down
career wont save…whats the point?
Mini Motor Racing.
VillainNatorr
on
10/12/2014
Fun, smooth controls, lots of things to do, and cool graphics. Whats not to like? Completely satisfied with my purchase.
Fun, easy, simple
Like the previous reviewer said, this game is perfect for killing time or taking a break. Lots of tracks!! Worth the $$ IMO.
Doesn't load at all
Stuck in "game is loading" window and that's all. Very, very disappointed.
Joystick support?
Robinson Sampa
on
10/10/2014
I can't make the Mini Motor Racing recognizes any of my joypads. Tried a Logitech and XBox 360 controllers with correct drivers, but the configuration panel doens't react to any joystick commands.
Fun game for between task enjoyment
This game is great for someone who is busy on their computer and just needs a break for a min, then back to work. Its not complicated and does not require a time commitment to have fun, you can play for 3 min or 30 min. Thats why I enjoy it so much.
Fact Sheet
Publisher:

NextGen Reality Pty. Ltd.

Category:

Games

Released:

Oct 09, 2014

Current Version Released:

Aug 14, 2017

Version:

2.0.0

Size:

1022.3 MB

Compatibility:

Requires iOS 10.8 or later.

Recommended Age:

4+

Game Center Certified:

No

Supported Languages:

English;