Health & Fitness
Lifestyle
Not Recommended
App last updated
Jul 19, 2017
Screenshots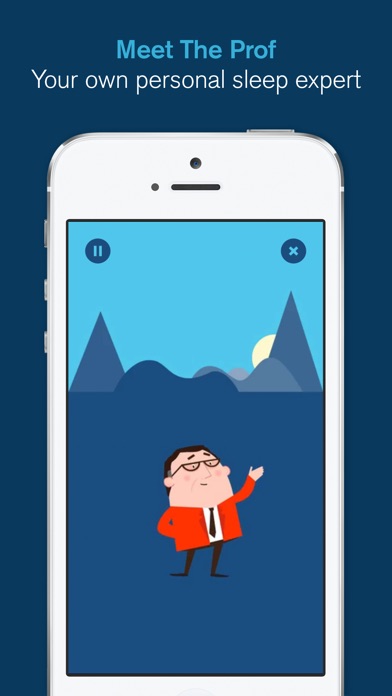 New in version 1.8.6
Thanks for using the Sleepio app! This update includes:

- Fixing a bug that would cause the app to crash on launch for some users
Description
This is the companion app for Sleepio - the sleep improvement program. Please note: you must have a Sleepio account to log in to the app. You can create an account at www.sleepio.com.

Sleepio is designed to teach you how to overcome even long term poor sleep without pills or potions. Download the companion app for instant access to your daily sleep diary and schedule, and your virtual sleep expert, The Prof.

Created by world sleep expert, Professor Colin Espie (University of Oxford), the program featured in the Sleepio app was shown in a leading clinical trial to help long-term poor sleepers on average:
- Fall asleep up to 50% faster
- Reduce time awake at night by up to 60%
- Boost daytime energy by up to 50%

KEY FEATURES:

- Evidence-based CBT sleep improvement program
A personalized program of proven Cognitive Behavioral Therapy (CBT) techniques, designed by world sleep expert Prof Colin Espie (University of Oxford) and delivered by your own virtual sleep expert, The Prof. Over a number of tailored sessions The Prof will teach you a range of cognitive and behavioral techniques, designed to get your sleep schedule, thoughts and lifestyle into shape.

- Import sleep data from your Jawbone UP or HealthKit
Import your tracked sleep data from your Jawbone UP or Health app to automatically personalize the program to you, and make using Sleepio even easier.

- Help Me Now
Instant, bite-sized help from The Prof. Whether you're finding it hard to fall asleep, or having a tough morning, The Prof is there to help you get back on track.

Prof. Colin Espie (University of Oxford), world sleep expert and creator of Sleepio says "The most effective, long-term solution for poor sleep is CBT or Cognitive Behavioral Therapy, which addresses both the mental and the behavioral parts of the individual's sleep pattern by helping the person to think and behave differently in relation to their sleep, in such a way that normal good sleep can return. Sleepio is a clinically proven digital sleep improvement program that uses proven CBT techniques to help users with persistent sleep problems."

Source of clinical trial data: Espie et al. (2012). A randomized, placebo-controlled trial of online cognitive behavioral therapy for chronic insomnia disorder delivered via an automated media-rich web application. SLEEP, 35 (6), 769-781.

Any questions? Get in touch with the Sleepio team at hello@sleepio.com. We'd love to hear from you.
Reviews
Can't log in
When I try to login with google it says "oops something has happened please try again later". I closed the app multiple times and stuff and still can't log in. I hate that you can't just make an account I don't have a Facebook.
Ummm
Eva'sGotSkills
on
2/20/2018
I just downloaded the app and the first thing it asks me to do is login. I didn't sign up at all though, I just got the account. But it only had the option to sign in so after several attempts to sign up and make an account, I gave up and deleted it. Thanks for helping me sleep....🤬
Very promising!
Just joined today, followed the instructions online, did the surveys, etc. Looking forward to what's next but like what I'm seeing so far! Are the features on the website the same as in the app? If anything that would be my only feedback. It's easier for me to keep track of a diary on my mobile device. Just FYI.
Trial period / payment plan
A trial period before committing $300 upfront payment would be more enticing even for this sleep deprived exhausted desperately seeking solutions noodle. A monthly payment plan could help along with a discount (or free!) for the few initial signups willing to help sort out the app bugs in the process .
It's $300 To Use App For a Year
ShannonBee722
on
9/12/2017
App is listed as "free" with in-app purchases. This should be listed with the actual cost of using the app. The app is useless unless you pay; thus the "free" indication for the price is misleading. Don't get us excited about something we can't afford; update the app price to show the actual cost.
Bad
I don't want the account
How do you sign up...
You get into the app and it looks legit. But you hit Login, because there is no button that says sign up, what????
Doesn't work
Can't create account. If you manage to log in w Facebook, it still leaves you at the log in screen. Don't waste your time.
Not able to create account
I found this app online looking for things to help me sleep. I opened the app and there was no option to create an account. How are you suppose log in if you're not able to create an account? I tried to use google login button instead. It didn't work. It said "Oops something went wrong." Same thing happened with the Facebook login button.
Nice design, register at their website first
Supernatural Anesthesiologist
on
6/16/2017
Finally found how to register using the Sleepio website. It seems like a nice subscription service, although decided not to go for it (a bit expensive for my pocket)
App is down...
Sign in/up form is not working.
Expensive!!!
Whitexwomanx3
on
5/16/2017
It costs 300$ a year for this program I had it a while ago and it used to be free.... I think this is completely useless not worth the time or money
Sign up was not possible
Tried to sign up but unfortunately it was not possible.
Great concept, doesn't work
Fails to log in via Facebook and google.
Can't even log in
Bmw1129393838
on
4/4/2017
Won't let me create an account so I tried logging in with Facebook and google and it wouldn't allow me to.
Might be great if it will stay open
Had my first session and felt great about the app. Now every time I try to open it, it crashes. I'll then close out of all my apps, try again with no luck. Restart my phone, still crashes. I have to uninstall and redownload each time I want to use the app. Very frustrating
Hypocritical & $$$!! Sleepio sells YOUR data?!?!
PREFACE: Consult a physician instead - you'll save money and actually get professional help !! To use this app you're required to spend $346 - $520 (per year) depending how you pay. (The very least 9.99 per month x 52 wks/yr = $520) I learned about Sleepio through my Jawbone UP band promoting it. Initially (even with in app purchases) I thought Sleepio would be a good inclusion - working in conjunction with my UP's data until I found out just how much the in app purchases were! I'm just peeved, now! And I don't even know if it works with UP. I've seen other comments saying it doesn't. Yes, set up takes quite some time, but understandably dealing with sleep issues and assessing them, but the developer's own "cover their ass" disclaimer mentioned during set up is completely hypocritical in comparison with their pricing. If using this - you'll pay same comparable price as seeing a doctor, which they say - they are not. In short, Big Health, LTD says that Sleepio is only a tool… and if you think you have any sleep /health issues to consult a doctor. Then WHY should anyone pay the developer the price tag of physician fees?? You can BANK that they're also making money off your sleep data as well by selling it to insurance companies, employers to analyze current /future employees. Go to their website and see the partnerships for yourself. Use this app - and you'll be paying to have your data collected - NOTHING more! Big Health, LTD., How do you justify price and quantify basic and menial data analysis the same as a physician's diagnosis? (at least by pricing you do) Heck… your app doesn't even 'really' collect the data! I have to put it in manually, or supposed (if it works) my UP band does that, too! Charge your partners who use the data. But you should NOT be charging people to provide you that data! You can bet I'll be posting feedback for Jawbone after this, too, for their promotion of this app. For the price - Sleepio does a disservice to Jawbone customers /users, AND to it's own users.
Hideously Overpriced
I used this app once or twice to fall asleep when it was first released, knowing that more features required a subscription. I just reinstalled it and realized there's no free option anymore. Whatever, I'm willing to pay for quality. ...but not $300-$1000. For a bunch of five minute, pre-recorded audio sessions. Are you kidding me? Hundreds of dollars? I'm assuming this app has about ten users who pay the developers wages between them. Don't bother with this app. Wildly overpriced to the point of being a joke.
$300 nope just no lol
Insomniakgurl83
on
2/8/2017
I love this app it's awesome & syncs with my Jawbone sleep tracking nicely it's based on research CBT-I therapy but lately it's $300 after the trial period and $1k for sleep doctors so if you have to pay for it it's just ridiculously expensive um are you kidding me Sleepio!?! Come out with a monthly option & try to be the Netflix of sleep apps not the Rolex of things no one uses because of price
Out of date
skydancergreg
on
1/4/2017
Hangs before login under iOS 10.2 (at least on a 6S Plus).
Poor Implementation of Subscription Fees
This app changed from free app to subscription the moment I added a fitness tracker. No warning ⚠️ no US prices, no info about subscription in the app. Very little info on Sleepio.com I previously rated it at 5 stars now 1 star. Another example of developer greed and poor business practices! This is not the way to sell anything and the reality is there are far too many subscription apps these days and far too few one time purchases for $2-$5! If you multiply the number of trials times the percentage who subscribe, developers will find that it's more profitable to promote the brand with reasonable fees or no fees and clearly described trial period. How can I try before it expires if I don't know it's a free trial and will expire?!?!?
Can proceed past rotating iPhone
Previously, maybe a year ago, I used this app successfully. There is some recent occurrences, I resurrected the app. Something new, strange and annoying, is consistently happening, that keeps me from moving ahead in the program; at a certain point, early in the program, I was asked to rotate my iPhone in order to proceed. I remember this from before with no problem. Now I am unable to move ahead no matter how I rotate, shake or otherwise my move my phone. Please help. I am running the latest iOS 10.02. Verizon Wireless is my carrier.
Useful information…but beware
landonpauley
on
10/17/2016
I loved Sleepio for a trial period. Lots of good customizable information about my sleep goals and how to get there. Meditations helped. Not a "sleep tracker" per se but it got the job done manually. After a decent trial period, Sleepio will charge you or stop functioning. Don't get too attached if you are cheap (like me). This app is worth a shot at least.
Wasn't Impressed
Really sleepio is not an app. It is instead in assosiation with the website sleepio. I went on there and really they need to make things more simple. I didn't like that it wasn't a stand alone app and that it required an account online and I believe it might require membership online too. For "free" account that is misleading.
Can't get in
I've heard a lot of good things about this app but I can't figure out how to get past the login screen. It keeps asking me to login but there is no option to create a new account.
Honesty- a password for the app as secure as my bank password???
Is anyone /that/ interested in hacking in to how I sleep??
They charge when you sign up
I pretty much knew they were going to slip in a fee. I went on the website and took the quiz. They analyzed my sleep habits and when I began the sign up process they wanted to charge me $300. I didn't expect it to be that much. It said their was a 69% chance that it would work, or least has for 69% of people who my same sleeping habits. For that much I would hope for a guarantee of perfect 8 hours sleep every night for the rest of my life, but that's just me.
Great sleep program!
Very helpful
Great app
A great app! Much cheaper than seeing a cognitive behavioral therapist for sleep. I had severe insomnia for about a year and this is the only thing that has helped long term. It's difficult but if you stick with it, it works!
Great
10/10 I love this app! I just had to downloaded it again.😊
App is for current members
Kelly Blackwell
on
7/13/2016
This app IS free if you already have an account. It's meant to be a tool that comes with the paid subscription. If you have a paid subscription, it works perfectly fine.
App is useless
The app really doesn't do anything and has no correlation to website where the real context is. The site then is also in my opinion prohibitively and unjustifiably expensive.
Insanely priced
No sign up ability in app. Upon discovering they want $300 to use it, I can see why they might be too embarrassed to make sign up easy in-app. Can't help but feel like the "free" plus no mention of any fee in the app description is a bit dishonest. Surprised it got past the app review team for that reason.
Signup Expensive
Glenn R. Martin
on
6/6/2016
I found the signup others have reported as being unable to find. It is on their non-mobile website only. It's also 300$ a year. Which is very prohibitive considering there's no way to evaluate it before paying.
NOT A FREE APP
Xxxxxbajskdndjdkd
on
6/4/2016
Ok so I looked into it because I saw people were saying you can't sign up, well I got the app and sure enough you can't sign up for an account. Well totally went to google and looked it up and there is a real website where you can sign up, so I did. It took me through all these questions about my sleeping habits and at the end of it told me I had poor sleep, a 2.5 out of 10 (hahahahaha), and at the bottom it said sign up! I was like yes! A sign up! Then preceded to fill out the form and got taken to a paypal page for $300 to use them... $300 are you freaking kidding me????
Can't sign up
App sounded interesting but I can't sign in despite numerous frustrating attempts. Can't even reset the password. I've now deleted the app.
No sign up button
I am really annoyed. Don't get this app.
Sign up??
Hejwjfjsjshbdhd
on
5/28/2016
I'm new to this app and there's no option to sign up for it. They should probably include that option if they want more users
Can't sign up
I'm new to this app, and there is no sign up button... Oh well
Couple good tips, not worth the monney
Overall: While I learned a few useful concepts, I am not overly impressed. I don't feel this course is worth ~$90. If it were ~$40 that would be about right for the content and functionality. Positives: – I learned a few techniques and concepts about sleep that are useful. - Sleep tracker is fun to enter daily. - The email notifications on daily tasks was helpful (though a reminder in my calendar could do the same). - I am somewhat "improved" but nothing that isn't normal for long term insomniacs -- we tend to have cycles where it gets worse and then better. Negatives: – The sleep tracker is basic, but gets the job done. For example, I didn't see a view of the entire sleep diary, it's just a 7 day chart. Perhaps I just didn't see this? - The lessons are short and not customized to what the sleep diary discloses. - I believe the sleep restriction therapy was not calculated properly for me (and for a few others I've posting here). I guess this is good since it makes it easier to do, though not as effective as the true approach. It also seems to just wait for 2 weeks regardless of your sleep efficiency before giving you another 15 minutes of sleep as I never got above 90%. - They use the data we enter for other purposes yet we pay $90 to participate in their research. Sleepio should be much much cheaper than this fee. I should have listened to the reviews on iTunes that stated this fact. - The lessons are short and could have been done in less time that 6 weeks. Feels like they draw them out to make it seem like the course is "longer" (see next point especially). - The last lesson was to collect outcomes data for their benefit. This should not have even been called a session as no new techniques or information was presented.
Absurdly priced
TheJonnyMagic
on
4/10/2016
Are they even serious?!
Too expensive
Agreeing with everyone else, way too expensive. I also don't like how to app slips it in there. It has you do a lot of work, filling out surveys everyday about your sleep, and only after a week do they tell you that you have to pay to continue. I had recommended this app to a lot of people, but I'll now be taking it back.
Way too expensive
You can use this app one time before it asks you to pay either $10 a week or $80 for 12 weeks. This is utterly ridiculous.
Too expensive in a crowded marketplace
There is a very short trial period, so I don't know if it is truly helpful. I do know it's very, very expensive to continue to use. $10 for one week or $80 for 12 weeks. That's stunning. There are a ton of apps that help with sleep and/or relaxation. They're pricing themselves out of the market.
Pretty cool
Lover, but not owner
on
1/28/2016
I like this app, but I hate that I can't update it without wifi. You should be able to, and whenever you get wifi it should update the information online.
No longer works on iPhone 4
No longer works on iPhone 4
promising but not enough time to evaluate
I was thinking this was promising but then before even getting to really see how it analyzes my sleep the trial is up. no chance to evaluate it and $10 a week is steep to find out.
Not much to do...
Other than listening to the lessons every week there is absolutely NOTHING to do within this app during the week. There's potential to do something with the schedule which I was excited for, but all it is is a list of tasks which I can't even remember what they all mean. The military time in the schedule made it too difficult for me to use. Yes I'm too lazy to think because I have insomnia! App doesn't sync with Fitbit and I'm not going to hand enter all that tedious information... There should be some mediations to use, the profs voice is perfect! For the price point I would NOT recommend anyone to purchase this program. The content is good, but available elsewhere in books. There in minimal interaction with the app during the week. Call it what it is and sell it as a set of informative videos. Add some features, especially meditations, journal, alarms and it would be great.
The first app to help
chandlermuriellbing
on
10/25/2015
I've had insomnia my entire life, & I'd like to deal with it with as little medication as possible. This app takes information you input & uses it to give you assistance. So far, the methods have helped me relax enough to ease into a better sleep. They've also helped me with mindfulness & calming me during anxiety attacks. It's early in the process for me, but so far, it's helped tremendously.
thx
Ali.naderan
on
10/19/2015
it really help some time
Fact Sheet
Publisher:

BIG HEALTH LTD

Category:

Health & Fitness

Released:

Sep 15, 2014

Current Version Released:

Jul 19, 2017

Version:

1.8.6

Size:

92.7 MB

Compatibility:

Requires iOS 7.0 or later.

Recommended Age:

12+

Game Center Certified:

No

Supported Languages:

English;

Parental Advisory:

Mild Alcohol, Tobacco, or Drug Use or References;