TapNova recommends this app!
New in version 4.1.1
Bug Fixes

We've improved the overall performance and stability. If you enjoy using Adobe Draw, please leave a review. It really helps!
Description
Winner of the Tabby Award for Creation, Design and Editing!

Create vector artwork with image and drawing layers you can send to Adobe Illustrator CC or as flat images to Photoshop CC.

Illustrators, graphic designers and artists can:
• Zoom up to 64x to apply finer details
• Sketch with five different pen tips with adjustable opacity, size and color
• Work with multiple image and drawing layers
• Rename, duplicate, merge and adjust each individual layer
• Insert basic shape stencils or new vector shapes from Capture CC
• Multiple stylus support for Adonit, Wacom, Pencil by 53 and Apple Pencil
• Send your illustration to Photoshop or Illustrator with all layers preserved

Try using Draw with:
Photoshop CC
Illustrator CC
Capture CC

BUZZ FROM USERS AND PRESS
"Hey dudes, Draw is fantastic. Draw can actually be integrated into my workflow in a very meaningful way." – Mike Roberts

"Thanks to your support, the creative process has become a[s] light as paper." – Adam Twardowski

You can also take advantage of other Creative Cloud services like:
ADOBE STOCK
Search for and license high-res, royalty-free images from inside Draw. Incorporate quality imagery into your work.
CREATIVE CLOUD LIBRARIES
Get easy in-app access to your assets — including Adobe Stock images, photos you processed in Lightroom, or scalable vector-based shapes created in Capture CC.
DIRECT TO DESKTOP
Send a file to Photoshop CC or Illustrator CC with layers preserved. It automatically opens on your desktop, letting you effortlessly build on your idea.

STYLUS SUPPORT
Draw with precision and control using pressure-sensitive pens including Adobe Ink, Apple Pencil, Pencil by 53 and styluses from Adonit and Wacom.

DIGITAL RULER
Use the integrated Touch Slide to make flawless straight lines, circles, squares and triangles. It doubles as a placement tool — select shape stencils from an in-app menu. Pinch to scale, and trace the outline or double tap to stamp.

POWERED BY CREATIVESYNC
Adobe CreativeSync ensures that your files, fonts, design assets, settings and more all instantly appear in your workflow wherever you need them. Start your creative work on any device and seamlessly pick it up on another.

GET FEEDBACK
Publish your work to the Behance creative community and get feedback without leaving the app. You can also share through Facebook, Twitter and email.

2GB FILE STORAGE
Use of Adobe mobile apps requires a free, basic level of Creative Cloud membership, which includes 2GB of complimentary storage for file syncing and sharing.

--------------------------------------------------------------------------------------------------------
MORE STORAGE (Optional in-app purchase)
If you need more than your allotted 2GB of Creative Cloud file storage, you have the option of purchasing an additional 20GB for $1.99 (US dollars) a month. The recurring payment is automatically charged to your iTunes account. To stop service, simply go to your account Settings and turn off auto-renew at least 24-hours before the end of your billing period. Prorating is unavailable — when you turn off auto-renew, service will continue until the end of that month's billing period.

The Fine Print
You must be 13 or older and agree to Adobe's terms and privacy policy, viewable at http://www.adobe.com/special/misc/privacy.html. Use of Adobe mobile apps and online services requires registration for a free Adobe ID as part of a free, basic level of Creative Cloud membership. Adobe online services require an Internet connection, are not available in all countries or languages, and may be subject to change or discontinuation without notice.
iPad Screenshots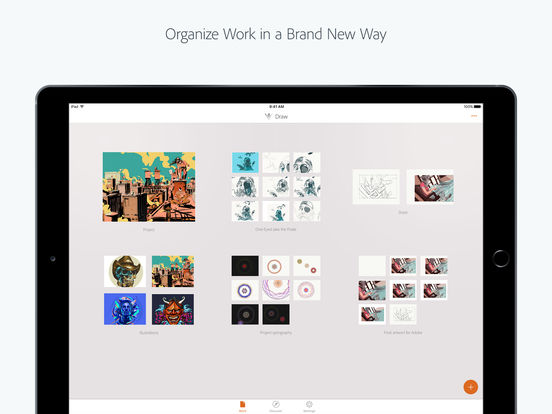 Reviews
Great app
Shdicjejdndnd
on
6/24/2017
Truly is a great app. I am hardly artistic but I definitely enjoy using this app. Especially now that I have an iPad Pro with the Apple Pencil . I was a bit skeptical about using this app as I am with most free apps. The downside is that they only give two gigs of cloud storage which is hardly anything; although there is little cloud storage they don't hold your drawings hostage, you can download them lol. Still, I respect the approach they took, charging for storage but allowing a full adobe experience.
😂😂😂😂
shyennegurrllll
on
6/23/2017
🤙🏽🤙🏽🤙🏽🤙🏽😎😎😎✨✨
NEXT UPDATE!
Goat.nicholas
on
6/23/2017
Really great app!!! for the next update I suggest that you put in a glow brush for awesome details and easier for blending!!!
Okay ish
EthNaajdkebeks
on
6/23/2017
Hurry and make a way for artists to collaborate and an airbrush to
Yassss
It's seasons to make the cartoons of people and stuff
Everything I'd hoped it'd be.
kayla.adrianne
on
6/21/2017
I only wish there was an option to add text. But this is seriously the bees knees. Download all of the other adobe apps too. :)
BEST APP BUT...😇😅
OreoLover456
on
6/21/2017
I love this app very very very much but I wish there was a search bar on the Discover (others people drawings)section☹️ instead I have to scroll down to find drawings of my own taste😶Don't get me wrong I love others people work but I wish I could search up my own drawing styles and taste💕
Amazing
I love it, it has many brushes that look beautiful using them
Needs improvement
Adobe Sketch would be fine as a free-to-use app but as a part of the Creative Cloud Suite, it needs some work! Among the additions desperately needed are: • ability to align objects; • brush improvements - current options are too limited and ideally there would be an option to import your own brushes (Photoshop Sketch has this capability); • gesture fine-tuning - they're basically unusable in their current state; • ability to import/export vector objects - currently you can only import images, and you can only export objects as images (even to other Sketch documents!) unless exporting directly to the Illustrator desktop app.
A fun and easy vector drawing app
This app has come a long way since Adobe Ideas. The brushes are easy to use and simple to adjust. I like that it gives you color suggestions when choosing colors. And all the guides and perspective tools make this app a breeze to draw with. It's so much fun, I can't get enough of it!
Literally the Best!
I was looking for an app that I could transform pictures into cartoons for myself and my friends, and this is just the app! I love everything about it. The tools are super simple to use and it's a great way to pass time while making my friends some pretty cool cartoons. This app is literally the best and I recommend it to whoever is unsure whether or not they want to download it. Five stars from me!
Great app with one major flaw
HerwinSihota
on
6/19/2017
I enjoy using this app to draw and sketch ideas I have for fun or for woodworking. I recently upgraded to and iPad Pro 10.5 and found out the app on the iPad Pro does not support the Adobe ink and slide. Very disappointed since I liked using the and found the ink and slide amazing. If this could be remedied it would be amazing. I really don't want to buy an Apple Pencil.
Great!!!
xXLittleSavageXx😍😘
on
6/19/2017
A good app to make cartoon of yourself. Then make it into a cool picture. Oh I love this app so much!
Love This App!
ktall9000000
on
6/19/2017
This app is the best! Drawing and exporting to my computer is so easy. The only addition I would love is the ability to merge projects.
Intuitive and fun
... but not powerful. Export options are limited if your not rocking CC integration. Also, it's lacking good patterning tools. That said, I highly recommend it for quick inking and sketching. Well worth it.
Awesome
Gubbgkbkfrrhkbkbhf
on
6/18/2017
I love it, but I think that they should have a magnifier that shows what your erasing up close
Me
Jesuslover2015
on
6/17/2017
Fun
Amazing
BeserkerWolf
on
6/14/2017
This is awesome! It helped me make a refrence sheet for my character. Thank you so much!
I love it
This app is amazing
Love it
Brian the Lion
on
6/12/2017
Love it. I've tried many free drawing programs/apps, and this one is great. If I wasn't limited to using an iPad though, I'd use Inkscape and Google Draw too. But this is great. I especially love the movable ruler that you can draw straight lines along!
Wow
Easy to use and very powerful.
Not Elegible?
HammondTigerFan
on
6/10/2017
Ok so i understand that a lot of people don't want kids to see bad things or get frustrated over the controls,but why an age limit for a DRAWING app I myself am young,so I could not enter but I do ask why and I am not telling you to remove this feature but please tell me why it is there.
I like it
Bracefacemyrha
on
6/10/2017
It's completely difficult but once I get used to it It just makes my toonz fye I love this app better than PicsArt But I'm still gonna be using PicsArt bc this app is still complicated to me a lil I just got used to it a lil yesterday n I downloaded the app day b4 but I love this app n I'll rate it a five
Way more then expected
Ladydolores de Los milagros
on
6/9/2017
Absolutely essential for drawing my fashion designs on the spot when I get a creative idea. No need to look around for pen paper and have saved a template of croquis to work off every time. I'm just a beginner and have found so many useful functions. Highly recommend if you enjoy being creative
I love this app!
I always enjoy drawing with this. It's helped me to know that I don't have to limit myself to just pencil and paper.
This app is amazing but...
x3BraveHeart3x
on
6/6/2017
A blend/blur tool would be extremely helpful!
Great App, but…
Ifimwritingimconfused😿
on
6/5/2017
I've been using this app for a long time, and I've never run into problems, until the recent update. Every time I try to open an existing project, it gets frozen on a loading screen, and eventually restarts the app. Now, I can't work on any of my projects. Please fix this with the next update.
Great app
Could use more features but that would probably take the free price away
Paint bucket
James Terrell Johnson II
on
6/3/2017
If you can't make the paint bucket work it's because your not making continuous lines... that's my experience.
nice
Younger than 1
on
6/2/2017
👌👌👌👌👌
Awesome!
Of course this is the best drawing app on the store, what with it being made by Adobe and all. It has something for everyone: a bunch of advanced options for the professional drawers, and basic options for people who just want to doodle. I highly recommend it!
i looked forever for something like this
wheat toasties
on
5/31/2017
i swear, there are not nearly enough drawing apps on here. but honestly it doesn't even matter, cuz this one stands out from them all. i've tried so many of them, and wow, it's surprising how much better adobe is compared to that one super popular "sketches" app. it tries so hard to be this fancy, innovative drawing app, but it fails in every aspect. but not this one, this one is really amazing. it's so simple to use, yet it has so many complex features. i really love it
Love having Illustrator on the go!
Love all the features it offers. Do wish it had a layer for sketching with a pencil tool of sorts. Also wish shapes were a bit easier to use - more drag and drop. And hoping the pen tool can be adapted to this as well. But overall enjoy using a tool that will seamlessly work with my workflow.
Great app
This is the best drawing app I have used in a while
PLEASE UPDATE!!
I love this app and I use it a lot, especially for my business. But with the recent IOS update, it lags, freezes and crashes on me constantly. Both on my iPhone 7 plus and my iPad mini. Please make this app smooth and compatible again.
IT WONT DOWNLOAD!!!
THIS STUPID APP WONT DOWNLOAD IM DELETING IT!!
Great software, very intuitive. It's free!
THRUTHBETOLD
on
5/24/2017
Huge fan of Adobe products. Add tool/screen customization. For instance, I would like to have a custom color pallet at the bottom so I can quickly change colors while I draw. Thank you.
Really cool
Ella kavital
on
5/23/2017
It's a little hard to figure out at first but it's really easy once you get going. The design tools are fantastic and I'm in love😍
No paint bucket...
tsbuilderboyonitunes
on
5/23/2017
I can't find a paint bucket (fill) anywhere, which is kind of inconvenient for a drawing program. -Edit- Maybe I should've read the tutorial first... -_-
Warning! Adobe Ink & Slide Horrible Now.
Moms Draw Too
on
5/20/2017
The Adobe Ink pen barely draws straight, It's always way off. The Adobe Ink & Slide are a rip off with this version App. Why did Adobe sabotage their own Pen? And WHY IS APPLE BLOCKING REVIEWS FOR PROCREATE NOW.. Finepoints stylus are top of the line for IPad Air and now apple is covering it up in favor of iPad Pro.. Nothing but sabotage.. Wacom Creative Stylus 2 and Adobe Ink and slide are just as good as Apples pencil.. the updates ruined them. This is Ant-Trust lawsuit waiting to happen. 10+ years in prison for you all you scumbags at Apple.. Update: May 20, 2017 Fine-point Changes in iOS 10.3.2 👍 The Adobe Ink: Less laggy and is almost usable for artists. Accuracy skips unexpectedly but a step in the right direction. Wacom CS2 : Now seems to work as good as it did before. Lag and accuracy in Procreate pretty decent. Still could be better and the App really needs to show its name under devices.😟 App Store now allowing reviews for procreate.. I guess people actually read these things. Update: I just tried to write a review for ProCreate. It now shows the write review option. But it says "you must have purchased or downloaded it first".. I'm still being blocked.
Truly amazing
Almightypush12
on
5/20/2017
I'm in love with this app
Great for illustrating!
Orchid Afire
on
5/19/2017
There's a bit of a learning curve, but once I thought of it more as painting instead of drawing it became much easier. Very intuitive once the gestures are in the muscle memory. I would readily recommend this app.
Love it! But...
connor_da_brave
on
5/18/2017
This app is spectacular! I use it to make fansigns (profile pictures) for people on Instagram. (If you want one, go to @fun._.signs) but recently, it doesn't really work. Every time I open the app, it crashes! It crashes over 10 times before I can actually use the app! Plz update the app
This is a fantastic drawing app
There are a lot of features that I wish it had that procreate has but overall this is the app that I use the most. Would love to have the ability to share a video of the creation of my drawings, hopefully that something they will integrate.
Cool
Fish girl 13456
on
5/17/2017
I love it
Creative Cloud wonder
It's experiences like this that make the CC library worth it. Being able to create for illustrator while on my iPad, YES PLEASE. The only things I wish it had, better transform options, ability to select objects instead of entire layers. I was expecting an experience closer to illustrator but what I have is a jumping off point. I'd rather have something I could create wireframes and ui in, rather than just start it. Still great app, that has me wanting more and makes it shy of EXACTLY what I need.
Latest update 4.11 , made my iPad Pro freeze in the app.
It was working but I updated this evening started to draw and the app froze. I've quit and started again but still frozen.
Nice app.
TheUnCoolAid
on
5/11/2017
What really makes this app for me is the basic tapered brush. I can work wonders with it.
Needs Paths
When drawing in this app and then exporting a file the strokes created in the app is exported not as a stroke, but a shape. I would like to be able to get the file into my desktop to finesse the strokes but this is currently not possible on this bare bones app. Other apps in the app store are beating Adobe at their own game and need to step up the interface and functionality if they are to stay relevant in the mobile app market.
Great but....
It's super laggy to use. I really want to be a five star but I just really struggle to use it.
Fact Sheet
Publisher: Adobe Systems, Inc.
Category: Productivity
Released: Oct 07, 2014
Current Version Released: May 01, 2017
Version: 4.1.1
Size: 107.8 MB
Compatibility: Requires iOS 9.0 or later.
Recommended Age: 4+
Game Center Certified: No
Supported Devices: iPad2Wifi-iPad2Wifi, iPad23G-iPad23G, iPhone4S-iPhone4S, iPadThirdGen-iPadThirdGen, iPadThirdGen4G-iPadThirdGen4G, iPhone5-iPhone5, iPodTouchFifthGen-iPodTouchFifthGen, iPadFourthGen-iPadFourthGen, iPadFourthGen4G-iPadFourthGen4G, iPadMini-iPadMini, iPadMini4G-iPadMini4G, iPhone5c-iPhone5c, iPhone5s-iPhone5s, iPadAir-iPadAir, iPadAirCellular-iPadAirCellular, iPadMiniRetina-iPadMiniRetina, iPadMiniRetinaCellular-iPadMiniRetinaCellular, iPhone6-iPhone6, iPhone6Plus-iPhone6Plus, iPadAir2-iPadAir2, iPadAir2Cellular-iPadAir2Cellular, iPadMini3-iPadMini3, iPadMini3Cellular-iPadMini3Cellular, iPodTouchSixthGen-iPodTouchSixthGen, iPhone6s-iPhone6s, iPhone6sPlus-iPhone6sPlus, iPadMini4-iPadMini4, iPadMini4Cellular-iPadMini4Cellular, iPadPro-iPadPro, iPadProCellular-iPadProCellular, iPadPro97-iPadPro97, iPadPro97Cellular-iPadPro97Cellular, iPhoneSE-iPhoneSE, iPhone7-iPhone7, iPhone7Plus-iPhone7Plus, iPad611-iPad611, iPad612-iPad612, iPad71-iPad71, iPad72-iPad72, iPad73-iPad73, iPad74-iPad74,
Supported Languages: Czech; Danish; Dutch; Flemish; English; Finnish; French; German; Italian; Japanese; Korean; Bokmål, Norwegian; Norwegian Bokmål; Polish; Portuguese; Russian; Spanish; Castilian; Swedish; Chinese; Turkish;