Screenshots
New in version 4.2
CREATE CUSTOM CANVAS FORMATS
Create documents with custom sizes and resolutions to satisfy any illustration workflow. Canvas formats can be easily named, saved and reused.

CHANGE CANVAS SIZE
Adjust the canvas size of your sketches at any time, even after you've completed them.

SIGN-IN WITH GOOGLE AND FACEBOOK
Use your Facebook or Google ID to sign into Illustrator Draw and Creative Cloud.

If you enjoy using Adobe Draw, please leave a review. It really helps!
Description
Winner of the Tabby Award for Creation, Design and Editing!

Create vector artwork with image and drawing layers you can send to Adobe Illustrator CC or as flat images to Photoshop CC.

Illustrators, graphic designers and artists can:
• Zoom up to 64x to apply finer details
• Sketch with five different pen tips with adjustable opacity, size and color
• Work with multiple image and drawing layers
• Rename, duplicate, merge and adjust each individual layer
• Insert basic shape stencils or new vector shapes from Capture CC
• Multiple stylus support for Adonit, Wacom, Pencil by 53 and Apple Pencil
• Send your illustration to Photoshop or Illustrator with all layers preserved

Try using Draw with:
Photoshop CC
Illustrator CC
Capture CC

BUZZ FROM USERS AND PRESS
"Hey dudes, Draw is fantastic. Draw can actually be integrated into my workflow in a very meaningful way." – Mike Roberts

"Thanks to your support, the creative process has become a[s] light as paper." – Adam Twardowski

You can also take advantage of other Creative Cloud services like:
ADOBE STOCK
Search for and license high-res, royalty-free images from inside Draw. Incorporate quality imagery into your work.
CREATIVE CLOUD LIBRARIES
Get easy in-app access to your assets — including Adobe Stock images, photos you processed in Lightroom, or scalable vector-based shapes created in Capture CC.
DIRECT TO DESKTOP
Send a file to Photoshop CC or Illustrator CC with layers preserved. It automatically opens on your desktop, letting you effortlessly build on your idea.

STYLUS SUPPORT
Draw with precision and control using pressure-sensitive pens including Adobe Ink, Apple Pencil, Pencil by 53 and styluses from Adonit and Wacom.

DIGITAL RULER
Use the integrated Touch Slide to make flawless straight lines, circles, squares and triangles. It doubles as a placement tool — select shape stencils from an in-app menu. Pinch to scale, and trace the outline or double tap to stamp.

POWERED BY CREATIVESYNC
Adobe CreativeSync ensures that your files, fonts, design assets, settings and more all instantly appear in your workflow wherever you need them. Start your creative work on any device and seamlessly pick it up on another.

GET FEEDBACK
Publish your work to the Behance creative community and get feedback without leaving the app. You can also share through Facebook, Twitter and email.

2GB FILE STORAGE
Use of Adobe mobile apps requires a free, basic level of Creative Cloud membership, which includes 2GB of complimentary storage for file syncing and sharing.

--------------------------------------------------------------------------------------------------------
MORE STORAGE (Optional in-app purchase)
If you need more than your allotted 2GB of Creative Cloud file storage, you have the option of purchasing an additional 20GB for $1.99 (US dollars) a month. The recurring payment is automatically charged to your iTunes account. To stop service, simply go to your account Settings and turn off auto-renew at least 24-hours before the end of your billing period. Prorating is unavailable — when you turn off auto-renew, service will continue until the end of that month's billing period.

The Fine Print
You must be 13 or older and agree to Adobe's terms and privacy policy, viewable at http://www.adobe.com/special/misc/privacy.html. Use of Adobe mobile apps and online services requires registration for a free Adobe ID as part of a free, basic level of Creative Cloud membership. Adobe online services require an Internet connection, are not available in all countries or languages, and may be subject to change or discontinuation without notice.
iPad Screenshots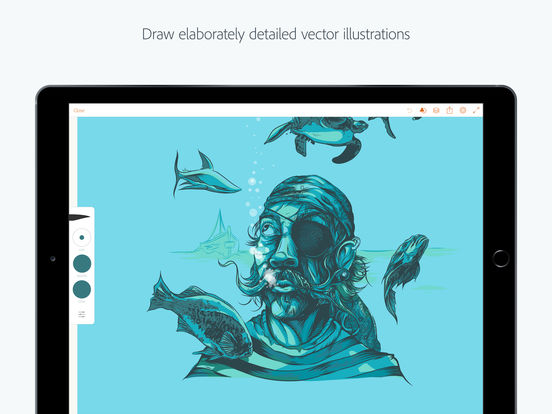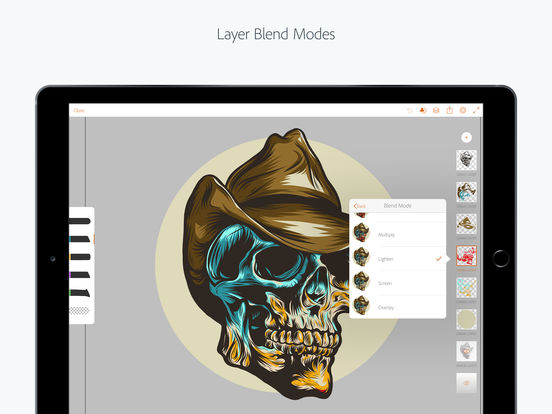 Reviews
Amazing
Minecraft awesome.go play
on
8/17/2017
I absolutely love this app! It actually helped me to draw better on paper
Just wow
This app is actually really useful I've been using the app since I downloaded it and I have to say that I'm impressed adobe you have earned these stars
Add more features!
Adobe Illustrator Draw is so useful for vector based illustrations and seamlessly getting them on my computer. However, considering Procreate is its biggest competitor, I think additional features comparable to Procreate could make this app better--specifically a time-lapse feature to record the drawing process! It would also be beneficial to have/create/save additional brush settings. Really, the only thing this has over Procreate is the fact Draw is vector-based and can sync with my Creative Cloud.
I love it but this buggy freezing app doesn't love me back
DanaBearDavis
on
8/15/2017
It's an amazing, and amazingly simple, app for all for your illustration needs--but the second you start drawing more technical, detailed illustrations and maneuvering layers, watch out. So far one of my best drawings is unusable and irreparable as absolutely nothing I do will stop it from crashing the second I try to open the drawing. I've had issues with lagging on a few other projects(like the one I'm currently doing which is making me incredibly nervous) so I'm desperately hoping the app gets a much needed update soon to fix whatever is happening.
Godly
Kyhcsbgjx hu
on
8/14/2017
Once you know how to use it properly, this app is amazing ✨✨🌟⭐️
HELP
Awesome Kylie
on
8/14/2017
Why won't it let me zoom in or out anymore??????? It let me before idfk what tf is going on and I need my work done
Failed to work, failed to allow me to send my first reviews
I hate Illustrator
on
8/14/2017
Terrible, terrible, and terrible.
Great but.....
murohygirl9yearold
on
8/13/2017
It's an amazing app but I need an airbrush tool I think it would work great!
Needs more tools
Shading and coloring messes up by mixing
Helpful, but needs more tools
minecraftplayer24
on
8/11/2017
It's a really good app, and lets me animate, but it's a little hard. It should have brushes that overlay certain colors, and the ability to save a specific zoom spot, etc. Otherwise, it's a really great app, and keep it up!
hate this app
i dont like this app at all. i like making fansigns and this is not the app for that. USE PROCREATE
Read it
Madi Sartorius
on
8/10/2017
I was trying to make a tumbler design with dribbly eyes and it would not let me fill anything in. DO NOT GET IT. IT WILL WAISR YOUR TIME.
ehh
eargumaniz13
on
8/10/2017
would be better if it had a blending tool :/
Clean and simple, but maybe a bit too simple
Enrique Robideaux
on
8/9/2017
Great app that allows use of stylus and gives lots of variety to the drawing tools. Minimal ability to adjust images (size and position only). Can't use images or patterns as fills in objects. Not all functions are in the documentation - keep playing with stuff and you may find what you are looking for. My big discoveries: tap & hold the pen to fill an object with the selected color. Also, tap and hold the color picking dot on any tool to get an eye dropper.
Needs more work
LoveLifeEveryday284
on
8/8/2017
Everytime I try to make a cartoon of myself, it only lets me to color certain parts
Fantastic
I wish you could use a tool that fades on the sides to make shading easier, but otherwise I'd give it five stars. Great app; I use it all the time.
Love it!
This app is amazing! The only tool that I wish the app included is a blur tool to create an ombré effect.
Could be a little better
It's ok because it won't draw straight
Great but
Kayee123457890
on
8/6/2017
I love this app but I can't fill any thing in I can only fill in the first draw layer I make and it fills every thing in
Fun
Fun to draw and color
Tools
It could use a larger variety of shapes. Otherwise; fantastic :)
MAD
IM SO MAD RIGHT NOW THE FILL IN TOOL DOESNT WORK PLEASE UPDATE SOON!
I love it
This is the best mobile photoshop out there. I would recommend this to people trying to learn photoshop simply on a device, to get started on photoshop
The best drawing app I ever used so far honestly
The best drawing app I ever used so far honestly
Great and simplistic!
Really enjoying the app! It would be nice if you could rotate canvas with fingers like in Procreate but other than that a great free app I think everyone should have if they have Apple Pencil.
Love this app
I have really enjoyed learning how to use this app. Love how my artwork is coming out!
I love this app but to laggy
To laggy cause at random times it just stops and I have to get out of the app then back on it
New version
Thanks for the update Adobe. And even though I haven't used it yet, but, I'm really still really happy and grateful of all the more older versions of Adobe Draw. And maybe someday I'll get back to Draw.
Its good but could be better
Tommy try hard
on
8/3/2017
This drawing app is much better than the ones I've tried but it could use some tweaks like being able to adjust the erasers and pens strength so you could blend the colors so it doesn't just change color in sections out of no where And it could use something like adding a glow effect or shading things and maybe an option to add a shadow effect so your drawing character or objects look like there actually there plus maybe you can add an option to make image layers into draw layers so say if someone's drawing a character from a base they don't have to redraw the whole thing just to get started on there character
love it!!
⭐️ star butterfly⭐️
on
8/3/2017
I love drawing and illustrations so this is perfect
Laggy
The "fill in color" feature doesn't work. I would press and hold on my phone, and the "working" icon would pop up it would stay there for hours. I tried closing and reopening the app and wouldn't help instead it would freeze up.
I Can Draw Again
this software allows me to reconnect with one of my most missed skills, just sketching. Thank you.
GLITCHY
I can only zoom in. I can't zoom out. Fix IT.
Help! My fill in tool won't work!
TheCluelessCustomer
on
8/1/2017
I don't know what's going on whether it's a bug or my fault but my fill in tool won't work. I would press and hold something to fill it in and It would be showing the "working" signal for hours! I've tried restarting my device, rebooting the app and closing out and going back into the project. Please help! I need my work finished as soon as possible and filling it in by hand isn't convenient at all.
My go-to app
@NUMBGILINSKY
on
8/1/2017
I never write reviews but this app is exactly what I expected it to be and needed it to be. If I could rate it more than 5 stars I would
It's awesome
BubbleGum Tootie
on
7/30/2017
Really love this app. I use it to make cartoons. You may have to watch a few YouTube videos to learn how to operate but otherwise I totally recommend this app.
Great app
Dude with a dog
on
7/30/2017
Love this app so. Easy To use!
Love where this going.
Coqui Unlimited
on
7/30/2017
Finally it's here! No need to run to wannabe applications. I'm sure this app will get better and better. Wish it was a full illustrator version for the iPad, since I like using the iPad Pro for everything and am unable to sit for long periods of time on a desk.
Great app
It's a really good app for drawing. I wish there where more tools to work with
Love it
Mkayyyy.maddy
on
7/28/2017
Love it
Love it
It works very well
I hate it
Alynafrazier
on
7/27/2017
Just because I'm 12 I can't draw a simple cartoon??? I was so excited to get this but now I'm very mad
Beautiful app but one thing!
Idk I like turtles
on
7/26/2017
This app is perfect for me and its really well made but it should have a text tool with different fonts other than that it's perfect
Not really Illustrator
BR zoo visitor
on
7/26/2017
Adobe is putting an enormous amount of work in its various iOS apps to allow some reasonable work flow compatible with their CC apps; I'm making good use of some of them. Illustrator for iOS is kind of interesting but lacks the heart and soul of Illustrator, which is the pen tool and things like Bezier curves. This is in contrast with Photoshop and Lightroom, which at least allow some genuine image manipulation and creation of professional output. In essence it is just a way to do some finger or stylus work when on the road to make the beginnings of what will eventually go back into real Illustrator drawings in Macs and PCs. 2 1/2 stars.
Crashing on 6 Plus
YoungKenpachi
on
7/26/2017
Great app when I first used it yesterday, but now it keeps crashing even after having it open for 30 seconds.
Adobe
7 minutes workout
on
7/25/2017
This is great I love it
Love it!
Although my drawing skills are not the best.. this app makes me release the genius on me :P
Fact Sheet
Publisher:

Adobe Systems, Inc.

Category:

Productivity

Released:

Oct 07, 2014

Current Version Released:

Jul 20, 2017

Version:

4.2

Size:

106.1 MB

Compatibility:

Requires iOS 9.0 or later.

Recommended Age:

4+

Game Center Certified:

No

Supported Devices:

iPad2Wifi-iPad2Wifi, iPad23G-iPad23G, iPhone4S-iPhone4S, iPadThirdGen-iPadThirdGen, iPadThirdGen4G-iPadThirdGen4G, iPhone5-iPhone5, iPodTouchFifthGen-iPodTouchFifthGen, iPadFourthGen-iPadFourthGen, iPadFourthGen4G-iPadFourthGen4G, iPadMini-iPadMini, iPadMini4G-iPadMini4G, iPhone5c-iPhone5c, iPhone5s-iPhone5s, iPadAir-iPadAir, iPadAirCellular-iPadAirCellular, iPadMiniRetina-iPadMiniRetina, iPadMiniRetinaCellular-iPadMiniRetinaCellular, iPhone6-iPhone6, iPhone6Plus-iPhone6Plus, iPadAir2-iPadAir2, iPadAir2Cellular-iPadAir2Cellular, iPadMini3-iPadMini3, iPadMini3Cellular-iPadMini3Cellular, iPodTouchSixthGen-iPodTouchSixthGen, iPhone6s-iPhone6s, iPhone6sPlus-iPhone6sPlus, iPadMini4-iPadMini4, iPadMini4Cellular-iPadMini4Cellular, iPadPro-iPadPro, iPadProCellular-iPadProCellular, iPadPro97-iPadPro97, iPadPro97Cellular-iPadPro97Cellular, iPhoneSE-iPhoneSE, iPhone7-iPhone7, iPhone7Plus-iPhone7Plus, iPad611-iPad611, iPad612-iPad612, iPad71-iPad71, iPad72-iPad72, iPad73-iPad73, iPad74-iPad74,

Supported Languages:

Czech; Danish; Dutch; Flemish; English; Finnish; French; German; Italian; Japanese; Korean; Bokmål, Norwegian; Norwegian Bokmål; Polish; Portuguese; Russian; Spanish; Castilian; Swedish; Chinese; Turkish;