Screenshots
New in version 4.4
DRAG & DROP LAYERS
It is now possible to move layers and images between drawings. Simply press-hold-drag-and-drop single or multiple layers from Sketch or Draw into other Sketch or Draw documents.

RECORD TIMELAPSE VIDEO AND SHARE
We record, you share. It's that easy. Your drawing is now automatically captured in a video that you can share directly from the app.

If you enjoy using Adobe Draw, please leave a review. It really helps!
Description
Winner of the Tabby Award for Creation, Design and Editing!

Create vector artwork with image and drawing layers you can send to Adobe Illustrator CC or as flat images to Photoshop CC.

Illustrators, graphic designers and artists can:
• Zoom up to 64x to apply finer details
• Sketch with five different pen tips with adjustable opacity, size and color
• Work with multiple image and drawing layers
• Rename, duplicate, merge and adjust each individual layer
• Insert basic shape stencils or new vector shapes from Capture CC
• Multiple stylus support for Adonit, Wacom, Pencil by 53 and Apple Pencil
• Send your illustration to Photoshop or Illustrator with all layers preserved

Try using Draw with:
Photoshop CC
Illustrator CC
Capture CC

BUZZ FROM USERS AND PRESS
"Hey dudes, Draw is fantastic. Draw can actually be integrated into my workflow in a very meaningful way." – Mike Roberts

"Thanks to your support, the creative process has become a[s] light as paper." – Adam Twardowski

You can also take advantage of other Creative Cloud services like:
ADOBE STOCK
Search for and license high-res, royalty-free images from inside Draw. Incorporate quality imagery into your work.
CREATIVE CLOUD LIBRARIES
Get easy in-app access to your assets — including Adobe Stock images, photos you processed in Lightroom, or scalable vector-based shapes created in Capture CC.
DIRECT TO DESKTOP
Send a file to Photoshop CC or Illustrator CC with layers preserved. It automatically opens on your desktop, letting you effortlessly build on your idea.

STYLUS SUPPORT
Draw with precision and control using pressure-sensitive pens including Adobe Ink, Apple Pencil, Pencil by 53 and styluses from Adonit and Wacom.

DIGITAL RULER
Use the integrated Touch Slide to make flawless straight lines, circles, squares and triangles. It doubles as a placement tool — select shape stencils from an in-app menu. Pinch to scale, and trace the outline or double tap to stamp.

POWERED BY CREATIVESYNC
Adobe CreativeSync ensures that your files, fonts, design assets, settings and more all instantly appear in your workflow wherever you need them. Start your creative work on any device and seamlessly pick it up on another.

GET FEEDBACK
Publish your work to the Behance creative community and get feedback without leaving the app. You can also share through Facebook, Twitter and email.

2GB FILE STORAGE
Use of Adobe mobile apps requires a free, basic level of Creative Cloud membership, which includes 2GB of complimentary storage for file syncing and sharing.

--------------------------------------------------------------------------------------------------------
MORE STORAGE (Optional in-app purchase)
If you need more than your allotted 2GB of Creative Cloud file storage, you have the option of purchasing an additional 20GB for $1.99 (US dollars) a month. The recurring payment is automatically charged to your iTunes account. To stop service, simply go to your account Settings and turn off auto-renew at least 24-hours before the end of your billing period. Prorating is unavailable — when you turn off auto-renew, service will continue until the end of that month's billing period.

The Fine Print
You must be 13 or older and agree to Adobe's terms and privacy policy, viewable at:
http://www.adobe.com/special/misc/terms.html
http://www.adobe.com/privacy/policy-linkfree.html

Use of Adobe mobile apps and online services requires registration for a free Adobe ID as part of a free, basic level of Creative Cloud membership. Adobe online services require an Internet connection, are not available in all countries or languages, and may be subject to change or discontinuation without notice.
iPad Screenshots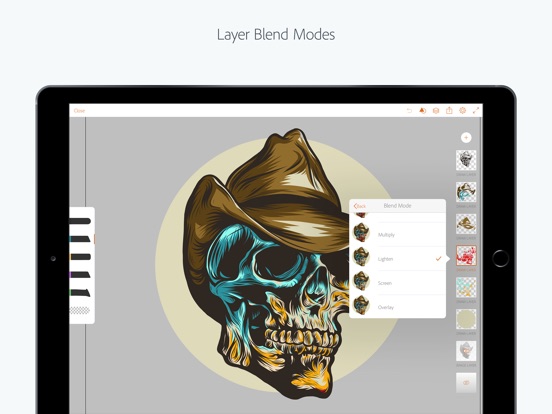 Reviews
I hate it
cheesecake_ha
on
10/15/2017
I hate it everything I press doesn't work when I did it before
Want to make a fansign for your slime instagram👇👇
a very satiysfied person
on
10/12/2017
I totally recommend this app for beginners in making fansigns.Lots of big accounts on instagram use this,but this is the EASIEST app to use once you know all the tools.
Super laggy
When I try to draw a straight line or a curved line it just puts little dots and separates the line.This app can't keep up with me drawing.
Possible bug
Masta_Tubby
on
10/12/2017
I like this app, great stuff, it tends to lag when zooming in/out but that may be just my iPad, but anyway you know the transform feature, how you can move a drawing in a layer, it selects my item, but it selects a bunch of white space. Say you make 2 squares in two different places, then you erase one and transform the other, when transforming the square gets selected but also the area where the square used to be. So I go and erase whatever is in the area, which there is nothing in the area, but when you transform it it still selects blank space, I'm not sure it's a bug
Okay
Romance and Dance
on
10/10/2017
The app is great but on iphone it tends to crash after a while
Amazing
I will highly recommend this app ! I never get let down ! Everything you need is at your finger tips
Very Diappointed
DragonStorm7
on
10/7/2017
Have been a very long time loyal user of Photoshop which is why I liked PS Touch on the iPAD especially since I no longer have a computer. Since you dumped Touch it I can no longer play with images like I use to. I miss all the features that were in PS Touch. There is no cut and paste, posterize and many other effects are absent as well. All this is is a drawing app for artists. I need a app like REAL Photoshop not this and no one seems to have one.
Amazing 😮
Bro vibes comments
on
10/6/2017
I've had this for months and I still can't stop using it 👌👍🏻😍😍😍
resizing and saving.
Whenever I zoom out or into an image it saves in a different size, this gets especially annoying when I have to crop and the quality is effected.
Can't color
xavier-burns
on
10/4/2017
WHY CANT I COLOR THE FULL PICTURE WHEN IM HOLDING IT DOWN I EVEN TRIED DELETING THE APP AND DOWNLOAD IT BACK IT DIDNT WORK
Shape Snap
Guys, I really do love the app, I have to rate two stars to bring to your attention. Please, the shape snapping, specifically the circle. I get why it snaps to a perfect circle, but it snaps to these specific ovals, and I can't get the in betweens. It's extremely frustrating.
Needs work...
I like the app initially but there are things that baffle me that aren't supported, such as... - larger canvas' for print based work with USEABLE ppi density (poster size at 150ppi isn't cutting it) - better brush control. Other apps like Procreate run circles around what you can get out of a brush. - ACTUAL CURVES AND A PEN TOOL. can't stress this one enough. Apps liKe Autodesk Graphic (Which hasn't even had a decent update in a while) successfully give you a proper vector experience with a real pen tool. Brushes in here are interesting, but the whole package would work better with the tool that made illustrator king in the first place. - allowing for projects created on mobile platform, (draw and sketch) to be editable in either program would be HUGE. I don't want to have a flattened version of my work by reference-able in Sketch, I need it to be FULLY EDITABLE
Freezes
Terrible App 😑
on
9/30/2017
I used to love it & have did a many cartoons with it but not it keeps freezing everytime I try to zoom out. It only stared happening when u updated. Pleas fix for 5 stars
Hate!!!
This game should be meant for people All ages until then I won't be downloading this game,And I love to draw!!
I love it
Beautiful blessing. 🔮
on
9/28/2017
I like the app TBH i like all of adobes products It would be better if I knew how to do more than just basic stuff So I have to go on YouTube to get extra help
Love it
I love this product, I would love it even more if there was a way to add text since it's a bit difficult to draw on the phone
Adobe must be paying for good reviews
- because this app is terrible. There are literally no editing tools. There literally isn't even a selection tool!
Please fix issue
The app was working completely fine until this most recent update. Now for some reason is I try moving a layer, the app just crashes. Hopefully they'll fix this soon enough
It is NOT possible to drag and drop layers.
It is NOT possible to drag and drop layers. Simply press-hold-drag-and-drop and you will see how you waste your time!
Great start to drawing app
Really easy, intuitive, and good integration with Adobe tools. It will grow more powerful with the integration of some easy features like Selection, Text, and Gradients. But this keeps complication to a minimum while we adapt to the revolution of mobile app art. I've also had some trouble with registration shift between layers but only at the super detail level (zoomed in to highest level).
Good App
Now I can draw what I want
Saving Drawings as Pictures
YoBoySkinnyP
on
9/22/2017
I hate having to adjust the view of my drawing so that it gets saved correctly in my photos. Sometimes only part of the drawing is there. Other times, the picture includes the unnecessary stuff outside the boundaries of my picture...
Awesome but Some Concerns
Gotta Fix The Game
on
9/22/2017
So I love this app because is very easy to use and has many options to it but theres some things that should definitely be added! First off There should be an easier and much better way to shade so maybe a water color utensil should be added which could be much useful! Another concern of mine is that I don't know how to delete or move around my libraries which I need and want to keep organize so unless its just a really hidden feature it should be added! On last thing is that whenever I fill in something with color all the time I see these really thin lines around where I filled it in and that really bugs me and Makes it look like it has a white thin outline and thats not what I want so please help me out here and add feature to fix these problems thanks!
You can do it all!
I'm having so much fun coloring & drawing on this app! There are so many things you can do on this app & the possibilities are endless!
Worthless
Could not recommend less. I keep wanting to use this and for it to work. It is a gimmick that gives Adobe a chance to say that they have a Mobile presence. I can't imagine how this useful in anyone's workflow. As a doodling app it's okay, but sending files to .Ai is worthless. First, it only goes one way. Second, the image imported is basically [image traced]. No stokes. No objects. I can not stress enough, "What is the functional purpose of this app!" Could not recommend less.
The best app
FunnyBunny805
on
9/19/2017
This is the best app to use for drawing
Amaaazingg
I love this app so much, it helps me improve my skills as an artist and has made me appreciate all types and forms of digital art. It's great for anyone even if you know nothing about digital art, it's easy to use and you'll catch on quickly and have lots of fun!
It's pretty good but
Monkeybatter
on
9/18/2017
I know of drawing apps with more brush variety. It doesn't measure up that way. Also it keeps crashing on me when I zoom in to do detail work.
Love it
Sara grant dolan
on
9/17/2017
It really helps me with my fan art
no blend!
Reviewer of apps😉
on
9/17/2017
I love this app and everything about it, but the one thing about it really, really needs is a blending tool. I know many people that have stopped using this app when they figured out there was no blending tool. I continue to use it but have such a hard time blending colors without a tool.
Not as robust as Photoshop, has limits
BubbaGumpy69
on
9/14/2017
I'm just beginning in it and find that it has drawbacks
Layers & folders
It would be perfect if you can have more layers AND folders! I like to keep my work organized.
Ugh
cookiedogguyyeah
on
9/12/2017
Don't
Ughhh!
It won't let me fill in my pictures and it's sooo annoying!
Great app
Minnie Mouse4
on
9/11/2017
It's a good app to make a picture as a cartoon or to just draw i just don't like that if I draw on my laptop and go back on my phone to use the app it won't open some drawings I drew on my laptop but overall it is a great app.
Horrible
Bertha Matilda Ranchhouse
on
9/10/2017
Never works correctly.
Amazing I've started a drawing career and I'm really good at it
Snow feud your
on
9/9/2017
It's awesome I love it
It's ok
Purple husky1015
on
9/9/2017
It's fine
Amazing !
Hannah Hinkle
on
9/9/2017
I think this app is amazing, I can really draw some things with it! I feel like this app should have a blending tool though :( but otherwise great app !
Buggy
This app was great but now its just so buggy it keeps on freezing every time i get on.
Limited Layer Cap, overall Great app
Ixion The Ghost
on
9/7/2017
This app for me is fantastic but I find that I'm almost -always- finding myself limited by the limitation of how many layers I can use or when merging layers where one layer is on multiply and the one merging down to is normal for example, the multiply layer effect is INSTANTLY lost and the merged layer just looks like the layer with the normal look. There's also the lack of better control when wanting to rotate a layer, no ability to link layers to move/rotate all at once just in case orientation of applied effects needs to be adjusted. There are times I'm trying to rotate a layer and end up resizing it. -_-; Overall I enjoy the app and it is my go to for random doodles. Just needs better control, no limit on the number of layers we can create, the ability to select, copy and paste custom selections in a later, more brushes O_O NEED MORE BRUSHES! So for that I had to dock a star. Still super happy with the app though. Keep up the good work guys and gals! Hope to see more advancement for the app in the future.
Okay
Kristina M Chaney
on
9/7/2017
I'm partial about this app. It gets frustrating when I go to fill and it doesn't want to fill. Another annoying feature is the fact almost every time my hand bumps it adds a mark. Maybe add a pencil only option?
Awesome!
Great tool for illustration
Good app!
Really good app but is there anyway y'all can add gradient colors!
Than you
leforeignpapi
on
9/6/2017
AWESOME
Awesome
Just to get some likes
on
9/6/2017
Awesome
Vectors?
Awesome app. Loving this on my iPad Pro, but one thing if this is illustrator why is it missing the real pen tool. I think it would one benefit users with out Apple Pencil and really help others who don't have access to full computer version of illustrator. I do get this is not "illustrator" per say but still would like to have pen tool on the go, maybe another app adobe. Great job though, now I'm making some nice art cooooool beans!
AMAZING DRAWING APP!
This is a great app, i love drawing! I have a suggestion. Why not have the eraser also have the capacity like the brush? Would you add that? Then it would be almost a perfect app!
It's making many people money!
poohwiththereview
on
9/5/2017
Many people use this app to make cartoons it's the exact thing and only thing I use it for...but the brushes should be updated just a tad.But not bad you earned yourself 5 stars, Great Job!
Great free drawing app... needs colour picker though!!
I might be missing it but this is the first time I've not been able to use a colour picker in a drawing app... if that was included this would be ace!
Fact Sheet
Publisher:

Adobe Systems, Inc.

Category:

Productivity

Released:

Oct 07, 2014

Current Version Released:

Sep 22, 2017

Version:

4.4

Size:

108.4 MB

Compatibility:

Requires iOS 10.0 or later.

Recommended Age:

4+

Game Center Certified:

No

Supported Devices:

iPhone5-iPhone5, iPadFourthGen-iPadFourthGen, iPadFourthGen4G-iPadFourthGen4G, iPhone5c-iPhone5c, iPhone5s-iPhone5s, iPadAir-iPadAir, iPadAirCellular-iPadAirCellular, iPadMiniRetina-iPadMiniRetina, iPadMiniRetinaCellular-iPadMiniRetinaCellular, iPhone6-iPhone6, iPhone6Plus-iPhone6Plus, iPadAir2-iPadAir2, iPadAir2Cellular-iPadAir2Cellular, iPadMini3-iPadMini3, iPadMini3Cellular-iPadMini3Cellular, iPodTouchSixthGen-iPodTouchSixthGen, iPhone6s-iPhone6s, iPhone6sPlus-iPhone6sPlus, iPadMini4-iPadMini4, iPadMini4Cellular-iPadMini4Cellular, iPadPro-iPadPro, iPadProCellular-iPadProCellular, iPadPro97-iPadPro97, iPadPro97Cellular-iPadPro97Cellular, iPhoneSE-iPhoneSE, iPhone7-iPhone7, iPhone7Plus-iPhone7Plus, iPad611-iPad611, iPad612-iPad612, iPad71-iPad71, iPad72-iPad72, iPad73-iPad73, iPad74-iPad74, iPhone8-iPhone8, iPhone8Plus-iPhone8Plus, iPhoneX-iPhoneX,

Supported Languages:

Czech; Danish; Dutch; Flemish; English; Finnish; French; German; Italian; Japanese; Korean; Bokmål, Norwegian; Norwegian Bokmål; Polish; Portuguese; Russian; Spanish; Castilian; Swedish; Chinese; Turkish;