Productivity
Social Networking
Recommended app!
App last updated
Nov 06, 2017
Screenshots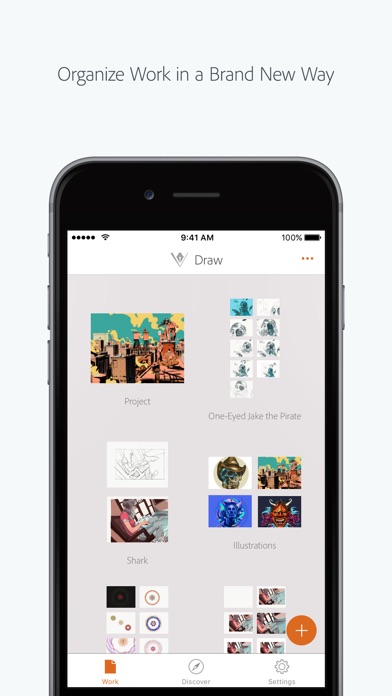 New in version 4.5
FREELY ROTATE THE CANVAS WITH YOUR FINGERS
Spin the canvas instead of your device! Place two fingers on the canvas and freely rotate it to any angle you like.

TRANSFORM ALL LAYERS
Move or scale all layers at once via the "Transform All Layers" action available in layer options.

RESIZE LAYER WIDTH OR HEIGHT INDEPENDENTLY
Scale your artwork non-proportionally by resizing the width or height of a layer via the layer "Transform" action.

FILL A NEW LAYER WITH COLOR
Create a new layer and long press on the canvas. The layer will fill with the color of the currently selected brush.

SORT PROJECTS BY NAME OR DATE
Organize your projects by sorting them by name, created date or modified date.

OPTIMIZED FOR IPHONE X
Enjoy Adobe Draw on Apple's latest iPhone including support for pen pressure via 3D touch.

If you enjoy using Adobe Draw, please leave a review. It really helps!
Description
Winner of the Tabby Award for Creation, Design and Editing!

Create vector artwork with image and drawing layers you can send to Adobe Illustrator CC or as flat images to Photoshop CC.

Illustrators, graphic designers and artists can:
• Zoom up to 64x to apply finer details
• Sketch with five different pen tips with adjustable opacity, size and color
• Work with multiple image and drawing layers
• Rename, duplicate, merge and adjust each individual layer
• Insert basic shape stencils or new vector shapes from Capture CC
• Multiple stylus support for Adonit, Wacom, Pencil by 53 and Apple Pencil
• Send your illustration to Photoshop or Illustrator with all layers preserved

Try using Draw with:
Photoshop CC
Illustrator CC
Capture CC

BUZZ FROM USERS AND PRESS
"Hey dudes, Draw is fantastic. Draw can actually be integrated into my workflow in a very meaningful way." – Mike Roberts

"Thanks to your support, the creative process has become a[s] light as paper." – Adam Twardowski

You can also take advantage of other Creative Cloud services like:
ADOBE STOCK
Search for and license high-res, royalty-free images from inside Draw. Incorporate quality imagery into your work.
CREATIVE CLOUD LIBRARIES
Get easy in-app access to your assets — including Adobe Stock images, photos you processed in Lightroom, or scalable vector-based shapes created in Capture CC.
DIRECT TO DESKTOP
Send a file to Photoshop CC or Illustrator CC with layers preserved. It automatically opens on your desktop, letting you effortlessly build on your idea.

STYLUS SUPPORT
Draw with precision and control using pressure-sensitive pens including Adobe Ink, Apple Pencil, Pencil by 53 and styluses from Adonit and Wacom.

DIGITAL RULER
Use the integrated Touch Slide to make flawless straight lines, circles, squares and triangles. It doubles as a placement tool — select shape stencils from an in-app menu. Pinch to scale, and trace the outline or double tap to stamp.

POWERED BY CREATIVESYNC
Adobe CreativeSync ensures that your files, fonts, design assets, settings and more all instantly appear in your workflow wherever you need them. Start your creative work on any device and seamlessly pick it up on another.

GET FEEDBACK
Publish your work to the Behance creative community and get feedback without leaving the app. You can also share through Facebook, Twitter and email.

2GB FILE STORAGE
Use of Adobe mobile apps requires a free, basic level of Creative Cloud membership, which includes 2GB of complimentary storage for file syncing and sharing.

--------------------------------------------------------------------------------------------------------
MORE STORAGE (Optional in-app purchase)
If you need more than your allotted 2GB of Creative Cloud file storage, you have the option of purchasing an additional 20GB for $1.99 (US dollars) a month. The recurring payment is automatically charged to your iTunes account. To stop service, simply go to your account Settings and turn off auto-renew at least 24-hours before the end of your billing period. Prorating is unavailable — when you turn off auto-renew, service will continue until the end of that month's billing period.

The Fine Print
You must be 13 or older and agree to Adobe's terms and privacy policy, viewable at:
http://www.adobe.com/special/misc/terms.html
http://www.adobe.com/privacy/policy-linkfree.html

Use of Adobe mobile apps and online services requires registration for a free Adobe ID as part of a free, basic level of Creative Cloud membership. Adobe online services require an Internet connection, are not available in all countries or languages, and may be subject to change or discontinuation without notice.
iPad Screenshots
Reviews
Best app EVER!
Mary Crawford Weaver
on
3/22/2018
I love this app so much! It helped me learning practice new art skills. And I've made optical illusions sketches and so much more with Adobe.
Glitched
Oksana and Brianna
on
3/22/2018
I was trying to draw a simple little flower but it kept crashing whenever I tried to draw
My go to Drawing App
The InvictusSamaritan
on
3/21/2018
Definitely check this out, if you love drawing.
Blender
Madfeald2004
on
3/19/2018
IT WOULD BE SO MUCH BETTER IF YOU COULD BLEND KANDJSN
5 Stars!
Me and my friend have a YouTube channel. And I use this app to make logos for it. I also enjoy just free-styling video game characters/logos/controllers/etc. This is one of the best drawing apps ever! 5 Stars!
This has happened multiple times!
I really do enjoy drawing on this app but after this happened I don't know if I'm wasting my time or not; I was drawing a portrait and all of a sudden the part I had zoomed in on had become the whole paper, and I lost the rest of the portrait. I don't appreciate all the hard work being deleted. Not to mention, this had happened multiple times. They need to fix this.
Adobe draw
Iphone8 gxng
on
3/17/2018
It's a good app for cartoons and drawings
Horribibble
organicparadox
on
3/17/2018
Compared to it's contemporaries, so sad
It's ok but
Dr Adrian Davieson
on
3/12/2018
The zoom in and out is the problem I can't zoom in ,in small areas and eyes and such you really need to fix that and if you try zooming in it can undo your stuff but beside all that it's really amazing:)
LOVE 💗
This app is amazing.
Impossible to Use
Want to draw a perfect yellow circle? Well set aside two hours before trying that on this app. Better luck with a pencil and a old CD as stencil, scan it, email it and this app will still be selling you more stock images... yea happy "drawing"
Transferring Art
It's so difficult to export your files, not everyone has illustrator. So sharing your work is so annoying.
Just needs a few tweaks
Shredd the Dinobot
on
3/7/2018
I do wish there was a few more brush options(ones that look like actual brushes) And the ability to select colors in the image and change them would be nice. I understand it's not photoshop, but it would be helpful if some of those properties where ported over. All in all though it's a great app for drawing 🙂
I like it I just wish
Abobe would make their complete library like muse and others mobile... Adobe capture could make use of patterns etc.. All mobile and a lot more people would learn graphic design, which is why i like this app, because you can use capture in illustrator, but in a minimal way ... Please Adobe, there are lot of people that are mobile, lets see what everyone can do... Your desktops are standard for graphic design, but with apps like Instagram you could lead the way to a whole new group of people with a serious set of mobile apps, because mobile is becoming the future...
No
This app says 4+ but when I signed in it said 13+ WHAT?!? The only reason I gave it a one is because my friend said it was a nice app. 🙄
This App Is Great!!
HannahJaneMac
on
3/4/2018
Adobe Draw is a great app. I got to zoom in super close to make precise lines. It was perfect for making my slime account logo! Great App!!!!!!!!!!!
One thing
emeraldprincesss
on
3/3/2018
Is it possible to have a blending tool? I really find myself needing it for My work
Amazing App😍 5/5
This app is a-maz-ing! You can make really cool cartoons w/ this app. The shading is amazing, colors are amazing, everything is so amazing about it!!
Yeah no
I love this game because you let me take a picture of myself
There's a bug
Ever since early February 2018, this app keeps freezing and quitting unexpectedly on all of my iPads (except my iPhone). Perhaps it's incompatible with the latest iOS. Fix the bug!
Like but...
LeAndre4rmTheAve
on
3/1/2018
Like it but the paint bucket is hard to use it always pops up an X with the paint bucket
Yay Amy
Idk how to blend colors but I love it
I like it a lot but
Samuel Wazir
on
2/28/2018
This app is more useful to me with line drawing. The app would be of a lot better use if an airbrush coloring tool was added to it for better shading and texture brushes like how they do in manga for backgrounds and shading. The airbrush coloring tool idea would be the most helpful thing in this app for me and give me ultimate satisfaction.
Please add hi res save options.
I've created some of my best work so far with this app, but the only way to save high resolution images would be to send the artwork to a desktop computer, which I don't have, to save them from Illustrator. Other than lacking the ability to save high quality images directly on my iPad, it's my favorite drawing app.
Amazing BUT
randomperson68
on
2/26/2018
I LOVE LOVE LOVE this app but when I try to save it to my photos it always turns out so small and when I try to crop it it just turns out blurry so can u try to figure out a way for me to save this into my photos in full size THANKS
I hate it
Ashlie_TheUnicorn609
on
2/25/2018
Everyone pretty much thinks this is a good app. I thought it was until I actually used it. Literally every time I try to color it doesn't work. When I want to shade in. It does work. I used their tutorials. They didn't help a single bit. I don't get how people love this app. This is why I'm going to delete it. From my opinion I don't recommend this especially when u are a beginner. This company should make this app just like it except for beginners. Sorry for the people who like this app, but for me, its terrible.👎👎
Awesome tool
This app does have great potential, specially when used with the apple pencil. There are still some features needed, for example: when you want to change the color of a line it's tedious when your lines are thin and separate. But over all it's a good drawing tool.
Perfect
khiara rodgers
on
2/23/2018
Luv it!!!
Adobe drawing
This app is so good,I've made really nice drawings
Love this app
Hermione 101
on
2/23/2018
This app is so fun and there are no commercials because no one likes commercials.
IN LOVE
This app is perfect. I have a fan page, and I use these for my outlines. People always ask me what app I use, and I am happy to tell them of such a good app!
Great App
Purplelphant
on
2/20/2018
This app is really fun. I like that it is compatible with other adobe apps. This app does not require much skill but the range of artistic skill that can be applied to it is unlimited. I would recommend this app to anyone who likes to draw.
Great app
Alexis18282818272
on
2/20/2018
Very fun
I love your stuff
Thx for letting me Download the app
So good, but add a "re do" button!
Lovethisappshimmur
on
2/18/2018
I love this app and I use it every day, but sometimes I accidentally press the undo button and I delete something I don't want to delete. It would be helpful if there was a re do button so I could go back and I wouldn't have to draw that thing over again.
Good but
I downloaded this app weeks ago and it worked fine until it started crashing when I ever I tried to use it
Love drawing
My fav thing to do is draw and this is the app to use. I'm getting better and better as I go. This is soo fun to use
Not worth it without pen tool.
Title says it all. Need the pen tool to really make this app shine.
Almost there
I'm having a lot of fun with this app. The combination of geometric guides and the Apple Pencil really gives me the feel of old school drafting on my iPad, and the fluidity of drawing straight and curved lines is extremely satisfying. I do feel, though, that for this to be a truly powerful creative app it needs to integrate some of the more advanced features we've come to rely on in Illustrator: -Editable paths -Pathfinding/path cutting capabilities -Page grids/snap to grid functionality -Easy path duplication (something akin to option-dragging) As is, it's a really fun sketching & ideation tool, but I can't say I'd use it for production-level client work until its capabilities are more robust.
Love
Love this app, can import projects right into illustrator and it turns everything into vector objects. Just wish there was a mirror tool.
Great, but Undo Makes It Almost Unusable
This is an excellent app in a lot of ways, but drawing shapes could be much more intuitive, also, my main complaint is the difficulty of a simple undo. It should be a 2 finger tap like Procreate does, as using a 2 finger swipe to undo is a pain and it becomes very easy to accidentally resize or move the art board around. It happens almost every time I undo. That reason alone makes this app a terrible experience and honestly infuriating. You can't even customize gestures. If it weren't for the convenience of handing it off to desktop and also the fact that it exports in vector format that way, I'd be so over this app.
Something wrong
Kelvin peralta
on
2/11/2018
Every time I try to move the picture it erases or draws I can't do shut on this app duck this app bye
Glitches bad!
I love this app with my Apple Pencil and it is great for drawing. Overall the works of this app are great, but there is just one thing. Sometimes it glitches so bad for like a whole hour! I get so annoyed sometimes because I'm trying to work on a project and then it just exits out of the app and all I wanna do is freaking draw. I've tried everything like re downloading the app and stuff, nothing ever works! Please fix.
Amazing love it
Zanib unicorn
on
2/10/2018
So cool lots of tools make your own colors see other people drawings and follow them! So cool you need to download this and there is no crashing
idraw
At first it's difficult to get the right lines, but so many features it's a world of art!!!
Could use some improvement
I love this app, I use it to trace over my drawings (on paper) and bring them to life. However, I wish there was a folder option to organize the things better. Before there was something similar to it. If folders could be added that would be great!
Adobe Draw
smittylovesmusic
on
2/7/2018
Adobe draw lets you draw whatever you want. You can pick your own colors and draw your favorite things you should definitely get this add!
Amazing!🐢✨
Alex Mosquera
on
2/6/2018
This app is powerful. Perfect for illustrations. LOVE IT! 💛+++++
Fact Sheet
Publisher:

Adobe Systems, Inc.

Category:

Productivity

Released:

Oct 07, 2014

Current Version Released:

Nov 06, 2017

Version:

4.5

Size:

112.2 MB

Compatibility:

Requires iOS 10.0 or later.

Recommended Age:

4+

Game Center Certified:

No

Supported Languages:

Czech; Danish; Dutch; Flemish; English; Finnish; French; German; Italian; Japanese; Korean; Bokmål, Norwegian; Norwegian Bokmål; Polish; Portuguese; Russian; Spanish; Castilian; Swedish; Chinese; Turkish;