Recommended app!
App last updated
Dec 29, 2017
Screenshots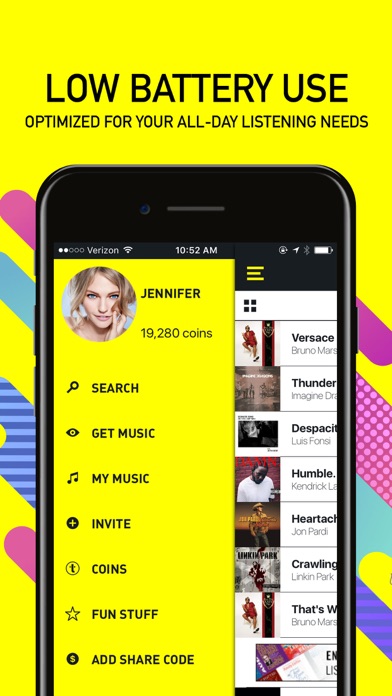 New in version 3.9.4
- Bug Fixes and Performance Improvements
Description
iOS 8.0 or GREATER REQUIRED.

Please send questions to: hello@trebelmusic.com

TREBEL is a music app for iPhone that lets you download songs and albums, and play them offline, for free. Now you can listen to music you download anywhere with no WiFi. TREBEL is engineered for unlimited music downloads and uses less phone battery and cellular data than streaming music apps.

Downloading free music on TREBEL is as easy as tapping a button. No more wasting time on torrent sites or converting YouTube videos to MP3 in order to get the music you love.

On TREBEL you can download the hottest new albums from your favorite artists for free, such as:

Taylor Swift - Reputation
Ed Sheeran - Divide
Drake - More Life
Macklemore - GEMINI
Kendrick Lamar - DAMN.
Imagine Dragons - Evolve
Post Malone - Stoney
Thomas Rhett - Life Changes
Linkin Park - One More Light
Bruno Mars - 24K Magic
The Killers - Wonderful Wonderful
Migos - Wins & Losses
Jack Johnson - All The Light Above It Too
The Weeknd - Starboy
Portugal. The Man - Woodstock

If you have a large iTunes collection already, TREBEL automatically syncs your existing library so you can combine your own music with songs downloaded for free on the app.

Product Features:

No Wi-Fi connection needed to listen to most downloaded songs
Play offline on mobile
Unlimited music downloads enabled by caching technology
Use less cell data than streaming apps when playing music offline
Saves phone battery life when playing music offline
Download complete albums at a time
No need to use an MP3 converter or torrent site
Syncs with your existing iTunes MP3 collection

Music:

Top 40, Hip-Hop, Rap, Electronica, Punk, Classic Rock, Metal, R&B, Gospel, Christian, Holidays, Folk, Country, Bluegrass, Indie, and more!
High quality audio
Album cover art and information
Customizable playlists
Search by artist, album, or song
Sort by artist, album, genre, song, or playlist

Social:

Campus function allows you to discover music from students at your college or university
Interact with campus influencers for new music recommendations
See what your friends and followers are downloading and listening to
Download the same music as your friends

What's New in This Version:

We're constantly updating and improving the TREBEL experience. Keep your Updates enabled to make sure you always have the current version.

We're working hard to get more free music content for offline playback. If you see a song or album that we don't offer, hit "Request Download" and we will let you know when it's live on the app.

TREBEL is a licensed service with the best music in the world from Universal Music Group and Warner Music Group.

HIT US UP BELOW!

instagram.com/trebelmusic
twitter.com/trebelapp
facebook.com/trebelapp
trebelmusic.com

If you love the app, please rate and review it with 5 stars!
Reviews
This is a truly good app
This app is amazing. I'm so glad there is somewhere to play offline music for free. The downloading process could be better, because you must stay on the download page the whole time, and there is not as much selection of music as there is in other apps. I believe this is because trebel's music is free and it takes a while to get the legal stuff, but don't quote me on that
READ THIS!!
Bradwelch9277
on
1/19/2018
I had this app before and one day I wanted to listen to the music I downloaded and it wouldn't play it bc it said it need a network (WiFi) so when I went to settings to turn on my cellular data, the music started playing and when I went back to settings I turn off my cellular data and the music wouldn't played. Please fix it where it does not need internet (WiFi) to listen to music.
Love it
I love this app I love the music you can download
Are you listening?????
This app is god sent! I just hope that in the future there'll be more musicals available to download and the "are you listening" modified. It's quite annoying when you're jamming to a song then silence and you see "are you listening?" Lol yes I was. There should be a timer that we could set for it to pop up. I don't see why everyone is complaining about coins smh. Just download more songs. Keep up the good work Trebel team!
App is great
Nahomisthecoolest
on
1/17/2018
App is great but you should make an Apple Watch app
Love Treble
Temperance17;)
on
1/15/2018
I love this app it has helped me out so much and saved me money so glad have this app now I'm so happy 😁😁❤️👌🏻👌🏻
Treble
One of the good free music downloaded apps. Doesn't always have the music I'm looking for but can't beat the price and like the way the music player is designed. Recommend it as one of your must have music apps!
🤔
Una pregunta que no tengo clara eSta aplicación usa datos?
Unavailable music
Beastly unicorn :P
on
1/14/2018
I swear all the songs I look up aren't on there yet, which isn't that big of a deal but I'm very impatient and don't like waiting for my favorite songs to be available. I also run out of coins way to fast and it's a bummer to have to watch an ad for literally every song... Other than that it's truly an amazing app, it's definitely one the of the best I downloaded in a while.. Please update the music and make a few tiny adjustments to the coins...
Not in all countries
It don't work in all countries like in Lebanon plz fix it
Good app
I find the app to only be good because it doesn't give you the option of making a song your ringtone
Please update!
Mummy Eye 2234
on
1/13/2018
Hello recently I have been having troubles with your app like when I pause and play again from the lock screen another song starts to play and the only way to stop is to close the app and starts again. Also I am unable to shuffle my songs.
Useless
Pay to use pretty much
Need new music
Easymon3y5niper
on
1/13/2018
I can't get J Cole, Hopsin, 21 Savage, or Jay.... there's a lot more artist but those are main guys and it keeps saying coming soon but it's been around 3 months. Please update, guys... My 5 star rating will "Come Soon" when the music does. Btw I'm not gonna complain about the coin system cuz that's how u guys pay for the music and make it free it the first place. Thanks.
Too glitchy
Sugar bear387567
on
1/12/2018
Always want to freeze no matter how many times I restart the app, the fact that it takes coins I listens to song is very annoying I think at least if your going to do coins, the amount of coins should be at least 20 for each song you download, it takes forever for new songs to come on, plus all the new songs you have to wait forever for and even older songs I think if the artist is on there, then you should have all the songs that are by that artist and not take months for songs to come on after being released I think the apps great but it needs grave important
Great but
It was a great app at first but it has been slowing down and taking more battery and more points
Needs more available
3,2,1 let's race
on
1/12/2018
Would be great if had more songs available instead of saying coming soon forever
Read plz
I downloaded a song but it needing WiFi to play I can't listen to it offline but when u have WiFi it dose not work it just glitches and sends me back to my home screen and I tried deleting it and downloaded it aging but that did noting plz fix it if u can
10/10
lasyah pryor
on
1/11/2018
Best thing ever I can download all my favorite song for FREE , I LOVE IT✅😵
Switching songs
JustCallMeChat
on
1/11/2018
The app is changing songs after playing only 5 seconds of each one when connected to Bluetooth
Coins
DaltonGaylor15
on
1/10/2018
I lkke this app but I wish we did have to use the coins
My opinion
Daniel Rhone
on
1/10/2018
This is excellent app but every song on here should be free instead of making you pay for it. Shame on music industry and shame on Apple
Great App but
It's an awesome app but sometimes when I pause my music, it starts playing rap music from the Trebel app. Music that I haven't downloaded.
It could be better
ℓσνєя σf gιяαffєѕ
on
1/9/2018
This app is okay, but it's not great. There is a huge variety of songs although there are some that aren't available. When I first downloaded it I had trouble with playing offline. I deleted it and searched for other apps but couldn't find one. I decided to deal with it and downloaded Trebel again. This time it seems that I can listen offline. But I still am aggravated with the coin thing. I think it's stupid. I do not understand the point of the coins. It makes absolutely no sense at all. It'd be awesome if someone could explain it to me. I can understand maybe needing the coins to download a song, but that's not what happens. I just wish Trebel could let us have the music without all this extra nonsense. They would have a better reputation if they did.
Could be better
I love this app and it's great, but it could be better. It really drains your battery and the coming soon buttons are annoying. But other than that it is fantastic and I love it a lot.
Almost Sublime
Decent alternative to pay-to-listen music apps. Great being able to listen to the music offline especially in areas that have bad data connections. Not the best design and needs more information on how to use coins. Plus it would be much better if there was a way to tell if a song is available for download when search results are listed. I spend too much time looking for a song or album only to find it's "coming soon". But beats having to use data and monthly fees.
good job
i never tried to use it offline hope it won't fail me, i have high expectation to this app
Bugs and could be improved
@MissTsundere
on
1/7/2018
I was trying to download a song and it said the file couldn't download and to try again. I tried again like ten times and it didn't work. Then I restarted the app, even tried downloading it over data. Still didn't download. That, and the abundance of ads after almost every download is really frustrating. I wish you could spend coins you earn on getting rid of ads for a certain amount of time. Still, I'm grateful that I found this app & I love it so far.
Phone overheats
Sashalejandro
on
1/7/2018
Not happy, overheats my iPhone and crashes constantly . iPhone se running latest iOS update X.
Love it😘
Hsusiehgdiakqbdusj
on
1/6/2018
Love it💜
Needs work 🙄
Every time listen to music then pause it to do something and then start playing it again some stupid song. THAT ISN'T ON MY PLAYLIST starts to play! Otherwise it is a good app 🙂
Battery drain
Love the app but it drains the battery faster than any other app... and yes I've done everything under the sun to optimize battery performance
Good concept, but has some bugs
phillip glass
on
1/6/2018
There's a lot of great music on Trebel, but when I start listening to music it turns my phone off.
Problem
I have a problem when listening to music, every time I pause the current music I'm listening to, some other background music plays. And it's not that I accidentally pressed the skip button, this song isn't even in my music library. And I don't have any other music app open too. Is this some glitch??
I really like it, but...
AFLAKTV Productions
on
1/4/2018
The only issue I have with this incredible app is the "coin" situation. I find it a little ridiculous that I MUST download new songs or watch long ads just to listen to my already downloaded music. 😕
Meh.
Mae Lyn Elizabeth
on
1/4/2018
It's okay, but it could be better. Maybe if you could download in the background and be able to earn coins quicker, or just get rid of the coin feature altogether.
What the heck?
I love your app and use it on my iPhone 7, but, when trying to use it on my iPhone 4s to keep in the car, it installs and logs in fine, but when I go to pick a song or album to download, the download button doesn't show up. You say iOS 8.0 is the minimum needed to run the app, but I'm running iOS 9.3.5 on that phone so there should be no problem. Also whenever I email you any issues, this not being the first time the app hasn't worked, I have never gotten a response. Please fix this for the sake of my respect for this wonderful app 🙏🏾🤞🏾
Coins 😕
The things that I don't reallt like is that it is taking my battery every 5 seconds and also that u have to use coins to listen to your songs which is stupid.
Good app
I love this app. Has a few flaws but what app doesn't. I love the fact you guys continue to work on getting songs we love on here and you let us know when they arrive. 🔥
Please read!!! :) I have some suggestions!
Hi ! So Trebel is a good app ! I love the concept that it's giving and the fact that my music can be played offline ! In fact there are quite a few pluses ! However I have some suggestions : 1. Trebel should become more tailored to the person on the app . For example , instead of the new releases page popping up immediately , what about a page where you can find new releases based on what you listen to ! Or also maybe a custom theme instead of the yellow and black theme ? 2.A wishlist feature for all the "coming soon"songs so that way we get notified if they become available! 3. I kind of wish that the "are you still listening " notification would go away because it stops my music which can become a little annoying but nevertheless it's fine . Ok so there are all my suggestions for now ! I really do love this app and I hope it will become more successful in the future! :) have a good day !
Coins?
What happens when u run out of coin in this app
Jejejw triggered
This app is very good, the only thing is that this app doesn't have all the songs or music you can find on YouTube. When they came out like 1 year ago. Please add more songs then what this app actually comes with :)))
Two Songs play at once
When hooked up to my Bluetooth, two songs I've downloaded play at the same time 😡
Good for the most part
This app is great for someone who doesn't want to pay $1.29 per song on iTunes. I wish it had a larger selection, but for what it is, it's got a lot to offer. My main problem is Trebel pausing my music after about a half hour of music and getting a message saying "Are you still listening?" It can be quite frustrating because I like to listen to Trebel while I'm in the car and don't want to bother with my phone while driving. I wish there was a way to make the prompt optional or at least extend the amount of time before I get the message.
Love it
Seniorfrycook
on
1/1/2018
A very nice app. The only complaint I have about it is there isn't a shuffle option for your downloaded songs
Help
Steph Lebron and Russel
on
1/1/2018
You need some songs! Plz get some Chainsmokers and At my beat Machine Gun Kelly
Need more coins
Trebel needs to be able to have more coins to listen to music. Every time u listen to a song it cost 15 coins. Then u get barely anymore coins in return for downloading songs. Now I'm all out of coins and can't listen to songs anymore. Please help. Other than that I love this app.
Horrible
Haha Scott 86
on
12/31/2017
Why I do have request songs to be downloaded?? This is stupid that I can't download every song I search for it always request it screwed up!Sorry this app doesn't even deserve 1 Star
Fact Sheet
Publisher:

M&M Media, Inc.

Category:

Music

Released:

Nov 02, 2014

Current Version Released:

Dec 29, 2017

Version:

3.9.4

Size:

104.8 MB

Compatibility:

Requires iOS 8.0 or later.

Recommended Age:

12+

Game Center Certified:

No

Supported Languages:

English; Spanish; Castilian;

Parental Advisory:

Mild Alcohol, Tobacco, or Drug Use or References; Suggestive Themes; Mild Profanity or Crude Humor; Mild Sexual Content and Nudity;