Screenshots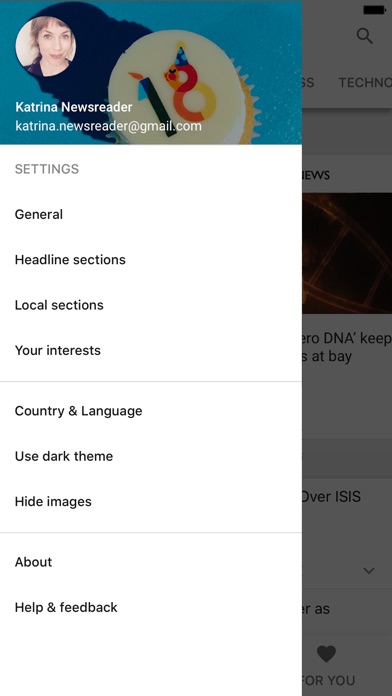 New in version 2.03.1045
Performance enhancements and stability improvements.
Description
Your comprehensive and personalized view of headline stories and local news & weather.

° Coverage from 75,000 publications
◦ Instant-load read experience with AMP (Accelerated Mobile Pages)
◦ Headlines carousel - quickly browse headlines, tap to read, swipe to read next. iPhone, iPad only. iOS 9 and up only.
° Simple swipe-access to categories such as Top Stories, Technology, Sports & Weather
° Tune your layout with any of 60 country-specific editions and personalized news sections such as 'Hollywood', 'NASA', 'Fashion', or anything else that catches your fancy
° Tap any story for a deep selection of viewpoints, including in-depth articles, Opinion, and local perspectives
iPad Screenshots
Reviews
Unusable since ios 11.2
This app throws my iPhone 8 into a somewhat lock down mode where everything freezes for up to ten seconds and I can't even return home. Come on google.....
Articles blocked
The app keeps blocking articles of certain providers (New York Times, Washington Post in my case), unless you subscribe for their monthly membership. I can just go to Google News web site and get access to every article. The app is just totally useless :(
Free news? Yeah right.
Not sure what happened but now I'm constantly being send to Washington Post and being asked to pay to view their site. Google...stop pushing specific sites and link to articles that have free content. There are plenty of them available.
News feeds all requiring subscription
Google should update the preferred sources tab to show free sources. Super annoying to see an article and try to read it and then get asked to subscribe.
Please update for iPhone X already
How are all the google apps updated already and this one is being ignored for the iPhone X? These huge black bars are annoying. I like using this over other news apps for the simplicity and personalization but it seems this app is being forgotten about
Ads overtake this news app
/\/\/\ ALP /\/\/\
on
12/6/2017
There are full page and banner ads, you click the x in the corner to close them and nothing happens. The ad continues to play. "Google News" app should be renamed "Google Ads". AP associated press app is much better. Even USA Today is more usable than Google.
Avoid - only a marketing tool
Skivvywaiver
on
12/5/2017
You will be offered a preponderance of articles by a limited number if sources. The top two are the Washington Post and The NY Times. Both those present a dwindling number of free articles and then won't let you read more than a paragraph without subscribing. This whole app is only a marketing tool trying to force you into subscriptions
iPhone X support?
Jersey_Soldier
on
12/4/2017
Hey Google Devs, Liking the app! Can we get an iPhone X update here? Digging the other updates apps but we kinda need this one too! Take Care!!
Best Google News & Weather
juliecoleman76
on
12/3/2017
I love reading Google News and Weather. I love my iPhone X app. Thank you for helping me stay safe and healthy.
Article sharing still not working
About to give up a find a news reader that wasn't left brain dead during an update and then ignored.
Good but could be great
Please update for the iPhone X. I like the way we can add local news and can personalize what we topics we want to see.
Used to be Good
Used to love Google News, now every article I open is behind a pay wall. Very disappointing.
Glitchy
Freezes and locks up my iPhone 8
waste of time
huge ads placed across screen so you tap by accident when scrolling and open a full screen video. Half the top line articles are paywalled
Really? Sharing just doesn't work?
SeaBird11235
on
11/26/2017
I mean...that's just absurd
No iPhone X support
No iPhone X support please update.
Needs compatibility for iPhone X
thedecissue
on
11/23/2017
So many other apps have already updated, unfortunately I'll be deleting this one and downloading another news app. It's so irritating to see all the unused blank, black space. ESPECIALLY for a "reading" app.
The developers must have gone on to make the pixel buds
The app now locks up constantly, has not been updated for the screen of the x, and when you can get to the articles it fails to load them, or sends you to fake news with constant page forwards and pop ups that can't be closed.
Worthless
Mostly highlights articles from Wash Post and NYT that when opened just try to get you to subscribe. Didn't use to do this. Download if you like reading pitches to sell you to subscribe to mediocre news outlets...
Demote subscription only articles
Mike'nThaLBC
on
11/19/2017
So tired of clicking through to articles like on Washington Post (which is 30-40% of results BTW) and getting paywall. If it's not readable, bounce it please!
Doesn't work correctly on iPhone X
Does not display properly on iPhone X.
Sharing button STILL broken...
Can't save or share articles on the latest iPad Pro version. Please fix! It's been months now. You can share on iPhone but the iPad app article sharing button in the upper right corner of the app does not function. Tried uninstalling and reinstalling the app.... STILL nothing. Sad that Google puts their name on a broken app.
Iphone X
zerocool9127
on
11/16/2017
I love the app but with the iphone x the app doesnt fill the screen. I am sure the develpers are aware of this issue. Please fix this issue, I am now using the pre-installed news app in the meantime. Will update my rating to 4-5 when updated. Still no updates. Thanks Google.
Rendered useless
New policy? My news feed is now full of subscription sources. Truly useless to me. If it requires a subscription, get it out of my news feed......
Google news
Buoybill1234
on
11/14/2017
The new Google news app is GREAT? The only problem is it will not let you Email a story.
News? How about Ads instead!
Adam1991111
on
11/13/2017
I spend so much time clicking or swiping away and around the ads that I give up. Deleting this app. If google cannot afford to offer up sources of news then they need to move on from apps such as this that claim to do so. The news is there but hidden among, what are at times, 3/4 of a page of ad material. Worse is the fact that it all loads from different sources and thus at deferent times so, just when you think it's done and you can actually read the article, the page skips around on you and you get to hunt for your place again. More than 10 times on some I've seen. Why?
Full page ads. Uninstalled
Dyigeek373763
on
11/10/2017
Full page ads. Uninstalled
Too much CNN
Way too many articles from CNN and The NY Times. Two organizations most people don't respect or believe. This wouldn't be a problem if the personalized headlines worked on the mobile app, but they only seem to work via web browser.
App hijacked by offensive adds
I was reading an article today on the Google News app on my iPhone and suddenly the screen was filled with horrible photos of diseased faces and fingers and viagra adds. Nothing I could do would get rid of the adds and he upsetting full screen photos.
Action Button isn't working
In the latest version of this app, the Action Button doesn't work. That's the "Up arrow inside a square" icon. So when you're reading an article, you can't Mail the article, you can't Message the article, you can't Open the article in a browser ... none of that. Frustrating. Google, you've had months and months and months to fix this. No matter what the dupable masses believe, the reality is: Google is WAY inferior to Apple. So, what might be the logic behind the Action Button not working? Follow this. If the Action Button were brought back to work, then: opening a news article on an iOS device would lead to Safari ... not Chrome ... which would yield no advertising dollars to Google. Da $ monneeey ...
Freezes up!
Repeatedly freezes. Have to exit app and reopen to clear it. A company like Google can clearly do better!
Panders to the left
Lastresortreader
on
10/26/2017
There are major stories right now about Clinton and the Obama Admin...$9M paid to drum up a fake dossier on Trump, Uranium One, proof and acknowledgement the IRS target conservative groups. Where are those headlines on Google? There are none!
Gets worse with every update
Please go back 10 versions and stay there. Also Please fire whoever came up with the new app design and the way articles are presented.
Add function to block news source
Consistently seeing Fox "News" trollish headlines lead to my eventual deletion of this app. Other than that, it's a good feed service.
Pesky ads & spammers😡
No more a news app. Too much ads and risk of getting spammed. Better to use browser
UI Needs Love
AxeluteZero
on
10/16/2017
I really enjoy using Google News, but the UI needs some work. Specifically, I would really like to see the widget refresh when viewed (currently, you have to actually go into the app to receive updated headlines). There are other small quirks that cause me daily annoyance as well. Still pales in comparison to Apple's News app.
Layout keeps changing
The layout and the sections keep changing, moving around, and being displayed differently. Very annoying
Check your code.
Free User7492
on
10/12/2017
While reading the news, via the Google news app the 'header' is offering the "Google News & Weather" app. Why doesn't it recognize itself? Do you guys get more each time we reinstall the app? Annoying. Okay, now I get it. Somebody at Google decided we can't force you into the "new and improved format" via updates so we'll pester you until reinstall in then you are stuck. There is one flaw with that logic. I have the option to uninstall your crappy app which I will do now. A work around - open google then go to news.google and viola the old familiar layout.
Deleted - I choose to control ads - my device
Annoying pop-ups over stories and no pop up blocking abilities (now that Apple has stopped allowing system wide blockers). Back to Safari so I can control my device. App deleted.
Search results return irrelevant results
Whenever I try searching for news, the results have nothing to do with what I am searching for.
Needs more work
Google news has always been my first choice for reading the news. I have previously used the saved web homepage to pull up the news. I got a banner telling me about the new app, so I tried it. Problem: the ads on the side of the page. In one story, the ads took up 1/2 the page, making the font so small I could barely read the story. I couldn't change the font, so I gave up. The major issue is that I can't use the trusty "change to text" icon at the top left side of the story page. I went back to my old way of reading google news. 10/10/17– just tried the app again. Same issue as my original review 2 years ago. Deleted the app after one day. Still my favorite news app but I recommend you read the stories by going to the google news home page.
Aggregate all of the internews in one place
ReaderofCracked
on
10/3/2017
There are internet sources that are not news sources. They are not hard to figure out. Except for the world-leading search engine that created an app to bring all that propaganda to you in one place. This is that app.
Purveyor of Fake News
Many of the "headlines" are taken from opinion pieces in bottom feeding blogs. That's not news, and certainly not "headlines." In the past few weeks Google has filled my feed with FALSE, FAKE and MISLEADING homophobic, transphobic, anti-Semitic, racist, xenophobic, misogynistic rants masquerading as news stories. Fox and National Review are inflammatory enough, but Brietbart, Daily Stormer, WND, and Stone Zone do not belong in a legit news aggregator. Funny - Google manages to exclude Mother Jones, Daily Kos, Alternet and JoeMyGod so they are able to filter sources but they clearly have decided to turn their news app into an alt-right fascist propaganda machine. DISGUSTING!
Terrible Ads
The app has just started integrating highly interruptive, annoying full screen ads that are hard to get out of once they take over the screen. I often have to just close the app. Really bad.
pay for the times
washington post gives free articles if they are featured - not something i have a problem with but google CONTINUES to feature both new york and la times that require payment to view the featured articles... thus removing any perception of neutrality and turning it into a commercial. very annoying - and enough to make me delete my app.
Completely Bias
Phreedom4all
on
9/30/2017
Google news aggregates news from different sources and shows you the headline with a small caption. The top new section consistently show stories by the Washington Post and the New York Times.
Worse than Web Version
I expect a dedicated app to outperform its web counterpart, but that is not the case with this app. I often click a story and wait forever for it to load. I go to Google News in Safari browser, and the same story loads almost instantly. And when pages do load they are constantly shifting the formatting so the section I'm reading scrolls to where I can't see it. Then I find it again only for the page formatting to change again. Very frustrating. Google News in a Web browser is so much better than this app it's not even funny!
Mailware alert
sportsbkrider
on
9/28/2017
Google spreads a form of mailware called taboola, revcontent, sponsored ads and paid content. As it is know. These ads are fake ads and install tracking cookies on your device both android and iOS. Google refuses to block them. The only way to get rid of them is to erase the cookies. Which you can do in this app in IOS or android. What a shame google. You are guilty of allowing male ware even on your own apps.
Used to be my favorite 'go to'
Google must be getting $$$ from NYT. The app used to be ALL free news, all the time. Most stories are now from NYT. You get a certain free per month and then you have to subscribe. No thanks! Deleting app for one of the many others that are still free.
Insane amount of Ads
I've used this app for some time on my iPad(s), but now Google is sending me to articles linked with excessively aggressive, persistent, and pervasive ads. I've been using Apple News more and more with good results and think I'll just drop Google entirely.
Fact Sheet
Publisher:

Google, Inc.

Category:

News

Released:

Oct 07, 2014

Current Version Released:

Oct 30, 2017

Version:

2.03.1045

Size:

37.1 MB

Compatibility:

Requires iOS 8.0 or later.

Recommended Age:

17+

Game Center Certified:

No

Supported Devices:

iPad2Wifi-iPad2Wifi, iPad23G-iPad23G, iPhone4S-iPhone4S, iPadThirdGen-iPadThirdGen, iPadThirdGen4G-iPadThirdGen4G, iPhone5-iPhone5, iPodTouchFifthGen-iPodTouchFifthGen, iPadFourthGen-iPadFourthGen, iPadFourthGen4G-iPadFourthGen4G, iPadMini-iPadMini, iPadMini4G-iPadMini4G, iPhone5c-iPhone5c, iPhone5s-iPhone5s, iPadAir-iPadAir, iPadAirCellular-iPadAirCellular, iPadMiniRetina-iPadMiniRetina, iPadMiniRetinaCellular-iPadMiniRetinaCellular, iPhone6-iPhone6, iPhone6Plus-iPhone6Plus, iPadAir2-iPadAir2, iPadAir2Cellular-iPadAir2Cellular, iPadMini3-iPadMini3, iPadMini3Cellular-iPadMini3Cellular, iPodTouchSixthGen-iPodTouchSixthGen, iPhone6s-iPhone6s, iPhone6sPlus-iPhone6sPlus, iPadMini4-iPadMini4, iPadMini4Cellular-iPadMini4Cellular, iPadPro-iPadPro, iPadProCellular-iPadProCellular, iPadPro97-iPadPro97, iPadPro97Cellular-iPadPro97Cellular, iPhoneSE-iPhoneSE, iPhone7-iPhone7, iPhone7Plus-iPhone7Plus, iPad611-iPad611, iPad612-iPad612, iPad71-iPad71, iPad72-iPad72, iPad73-iPad73, iPad74-iPad74, iPhone8-iPhone8, iPhone8Plus-iPhone8Plus, iPhoneX-iPhoneX,

Supported Languages:

Arabic; Bengali; Bulgarian; Burmese; Chinese; Czech; Danish; Dutch; Flemish; English; Finnish; French; German; Greek; Hebrew; Hindi; Hungarian; Indonesian; Italian; Japanese; Korean; Latvian; Lithuanian; Malay; Malayalam; Norwegian; Bokmål, Norwegian; Norwegian Bokmål; Polish; Portuguese; Romanian; Moldavian; Russian; Serbian; Chinese; Slovak; Spanish; Castilian; Swedish; Tamil; Telugu; Thai; Chinese; Turkish; Ukrainian; Vietnamese;

Parental Advisory:

Mild Realistic Violence; Unrestricted Web Access;