Screenshots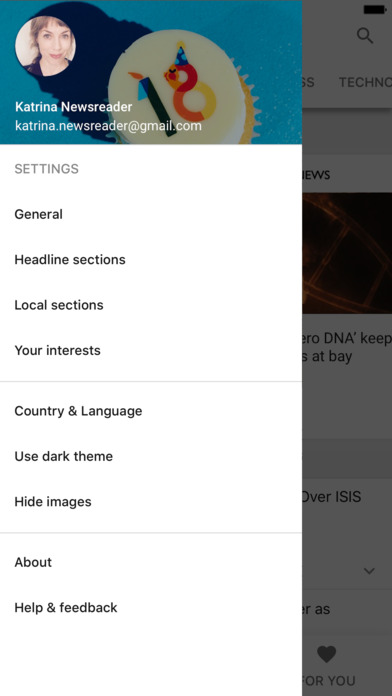 New in version 2.01.1038
◦ Changes to make it easier to navigate news categories and sections
◦ Use the Headlines, Local and For You tabs on the bottom to visit the corresponding screens
◦ On Headlines, the sections can be accessed from the swipeable header
◦ Settings menu on to- left to personalise, change editions etc.
◦ Watch app re-enabled
◦ Weekly Digest removed based on usage
– Bug fixes
Description
Your comprehensive and personalized view of headline stories and local news & weather.

° Coverage from 75,000 publications
◦ Instant-load read experience with AMP (Accelerated Mobile Pages)
◦ Headlines carousel - quickly browse headlines, tap to read, swipe to read next. iPhone, iPad only. iOS 9 and up only.
° Simple swipe-access to categories such as Top Stories, Technology, Sports & Weather
° Tune your layout with any of 60 country-specific editions and personalized news sections such as 'Hollywood', 'NASA', 'Fashion', or anything else that catches your fancy
° Tap any story for a deep selection of viewpoints, including in-depth articles, Opinion, and local perspectives
iPad Screenshots
Reviews
Great news app
The app is phenomenal. Very easy to use to get news I am caring about. No idea why to AMP feature is missing. Before, many articles were presented by AMP, which is great!
Terrible
Terrible interface and I hate this compared to the predecessor
Biased?
Year of the Monkey
on
8/20/2017
Seems very targeted...story/content wise. I do like access and presentation of articles .
Way to screw up a good app !!!
Put news on my screen - not all that useless header space - and fix the broken "Share" button. Used this app for a long time, now searching for a better app.
guh!
as of now, it's an abortion! the good news is it can only get better. right? please?
Not for iOS
This suppresses the iOS screen reformatting that makes small print websites easy to read.
Really good
It's especially good for busy people. It offers a good number of different news subjects and specific reporting on specific current ones. The main subject fields at top; arranged at from left to right just swipe to left for the next. For the stories that are related in some way, just scroll down for addititional articles. If you like, you can get a quick idea of the events of the day by going across stories at the top. For a day of becoming a news junkie, check out all the related stories, scroll down over and over and then you'll while away your day! I'd have given it 5 stars, except that one important newspaper will have a BOG headline, but will no longer let you access the story unless you've joined it (in other words, subscribed). It's the Washington Post. Ridiculous! The NY Times gives you 10 free articles a month. This can give you a quick scan of the day'
Terrible
Replete with poor news providers. Keeps freezing up.
Terrible new interface
I wish I had not updated. The previous version was much more efficient in flipping between articles. This is a downgrade.
Very left leaning.
Needs to be rounded out. It never seems to pull from any middle ground news sites. Very sad.
Too many liberal sources
Too much CNN, too much Washington Post, too much New York Times.
THE BEST
least biased... greatest spectrum... Thanks Google
Great. Simple. Complete. Adjustable.
Really good, I love how simple it is!
Biased journalism
Dragon Slayer 1
on
8/17/2017
Overly sensationalized and heavily biased. If it were a newspaper I would say it's only use would be to wrap up dead fish and line the bird cage.
Solid, easy to use app
Beginner Clasher
on
8/17/2017
Solid app
My GoTo
Tailored news the way I want it
Liberal junk
What a waste of potential, but I guess the only thing important is to google is the bias liberal leading fake news.
If you like google to manipulate news for you, use it
If you like google "filtered" news, use this application. I found this out noticing that Washington post story is always the headline story. For example, there is no Fox News coverage in the first 5 news articles on recent event. Do no evil, what a joke.
F these ads
Thetortfeasor999
on
8/15/2017
Ads now take control of entire iPad, can't be stopped. After years of using Google News... deleted.
Mr Green
I just love easy it is to work this app. And I get to the news not all entertainment but real news. Thanks.
Another biased news resource.
Johncrane235
on
8/15/2017
Better than CNN, but biased too. Other than that, this app tries to show you news based on your history. There seems to be a machine learning behind the scene to predict "what news you want to hear". As a result, you get the expected boring news every day. People with wishful thinking will like this app. Come on, news is not like buying things in amazon. I want to hear the news that shock me, surprise me, instead of news that "I enjoy"
Nice
AustereWaffles
on
8/15/2017
Great app
0ne month and still waiting
BillontheShore
on
8/14/2017
The current version was released a month ago with an onslaught of criticism, and NOTHING has been done. Despite the presence of a share button, there is no way to print, email, read later, et. al. Also, I can no longer change the order of subjects, as I could before. If Google can't provide the resources to fix this more quickly, then give us back the earlier version, which I would have given at least four stars.
Loving it.
I've been trying out news apps to find one most suitable for me and I think I've found it.
👎🏾They censor real news
I can't say I'm surprised since google is a very fascist, bigoted, hate filled, radical far left company.
Love Hate
Great app outside of having to shutdown and restart too much due to content failing to load. This has been an issue since I started using 2 years ago.
Great app when it works
Click on a story and want to read it? Good luck with that, 7 out of 10 articles won't load, I just get a blank screen. You'd think a company like Google would be on top of their game... apparently not. C'mon Google, I know you could do better than this!
Awesome news app
Jacktheripper7
on
8/12/2017
This is the best news app ever!
Too many NY Times and Washington Post articles
It seems The NY Times and the Washington Post use this app to force the readers to subscribe to their newspapers before their articles can be read after a number of "free" articles are read. I also believe The NY Times is unethical in publishing articles by individuals who aren't authorized to speak to the press and therefore request anonymity.
Like it but can't read the top news stories titles!!!
Hate, hate, Hate the layout of top news item!!!!!
Locks up all the time
I like the news content it offers me but at least once a day it won't show me an article and won't refresh. Only recourse is to kill the app and restart. Then it works fine for about 24 hours. Very frustrating.
Share option still broken
It's useless to me now and with all the other news apps out there I'm deleting it.
I Quit
Dvkogssvkxmvcykxzasfkmlgcmk4274
on
8/11/2017
I Quit using this app because: -The format change is clumsy and confusing -the article choice has been politicized to show predominantly nyt, CNN, MSNBC i.e.radical Left agenda news They think they're fooling me but they're not. I'm done.
OK but...
Can't save or share articles on the latest iPad Pro version. Please fix!
Love it
Check it every day at least a dozen times. Love reading the news and this gives you updates to the minute.
Hs been leapfrogged by others
When it first came out, Google News was a revelation. Now trails the other entrants in the market. The interface feels clumsy, the clustering, awkward. Would be really excited to see an update.
Very Poor Quality App
kramzenitram
on
8/11/2017
This app is the worst. When I open news articles from news outlets like The Chicago Tribune, the pop up ads cause the screen to lock, preventing me from doing anything. The only way to unlock the frozen screen is to reboot my iPad. I experience locked out screens about 90% of the time so it is disappointing to see how Google quality control missed this. I'm going back to my browser
AMP is awful
AMP has destroyed my Google news experience. Headlines that are "amped" take forever to load or don't load at all. Infuriating and unnecessary without an option to get rid of AMP.
Does what it is supposed to do
I do like the recent graphical improvements as well. When I want a quick overview of the news, I always check Google News first.
Great App
Logan Werzniak
on
8/10/2017
Started using this app a couple of weeks ago, love it
Keeps crashing
With the changes it crashes all the time and you have a blank page. When trying to open a headline half the time you don't see the article. I have a iPhone 7 and it is updated so it is not my phone. Needs to be corrected immediately.
Too many bugs to even use
Hwidjhdubdoehdpje
on
8/10/2017
Web page wont load, or will even open the wrong link. I would understand if it was on occasion, but this happens on 4 out of 5 articles i click on. More frustrating than usable.
Up to minute news and relevant
Deanna Malatesta
on
8/10/2017
Worth having
Fresh, current, easy to browse through.
Google News allows me to get an overview of the day's news very quickly and then to zero in on what I want to pursue in more detail. Navigation is also quick and easy. It also allows for eliminating the types of news I have no interest in. This saves time. Thank you Google. A very useful app.
Excellent
Great news service. Check it out multiple times a day
Need a fix
Coffee plus...
on
8/9/2017
This used to be a great app. Now I notice more and more of the top news articles are showing up as AMP format. There seems to be some programming flaw here, because when I go to click on any AMP formatted article, I almost always just get a plain white screen, not the article I was looking for. Could be an interface issue or a AMP issue but whatever it is, it needs to be addressed and corrected.
Ugh
Very unappealing UI. Nothing to grab the eye. Just a long, boring list of stories.. The website is much better.
Ads getting worse. This is an evil app.
I used this everyday for past year. My biggest complaint is that the pop-up ads have gotten worse, they pop-up and freeze my screen with no clear 'x' to move onto the story content. My second complaint is the 'real' news stories that are no doubt there because an advertiser wants them in the feed. There's a new story having something to do with McDonalds almost daily. Sometimes I get sucked in and start reading these, then I remember I don't care about news related to McDonalds. I'm now using Apple News for free news app and Wall Street Journal for pay app. Deleted this garbage GoogleNews from my phone. It's evil.
Fact Sheet
Publisher:

Google, Inc.

Category:

News

Released:

Oct 07, 2014

Current Version Released:

Jul 12, 2017

Version:

2.01.1038

Size:

36.1 MB

Compatibility:

Requires iOS 8.0 or later.

Recommended Age:

17+

Game Center Certified:

No

Supported Devices:

iPad2Wifi-iPad2Wifi, iPad23G-iPad23G, iPhone4S-iPhone4S, iPadThirdGen-iPadThirdGen, iPadThirdGen4G-iPadThirdGen4G, iPhone5-iPhone5, iPodTouchFifthGen-iPodTouchFifthGen, iPadFourthGen-iPadFourthGen, iPadFourthGen4G-iPadFourthGen4G, iPadMini-iPadMini, iPadMini4G-iPadMini4G, iPhone5c-iPhone5c, iPhone5s-iPhone5s, iPadAir-iPadAir, iPadAirCellular-iPadAirCellular, iPadMiniRetina-iPadMiniRetina, iPadMiniRetinaCellular-iPadMiniRetinaCellular, iPhone6-iPhone6, iPhone6Plus-iPhone6Plus, iPadAir2-iPadAir2, iPadAir2Cellular-iPadAir2Cellular, iPadMini3-iPadMini3, iPadMini3Cellular-iPadMini3Cellular, iPodTouchSixthGen-iPodTouchSixthGen, iPhone6s-iPhone6s, iPhone6sPlus-iPhone6sPlus, iPadMini4-iPadMini4, iPadMini4Cellular-iPadMini4Cellular, iPadPro-iPadPro, iPadProCellular-iPadProCellular, iPadPro97-iPadPro97, iPadPro97Cellular-iPadPro97Cellular, iPhoneSE-iPhoneSE, iPhone7-iPhone7, iPhone7Plus-iPhone7Plus, iPad611-iPad611, iPad612-iPad612, iPad71-iPad71, iPad72-iPad72, iPad73-iPad73, iPad74-iPad74,

Supported Languages:

Arabic; Bengali; Bulgarian; Burmese; Chinese; Czech; Danish; Dutch; Flemish; English; Finnish; French; German; Greek; Hebrew; Hindi; Hungarian; Indonesian; Italian; Japanese; Korean; Latvian; Lithuanian; Malay; Malayalam; Norwegian; Bokmål, Norwegian; Norwegian Bokmål; Polish; Portuguese; Romanian; Moldavian; Russian; Serbian; Chinese; Slovak; Spanish; Castilian; Swedish; Tamil; Telugu; Thai; Chinese; Turkish; Ukrainian; Vietnamese;

Parental Advisory:

Unrestricted Web Access; Mild Realistic Violence;