Screenshots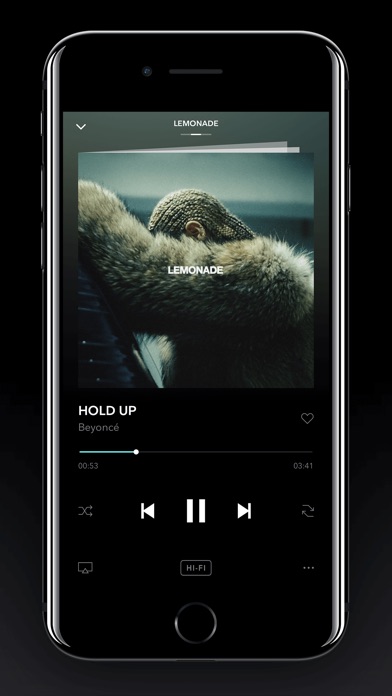 New in version 2.0.1
* Minor bugfixes and improvements
Description
Tidal is the world's first music service with High Fidelity sound quality, High Definition music videos and Curated Editorial by music journalists, artists and experts, making for a simply superior experience. Try it out and see for yourself

• High Fidelity Sound Quality
No compromises. Just pure sound. With our lossless audio experience, you can enjoy your music the way the artists intended. Unlimited access to over 40 million tracks.

• High Definition Music Videos
Watch more than 130,000 music videos. No ads. No fuzzy images. Just crystal clear pictures.

• Curated Editorial
Find your next favorite with tailor-made recommendations, album presentations and playlists by experienced music journalists.

• Stories behind the music
Read our integrated music articles, features and interviews.

• Offline mode
Download albums, playlists and tracks, and bring your music with you anywhere using our offline mode for up to three devices.

• Favorites
Build your personal music collection simply by marking albums, artists, tracks and playlists as your favorite.

You can of course also create playlists, share with friends, listen to artist- or track-based radio, check out artist bios, find similar artists, edit your play queue and much more…

Sign up for a TIDAL subscription in the app, where you can choose between Premium and HiFi. The price of the subscription in your country can be found in the overview below. You will also be informed of the price in the app before signing up. The subscription is automatically renewed and charged on a monthly (30 day) basis. You can cancel it at any time up until the day before renewal and you can at any time turn off the auto renewal from your iTunes account.

Monthly HiFi prices:
HiFi US 25,99 USD / UK 25,99 GBP / AR 6,99 USD / AU 34,99 AUD / AT 25,99 EUR / BE 25,99 EUR / BR 12,99 USD / CA 25.99 CAD / CL 11,99 USD / CO 9,99 USD / CY 17,99 EUR / CZ 15,99 EUR / DK 259,00 DKK / DO 15,99 USD / EE 17,99 EUR / FI 25,99 EUR / FR 25,99 EUR / DE 25,99 EUR / GR 17,99 EUR / HK 138,00 HKD / HU 13,99 EUR / IS 25,99 EUR / IE 25,99 EUR / IL 79,90 NIS / IT 25,99 EUR / JM 15,99 USD / LV 17,99 EUR / LT 17,99 EUR / LU 25,99 EUR / MY 11,99 USD / MT 17,99 EUR / MX 259,00 MXD / NL 25,99 EUR / NZ 35,99 NZD / NG 13,99 USD / NO 259,00 NOK / PE 13,99 USD / PL 13,99 EUR / PT 17,99 EUR / RO 13,99 EUR / SG 25,98 SGD / SK 15,99 EUR / SI 17,99 EUR / ZA 269,99 R / ES 25,99 EUR / SE 279,00 SEK / CH 32,00 CHF / TH 15,99 USD / TR 34,99 TL

Monthly Premium prices:
US 12,99 USD / UK 12,99 GBP / AR 3,99 USD / AU 16,99 AUD / AT 12,99 EUR / BE 12,99 EUR / BR 6,49 USD / CA 14,99 CAD / CL 5,99 USD / CO 4,99 USD / CY 8,99 EUR / CZ 7,99 EUR / DK 129,00 DKK / DO 7,99 USD / EE 8,99 EUR / FI 12,99 EUR / FR 12,99 EUR / DE 12,99 EUR / GR 8,99 EUR / HK 68,00 HKD / HU 6,99 EUR / IS 12,99 EUR / IE 12,99 EUR / IL 39,90 NIS / IT 12,99 EUR / JM 7,99 USD / LV 8,99 EUR / LT 8,99 EUR / LU 12,99 EUR / MY 5,99 USD / MT 8,99 EUR / MX 139,00 MXD / NL 12,99 EUR / NZ 17,99 NZD / NG 6,99 USD / NO 129,00 NOK / PE 6,99 USD / PL 6,99 EUR / PT 8,99 EUR / RO 6,99 EUR / SG 12,98 SGD / SK 7,99 EUR / SI 8,99 EUR / ZA 139,99 R / ES 12,99 EUR / SE 149,00 SEK / CH 16,00 CHF / TH 8,99 USD / TR 15,99 TL

By signing up, you agree to TIDAL's Terms and Conditions of Use, Privacy Policy and Mobile Terms, see http://read.tidal.com/terms.php
iPad Screenshots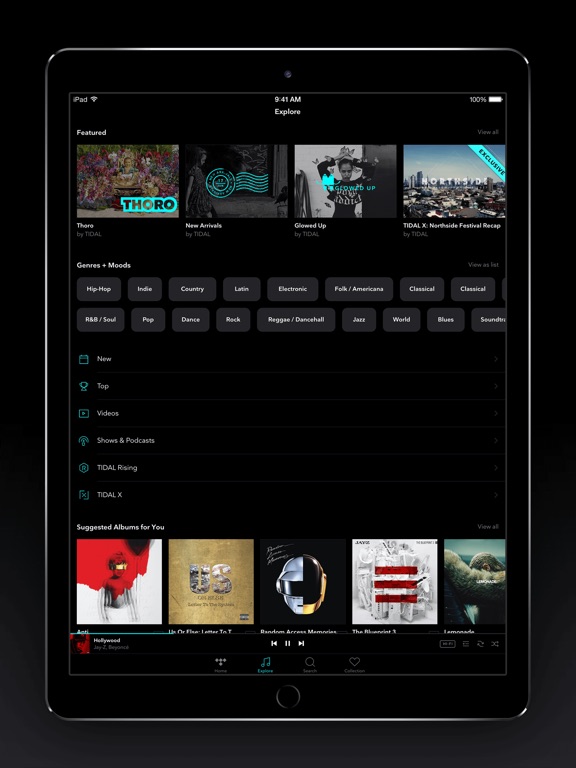 Reviews
Goat
Best music app on the App Store. Much better than Spotify
Needs updates
This app needs a search bar for playlists because I have 300 songs in some playlists and can never find any. They also need to have an option where we can organize our songs in alphabetical order
Great app
This app is cool and keeps getting better. The live concert and exclusive content is what won me over.
Love it
Had it for over a year awesome!!! Why buy Belvedere if Puff has Circo
greatest streaming.
i've had every streaming service, & no doubt this is the best. period.
5 Stars
I really love Tidal, I love the recent update too, the interface is really good! The quality is amazing and I love all the Tidal exclusive features
favorite music app
all other apps confuse me. tidal has made it easy to stream and download music. appreciate that and always look forward to music release fridays. ..yeah what's prewritten. favorite app to use
Dope!!!
This App is dope!! It has all the records!!!!
Love it a must
Fuqqqqqiyupppp
on
9/25/2017
Love it
My go to music streaming app!
This is by far my favorite music app! I love everything about it!
It's the only service I use
I couldn't be happier with a streaming service. I haven't run into any problems and I get to listen to all the music I love anytime.
Love Tidal, but IOS 11
It was all perfect before IOS11. Once I got that, Tidal started bugging out. Hopefully there is an update soon to catch up with IOS 11. Things that are messing up: No lock screen/control center maneuverability and shutting off randomly in the car on Bluetooth. Love Tidal. Can't wait to switch back to a five star when this is fixed.
Rain
Goooooloooooo
on
9/24/2017
Dope
Great
TIDAL is dope , should've gotten the app sooner!!!💯💯💯💯💯
Awesome
Tidal is the best streaming service out they have so much content besides music..Luv what u guys doing keep up the great work!
Serious Competitor
The recent update to the UX/UI made Tidal a serious contender. I eapecially like how the apps handles the song recommendations. If your playing a song and you swipe right, a whole list of similar songs populates. This feature is great for on the fly playlists and when driving. Im sticking with Tidal for now.
I love tidal
This app is amazing! It has all the music I want to listen too and I've discovered so many amazing artist I'd never heard before! I definitely recommend this over any of the other streaming services
Love it!
From the limitless collection of music to exclusives from my fav artists, to ease of use and dope design, this app is awesome.
Best service out
I had Spotify for the longest time because I never felt like switching over. I finally did this year and I'm definitely not switching back. If you're a fan of hip hop especially, Jay Z running Tidal really pushes ahead of other streaming services as far as content, playlists, access to artists and videos. There's edited and explicit versions of almost every album so if you've got kids around, no problem. You also have access to every other genre and artist you can think of. Long story short, switch.
Great app
Love the app! Needs more indie artists and all mixtapes. Work in progress! Everything else cool👏🏾👏🏾
Great design!
Alexis-Aguero
on
9/24/2017
Noticed that sometimes it bugs and won't play song even though timer says its playing. If that makes sense...
Thought I'd only use free trial but ended up
Kevoh vandal 187
on
9/24/2017
Keeping it because of how clean and easy it is to just find the music I want, awesome app and the developers did good on this
Holding the Beyhive hostage
Paradoxequation
on
9/23/2017
99.7% of the reason I'm subscribed to tidal is because y'all got the Beyoncé exclusives. I AINT SORRY!!!!!
It's just different.
Beesus Christ
on
9/23/2017
Pre sale concert tickets, exclusive content, "dark mode" theme. All of this is part of why Tidal is my go to music app.
Avid listener
TheOGSniperKima68
on
9/23/2017
I actually love tidal and as of right now I don't think I will ever delete. Thanks Jay and your team your not only a talented lyricist u are a great businessman.
Dopeness
It's a great app. I wish they can get more of Aaliyah's catalog.
Support
Munchenstien
on
9/23/2017
Tidal is a streaming app for people that can appreciate more than just music.....Tidal offers culture. The additional content is what sets this app above from others. Update: iOS 11 has bugs with Tidal. Apple is playing dirty pool. Tell Hov I'm staying with Tidal regardless.
There's no free trial
There's no free trial
Mom life
I can listen to my favorites with ease. I tried another service but it added to much stress to life just trying to figure it out. I'll stick with tidal
I love it.
I support Black Owned Business!
Love this app
Quisha2015!!!!!!
on
9/23/2017
Is great especially when you get to see videos and hear music before any one else
Big Fan!
Tidal has songs that are unavailable on other streaming services!!!!
Enjoying Tidal
Free for a few months but I am subscribing. It seems that the sound is crisp! I am sold on Tidal.
Victoria One Thousand Watts
@redeeming.thetime
on
9/23/2017
Absolutely love TIDAL!
Massive collection of songs and albums, Hi Res as well.
This is the best game ever i
on
9/23/2017
Thoroughly enjoying Tidal with the massive collection of songs and albums. Great music suggestions based on the songs and artists you enjoy. High resolution is a great addition to those who enjoy audiophile music. Highly recommended. Music can be stored offline to be enjoyed later without the need to use data.
Over all app and bugs!
TIDALuser 5720
on
9/23/2017
The bugs that I've noticed recently is that when I add a song to my playlist accidentally and then I go to my playlist and try to delete it but then it won't let me! But when I go to another playlist I'm able to delete songs there but not my playlist! TIDAL please fix this issue because it can get really annoying quickly! The app itself is very well made and one thing you should add is to delete certain things on the 'Search' bar because deleting all my searched songs and artist is just dumb I try to remember them but I can't because I had to delete my whole search history because of one person! Over all the app is great and I'll continue to use it! Basically to sum things up... is that I can no longer delete songs from my playlist and I can no longer move songs from my playlist, if I try to move a song it will say " Playlist Must be updated first" witch I don't know how to 'Update' my playlist! I would also like to say for the new IOS 11 update I am able to screen record! So I have proof that this glitch is happening!
I'll pay for what I want
Clear. Crisp. Music. Best part no ads!!!
Tidal is great
Best music app. Fairly priced and has all the music I need. 4:44 is great too
Does not work with iOS 11
Will change my review if it's fixed in the coming week or so like all other apps but if not I will definitely cancel my account and sign up for another service that works better. I'm unable to even turn down the volume or skip songs without going into the app. :/
Love it.
Best music app out right now. Definitely love it. Without a doubt worth the money!!!!
Love it!
All my music dreams come true 😊
Good music
For any music enjoyer this is the site for you Great selection with high quality tracks. Noticeably better then Spotify or any other streaming service. This place is often better then the pm3 s I have in my hard drive. I recommend this to any one who listens to music for the reason of enjoyment. Hear dimension to music missed in other players. Complete new music just by listening to your old best plays. Enjoy.
The Best Way to Stream Music
I've used all of the top streamers. Tidal is by far the best. Great user experience, new podcast and video shows. Don't forget live events. Looking forward to getting my music on Tidal very soon. Search: @CATDaddyBLUE2
Tidal luv
Tidal is my address for music. I think people are under the impression that it is urban, but it is more universal that any other music app. It has a cool to it that no other streaming vehicle possesses. Once I realized I could find anything I want there, I was sold.
Great
J - EEZY (check my mixtape
on
9/22/2017
Love getting exclusives before Apple Music. Layout is beautiful
The greatest app on my phone
Music is so important to me and with title I can get the best and newest music before everyone else and that is love!
KeepInvesting
I'm going to keep ths and if I have any suggestions I will remark...awesome player. I would love it more if it had Clean version....you have all of the songs I love t hear, sometimes there are clitches like tnite, songs were stating not available in ths area.....other thn that Ima always #SuportUs
Fact Sheet
Publisher:

TIDAL Music AS

Category:

Music

Released:

Oct 23, 2014

Current Version Released:

Aug 17, 2017

Version:

2.0.1

Size:

59.9 MB

Compatibility:

Requires iOS 9.0 or later.

Recommended Age:

12+

Game Center Certified:

No

Supported Devices:

iPad2Wifi-iPad2Wifi, iPad23G-iPad23G, iPhone4S-iPhone4S, iPadThirdGen-iPadThirdGen, iPadThirdGen4G-iPadThirdGen4G, iPhone5-iPhone5, iPodTouchFifthGen-iPodTouchFifthGen, iPadFourthGen-iPadFourthGen, iPadFourthGen4G-iPadFourthGen4G, iPadMini-iPadMini, iPadMini4G-iPadMini4G, iPhone5c-iPhone5c, iPhone5s-iPhone5s, iPadAir-iPadAir, iPadAirCellular-iPadAirCellular, iPadMiniRetina-iPadMiniRetina, iPadMiniRetinaCellular-iPadMiniRetinaCellular, iPhone6-iPhone6, iPhone6Plus-iPhone6Plus, iPadAir2-iPadAir2, iPadAir2Cellular-iPadAir2Cellular, iPadMini3-iPadMini3, iPadMini3Cellular-iPadMini3Cellular, iPodTouchSixthGen-iPodTouchSixthGen, iPhone6s-iPhone6s, iPhone6sPlus-iPhone6sPlus, iPadMini4-iPadMini4, iPadMini4Cellular-iPadMini4Cellular, iPadPro-iPadPro, iPadProCellular-iPadProCellular, iPadPro97-iPadPro97, iPadPro97Cellular-iPadPro97Cellular, iPhoneSE-iPhoneSE, iPhone7-iPhone7, iPhone7Plus-iPhone7Plus, iPad611-iPad611, iPad612-iPad612, iPad71-iPad71, iPad72-iPad72, iPad73-iPad73, iPad74-iPad74,

Supported Languages:

Danish; English; French; German; Italian; Bokmål, Norwegian; Norwegian Bokmål; Polish; Portuguese; Spanish; Castilian; Swedish;

Parental Advisory:

Mild Sexual Content and Nudity; Mild Alcohol, Tobacco, or Drug Use or References; Mild Realistic Violence; Mild Profanity or Crude Humor; Mild Cartoon or Fantasy Violence; Fear Themes; Suggestive Themes;