Screenshots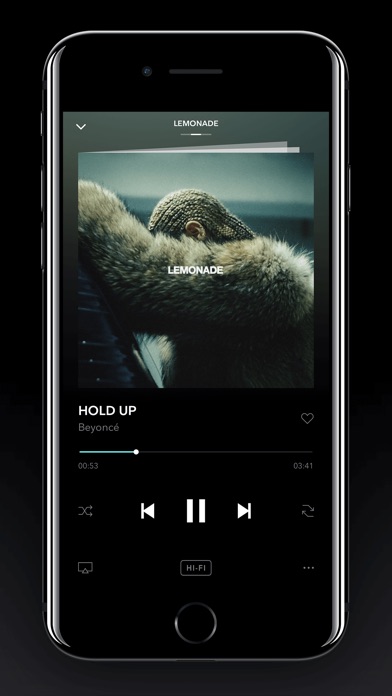 New in version 2.2.0
Control your Sonos speakers from inside the TIDAL app
Description
Tidal is the world's first music service with High Fidelity sound quality, High Definition music videos and Curated Editorial by music journalists, artists and experts, making for a simply superior experience. Try it out and see for yourself

• High Fidelity Sound Quality
No compromises. Just pure sound. With our lossless audio experience, you can enjoy your music the way the artists intended. Unlimited access to over 40 million tracks.

• High Definition Music Videos
Watch more than 130,000 music videos. No ads. No fuzzy images. Just crystal clear pictures.

• Curated Editorial
Find your next favorite with tailor-made recommendations, album presentations and playlists by experienced music journalists.

• Stories behind the music
Read our integrated music articles, features and interviews.

• Offline mode
Download albums, playlists and tracks, and bring your music with you anywhere using our offline mode for up to three devices.

• Favorites
Build your personal music collection simply by marking albums, artists, tracks and playlists as your favorite.

You can of course also create playlists, share with friends, listen to artist- or track-based radio, check out artist bios, find similar artists, edit your play queue and much more…

Sign up for a TIDAL subscription in the app, where you can choose between Premium and HiFi. The price of the subscription in your country can be found in the overview below. You will also be informed of the price in the app before signing up. The subscription is automatically renewed and charged on a monthly (30 day) basis. You can cancel it at any time up until the day before renewal and you can at any time turn off the auto renewal from your iTunes account.

Monthly HiFi prices:
HiFi US 25,99 USD / UK 25,99 GBP / AR 6,99 USD / AU 34,99 AUD / AT 25,99 EUR / BE 25,99 EUR / BR 12,99 USD / CA 25.99 CAD / CL 11,99 USD / CO 9,99 USD / CY 17,99 EUR / CZ 15,99 EUR / DK 259,00 DKK / DO 15,99 USD / EE 17,99 EUR / FI 25,99 EUR / FR 25,99 EUR / DE 25,99 EUR / GR 17,99 EUR / HK 138,00 HKD / HU 13,99 EUR / IS 25,99 EUR / IE 25,99 EUR / IL 79,90 NIS / IT 25,99 EUR / JM 15,99 USD / LV 17,99 EUR / LT 17,99 EUR / LU 25,99 EUR / MY 11,99 USD / MT 17,99 EUR / MX 259,00 MXD / NL 25,99 EUR / NZ 35,99 NZD / NG 13,99 USD / NO 259,00 NOK / PE 13,99 USD / PL 13,99 EUR / PT 17,99 EUR / RO 13,99 EUR / SG 25,98 SGD / SK 15,99 EUR / SI 17,99 EUR / ZA 269,99 R / ES 25,99 EUR / SE 279,00 SEK / CH 32,00 CHF / TH 15,99 USD / TR 34,99 TL

Monthly Premium prices:
US 12,99 USD / UK 12,99 GBP / AR 3,99 USD / AU 16,99 AUD / AT 12,99 EUR / BE 12,99 EUR / BR 6,49 USD / CA 14,99 CAD / CL 5,99 USD / CO 4,99 USD / CY 8,99 EUR / CZ 7,99 EUR / DK 129,00 DKK / DO 7,99 USD / EE 8,99 EUR / FI 12,99 EUR / FR 12,99 EUR / DE 12,99 EUR / GR 8,99 EUR / HK 68,00 HKD / HU 6,99 EUR / IS 12,99 EUR / IE 12,99 EUR / IL 39,90 NIS / IT 12,99 EUR / JM 7,99 USD / LV 8,99 EUR / LT 8,99 EUR / LU 12,99 EUR / MY 5,99 USD / MT 8,99 EUR / MX 139,00 MXD / NL 12,99 EUR / NZ 17,99 NZD / NG 6,99 USD / NO 129,00 NOK / PE 6,99 USD / PL 6,99 EUR / PT 8,99 EUR / RO 6,99 EUR / SG 12,98 SGD / SK 7,99 EUR / SI 8,99 EUR / ZA 139,99 R / ES 12,99 EUR / SE 149,00 SEK / CH 16,00 CHF / TH 8,99 USD / TR 15,99 TL

By signing up, you agree to TIDAL's Terms and Conditions of Use, Privacy Policy and Mobile Terms, see http://read.tidal.com/terms.php
iPad Screenshots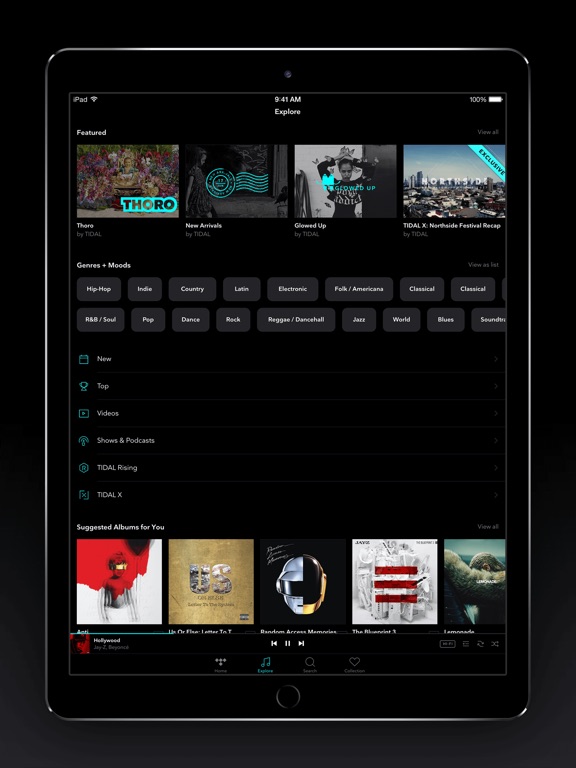 Reviews
Amazing only...
ecotsotfer25
on
11/18/2017
iPhone X optimized?
I absolutely LOVE Tidal
brienichelle
on
11/17/2017
However, this takes up entirely too much space. Even Spotify doesn't take this much space. I'm paying for hi-fi & I can't use it because hifi takes up SOOOO much more space than "normal." I would love to continue to support Tidal but could you guys do something about that? We're the age of tech & you guys can't make a simple app NOT take all the space in my phone? I'll change my review when I get an update saying "takes up less space."
Duplicate songs ... give me a heads up!
From San Antonio TX
on
11/17/2017
Why do I have to manually comb my playlist for duplicate songs ?! Other apps notify me before I attempt to add a duplicate song. For this reason , I am using other streaming services for parties , etc.
Pathetic Misleading
Jew baby love camp
on
11/17/2017
Was charged 10 days early on a six month trial then had to argue with the rep through email who told me I signed up for for a 30 day trial September I started June 20 for a 6 month trial never resolved told me the case was closed and never responded when I attached the email with the promo I was sent June 19
Just one thing I want changed!
DylanWeidner
on
11/16/2017
Tidal is really cool and easy to use, and all in all a good service. But there is one thing I'd like changed. When you "heart" an album to add it to your collection, the tracks don't go into the "track" area of your collection as they do on Spotify. If you wanted that to happen, you would have to "heart" each individual track. I am currently on the free trial, and would like to stay on tidal and stop using Spotify, but the lack of this feature would make me stay with a different service like Spotify or Apple. Hope to see it changed in an update soon. Other than that the app is great, works flawlessly, and has a lot of info that you don't get with other services. It shows all the credits of who worked on the album which is cool, because now a days it can be hard to find that info without physical cds. All in all GREAT APP!
Amazing music selection
Tidal literally has everything. From musicals to videos to movie soundtracks. Also the offline listening is seamless. F-ing love it!!!
Great Audio Quality
JetSetTinyElvis
on
11/15/2017
This is almost my favorite music service. The only thing missing is CarPlay support.
Tidal
Z.Diavenchi
on
11/14/2017
I wish you could purchase music on here too.
Line out from iPhone into DAC
I use an external DAC with my iPhone to listen to tidal and since the last update it's a good 10db quieter. Needs to be fixed ASAP or I'm dropping the service.
Buggy App
Mitchapaloouza
on
11/14/2017
My Wifi is Pretty Fast. The app keeps stopping music and I can't figure out why. I've closed the app and reopened it. And even tried different stations. Everytime a song is over it pauses. It will even pause in the middle of the song for no reason. This service is NOT worth $12 a month and for sure not worth $25.
Best out there
Crazy hobogvznbzbxbbx
on
11/13/2017
Highly recommended
POTENTIAL
Lots of potential but way to under developed to ask for more then Apple Music or Spotify. no unique features to stand out besides a few exclusive tracks from artists past there prime. no way to rate songs or let others know exactly what you like or want to hear sorry not sorry I could go on about feature based content but whatever
Log In Trouble
I just got a new phone and have no way of logging into my account. I've lost my entire playlist.
OFFLINE MODE
so I'm an avid tidal user. I've had it since it first released and I absolutely love it. but there are some tweaks I have noticed since I am required to use the offline mode more often that I would like if they got fixed 1. When I go to download an album to be listen to offline sometimes when I am in offline mode and I go to the album, none or only one song is there. Instead of the entire album being downloaded. This is not just one album after I discovered the first one I went through my albums and realized that there was more than just that one album. 2. when you're in offline mode you can only select songs by the album. I don't want to have to keep going from album to album. You can't go to a specific artist and shuffle through all of THEIR music, or just go to all tracks and be able to see all of the offline tracks that I have downloaded and shuffle through everything. PLEASE FIX THESE IN THE NEXT UPDATE PLEASE.
Great but lacks essential features
By far, Tidal has the best streaming quality around (Spotify just sounds bad to my ears). Yet, Tidal needs to improve its search engine so that it can find what you're looking for without typing the name of the song/album/artist EXACTLY correct. Also, Tidal lacks the shear volume of content that Spotify provides. Besides that, yes, Tidal is the superior service.
TIDAL
The best music Hi-Fi app. The new redesign looks amazing. But it still missing various some albums, like The Game albums.
Needs an upgrade asap
DanielForever238
on
11/11/2017
Need to be able to view how many streams that's on every song just like Spotify. Come on now.
Can't get enough
SuchAscorPio
on
11/10/2017
I absolutely love Tidal! I use it all day every. I just have one small request please please please develop an Apple Watch app🙏🏾🙏🏾
Needs to add local library support
Tidal with google music esque local library uploading would be incredible
Love it
Very good music service
✊🏿
Crucial Life
on
11/9/2017
Shout out to Jay-z Positive influence Strong Black man Ceo ✊🏿
I am confusion
Alextavarez202
on
11/8/2017
I want to know why tidal took the miseducation of lauryn hill off
Can't dislike music
Itskilabitch
on
11/8/2017
Love the variety of music but can't steam a station without having 100 artists I don't like playing between the 3 I like. If that feature was added it would be up to date with apps like Spotify.
iPhone X support
Please!!
Welcome to the future of music
It's simplistic, sleek interface, great music selection and sound quality.
iPhone X release broke my iPhone 6
iPhone X release/iOS update to the broken release made things worse. Swaps between Tidal and iPod when using car play controls. Song info no longer shows on either screen of my car.
MQA
I would like it more if I had the option for selecting MQA playback. I have a premium subscription but can't see how it differs if I can't choose a MQA playback.
Great Music App
Ced01928381015
on
11/5/2017
Tidal is amazing honestly, but nothing can be perfect. Shared Playlist should keep updating as the user adding and deleting songs in the original playlist or at least the option to.
Good
Love the audio quality. The collection interface is a little bit like anarchy and a watch app would be great for the gym.
Makes me log in every time I open app
Jpp6677425996
on
11/4/2017
Just got a new phone and now when I use Tidal I have to log in every time I open it. This was a major pain today while traveling. I couldn't listen to my offline music while on a flight because I didn't open the app until we were in the air and I couldn't log in without an internet connection. Pretty frustrating.
No carplay? Yikes
Didn't think to check before I signed up. All my other apps - even free apps have carplay. Sure hope this is planned soon?
#1 FAN
Seriously, i've. Had tidal since it launched and i love it! I have been late a fee times on my bill, but i always handle that! I CAN NOTTTTT LIVE WITHOUT TIDAL! 🤗😊 THANK YOU HOV!🙏🏽👍🏽😊🤴🏾
Poor customer service randomly bumped up my pricing
Works out hard
on
10/31/2017
Was a customer for almost a year , went great until my student price went up to 9.99, I've cancelled it and asked to be refunded for that month of the 9.99 and they said they would not. I've had Spotify too and they never moved my price up randomly
Wish I could could give it 6
👍🏽👍🏽👍🏽
Streaming for the culture!
Best curated playlists. Diverse song selections. Technologically sound.
Good stuff, but...
four 12" subs
on
10/28/2017
Reliable and quality hifi sound option. Can hear new releases same day they drop. However, a lot of songs get pulled off playlists bc artists or labels suddenly don't want to permit streaming. Go SoundCloud Plus instead if ur going to pay for quality streaming.
Best music streaming app
Highest quality, constant new features, easy settings, fan appreciation offers are amazing. I give this app 5 stars that it deserves.
Playlists
I love this app however, recently the playlists I create show all the 27 songs I added. But only allow me to play 5 of them, and only list 5, even though the play time says two hours and such. What's wrong?
New music, great playlists
A Fan's Drift, aka Nee
on
10/27/2017
Just hit refresh and see new featured singles, EPs, Exclusives and more. I don't work there lol and it's better than itunes. & they have comedy specials, no commercials. Try Tidal
Worth it...
Yaysysysyzgzggbb
on
10/27/2017
It might be a little pricey, but you can't beat the quality... and Beyoncé exclusives.
Tidal
Love everything about this app. Get to listen to and support my favorite music artists, and I get to connect to all kinds of new media. Tidal had also opened many doors for me to get front row seats to major events and meet all kinds of new people!
Not compatible with Apple Watch
Please develop an app for Apple Watch.
Truly hi fi
Vinyl and cd's - I haven't played for a year. Playing Tidal hi fi via a high end DAC and high end stereo system means my vinyl and cd's are gathering dust. Sure, vinyl and an expensive set up may sound a tad better but- you just cannot compare that experience to the access to thousands of songs that I can revel in from my couch, using a remote control ipad.
Latest iOS version is completely hosed
WickedChickenz
on
10/25/2017
For the most part I've been very happy with tidal as a service but as of the latest update the iOS version is almost worthless. I can no longer play full albums or playlists without jumping through hoops and there is no way to listen to more than the first song of artist radio. Now when I go to an album or playlist and hit play it simply plays the first track and then resumes playing whatever is in my play queue. And to add insult to injury there no longer seems to be any way to access my play queue on the phone to clear it out. It all still works fine on the computer and even through the sonos app but the iPhone app is simply broken. I hope they get it fixed soon so that I can go back to using it when out and about.
Can't delete songs from playlist
It lets me delete like 2 songs then says can't delete like its taking unnecessary space
App needs work
I love the streaming platform but the mobile app is a mess. There's no way to edit the play queue, so I'll be in the middle of playing an album and it'll be interrupted by songs in the queue. Or I'll want to remove something from the play queue and I can't. Also there's no link for in-app feedback or support.
I love Tidal.
Best app hands down plus black owned. What is life without it.
Want to wake up to my playlist!
Needs an alarm clock.
Hi-FI PLAYBACK IS ON SLOW SERVER. RARELY WORKS. TRUST ME.
Flip Flop 6
on
10/23/2017
When I click play on tracks while using Hi-Fi it rarely works. I have Verizon LTE on my phone here in New York City. Coverage is good and when I do a Speedtest I average 50Mbps. Youtube HD videos and everything playa with no pausing. But Tidal Hi-Fi, dont get your hopes high if playing on your phone or in car. Rarely works. Remember this review. Tidal, please allocate more bandwidth and better Server to your Hi-Fi or cancellations will begin soon. Only reason I have Tidal is for Hi-Fi. Otherwise what is the point? Regular 128kbps playback services are a dime a dozen. Literally.
Needs minor updates
beetzbeetz23
on
10/22/2017
I love the content of tidal! I love the idea of it. The quality of music etc. I just switched from Spotify and I am very pleased with how far tidal has come in the last year and a half. But it is missing a few basic things. HIGHEST PRIORITY: adding a prompt asking if you want to add duplicate songs to a playlist. Sometimes I forget if I've added a song to a playlist that is 2k songs long and is 4 years old. Next most IMPORTANT: playlist search bar. I often need to find a specific song on a playlist, long or short. Very useful. Please add. SOS. those are the very basics and all I ask. 10/22/17 -Thank you Tidal🙌🏻
Fact Sheet
Publisher:

TIDAL Music AS

Category:

Music

Released:

Oct 23, 2014

Current Version Released:

Nov 16, 2017

Version:

2.2.0

Size:

58.4 MB

Compatibility:

Requires iOS 9.0 or later.

Recommended Age:

12+

Game Center Certified:

No

Supported Devices:

iPad2Wifi-iPad2Wifi, iPad23G-iPad23G, iPhone4S-iPhone4S, iPadThirdGen-iPadThirdGen, iPadThirdGen4G-iPadThirdGen4G, iPhone5-iPhone5, iPodTouchFifthGen-iPodTouchFifthGen, iPadFourthGen-iPadFourthGen, iPadFourthGen4G-iPadFourthGen4G, iPadMini-iPadMini, iPadMini4G-iPadMini4G, iPhone5c-iPhone5c, iPhone5s-iPhone5s, iPadAir-iPadAir, iPadAirCellular-iPadAirCellular, iPadMiniRetina-iPadMiniRetina, iPadMiniRetinaCellular-iPadMiniRetinaCellular, iPhone6-iPhone6, iPhone6Plus-iPhone6Plus, iPadAir2-iPadAir2, iPadAir2Cellular-iPadAir2Cellular, iPadMini3-iPadMini3, iPadMini3Cellular-iPadMini3Cellular, iPodTouchSixthGen-iPodTouchSixthGen, iPhone6s-iPhone6s, iPhone6sPlus-iPhone6sPlus, iPadMini4-iPadMini4, iPadMini4Cellular-iPadMini4Cellular, iPadPro-iPadPro, iPadProCellular-iPadProCellular, iPadPro97-iPadPro97, iPadPro97Cellular-iPadPro97Cellular, iPhoneSE-iPhoneSE, iPhone7-iPhone7, iPhone7Plus-iPhone7Plus, iPad611-iPad611, iPad612-iPad612, iPad71-iPad71, iPad72-iPad72, iPad73-iPad73, iPad74-iPad74, iPhone8-iPhone8, iPhone8Plus-iPhone8Plus, iPhoneX-iPhoneX,

Supported Languages:

Danish; English; French; German; Italian; Bokmål, Norwegian; Norwegian Bokmål; Polish; Portuguese; Spanish; Castilian; Swedish;

Parental Advisory:

Suggestive Themes; Mild Realistic Violence; Mild Profanity or Crude Humor; Mild Sexual Content and Nudity; Mild Alcohol, Tobacco, or Drug Use or References; Mild Cartoon or Fantasy Violence; Fear Themes;