Not Recommended
App last updated
Jan 23, 2018
Screenshots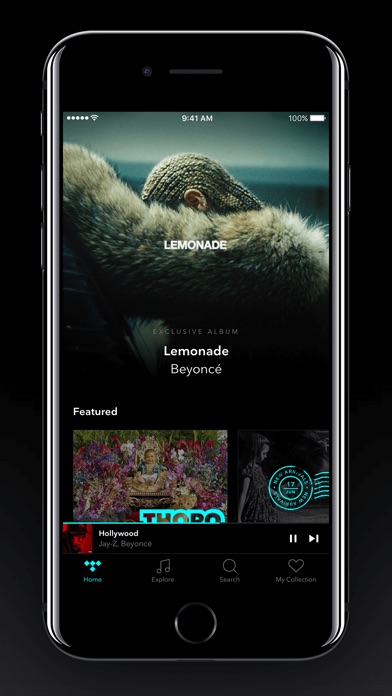 Description
Tidal is the world's first music service with High Fidelity sound quality, High Definition music videos and Curated Editorial by music journalists, artists and experts, making for a simply superior experience. Try it out and see for yourself

• High Fidelity Sound Quality
No compromises. Just pure sound. With our lossless audio experience, you can enjoy your music the way the artists intended. Unlimited access to over 40 million tracks.

• High Definition Music Videos
Watch more than 130,000 music videos. No ads. No fuzzy images. Just crystal clear pictures.

• Curated Editorial
Find your next favorite with tailor-made recommendations, album presentations and playlists by experienced music journalists.

• Stories behind the music
Read our integrated music articles, features and interviews.

• Offline mode
Download albums, playlists and tracks, and bring your music with you anywhere using our offline mode for up to three devices.

• Favorites
Build your personal music collection simply by marking albums, artists, tracks and playlists as your favorite.

You can of course also create playlists, share with friends, listen to artist- or track-based radio, check out artist bios, find similar artists, edit your play queue and much more…

Sign up for a TIDAL subscription in the app, where you can choose between Premium and HiFi. The price of the subscription in your country can be found in the overview below. You will also be informed of the price in the app before signing up. The subscription is automatically renewed and charged on a monthly (30 day) basis. You can cancel it at any time up until the day before renewal and you can at any time turn off the auto renewal from your iTunes account.

Monthly HiFi prices:
HiFi US 25,99 USD / UK 25,99 GBP / AR 6,99 USD / AU 34,99 AUD / AT 25,99 EUR / BE 25,99 EUR / BR 12,99 USD / CA 25.99 CAD / CL 11,99 USD / CO 9,99 USD / CY 17,99 EUR / CZ 15,99 EUR / DK 259,00 DKK / DO 15,99 USD / EE 17,99 EUR / FI 25,99 EUR / FR 25,99 EUR / DE 25,99 EUR / GR 17,99 EUR / HK 138,00 HKD / HU 13,99 EUR / IS 25,99 EUR / IE 25,99 EUR / IL 79,90 NIS / IT 25,99 EUR / JM 15,99 USD / LV 17,99 EUR / LT 17,99 EUR / LU 25,99 EUR / MY 11,99 USD / MT 17,99 EUR / MX 259,00 MXD / NL 25,99 EUR / NZ 35,99 NZD / NG 13,99 USD / NO 259,00 NOK / PE 13,99 USD / PL 13,99 EUR / PT 17,99 EUR / RO 13,99 EUR / SG 25,98 SGD / SK 15,99 EUR / SI 17,99 EUR / ZA 269,99 R / ES 25,99 EUR / SE 279,00 SEK / CH 32,00 CHF / TH 15,99 USD / TR 34,99 TL

Monthly Premium prices:
US 12,99 USD / UK 12,99 GBP / AR 3,99 USD / AU 16,99 AUD / AT 12,99 EUR / BE 12,99 EUR / BR 6,49 USD / CA 14,99 CAD / CL 5,99 USD / CO 4,99 USD / CY 8,99 EUR / CZ 7,99 EUR / DK 129,00 DKK / DO 7,99 USD / EE 8,99 EUR / FI 12,99 EUR / FR 12,99 EUR / DE 12,99 EUR / GR 8,99 EUR / HK 68,00 HKD / HU 6,99 EUR / IS 12,99 EUR / IE 12,99 EUR / IL 39,90 NIS / IT 12,99 EUR / JM 7,99 USD / LV 8,99 EUR / LT 8,99 EUR / LU 12,99 EUR / MY 5,99 USD / MT 8,99 EUR / MX 139,00 MXD / NL 12,99 EUR / NZ 17,99 NZD / NG 6,99 USD / NO 129,00 NOK / PE 6,99 USD / PL 6,99 EUR / PT 8,99 EUR / RO 6,99 EUR / SG 12,98 SGD / SK 7,99 EUR / SI 8,99 EUR / ZA 139,99 R / ES 12,99 EUR / SE 149,00 SEK / CH 16,00 CHF / TH 8,99 USD / TR 15,99 TL

By signing up, you agree to TIDAL's Terms and Conditions of Use, Privacy Policy and Mobile Terms, see http://read.tidal.com/terms.php
iPad Screenshots
Reviews
Terrible customer service
ThatAintLogical
on
1/23/2018
This appears to be a great app for those who want it. In my case, I got a free 3-month trial from Groupon, so I logged into the app to try to redeem it. On the activation page, I clicked activate subscription thinking it would activate my trial but it actually charged me $20 immediately. No "are you sure" or anything. Within seconds I began researching how to cancel, and within 5 minutes I submitted a request to customer service. I explained that I haven't streamed or downloaded anything yet or used the service at all. After a few emails back and forth they basically say they refuse to refund anything. I could understand if I was a day or a week into the subscription, but I'm literally being charged $20 for an accidental click. Bad business...
Tidal + Iphone X
I am unable to download to my iphone X and cannot sign in with my apple id credentials but I keep getting charged monthly.
Last updated causes constant crashes
TheLordPhoenix
on
1/23/2018
The last update (Jan 23, 2018) causes constant crashes when attempting to listen to an offline playlist.
Jigga I hope u see this
Bk_stroll804
on
1/22/2018
Tidal is dope bar none. I backed off because you hiked the monthly premium a tad bit but now that I think about it's worth it every penny. Especially with all the exclusive, premieres and extras. I'm renewing my subscription. Keep going!
Amazing Selection
Fix this!!">:(
on
1/22/2018
Has just about any song and artist that spotify has, but even includes EP's released by some artists in the Hip Hop / R&B genre.
The best one
I've tried all the music streaming apps at length and this one is the best. Sounds better and doesnt screw up or shut down or randomly stop playing like spotify, google music and apple. My only complaint is they promote mainstream pop like crazy- but it's not hard to ignore.
Always room for improvements
Alec Simmons
on
1/21/2018
Still needs some updates. Some albums don't have licensing rights for instance Justin Bieber's where are u now isn't licensed for streaming on his album purpose. But if you go to the u album with various artists you can play it. I think that's ridiculous. Need the ability to organize playlists by artist album title etc. needs the ability to search within playlists. Needs the ability to add whole albums to collection instead of having to add songs individually to the collection.
Missing so much relevant music :/
four 12" subs
on
1/21/2018
How does this app not have all the lil Wayne dedication albums?
Done with Spotify
Mickey Langston
on
1/20/2018
Had Spotify premium then sprint offered it for free and ever since then I've been apart of the Tidal family. Tidal gives me the exclusives, updates and everything I want to listen to from the artist I enjoy. If your thinking about switching your music streaming services this is the route to go!
Pound Cake Minus The BS
Music deserves to be heard. It should be heard in the same quality as when the artist first produced it in the studio. I got sick and tired of listening to Drake and Jay-Z's Pound Cake in low quality through other streaming services. I decided to break up with Apple Music and Google Music to make the switch to Tidal. Now I got HiFi and my Pound Cake too! Thanks Jay-Z and the Tidal team for making listening to tunes a real pleasure! 🤩🥂
Radio Mode? Music keeps stopping..
joedavenport
on
1/18/2018
Maybe the appeal of Tidal is that you get to pick all your music and place in a playlist? I just want high quality music in a radio mode that does not stop playing.
It's nice...
It literally has every song that I searched up, all the information about the song and you can make your own playlist but you have to pay. The only thing I would recommend for the app is lyrics. If it has lyrics and it was free I definitely would keep using it.
Day 1 customer
Totally satisfied, hands down my favorite source of music. Needs more promotion tho, too many people don't know about its greatness. I speak on it so much that I need a check!
I love tidal!!!
BusinessIScool
on
1/17/2018
If you're conscious about what you're money supports, GET TIDAL!!!
Great
Definitely Worth the money
The best streaming service!!
FOGM (fanofgreatmusic)
on
1/17/2018
Worth every penny. I'm glad I made the switch to Tidal!
Buffering in 2018
About to cancel although music selection is great. The app is constantly buffering or pausing. Now when you use the app it is on repeat automatically. The app or server needs major work. Can not drive 45 mins to work with music stopping.
Great music video selection to choose from
JammingJoeyy
on
1/17/2018
Only reason to knock it down one star from a 5 star rating is due to the heavy download file size and latency/lag time to play songs over an even fairly light trafficked 4G LTE network.
Pristine
This streaming service brings so much content to the table and is so well polished. Tidal is so smooth and allows you to get into the shows, the music videos, plunge into the underground of all strings of music. The sound quality of Tidal Hifi, paired with the right sound system is so so so worth it... huuuge difference if you know what you're listening for, give it a try.
It's great
You should get this. Better than Spotify.
Great app
Wonton soup 12345
on
1/16/2018
Underrated app
Simple request
PhilipThomas
on
1/16/2018
Without sounding like I'm repeating a intuitive request. I'm a longtime subscriber ready to pull my hair out. Apple has them. Spotify has them. I'm sure other streaming services not mentioned here have then...I love what Tidal stands for...but please add.... 1. Add 'recently listened' as it's a pain to go find the album/track again. This is precious time lost. There's a 'recent activity' in the users library, but this only lists recent added music. 2. Add a date when the playlist was updated. 3. Finally, 'most' important-add drop down search within users libraries for playlists, artists, albums etc. With personal and Tidal curated playlists getting long, don't make it incredibly difficult and make your users go crazy having to scroll through entire lists to find something. A search should be within the users lists, not just for the global app. There's so much promise here but the app progress since the new version is slow.
Earn that last star
B Rock O Bahma
on
1/16/2018
The " Artist & song " radio stinks.
Thank U
I Have had tidal for months now. it is great that i can listen to all of my favorite albums especially the great Hovito's but finally writing a review about it after having these legendary MLK audio files at my streaming disposal Thank You Tidal. Thank you Jay Z. Thank you Life
Tidal is my FAV app
Sha (Sunshine)
on
1/16/2018
Tidal is my FAV app w/oldies, but goodies along w/latest music ... BEST $10. p/month I've ever spent 🤗🎶
The best there is!
Miss_keys25001000 I.g
on
1/16/2018
I love it so much.... I don't care if it's a dollar to two more than other music services, the quality is at an all time high, it gives you all the albums , interviews and concerts all on one platform... plus all the new music, I listen to Reggae, r&b , Spanish , country , & hip hop! There's everything on there .. I'm am able to add additional devices and my moms playlist has 6 hrs on and it pays perfectly!!!! the best, let's support good quality ✊🏼👌🏼💯
Love tidal
Worth the money, you won't be disappointed.
The Best, Period.
I was a Spotify subscriber from US launch day until I tried Tidal. After a comparison on sound quality with good headphones, Tidal is just hands down better. Same with trying Apple Music last year, Tidal just sounds way better. Another big plus is HD Music Videos, love being able to watch the latest content without COMMERCIALS
Huge fan
Im very accustomed to using tidal, and its well worth the $13/month for practically every album in existence. Im a major jazz fan, and all my favs are here--Miles, Chano, Bebo, Coltrane, and tidal is very supportive of up and coming unknowns. I do love my tidal app.
Wouldn't want to be without Tidal Ever!
I've had this since they began and I'm so happy with the service. So much cool content, so much to explore, so many amazing song recommendations and playlists and exclusive artist interviews. Love Tidal!
Does everything I want and at high bit rates
Although present day music is marketed up front (not enjoyed by me) and generally in my way, this app has all the music I like and goes way back, too. It's fantastic to have hand-selected and automatic listening "stations" that do justice to top notch stereos. I can ask no more of the extensive library or organizing features. I'm also beginning to get high-def streaming video playback through Tidal over my cable link - 1080P! I don't believe I'll ever purchase another download or pop in a CD. This is an unrealized savings that most people don't think about. Download and enjoy your fav music, artists, videos-
Greatest music streaming app ever
The greatest human ever
on
1/16/2018
It is perfect and worth the monthly cost it is incredible
Best streaming service
Good interface, great music quality. The only problem is there are some gaps in some artists' music selections (Dr Dre's Chronic is missing for example, or only the clean version of The Games LAX is available). But otherwise it is a very good app and worth the $10 a month.
Great music service
FluffyMochila
on
1/16/2018
I enjoy tidal and use it everyday and I have to say it's pretty solid over all, the only complaint I have is that you can't download all your saved music straight from "my tracks". It's a little disappointing you can only download full albums and playlists.
Tidal = Best Streaming Experience
•Lossless audio That's is all 🙏🏽
Love Tidal
I stream all my music on Tidal
5 star
Have been using Tidal since the day that they've launched. Love the variety of music and the podcasts just made me love it even more!!
Best music app peri
Kindaofabigdeal
on
1/16/2018
Tidal is the best sounding music app period
Hello
I love this music service 😘😘😘😘😍🍋🍋🍋🍋🍋🍋🍋🍋🍋🍋🍋
Nice app
This app is amazing
Improvements
I love Tidal. I can tell they are making improvements and add to the catalog. I search music and it's not there but never fail the next time I search its there. Tidal is growing and I love it. Keep it up.
Tidal > anything else
I feel tidal embraces the artist over the platform plus the interface is dope. Best streaming service so far
Mr. Shawn Reid
The1&0nlytureAdonis
on
1/16/2018
I've been a loyal customer since the begging. I'm very pleased with the new features and use this wonderful app everyday to listen to all my favorite artist. Keep up the good work.
I love it
GT@pplicious
on
1/16/2018
Love it
Would get a 5/5 if...
Emerald Jade
on
1/16/2018
I LOVE Tidal. I only rated it a 4 because the app doesn't properly work with my car's controls. For instance, I can skip to the next song, but it won't allow you to rewind or go back to the previous song. I'd rather not have to pick up my phone to navigate through songs while driving.
Audiophile
Love the sound quality of the flac files! Their "electronic" music category is lacking a lot. Needs to be more vocal trance and dubstep not lame techno that nobody listens to. Step up the EDM!
Better then pandora
I like this one better then pandora you have great selections and can play in background and it's just all around easier to get to what your looking for.
My Favorite App
BGtheyoungKING
on
1/16/2018
Best App on my phone. Period
Best music app
huntertotten
on
1/16/2018
Tidal has the best content for music lovers
Fact Sheet
Publisher:

TIDAL Music AS

Category:

Music

Released:

Oct 23, 2014

Current Version Released:

Jan 23, 2018

Version:

2.3.2

Size:

61.3 MB

Compatibility:

Requires iOS 9.0 or later.

Recommended Age:

12+

Game Center Certified:

No

Supported Languages:

Danish; English; French; German; Italian; Bokmål, Norwegian; Norwegian Bokmål; Polish; Portuguese; Spanish; Castilian; Swedish;

Parental Advisory:

Mild Alcohol, Tobacco, or Drug Use or References; Suggestive Themes; Mild Cartoon or Fantasy Violence; Mild Realistic Violence; Fear Themes; Mild Sexual Content and Nudity; Mild Profanity or Crude Humor;