This version of the app is not recommended
App last updated
Jan 19, 2018
Screenshots
New in version 5.7
We've exterminated bugs, added some great new features and improved 5miles as a whole.
- Support for iPhone X

Got a question? We'd love to hear from you!
Our Awesome Experience Team can be contacted directly through the Help Center :)
Description
5miles is the highest rated local marketplace app, helping you buy and sell stuff in your area. 5miles is free, easy, and safe and has facilitated more than $1 BILLION in local sales, helping 10 million happy users put money back in their pockets and find great products at great rates.

"5miles is the first to integrate local services into an app of this kind" - CNBC

"The 5miles app is a great way to sell old items AND to buy new things at a fraction of the cost they would be retail." - Alicia Reneeg, BuzzFeed

"It's better than Craigslist and it's better than OfferUp with its attention to informative detail." Catherine, 5miles buyer

With 5miles you can also discover great classifieds in your area, find a place to live, hire local services, or get a new job - all from the comfort of your phone.

It's FREE to list items for sale and FREE to discover local goods and services, all within 5 miles.

Easy
• Snap a photo and offer up your items in seconds
• Use GPS and zip code to find thousands of listings nearby
• Make an offer by sending an in app chat message
• Free to boost your post to send it to the top of the feed
• Easy registration via Facebook or email
• Share your listings via Facebook, Twitter, SMS, and Email

Safe
• Email, phone, and Facebook verifications
• Rate and read reviews of buyers and sellers
• Use our Safe Area Exchange Locator (SEAL) feature to find a secure meetup spot
• 5miles team constantly monitors listings and chats to keep fraud away
• 5miles doesn't share your information with anyone
• Don't want to meetup? Choose shipping for your exchange method

Fun
• Discover great stuff near and far by browsing photos
• Search and filter to find relevant listing
• Like items and follow sellers
• Make offers and get the best deals
• Chat to share more details, photos, and meeting spots
• Share listings to Facebook and Twitter to sell faster

Shop, make offers, and list items and services for free. It's like your own online garage sale without the hassle.

Find home cleaning, home repair, or home improvement professionals. Get help with chores or errands. Find a mover you can trust.

Looking for housing or a roommate? Find apartments, houses, and condos for rent or sale. Find a roommate to share your dream loft. Landlords, list your real estate in a snap!

Looking for work? Find jobs near you! Full-time, part-time, freelance jobs, or short gigs.

FREE for everyone.

Download now and discover great listings from the 5miles community. Are you ready to go shopping?

Want to find out more about us?
https://www.5miles.com/
Email: hello@5milesapp.com
iPad Screenshots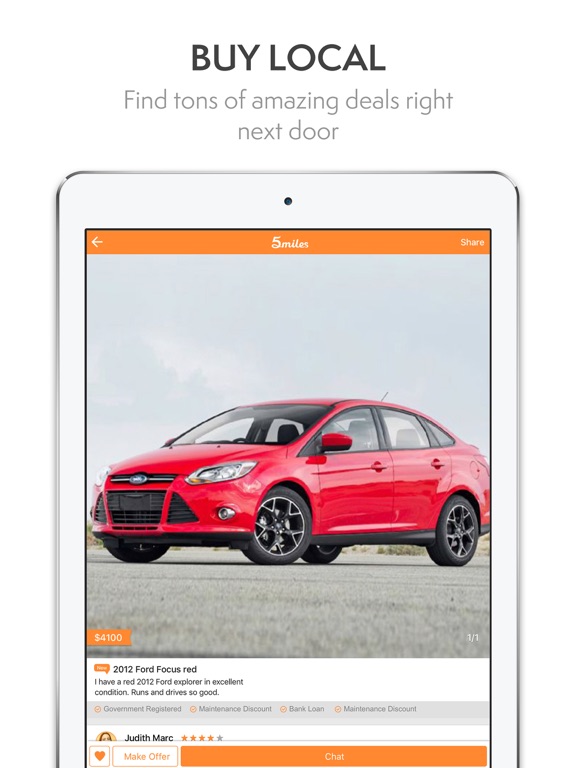 Reviews
Horrible! Don't waste your time!
Jason6564646468
on
1/22/2018
Ugh. Many messages from people who I don't even believe exist. And they are very picky pictures have to be just perfect like you're selling a house or something.
Theres better selling apps than this..
Do yourself a favor and keep looking.
Hate the ads
Why does an have to pop up every time I open the app?!
Wow! 5miles is giving away CMT coins
Use code TBWERK to get one CMT coin. Who knows CMT will be the next bitcoin 🙂
💎❤️💎💎❤️💎❤️💎
💎❤️❤️💎❤️💎💎💎❤️
Won't upload photos
SarahConway93
on
1/16/2018
Every time I try to post something it says it failed to upload photos and won't publish. I worked previously and now it won't.
Decent
pablopicasso_
on
1/16/2018
Great app but needs improvement. Love the concept on how to discover what type of person your buying an item from. Easy to use. Lots of features. Only downfall is you have to pay to post after posting 5 items. There's plenty of other apps to use that doesn't involve this type of method. Please fix this.
Easy
This app I think has more opportunities since I have a view of this kind of app and this one I like it better.
Ok app
Easy to post and list but the cheapskates, the fakes and the scammers make the app not so good. I've gotten many suspicious offers, makes you feel not so safe selling.
Good apps
Communicate with All the Nice customer, it good so far.
Review Reality
Buying is much easier than selling. People are ridiculous about lowballing. I thought this was a site when people had stuff for sale you want it ; you buy it. Meet some interesting people. Everyone is happy.
Baudilio
Buena aplicación resultados rápidos
Esta muy bien ayuda a buscar cosas que necesito
La recomiendo
Creeps
A lot of people message me with compliments & weird questions, which is the reason I'm deleting the app. 😕
Bogus Notifications
I keep getting a notification that an item that I previously searched has a new item near me. I've let this go on for a few days to totally understand it. Each item that is listed is still the same ones I've already seen and to top that off, they are actually notifying me on items that are 30+ miles away from me. FAIL!!!
Owner
Loyal Skate Co.
on
1/10/2018
A great outlet for any young entrepreneur looking for a portal to get themselves out .
New to this
I am new to this application but it seems fun and useful. The user interface is way better than the Letgo app. So props to 5Miles, but does it work better!!? TBA!
FIRST TIME USER!!
DetroitWatches#1
on
1/10/2018
This app seems to work very well for finding things close to you and not having to travel unlike other site and it gives you the option to set the distance is far as you want I'm gonna start selling today and see how it goes🆒🆒
Unusable.
Full of bugs. Comes up with a network error every time I try to use it. Have tried re-downloading it several times with no success.
Fakes, Trash and Almost NO Real People
Verification Scam: As soon as you verify your phone number...get ready for 20 marketing calls to your phone number (even though they say they are just verifying you, they are really selling your phone number.) Of all the local buying apps, like Let Go (many people, but all junk and no way to really filter) or Offer Up (nagging marketing notifications and email constantly), this one is The WORST. No one uses it so it's pointless. Bots and fake users are the only things on the app and I'm in a large city. Let Go has the most listings but it's the worst app. 5Miles has no listings, or almost none, and is also pretty terrible. At least you can better limit the search miles, which none of the others really do well, but there are just no users on this app so it's a waste of memory space on your phone. Junk app. Useless.
We need shipping!!
Hope this app can offer shipping!
Doesn't verify people
You can't be certain if someone if legit. Too many scammers and they have limits on the offers. I recommend users to switch to offer up. It's way better than this crappy app. Too many defects. Sometimes the app won't load.
Good very good
skylinevinyltees
on
1/8/2018
Ani is my best seller, I highly recommen her!!
I got my new cámara it's easy on this app
arthur mix dj
on
1/7/2018
Very happy to get my new cámara on this site
Best service from G&D!!
Gilbert & Dominic...Best movers ever! They moved my 3 bedroom townhouse. They were organized, fast, friendly and detailed oriented. My kind of peeps for this high maintenance girl! Most of all they moved my precious cargo w/out incident. I give 5 out of 5 stars & a whoomp whoomp! Thanks MovEx (move express)! Highly recommend!
Great app!
Great app! Convenient use with a rating system for proven sellers!
price
the prices are in line
GreAt App
305 heavy weight
on
1/5/2018
Great App
Dumb rules
I don't understand why I can't have two listings in two completely different cities. I tried to post two listings in two different cities because I was home from school and wanted to sell some stuff if I wanted to see were I could get the most for my stuff. This dumb app took down both listings just because they were the same listing.
Needs Work
Developer should purge old posts and put a time limit on new ads being posted, otherwise OK
Sub Par
I have been selling things for years via eBay and/or Craigslist. I figured I try this out to help expand my options for selling my stuff. After 15 posts that ran for about 8 months, I've come to the conclusion that this app is worthless to me. I have not sold 1 thing on here. Everything I had listed on here I ended up selling through Craigslist.
Greating App
Jack Minion
on
12/31/2017
I love it
5 Miles
Excellent app you meet local buyers and deal on cash very smooth transaction and great experience so far.
Losing
johnnybstage
on
12/31/2017
Used to be a great app, to many spam bots ect....
BAD DEAL !
I do not like this app at all 5 miles is very on organized and money orientated they just want to get money out of you to post items on there, I don't like it at all very sneaky and devious behavior on 5miles part I'm searching right now to try and find a way to delete it from my information I don't like it at all just being honest sorry if your offended but that's just too bad if I don't like you I just don't like you.....!
Terrible App waste of time and effort !! Offer up better
Worse sales app and site I have ever used they allow others to sell items they won't allow you to sell and they have the worse policy to allow others to prohibit you from selling if they report your item without just cause !! Won't be using this site ever again offer up is way better !!
App crashes when I try to upload photos
The app crashes every time I try tu upload photos from my Album library.....
This app
Meeshisblasted
on
12/28/2017
5 mile does everything he supposed to do if you do what you're supposed to do
5 mile
Pablodelapena
on
12/26/2017
Its better than eBay! Because is free! ebay charges a monthly fee.
Ridiculous
Deadpoool Luvr
on
12/26/2017
This app useless. I don't know if the users are fake or if the app just never sends my messages. I have sent messages to MANY people selling ps4 saying that I will buy it. Neverrrr do I get a response, then I get the notification a couple hours later saying that they sold it already. Ridiculous. Useless. And crap. Use another app. This app ruined my little brother's Christmas because I had promised him a ps4 and because this application's lack of hard work, I was not capable of buying him one and in no way could I afford a brand new one. So screw this app. Use another. Swear if I could give 0 stars I would. Useless.
Love it
I enjoy viewing items on 5miles. I have purchased many items, and have yet to be disappointed. The items displayed are the real deal, descriptions, and pictures are depicted accordingly. This is one of the best sites I've seen.
Avoid
My phone number gets a lot of spam calls since registering my number with their app. You have to pay to "boast" your item so you can sell it.
Ads push Ads and more Ads, then fake users.
Launch the App, 5 second Ad. Use the App, ads scattered in all over. Then I get push notification ads about how I should use the app. I turned those off in the App. (All marketing). You'd think with all the ads, the service will be free… But no, you still have to pay if you want to post. So paying + tons of ads. Now I just got another push ad saying I should check out cars on 5 miles for the new year, despite turning off all marketing ads in the preferences for the app. Combine all this with the fake users, and scams. That's it. I'm done. I'm out. 1 star and done.
My Dog Brett❤️
Yes It was out in the sticks and I brought a man with me; But I got the Dog I was looking for! Yes from his environment he had a few things wrong with him but the vet said that he's a great dog 🐕❣️
Horrible
Horrible, as it gives your detailed location. A friend of mine listed his car, and this app gives its location. Guess someone needed parts from his car..., thanks to this app, he never met the person, and now the car is incomplete... Also, the zip code set up doesn't work in the app, needs -5stars that's negative 5
Owner
HamburgerCheese133
on
12/20/2017
Excellent
It's nice and easy
It's so easy to use and I way find what I'm look for
Wifi or nah??!!
Overall a decent app. I'm wondering though, why am I not able to check my messages without being connected to wifi? That just doesn't seem logical to me.
Fact Sheet
Publisher:

The Third Stone Holdings Limited

Category:

Shopping

Released:

Oct 15, 2014

Current Version Released:

Jan 19, 2018

Version:

5.7

Size:

68 MB

Compatibility:

Requires iOS 8.0 or later.

Recommended Age:

4+

Game Center Certified:

No

Supported Languages:

Dutch; Flemish; English; French; German; Japanese; Korean; Portuguese; Spanish; Castilian; Vietnamese;