Screenshots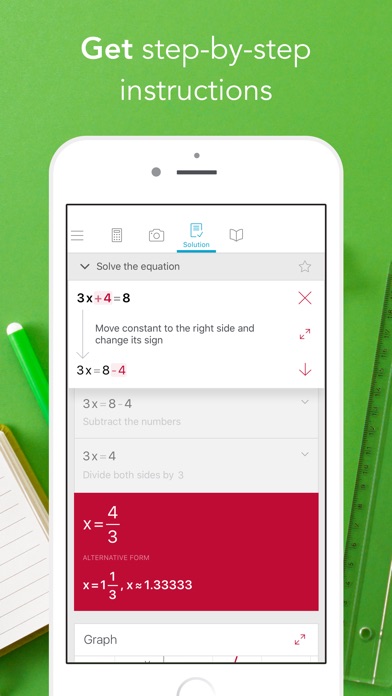 New in version 4.0.5
• Camera/Solver improvements
• Bug fixes/performance improvements
• iPhone X support
We bring updates regularly to make math learning and problem solving even easier for you! All the new features will be introduced inside the app.
Description
Simply point your camera toward a math problem and Photomath will magically show the result with a detailed step-by-step instructions.

Photomath provides:
• Camera calculator
• Handwriting recognition
• Step-by-step instructions
• Smart calculator
• Graphs (NEW)

Photomath supports arithmetics, integers, fractions, decimal numbers, roots, algebraic expressions, linear equations/inequalities, quadratic equations/inequalities, absolute equations/inequalities, systems of equations, logarithms, trigonometry, exponential and logarithmic functions, derivatives and integrals.
iPad Screenshots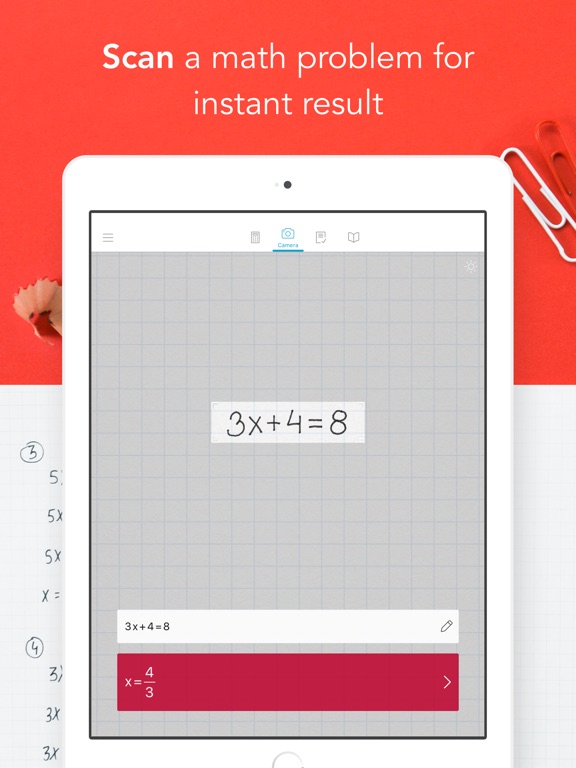 Reviews
No Words
JaffacakecatYT
on
12/16/2017
I have no words, except for that last sentence, the title and this one explaining it.
Nice
Lucera martin
on
12/16/2017
This helped a lot!!
Saver
App literally saved my life one night when I was trapped doing Quadratic equations.
Amazing
Elitehoop33
on
12/15/2017
Possible the most helpful app ever
Awesome
You can see equations and graphs. This is amazing. I can't count how many times this saved me in my math homework. I love it. 🤓🤩👍🏻
Lifesaver
PinkFluffyUnicorns12345🦄
on
12/15/2017
I love this app mainly because it shows you HOW to solve the problem, so I can figure out how to work it. Without this app, I would be a mess.
This only helps you with some stuff
Nidia Mallely Blanco Hernandez
on
12/15/2017
It can't do nothing for ratios !!!!!🙄🤬
Horrible
Anonymous Bastard #43
on
12/14/2017
Tells you the answer rather than showing you how to solve, not worth the storage on my iPhone. DE-LEATED.
IS LITTT
xXRiceGumXx
on
12/14/2017
This helped me so much.... with my IXL that I didn't wanna do. THANK YOU SO MUCH FOR MAKING THIS
I LOVE IT!!!!
When I tried this app it was amazing and this also helps me a lot on math cause I get the answer step by step.👌🏽✍🏽 and I also recommend to many other people.
Yea
trinity antonio
on
12/14/2017
Such so
Needs imaginary numbers but dear god I passed highschool
Snipers fall
on
12/14/2017
I've never been good at math, and I failed junior Algebra, so this being my senior year I finally got this app and I passed with no problem at all. 5 stars. Only thing I could recommend is make a function for imaginary numbers and synthetic Division. Thank you so so much to the developers of this app.
Roberto's math class
ONNIE AWESOME
on
12/14/2017
I failed class cause of this
Amazing app
Alexlove100
on
12/14/2017
This is a great app I've been using this since IOS 7 and still going one thing i want to see is it on the app watch it would be amazing if it was i can use t on the go with out having to take out my phone i get that its called Photomath and your supposed to use the camera and there isn't on the iWatch but it would be Awesome if you did add a good calculator on the watch.
Stupid
anonoymus lover
on
12/14/2017
Crap
Helps me so much
This helps me jog my memory and helps so much how ever invented this is a great person.
Photomath is awesome
This is the best app it will give you the correct answer and shows you how to solve it
What a time to be alive
Life saver.
👌
It is a great app to use for checking your answers for school!
Wow!!!
This is literally the best math related app there is. It helps you in every single way and it's basically the best there is. This app always seems to blow my mind. It's easy. It's fast. And it's accurate
The Goat
Whoever made this app needs to have his name in the hall of fame.
Thanks
Adamlovesthe
on
12/13/2017
Thanks for doing my math homework
It is really helpful
I started using photo math last year. I wanted to see what was the best and the correct answer to my middle school homework.
Photo Math is the Best!!!
Nick to Tricky
on
12/13/2017
Photo math does just about any problem except for word problems, but otherwise Photomath is great!
Math
John Samford
on
12/12/2017
Helped me pass like 10 tests.
Best app!
Aldenu13258
on
12/12/2017
This app is awesome! Helps me more with math than my teacher ever could!!
Great App
Quicksilvet
on
12/12/2017
This app helps me when I'm stuck on a math problem for homework.
LOVE PHOTOMATH
BEST APP EVER
Best app ever 10/10
Best music app👌🏾
on
12/12/2017
Awesome
SO GOOD
ash_gmynast
on
12/12/2017
this app saves my life
Amazing!
Stephanie Ramery
on
12/12/2017
Helps with homework! 5 STAR!
Amazing!!!!!
Nadine_harvey
on
12/12/2017
Helps me on every homework/classwork/test
Useful and helpful
The app is very useful when I have homework or an assignment. When I don't understand how to show my work the app is very helpful.
Impressive
Mike The Alakobroah.
on
12/12/2017
I'm in honors advanced algebra and this still helps me in many ways
Keep Lying to Yourselves, It's Still Cheating!
I do not see how anyone can claim this isn't cheating! The developers have designed a clever and amazing app here but in the long run this doesn't teach math. It's perpetuating the rampant cheating problem that has been brought on by the internet age. Math is a process of trial and error and requires memorization and logic. This doesn't encourage that or teach it. The developers should be ashamed of themselves for creating this and students should be ashamed for using it. And if you are a teacher who has suggested it as a good app for your students, then I question your teaching skills. It seems like laziness to encourage your students to use a cheating app to learn how to work a problem they you should have taught them how to figure on their own. It's flat out cheating to use this, especially when there are struggling students working their butts of to learn math and aren't using cheats. Maybe I am an old fuddy duddy but in my day we had to figure it out on our own. There is entirely too much cheating going on in education these days because of technology.
Review on photo math
nerdy math gurrrll
on
12/11/2017
I think the photo math is a very helpful app. I've improved the b my math a lot and I seek to continue Aceing it. Thank you very much Photomath
Good app
Leisan (Lason)
on
12/11/2017
Photo math is a good app and helps me with all of my late night homework💯😂
PERFECT
pink___pug23
on
12/11/2017
this helps me A LOT when I don't know how to do a problem, it shows the work and helps graph problems too. Highly recommend this app for middle school — highschool
Amazing app
This app has helped me so much I'm doing my math homework. Whenever I don't get something, it not only gives me the answer, but it also explains how the answer is obtained. I would rate it a million if I could.
Awesome
This is a great tool that helps a lot for school work, but they need to work on solving word problems
I love it!
Montana melodies
on
12/11/2017
Ya
Best thing ever
Helps me with so many problems I can't figure out
Yay
This is a great math helper
I LOVE❤️😍
This app really helps me a lot with my really hard math problems! I really will recommend this app!
This is the greatest thing.
God bless the creator of this apps soul.
This app is legendary
This is meh
on
12/11/2017
This app has came in clutch several times
It's good for homework
Yay I can do it in only 3 hours instead of the 6 or 7 it usually takes
great app
Displeased customer 123
on
12/11/2017
saved my grades, explains well, i love this app and have recommended it to others.
BEST APP EVER
YT YOBOYRYAN GAMING
on
12/11/2017
This app solves everything you Could possibly imagine this calculator helps me out so much without it I probably would be failing my algebra 2 class If this app had a option to give money to the developer I would because this app is the best on earth
Fact Sheet
Publisher:

Photomath, Inc.

Category:

Education

Released:

Oct 17, 2014

Current Version Released:

Nov 25, 2017

Version:

4.0.5

Size:

34.7 MB

Compatibility:

Requires iOS 8.0 or later.

Recommended Age:

4+

Game Center Certified:

No

Supported Devices:

iPad2Wifi-iPad2Wifi, iPad23G-iPad23G, iPhone4S-iPhone4S, iPadThirdGen-iPadThirdGen, iPadThirdGen4G-iPadThirdGen4G, iPhone5-iPhone5, iPodTouchFifthGen-iPodTouchFifthGen, iPadFourthGen-iPadFourthGen, iPadFourthGen4G-iPadFourthGen4G, iPadMini-iPadMini, iPadMini4G-iPadMini4G, iPhone5c-iPhone5c, iPhone5s-iPhone5s, iPadAir-iPadAir, iPadAirCellular-iPadAirCellular, iPadMiniRetina-iPadMiniRetina, iPadMiniRetinaCellular-iPadMiniRetinaCellular, iPhone6-iPhone6, iPhone6Plus-iPhone6Plus, iPadAir2-iPadAir2, iPadAir2Cellular-iPadAir2Cellular, iPadMini3-iPadMini3, iPadMini3Cellular-iPadMini3Cellular, iPodTouchSixthGen-iPodTouchSixthGen, iPhone6s-iPhone6s, iPhone6sPlus-iPhone6sPlus, iPadMini4-iPadMini4, iPadMini4Cellular-iPadMini4Cellular, iPadPro-iPadPro, iPadProCellular-iPadProCellular, iPadPro97-iPadPro97, iPadPro97Cellular-iPadPro97Cellular, iPhoneSE-iPhoneSE, iPhone7-iPhone7, iPhone7Plus-iPhone7Plus, iPad611-iPad611, iPad612-iPad612, iPad71-iPad71, iPad72-iPad72, iPad73-iPad73, iPad74-iPad74, iPhone8-iPhone8, iPhone8Plus-iPhone8Plus, iPhoneX-iPhoneX,

Supported Languages:

Croatian; Czech; English; French; German; Hindi; Hungarian; Indonesian; Italian; Japanese; Korean; Polish; Portuguese; Russian; Chinese; Slovak; Spanish; Castilian; Thai; Chinese; Turkish;