Recommended app!
App last updated
Feb 20, 2018
Screenshots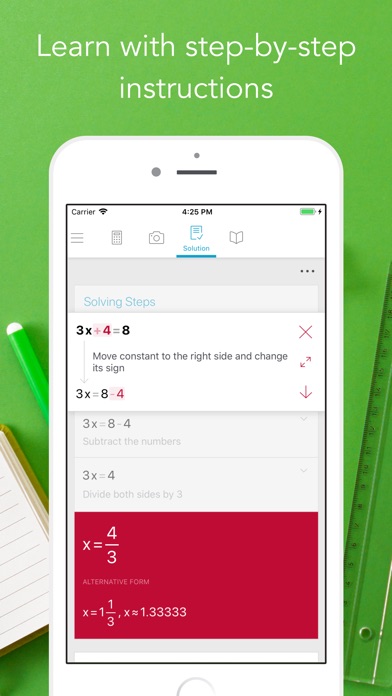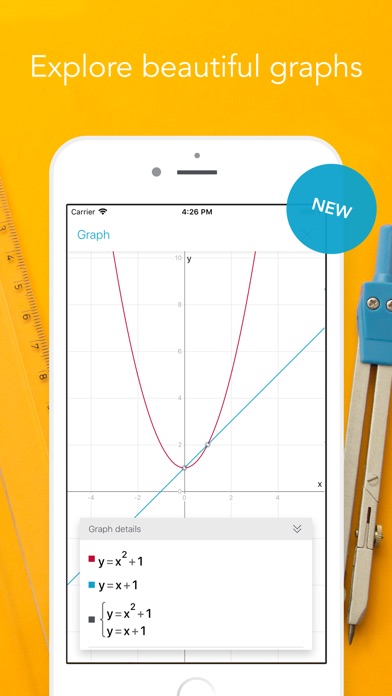 New in version 4.1.1
• New, animated explanations for basic math operations (long division, multiplication, addition and substraction)
• Expanded support for solvable math problems (limits, choose, higher-order derivatives...)
• Redesigned solving method menu that should be easier to find and use
• Added 16 new languages making a total of 36 languages in which you can get math explanations!
• Graph rendering performance improvements
• Various crash and bug fixes/performance improvements

We bring updates regularly to make math learning and problem solving even easier for you! All new major features will be introduced inside the app.
Description
Simply point your camera toward a math problem and Photomath will magically show the result with a detailed step-by-step instructions.

Photomath provides:
• Camera calculator
• Handwriting recognition
• Step-by-step instructions
• Smart calculator
• Graphs (NEW)

Photomath supports arithmetics, integers, fractions, decimal numbers, roots, algebraic expressions, linear equations/inequalities, quadratic equations/inequalities, absolute equations/inequalities, systems of equations, logarithms, trigonometry, exponential and logarithmic functions, derivatives and integrals.
iPad Screenshots
Reviews
dum
I can't reed any off the wirds on dis app. Make it eesier
The best
I love it I love it I love it!!!!!!!!!! This thing is the best app ever!!!!! You literally just scan the problem and it takes you step by step to the answer!!!!! As simple as that!!!!!!! Best app ever created!!!!!! Download right now helpful for algebraic equation!!!!!!!
Very helpful
hokage yobishbad
on
3/22/2018
It helps so much, mostly when i am stuck with a problem and it shows me how to solve equations better than professors because some professors rush lessons
For Photomath
Evelin Guardado
on
3/22/2018
It would be very helpful if your app can solve word problems because schools always like to involve word problems to challenge us so can u please add a space for that thank you
This app helps so much!
Photo math is a app that helps me a lot with my homework and just complex equations. But the reason I gave this a 4 star rating is because the camera becomes blurry if your too fast and sometimes even if your too slow.
It pretty good
The app helps but should help cover more material cause some stuff I struggle with and this can't help me❤️
Simply phenomenal
This app has helped me as a 9th grader to actually see what I am doing wrong. Sometimes I fall asleep in class so I don't know what the heck I'm doing, but this app has helped me overcome that. Keep up the good work!
Photomath
Cherry Mencias
on
3/22/2018
It helps me with my math and even shows me models
Homework Help
Helps with all kinds of math problems making my homework much easier!
Very helpful
nickoleloraine❤️
on
3/22/2018
this app saved my life from not failing !! it helps a whole bunch it isn't hard to just do it ! I recommend this app a lot !😭💜
I love photo math
Not A Math Genisus
on
3/22/2018
Photo math really helps me with difficult problems and allows me to check my set so I can get A's✅
School is easy
I have not had to do any work. Thanks!
😍
Helps on homework I'm in 7th grade and gets things done faster and helps with the steps
Very good app to do in school or somewhere else
Princess Sophia😜😎😂😍🤓🤓🤓
on
3/22/2018
This app is the best app in the world
SUPER helpful!!!
I sometimes struggle with learning new things in math. While some people may just view this as a way to cheat, it actually provides you with useful information to help you figure out what steps you need to take or even where you might've gone wrong! I can also use it to check my homework if I need to. Thanks Photomath!
Amazing but ....
Yumaleoalice
on
3/22/2018
It's an awesome app but it needs more like being able to solve graphs
I love this program it helps me help my kids thank you photo math
Thanks guys
Pretty Helpful
This app is fairly helpful. It does well in giving you step-by-step instructions and solutions. The only real problem I have with it is how sensitive the camera is. I am a pretty shaky person so that makes it kind of hard to keep the camera stable long enough for it to get the equation down correctly. Otherwise, this app is downright amazing! It really helped me on some homework I was struggling with, but now I understand it much better!
Photomath
brain cell short story
on
3/21/2018
I love Photomath to help with homework... but it sometimes doesn't have all the answers and or problems I need help with.
🙇🏻‍♀️
Sometimes I don't have time for hw and this helps a lot thank you app makers
Love it 😍
RrrrrrrrrrrræàáâAaäyããåā
on
3/21/2018
Sometimes I just don't understand a concept and I need help or I just can't get my homework in on time so I have to det the answers fast, this app helps with just about all my math needs! I just wish it did word problems and it would be a grade saver! Thanks for making it, I enjoy it so much!
The best math app
Jehehdhrhehehrg
on
3/21/2018
This and Socratic are the best!
Love this app
It really works get it now
Awesome
It is one of the best math apps I have ever used and it really helps me in school
Amazing... but
LOVE THIS!! It saved me on homework many of times!! But, it doesn't help me with properties or anything. It's awesome, but just that. It doesn't only show you the answer, it shows you how to do it!! #Bomb.com!
Beautiful
Lorenzo Zoil09
on
3/21/2018
Thank you so much for this app!!!
In 8th grade
The first time I used this app, I didn't know anything on the keyboard like limit or derivative. But later on I figured out how to solve them and how to plug the numbers in. I learned and will learn a lot before high school and learning trigonometry and precalculus before everyone else...
Absolutely great!!!
BlueFlameGames
on
3/20/2018
This app is truly beautiful and great! I wanted to see if it would work so I wrote a bunch of math questions on a tissue and it worked! You can even put in a question and it will solve. Another great feature is that fact that it also tells you how you get the answer, so you can see if you are confused. The people that say this is cheating don't get it, this app doesn't even charge you anything! It's completely free! Truly a great app
My Experience with Photomath
From: Amelia
on
3/20/2018
Photomath has helped me with problems and math lessons that I did not understand in math. Photomath sometimes gives me an easier way to do the problems other than the way we are taught in class. I enjoy the help Photomath provides and hope it stays for a long time.
Great amazing lifesaver
Poop04040404
on
3/20/2018
It does my homework. recommended for idiots
Jaw dropping Amazing
Its just crazy how fast it scans the problem and gives you the correct answer in seconds..... Love it!!!!
Great Job!!
Delilahlxano
on
3/19/2018
This App is great!I use it for my math and It works!I recommend It!Score that I recommend This app:10/10 😇
Helpful
Colorfly lover
on
3/19/2018
When I keep getting a problem wrong I use this app and the step by step instructions help me understand what I did wrong.
Luv app but ....
This app really helps me but I'd wish you'd update the app to where the app could help with word problems. Anyway I luv the app very helpful I would make five star but I need help with word problems some times thnx
Dispite all the liberals
😂😂😂 this is pretty cool coming from an honest guy this app it's pretty cool it really saves me time with difficult problems and shows me how to correctly do them so I could lean but I give this app 2 thumbs up , no scam nor any thing and and it's legit the calculator is hella cool it has every thing you need for math to every thing annnnddd it will teach you the right way step by step
Great app
FiestyNinja 12
on
3/19/2018
Anytime ive had a sort of question or was second guessing myself on a problem, this app has helped me out majorly. It's a great app that I can use for 99% of my math
The most awesome math app ever!!
Two snaps and a twist. Yes, I teach kids math. I love math but on occasion, no matter how much you show your students how to do long division they just can't get it. This app works. The animated explanations are the best. All of my students have this app and I am seeing an improvement with their comprehension and understanding of basic and complicated math facts. Well done to the creators of this app.
Great🤙🏻🤙🏻😂
It's a really awesome app but I wish it can solve word problems and perimeter and area and stuff like that but other wise it's a phenomenal app!!
Beyond helpful
I use this to check my answers on my homework in college. It's so simple and quick. I wish I had known about this the past few years!
Mt bom
Muitoo bom, me ajuda muito nos meus estudos para os vestibulares
Great explanations and easy to learn from
My math teacher has been in the hospital for the past month, so we've had substitutes. Mostly it's a different substitute every day, and they just hand out worksheets to do in class and then homework without explaining anything. With this app, I can take a quick photo of the problem and it will explain everything. Almost everyone in my math class uses this app, and we all are actually learning math.
An amazing tool
EmilyandMorgan
on
3/18/2018
This is the best math app I have ever used! It's not just for getting the awnsers for a homework problem, it gives you the steps to solve it , which has helped me through out my years at school :)
Amazing app
I didn't think that a free app could have this much accuracy. It works amazingly well with pre algebra. This will definitely come in handy when my teacher assigns more busywork
Always right
Mr. Skywalker man
on
3/17/2018
I use this app for Webassign (the most frustrating website for math homework) and this app makes things go so much faster. I even shows step by step how to get the answer
Phony app
This app is supposed to be for helping kids or Adults the app does not read any of my math problems for me and my cousin.The both of us is trying to make up math work for school and we really needed it.At first it started to work and now it does not even read none of the problem.Please fix this app if it gets fixed up then it'll be easier for us.
GRAT FOR CHEATING ON MATH PAPER
So I got suspended from school for drugs and I got this big packet of math and I got 1 paper left I love this app
Best thing ever
jocelynn rodriguez
on
3/15/2018
Works awesome 😃👌🏼👍🏻👌🏼
Fact Sheet
Publisher:

Photomath, Inc.

Category:

Education

Released:

Oct 17, 2014

Current Version Released:

Feb 20, 2018

Version:

4.1.1

Size:

35.7 MB

Compatibility:

Requires iOS 9.0 or later.

Recommended Age:

4+

Game Center Certified:

No

Supported Languages:

Arabic; Bengali; Croatian; Czech; Danish; Dutch; Flemish; English; Finnish; French; German; Hebrew; Hindi; Hungarian; Indonesian; Italian; Japanese; Korean; Malay; Marathi; Persian; Polish; Portuguese; Punjabi; Romanian; Moldavian; Russian; Chinese; Slovak; Spanish; Castilian; Swedish; Tamil; Telugu; Thai; Chinese; Turkish; Ukrainian; Vietnamese;