Screenshots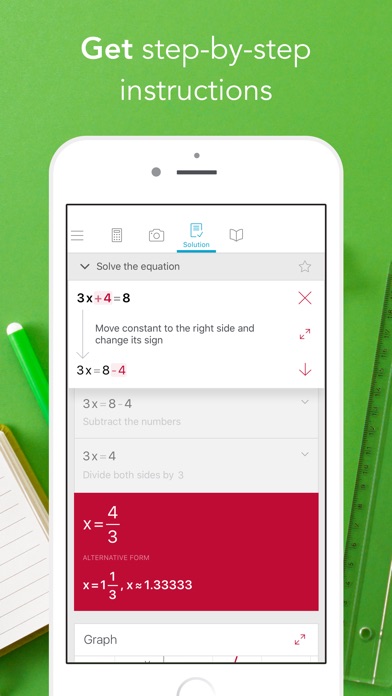 New in version 4.0.5
• Camera/Solver improvements
• Bug fixes/performance improvements
• iPhone X support
We bring updates regularly to make math learning and problem solving even easier for you! All the new features will be introduced inside the app.
Description
Simply point your camera toward a math problem and Photomath will magically show the result with a detailed step-by-step instructions.

Photomath provides:
• Camera calculator
• Handwriting recognition
• Step-by-step instructions
• Smart calculator
• Graphs (NEW)

Photomath supports arithmetics, integers, fractions, decimal numbers, roots, algebraic expressions, linear equations/inequalities, quadratic equations/inequalities, absolute equations/inequalities, systems of equations, logarithms, trigonometry, exponential and logarithmic functions, derivatives and integrals.
iPad Screenshots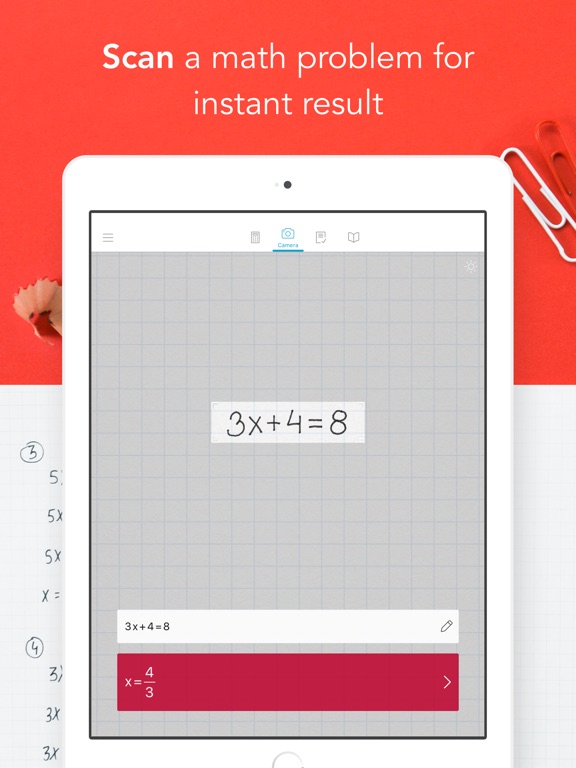 Reviews
Math
John Samford
on
12/12/2017
Helped me pass like 10 tests.
Best app!
Aldenu13258
on
12/12/2017
This app is awesome! Helps me more with math than my teacher ever could!!
Great App
Quicksilvet
on
12/12/2017
This app helps me when I'm stuck on a math problem for homework.
LOVE PHOTOMATH
BEST APP EVER
Best app ever 10/10
Best music app👌🏾
on
12/12/2017
Awesome
SO GOOD
ash_gmynast
on
12/12/2017
this app saves my life
Amazing!
Stephanie Ramery
on
12/12/2017
Helps with homework! 5 STAR!
Amazing!!!!!
Nadine_harvey
on
12/12/2017
Helps me on every homework/classwork/test
Useful and helpful
The app is very useful when I have homework or an assignment. When I don't understand how to show my work the app is very helpful.
Impressive
Mike The Alakobroah.
on
12/12/2017
I'm in honors advanced algebra and this still helps me in many ways
Keep Lying to Yourselves, It's Still Cheating!
I do not see how anyone can claim this isn't cheating! The developers have designed a clever and amazing app here but in the long run this doesn't teach math. It's perpetuating the rampant cheating problem that has been brought on by the internet age. Math is a process of trial and error and requires memorization and logic. This doesn't encourage that or teach it. The developers should be ashamed of themselves for creating this and students should be ashamed for using it. And if you are a teacher who has suggested it as a good app for your students, then I question your teaching skills. It seems like laziness to encourage your students to use a cheating app to learn how to work a problem they you should have taught them how to figure on their own. It's flat out cheating to use this, especially when there are struggling students working their butts of to learn math and aren't using cheats. Maybe I am an old fuddy duddy but in my day we had to figure it out on our own. There is entirely too much cheating going on in education these days because of technology.
Review on photo math
nerdy math gurrrll
on
12/11/2017
I think the photo math is a very helpful app. I've improved the b my math a lot and I seek to continue Aceing it. Thank you very much Photomath
Good app
Leisan (Lason)
on
12/11/2017
Photo math is a good app and helps me with all of my late night homework💯😂
PERFECT
pink___pug23
on
12/11/2017
this helps me A LOT when I don't know how to do a problem, it shows the work and helps graph problems too. Highly recommend this app for middle school — highschool
Amazing app
This app has helped me so much I'm doing my math homework. Whenever I don't get something, it not only gives me the answer, but it also explains how the answer is obtained. I would rate it a million if I could.
Awesome
This is a great tool that helps a lot for school work, but they need to work on solving word problems
I love it!
Montana melodies
on
12/11/2017
Ya
Best thing ever
Helps me with so many problems I can't figure out
Yay
This is a great math helper
I LOVE❤️😍
This app really helps me a lot with my really hard math problems! I really will recommend this app!
This is the greatest thing.
God bless the creator of this apps soul.
This app is legendary
This is meh
on
12/11/2017
This app has came in clutch several times
It's good for homework
Yay I can do it in only 3 hours instead of the 6 or 7 it usually takes
great app
Displeased customer 123
on
12/11/2017
saved my grades, explains well, i love this app and have recommended it to others.
BEST APP EVER
YT YOBOYRYAN GAMING
on
12/11/2017
This app solves everything you Could possibly imagine this calculator helps me out so much without it I probably would be failing my algebra 2 class If this app had a option to give money to the developer I would because this app is the best on earth
Percentage please?
Please add percent, other than that it's totally fine!
Barely even works with complex math problems
Zumbolicious
on
12/10/2017
" we cant solve this problem" "We cant solve this problem" Good luck getting this app to work with anything beyond simple equations or easy mathematics. It cannot solve hard equations and/or log based problems.
Very good
koolsince72
on
12/10/2017
Jolly good sir!
Great
Basmala Mali
on
12/10/2017
This does my homework for me and has fraction answers.THANK GOD 🤙🤩😜🤪
It app is the best mathematical solution
The app helped me a lot
Try photomath
I love photomath it solves all your problems and it gives you the work it can save your life
photomath 😍😍
i live for this app
Great help
Annegiancarlo
on
12/9/2017
This app is a great help to me. This made me understand more my math lesson.
So good
Griffin Henderson
on
12/9/2017
I use it almost every day I love it
Way goody goodness!
This app is incredible. There are a few functions they are working on but it is still very powerful and a great tool for those, like me, that need more math/Algebra support.
Awesome
Meeeeeweeeeee;)
on
12/8/2017
I love this app! It's so helpful
Incredible
This app really works
برنامج سهل و رائع
من أفضل البرامج في الحساب و سريع في حل المعادلات و يساعدك في التعلم و يقوم بشرح لك كيفية حساب المعادلات الرياضيه
Useful
SightSeeker5
on
12/8/2017
Great app
Very Convenient
Stranger1213
on
12/7/2017
I figured mostly high school students would choose and use this app more because most of the other math problems apps aren't free, you have to pay monthly to be able to use it. Or worse, finding out the answers but having to pay to look at the steps. I love this app because they understand that mostly high school students don't have bank accounts and aren't able to pay for them, so they made this easy to use and you don't have to pay anything, the app itself I also free. Thank you to whoever made this. You saved our life.(ps: writing this as I'm desperately trying to pass my finals)
download right now!!
Ajvufnjndjjb
on
12/7/2017
this app has helped me tremendously as far as solving equations, if u are struggling in math or just confused on a question or equation just simply type your equation in or scan it within the app for the correct answer and how to get the answer!!! 5/5
Okay
iam disapointed
on
12/7/2017
This isn't the greatest even though it helps it couldn't even find out what .39 was in a percent but I advise anybody NOT do get this app ! 😡
helpful
mhfhhftuopplkv
on
12/7/2017
this app is very helpful for my algebra and math! do you guys also do word problems?
Awesome
Mowglitia10420
on
12/7/2017
It really helps learn
Photomath
Amazing explanation of solutions, not just the answer
Won't dowload
Yungdaggerdick I🗡🗡⚔️
on
12/7/2017
Ok
Review
This is the best app In the App Store because it does my homework, haha
Download to save a life!!
αԹԹ ʆσѵεɾ 15
on
12/7/2017
This app has saved my butt so many times ❤️
Fact Sheet
Publisher:

Photomath, Inc.

Category:

Education

Released:

Oct 17, 2014

Current Version Released:

Nov 25, 2017

Version:

4.0.5

Size:

34.7 MB

Compatibility:

Requires iOS 8.0 or later.

Recommended Age:

4+

Game Center Certified:

No

Supported Devices:

iPad2Wifi-iPad2Wifi, iPad23G-iPad23G, iPhone4S-iPhone4S, iPadThirdGen-iPadThirdGen, iPadThirdGen4G-iPadThirdGen4G, iPhone5-iPhone5, iPodTouchFifthGen-iPodTouchFifthGen, iPadFourthGen-iPadFourthGen, iPadFourthGen4G-iPadFourthGen4G, iPadMini-iPadMini, iPadMini4G-iPadMini4G, iPhone5c-iPhone5c, iPhone5s-iPhone5s, iPadAir-iPadAir, iPadAirCellular-iPadAirCellular, iPadMiniRetina-iPadMiniRetina, iPadMiniRetinaCellular-iPadMiniRetinaCellular, iPhone6-iPhone6, iPhone6Plus-iPhone6Plus, iPadAir2-iPadAir2, iPadAir2Cellular-iPadAir2Cellular, iPadMini3-iPadMini3, iPadMini3Cellular-iPadMini3Cellular, iPodTouchSixthGen-iPodTouchSixthGen, iPhone6s-iPhone6s, iPhone6sPlus-iPhone6sPlus, iPadMini4-iPadMini4, iPadMini4Cellular-iPadMini4Cellular, iPadPro-iPadPro, iPadProCellular-iPadProCellular, iPadPro97-iPadPro97, iPadPro97Cellular-iPadPro97Cellular, iPhoneSE-iPhoneSE, iPhone7-iPhone7, iPhone7Plus-iPhone7Plus, iPad611-iPad611, iPad612-iPad612, iPad71-iPad71, iPad72-iPad72, iPad73-iPad73, iPad74-iPad74, iPhone8-iPhone8, iPhone8Plus-iPhone8Plus, iPhoneX-iPhoneX,

Supported Languages:

Croatian; Czech; English; French; German; Hindi; Hungarian; Indonesian; Italian; Japanese; Korean; Polish; Portuguese; Russian; Chinese; Slovak; Spanish; Castilian; Thai; Chinese; Turkish;