Screenshots
New in version 4.0.1
• Beautiful graphs (elementary, advanced graphs coming soon)
• Updated interface
• Camera/Solver improvements
We bring updates regularly to make math learning and problem solving even easier for you! All the new features will be introduced inside the app.
Description
Simply point your camera toward a math problem and Photomath will magically show the result with a detailed step-by-step instructions.

Photomath provides:
∙ Camera calculator
∙ Handwriting recognition
∙ Step-by-step instructions
∙ Smart calculator
∙ Graphs (NEW)

Photomath supports arithmetics, integers, fractions, decimal numbers, roots, algebraic expressions, linear equations/inequations, quadratic equations/inequations, absolute equations/inequations, systems of equations, logarithms, trigonometry, exponential and logarithmic functions, derivatives and integrals.
iPad Screenshots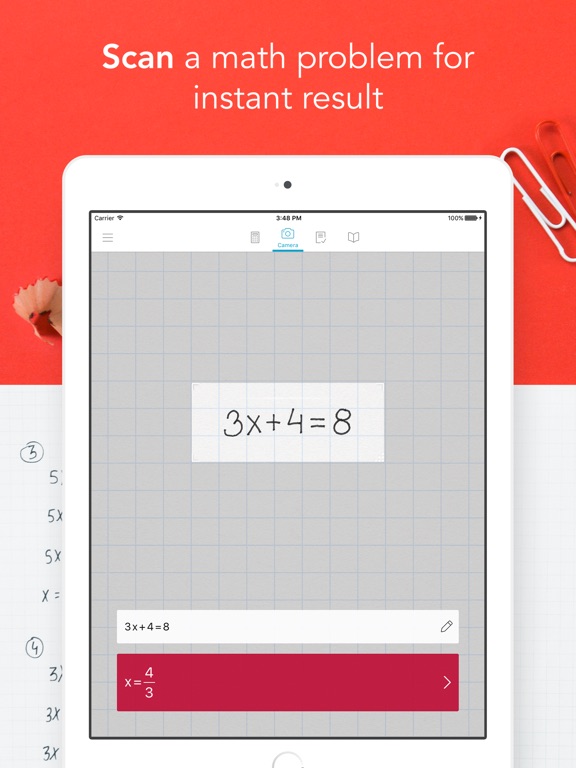 Reviews
Love
Helps me to solve and understand math problems for homework and class work!
Truly Amazing
This is the number one educational app on the market! Not only will it help you finish your homework but it explain how that answer was gotten.
Photomath
Ruben J. Herrera
on
10/19/2017
It helped me with my homework, and I get an A! Excellent app!!!
I don't know how this can exist
I seriously have no idea how you made an app like this but THANK YOU SO MUCH!!!! This is a life saver in precalc! It's good for me to check my answers. If I did want to add something, I would like a function to choose what type of answer I want ie vertex form or quadratic. Something like that. Also, if it could help with word problems (though I have no idea how you would do that). That would be incredible. Overall this app is amazing!! Thank you and look forward to what you'll do next! =)>
literally not helpful
francescapanunti
on
10/18/2017
not helpful with geometry or algebra
OMG!!
Unicorn_girl#Yass
on
10/18/2017
Funny story my friend likes this so much we asked to go in the hall and we used this app and the teacher came and was like 🤦‍♀️ phone-> phone jail. But anyways I got it back and this app turned my D in math to a B so it's a great app
I'm still failing but hw part is good
That kid from valley view
on
10/18/2017
Must have for students of all ages
Photo math helped my grade
Bdndhdjdhzlnd
on
10/18/2017
Ok so a lot of y'all get this app to just get the answers but it also shows you how to do and teaches you
Thanks!
Thanks for helping me with my homework! When I was stuck all I had to do was whip out my phone and take a picture then boom!
Best App Ever!!!!!!!!😍
I wasn't doing so good in math so I looked up how to do a problem and photomath popped up and I installed it. Few minutes later I tried the app and this app is the new Albert Einstein. it is so smart.
Best thing to ever exist!!!!!! 👍👍
This is the best app ever
Great App, very helpful 🤔
🔥Claire Bear🔥
on
10/18/2017
Most of my problems are word problems, and it's kinda sad that technology isn't advanced enough for solving those yet. 😂 But this app is still very helpful on regular problems.
Great
willy burke
on
10/18/2017
Whether you're checking your answers or just flat-out cheating, this is a great app for anyone
Good
Nate.R.H189
on
10/18/2017
It really doesn't work with square roots
Good app
SuperHellaCool7
on
10/18/2017
Really helps me out with my math a lot, but can't solve certain problems.But they are working on that.
Photomath
SaoodMusbah
on
10/18/2017
Sometimes it has some mistakes but it's the best
So good
megantuxford
on
10/17/2017
best tutor ever!!
Hello
ilovecats2019
on
10/17/2017
I would just love to be able to add more subjects
Very helpful
It help me with a lot of things✅
It's the only was I passed
Cinna buns2409
on
10/17/2017
This app is insanely well designed because of how fast it analyzes the questions and gives a correct answer with a way that just makes sense.
Simple to use and very accurate. Makes it easier to learn.
103948got me
on
10/17/2017
Very useful app
Helpful
Mamadepalma
on
10/17/2017
This app is amazing!! It's so helpful when I haven't taken algebra in decades but I'm trying to help my kids.
This apps really works.
Rodger123058261739
on
10/17/2017
This app is very good and creates nice graphs and equation answers! Can't wait until they add more features for very advanced math
Photo math
This is amazing and very helpful😀👍🏼
Most helpful calculator ever.
It be nice if you guys replied, I wish I knew how to support you guys.
Hey, that's pretty good!
DavidLong2238
on
10/17/2017
Gr8 m8 would r8 8/8
Helps with your homework👍🏽
Babysav_0607🙂
on
10/17/2017
This is a really good app I think it's a really cool app to help you with your homework if your stuck or if your just to lazy to do your homework. It's really easy to use and I really like it. If it could solve word press thought that would be lit other than that it's really good. You should give it a try🙌🏽👍🏽🙂😁🤗
Best app ever!!!
Poopyhead22
on
10/17/2017
Recommend if your lazy like me!!😂😂
Awesome
Dangle snipe and cellu
on
10/17/2017
Great app helps me understand my math.
photomath
AstroFrog3000
on
10/17/2017
This is the best app ever.Also I think they should make an update where you scan word problems.And finally, it tells you how you got your answer BTW I mean it brakes the problem down for you thx creater of photomath.
Super helpful
Photomath makes it easy to do homework and gives you explicit explanations on how to get your answer definitely recommend this app to anyone who struggles in math
❤️❤️😍
fantastic fun review reader
on
10/17/2017
This app is AMAZING! I love how smoothly it works and it really helps in math. I use it all the time now.
The best
I helps me a lot with my math homework and it shows me step by step if I don't get it
Dank
Niga from yo trash can
on
10/17/2017
Helps me learn problems I don't know.
Life saver
This app has helped me understand math and pass many tests and quizzes.
Best math app I've ever encountered
I am a college student who some days will procrastinate or need help that I am not able to get at that exact moment and this app goes step by step with answers and really helps out.
Very helpful
Smashy road champion
on
10/17/2017
Camera works seamlessly!!
CHANGED MY LIFE
KiefKeeper420
on
10/17/2017
At school I can cheat on everything thanks
Has helped me for years
Personnnntskp
on
10/16/2017
I've been using this app since 9th grade to better understand the process behind my math homework. I am now in 12th grade college math 1010, and this app is still and absolute lifesaver for understanding confusing problems on my homework. One of the reasons to own an iOS device!
App from the Gods
Amazing. A lifesaver.
Great but really could use function capability
Clipper7777
on
10/16/2017
This app is great for me bc I'm having to teach myself the material since my teacher's accent is so heavy I can't understand him. This app had been a savior. Really wish it could help me with functions though.
Great
It helps me figure out how to work out a problem.👍🏼👍🏼
A relief!!
They are very helpful during homework went your dont know anything this app helps me with everything a calculator can't And this is why I enjoy using this app and thank you so much for everything.
The best math tool ever!!
I use Photomath every time I do math to check myself and learn how to do problems I don't know how to do. It has saved me so much stress and time. Also, it doesn't just give you the answer, it gives a step by step process to help you learn, too. It is the best thing you could possible use to assist you in math.
Happy
This app is great it helps with home work🤗
Amazing
This has helped me with so much homework, not only does it show the work that goes along with the answer... the scanner is almost precise when it comes to reading you homework. My only problem with it is it can take a long time to focus and some problems the scanner can't do, but this is the future so I'm sure it will be able to soon. My advice is if you want to ace your homework get this app!
Photomath
It's very helpful wow I'm amazed by it but don't think u gonna be using it a lot sometimes they don't show u what u want . But it's wonderful
Fact Sheet
Publisher:

Photomath, Inc.

Category:

Education

Released:

Oct 17, 2014

Current Version Released:

Aug 23, 2017

Version:

4.0.1

Size:

34.4 MB

Compatibility:

Requires iOS 8.0 or later.

Recommended Age:

4+

Game Center Certified:

No

Supported Devices:

iPad2Wifi-iPad2Wifi, iPad23G-iPad23G, iPhone4S-iPhone4S, iPadThirdGen-iPadThirdGen, iPadThirdGen4G-iPadThirdGen4G, iPhone5-iPhone5, iPodTouchFifthGen-iPodTouchFifthGen, iPadFourthGen-iPadFourthGen, iPadFourthGen4G-iPadFourthGen4G, iPadMini-iPadMini, iPadMini4G-iPadMini4G, iPhone5c-iPhone5c, iPhone5s-iPhone5s, iPadAir-iPadAir, iPadAirCellular-iPadAirCellular, iPadMiniRetina-iPadMiniRetina, iPadMiniRetinaCellular-iPadMiniRetinaCellular, iPhone6-iPhone6, iPhone6Plus-iPhone6Plus, iPadAir2-iPadAir2, iPadAir2Cellular-iPadAir2Cellular, iPadMini3-iPadMini3, iPadMini3Cellular-iPadMini3Cellular, iPodTouchSixthGen-iPodTouchSixthGen, iPhone6s-iPhone6s, iPhone6sPlus-iPhone6sPlus, iPadMini4-iPadMini4, iPadMini4Cellular-iPadMini4Cellular, iPadPro-iPadPro, iPadProCellular-iPadProCellular, iPadPro97-iPadPro97, iPadPro97Cellular-iPadPro97Cellular, iPhoneSE-iPhoneSE, iPhone7-iPhone7, iPhone7Plus-iPhone7Plus, iPad611-iPad611, iPad612-iPad612, iPad71-iPad71, iPad72-iPad72, iPad73-iPad73, iPad74-iPad74, iPhone8-iPhone8, iPhone8Plus-iPhone8Plus, iPhoneX-iPhoneX,

Supported Languages:

Croatian; Czech; English; French; German; Hindi; Hungarian; Indonesian; Italian; Japanese; Korean; Polish; Portuguese; Russian; Chinese; Slovak; Spanish; Castilian; Thai; Chinese; Turkish;