TapNova recommends this app!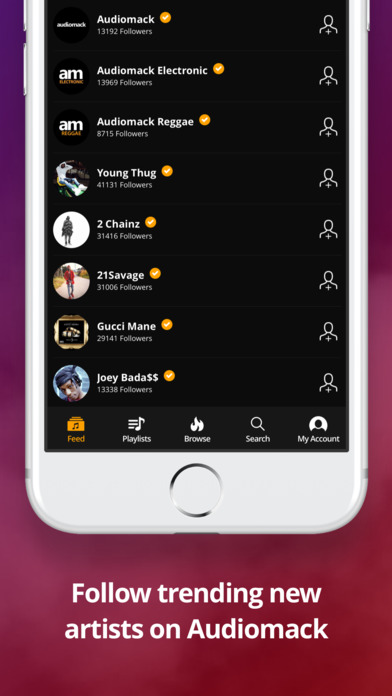 New in version 3.2.2
•Enhanced offline play.
•Enhanced Facebook integration.
•Bug fixes!
Description
Audiomack is a FREE streaming music app, built to let you stream and download the hottest new music, mixtapes, and podcasts in Hip-Hop, Electronic, and Reggae. Every song is downloadable - with or without wifi!

Audiomack has a totally proprietary Trending section that shows you the hottest, most buzzing new muisc and artists daily, before anyone else. Audiomack gives you the hottest new music!

Audiomack is always completely free to stream and download songs and mixtapes, with no premium subscription required. Audiomack has the most recent mixtapes, new tracks from your favorite DJs, and the ability to download for offline, data-free listening.

KEY FEATURES
• Find new and trending new music first. Be the first of your friends to be up on what's next.
• Unlimited streaming and downloading - play as much Hip-Hop, Electronic & Reggae, Pop, and Afropop as you want.
• Favorite any track, album, or playlist and easily search, browse, and shuffle your favorites collection.
• Easily sort both Trending & Charts sections by genre and/or date range for effortless music discovery.
• Use our fast, free music downloader to download thousands of songs, mixtapes, and albums for offline, data-free listening - no wi-fi needed.
• Browse expertly curated playlists by mood, genre, and create unlimited playlists of your own.
• Follow your favorite artists, producers, and tastemakers to build up your feed. Every time you open the app, any new releases from accounts you've followed will be waiting for you in your feed tab!
• Audiosnap: create a custom 15-second video or image synced to any song on Audiomack and export it to share on social media or with your friends.
• Play, pause, and skip tracks right from your iPhone lock screen.
• Looking for a music downloader? Audiomack lets you download over 3m+ songs with or without wifi!

GETTING STARTED
• Browse the Trending & Charts sections to find today's hottest releases. Swipe left and right here to move from Trending to Charts.
• Check out the left-most tab in the bottom navigation (My Feed). If you're not following anyone yet, we'll show you our premier accounts that you should follow!
• Click the Playlists tab in the bottom navigation (second to left) to browse our expertly curated and constantly updated playlists. We've got selections based on mood, musical genre, and much more!
• Found a song you want to share with friends? Click the scissor button on any song to create a Audiosnap - a custom 15 second video sync'ed to your new favorite song. Start and stop, flip the camera - you're the director!

Audiomack Gold/Platinum Terms & Conditions as offered by Audiomack LLC:

Audiomack Gold and Premium are monthly subscription services that remove ads and provide additional features such as higher-definition streaming. If you purchase Audiomack Gold or Platinum ($1.99 or $2.99 USD per month, respectively), payment will be charged to your iTunes account at confirmation of purchase. Your subscription automatically renews at the same price ($1.99 for Gold, $2.99 for platinum) unless auto-renew is turned off at least 24-hours before the end of the current period. Subscriptions may be managed by the user and auto-renewal may be turned off by going to the user's Account Settings after purchase. All prices mentioned here and in the app for Gold/Platinum subscription tiers are in U.S. dollars, may vary in other countries around the world, and are subject to change in the future. Any unused portion of a free trial period, if offered, will be forfeited when the user purchases a subscription. Audiomack is always free to use without a subscription, and you may resume using Audiomack with ads at any time after your subscription ends.

Use of the Audiomack app is subject to your agreement with our Privacy Policy/TOS.

Privacy Policy: http://www.audiomack.com/privacy-policy
TOS: http://www.audiomack.com/about/terms-of-service
Reviews
MUST FIX BUG
Koelbfructnd
on
7/21/2017
This app is hands down one of the best music apps in the app store but the thing is... There's a TON of bugs I have found that I can't even name all of them. The BIGGEST one is that if you download an album and you have downloaded the song before the album, it just glitches and removes ALL your offline music. And I mean ALL of it. It kinda disappointed me this has happened to me at least 3-4 times and it'll probably happen again. So please developers, fix this immediately it's annoying. Thanks
Best streaming app you'll find
This is the best streaming app you'll ever find if you're looking for Rap and R&B. Keep that in mind. This app is, pretty much, strictly for Rap and R&B. Don't expect them to "fix" the app because you can't find your genre. This was made for Rap and R&B -- nothing else. This app is great when you want to download songs and listen to them offline. Overall, this is one of my favorite apps, for sure.
🔥🔥🔥🔥🔥
Into 2016-->
on
7/20/2017
——— 🔥 . 💯 -- ViVaVi 💋 ~ *
Thast so good
Very good ❤️
Love the app
I use this app to hear all the new releases and keep up to date with all the artist putting out new projects. Only thing I would change about this app to give it 5 stars is being able to come back into the app and continue where I was listening rather then starting over. Exiting the app for 5 minutes and not being able to continue listening to music is frustrating, especially if you listen to music on shuffle.
nice!
frank likes apples
on
7/18/2017
i like it a lot
Great experience
Excellent app . I'm very satisfied with its service . I love how it has an offline mode . Best app I've used
Love it
All the new music
Almost 5 Stars
Since Spinrilla wanna start tweaking I needed a new music app. And this does the job well. With a cleaner interface and the a one step process of choosing songs for a playlist...this app gon blow up
Ads show at uncomfortable places
KamikazeSmasher_975
on
7/16/2017
I'm fine with ads, however they appear at wrong places like at the bottom where they can be easily clicked and sometimes they cover things which is annoying. I really hope you fix this.
This app is lit🔥👌
U listen to offline music with no purchases whenever u freaking want... Its LIT🤘🔥
Great App!!
This app is really good has most of my songs I like to listen to only thing I don't like is that it doesn't allow you to save the music you already have bought from iTunes.
Better than soundclout
fye
Great app! 💕💕 no joke !
✖️Carolina GN✖️
on
7/13/2017
I've been traveling a lot lately and I always need to listen to music wherever I go, I downloaded hundreds of apps and all of them were a flop. So far I've found all the songs I like and they are offline too! Thank you so much for creating this app and I wish it never changes❤️
Great app
Frump a lump a dump
on
7/13/2017
I hadn't heard Ivy Sole before but listening to the music she uploaded to audiomack it's so good.
Audiomack is better than soundcloud
Audiomack is one of the top 3 music apps today you can download and stream music and post your music with no limits unlike SoundCloud you have to pay for offline music and if you upload tracks there's limits but audiomack has unlimited uploading and they have good music
SoundCloud brought me here
I love it
BEST THING EVER!!!!!
it's honestly the most wonderful app because i was trying to find one and this perfectly fit the description
There's 1 thing 🤷🏽‍♀️
Tbh, I love the app but it's missing something. I only fall asleep with music and all the music apps usually have a music time so before I fall asleep I can't put so that the music only stays on for 30 minutes. But on this app I can't fall asleep listening to music because if I do it will play all night and kill my phone battery.
Perfect
I like it mostly because the ofline mode
Great app
Good app for offline music but some songs may not appear , soooo please fix that feature to earn a 5 star . I AM SO GLAD I FOUND THIS APP FOR OFFLINE MUSIC !
New music first
Great app for finding new music and you can even download many of the songs and mixtapes for offline listening without wifi.
Super great
Iseewhoviewedme
on
7/11/2017
Greatest app ever !!!
Gr88
ms.westbrook
on
7/11/2017
👍🏽👍🏽👍🏽👍🏽👍🏽👍🏽👍🏽👍🏽👍🏽👍🏽👍🏽👍🏽
Audiomack
tayelothemodel
on
7/11/2017
Best app for new music that you can listen to even if you don't have internet connection.
Perfect app for non-album related music
Switched from SoundCloud and never thought about going back. Great for hip hop / rap music listeners. I favor this app over Spinrilla and any others I've used.
It's okay
1234567899gigigiif
on
7/10/2017
This app is okay but it's just that I listen to variety of music and sometimes I like to go look at the subtitles for kpop (Korean music) since I'm a fan of it, this app doesn't allow videos that have subtitles. It really upsets me, PLEASE FIX IT! I would have given it a 5 star but there is so much fixing needed. I'm happy for the no wifi part because I'm a student and I need to listen to music in the bus but I wish there were more variety of music to listen to.
Great
Wonderful, yet really helpful
on
7/10/2017
Been searching for an app that downloads music! 😄 Found most of the songs I wanted but not some. Plays music offline 👍🏽
Love the fact u can save the songs
Love the music downloading
Amazing...But
Jenni_pexx13
on
7/10/2017
I love it...you can play music offline . Would have given it 5 stars but they don't have the original songs for all the songs I search for.
Great app
I like you now eat food
on
7/10/2017
This is a great app if you dont want to use up your data or dont have wifi. All you have to do is download your music while connected to wifi then if your not connected to wifi you can listen to your downloaded music
rate : 1000000
i love thiss app
Love it
I like this app😏💯
Easy music
A.M. Makes it easy to get music and they get almost everything. Great source for music!
Great way to listen to new music and mix tapes.
Guillotine316
on
7/5/2017
New music and mixtapes especially TheChopstars.
Audiomack
Love this app has all my favorite artist and it's free to listen to awesome use it all the time
Must download
This is so lit they dont even make you pay to download music like Spotify just download it
This some good stuff
10/10 recommend
It's Awesome!😊
Violet The Hedgehog
on
7/4/2017
It has a lot of good songs and you can listen to them without Wifi and you can get on other things just like Red YouTube!
Best app for fools who got headphones in constantly
Treat yo self
Great app except...
This is a great app for music especially if your going on to a plane and have no music on your phone! Only one problem there's no country music, well there actually nothing besides rap really on this. If it had more of a verity there would be more people using it for sure!
Just no
kadenskates24
on
6/30/2017
Does not download to iPhone music app and not all song have the original soundtrack a lot of remixes
Up to date on all the hip music
I use this to find the newest bangers on SoundCloud too lol
Helppppp
Jhismhdontworry
on
6/30/2017
Im having trouble uploading music from my iPhone can somebody help me out???
Best app and great quality
Abbywabbyluvfootball
on
6/29/2017
I love this app so much all along I've been looking for a music app to use without wifi and I've finally found one. It is really good. 👌🏾✌🏾💯
Amazing
I've have all the free streaming apps I can honestly say Audiomack hands down, is the best you can get. Feel free to try it, if it doesn't work for you, feel free to delete it.
Great app!!
This is app is awesome! Suggestion tho would be opening the genre for others. Idk if that just depends on the people the upload the songs but apart from that I love the app. I get all my reggae, afrobeats and hip hop from here!
Crap
They have like no Christian songs
Fact Sheet
Publisher: Audiomack LLC
Category: Music
Released: Nov 19, 2014
Current Version Released: Jul 10, 2017
Version: 3.2.2
Size: 65.3 MB
Compatibility: Requires iOS 8.0 or later.
Recommended Age: 12+
Game Center Certified: No
Supported Devices: iPad2Wifi-iPad2Wifi, iPad23G-iPad23G, iPhone4S-iPhone4S, iPadThirdGen-iPadThirdGen, iPadThirdGen4G-iPadThirdGen4G, iPhone5-iPhone5, iPodTouchFifthGen-iPodTouchFifthGen, iPadFourthGen-iPadFourthGen, iPadFourthGen4G-iPadFourthGen4G, iPadMini-iPadMini, iPadMini4G-iPadMini4G, iPhone5c-iPhone5c, iPhone5s-iPhone5s, iPadAir-iPadAir, iPadAirCellular-iPadAirCellular, iPadMiniRetina-iPadMiniRetina, iPadMiniRetinaCellular-iPadMiniRetinaCellular, iPhone6-iPhone6, iPhone6Plus-iPhone6Plus, iPadAir2-iPadAir2, iPadAir2Cellular-iPadAir2Cellular, iPadMini3-iPadMini3, iPadMini3Cellular-iPadMini3Cellular, iPodTouchSixthGen-iPodTouchSixthGen, iPhone6s-iPhone6s, iPhone6sPlus-iPhone6sPlus, iPadMini4-iPadMini4, iPadMini4Cellular-iPadMini4Cellular, iPadPro-iPadPro, iPadProCellular-iPadProCellular, iPadPro97-iPadPro97, iPadPro97Cellular-iPadPro97Cellular, iPhoneSE-iPhoneSE, iPhone7-iPhone7, iPhone7Plus-iPhone7Plus, iPad611-iPad611, iPad612-iPad612, iPad71-iPad71, iPad72-iPad72, iPad73-iPad73, iPad74-iPad74,
Supported Languages: English;
Parental Advisory: Mild Cartoon or Fantasy Violence; Mild Profanity or Crude Humor; Suggestive Themes; Mild Alcohol, Tobacco, or Drug Use or References;