Screenshots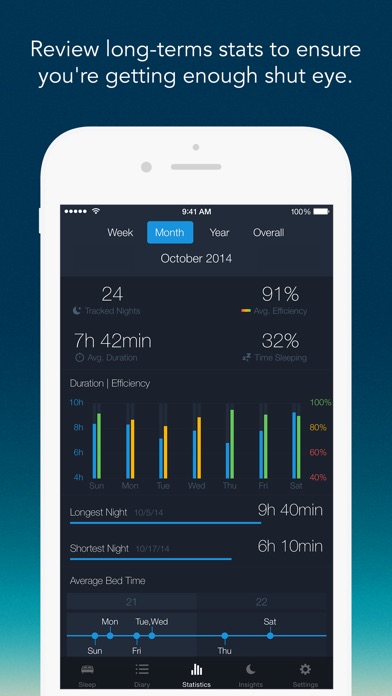 New in version 2.3.4
The reason for the update?

We've made a couple of improvements to make sure the app is fully functioning for you. Just install the update and continue with your usual activities :)

Love the Runtastic Sleep Better app? Rate us with 5 stars & tell others why Runtastic Sleep Better is your favourite sleep tracking app in the App Store!

Got a question for us? We've got an answer at help.runtastic.com!
Description
Does your daily workout or evening glass of wine impact your sleep? Find out by tracking your sleep with Sleep Better by Runtastic.

Wake up feeling refreshed and ready to conquer the day. The Smart Alarm will wake you up at the perfect time within your customized Wake-Up Window. Track your sleep, monitor your dreams, improve your bedtime habits & wake up feeling refreshed.

What's more? Sleep Better is fully integrated with Apple Health! This means you can upload your sleep data to Apple Health (optional) and benefit from easier registration with Apple Health data.


APP FEATURES & BENEFITS:
- Track your sleep duration, cycles and efficiency with the simple tap of a button
- Develop a better understanding of your light sleep, deep sleep & time spent awake in bed, (when falling asleep or waking up in the morning)
- Use the Smart Alarm to wake up at the ideal time
- Enter daily habits & variables, such as caffeine consumption, exercise info, alcohol consumption and stress level, to determine the effects of these variables on your sleep
- Your sleep data stored: All your Zzz data will now be stored within your Runtastic account. Therefore, you can change devices or get a new iPhone and not lose any sleep.
- Syncs with Me app: You can now take your tracked daily activities from the Me app and see how it impacts your sleep. Perhaps a little more movement each day can help you catch more quality sleep. Start tracking and find out.
- Keep a dream diary and make notes about your good, bad or neutral dreams
- Monitor moon phases
- Make use of all tracking features, even when in airplane mode, by simply setting your device on your bed (next to your pillow)
- View in the Sleep Better app how many steps you made with your Me app and / or the Runtastic wearables, Orbit and moment
- Integration with Apple Health
- Compatible with iPad

FEATURES & BENEFITS OF FULL VERSION:
- Use the Smart Alarm within your personalized wake-up window
- Enjoy a variety of alarm sounds and snooze functionality for a perfect, personalized start to your day
- View sleep history - your personal tracking log - within a clean, modern app design, including daily stats and overviews for longer time periods (i.e. a selected week or month)
- Filter history, taking daily variables into account, to determine when you're sleeping best


What are you waiting for? Download this simple, yet functional, sleep recorder and smart alarm today and start your tracking tonight! If you'd like even more information on why sleep is such an important component of your overall health, wellness and fitness efforts, please visit the Runtastic Blog today. We're pleased to share a sleep series with interested users & readers to help YOU truly make the most of your shut eye. Sleep-related insights and further information on 24-hour tracking with Runtastic are also covered on our Fitness Channel on YouTube and throughout our social media channels. Go on - grab a cup of tea, settle in for a few moments & relax… Happy learning and sweet dreams.

Sleep Better with Runtastic: Because great nights lead to great days

Runtastic Terms of Service: https://www.runtastic.com/in-app/iphone/appstore/terms
Runtastic Privacy Policy: http://www.runtastic.com/in-app/iphone/appstore/privacy-policy
iPad Screenshots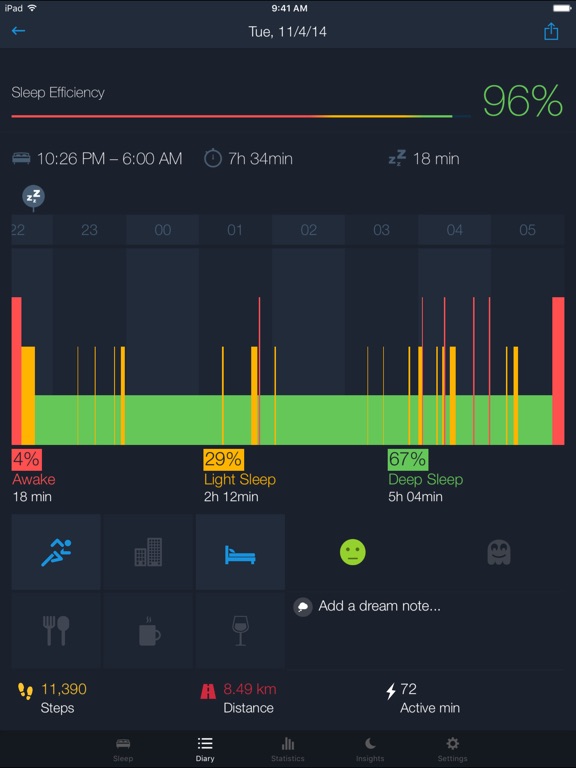 Reviews
Sleep Better
Orlando Coore
on
12/12/2017
Very good
Like the app but has been giving me some problems
Really like this app and I like the alarm sounds that it comes with. The only reason I'm giving it a three star is because in the last couple of weeks It hasn't been going off. Some days it does other days it doesn't. It's very annoying. I half to set a backup alarm should this one not go off.
Registration
I just with I didn't have to create an account be able to TEST an app
Thanks for helping me understand my sleep patterns
loving series
on
12/6/2017
Thank you for helping me understand my sleep patterns and more with this application. It appears on nights with a full moon I have all my bad dreams. I also wake up at about 3 am for no reason then go back to sleep shortly after. Instead of sleeping straight through the night I get broken up sleep. I use this time of awake to log my dreams and now began meditating to help me get a better night sleep. I will soon try their healthy diet applications, and their exercises ones as well. It feels great to understand my sleep patterns. Thanks developers!
Sleep better
tonya iphone
on
12/4/2017
The only thing I found disappointed is in is that it doesn't wake you up on time like it says it would
Great app
But sometimes doesn't set off alarm. About once a month
Alarm stopped working
The Real Kel
on
11/20/2017
The alarm has never gone off for the last several days, causing me to oversleep. It only worked for about the first week that I used the app. It is now useless to me.
Great
Great ap I love the light sounds that wake me up and then give you the %of how you slept I have been sick this week or I would have woke up feeling amazing
Potential bug that needs fixing, but great app
Arab Goddess
on
11/17/2017
I used sleep cycle for the past 5 months but I didn't want to go premium because it's 30$ per year. This has all the same things but it's 2$. I bought the premium option on the spot. However, I trust that it'll work well but I can't listen to the alarm sounds to pick one. I've checked my volume and turned my ringer on and off but I just can't hear them. It worries me that tomorrow morning I won't be able to wake up because it won't play a sound.
No support
I used the app for several days and liked it very much. But after logging out of the app I have forgot my password and although the app says it will send me an email to reset my password it doesn't. I have repeated the process from the app and by going through their website multiple times with the same problem. Very frustrating. Will not recommend any of their products.
Good night and trying to sleep
I have tried a few of the sleep apps but this one works pretty good. Need to try a few times more but I like it so far.
Sleep Better
It would be nice to receive feedback on those nights when the tracking doesn't work.
Easy to use
DominicanKitsune
on
11/8/2017
This app makes it easy to track how well you sleep at night. Being able to look back at my sleep diary is useful. The alarm feature in the app comes in handy as well.
Cannot login
I have used this app in my old android phone where I signed in with my Facebook account. Now I'm trying to log in with my Facebook account and it says "an user with this email address already exists"... of course exists! It's me and I cannot log in... uninstalling...
Good app
Use it all the time and I feel that it is very accurate enough that I can trust that I'll get a good or bad night before I go to bed. Wish there were a few more sleep mods such as when your sick, and heavy use of electronics before bed.
Awful abusive poorly programmed app
The app demands a huge amount of information, REQUIRES Birthday, an email and phone, and also tries to hijack your Facebook friends list. To greedy for personal data. After all that is given, registration fails and the app is unusable. Utter Crap.
Sleep cycle is better
Maker Of Ice
on
11/1/2017
I started using sleep better because it came free with my premium Runtastic subscription. Biggest problem is you need to unlock the phone to turn the alarm off in the morning. It also seems to interfere with my do not disturb settings so I get email alerts in the middle of the night. It is also a pain to keep the phone in bed with me. Sleep cycle is superior in all of these instances.
Popup ads make it unusable
I just opened the app for the first time today, and had to close at least two pop up ads in a row before I could see any part of the actual app.
Dream entry
Half of the time I put in a dream and record it, the app refuses to save it and act like it never existed. I spent 15 minutes this morning writing paragraphs describing the long and elaborate dream I had last night. That's 15 minutes of my morning gone to waste since the app saved my dream, but not the diary entry. This isn't the first time and at this point I'm contemplating just straight up uninstalling the app
Really cool
nickicouture
on
10/21/2017
U really learn a lot about your sleep! I'm not much of a deep sleeper so I'm always tired😩
Shuts down Bluetooth headphones
Can't use the app because it disconnects my Bluetooth headphones when I start the app. Very disappointing.
Sleep alarm
Very great app!
Might not wake you up!
ardentlyapril
on
10/12/2017
This app didn't set off the alarm twice! I woke up on my own, with it still "on" later than it was supposed to wake me up.
Eh
lilwhitelily
on
10/8/2017
In need of customizable tiles (adding in a nap or changing drinking into nicotine) and being able to add notes from the day like how many hours you worked, just somewhere you can type. If that would of been the case I would use it could be the only app that blends everything together and organize. Still looking for something to do that. In fact if those were premium benefits than I would become one really quickly.
Useful
the loraxxxxx
on
10/3/2017
I use it every night and I can feel the difference waking up at the peak of my sleep cycle. The only thing I wish is that you can use Apple Music songs as alarms, instead of only ones you can purchase.
Stopped working
WillieWillis
on
10/3/2017
After several months of working perfectly, the app stopped working (no alarm and no sleep tracking.)I looked for an update & found no new updates. I tried to find a technical assistance link from the app and website but couldn't find a connection to get help. I loved it while it worked but now I'd better set an actual alarm.
Great app!
The promise is in the name, and so far I haven't been disappointed. I've tried every app like this one that I could find on the App Store, and this is by far "the best bank for its buck" I'm sure you could find one that has more features, but for a monthly subscription. It does what it promises and wakes me up when I'm already close to waking, and it's gotten me to work on time every day that I've used it. I feel significantly better on mornings when I use Sleep Better than on mornings when I don't. Great app. The only thing I wish they'd change is more comprehensive sleep statistics and information. I don't know what some of their charts mean. For instance, how do they calculate my sleep efficiency? To me, 96% sleep efficiency should mean that I wake up feeling peppy and walking on sunshine. While I have woken up feeling much better most nights, there have been one or two mornings when I woke up feeling groggy because I'd only allowed myself five hours of sleep (not the app's fault) and it still said I had 96-98% sleep efficiency. That doesn't make sense to me unless they just mean out of the little sleep I happened to get that night. Overall, a great app, and I highly recommend it.
.
Brianderson6
on
10/1/2017
Love the app but wish I could play music and still get an accurate rating
Great App!
I love this app!
Best two dollars I ever spent
deepseafrank
on
9/27/2017
I wondered whether or not an app like this could actually work. To my utter amazement, it did, and performed better than expected. Integrated dream journal, and the whole app is simply intuitive in its layout and usage. So I bought the upgrade, and wow, what a world of extras and enhancements this facilitated! Most useful to me is the moon phase correlation, and to my utter delight, the app correctly determined last night's lunar phase on its own, leaving no chance of error due to user input. The app did all of this seamlessly and automatically and integrated lunar data into the dream diary and sleep stats. Frankly, I am stunned: a useful and ingenious app that just works, no fiddlin' or tinkerin' required! My praise and thanks to the developers!
Just two nights...
Not quite sure how this works yet..? It looks like a great idea for my fibro, & hopefully will help. I definitely love the idea of tracking dreams!!! I often have very colorful, & creative, lovely dreams! So I'm still exploring, & fascinated, with hope! 🤔🤗😴💤
Paid app and they still put ads
Kevin C Pride
on
9/25/2017
What the hell do you mean running ads on a paid app? I want my money immediately. If you want more money build a better app. I'm so sick of these greedy developers coming out with same app as everybody else and try to charge for it and then run ads. Don't download. Full screen ads show every time you open the app.
Was broken. Now requires login.
RequiredTextHere
on
9/21/2017
This app hasn't tracked sleep quality in months. They broke it in the previous update. The latest update 9/20/17 says they fixed it. Except now it requires a login. Useless. I'm done.
Good
I must admit that the "smart" alarm clock in this app actually wakes me up at the right time. I do feel a difference. However, the app hasn't been updated in a long time. It should suggest time to go to bed like "bedtime" in iPhone, and also select the number of hours you want to sleep. In addition, it would be awesome if white noise or sounds that help fall asleep were added to the app.
Zzzzz
Tracking impact of caffeine and alcohol has helped make better choices on when to use eith
Messes up Bluetooth
I like to listen to music or an audio book with my bluetooth so I don't disturb my girlfriend. As soon as I activate this app it makes my phone unable to play audio through a connected bluetooth device. I have verified it is this app causing it. This is very annoying. Could it be made to only do this when it's time to activate the alarm or to give an option on if it does this or not?
Simple to use; very clear results…
jennjenn1010
on
9/15/2017
I've only use this app for two nights, but it's been very interesting. Are used sleep well, that was an about automobile accident first day of 2013. I'm doing great, but struggling with sleep. This is an amazing tool to assist me and keeping track of what's going on so I can inform my doctor. On top of that, it's fun!
Stopped working
I have used this for a long time and have always liked it. But the alarm doesn't always work. Lately it has been more and more unreliable. The app will be running and tracking my sleep, but the alarm doesn't go off. Since I use this as my primary alarm, I need something more reliable.
Good but not so good
I've had issues with this app, I figured that it would wake me in light sleep and I would feel refreshed like others do but I don't. It seems to be at random when I'm woken up. I love the ease of use and being able to track what levels of sleep I am in but I wanted that I'm all better feeling, and I just haven't gotten it. Is there any way to improve the sensing on the app so that it adjusts to when the BEST moment is?
Does this even work?
I have notoriously bad sleep, done sleep studies and everything. I'm just a restless sleeper. I wanted to try tracking my sleep sleep to see if I could find a pattern in my habits that could be affecting my sleep quality. I was suspicious after the first night. While it did say I took 3 hours to fall asleep (pretty normal for me) it still recorded me as having a 87% sleep quality, and it was definitely a restless night. I was up, literally out of my bed, a couple of times and there didn't seem to be any indication of this on the tracking. I thought maybe it had something to do with the placement of my phone on my bed and moved it for the next night. I got pretty much the same results despite this. I decided to delete the app after a night of back-to-back nightmares, where I was startled awake probably three or four times. Not only did this not appear on the graph of the overnight review, but I got my highest sleep quality rating yet: 91%. The next day it felt like I didn't sleep at all. The only reason I gave the app two stars is because the layout is beautiful and very user-friendly, which was the only thing keeping me from deleting the app after the first night.
...hm?
Last time I downloaded I had the ability to check when I was awake. Now that's not possible unless I pay..? There are more advertisements now and the alarm never really goes off :( it was a good app though..
One big flaw
Abolish the train
on
9/4/2017
I love this app except I was late to work twice bc the alarm didn't sound 😒
Couldn't get past the sign up stage
Rainbowunicat
on
9/3/2017
I booted the app up and input everything but my age (because it was last) and it just automatically said I was too young to use it when I didn't even put my real age in yet! (??) I entered my password and it just automatically made me wait who knows how long to try again. >:(
I love it!
Blah blah Unicorn
on
9/3/2017
his makes sleeping fun! I definitely recommend this app!!! It's very informative and accurate! It does ask you to pay a small fee to see extra content, and I don't know why people freak out about that. Buying an app and paying later is basically the same thing as an app asking for payment before you even download it. The one thing I wish for is more widget (i.e. Reading, lazy day, etc.) or maybe an opportunity for the viewer to make their own widgets, but I'm happy with the widgets the app provides. Those are just suggestions.
Alarm doesn't always work
There have been several times where my alarm has not sounded at the appropriate time. The other day I luckily woke up naturally at the exact time I set, saw my alarm pass the time without sounding, then as I've done times before, I'm able to reset it for a minute later and it sounds. Not good! Please fix this bug!
Turned bad
I used to love this app but then it stopped working. It doesn't go off when I want it to, it doesn't track my sleep, and it signed out of my account for no reason so I lost all of my previous sleep cycles. As I said, I used to love this app.
Love this App
I love this app and have had very few issues with it. I definitely recommend purchasing the paid version for the extra features it provides.
Absolutely Amazing
I can't tell you how many sleep apps I've downloaded and they've all been crapy! But Sleep Better IS AMAZING! Getting the Full Verison is worth the $1.99. An alarm, a sleep tracker. Perfect I LOVE IT♥️
Fact Sheet
Publisher:

runtastic

Category:

Health & Fitness

Released:

Nov 06, 2014

Current Version Released:

Sep 20, 2017

Version:

2.3.4

Size:

79.7 MB

Compatibility:

Requires iOS 9.0 or later.

Recommended Age:

4+

Game Center Certified:

No

Supported Devices:

iPad2Wifi-iPad2Wifi, iPad23G-iPad23G, iPhone4S-iPhone4S, iPadThirdGen-iPadThirdGen, iPadThirdGen4G-iPadThirdGen4G, iPhone5-iPhone5, iPodTouchFifthGen-iPodTouchFifthGen, iPadFourthGen-iPadFourthGen, iPadFourthGen4G-iPadFourthGen4G, iPadMini-iPadMini, iPadMini4G-iPadMini4G, iPhone5c-iPhone5c, iPhone5s-iPhone5s, iPadAir-iPadAir, iPadAirCellular-iPadAirCellular, iPadMiniRetina-iPadMiniRetina, iPadMiniRetinaCellular-iPadMiniRetinaCellular, iPhone6-iPhone6, iPhone6Plus-iPhone6Plus, iPadAir2-iPadAir2, iPadAir2Cellular-iPadAir2Cellular, iPadMini3-iPadMini3, iPadMini3Cellular-iPadMini3Cellular, iPodTouchSixthGen-iPodTouchSixthGen, iPhone6s-iPhone6s, iPhone6sPlus-iPhone6sPlus, iPadMini4-iPadMini4, iPadMini4Cellular-iPadMini4Cellular, iPadPro-iPadPro, iPadProCellular-iPadProCellular, iPadPro97-iPadPro97, iPadPro97Cellular-iPadPro97Cellular, iPhoneSE-iPhoneSE, iPhone7-iPhone7, iPhone7Plus-iPhone7Plus, iPad611-iPad611, iPad612-iPad612, iPad71-iPad71, iPad72-iPad72, iPad73-iPad73, iPad74-iPad74, iPhone8-iPhone8, iPhone8Plus-iPhone8Plus, iPhoneX-iPhoneX,

Supported Languages:

Czech; English; French; German; Italian; Japanese; Korean; Polish; Portuguese; Russian; Chinese; Spanish; Castilian; Chinese; Turkish;