Screenshots
New in version 2.3.3
Your favorite app for analyzing your sleep is now better than ever!

- Your feedback counts: We're constantly improving our apps to provide you with the best possible experience.

Love Runtastic Sleep Better ? Rate us with 5 stars & tell others about your experience in the App Store.
Description
Does your daily workout or evening glass of wine impact your sleep? Find out by tracking your sleep with Sleep Better by Runtastic.

Wake up feeling refreshed and ready to conquer the day. The Smart Alarm will wake you up at the perfect time within your customized Wake-Up Window. Track your sleep, monitor your dreams, improve your bedtime habits & wake up feeling refreshed.

What's more? Sleep Better is fully integrated with Apple Health! This means you can upload your sleep data to Apple Health (optional) and benefit from easier registration with Apple Health data.


APP FEATURES & BENEFITS:
- Track your sleep duration, cycles and efficiency with the simple tap of a button
- Develop a better understanding of your light sleep, deep sleep & time spent awake in bed, (when falling asleep or waking up in the morning)
- Use the Smart Alarm to wake up at the ideal time
- Enter daily habits & variables, such as caffeine consumption, exercise info, alcohol consumption and stress level, to determine the effects of these variables on your sleep
- Your sleep data stored: All your Zzz data will now be stored within your Runtastic account. Therefore, you can change devices or get a new iPhone and not lose any sleep.
- Syncs with Me app: You can now take your tracked daily activities from the Me app and see how it impacts your sleep. Perhaps a little more movement each day can help you catch more quality sleep. Start tracking and find out.
- Keep a dream diary and make notes about your good, bad or neutral dreams
- Monitor moon phases
- Make use of all tracking features, even when in airplane mode, by simply setting your device on your bed (next to your pillow)
- View in the Sleep Better app how many steps you made with your Me app and / or the Runtastic wearables, Orbit and moment
- Integration with Apple Health
- Compatible with iPad

FEATURES & BENEFITS OF FULL VERSION:
- Use the Smart Alarm within your personalized wake-up window
- Enjoy a variety of alarm sounds and snooze functionality for a perfect, personalized start to your day
- View sleep history - your personal tracking log - within a clean, modern app design, including daily stats and overviews for longer time periods (i.e. a selected week or month)
- Filter history, taking daily variables into account, to determine when you're sleeping best


What are you waiting for? Download this simple, yet functional, sleep recorder and smart alarm today and start your tracking tonight! If you'd like even more information on why sleep is such an important component of your overall health, wellness and fitness efforts, please visit the Runtastic Blog today. We're pleased to share a sleep series with interested users & readers to help YOU truly make the most of your shut eye. Sleep-related insights and further information on 24-hour tracking with Runtastic are also covered on our Fitness Channel on YouTube and throughout our social media channels. Go on - grab a cup of tea, settle in for a few moments & relax… Happy learning and sweet dreams.

Sleep Better with Runtastic: Because great nights lead to great days
iPad Screenshots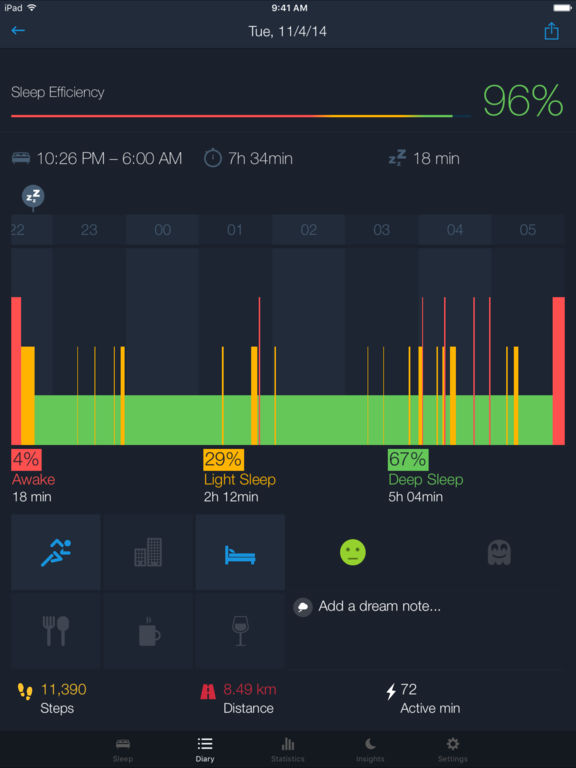 Reviews
Pretty good!
OMGTHISGAMETHO
on
8/19/2017
I had a good sleep and it asked me how my dream was and how I was feeling in the morning and I think that's pretty cool!
I guess
It definitely records data, no sure if it is completely accurate. Will continue to use it.
Question
Hdghdgssfvcfbccv
on
8/15/2017
If I move a lot in my sleep will it effect my results?
Making my phone burn up
Scarletspider97
on
8/11/2017
I love this app. It's probably one of the better ones I've had and I've used just about ever sleep app around. Only problem with this one, and a major one at that, is it's using too much power and is causing my phone to get really hot. This issue needs to be taken care of asap.
What happened?
I've had this app for about a month,but just a few days ago it started doing this thing where it doesn't recurve my data. I finally decided to delete it and move on to another app.
Cant spend my money on it
Great app overall, but my only issue is that it won't let me purchase the full version. Any time I try to, it just says contacting App Store and is loading forever until I close out the app and reopen it (which could be an issue with my phone and not the app. I'm not sure). I don't mind the free version because it still works great, but I'd actually like to spend money on the paid one, so kind of a lost customer on Runtastics part. Other than that, it's great!
Great app
Jimboslice555
on
8/7/2017
Hello my name is Jim and I would just like to thank the people who made this app. I have only used your app a couple of times and I can already tell that it works. Thanks to you I actually enjoy waking up. Keep up the good work!
Doesn't work
I have used this app for two night, and both nights it's sys I spent 100% awake. The second night the alarm kept going after I stopped it. Had to force quit the app to get the music to stop
Nice little app, but forced portrait view?
I would like to use landscape mode on my iPad Pro's case. Please enable the option? Orientation Lock is off, so that's not the problem, and I guess I'll be looking into other apps.
Bogus App
I wish for everyone to read this one first, especially if you paid for the app. You are gullible to believe your device has sensors. Test this like I did. Place your device on your kitchen table downstairs, turn sleep mode on and go to bed upstairs. In the morning the app will have a fake break down of your night's sleep. E.g. 97% sleep efficiency. 3% awake, 64% light sleep, 33% deep sleep!!! And it was nowhere near you al night to "sense" your movements or lack thereof. Go with fitbit that tracks your sleep based on your changing heart beat, not some bogus "sensor" in your device. Test it for yourself by leaving your app one night anywhere away from your bed and see how you were had.
Review:
App works great and is very accurate when measuring my sleep patterns and behavior! Haven't had a single crash or glitch during my use.
Great SLEEP App
It records everything I need to know. And it has a little note area for me to write my notes down. Not being able to fall asleep is miserable, but this app records your sleep and I can share with my doctors. How true are the recordings, that I don't know...
Wonderful
Mallard with a cold
on
7/29/2017
Great to wake up at the right point in your sleep cycle to feel refreshed and ready.
Ed
Works well for me. Expanding information from CPAP. At age 80 sleep is a critical part of my health care. This app provides insight into my sleep pattern that has been unavailable before.
Good app but false information
Gianna-Marie Festa
on
7/21/2017
This is a good app but I stayed a wake for an hour and it logged that I was asleep for most of the time and I fell asleep and set my alarm for 9:30am it went off at 1:30pm
Insights are very helpful
This app is a nice tool to utilize to analyze sleeping patterns and statistics.
Awsome sleep app!!
Love math 345267
on
7/15/2017
So I was looking for a new sleep app because sleep cycle is trash and I going this one it is really great
Not my bed
Wonder Women 484
on
7/13/2017
I would have given you five stars but, is the not my bed selection for when you have sex or just like a sleepover? Also sometimes I start the app but I am like reading a book so my data would end up as 1 hour awake and I am like well I could tell you I have read a book because I can't get the premium version. So am I stuck with the 1 hour or are you going to let this book reading part happen?
Almost
This app is good but I think it can go deeper in detail. - It needs to have many more trends, not just the current 6 because I feel there is a lot more that affects your sleep than that - It would be cool to add a sleep sound like raindrops and stuff and set it to turn off after about 15-30 minutes Other than that the idea is great and has little competition and I think more in depth things will come and make it a great application
Not working right
It worked the first night and now it's not working. It says to start tracking but I don't know how! I even payed the 2 dollars for the premium and still not working! Overall good app when it did work. Please help!
Sleep Better is a great choice!
I think that Sleep Better is a great app choice. I chose it over sleep cycle because you have to pay $29.99 for 1 year. There are some slight differences like you must have your phone under your pillow with sleep better or it doesn't monitor your snoring like sleep cycle but it does let you take notes about your dreams.
I feel so healthy!
I didn't buy the whole app, and I just have the free one, but none the less it's amazing. I hate mornings, but this app makes me enjoy them more. I wake up at the right moment when I'm not sleeping too deeply so I feel good when I open my eyes. Thank you!
Needs an update?
I used to Love this app! It worked well that I even spent money on purchasing the full app because I like the moon phases feature. But now all it does is track the time I've slept and wake me up at the time I've set. It doesn't register my activity during sleep at all any more. So statistics are pretty much useless. I'm pretty bummed this app basically took my money and stopped working.
Ads every 20 seconds, very frustrating
The ads make the free version unusable. Every time I try to do something, I am interrupted by another ad. I know devs need to make a living, but showing an ad every 20 seconds is not the way to do it. Edit after response: Why have a free version at all then? I'm not interested in paying you when you've wasted my time with the free version. I don't mind banner ads much, and will often upgrade just to support the dev. But, the free version of this app showed a full screen 20+ second ad every time I looked at the data.
Great app!
I rated this app 1 star at first because I could not find the restore purchases button, but the developer actually contacted me and told me how to restore them. To be fair, it is pretty hidden, in a section where you wouldn't expect it to be. But, I got the full version back, and the app works great. It does a nice job waking me up at a point where I'm not too groggy. I'm not too sure how it works, but whatever it does, it does a nice job. Thank you to the developer for reaching out to me. That is excellent 5 star customer service, to compliment a 5 star app!
it's good!
dioraddict2017
on
6/30/2017
i gave 4 stars because i didn't get the full version (yet) it would great to be able to preview the alarm sounds before i do that, just a suggestion. i do like "gentle inspiration " okay for now. my #1 problem w/alarm clocks is the obnoxious beeping, practically giving me a heart attack. so, good start! tanya
Good
Works well. Have to pay for many features.
Confused
The app seems to track well but even when it shows that my sleep was not steady and I had many points where I woke up or was very restless I still have like 93%. I would like more info on what the percentages mean. BC I shouldn't feel like crap and wake up feeling groggy with a +90% also, I would like to scroll on the time asleep to see exactly when I was in deep sleep, REM, so on. The Jawbone's app did this very well when I had their wearable.
No longer works
I can't tell you how many times this "alarm clock" has failed to wake me up lately... ive been late to work at least 3 times now because of its FAILURE to go off in the morning! I paid for the premium features and now I want my money back that I paid as it's not living up to its expectations, in uninstalling this crap and finding something better that actually I don't know WORKS!!!
Love It!
I really love this app. It is easy to use. I like the way it breaks down the information on my night 's sleep. I have sleep apnea and it helps me see how deep I sleep and for how long. I appreciate all the information!
Great alarm!
I used to always have trouble waking up to my alarm, but now I can wake up comfortably at any time of the morning!
Really cool app!
Urmomtooktothername
on
6/5/2017
I really like the style, ease of use, and functionality of this app! It's really cool how you can use this app without having to own a smart watch/Fitbit etc. It's cool how I can see exactly how long I've been out for, how long in deep sleep, light sleep etc. Would definitely recommend to at least try it, as it's pretty unique! The one thing I would like to have is being able to wake up and change the time you get up if you feel exhausted or decide you just want to sleep some more than usual. As of now, the alarm will keep going off until you end the data collection. Sometimes I have to turn it off, but really end up sleeping for another 2 hrs, so my data is incomplete. Although maybe the point of this app for some is to take that option away so they have to get up? Idk, for me I'd be more interested in tracking a realistic time of getting up vs forcing myself to.
DO NOT PUT UR PHONE UNDER UR PILLOW!!! IT WILL OVERHEAT!!
Instructions say to place phone under pillow as you sleep...terrible idea.
Sleep better
This app is great the alarm clock calmly wakes you up in the morning and it tracks your sleep every night and it even tracks movement it really helped me so I highly recommend the sleep better app
Stopped working?
In the past week or so, I've noticed that the "alarm" feature hasn't actually been working. I've been late to work twice now because the alarm feature either hasn't gone off or it is SO quiet it's barely detectable. The app is still tracking my sleep, but it's just not waking me up anymore. I *always* verify that the volume is as high as it will go, and that it is set properly, yet it doesn't actually go off. This morning I set both the app and the alarm on my phone. Only the alarm on my phone went off and it was set 10 minutes after the app was supposed to wake me. Prior to this being the case, I would have rated this app 5 stars as I've been able to see a marked improvement in both the length and quality of my sleep. I paid for this app, and I expect it to work. Fix the actual alarm feature and I'll begin using again.
Alarm Issues
I really like this app and all it stands for. I bought the full version some time ago because I could pick my own songs to use as an alarm. I much prefer that to the preset alarms in the Bedtime function of the Clock app by Apple. However, I've had repeated issues where the alarm I set for the app does not go off at all, and I end up oversleeping! I'm not sure why it does this, but I unfortunately cannot continue using the app if I can't rest assured that the alarm will wake me up...
Doesn't work on my 7 Plus
Set it up as directed each night. According to the app, I haven't slept in 3 days. Glad I didn't pay for it.
So far so good
Afrodeezha55555
on
5/19/2017
Very new user and I like the info it tracks
Doesnt track my sleep AT ALL
I've tried this app for a few nights and without fail after a few minutes it stop tracking my sleep. it says that i slept for a little and then my phone locks and thats it. no more tracking. i wish this app worked but unfortunately ill have to delete it.
Very helpful
La la land 5
on
5/16/2017
It's cool I can see how my daily activities affect my sleeping. Really cool alarm clock too
Good
I must admit that the "smart" alarm clock in this app actually wakes me up at the right time. I do feel a difference. However, the app hasn't been updated in a long time. It should suggest time to go to bed like "bedtime" in iPhone, and also select the number of hours you want to sleep. In addition, it would be nice if it could track id you snore like other apps do.
Sleep
I try'ed it and it works so for now I'll try use the app more often.
It's okay
Not bad doesn't track snoring, and movements.
Nice App
It's interesting to see how I'm sleeping. It works with or without a wearable device, which is a bonus. I don't really like the smart alarm in the free version. You have to have it set for 30 minutes. I just use my iPhone alarm instead. No big deal. Overall it's helped me set a better bedtime and wake up time.
Can't register
Registration failed
Need to be able to correct the time
I love this app but I sometimes forget to tell it to stop. I need to be able to correct the time that I actually got out of bed. The same with going to bed. I might set it and then something stops me from actually going to bed for an hour or two, but I forget to reset the app. Correction on both ends is important.
Super happy about this app
Love this app I don't know why I didn't download it sooner. Accurate and easy to use.
Fact Sheet
Publisher:

runtastic

Category:

Health & Fitness

Released:

Nov 06, 2014

Current Version Released:

Dec 05, 2016

Version:

2.3.3

Size:

69.7 MB

Compatibility:

Requires iOS 8.0 or later.

Recommended Age:

4+

Game Center Certified:

No

Supported Devices:

iPad2Wifi-iPad2Wifi, iPad23G-iPad23G, iPhone4S-iPhone4S, iPadThirdGen-iPadThirdGen, iPadThirdGen4G-iPadThirdGen4G, iPhone5-iPhone5, iPodTouchFifthGen-iPodTouchFifthGen, iPadFourthGen-iPadFourthGen, iPadFourthGen4G-iPadFourthGen4G, iPadMini-iPadMini, iPadMini4G-iPadMini4G, iPhone5c-iPhone5c, iPhone5s-iPhone5s, iPadAir-iPadAir, iPadAirCellular-iPadAirCellular, iPadMiniRetina-iPadMiniRetina, iPadMiniRetinaCellular-iPadMiniRetinaCellular, iPhone6-iPhone6, iPhone6Plus-iPhone6Plus, iPadAir2-iPadAir2, iPadAir2Cellular-iPadAir2Cellular, iPadMini3-iPadMini3, iPadMini3Cellular-iPadMini3Cellular, iPodTouchSixthGen-iPodTouchSixthGen, iPhone6s-iPhone6s, iPhone6sPlus-iPhone6sPlus, iPadMini4-iPadMini4, iPadMini4Cellular-iPadMini4Cellular, iPadPro-iPadPro, iPadProCellular-iPadProCellular, iPadPro97-iPadPro97, iPadPro97Cellular-iPadPro97Cellular, iPhoneSE-iPhoneSE, iPhone7-iPhone7, iPhone7Plus-iPhone7Plus, iPad611-iPad611, iPad612-iPad612, iPad71-iPad71, iPad72-iPad72, iPad73-iPad73, iPad74-iPad74,

Supported Languages:

Czech; English; French; German; Italian; Japanese; Korean; Polish; Portuguese; Russian; Chinese; Spanish; Castilian; Chinese; Turkish;