This version of the app is not recommended
App last updated
Sep 20, 2017
Screenshots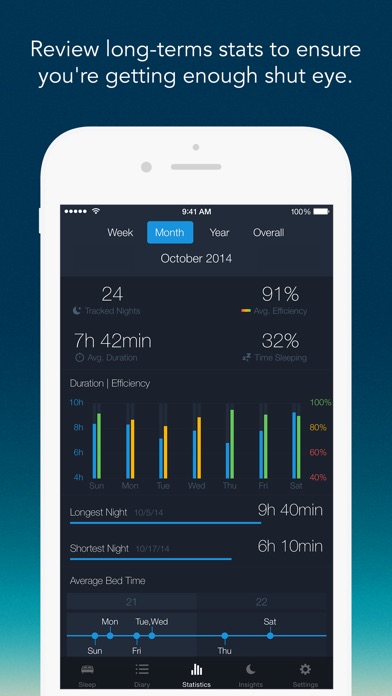 New in version 2.3.4
The reason for the update?

We've made a couple of improvements to make sure the app is fully functioning for you. Just install the update and continue with your usual activities :)

Love the Runtastic Sleep Better app? Rate us with 5 stars & tell others why Runtastic Sleep Better is your favourite sleep tracking app in the App Store!

Got a question for us? We've got an answer at help.runtastic.com!
Description
Does your daily workout or evening glass of wine impact your sleep? Find out by tracking your sleep with Sleep Better by Runtastic.

Wake up feeling refreshed and ready to conquer the day. The Smart Alarm will wake you up at the perfect time within your customized Wake-Up Window. Track your sleep, monitor your dreams, improve your bedtime habits & wake up feeling refreshed.

What's more? Sleep Better is fully integrated with Apple Health! This means you can upload your sleep data to Apple Health (optional) and benefit from easier registration with Apple Health data.


APP FEATURES & BENEFITS:
- Track your sleep duration, cycles and efficiency with the simple tap of a button
- Develop a better understanding of your light sleep, deep sleep & time spent awake in bed, (when falling asleep or waking up in the morning)
- Use the Smart Alarm to wake up at the ideal time
- Enter daily habits & variables, such as caffeine consumption, exercise info, alcohol consumption and stress level, to determine the effects of these variables on your sleep
- Your sleep data stored: All your Zzz data will now be stored within your Runtastic account. Therefore, you can change devices or get a new iPhone and not lose any sleep.
- Syncs with Me app: You can now take your tracked daily activities from the Me app and see how it impacts your sleep. Perhaps a little more movement each day can help you catch more quality sleep. Start tracking and find out.
- Keep a dream diary and make notes about your good, bad or neutral dreams
- Monitor moon phases
- Make use of all tracking features, even when in airplane mode, by simply setting your device on your bed (next to your pillow)
- View in the Sleep Better app how many steps you made with your Me app and / or the Runtastic wearables, Orbit and moment
- Integration with Apple Health
- Compatible with iPad

FEATURES & BENEFITS OF FULL VERSION:
- Use the Smart Alarm within your personalized wake-up window
- Enjoy a variety of alarm sounds and snooze functionality for a perfect, personalized start to your day
- View sleep history - your personal tracking log - within a clean, modern app design, including daily stats and overviews for longer time periods (i.e. a selected week or month)
- Filter history, taking daily variables into account, to determine when you're sleeping best


What are you waiting for? Download this simple, yet functional, sleep recorder and smart alarm today and start your tracking tonight! If you'd like even more information on why sleep is such an important component of your overall health, wellness and fitness efforts, please visit the Runtastic Blog today. We're pleased to share a sleep series with interested users & readers to help YOU truly make the most of your shut eye. Sleep-related insights and further information on 24-hour tracking with Runtastic are also covered on our Fitness Channel on YouTube and throughout our social media channels. Go on - grab a cup of tea, settle in for a few moments & relax… Happy learning and sweet dreams.

Sleep Better with Runtastic: Because great nights lead to great days

Runtastic Terms of Service: https://www.runtastic.com/in-app/iphone/appstore/terms
Runtastic Privacy Policy: http://www.runtastic.com/in-app/iphone/appstore/privacy-policy
iPad Screenshots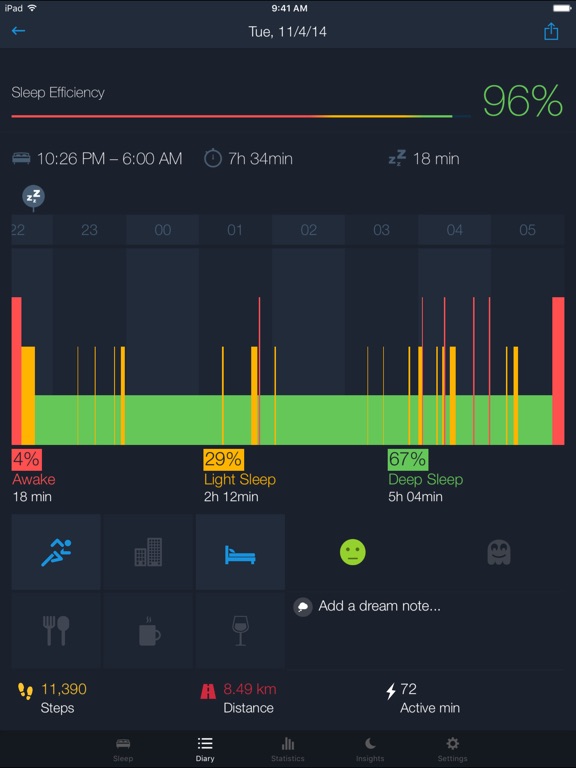 Reviews
Perfect
This app is perfect. I always like talking about my dreams. And on this app, I can just type and type and type about them.
Pleasantly surprised
This app does a great job of tracking my sleep, and waking me up within 15 minutes of my desired arise time. It gives me accurate feedback concerning my sleep quality, despite having 2 dogs on my bed, and is really more than one could ask/expect for a free app.
Apple Health app integration?
chris_howard_91
on
3/6/2018
The main reason why I use this app, in full, is for sleep tracking, and I've been using it for several years now. The one thing I no longer see with it is it tracking that sleep and sending the data to the Apple Health app. According to my sleep records in Apple's Health app, the last time data from your app was recorded was late November 2017. Why did this feature stop?
Set a backup because this works once a week at best.
Set a back up alarm. When it works it's great, but it's been about two weeks since the alarm has actually made a sound. I'll wake up the app asks me if I'd like to snooze despite the fact the alarm never went off. After being late for work a few times I've kept a backup alarm using the iPhones native clock app. It would be great if it worked consistently because when it works I enjoy the extra time in the morning.
what the F
Kevin C Pride
on
3/3/2018
I installed this app on my new phone and now they want to charge me again to remove ads RIPOFF
Good service
I've been using this app for a while, it has great features and great data could work!
Relly makes me sleep better!
A Kid Boozled6 productions
on
2/24/2018
I love it!
Really good
It can really wakes you up and can track your sleeping and calculate it for you! Best of luck for the developer keep it always updated!!
Sleep better
Sleep better is the best way to find out what your sleeping history is like if you move a lot or if Your Snores a really loud or if you snor at all
Thank you so much who ever made this app!!!
It really does help me, it helps me so so much. I sleep so good and wake up feeling refreshed because of this app! God bless the people who made this lol. THANK YOU!!♥️♥️♥️
Great app with a few major blips
Hobbit of the Shire
on
2/14/2018
I've been using this app for months and loving it! However, within the past two weeks, the alarm hasn't gone off!!! Kinda an essential part of the app. Please fix this, because I'd love to change my rating to five stars. Update: Haven't had a problem with the alarm going off (Updating stars now). I use the free version, which has enough features to keep me happy. The ads are a tad annoying, but I understand. Update 2: Very disappointed with this qpp's performance. It failed me again this morning. Until they fix the most vital part of this app, I'll be using an additional alarm. STICK WITH THE FREE VERSION AND DON'T UPGRADE. If they're failing on the most basic feature of the app, then. I wouldn't pay for the rest. It's worked so well till this month, so I'm not sure why I'm having issues.
Impressive!
I downloaded this app after reading about it somewhere and it's pretty impressive. I've tried a couple of apps like this before but this one is by far the best and I haven't even done the upgrade yet, which I'm planning to do. My favorite part of the app is the alarm because it does not blare music at me jarring me out of my sleep which is the #1 reason I don't use alarms. And for some reason this alarm doesn't do that to me. The sheer thought of an alarm going off makes me anxious causing me to wake up several times during the night trying to beat it so it doesn't jar me out of my sleep which to most people sounds rediculous. Lol. But really, who wants to be "alarmed"out of their sleep every day? That said, I know my sleep patterns are erratic and I've been trying to do better at getting the appropriate amount of sleep and this app is a great tool to help me determine what activities during the day may be affecting my sleep. Im not, necessarily sleeping longer yet, but after just 3 days I am resting more soundly which helps me get my day off to a better start.
I like it but...
Squidneyanne111
on
2/12/2018
i like the app because it tracks my sleep cycles and i can keep track of the dreams i have. i'm confused about something though; are you supposed to keep your phone on while sleeping?? it says plug into a power source but idk if that means it should be on all night. someone please help me, i want get an accurate sleep cycle track....
Great app
I love this app, however I don't dream at all or can never remember. I'm usually in a medium mood, not too happy, yet not too crabby, when I wake up, so I use the neutral emoji. But for dreams it only gives you happy dreams, neutral, or bad. It doesn't give you the option can't remember or not dreaming. When you check up on your dreams, it only says "Not much of a dreamer? Start tracking your dreams." I AM tracking my dreams and cane to find, I'm not dreaming. There should be an option for that as not dreaming or not remembering could possibly affect your mind.
Amazing but just a few tweaks
I've used the app for a while now and paid for the full version, and I love it. Only two things I'd like to see are maybe the options to put more factors as to what affects your sleep (like caffeine) and leave my phone on my nightstand instead of on my bed. I really like the app, but if the app was tweaked more often it'd be perfect.
Notes keep disappearing STILL
STILL having the same problem. Did what you advised, deleted the app, reinstalled and logged in. App is still automatically deleting all the notes on an hourly basis. Not helpful at all!! It would be a great app with good, pretty accurate info night to night. However, everyday I log a ton in the Notes/Dream section; and everyday, after writing all these things early in the morning so I don't forget later in the day, ALL of the notes disappear every afternoon. This is 4-5hrs later & I have no idea why the notes keep disappearing. It is so vexing after I spend so much time writing everything down only to have everything lost & I have to rewrite everything again. Sometimes I don't even try to write them again. Anyone having the same problem?
Phone gets hot
The app worked great, but my phone gets so hot when this app is running.
Sleeping in CT
Sleeping in CT
on
1/25/2018
I've been using this app for over a week and it is really tracking my sleep far better than the 'tracker' watch band I have. Seems to be accurate as far as knowing when I was sleeping deeply and when I was restless as well as when I get up at night. I'm impressed.
Simple and efficient
I have used this app for just under 2 years, first as an android user and now as iOS user. It has all the features I need and has a smooth UI.
Great app but needs a watch app
Been using this app for 3 years. Love it. Just got an Apple Watch and was said to see no Apple Watch app. Would like to see that with heart rate monitoring and restlessness tracking and etc.
Unusable
Used to like, but absolutely unusable with the amount of ads now. Don't even bother, use the iPhone bedtime thing
Good App but...
Michael and Nancy
on
1/10/2018
I wish it would automatically log when you fall asleep & wake up like the Fitbit does
Potential fire hazard
does name matter?
on
1/9/2018
I wouldn't call this a review of this app, but a remind that the way this app works could cause potential fire hazard. I'm very surprised that an app needs to be plugged into an outlet and placed in the bed in order to track your sleep status. It only makes sense if the developers can enable a smart watch as a sensor. For the sake of your safety, and your families', you should not use this app.
Use it every night
I am loving this app. My New Years Resolution was to get more/better sleep after realizing I wasn't sleeping well for MONTHS. I looked into activity trackers, but all I wanted was a sleep tracker. I found out about this app and tried it out. After 2-3 nights of looking into my sleep, I bought the full version! I love looking at when I'm most restless, because over Christmas break, I was letting myself sleep in and noticed I was getting 12-13 hours of sleep! This was far more than the roughly 6 hours I was getting during my work week. However, after looking at the movement tracker (it tracks deep sleep, light sleep, & awake), I noticed that I was moving around a LOT for almost 2-hours after going to bed. It was eye-opening because I have found out through this app after 2 weeks of using it, that it can take me almost 2-hours to actually fall asleep. I had no idea. So even though I was in bed for 12-13 hours a night over my break, I was usually only asleep for 9 of those hours. This app is super helpful and I love looking at how eating late or sleeping in a different bed effects my sleep (my absolute worst sleep was when I was sleeping on an air mattress over break). I like how simple this app is to use, and for the most part it seems to be accurate. I do use a separate alarm to wake up because I don't fully understand the way this app wakes you up "at your lightest sleep." I keep it by my pillow at night so it can more accurately track my sleep than if it were on the nightstand.
Where's the Apple Watch app?
I don't want to keep my phone on my bed. Lack of watch app renders this useless to me.
You will be pestered forever
To get full "value" such as it is you need to create an account. After that expect several emails per day from them filled with all manner of nonsense. And, no amount of unsubscribing will make it stop. If you do t like spam then you should avoid this app at all costs.
별 한개도 아깝다
인앱 결제 취소 할 수가 없는게 말이 되냐!
Dream journal deleted
anabananalisa
on
12/25/2017
Only did one night and was excited about evaluating results and then it deleted my dream journal!! I wrote a really long one and am really disappointed about this.
Great product but missing one thing for me
Great app overall. One thing keeping me from 5 stars is that I wish there was a better way to go through and browse my dream notes history.
Ads....
KaedyInvader
on
12/23/2017
This app is great for what all you don't pay, since you don't have to have to pay,you get ads. I can understand that , but there is a thing called too many ads. For example one night I decided to look at my other night I was asleep, before I could look at the night I got a ad.....on every night. To make it worst the ads were the same one for example Play this ______.io then the next night I looked at ,play this color by number next night I looked at, you should really play this ______.io the final night I looked at , you really need to download this cool free color by number.
It is a great application to track sleep
loving series
on
12/18/2017
It is a great application to track sleep. It should have an alarm, though. When my alarm application turns on, the application crashes and does not allow me to track my sleep. It will lose the last log.
Must register before you can use the app
Why is there no option NOT to register before using the app? An account should be OPTIONAL.
Not working for me
Irisheyes85
on
12/17/2017
I just downloaded this app and when I went to complete my profile it says register user fail.
Apple Watch App Please
Fantastic app but would be better to get watch version and take advantage of the watch's features.
Account required??
Alijah Simon
on
12/17/2017
I'm not creating some f****** account for your service- just use iCloud. I'm sick of these corporations attempting to collect user data. Provide a service and charge for it- I'm not a test subject.
User register failed
Constantly... can't even use the app. Horrible.
I am a person that is using this one
i installed this one again as soon as I changed an iphone X, i am actually using this app since i have got a iphone 6 but i cant use it as full version i already paid a year ago. So i was trying a purchase restore. I am telling you the reason as a person bought. Why shouldn't I get a purchase restore???
Sleep Better
Orlando Coore
on
12/12/2017
Very good
Like the app but has been giving me some problems
Really like this app and I like the alarm sounds that it comes with. The only reason I'm giving it a three star is because in the last couple of weeks It hasn't been going off. Some days it does other days it doesn't. It's very annoying. I half to set a backup alarm should this one not go off.
Registration
I just with I didn't have to create an account be able to TEST an app
Sleep better
tonya iphone
on
12/4/2017
The only thing I found disappointed is in is that it doesn't wake you up on time like it says it would
Great app
But sometimes doesn't set off alarm. About once a month
Alarm stopped working
The Real Kel
on
11/20/2017
The alarm has never gone off for the last several days, causing me to oversleep. It only worked for about the first week that I used the app. It is now useless to me.
Great
Great ap I love the light sounds that wake me up and then give you the %of how you slept I have been sick this week or I would have woke up feeling amazing
Potential bug that needs fixing, but great app
Arab Goddess
on
11/16/2017
I used sleep cycle for the past 5 months but I didn't want to go premium because it's 30$ per year. This has all the same things but it's 2$. I bought the premium option on the spot. However, I trust that it'll work well but I can't listen to the alarm sounds to pick one. I've checked my volume and turned my ringer on and off but I just can't hear them. It worries me that tomorrow morning I won't be able to wake up because it won't play a sound.
No support
I used the app for several days and liked it very much. But after logging out of the app I have forgot my password and although the app says it will send me an email to reset my password it doesn't. I have repeated the process from the app and by going through their website multiple times with the same problem. Very frustrating. Will not recommend any of their products.
Good night and trying to sleep
I have tried a few of the sleep apps but this one works pretty good. Need to try a few times more but I like it so far.
Sleep Better
It would be nice to receive feedback on those nights when the tracking doesn't work.
Easy to use
DominicanKitsune
on
11/8/2017
This app makes it easy to track how well you sleep at night. Being able to look back at my sleep diary is useful. The alarm feature in the app comes in handy as well.
Cannot login
I have used this app in my old android phone where I signed in with my Facebook account. Now I'm trying to log in with my Facebook account and it says "an user with this email address already exists"... of course exists! It's me and I cannot log in... uninstalling...
Fact Sheet
Publisher:

runtastic

Category:

Health & Fitness

Released:

Nov 06, 2014

Current Version Released:

Sep 20, 2017

Version:

2.3.4

Size:

79.7 MB

Compatibility:

Requires iOS 9.0 or later.

Recommended Age:

4+

Game Center Certified:

No

Supported Languages:

Czech; English; French; German; Italian; Japanese; Korean; Polish; Portuguese; Russian; Chinese; Spanish; Castilian; Chinese; Turkish;