TapNova recommends this app!
New in version 1.6.1
+ Added iCloud Mail account information about newly required app-specific passwords.
+ Fixed the crash issue caused by a certain mail mime type
Description
"New Apps we Love"- Apple App Store
"Well designed" - New York Times
"The way to go if you own an iPhone" - Business Insider
"Unsubscribe with just a tap!" - TechCrunch
"Faster than Gmail, faster than Outlook" - Walt Mossberg @ The Verge

Lightning Fast with an Assistant built in! Email lets you take control of your overflowing mailbox. Offers instant access to manage all of your inboxes in one place. An intelligent assistant is built-in to keep your shopping, expenses, and travel organized. Intuitive features to unsubscribe from junk, snooze messages, undo sent mail, and more to ensure you never miss a beat.

This version of the Email app for iPhone and iPad supports Gmail, Hotmail, iCloud, Yahoo, Outlook, Office/ Outlook 365, Exchange and AOL, IMAP mail accounts.

Unsubscribe with One Tap
- Unsubscribe from junk mail with one tap! Manage your mail subscriptions in one place.

Smart Notifications
- No more mail notification overload! Mute the senders of your choice to receive less alerts about new messages.

Smart Reply
- Respond to mail quickly on the run! Smart Reply offers three responses to choose from based on the email you received.

Bulk Delete Mail
- Clear out your mailbox, delete thousands of emails in just one tap.

Customize Multiple Account Views
- Customize your view of multiple accounts in unified lists (e.g. "All Inboxes," "Unread," "Attachments"). Add or remove accounts of your choice to keep focus where it's needed.

Touch ID Protection
- Keep your mail accounts private and secure without sacrificing quick access.

Search Built for Mobile Mail
- Fast search of all folders by contact or keywords. Fastest search on your phone, even for super large accounts.

Snooze Messages
- Snoozed messages will appear at the top of your inbox when you are ready for them.

Optional Thread View
– Toggle thread view on or off to make Email fit seamlessly into your workflow.

Trips Organized with Real-Time Travel Alerts
- If a flight is delayed or a gate changes, Email notifies you faster than the airlines. Support for more than twice as many travel providers as Gmail!

Package Tracking and Alerts
- Check the status of all your packages in one folder.

Built in Assistant
- See all Attachments, Bills & Receipts, Entertainment in one place. Never miss anything!

Secure and Private
- Email is fetched from the phone and stored on the phone.

Detect Read Receipts
- See when somebody is tracking your email activity. Read receipts are blocked from being sent back to the sender.

Many more features:
• Automatically detect signatures
• iPad support
• Access information from your inbox and insert it into iMessage
• Data storage optimization
• Swipe the blue unread dot to mark as read
• Landscape mode for iPhone 6 plus and 7 plus
• Enhanced for 3D Touch
• Undo send, delete and other actions
• Interactive push notification, customizable swipes & notifications, drafts
• Notifications for only important messages
• Customize the badge number
• Customize navigation upon archiving a message
• Bulk editing
• HTML Signatures for each account
• Horizontal layout support
• Unified inbox
• Respond in the notification
• HTML rich composer
• Send to groups from your contacts
• Inline images
• Quickly select your most frequent mail contacts
• Real-time sync progress
• Detect and communicate poor network conditions
• Alias Support
• Send attachments from iCloud, Google Drive and more
• iOS Share extension support
• Always bcc option
• Respond to calendar events with a tap
* Multi Select Image Attachments - Attach multiple images with ease.
* IMAP Support- A Customizable IMAP Interface

* Support for Exchange 2010 Service Pack 2 and above.
iPad Screenshots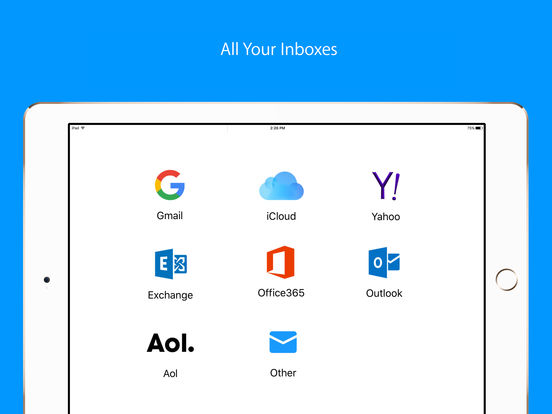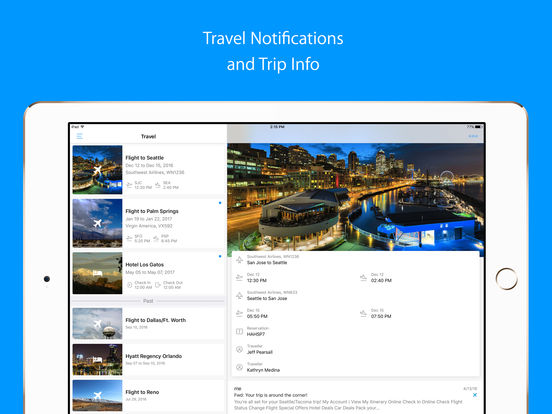 Reviews
Troubling privacy policy
The summary on the App Store description says that emails are processed only on the phone and suggests that the developers don't access the email contents. But if you click on "privacy policy," you get a different picture. E.g., the policy says (in bold!): "By linking our Services to your email or other internet accounts, you authorize us to collect, process, and retain information, including personal information, from past and future emails."
Great mail tool
Works great and easy to use.
This is great!
TheChase1983
on
7/21/2017
With this for my enterprise email, I no longer have to have a crazy password for my phone. I can go back to a simple 4 digit code with repeating numbers if I wanted! Still able to fully function like everyone else in the world! Love the app! Best email app ever!
PLEASE BUILT-IN WEB BROWSER
This is the best email app but it would be better if it had built-in safari to it. please 🙏
Tracked
May retain email and track you. Data is used for mining. Oh well. Take it or leave it
Great mail app
Monique D Renne
on
7/21/2017
I like how all of my inboxes are merged into one. When I receive an email confirming a purchase or sending a bill, the amount is displayed in the top corner! It has closed on me a few times though , and a few times messages weren't displayed until later.
Love it
SkySkyForever
on
7/21/2017
It's an amazing app
👍🏻👍🏻👍🏻
Love this application! It's so much easier to use than the stock Apple email application. I love the fact that you can select mark all to delete emails rather than having to go through clicking on every single one.
Best email app
As far as looks go, it's much nicer and cleaner than the native app or than the gmail app. Its functionality is great too, very easy to unsubscribe from newsletters and stuff, plus my email comes in faster on this app than on the gmail or the mail app which is nice... Give it a try
Good app but has been crashing nonstop
I absolutely love this app. Way better and user friendly than the Gmail app. The only issue I've been having is that for the past few days it's been crashing every time I open the app. I can't even read my mail at this point. Now I'm forced to find another app for all my mail. Such a shame cause this was the best email app I've ever had. Might need the developers to update it or something. I can't be the only one with this problem..
Fantastic
Metallic chick
on
7/20/2017
I love the simple and easy access to all my accounts in one place plus to unsubscribe with one tap!!'n
LOVEEE
This is a huge step up from apple mail. I switched because I couldn't get my old app to work and I love this one :) 100% recommend!
Great app but sometimes buggy
musingsbyjess
on
7/20/2017
Love the app and how intuitive it is. Sometimes features don't work. A few that come to mind: - limited ability to select photos from albums to attach to email - sometimes the snooze button doesn't work right consistently so I can't trust the feature - searching for an email sometimes only brings the response threads and I can't find the original email
Broken email display 😡
I'm noticing some of my HTML email campaigns don't show up anymore, and sometimes I have emails that say "email has no content" by when I check my stock email app, the messages do indeed have content. I've tried uninstalling and installing app and it still shows the same thing. Not sure what happened but I loved this app because of the ability to see my email campaigns and now THAT's broken.
Love it :)
Jujulove2010
on
7/19/2017
Very easy and amazing app thanks
Thank you
Getting my emails was always a hassle, but with this app it's a breeze! All I have to do is open this app, and there it is. For me, this is a godsend. Thank you!
Great app
Great app which help me to acces my company email and can work faster than other which there lots of requirments. Good job!
Does what it's supposed to!!
Hate that apple took away the delete all, so thanks for this app!!
Love it!!!
Simple, quick and easy! Everything I need in one place.
Love this !!
This program makes it easy to delete emails, and unsubscribe. I really like it. It keeps all my email accounts easily accessible.
Meh
Getting rid of this. Tired of slow connection and half my emails coming saying no content an it won't open an attachment.
Safer for my account than iPhones email
But iPhones email was easier for me to navigate. Still, this is the closest "safe" email I could find to what I was used to.
i love it so much
mejia_lovex3
on
7/18/2017
i really love this app
#1
Fastest Rout Too Your Email 👌🏽
iraq-dyalaa
Hassan Al-dahlaki
on
7/18/2017
thanks
Only one (huge) problem
I really liked the features and look of this app. However, I am now going to delete this app because of the outbox feature. When emails don't send they are stored there and it is not blaringly obvious that you have emails unsent in your outbox. This has lead to multiple instances where an important email I wrote and thought had sent is just sitting there. If I was more patiently using this app I may have noticed but I need super obvious when I am busily going through my email on my phone
Unsubscribe purge
stevencourtney
on
7/18/2017
If you want to unsubscribe all that junk this is the app
I Like It
O Daniel Knight
on
7/18/2017
I've used iOS Mail and then the Gmail app, but this takes everything to the next level. Try it. Your will probably be hooked.
Great app
I like it . Just wish when I delete and email from this app it would delete it from my account. I hate when I go on my computer and there are all the same emails and I just deleted off the app.
Best email client!
The best part of it, is that is FREE!!
When it works, it works great! But..
Every few weeks of good use, it starts to crash for no reasons and stop working. I have to delete the app and reinstall the app. Pain to write all the accounts! Hate it. I used to love it though. I miss the package tracks, vacations etc!
Love it
All of my emails in one spot! Great! Wish it would allow refining to only keep the most recent and delete the rest automatically from specific emails.
So Far, So Good!
Nina's Hooked
on
7/17/2017
Completely and thoroughly efficient and not heavy on my storage space.
Most wanted application
Amazing Application, easy to unsubscribe from unwanted email notifications!!
Amazing!
ChocolatesLover23
on
7/16/2017
This is one of the best mail app ever! Instead of having separate email app for each one (yahoo, google, etc)!.....you can have all in 1! I am glad, that I downloaded this!
really good but
i love this app but the only complaint i have it having to delete messages over and over again. for ex: i have 6 unread emails, i delete them, but then the notification badge pops up again and so do the emails. this happens everyday. it's a great app, but please fix this bug.
AMAZING
DiamondLoLoC
on
7/16/2017
I LOVE IT!! very convenient
Best!!!!
Best app I've ever used for email! Clean and organized!!!
Finally what I was looking for!!
Have been looking for a mail app that I can swipe to trash and ungroup emails for gmail plus use my other accounts. Love the assistant feature as well! Good job guys!
Not bad
For me it's better than gmails app. It can be buggy at times but all in all pretty solid.
Great app
I don't really write reviews on apps, but this one deserves it. Very easy to use and awesome features!
Fact Sheet
Publisher: Easilydo Inc.
Category: Productivity
Released: Apr 27, 2016
Current Version Released: Jun 21, 2017
Version: 1.6.1
Size: 186.6 MB
Compatibility: Requires iOS 8 or later.
Recommended Age: 4+
Game Center Certified: No
Supported Devices: iPad2Wifi-iPad2Wifi, iPad23G-iPad23G, iPhone4S-iPhone4S, iPadThirdGen-iPadThirdGen, iPadThirdGen4G-iPadThirdGen4G, iPhone5-iPhone5, iPodTouchFifthGen-iPodTouchFifthGen, iPadFourthGen-iPadFourthGen, iPadFourthGen4G-iPadFourthGen4G, iPadMini-iPadMini, iPadMini4G-iPadMini4G, iPhone5c-iPhone5c, iPhone5s-iPhone5s, iPadAir-iPadAir, iPadAirCellular-iPadAirCellular, iPadMiniRetina-iPadMiniRetina, iPadMiniRetinaCellular-iPadMiniRetinaCellular, iPhone6-iPhone6, iPhone6Plus-iPhone6Plus, iPadAir2-iPadAir2, iPadAir2Cellular-iPadAir2Cellular, iPadMini3-iPadMini3, iPadMini3Cellular-iPadMini3Cellular, iPodTouchSixthGen-iPodTouchSixthGen, iPhone6s-iPhone6s, iPhone6sPlus-iPhone6sPlus, iPadMini4-iPadMini4, iPadMini4Cellular-iPadMini4Cellular, iPadPro-iPadPro, iPadProCellular-iPadProCellular, iPadPro97-iPadPro97, iPadPro97Cellular-iPadPro97Cellular, iPhoneSE-iPhoneSE, iPhone7-iPhone7, iPhone7Plus-iPhone7Plus, iPad611-iPad611, iPad612-iPad612, iPad71-iPad71, iPad72-iPad72, iPad73-iPad73, iPad74-iPad74,
Supported Languages: English;