Screenshots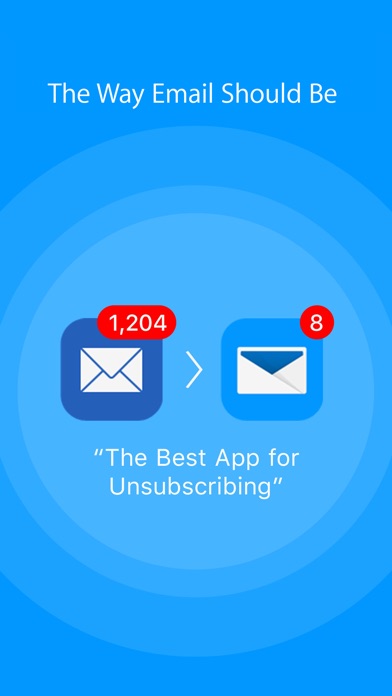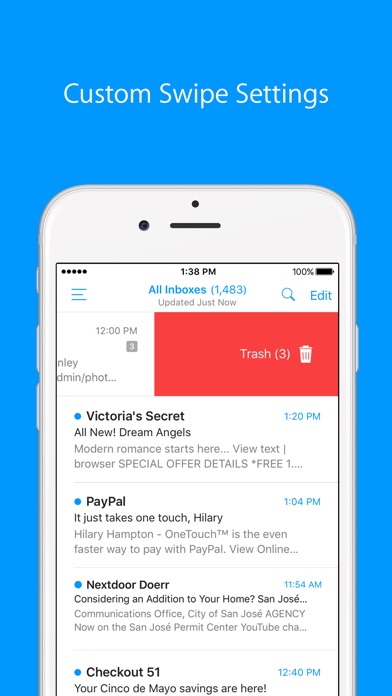 New in version 1.7.3
- Fixed error when sending email from Outlook account

Friendly Reminder: If you haven't had a chance to yet, try out the recently added Security Assistant to safeguard your mail account. Find out if your email address is compromised by a breach of others apps or services you might also use--Edison Mail will recommend a password change if that's the case.

Thank you for using Email! If you have a moment to leave a review in the App Store we would really appreciate it.

Whether you are experiencing any issues or just want to make a feature request, we listen to all your feedback. Please mail us at mailsupport@edison.tech
Description
"New Apps we Love"- Apple App Store
"Well designed" - New York Times
"The way to go if you own an iPhone" - Business Insider
"Unsubscribe with just a tap!" - TechCrunch
"Faster than Gmail, faster than Outlook" - Walt Mossberg @ The Verge

Lightning Fast with an Assistant built in! Email lets you take control of your overflowing mailbox. Offers instant access to manage all of your inboxes in one place. An intelligent assistant is built-in to keep your shopping, expenses, and travel organized. Intuitive features to unsubscribe from junk, snooze messages, undo sent mail, and more to ensure you never miss a beat.

This version of the Email app for iPhone and iPad supports Gmail, Hotmail, iCloud, Yahoo, Outlook, Office/ Outlook 365, Exchange and AOL, IMAP mail accounts.

Unsubscribe with One Tap
- Unsubscribe from junk mail with one tap! Manage your mail subscriptions in one place.

Smart Notifications
- No more mail notification overload! Mute the senders of your choice to receive less alerts about new messages.

Smart Reply
- Respond to mail quickly on the run! Smart Reply offers three responses to choose from based on the email you received.

Security Assistant
- Assess if your mail account and password are compromised and find the source of the breach.

Bulk Delete Mail
- Clear out your mailbox, delete thousands of emails in just one tap.

Customize Multiple Account Views
- Customize your view of multiple accounts in unified lists (e.g. "All Inboxes," "Unread," "Attachments"). Add or remove accounts of your choice to keep focus where it's needed.

Search Built for Mobile Mail
- Fast search of all folders by contact or keywords. Fastest search on your phone, even for super large accounts.

Snooze Messages
- Snoozed messages will appear at the top of your inbox when you are ready for them.

Optional Thread View
– Toggle thread view on or off to make Email fit seamlessly into your workflow.

Trips Organized with Real-Time Travel Alerts
- If a flight is delayed or a gate changes, Email notifies you faster than the airlines. Support for more than twice as many travel providers as Gmail!

Package Tracking and Alerts
- Check the status of all your packages in one folder.

Built in Assistant
- See all Attachments, Bills & Receipts, Entertainment in one place. Never miss anything!

Secure and Private
- Email is fetched from the phone and stored on the phone.

Detect Read Receipts
- See when somebody is tracking your email activity. Read receipts are blocked from being sent back to the sender.

Many more features:
• Touch ID Protection
• Automatically detect signatures
• iPad support
• Access information from your inbox and insert it into iMessage
• Data storage optimization
• Swipe the blue unread dot to mark as read
• Landscape mode for iPhone 6 plus and 7 plus
• Enhanced for 3D Touch
• Undo send, delete and other actions
• Interactive push notification, customizable swipes & notifications, drafts
• Notifications for only important messages
• Customize the badge number
• Customize navigation upon archiving a message
• Bulk editing
• HTML Signatures for each account
• Horizontal layout support
• Unified inbox
• Respond in the notification
• HTML rich composer
• Send to groups from your contacts
• Inline images
• Quickly select your most frequent mail contacts
• Real-time sync progress
• Detect and communicate poor network conditions
• Alias Support
• Send attachments from iCloud, Google Drive and more
• iOS Share extension support
• Always bcc option
• Respond to calendar events with a tap
* Multi Select Image Attachments - Attach multiple images with ease.
* IMAP Support- A Customizable IMAP Interface


* Support for Exchange 2010 Service Pack 2 and above.
iPad Screenshots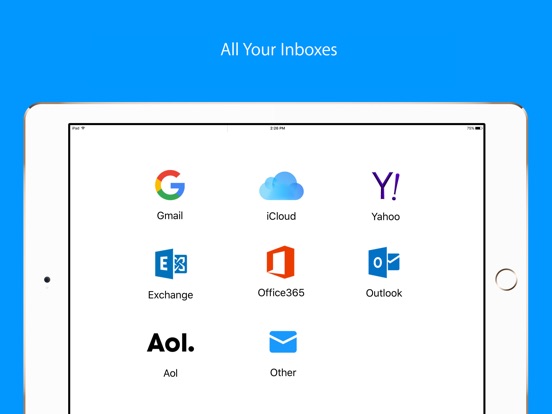 Reviews
Phantom emails
I love this app. But for the last few updates it shows I have phantom unread emails. When I open the app, there's nothing there! 5 minutes later, I have an unread email, again, even when nothing is there. It's super annoying. I'm looking for a new app until this is fixed.
Very clean and easy to use
Hehehe
Awesome Email Hub
itsjussfrankiie
on
9/25/2017
This app is great for holding all my emails from different sites in one
Best email app
Very good interface ✅ Easy to use ✅ Customizable ✅ Awesome ✅
Mail app for Mac??
Blfarmerrrrrrrr
on
9/23/2017
I FREAKING LOVE THIS APP! Would give 15 stars if I could. One question though.. is there a Mac version out as well?? I would LOVE to use this on my computer as well as my phone.
Love organization and control.
Sabina Watts
on
9/22/2017
This email is a life saver. I can delete a lot of emails at once. I can track packages. I can unsubscribe from sites. It is sooooo easy. Love this email program. Thank you Edison.
Cool app
All seems quick and efficient - on par with outlook, but tad faster! New fonts kicking!
Exceptionally great app
After trying several of the top email alternative apps, this one is a cut above all. It is easy to setup and customize and it works smoothly without any glitches. I really like its capabilities to suggest smart and clever reply suggestions at the bottom of the reply window.
Nice
Wavedancer70
on
9/21/2017
I Really am enjoying this app it's so awesome
fix your app
when i delete an email i'd actually like it to delete not show back up the next time i check my inbox happens way to often maybe i'll give you a better review once the app works unless you plan on totally ignoring this which wouldn't surprise me
Great features except you can't see all your mail.
Edison has the potential to be the best email program I have ever used. However it has one major flaw. It does not play well with iCloud email services. A lot of mail will display the message has no content. I am not talking about spam either. It got frustrating going back and forth between iOS mail and Edison to get everything read so I have buried Edison three screens back hoping they will eventually fix the issue and have put iOS mail back in my dock. Kinda ironic to write an app for iOS and not be able to display mail from iCloud services. Again this is a great app if it would display all the mail. Kinda of a mission critical core requirement.
Some features can be better
I enjoy this email app but there are some suggestions. Whenever I try to send photos from my email, I wish there is an option to attach the photo directly from the camera roll or albums not just from iCloud. Just inserting photo on the text box makes the photo format to be .txt not .jpg or .png. Also, I really wish that I can view the emails/threads by account not everything together; without clicking today or anything. Just customizable. Also, clicking different accounts to see the folders within can be shortened where it all shows up on the swipe-able tab.
A+++
Just as everyone else leaving a review, I don't normally leave reviews but this time I am. This app is amazing. Before this I just used the regular Apple mail app and it sucked it would never load my mail unless I had a wifi connection. Then I downloaded the Gmail app and realized it only worked with Google email addresses so I got rid of that. Then I got this app and let me tell you it is so cool. It's so organized, you can use multiple email addresses from different places, and it is super secure. The app even does safety checks for you. It also organizes by type whether it be receipts, travel, or shipments. Just tellin ya it's the best app for email.
Best email app on iOS
Don't change a thing! Everything works great and there is a select all tab for deleting major amounts of emails.
A gem!
Xristiancito
on
9/20/2017
Wish I could give it more than 5 stars. This app is simply amazing. After setting it up I immediately deleted iPhone's native mail app. Clean interface, easy to use, customizable, love the assistant features, specially that it sorts out your e-mails with tracking numbers. Loving every minute of it
Best email app available.
Best email app by far for iDivices the developers are very innovative and quick to push out updates making the app better and better. No other app is as robust as this one. That said - I have to start using another app for now, most likely Apples built in one. Only because I'm unable to send any email through a outlook.com email account. Whether it's Microsoft or Newton, I don't know. But I have emailed the developers and reported the bug. Hopefully they can patch it fast.
Awesome app
Very capable email app. I use it with a Gmail account. Better than Outlook if you don't care about calendar and contacts integration. It has some issues. For example, the badge account is not always accurate. I use the badge count to show unread emails. Sometimes I'll read an email and mark it unread or vice versa. Even though the badge count should only change by 1, often times it'll change by more than 1 (sometimes by more than 5 even though only one email was read/unread). It's not very reliable. Second, upon receiving an email, it shows up in the Notification Center. However, upon opening the app, the email notification in the Notification Center does not get cleared automatically. It has to be cleared manually. Generally apps clear their notifications from the Notification Center once the app is opened. Finally, I use Google Keyboard. When writing long emails that go beyond the last line on the screen, the cursor does not automatically scroll down. You have to manually move the cursor to see the new line. This is very annoying. Hope these issues can be fixed. Update: the above problems seem to be fixed in v1.7.3. Thanks to the developers for such a prompt response!
Best Mail App Ever
Miranda.Flores
on
9/19/2017
So completely organized and very simple to use. Especially if you're on the go, and have multiple accounts for work, personal, school, etc.
Incredible!
By far the best email app for iOS! Highly recommended! A couple of things I'd love to see in future updates: 1. When browsing "All Archive" it would be helpful to see the folder/label name of which emails are filed under (like "All Mail" in Gmail). Also seeing the label name inside an email would be great. 2. Better support for right-to-left languages (like Hebrew). 3. An option to see if my message was read by the recipient. 4. An option to add photos as regular attachments.
Not reliable
At first I really enjoyed this app, however when I really needed it they failed me. The last update literally put me out on my emails being sent out. I could not answer any emails & had to go & download my original email app to send out emails. I was out for approximately a week. I'm going back to my original app.
Amazing
The Wolf of Crypto
on
9/19/2017
I love this mail app. So much better than type mail which I've been using for years!!!! One question how do I set a fetch time?
Receiving too much spam!
I've enjoyed using this app so much, but after the most recent update, I've been receiving so much spam email! I wasn't receiving any, because it was filtered through, but now it's coming back to my inbox, and it's very frustrating.
This is the best email app I have ever used!
Natty.P 12-13
on
9/18/2017
I found this email app to manage all my emails. I love the unsubscribe feature! Its the best app to keep your emails safe and get them done. It looks like the regular mail app that comes on iOS devices, but it is a whole lot better. Best email app in my opinion.
Really Like A lot of Features in this App
lindzi & pete
on
9/18/2017
Like the "package" folder for easy tracking of shipments. Like the "unsubscribe" feature... There are several pros for this app. A major con is that I cannot get it to save my email drafts consistently. I usually save a ton of drafts as copy & pasted web articles, to do lists, shopping, etc. I have now had to start using my Notes app because this won't save my drafts about 90% of the time. The address and subject fields' info gets saved but not the body of the email. In trying to fix this, I corresponded back-and-forth with the developers... even sent a few screenshots but so far nothing has changed in regards to the draft issue. Sure wish I could trust that my work would be saved.
Recent update - bad sending emails
Sean_Thayer763
on
9/18/2017
This has been a reliable app until the most recent update. When trying to send an email, I'm receiving an error that states, "Unable to authenticate with the current session's credentials". I've tried numerous times to send the email and no luck. Please find a fix. Thanks!
Perfect
Uh-oh. What happened? After newest update I can't SEND. HELP! Previous review: I just cannot say enough good things about THIS email app. Where have you been!? After Microsoft MADE me give up its wonderful Livemail after years of loving it... And after months and months and months of searching I fell upon this yesterday and IMMEDIATELY fell in love with it!!! It WORKS. It's EASY- and it's fun. Great options! Try it. You won't look back!!
Nice
Family_united
on
9/18/2017
Great app
Terrific email app
Moriarty(SH)
on
9/17/2017
I can run all 3 of my accounts at once, and as a student, this is very helpful. I would definitely recommend this email app 10/10
99.999% Perfect For Me
Kibwe Brathwaite
on
9/17/2017
Been using this since it's debut on the app store and it's been almost flawless. A few things here and there that didn't fit my personal preference but made it work. However, one major flaw is in the "conversation view" where in a scenario where an email from me is the last in the thread, it will not be shown in full inbox view, only when I enter the conversation thread. I wish there was at least an option to change this so it's like Gmail, where I can see the true last interaction in a thread from the inbox view, even if the last interaction is from me. Hope I explained that clearly. Keep up the good work on a brilliant app otherwise. Cheers
No-go until search is fixed and thread view is added
I do the majority of my email work on my phone. Until I can search reliably and have a threaded/conversation view, I'll stick with Spark.
Better than Google!
Easy to use, faster and more
Flawless!
This app works amazingly! I would recommend this app instead of the actual email app. AMAZING
Like it, but...
MelissaFay47
on
9/16/2017
I really like how convenient this app is, and I love the subscriptions, bills, packages, etc features, but it takes SEVERAL tries to send a freaking email!
No pop support
Opening the app to set up an account get message No pop3 support in this version. Not for me then.
Not signing in
Won't even let me sign in 😤😤😤
Amazing!!
I'm honestly speechless. This is the best email app. I made this my default email application. The simplicity of the app is #Amazing!!!
Wow I can't believe it
I used this app for a couple of months and it worked just fine but now I'm getting little number thing on my app but when i go inside it said no mails like what I use to love this app but it just not cool what they did with the new update
Best Email app
So neat app I like it
Slow and won't send emails
I've been using this app for a while now and have been tolerating the slow speed but ever since this last update I can't send emails. So I've deleted the app and am debating what to do.
Howard
Wonderful just wonderful
Thanks
Awesome convenient and helpful
Cant send
Multiple times I have had trouble sending
MESSAGES FAILING TO SEND
Too many times, I've missed important appointments due to failures on this mail app. This does not happen on the default iPhone app. Deleting.
Notifications
Snowmonster from starwars
on
9/14/2017
This is way preferable to the preinstalled iPhone email app, but there is one small bug that would make this app 5/5 stars: The number showing how many unread emails you have is extremely inaccurate. I'll have zero in my inbox and it'll show I have five or seven and won't go away no matter how much I refresh. So if the developers could fix this one thing that would be awesome!
Yahoo emails are broken
Sleeping Reaver
on
9/14/2017
I get alerts for new emails for my Yahoo accounts but when I open my inbox theres nothing except the app telling me I have unread emails. Now I'm forced to use the Yahoo app to see them.
Unable to authenticate?
As of yesterday I have been unable to send emails (from my hotmail account) using the app... it says unable to authenticate due to current session credentials! Help!
Perfect email app
I have been using this app for over a year and there isn't anything I could complain about. It's so seamless that I barely notice it as an app. It just works.
Easily the best email app
FaithlessHero
on
9/14/2017
Super simple to use and does what I need it to do without being annoying. I can't believe it's free. Apple should hire you guys to do their mail app. Highly recommend!
Finally
Just start using but appears to have what others have missed. Speedy and reliable.
Fact Sheet
Publisher:

Edison Software Inc.

Category:

Productivity

Released:

Apr 27, 2016

Current Version Released:

Sep 18, 2017

Version:

1.7.3

Size:

103.4 MB

Compatibility:

Requires iOS 8 or later.

Recommended Age:

4+

Game Center Certified:

No

Supported Devices:

iPad2Wifi-iPad2Wifi, iPad23G-iPad23G, iPhone4S-iPhone4S, iPadThirdGen-iPadThirdGen, iPadThirdGen4G-iPadThirdGen4G, iPhone5-iPhone5, iPodTouchFifthGen-iPodTouchFifthGen, iPadFourthGen-iPadFourthGen, iPadFourthGen4G-iPadFourthGen4G, iPadMini-iPadMini, iPadMini4G-iPadMini4G, iPhone5c-iPhone5c, iPhone5s-iPhone5s, iPadAir-iPadAir, iPadAirCellular-iPadAirCellular, iPadMiniRetina-iPadMiniRetina, iPadMiniRetinaCellular-iPadMiniRetinaCellular, iPhone6-iPhone6, iPhone6Plus-iPhone6Plus, iPadAir2-iPadAir2, iPadAir2Cellular-iPadAir2Cellular, iPadMini3-iPadMini3, iPadMini3Cellular-iPadMini3Cellular, iPodTouchSixthGen-iPodTouchSixthGen, iPhone6s-iPhone6s, iPhone6sPlus-iPhone6sPlus, iPadMini4-iPadMini4, iPadMini4Cellular-iPadMini4Cellular, iPadPro-iPadPro, iPadProCellular-iPadProCellular, iPadPro97-iPadPro97, iPadPro97Cellular-iPadPro97Cellular, iPhoneSE-iPhoneSE, iPhone7-iPhone7, iPhone7Plus-iPhone7Plus, iPad611-iPad611, iPad612-iPad612, iPad71-iPad71, iPad72-iPad72, iPad73-iPad73, iPad74-iPad74,

Supported Languages:

English;