This version of the app is not recommended
App last updated
Jan 09, 2018
Screenshots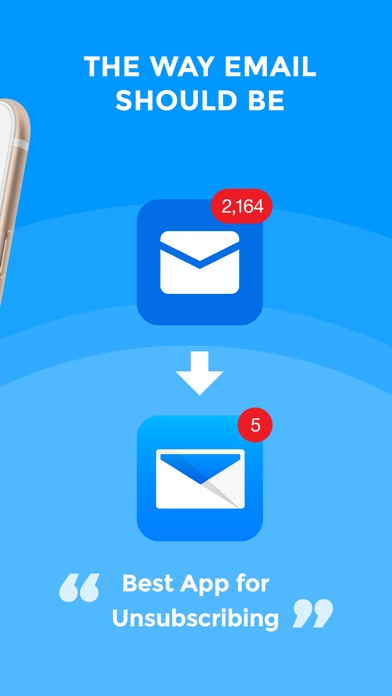 New in version 1.9.2
- Fixed notification action menu

Thanks for using Edison Mail! To make our app better for you, we bring updates to the App Store regularly. Every update of our Email app includes improvements for speed and reliability. As new features become available, we'll highlight those for you in the app.
Description
"New Apps we Love"- Apple App Store
"Well designed" - New York Times
"The way to go if you own an iPhone" - Business Insider
"Unsubscribe with just a tap!" - TechCrunch
"Faster than Gmail, faster than Outlook" - Walt Mossberg @ The Verge

Lightning Fast with an Assistant built in! Email lets you take control of your overflowing mailbox. Offers instant access to manage all of your inboxes in one place. An intelligent assistant is built-in to keep your shopping, expenses, and travel organized. Intuitive features to unsubscribe from junk, snooze messages, undo sent mail, and more to ensure you never miss a beat.

This version of the Email app for iPhone and iPad supports Gmail, Hotmail, iCloud, Yahoo, Outlook, Office/ Outlook 365, Exchange and AOL, IMAP mail accounts.

Now available worldwide. Please note select assistant features (i.e. bill and receipts, entertainment, travel and package alerts) are currently limited to US, UK, Canada, Australia, and India only.

Unsubscribe with One Tap
- Unsubscribe from junk mail with one tap! Manage mail subscriptions in one place.

Smart Notifications
- No more mail notification overload! Mute the senders of your choice for less alerts about new messages.

Smart Reply
- Respond to mail quickly on the run! Smart Reply offers three responses to choose from based on the email you received.

Security Assistant
- Assess if you, or even your friend's, mail account and password are compromised by a breach impacting other apps you might use.

Bulk Delete Mail
- Clear out your mailbox, delete thousands of emails in just one tap.

Customize Multiple Account Views
- Customize your view of multiple accounts in unified lists (e.g. "All Inboxes," "Unread," "Attachments") to keep focus where it's needed.

Search Built for Mobile Mail
- Fast search of all folders by contact or keywords. Fastest search on your phone, even for super large accounts.

Snooze Messages
- Snoozed messages will appear at the top of your inbox when you are ready for them.

Optional Thread View
– Toggle thread view on or off to make Email fit seamlessly into your workflow.

Trips Organized with Real-Time Travel Alerts
- If a flight is delayed or a gate changes, Email notifies you faster than the airlines. Support for more than twice as many travel providers as Gmail!

Package Tracking and Alerts
- Check the status of all your packages in one folder.

Built in Assistant
- See all Attachments, Bills & Receipts, Entertainment in one place!

Secure and Private
- Email is fetched from the phone and stored on the phone.
- Read receipts are blocked from being sent back to any sender tracking your email activity.

Many more features:
• Touch ID Protection
• Automatically detect signatures
• iPad support
• Access information from your inbox and insert it into iMessage
• Data storage optimization
• Swipe the blue unread dot to mark as read
• Landscape mode for iPhone 6 plus and 7 plus
• Enhanced for 3D Touch
• Undo send, delete and other actions
• Interactive push notification, customizable swipes & notifications, drafts
• Notifications for only important messages
• Customize the badge number
• Customize navigation upon archiving a message
• Bulk editing
• HTML Signatures for each account
• Horizontal layout support
• Unified inbox
• Respond in the notification
• HTML rich composer
• Send to groups from your contacts
• Inline images
• Quickly select your most frequent mail contacts
• Real-time sync progress
• Detect and communicate poor network conditions
• Alias Support
• Send attachments from iCloud, Google Drive and more
• iOS Share extension support
• Always bcc option
• Respond to calendar events with a tap
* Multi Select Image Attachments - Attach multiple images with ease.
* IMAP Support- A Customizable IMAP Interface


* Support for Exchange 2010 Service Pack 2 and above.
iPad Screenshots
Reviews
Love it except...
ANDREW TULLOCH
on
1/23/2018
I used to love this app for all of my email accounts. I loved how I could keep work emails and personal emails separate. Recently, all of my email accounts have been blending together in the all inboxes section. Every time I open the app I have to go to settings and change them so the accounts will be separated. If this was fixed it would definitely be five stars from me.
Move to folder
JhonnyTerminus
on
1/23/2018
Really nice app! Can we have an intelligent move to folder swipe/3D touch action like apple mail has? And the folders are a bit small when moving to folder
Help
How do you use the unsend email?
Issues with Yahoo email disconnecting
operatictenore
on
1/23/2018
Anybody else having issues with their Yahoo! email disconnecting from the app after a couple days connected? I've had to reestablish the connection four times already. No issues with the regular Apple Mail app. Thanks for the help!
Amazing!!!
Brazil.Import.13
on
1/22/2018
I've downloaded several email clients and this is hands down the best ever. For example my signature is the same as if I'm writing and email from my computer in Outlook! I can pull documents right out of my OneDrive account without the document needing to be something that was recently opened. Being away from my desk has never been easier!
I'm Aden
I love this email app
An All-In-One email app that turns multiple accounts into one account
All-In-One email apps have been around since the beginning of smartphones, but seldom do they work as advertised. Edison's app synced all of my accounts with no bogus IAP for using more than a few. The app let me delete 1000's of messages at a time, removing the tedium placed on users of the brand name apps. I can save emails to any folder of that particular account without having the folder added to the inbox list on the left side, eliminating clutter and confusion. As an iOS & iPad user who uses the format for music production pretty exclusively, this app made it clean and quick to add my non-music accounts to my iPad so if needed I can access them while working. For a free app, this is an incredible piece of software. Highly recommended.
Photos.
I like this app on IOS because it allows you to attach any/all of your photos. Some apps are less capable.
If search is important, look elsewhere
I wanted to like Edison Mail, but search doesn't work, doesn't search in any folder but the currently selected one. The developer acknowledged the problem but has never fixed it and still lists awesome search among its benefits. I also wonder if all the positive reviews are genuine. But it is well put together otherwise, but it's just another mail app. I went back to Mail.app and missed nothing. Oh well.
Ridiculous!
JacksonsMom1219
on
1/19/2018
With the latest update, I keep deleting messages only to open the app up and they're still there!!! Creepy! Please fix!
Fantastic!
I needed a mail app that could track my mail and send it to me on time! I noticed that the one provided by Apple isn't really that great and doesn't work well for me and/or doesn't send my mail at the time that I get it. I tested this app out and it's great, I have two emails wired to it and I get notifications for all the mail incoming on time! Not only that but it has sections where it can store receipts, packages, travel information, etc. 100% recommend!
Used to be awesome
I've been using this for a while. It used to be great, but now mail just isn't being marked as read. I even sent an email to them and they dismissed me. It's unfortunate too, because I may have to switch to another app
Apple Watch
Need an Apple Watch app.
Clean and easygoing
Greatest email app I have found
Great email app but missing watch support
Mdoejsfujdndm
on
1/19/2018
I love using this app for my email needs but no watch support is a wasted opportunity. Otherwise, the developers update about once a month with lots of fixes and updates so they do care about keeping the app updated.
Select All & Delete!
Love this app. Has the ability to delete multiple emails at once without clicking each one. Huge time saver!
The best and easy to use mail app
I totally love this app, this app will make your life easier. It is really organized and makes you feel to check your email every time you take your phone. Really nice and useful app.
I love it a lot!!
This is my favorite mail app to the point where I deleted my other apps and now only use this one for my main emails I use. I love that you can check packages that's about to be delivered. It's so easy to delete and also unsubscribe from emails. I love it a lot!!
Can't access my email
Smooth garbage 13
on
1/18/2018
I am not able to remember my password and I see no place that says forgot my password.
Exchange Flag and Notification
Could have rated 5 stars but I couldn't see any of my flags and receive notification for my work email which connects to exchange server
Difficult to organize
Difficult to organize and does not sort spam.
Security issues?
Installed this to replace the email app on my mobile devices and it was fine at first but after a few days a good chunk of my emails that were unread were being marked as read. I don't know if the app is doing this or not but it was still happening after I changed all the passwords on my accounts. Removed the app, not worth the trouble if the app is causing this.
Email doesn't go away
Deleting, archiving don't make emails go away.
I want to use it but......
Jayssecret1020
on
1/16/2018
Ok so I came across the app while obviously using another one 😏 lol!! I figured that the app would be useful and everything will be fantastic. Clicked it, then it took me to the App Store...I noticed that I actually have downloaded this before but deleted it. Recently my work email has been hectic and so between that and my personal email this app would be great. My personal email needing the most help. So the app downloads and I enter my work email. *Seamlessly* Tell myself this is amazing and then I try to sign in with my personal ICloud email and BAM 💥 just like i remember why I deleted it's because it won't let me sign into my ICloud. If someone can help me it would be great!!! I love the concept but can't say anything else because haven't been able to use it to the full potential!!! Seems great though!!!!!
Good app but
NS-3340-6001
on
1/16/2018
It's great for minimizing how many apps you have for your emails and while it does separate them, it sends you notifications for almost every email you recieve. I personally only check my email for school matters but I never receive notifications towards those emails.
another insecure email app
They are somewhat transparent about their policies, but they store lots of personal information. They give themselves the right to keep it "as long as needed" even after you cancel the service. They cache your password for Exchange but not gmail and 3 others. Caching passwords is just a total no-no. They can swear on a stack of religious texts that they'll protect it, but they waive responsibility in the case of criminal actions. Well, any theft of passwords is criminal so they completely waive responsibility. They'll see this negative review and reply and deny everything. Whatever. Protect yourself from the risk and don't use this or Spark. They can do whatever they want and so can you. Any service with attractive data can and will be hacked. Just a oid using any product that keeps your credentials for other services. They will point out that not all email providers use Oauth. So what. Just don't take the risk if you want security.
Absolutely love this app!
I'm in love. This is a great switch from the standard mail app that Apple has for the iPhone. It is very interactive and guess what? You can actually select and delete all of your mail at the touch of a button? Sold. Delete the mail app and get this one.
Chat feature?
Get this crap chat feature out of my email client
Great App
Anyone who has any mail account should use this. It has many cool features that allow you to do things that you can't in other mail apps and it is really easy to reply and send emails.
Can't get in!! To mail
I never entered a passcode, now it's asking me for one to get into my app. I made some changes yesterday - but no passcode. Also, tried to leave this msg in app support, but there wasn't a way to do it? This was all after your email software gave me some kind of warning about security on another email account of mine. I'm considering this to be extremely Phishy .... please fix this immediately - or ill report to Apple
Love it! Just missing one feature
Would be great if I could assign a default mailbox when opening the app. Right now it always defaults to the 'Inbox' but I prefer to open to my unread mail. There's also a graphical glitch when logging in with Face ID. The logo gets pushed to partially beyond the top of the screen. Other than that, it's great!
Good but some issues
willhicksgolf
on
1/15/2018
I used this app for about a year but I noticed that lately if started getting glitchy and not allowing me to select and read messages like usual. After about 5 days of this I switched to MyMail, and I noticed that my phone is overall working a lot faster now after uninstalling this app. I would consider switching back if these things are fixed, but for now I'm sticking to MyMail.
Great to have one app for all.
Charming Sloth
on
1/14/2018
Easy to use and understand.
Better than Apple Mail but still buggy
Disgruntled Blackjack Player
on
1/14/2018
I downloaded this app because I appreciate its integration with other apps, additional features absent in Apple Mail, etc., but it's still quite buggy, especially with my Gmail account. Deleted emails that are absent from the actual Gmail platform are still showing up in this Email app. Messages that are moved to other folders or pending in the Drafts folder disappear or show up elsewhere. Still like the app & plan to use it - thus the 3-star rating - but there are a lot of bugs that need to be worked out before I bump this up to a 5-star.
Always says slow connection
When i delete mails, they come back after a few seconds. It always says the mail server connection is slow. And other mail apps dont say that. Please fix this issue
Does not work.
When I would open mail all messages would disappear.
No way to file emails?
Am I missing something in this app? I am seeing no way to file read emails into specific folders for future reference. Most likely I am missing something really obvious. I think I need a little help here. This app can not have so many positive reviews without this feature. Can it?
Not happy
Icon shows I have emails but when I open it up none are available to read. It takes about 20 seconds to refresh and then the new emails are visible. Also the spam filter doesn't work. I continue to mark spam but the email keeps returning. This app in my opinion is no different then yahoos version.
Doesn't work with iCloud
miggiesmalls
on
1/12/2018
I deleted hundreds of emails from my iCloud account only for them to reappear minutes later. Tried to delete more emails and the same thing happened. Waste of time.
Read mails keeps showing as unread after update
App was great and must have but after the two latest updates it repeatedly shows messages which were read as read. I tried deleting them but the dames ones still somehow keep coming back showing as unread. Really annoying and thinking about deleting entire app now.
Lacks major functions
lacks major functions IMHO: 1. Can only use attachment if you click to download and open, then click share button, then click save to iCloud (for EACH attachment separately), and then open new/reply message and for EACH attachment you need to separately click attachment icon and then navigate iCloud to select your attachment. In other words, to attach 2 pictures from one email and add them to another reply, you need a minimum of 13+ clicks. 2. Can not select multiple attachments in an email to act-on (download, save, attach, etc) at same time 3. No drag and drop support 4. Can not view in tri-pane mode (folder list - message list - message) Attachment handling is absurd. As it stands now, i could not recommend to anyone. If this could be greatly improved i would try again and reconsider usage.
Sync Issues
OptionsShack
on
1/11/2018
Has been a great app until about a week ago. Now it seems to be fetching email every couple of hours for some reason. I'll be forced to switch to a different app if the issue isn't fixed.
Better than most except deletion issue
ScoatedEvil81
on
1/11/2018
I love the app with the exception of 2 things. First, deletion of an email doesn't always work. I've had emails pop up several times as new when I previously deleted them up to 3-4 times prior. Please fix this issue! Secondly, there's issue with emails not sending and coming up minutes to hours later as unsent.
It is the best!
This is the best email app that I have run across! It is very fast and efficient! I would highly recommend it!
Very good
It is simply the best so far :-)
Great but
briannamarie91
on
1/11/2018
I really like the ability to unsubscribe easily. However I wish it had an option for "smart email" where it clean organize mail. Clean and nice interface.
Works quite well!
hologostoutheou
on
1/11/2018
Let's me delete multiple messages quickly!
Recently buggy
What is going on with this app? It was working seamlessly and perfect for the longest time, then suddenly it is now buggy. I delete emails and then they show up again as unread and it keeps happening no matter which way I delete them! PLEASE FIX !! Thx. I will wait for a fix, and I love your app, but please fix ASAP
Notifications
After the last update I don't get any notifications when I receive new emails
Fact Sheet
Publisher:

Edison Software Inc.

Category:

Productivity

Released:

Apr 27, 2016

Current Version Released:

Jan 09, 2018

Version:

1.9.2

Size:

157.3 MB

Compatibility:

Requires iOS 10.0 or later.

Recommended Age:

4+

Game Center Certified:

No

Supported Languages:

English;