Screenshots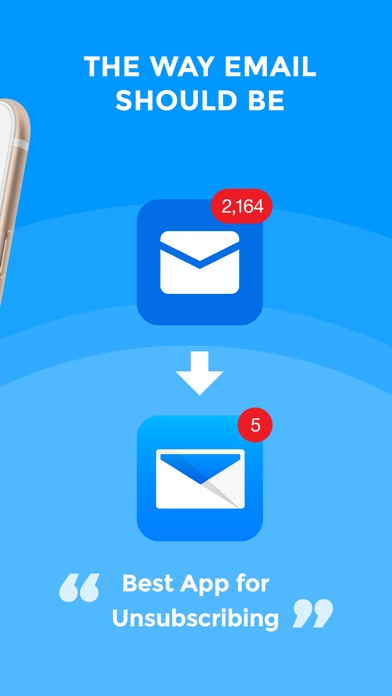 New in version 1.9.0
+ Added new iPhone X Support.
Description
"New Apps we Love"- Apple App Store
"Well designed" - New York Times
"The way to go if you own an iPhone" - Business Insider
"Unsubscribe with just a tap!" - TechCrunch
"Faster than Gmail, faster than Outlook" - Walt Mossberg @ The Verge

Lightning Fast with an Assistant built in! Email lets you take control of your overflowing mailbox. Offers instant access to manage all of your inboxes in one place. An intelligent assistant is built-in to keep your shopping, expenses, and travel organized. Intuitive features to unsubscribe from junk, snooze messages, undo sent mail, and more to ensure you never miss a beat.

This version of the Email app for iPhone and iPad supports Gmail, Hotmail, iCloud, Yahoo, Outlook, Office/ Outlook 365, Exchange and AOL, IMAP mail accounts.

Now available worldwide. Please note select assistant features (i.e. bill and receipts, entertainment, travel and package alerts) are currently limited to US, UK, Canada, Australia, and India only.

Unsubscribe with One Tap
- Unsubscribe from junk mail with one tap! Manage mail subscriptions in one place.

Smart Notifications
- No more mail notification overload! Mute the senders of your choice for less alerts about new messages.

Smart Reply
- Respond to mail quickly on the run! Smart Reply offers three responses to choose from based on the email you received.

Security Assistant
- Assess if you, or even your friend's, mail account and password are compromised by a breach impacting other apps you might use.

Bulk Delete Mail
- Clear out your mailbox, delete thousands of emails in just one tap.

Customize Multiple Account Views
- Customize your view of multiple accounts in unified lists (e.g. "All Inboxes," "Unread," "Attachments") to keep focus where it's needed.

Search Built for Mobile Mail
- Fast search of all folders by contact or keywords. Fastest search on your phone, even for super large accounts.

Snooze Messages
- Snoozed messages will appear at the top of your inbox when you are ready for them.

Optional Thread View
– Toggle thread view on or off to make Email fit seamlessly into your workflow.

Trips Organized with Real-Time Travel Alerts
- If a flight is delayed or a gate changes, Email notifies you faster than the airlines. Support for more than twice as many travel providers as Gmail!

Package Tracking and Alerts
- Check the status of all your packages in one folder.

Built in Assistant
- See all Attachments, Bills & Receipts, Entertainment in one place!

Secure and Private
- Email is fetched from the phone and stored on the phone.
- Read receipts are blocked from being sent back to any sender tracking your email activity.

Many more features:
• Touch ID Protection
• Automatically detect signatures
• iPad support
• Access information from your inbox and insert it into iMessage
• Data storage optimization
• Swipe the blue unread dot to mark as read
• Landscape mode for iPhone 6 plus and 7 plus
• Enhanced for 3D Touch
• Undo send, delete and other actions
• Interactive push notification, customizable swipes & notifications, drafts
• Notifications for only important messages
• Customize the badge number
• Customize navigation upon archiving a message
• Bulk editing
• HTML Signatures for each account
• Horizontal layout support
• Unified inbox
• Respond in the notification
• HTML rich composer
• Send to groups from your contacts
• Inline images
• Quickly select your most frequent mail contacts
• Real-time sync progress
• Detect and communicate poor network conditions
• Alias Support
• Send attachments from iCloud, Google Drive and more
• iOS Share extension support
• Always bcc option
• Respond to calendar events with a tap
* Multi Select Image Attachments - Attach multiple images with ease.
* IMAP Support- A Customizable IMAP Interface


* Support for Exchange 2010 Service Pack 2 and above.
iPad Screenshots
Reviews
Great mail app
Wellkellsbells
on
11/18/2017
I loved this app way more than the default mail application. It takes up less space on my phone, which is a plus. My only complaints are when opening a message from my notification bar, the message opens up blank. I have to exit out and go in through the app. Also, when reading messages and clicking a link, going to safari, then coming back to mail, it defaults to the top instead of the last message read. I have one account for subscriptions, so when I'm halfway through and have to start back at the top, I usually just give up instead of scrolling back down.
Like Mailbox re-incarnated
SDCardioDoc
on
11/18/2017
I have been searching and searching for a good email program ever since dropbox killed mailbox. This is it. Finally someone got it right!
Crash
Izzy sandbank
on
11/18/2017
It's honestly a great app but all of today it keeps crashing right as I open it, even when I restart my phone over and over again. Don't know what's going on...
Mail.
I am having an awful time getting it on line.
Keeps Crashing
I installed this app setup everything, looked neat , worked for 1 day, after that keeps crashing on startup. I was hoping this will be a good alternative for Alto Mail, which is shutting down soon.
Good email client
I'm looking for a new email client since Outlook started having issues. After trying Edison for a day, there are a lot of things I like. Quick unsubscribe, undo actions, all the gestures. However the threaded email handling is terrible compared to other apps and I can't continue to use it. It also crashed a few times when I archived emails. The search is still on for the perfect email app.
Fix
supercalafragulisticexpialdis
on
11/15/2017
Get rid of last update now the mail won't open
Wonderful Enail App!
JordanCreson
on
11/15/2017
I LOVE this email app. I just won't keep using it because there is not a corresponding Mac app. I don't like using different apps on different platforms. If they developed a Mac app, I'd definitely start using it again.
AMAZING!!!!!
I actually like this better than the default Apple Mail with WAY more customization!
Great app but...
Many times the app claims that it has a slow connection and takes less ng to load messages
Renter
Nice website but I'm on a fixed income. Need an affordable non payment site. Retired/Disability.
Update mess up
This was my all time favorite email app. I loved it. But ever since the last update I can't even get it to stay open. It crashes immediately. I am about to switch to something else. I don't want to but I cannot get my emails because of all this.
Nothing wrong with it
Hellopaxson
on
11/13/2017
5 stars
Holy Crap
This app rocks. I kick myself for wasting my time on the stock iPhone email app. Lame! I LLLLLLOOOOVVVVEEEEE this app. It's got all of these cute features like tracking my Amazon packages that I keep finding. But it's simple! Not cluttered. Makes mail fun😍. I wonder 'ooh, what email am I getting and what cool feature can I use this time??!!' My only quibble is the scrolling thing. But it's minuscule. I forget I am doing it. Can't recommend it enough.
Too many bugs
Banana111697
on
11/13/2017
I really wanted to like this app as the iOS generic mail app occasionally can't find the emails that I know are still in my inbox. But this app was worse, I could not open certain emails and they were always displayed incorrectly and after zooming in to read I would be unable to zoom out.
All email disappeared - thanks!
Updated phone apps overnight after updating to iOS 11. All work fine except... you guessed it. After spending an hour yesterday expounding it's virtues to clients, this app shanked me in the back when I opened it this morn... it said "Add an account?" Umm no, show me the ones I've paid to have you track for quite awhile now. Nothing. So after the update, all my info was gone. Thankfully apple mail has a copy of it all. Guess it's time to shop for a new email app. Bad start to my business week.
such a great app
I regret the fact that my laziness has made me use the Apple email app for the past years. This app is so much better in terms of functions and speed. Thank you for this great app.
Fast and superficial
Unlike Outlook and Gmail client this app doesn't have real support for message threading. With Outlook or Gmail if you open the most recent message in a thread you can read all messages and older messages will be marked as read. With this client you have to individually open all messages in a thread or click on edit and select each message to mark them as read. If you prefer message threads in Gmail stick with Outlook or Gmail clients. This app is only worthwhile if you use other email services.
Sad to have to delete this
Theladynotthetramp
on
11/12/2017
I really like this app more than the rest of the mail apps. I had to delete it because the last month had been awful. If I have an attachment I have to open it crashes. I have the new iPhone 8plus so maybe that is why? It is such a shame. I tried to wait it out but there have not been any new updates fixing it.
Email Edison Mail
Harold Thomas
on
11/12/2017
So far, I am very impressed. It sets the standard that everyone else will have to aim for, but I doubt many others will hit the target. Whoever does will have to be an expert marksman.
Awesome wonderful email app
Blessed assurance
on
11/12/2017
Thank you for such a a wonderful app!!!!
Send rrror
Pow hound small fry
on
11/11/2017
I've deleted and reloaded the app twice today. Can't send email. Says user name or password is wrong. Ummm if I haven't touched my phone, you tell me what's up. It's fine on my laptop
Doesn't send emails!
For the past few days I've been sending out emails to our mortgage lender. When never receiving a response from them I thought something must be up. Come to find out NO emails were being sent!! I checked sent folder from app and nothing was there. Checked my email account from my laptop. Nothing was there. Sent out an email through the app to another email address of mine, and I received NOTHING!! I will be finding a new email app now. Good thing I noticed because this app could have cost us from buying a house that we love!!
Problems! DO NOT INSTALL
I love this app so much that I moved away from Apple mail, because Apple mail didn't give me the feature where I could delete all of my mail so I had to go to a deferent app. I decided to try this app and I was impressed with it then Things started not to work. I was deleting my mail and the mail kept returning back that is not acceptable! I am an IT person and I have to check my emails everyday. I decided to contact the app support and they haven't responded to my email regarding the deleting issue. I use gmail a lot and it's important that I delete emails. I have to delete emails five times before they are actually gone. Waste of time trying to delete emails I want to delete once and they are gone. Good bye app!
Was good but now I can't send anything
This was a decent but not great alternative email app for me. All of a sudden, I can't send email to anyone. I'm getting a certificate authentication error of some sort. Tried to email the developer for support but guess what? I CAN'T SEND ANY EMAILS. Deleted account. No luck at setting up again. Will delete app entirely soon and try something else.
Great email preview/viewer function
The interface is simple and elegant. But for me the greatest benefit of this app for my work email is the file preview/viewer. I can view email attachments which, by the way, load very fast. PDF attachments are shown in perfect detail, and Excel files for example, are shown in a simple, sleek preview.
Hands down best email client on iPhone
Cnn needs to go bankrupt
on
11/10/2017
This is as good as it gets. The assistant is AWESOME
Emails deleting
I have tried many times to delete unwanted emails; however, when I close the app, those mails still in the inbox and appear on the notifications. Anyone know how to get rid of it ?
Best Email App
This is the best email app for iphone hands down (in my opinion)
Éxito
noseconecta a ninguna radio
on
11/8/2017
Éxito
AWESOME!
Great email app! Very easy to use and loving the Touch ID feature! Makes everything way more convenient rather than apples normal email app!
Some mail not showing all content
I love this app. However lately I have been noticing that it does not display content correctly. Dimensions are out of whack and I get a tiny thin column of text that scrolls down forever. Hopefully they fix soon.
Won't delete mail
Today alone, I've deleted the same 6 emails 5x. I'm getting pretty tired of this. I've individually deleted them, mass deleted them, Went into the email to delete them and nothing has worked. Now I can't even see some emails on the app itself.
Far superior to stock Apple Mail App!
I always thought that staying with the stock Mail app was the best option. After using this app for a few days I am sorry I never downloaded this sooner! First, this app supports Touch ID / Face ID login. This is huge because if someone grabs your phone they can get into the Apple mail app with no problem. This app is extremely well put together and is very stock-like. It supports push email for Yahoo which Apple has now discontinued in iOS 11. It integrates perfectly into the user interface of all apps and is super simple to use. It has a slew of customizable options which the stock mail app does not. How can you go wrong with this app?
Badge icon issue
The badge icon doesn't accurately display the number of unread emails. The issue is persistent for a very long time already and nothing is done about it. Disappointed... After many updates still not solved...
Perfect
I just cannot say enough good things about THIS email app. Where have you been!? After Microsoft MADE me give up its wonderful Livemail after years of loving it... And after months and months and months of searching I fell upon this yesterday and IMMEDIATELY fell in love with it!!! It WORKS. It's EASY- and it's fun. Great options! Try it. You won't look back!!
Best email app ever was able to consolidate all my emails to one
Great app tt
on
11/7/2017
A plus
I've tried a lot of email apps and ...
This is the best one so far.
Really good app overall
I really love Edison mail, I truly do. In fact I've used it since it's first version, and it instantly became my default mail app. Overall, I don't have any real issues with the app, but I will admit to not using all its features. The built in tracking feature being one of my main reasons for using Edison mail, and it's always worked very well. But, and this is the only reason I didn't give it 5 stars, I have one serious gripe with the app. It's a gripe I've had for a while, and I only write this review because it hasn't been fixed, even after many updates. And one thing I hate, is when an app adds features while ignoring issues with its basic function. I have a constant issue with deleted emails from my inbox showing back up as unread emails. Actually, "constant" doesn't accurately cover it. Every time. Every. Single. Time. I reopen the app, at least a few of the emails I previously deleted show back up in my inbox, marked as unread, and this happens with both iCloud and gmail accounts. The only thing that seems to stop this (though not always) is to do multiple refreshes of the inbox after deleting emails, before I close the app. This may seem like a small thing, but it's incredibly aggravating. I don't know if other users suffer this issue, or for some reason it's only me, but it's something that needs to be fixed. Seriously. Barring that issue, I would happily give Edison mail 5 stars. Despite that though, I still recommend the app and do enjoy using it. It's just a really great replacement for the standard app. And I think that's it's strongest selling point. There's a lot of 'specialized' email apps out there, targeting "power users" and people who have a heavy focus on business use. Edison mail is an app that is fantastic for the everyday user, and I hope they continue on that path.
Problems since last update
Since the last update, I'm often getting the "slow connection to server" notification and many emails are showing up with no content. Please fix this so I can go back to being able to rely on this app for all of my emails! Thank you!
Mail
Slow as hell and tons of spam
Nice looking but core function broken
Loved the app until I learned I couldn't search back more than a month or so. Worked with support who blamed Gmail but other Email apps had no problem searching old gmail. Uninstalled for now
App crashes when saving pictures
I really like this email client. For the longest time it was working without any issues, but now for some reason the app crashes every time I'm trying to save the attached picture from the email to my library. I tried multiple times restarting my iPad and reinstalling the app, but it doesn't help at all. Otherwise I think it's one of the best 3rd party email clients in the app store!
Latest update is broken
I installed the last update on my iPhone 6+ and it completely stopped working. The app is stuck in loading and won't show any emails at all. It'd been having some trouble retrieving newer emails before this all well. Devs, please address because other than this it is a great app.
Fantastic
So far fantastic. Used Airmail for a while but it became so buggy. This one is simple and fast. Can't understand why it's free! Awesome app.
Best emailing app out there
This is so perfect. The simplicity of having all accounts linked here allows for a more clean and efficient mail inbox. It is hands down the best compared to the weak competition. SWITCH OVER NOW. You won't regret it!!!
Best Email App
Ill be honest I got this because the app I was using was being discontinued. However it was the best move I've made, it's way better than the one I had. I highly recommend this!!!
Crashing
My app is crashing and can't open it. Please provide me with a fix.
Don't ask me for a rating when I have been using the app for three minutes.
How can I possibly rate the app when I have barely used it?
This is the best email client I've ever used
Amandafernan
on
11/4/2017
This is so clean and snappy and professional but also very lifestyle friendly (travel, shopping, receipts, etc). I love this thing, never changing. Hope it comes to OS for Macs soon!
Fact Sheet
Publisher:

Edison Software Inc.

Category:

Productivity

Released:

Apr 27, 2016

Current Version Released:

Nov 02, 2017

Version:

1.9.0

Size:

123.4 MB

Compatibility:

Requires iOS 9.0 or later.

Recommended Age:

4+

Game Center Certified:

No

Supported Devices:

iPad2Wifi-iPad2Wifi, iPad23G-iPad23G, iPhone4S-iPhone4S, iPadThirdGen-iPadThirdGen, iPadThirdGen4G-iPadThirdGen4G, iPhone5-iPhone5, iPodTouchFifthGen-iPodTouchFifthGen, iPadFourthGen-iPadFourthGen, iPadFourthGen4G-iPadFourthGen4G, iPadMini-iPadMini, iPadMini4G-iPadMini4G, iPhone5c-iPhone5c, iPhone5s-iPhone5s, iPadAir-iPadAir, iPadAirCellular-iPadAirCellular, iPadMiniRetina-iPadMiniRetina, iPadMiniRetinaCellular-iPadMiniRetinaCellular, iPhone6-iPhone6, iPhone6Plus-iPhone6Plus, iPadAir2-iPadAir2, iPadAir2Cellular-iPadAir2Cellular, iPadMini3-iPadMini3, iPadMini3Cellular-iPadMini3Cellular, iPodTouchSixthGen-iPodTouchSixthGen, iPhone6s-iPhone6s, iPhone6sPlus-iPhone6sPlus, iPadMini4-iPadMini4, iPadMini4Cellular-iPadMini4Cellular, iPadPro-iPadPro, iPadProCellular-iPadProCellular, iPadPro97-iPadPro97, iPadPro97Cellular-iPadPro97Cellular, iPhoneSE-iPhoneSE, iPhone7-iPhone7, iPhone7Plus-iPhone7Plus, iPad611-iPad611, iPad612-iPad612, iPad71-iPad71, iPad72-iPad72, iPad73-iPad73, iPad74-iPad74, iPhone8-iPhone8, iPhone8Plus-iPhone8Plus, iPhoneX-iPhoneX,

Supported Languages:

English;