Screenshots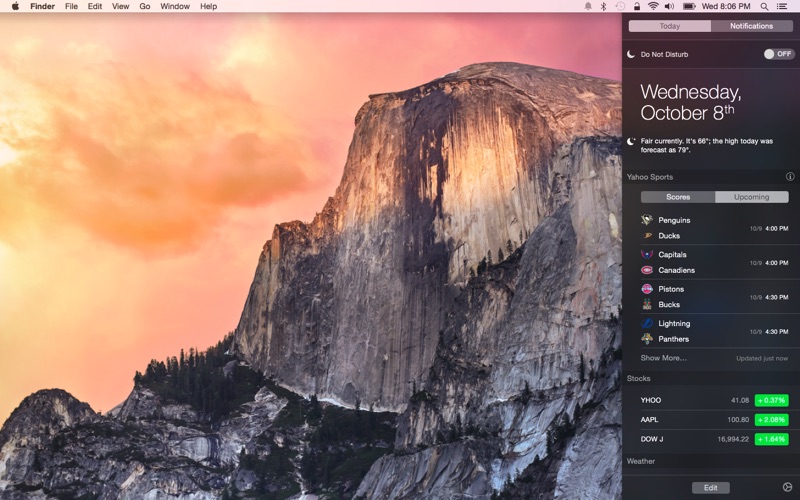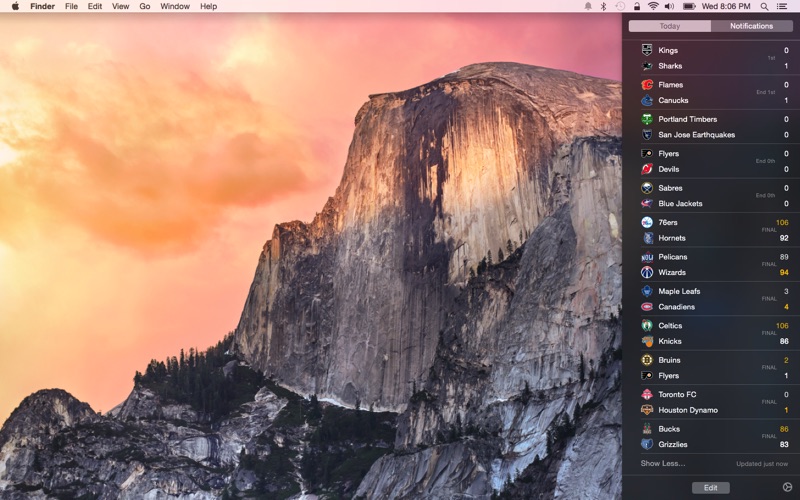 New in version 1.0.1
- UI enhancements
- Game information available for up to 2 weeks from the current date
- Widget help is now available
- Users can follow various leagues from the widget menu
Description
- Get personalized live scores and information on your favorite teams and players with the Yahoo Sports widget for OS X.

- Follow all the game action from NFL, MLB, NBA, NHL, NCAA (Football and Basketball), and the top international soccer leagues, including coverage of the Barclays Premier League, Spanish La Liga, Italian Serie A, German Bundeslia, Champions League and more.

- Download the Yahoo Sports widget to see scores and game times right in Notification Center on OS X and be one click away from Yahoo's in-depth sports coverage.
Reviews
DOES NOT WORK
RanchSoundMonkey
on
5/17/2017
Why this app is even here is rediculous !
One-dimensional and broken
Not only is the app too simple for what sports should be, only having scores for your favorite teams in the today view, but it is difficult to navigate and downright didn't work for me. I couldn't add teams, and the app only gives you one way to do that.
Not compatible with macOS Sierra
Meshari.Alessimi
on
5/10/2017
The app overall is great but now its not compatible with macOS Sierra Hopfully this will be fixed soon
Would be awesome if it worked.
I think Yahoo doesn't care about this app anymore, they've clearly quit updating and supporting it, but haven't bothered to take it down from the app store. When I try to add a team to follow, nothing happens. Don't waste your time downloading this app unless the most recent update is from at least 2017, mabe then it would work. As of this writing, the last time this app was updated was November 2014.
Nothing is shown
I see Nothing. The widget just standingempty.
Awful
Johnny Sinatra
on
3/21/2017
Does not work at all. Period. Nothing shows up
Uhm….
Isn't showing scores? Garbage. Thought I could use this for Yahoo FF. It's worthless. Uninstalling.
I wish this worked...
The app doesnt give me any information about my favourite teams at all, its just a blank grey box in my notification centre. I wanted this to work so badly as it is an excellent app on the iPhone.
Doesn't Work
Installed the app and then added to my notification bar, then I added 3 teams. For the last several days since installing this, there hasn't been a single notification or event listed. Not even for the baseball team I'm following which has had a game every day this week. No scores, no upcoming games, no previous games. Nothing. I uninstalled before writing a review and I actually reinstalled it just so I could try to warn you about how pointless this thing is. If you want something to keep tabs on your favorite team's scores, download sportsfeed instead. Now I'm going to uninstall this thing again. For good.
Yahoo Sports not fully functional
Because, Clicking the team does not open the browser to load Yahoo Sports website anymore after the 10.10.2 update, Please fix that… Thank you UPDATE: downrated to 3 as it's OK becuase it no longer works… no score results showed up.. Looks like it went empty since June 1st what's up? Still not working as of 10.11.6 Wha'ts happening… downrated to 1 because it no longer works and no updates since 2014! abandoned?
Terrible…not at all like their good iOS app
kittycat262728
on
6/5/2016
I use their matching iOS app mostly for their widget to check the score of current games and the start time of future ones. Their iOS counterpart isn't just a Notification Center widget like this is, but rather a full-fledged app plus a widget. This, however, is literally just a widget, which I'm sure will confuse many users who saw this in the Mac App Store and thought it was a Mac version of their iOS sports app. Not at all. However, to make things even more weird and confusing, this widget doesn't even act the same as the iOS app's widget does. On iOS, we have the option of viewing just our favorite teams in the widget; here, we don't have that option at all. Instead, we're given a "trending" view, which shows the scores of countless teams from every league and every region that I don't care about at all. Ugh, no - we need a way to favorite teams to follow. I don't care one bit about what's "trending" according to Yahoo - I just care about my own teams' scores and schedules, that's all. It's really so bizarre that this is so different than their awesome iOS app - I mean, why?! If it weren't for the fact that this Mac app and its iOS counterpart share a name and icon, I would absolutely believe that they came from entirely different developers since these two apps are really 100% different in every way. To make things worse, this widget hasn't worked at all since the last few updates of El Capitan. It's just completely blank and shows nothing. I've disabled it from my Notification Center and am only keeping it around in the hopes that an update might pop up in my App Store one of these days fixing the issues and making it just like the iOS version. I don't have high hopes, though. It's been a year and a half since Yahoo updated this, so it seems pretty clear that they aren't interested in developing for Mac users in any serious way.
Good sports scores widget!
Used to be a great widget. Not sure what happened but it is no longer working. The scores no longer update. Version 1.0.1. Mac OS 10.11.5
Shows no information
The last few weeks, there is no data loaded by the widget. It just says "No Events", which is not true for the teams I have selected.
Flip teams so the road team is on top and home teams are on the bottom
Flip teams so the road team is on top and home teams are on the bottom!!!
Home teams reversed
Can't give it any more that one star since it can't get the basics right (home teams on top, soccer style). Yahoo doesn't really seem to care since they are pretty much the only option for your Mac. Such an easy fix, but they still refuse.
Broken
The Core Affect
on
10/4/2015
El Capitan broke this app. Does not work. Please fix.
Not an "app" at all
Soooo dissappointed in this. I've used Sportacular on my iPhone for several years now and love it. It has everything I want - sports scores, picks tracker, and sortof incorporated/similar fantasy app. I thought I was going to download this and just log in to my account and have everything from my mobile app already set and ready to go. This thing is just stupid tho. Worthless. It's not even really an app at all. It's just a little notifications sidebar thing and doesn't bring over any of the great features of the mobile app. Why?? This should be a full blown on laptop/desktop app with no excuse to not have at least the same features as the mobile version. When I'm sitting in the living room/at a friends/at the bar/etc, I don't want to look at the sidebar for scores and fantasy info, I want a full windows where I can view lots of data. I'm going looking for something else now and immediately removing this.
So dumb
ReconJohnBoy
on
8/18/2015
Trending? Umm no
I'd rather use my phone
At least put the home team on the bottom.
Helpful but expanding/collapsing not working
Good except showing more/less and expanding collapsing with 'i' button distorts the text to where it's unreadable.
Poor implementation of a good idea.
SilverRubicon
on
4/27/2015
I don't care what's 'trending', what I care about is the scores of the teams I've selected. Satisfy the individual user and not the hive mind. That's the recipe for a successful app and successful company. Yahoo is striking out on both counts.
Home team on top?
I'm pretty sure it's a well established convention in presenting box scores to list the home team below the visiting team. Apparently, Yahoo Sports notification widget likes to bust convention. I'm seeing home teams on the top. This is an example where I think convention should win out. Please update this widget so the home teams properly appears below the visiting team. Such a fundamental error = 2 stars.
More Annoying than Anything
Configuring for your favorite teams is a waste of time and effort simply because it doesn't work. You'd think adding your favortie team would give it priority over literally every other score but it doesn't. This widget is simply bad. Thankfully I didn't pay for it otherwise I'd be screaming for a refund.
Useless when its trending only
calvinball-goalbatter
on
4/12/2015
It only shows Trending in both Scores and Upcoming, unless one of my teams is currently playing a game. Once the game ends, my favorites all disappear and drop into Trending view. All I want is to just see my Favorite teams in both views, not entire leagues and sports I don't care about.
Wish Trending could be disabled.
This app was initially really great. Then treding sports and scores were added. Now I often can't see my favorite teams. I don't want to see trending, just info on the teams I actually care about. MLB scores? If I wanted those I would select those. Thanks for filling up the page with crap I don't care about. Time to look for an alternative.
Used to be good, now won't show what i like
unstoppablekem
on
4/5/2015
It ONLY shows trending scores, and not ONE of my favorite team scores! This app used to be great, as that is what it would ONLY do. I only want to see scores from my favorite team. Please change it back!!
Trending is pointless
It's bad enough that it shows scores from teams (and even entire sports!) that I'm not interested in. Right now, even though two of my "favorite" teams are playing, their scores are not visible unless I expand to the full list. It's idiotic to put my actual, configured choices below the fold in favor of "trending" ones. I don't even understand the point of trending, unless those teams are paying Yahoo to display them. Currently trying out the "Sports Feed" app - it also lives in the notifications bar and seems to work just as well (plus, clicking on a score takes you to a web page with a box score).
Now it won't even show my fav teams
The only app I've seen go bad after updates. The experience has just gotten bitter after every passing day. The developers should actually be ashamed at themselves. Around the first versions I could click on live games in the notification bar and it would open live game updates in Safari. Trending games are a nice addition but I don't think it should overlap my favorite teams in anyway.
A mess of an app
Not enough options, Trending needs to be removed, uninstalled.
No favorites
For some reason, my favorites don't appear in the "scores" tab, only the "upcoming" tab. Please fix. This widget is a great way to check scores for all of my teams when it is working properly.
Was ok without trending.
I am not everyone else, I don't care what anyone else is looking at. Just show me my teams please. Typical Yahoo
Home Team On Top?
If this app listed the teams in the correct order, I would give it a much better rating. In the United States, we put the home team on the bottom when a score is given. I'm not sure what country this app was developed in, but this is extremely annoying to me. I will still always have to pull out my phone or check the internet to find out where a game is being played. I also wish there was a way to eliminate the trending scores.
is it me?
love this app on my i phone 5 but hate it here.Is there something i am doing wrong?Where is the choices for sports?clearly shown on phone but not here.Hate this app.Will delete.
Only favorite and we miss Yahoo Messenger!
I want to see only my favorite teams and it's not possible in current version ( 1.0.1 ). I miss Yahoo Messenger! and I need it on my Mac.
Trending
I don't want to see any trending. I just want to see my teams… that's it. Why do I care about other sports or teams? Thank you for the having the option to see treding but there're no options to GET RID OFF it.
Great !
Dragonball-Fab
on
1/10/2015
I love this app. it's really helpful, it would be fantastic if we can have french translations and all Ligue 1 teams
Need option to hide Trending
Not happy user 12345
on
1/8/2015
Widget takes up too much space and lacks option to hide Trending, which I don't really care.
League-specific scores
I don't need to see which games are "trending," I only want to see NHL games. I would like the option for league-specific scores, or being able to pick the top few I want to see in case I want multiple sports.
Forgets Favorites
Consistently forgets my favorite teams. I have had to re-add them many times.
Yahoo Sports: "What's a soccer?"
The widget refuses to show me European soccer (e.g. Premier League, Champions, League, Europa League), despite it being checked in preferences. Even when I have only European soccer checked, the widget reverts to the default trending view. The widget's fine, except for this glaring error.
Forgets my favorite teams
This app would be a five star product if it could remember my favorite teams. I haven't found rhythm or reason in it. It's frustrating
Trending
The widget takes up a lot of space in the notifications panel. It would be better if there was an option to hide the "trending" section and show only favorite teams. Also as previously noted it is very odd to have scores listed home team–road team instead of the conventional Way Would also appreciate a standings option as well.
Nice App, but...
…App displays some fixtures twice in notification center.
Wrong team order!
Whoever wrote this app apparently doesn't realize that the Home team should always listed below the Away team, not the other way around. The IOS app has right. Talk to them!
It's OK...
It gets the job done, but it leaves me wishing for something much better. Why are my only options to see *everything* or *only* my favorite teams? Ridiculous. I want to be able to select specific teams and specific leagues (NCAAMB Top 25, NFL, and then my 3-4 favorite teams).
Cool Idea, however, there are some bugs.
yahoosportsfan
on
11/16/2014
I love the idea of integrating Yahoo Sports into OSX Yosemite, but there is one big problem. When I add my favorite teams, everything becomes smushed together, and I can't see which game is which. Please fix this bug. Thanks.
will not let me open
Can't rate something I can open
Great app!
this app is seriously great if you love sports, only thing stopping me giving this app 5 stars is the fact that its missing fantasy football! please update with fantasy football someway somehow!!!
This is great!
This is great! Please make more Mac apps like this! Also incorporate Fantasy Sports into this.
No D-3 Sports
Does exactly what I want but no D-3 Football or basketball on here…. ESPN's app has D-3, unfortunately it isn't a Notification Center widget, so Yahoo! will have to suffice.
Fact Sheet
Publisher:

Yahoo! Inc.

Category:

Sports

Released:

Oct 16, 2014

Current Version Released:

Nov 25, 2014

Version:

1.0.1

Size:

2.4 MB

Compatibility:

Requires iOS 10.10 or later.

Recommended Age:

4+

Game Center Certified:

No

Supported Languages:

English;