Games
Action
Role Playing
Recommended app!
App last updated
Dec 15, 2016
Screenshots
New in version 1.19.4
We regularly bring you updates and new features to improve your experience. Have fun!
Description
Discover a sci-fi action RPG set in a post-apocalyptic desert world inhabited by fearsome pirates and mutant scavengers.

"The combat is suitably fun, strategic, and tense, and the world is a genuine joy to explore. There's a Fallout mixed with Pirates aesthetic here, and it really draws you in."
-Pocket Gamer

As the Captain of a flying Sand-Cruiser battleship, you are a bold survivor in lands ruined by war, pollution and nuclear fallout.
Sandstorm: Pirate Wars features an epic single player story set in the not-so-distant future, an online PvP battle arena, a formidable arsenal of weapons, and a fleet of hover ships armored like tanks!

~~~~~~~~~~~~~~~~~~~~~~~~~~~~~~~~~~~~~~~~
Fight Real-Time Pirate Arena Battles
~~~~~~~~~~~~~~~~~~~~~~~~~~~~~~~~~~~~~~~~


• Defeat pirates from around the world on Local and Global Leaderboards
• Plunder defeated enemies to find resources to customize and upgrade your fleet
• Complete daily Pirate Arena missions for extra loot
• Invite your friends and crush them in PvP battle
~~~~~~~~~~~~~~~~~~~~~~~~~~~~~~~~~~~~~~~~
Create and Modify Powerful War Machines
~~~~~~~~~~~~~~~~~~~~~~~~~~~~~~~~~~~~~~~~


• Choose from a huge variety of weapons including Lasers, Drones, Mini-Guns and Cannons
• Strategically select combat systems to destroy your opponents tactically
• Upgrade your weaponry with materials obtained from exploration and salvage
• Customize your Ship by swapping out pieces and changing skins



~~~~~~~~~~~~~~~~~~~~~~~~~~~~~~~~~~~~~~~~
Survive Desert Wastelands
~~~~~~~~~~~~~~~~~~~~~~~~~~~~~~~~~~~~~~~~


• Journey through arid desert space, gritty suburbs, ruined cities, and more
• Encounter treacherous enemies and mysterious allies of different factions
• Complete smuggler missions to earn resources to improve your flying Sand-Cruiser
• Loot and plunder fallen shipwrecks and discover rare combat Systems

Join our Community of Pirates!
Facebook - facebook.com/sandstormpiratewars
Twitter - twitter.com/sandstormpirate
Official Forums - bit.ly/ss-forums


***AWARD: The Best Music and Sound 2015 from the Spanish Interactive Arts & Sciences Academy ***

Internet connection required for play. Strong Wi-Fi connection recommended for best performance.

Game availabe in: English, French, Italian, German, Spanish, Brazilian Portuguese, Russian, Korean, Japanese, Simplified Chinese
iPad Screenshots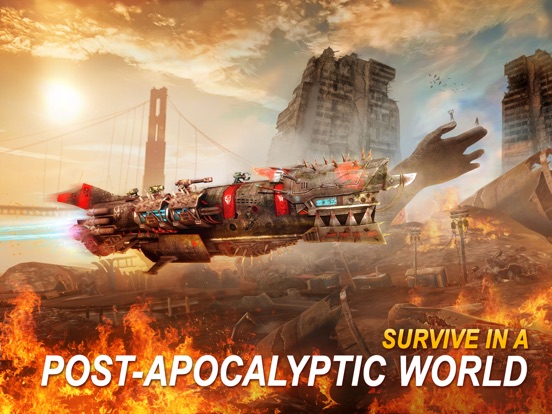 Reviews
Frustrating
Gamerkid2277
on
1/13/2018
Good game but very frustrating the controls are pretty bad you can tap on place to shoot and then 20's later the guns not shooting anymore plus the faction war paring is really bad but it's a good game idea and has decent graphics.
Money grab oh yeah
I gave this game a chance and like so many others found out what it all about a big money grabbing no go nowhere you go to the arena only to be shot down by someone who's ship is a little more powerful than yours no thanks
Needs an update
It's an ok game. Once you hit level 7 things start getting too expensive. The tavern missions are the same over and over again. There needs to be more with better rewards. Not just bolts. The loot after completing a fight is never above level 6. So you have to use crates to get current level weapons and shields. Pretty much the makers of this game made it so you are forced to spend money and it's wrong. It needs an update to be fair.
A con
Lancey-pants
on
8/26/2017
Isn't it odd you always "lose your connection" after watching a video for repair and it resets to the point where your ship has to be repaired again? Wait the 20 minutes or watch another video? Even more odd is that it only does just the one time. It is a con just to make you watch a video again. Screw this!
Amazing
I absolutely love this game
Like this one
Dilligaf10011
on
8/10/2017
Love all the weapon configs you can devise
Awesomeness
I love how it's a game where YOU get to choose, it's just a big relief.
Pretty good game so far
Been playing for a couple days now, and haven't had any problems with it yet. Load time is quick, upgrades aren't too expensive, and there's a lot of quests to grab that are relatively easy
Great game so far
The gradeschooler
on
8/6/2017
So far so good fairly addicting
Cool stuff
Liking itnsonfar
Fun game
A fine game that is playable at least early on without IAP.
Wow!!!
Epic is all I need to say. Very addicting, a Must Have 🙌🏽
🔥🔥⚡️😎👍🌎🌪🌪🌪🌬💨🌪🌪🌬🌬🌫❄️🚝✈️🛳🔥
Hi 👋 I love ❤️ this game cause who doesn't like fighting Boom 💥 💥 is awesome 👏
Game Center connect does not work, not way to save
Played for awhile. You can grind and build up resources for ships without paying money, but there is no way to save and pick up fresh on different idevice.
This is a awesome game
It is a good game if you are adventurous
Pretty cool
Great graphics, runs great, tons of fun.
XSTREME
MNova7777777
on
7/23/2017
Superb
Amazing
This is a great game the only thing is the videos don't work so I'll give it 5 stars when it does
So far so good
Good game so far
Items
This game is overall pretty great but to be able to buy a bronze box cost a lot of cash and the mission we do have to be like 3-5 of all difficulty added together to get it.
It tricked me
It tricked me
It's pretty good
United State of Texas
on
7/19/2017
Game play is pretty cool, great to pass time with.
Not bad
Fun to play after a days break
Awesome game
sirbeardley12
on
7/18/2017
Fun as heck
This game
Is the BEST!!!!!!!!
Fun and easy
SandPirate234
on
7/17/2017
So far has been fun and pretty simple to play.
Great Fun!
Longstride68
on
7/17/2017
I am really enjoying the game so far.
Awesomeness
Great games thank you
Garbage Game
Reviewer6934
on
7/16/2017
Quickly become a garbage game. You can not win without buying (with real money) the bolts to try your luck at getting the rare equipment.
Good game
Well made and very enjoyable
Pretty nice
It's ok. It would be nice if there were more ships which would make the game more competitive.
Argon
ImmortalArgon
on
7/11/2017
Pretty good pretty good passes time for me and i can coast at a good pace
Entertaining
AramisTheGreat
on
7/9/2017
It's alright, definitely a time killers but fun game 🕹
Should be called Crash Storm
Crashes or fails to connect to servers multiple times a day, interrupting gameplay. Connected to FaceBook, now it won't open at all. Running on iPhone 7+, iOS 10.3.2
Why you need wi fi?
This is weird why you need wi fi if you can just disable multiplayer and the leaderboard?
Awsome and easy
Joshufvjgdvhd
on
7/7/2017
This game starts off really easy and I thought I was good at it but it got really hard later in the game and it's really a. Challenging game:)
Cool game
Fun and entertaining
Not bad...
CaoCao&Diao4ever
on
7/4/2017
Battles are repetitive but the game is interesting enough to warrant a couple of hours of playing.
Amazing game
Lordfuzzymuffin
on
7/2/2017
Such game much fun very entertaining
Fact Sheet
Publisher:

Ubisoft

Category:

Games

Released:

Jan 27, 2016

Current Version Released:

Dec 15, 2016

Version:

1.19.4

Size:

519.2 MB

Compatibility:

Requires iOS 8.0 or later.

Recommended Age:

9+

Game Center Certified:

No

Supported Languages:

English; Japanese; Korean; Chinese; Chinese;

Parental Advisory:

Mild Cartoon or Fantasy Violence;