TapNova doesn't recommend this app.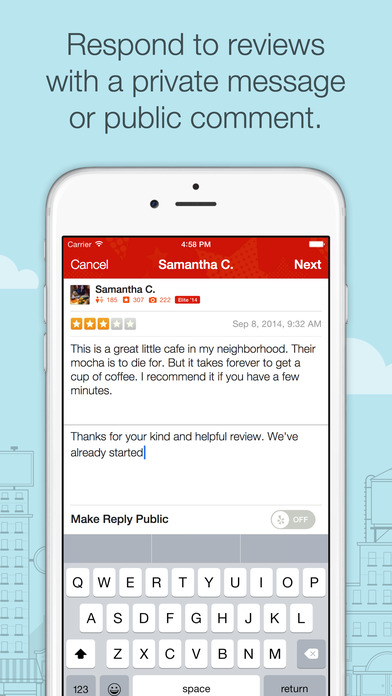 New in version 3.13.0
Every few weeks, we polish the Yelp for Business Owners app to make it better.
Description
Millions of people turn to Yelp every day to make spending decisions. Yelp provides a free suite of tools to showcase your business and connect you to the Yelp community. The Yelp for Business Owners app allows you to view important business analytics and connect with customers, including those who have written reviews for your business. This app puts the power of Yelp's tools right in your pocket!

NOTE: This app is for business owners to manage their Yelp business pages. If you're looking for the Yelp app that will help you discover great local businesses, go to https://itunes.apple.com/us/app/yelp/id284910350

Use Yelp for Business Owners to:
• Track visitor engagement and customer leads from your Yelp Business Page.
• Respond to reviews with a private message or public comment.
• Respond to customer inquiries and messages.
• Upload and manage photos for your business.
• View reports on ad clicks from Yelp users (advertisers only)
• Report reviews and messages.

To get started, download the app and sign in with your business user credentials. If you haven't yet claimed your business on Yelp, go to biz.yelp.com, and follow the steps to find your business and create your business user account.
Reviews
I hate this app.
It's is nothing close to the website which is very easy to use for business owners the app is complete crap.
STOP!!!Total scam. DO NOT WASTE YOUR MONEY
They will rob you and make you pay to cancel them. Customer can't leave reviews unless they are bad ones. I've had 4 weekly customer ask me about there review and why I delete it. Makes a business owner look suspect.
I love the this app,helped a lot for business owner
Show you a lot of data about your potential customers,yes I paying them monthly to make my business appear to relevance client but by far they better than anything else on the web (including google)
Does anyone have anything good to say about yelp??
Need help with a decision on who will tell u the truth about internet marketing
Reviews
Yelp doesn't help it's has a lot of spam never use them
Scam
PermaGrafix Tattoo Albany OR
on
6/1/2017
Yelp approves false slanderous reviews by trolls and "doesn't recommend " true reviews by long time clients so the good reviews don't count toward the business's stars. Yelp is a scam made to hurt business owners and truly a site that caters to trolls.
Unfair and unbalanced
BadSingerforwverlol
on
6/1/2017
Yelp has removed any way to review yelp itself. You cannot send anyone to yelp to review you. The review will be removed unless it is negative, then they will leave it. If someone reviews you and they are not active everyday yelp participants, again they remove the review. It can take years before you get a single review they leave up. As a business the review part of Yelp is not useful in any way due to its unbalanced system. However, if you want to pay serious money for their ads, you will receive quality traffic equal to that of paying ads on Google or other paid ads online but slightly more expensive. In my opinion, as a business owner; Yelp is only good for paid ads and barely, nothing else.
Update made this app go haywire.
Won't notify when you receive a message. Has like 22 ghost messages that say "unread" but there's no unread messages. It's a failure and needs to be fixed asap!
Never ever
Advertise with them or sign anything with them. Even if corporate recommends them as a franchisee owner. The sales rep basically would not leave me alone, even when told him I was not interested. Finally I gave in just to stop his phone calls. He promised I could get out any month I wanted and promised the ad would run in a five mile radius from the business and both were lies. I was having click from people 50 miles away because that was where my AD was running. With seven other locations like mine closer to where It mainly running. So after I got 100 new customers and none thAnks to yelp, and not recommending a legit review from someone who was never approached and has a long history with our brand at many locations. I canceled after 3 months and had to pay another 400 because of the thirty days notice, and a even worse termination fee. About two grand of loses and not penny gained. Thanks YELP!
Big Scam...mafia style
Yelp is a big sham! Just because I refused to place an ad that would cost me at least $400/month not including the initial $2,500 to set up, they won't allow my customers to post reviews. I just started a page not too long ago so now they have all these regulations. I have 7 reviews that did not show up on the page. They said "not to ask for reviews." Seriously? Who would review a restaurant, food or service unless they are extremely upset and wanting to vent or extremely happy? No one will go out of their way to write reviews if you don't ask them. Any lawyers out there that want to chime in? Is it illegal to offer a discount if a patron post a review? Ridiculous!
Reviews removed
Uglystick1111
on
5/2/2017
Yelp continues to remove 5 star reviews from my business. I was told this is because of the "algorithm". I was driving customers to yelp to view my page but i am wasting my time.
Beware!
Yelp offers you to register with "Free" $450 ads credit. After your $450 credit runa out they charge you $30+ per click. I did not see my Yelp for business account in a month, no notifications, no calls, no nothing. A bill pops up for $470+. I talked to an agent and she was rude and unapologetic, stated it was mg fault to enter $450 in their system. In my opinion they give you the "free" $450 so you enter that number in there, they they catch you. Shame.
Yelp ad processing
Nickname321748
on
4/26/2017
I have had several yelp reviews, most are 5-star. I have 1, one star review. As a 3rd party customer, I can ONLY see a single, one star, review. If I could, I would give yelp no stars for what they provide to business and actual relations
Yelp is a fraud...
I'm not sure what the deal is with Yelp.. not that long ago I was the most reviewed dealer school in Las Vegas. I was hit n run and in a coma/hospitalized for 3 ½ months and when I got out and went back to my business I saw I lost about 14 reviews. I contact Yelp and they say it's because a lapse in reviews that they went away. Now I'm back at the school and it's the holiday season which is the prime time for training/job placement and I've been getting a lot of reviews lately (from long time Yelpers, with friends, reviews and pictures and also new Yelpers. Every single one of them is being "unrecommended". I call Yelp and ask why? This is when I'm told that I've received too many reviews in a small period of time and that raises flags. So if I get no reviews I lose the previous ones and if I get too many reviews I also lose them. In the meantime my business has been in Vegas for 30 years and we have no bad reviews and one of my competition has been in Vegas for 2 years and he constantly gets reviews that stay and he's even received bad reviews that go away. Just doesn't make sense. How does the "alga rhythm" let you keep good reviews but then take down bad reviews? Here is a copy of the other schools reviews... Please don't say it's because of lack of reviews, friends or pictures because all these are no diff than the good reviews reviews this other dealer school has. It's very obvious that this company withholds reviews as my business has 171 "unrecommended" reviews and now 10 "recommended" reviews. I can't wait for people to stop using Yelp and rely on word of mouth or your own research instead of depending on what today's bored little millenials on the computer have to say. Thanks for nothing Yelp
Makes NO sense.
WORTHLESS rating system. A rocket scientist can't figure out how Yelp's supposedly unbiased review software filters. I totally understand why they won't use someone's one review left for ONLY your business. BUT Our business has 18 five star unrecommended reviews, 5 or 6 of which have extremely robust yelp profiles and have been using Yelp for years. If you call and ask why, they simply will tell you a computer does it and nobody can help you. Don't waste your time with them.
Business owners beware
Jmichaeltattoos
on
3/30/2017
Yelp does nothing to help or protect you as a business owner.. a website for crybabies who think they can just say whatever they want even if it is untrue..and yelp let's it happen time after time.. worse idea if you are trying to have a nice online presence.. I refuse business from all yelp subscribers
Good enough
It's irritating to have to enter email and password each time you want to use the app. If this is necessary, make it easier, like use Touch ID. Also, I have a mobile business with no brick and mortar. It's annoying that I have to specify an address that customers inadvertently use. I'm not the first or the last business to be like this.
Unpleasant pandering from yelp
Fracturemedia.com
on
3/6/2017
Do not expect to do anything with Yelp including downloading apps updating your profile, updating your business profile etc. without a guaranteed phone call from Yelp pandering their ads and services. They need to stop cold calling and deal with the real issues of fixing their own broken service by making it more user friendly. If I wanted to talk to someone from Yelp I will call them. Stop calling me!
Need to fix the metrics for reviews
I have several 5 star reviews from clients who are not YELP users, but took the time to provide positive feedback for my business on this platform. It's unfortunate that the metrics used, placed these in my " not recommended reviews". Just because these clients are new users, doesn't mean their reviews are less valuable to me, the business owner.
Horrible for business owners
I don't like how limited is this app, when I'm trying to do a reply in a review they ask me for a picture of me which is ridiculous if I'm the owner of this business profile, but then i get a bunch of so fake reviewers which they don't have a picture of them, or other info, i hate that i can't reply my reviewers without an approval of a picture, when again I'm logged into my yelp profile which has my business logo and information, but the reviewers don't have to do all this process.
Manage your Yelp page on the go
Jordansmom80
on
1/15/2017
I've been extremely happy with this app. I find it much easier to make updates to my page via the app vs. their website. Kinda silly that people are rating this app low because they don't like Yelp. 😜
Not helpful for business
This is a great place for a business to get trolled by a crappy community
Wow
Just fantastic that no one has given this app a 5 star. What's wrong with you people!!
Make an IPad App Version please
Roberto691234
on
1/10/2017
Asking for an iPad app option too. I tend to do a lot of my business through my iPad. -Thanks
App Barely Functional
cougar mountain mommy
on
1/3/2017
Major delay in responding to messages and when you DO it still shows you have unread messages?! Very annoying. Not to mention that most of these reviews can be easily paid for and they coerce you into paying for their ads. Hate it and see the merit but also see how easily it is abused.
too bad
too bad.........................
Force for marketing
Yelp is wrong marketing business because they are base of how much money you will give them every months to advertise you business They delete 4 good reviews of my 5 reviews because I don't pay yelp . But some business they have so Many reviews because they pay yelp and yelp keep there reviews over my business and your business They are forcing me to make a contract with them for $400
Mafia tactics and blackmail
Seeking refund from Apple
on
12/8/2016
Don't even think about it! Avoid advertising with Yelp!! Their tactics are so disgusting and unethical that it makes Tony Soprano look like A nice guy. These guys take advantage of hard working small business owners by "threatening" them with bad reviews. Their "algorithm" benefits people who pay for their services. But what they don't tell you is that if you pay for a service and challenge anything they will blacklist you and then do everything they can to ruin your business. It is beyond shady. The reps lie through their teeth or maybe they just have no idea--either way don't trust anyone in this company. Also I spent $400 in advertising and was told the campaign would only use the "free credit" and no charges would happen without my authorization. Well two months later after canceling I'm still getting charged. But i don't feel like i can call them because they will just screw me over if I "complain." Don't become involved with them if you can avoid it. I've erased my personal account and have suggested to all my friends to do the same. Oh. And the ads? Yielded ZERO conversions. This company is going to go down in flames and their stock price reflects that.
Yelp only cares about their pocket
They really could care less about businesses and only care about their pockets.
Hardly able to log on
Works less than 50% of the time. Very frustrating to this business owner.
Yelp is the worst
Froy-cholito
on
11/18/2016
People wrote a couple reviews for me and Yelp decided to take the reviews off because they want to... so I don't have any reviews...
The app hasn't been working for weeks! Can't log in!?
UPDATE- STILL CAN NOT LOGIN on app!!!!!! Every time the app updates I can't use it!!!!! For several weeks at a time the app will not allow me to login. When I try to log in it takes a long time, then I can briefly see the side menu and it goes back to the login screen. Wow how long is it going to take to fix it??? FIX IT!!!!!!!!!
App conflicts with TouchID
App conflicts with TouchID on iPhone 5s. TouchID stopped working after app was installed. Once app was removed, TouchID started working again.
Could be better!!!
Yelp is a useful app, but it does has its flaws. Why do we need to pay Yelp just so we can organize photos? It just doesn't make sense to me and its sad. Yelp will display how fast your response time is to the public but how am I supposed to keep a good score if my app doesn't even send me notifications anymore (Yes my notifications are on for it). Please fix this problem!!! Thank you
DO NOT ADVERTISE WITH YELP
Will, employee of the month
on
10/10/2016
I would highly advise anyone that yelp reaches out to...DO NOT do business with them. They are thieves. The "advertising and increased click activity" they promise you will not happen. Do yourself a favor and say "no thanks." They are an absolute waste and just want your money and continue to charge you AFTER you have fulfilled your contract.
The best
Doctor Connall
on
10/6/2016
I can not say how great it is to have dr Connall be a part of our lives. He is more then a doctor, he really cares about your life and how he can help. He is the ultimate professional has all the latest information and techniques. We visited four other doctors first, it took weeks to get an appointment and we now know why. I/we would not trust any one else.
Dishonest
Yelp keeps erasing all my customer's reviews and only keeps the reviews of people that don't like my hours/Groupon policy, etc. worse still: they are expensive and lock you in to long-term contracts! If you value your customers, their time and honesty you will not advertise with this sleazy company!
Yelp
Diddo on the previous review. This is a worthless app because Yelp makes it so difficult for vendors to defend themselves.
Hillarious
Costa Rica 1234
on
9/21/2016
I find it absolutely hilarious that you cannot read the reviews for a yelp app. yelp has only the customers interest in mind when they developed their system. It's all good when the customer can rant and rave when they are angry and downright lie about things and yelp does nothing about it. A person that has nothing better to do but sit there and review a bunch of businesses and restaurants, Yelp considers them a good trustworthy person. Give me a break.
Owner
Way to hard to contact customers. Having to log in to Yelp and what not.Should be able to contact them directly from e mail link.
Notifications
Notifications are turned on to ensure I can get a prompt response back to customers... Guess what... I still don't get them. Bumped from 1hr response time, to 2hrs. Yelp, fix this. Not a problem that should be over looked. You're damaging my business.
Hidden Reviews!!
Skyyyyyyyyyy
on
8/31/2016
Yelp hides your customers reviews!! I have had people with trustworthy accounts with their facebook account linked to their yelp with their profile pic, friends list, and multiple reviews. Yet they will still hide their reviews from deserving companies! While I see other pages with reviews from people with no profile pic, zero friends, and no previous reviews that do not get hidden! This is not right! People take their time to leave business reviews just to be hidden. It hurts the business owner and wastes the customers time. Just not right !
The worst!
They hide your 5 star reviews entered by reputable reviewers and leave the 1 star reviews by people w only 2 reviews to their acct. This company blames algorithms. They lie through their teeth. Btw. This is my second review. They removed the first one. Funny how they can do this, but we can't.
Beware of yelp !
Amyslovesyous
on
8/25/2016
Not happy with yelp. To costly and reviews are not verified and can cost your company business. No customer support whatsoever! The only way you can speak with someone is to call the ad department. I mention my concerned and the sales guy and he said "we get sued all the time..." And it not our business model ?? I'm very unhappy with yelp. Beware
Garbage.
Yelp for business owners is a joke. They only care about the public.
Love the app but....
Hi I use it all the time and its nearly ever crash but - We can't cash out deals and coupons within the app. Overall use yep business app is on daily basis. Thank you for your time
Ms.
This in not the most useful app. It doesn't seem to have a great review system. I'll look at a business and see only a few stars,but if I read the not recommended reviews, it doesn't seem like the place is that bad. They just pick the negative reviews. I heard business have to pay for certain benefits with Yelp, and maybe that's how they get better reviews. Yelp is bogus
Dont give them you money!!!!!!
They are a rip off just like every body else is saying here. Now stuck with them for a year paying 300 a month for nothing or ill have to pay 600 for a cancellation.
Disappointed
This company yelp on business it is totally crap I am paying $400 a month for advertising my business for six months and it's no results they don't really care Yelp they don't really care business it's growing up they only want every month for $400 I am so upset to begin using this crap yelp business advertising When I signed up with this crap yelp company they tell me my business and less two months I would have enough money and results I don't recommend it nobody to a waste of time and money with this company
Fact Sheet
Publisher: Yelp, Inc.
Category: Business
Released: Dec 17, 2014
Current Version Released: Jul 17, 2017
Version: 3.13.0
Size: 107.6 MB
Compatibility: Requires iOS 9.0 or later.
Recommended Age: 12+
Game Center Certified: No
Supported Devices: iPad2Wifi-iPad2Wifi, iPad23G-iPad23G, iPhone4S-iPhone4S, iPadThirdGen-iPadThirdGen, iPadThirdGen4G-iPadThirdGen4G, iPhone5-iPhone5, iPodTouchFifthGen-iPodTouchFifthGen, iPadFourthGen-iPadFourthGen, iPadFourthGen4G-iPadFourthGen4G, iPadMini-iPadMini, iPadMini4G-iPadMini4G, iPhone5c-iPhone5c, iPhone5s-iPhone5s, iPadAir-iPadAir, iPadAirCellular-iPadAirCellular, iPadMiniRetina-iPadMiniRetina, iPadMiniRetinaCellular-iPadMiniRetinaCellular, iPhone6-iPhone6, iPhone6Plus-iPhone6Plus, iPadAir2-iPadAir2, iPadAir2Cellular-iPadAir2Cellular, iPadMini3-iPadMini3, iPadMini3Cellular-iPadMini3Cellular, iPodTouchSixthGen-iPodTouchSixthGen, iPhone6s-iPhone6s, iPhone6sPlus-iPhone6sPlus, iPadMini4-iPadMini4, iPadMini4Cellular-iPadMini4Cellular, iPadPro-iPadPro, iPadProCellular-iPadProCellular, iPadPro97-iPadPro97, iPadPro97Cellular-iPadPro97Cellular, iPhoneSE-iPhoneSE, iPhone7-iPhone7, iPhone7Plus-iPhone7Plus, iPad611-iPad611, iPad612-iPad612, iPad71-iPad71, iPad72-iPad72, iPad73-iPad73, iPad74-iPad74,
Supported Languages: Czech; Danish; Dutch; Flemish; English; Finnish; French; German; Italian; Japanese; Malay; Bokmål, Norwegian; Norwegian Bokmål; Polish; Portuguese; Spanish; Castilian; Swedish; Chinese; Turkish;
Parental Advisory: Suggestive Themes; Mild Alcohol, Tobacco, or Drug Use or References; Mild Profanity or Crude Humor; Mild Sexual Content and Nudity;