This version of the app is not recommended
App last updated
Sep 28, 2017
Screenshots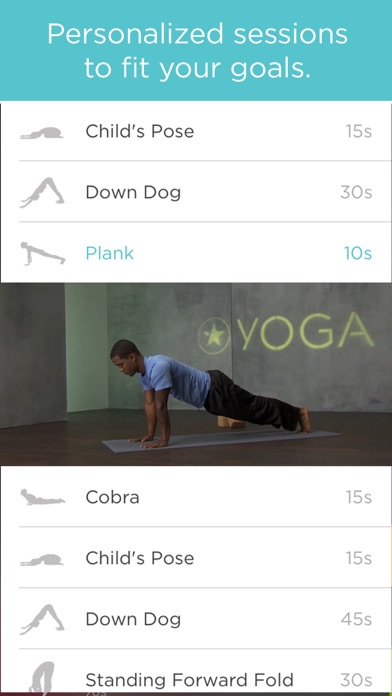 Description
Practice yoga anytime, anywhere with FitStar Yoga! We've teamed up with internationally recognized yoga expert Tara Stiles to provide the perfect experience made just for you. From beginners to expert yogis, you're always just a tap away from a completely personalized yoga session. Whether you're traveling, can't make it to the studio or simply prefer the comfort of your own home, just grab a mat and begin.

For less than the cost of pair of yoga pants, get an entire year of Premium with access to exclusive, customized sessions for losing weight and gaining flexibility, a variety of new workouts added monthly, HD video, connect to some of the most popular devices and apps, and much more. FitStar Yoga's dynamic sessions continually personalize the experience based on your feedback, goals, and capabilities -- just like a personal yoga instructor! And FitStar constantly brings you new poses to keep things fun, fresh, and fit.

From the makers of FitStar Personal Trainer, the recipient of the App Store Editors' Choice & Best of 2013 and 2014 App Awards, FitStar Yoga is made for beginners and experts alike to reduce stress and gain strength.

Additional FitStar Yoga Features:

+ Dynamic HD video shows you the poses while Strala Yoga founder Tara Stiles provides guidance

+ Choose duration and intensity of each session

+ Custom audio tracks get you flowing, and streaming music support to keep you moving at your own beat

+ AppleTV support puts your workouts on the big screen and the iPhone or iPad becomes a remote control for your workouts

+ Track your progress and milestones with achievements, unlocking new poses and badges as you improve

+ Connect your Fitbit, Jawbone UP, or MyFitnessPal account to automatically sync your weight and consolidate your fitness activity

+ Integrated with Health app to track your calories burned and workouts, contributing to your overall Health dashboard

Please note, you must have an active Internet connection to use FitStar Yoga.

FitStar is free to download and use. Upgrading to FitStar premium adds the above features and is available through an auto-renewing subscription. A monthly subscription is $7.99 and a yearly subscription is $39.99. Subscription is for FitStar Yoga app only.

Subscription automatically renews unless auto-renew is turned off at least 24-hours before the end of the current period. Account will be charged for renewal within 24-hours prior to the end of the current period, and identify the cost of the renewal. Subscriptions may be managed by the user and auto-renewal may be turned off by going to the user's Account Settings after purchase. No cancellation of the current subscription is allowed during active subscription period.

Learn more, watch the videos, and check out accolades at fitstar.com

Follow us @fitstar and like us on facebook.com/fitstarlabs

FitStar's Privacy Policy can be found at http://fitstar.com/privacy-policy/

FitStar's Terms of Use can be found at http://fitstar.com/terms-of-use/
iPad Screenshots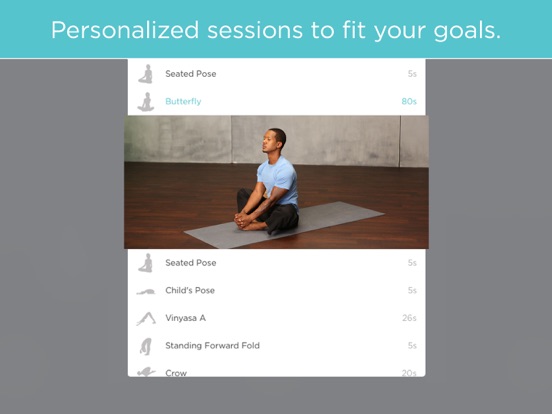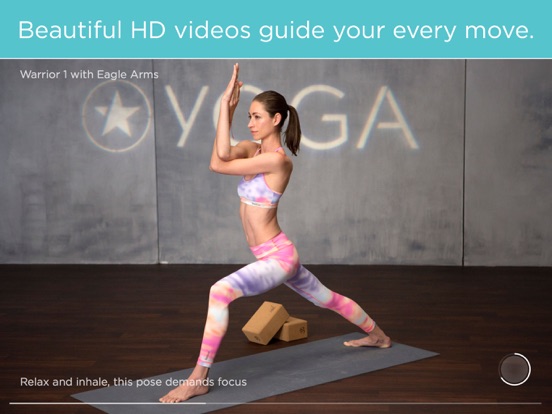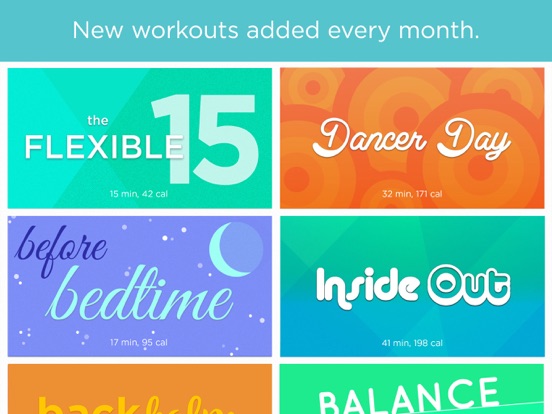 Reviews
disappointed
this is my third year using this app, which renews every december, i haven't used in in a few months but in the past it's always translated the workout in apple watch fitness. today it didn't. not sure if it was a fluke, i ran through another workout real quick by just nesting it and same thing. the best part about the app was this feature. gonna bail
No sound
mayalovespodcasts
on
1/15/2018
Frustrated because I can only get audio through headphones (which doesn't work well when trying to do yoga and view a screen). I tried everything they suggested and know my phone is not on mute because all other apps play audio just fine. Why doesn't this one?
Love it
@nataliaduquew
on
1/10/2018
Very cool, I'm using it everyday in addition to my weight training and HIIT at the gym. I can already see faster recovery and increased flexibility
Pretty boring
I just felt like the routines were mainly focused on stretching with some balance poses here and there. I paid for premium hoping that the ability to customize would be useful or the additional access to other routines would improve things but not so much. Routines are slow to load so do this in advance of your session- its frustrating to wait for. Also, i get why it happens but the choppiness and repetitiveness of the narration gets old.
We need a Apple TV app!!!
I would love to see an Apple TV app so I can do my workouts in my bedroom at home.
Premium not reflected
Please help. I should have listened to the other reviewer. I bought premium but after one week the app keeps saying that I am premium but won't let me unlock any of the workouts
Regretting my premium subscription
I enjoyed the app before I decided to upgrade to premium a few months ago. I liked the quick 10-15 minute routines. As an appreciative customer, I decided to pay for the premium. The daily premium routines are 25-35 minutes long instead of the quick routines I was enjoying. You have the option to shorten the session to "About 20 minutes" yet the session will still be 25 minutes or longer. I've contacted customer support and received two different answers. One said the engineers are trying to fix it and the other response said that it is just the way it is. Regardless of how many times I mark a pose too difficult, it keeps returning in my next sessions. Even at the beginner level, difficult inversions keep showing up. I am disappointed that I subscribed because I can't get the free sessions I enjoyed.
Best I've used
Hal the 5th
on
12/14/2017
Tons of great stuff here, especially for being free. And it integrates well with my fit bit obviously. It would be great if it did a better job guiding your breathing.
Doesn't flow
I used to love this app but then I started going to an actual studio and I can see the difference. The poses don't always flow, a lot of the time it cuts off in the middle of a pose so then your sides are uneven and then they don't tell you how to set up the pose. It's hard to just follow a model when you can't do what they can do. It has a beginner option but it doesn't make the poses any more accessible to those who have never even stretched for ages. I don't recommend this app, after trying it again after going to a studio it was frustrating and slow and the flows they have were not any good. You need to set up for poses and they didn't set you up for any of the poses they just tossed whatever pose they could in next without thinking of what muscles were working and where. If you're wanting to get into yoga check out a studio or another online course if a studio is not accessible. This app will only set you up incorrectly and not benefit you if you don't know anything about yoga. Also note that it asks you to rate a pose if it's too hard or too easy and this is silly. There are always ways to make a pose more challenging and even if you can't fully get into a pose it does not mean it isn't accessible in your body. Yoga looks different for everyone. You don't need to balance to do crow but if you can't balance it that doesn't mean it's "too hard". Seriously find a nice studio or find something online with like yogaworks that actually knows how to teach a yoga class to beginners.
mostly good, few nitpicky problems
i just really wish it would let me repeat the sessions that are part of my 'fitness journey' or whatever. i started the pillars and hips one and had to bail out because i was tired and i foolishly thought i'd be able to restart it. i was obviously wrong and now i missed out on a great workout. it shows the poses but as far as i can tell there's no way to redo it.
Takes too long to load.
With the last update, the app takes around 90 seconds to load. Support was useless. I won't be renewing.
Fix the bug issues!!!!
Seriously getting frustrated that half the time I can't even get the app to open and load. Would be a great app if they would fix these glitches.
Question
If you go premium with fit bit yoga could you have access to fit bit coach also! Or would you have to pay separately?
Has potential but...
I've been using this for about a month. These practices are disjointed and confusing. Maybe it's personal preference but i feel like yoga is much more effective when it flows. Im only giving it two stars because I can time my yoga practice and log my active minutes.
Just so perfect!
Desert Sunrise
on
10/31/2017
I subscribed yesterday, and immediately checked out a number of the practices, and was thrilled. 😄👍 I am re-gaining my fitness regimen, and yoga is integral to it. Did Morning Mix this morning. Loved it, although I did wish it ended in savasana. From what I've seen, there is no spirituality involved. I highly recommend this app!!! 😄💕❤️👍🌷🌸🌺🐝😄
This app went down hill
I used to use this app pretty religiously back in the day. Loved it. I ended running out of space on my old phone so unfortunately I had to remove the app. I recently re-downloaded the app to get back on my yoga game. Happily purchased the 1yr long subscription but still have yet to access any of the features. I have wait 5 days and while the money was taken out immediately of my account, the premium features are yet to open. I am currently on the phone with tech support who has no idea what app I'm even talking about, says he can't locate my account or my purchase. Then proceeds to tell me that since he can't find my purchase ( to which I have screen shots of my bank statement and iTunes subscription pages ) so I will have to re purchase the subscription. Told me that it's obviously user error. He began to say that I needed a confirmation number for my purchase. When you buy something through an app you don't get confirmation numbers. After spending 20min on the phone, he then says that he doesn't deal with FitStar and that someone will email me about my issue with in the next couple weeks. Told me just to sit by and wait. Unacceptable, that $40 was taking out rather quickly and for what? I will be getting my money back and I will not be using this app any more. I hate leaving reviews, especially poor ones but this made me so grumpy. Tread carefully when purchasing the subscription for this app.
Premium Access not working
I LOVE this app, but for some reason my Premium Membership isn't allowing asses to all the routines. I've tried restoring purchases but doesn't make a difference.
Nice app!
This is a good yoga app. I enjoy the practices the music and the review of poses afterwards for personalized comefort level. My only complaint is the speed to load the practice workout is very slow. If it takes too long to load I get impatient and lose interest and will move to one of my other yoga apps with preloaded built in to app routines. Please optimize for better loading speed. Thanks!
Thank you FitStar Yoga!
Exactly what I've been searching for! Love that the poses are show on my Apple Watch!! It's perfect that I can rate the poses to custom my sessions! Will remain a FitStar member a long time!! Thank you!
Loved the app until it stopped working on my phone
Stimey Luv 1
on
10/3/2017
After the latest update to iOS11, and then iOS11.1, and even with the latest update to the Fitstar Yoga app, the app completely crashes when I try to use it on my iPhone. And it still takes forever to load on my iPad Pro. Thank god that it actually still loads and works on my iPad, otherwise I would t be able to use the app at all, and there would go the daily routine I've developed since January 1st of this year. I have yet to miss a day of yoga, and I'm grateful for the app and how it's grown with me. I've lost a lot of weight, and I've gained muscle tone and strength, so the exercise itself is fantastic. But please take the time to fix the app and eliminate the bugs. No matter how many times I try to delete and reinstall the app, it still doesn't work the way it should on either my phone or my iPad. Especially my iPhone.
Doesn't open
It's a great app when it wants to work. I waste up to twenty minutes trying to get the app to open. When I asked for help from the developers, their response was to delete and re download it. I did, the app is garbage.
Love the sessions, BUT...
I've been using this app for over 2yrs and love it for the sessions. BUT, there is always a glitch. Right now there is now sound. Which makes doing a session very difficult. I haven't seen an update for this in quite a while. FitStar please fix this!
Sound problems
Sound doesn't work on when the video plays. I can only listen to the music from my playlist
Love it
Great for my schedule. Easy to follow.
Not good
I've used this app for a while now & have completed many routines. So, all in all I must appreciate it's content. I really appreciate their customer response time... wholly molly, they respond pretty quickly (although, sometimes they don't know how to help). It loses two stars on account of some of the ridiculous spoken directions. I'm not exactly able to do down-dog and watch my tiny iPhone. I need instruction like I'd get in a class; tell me where my arm goes & weight displacement placement. I don't need to hear "Let your heart open". I need to hear whether or not I should rest on my toes or shin or knees. Update 9/18/2017: Continued disappointment. The lack of direction just infuriates me. I CONSTANTLY have to come out of pose to see what to do because the spoken instructions lack productive, practical clarity! They try to speak to my spirit with "Open your heart" Forget my heart, lady! Tell me where to put my hands, points of contact, & coordination for common errors. And can they PLEASE update their music catalog? I can only supposedly choose my own music. Every time I try, though, the app turns into bug central.
Slooooooow Downloooooad
I love the yoga routine videos once they have downloaded but they take 10-15 minutes to download and that is with my 40Mb internet speed so I couldn't imagine the problem being my internet. It has to be the app!
Ugh
Piscesxloner
on
9/13/2017
Really slow to load, sometimes takes multiple reboots to work. It wasn't always this bad. Sometimes the routines glitch up. Tech support told me to leave at least 1gb of free space so the routines can download. I think that is a ridiculous amount of free space to require (especially considering that you have to be connected to wifi when using the app), but I obliged, and it still got screwed up. Going to start looking for a new app. I am sad they kinda dropped off on this app and put all their energy into the main FitStar app. I really loved this app as it got me into yoga when I had never done it before. But they have let it slowly rot and decay and it is not so great anymore compared to what is probably out there.
So Far, So Good
The transition sequence between poses could be better but other than that, I like it so far.
Basic and Happy
Hurdleturtle06
on
9/11/2017
At the moment I'm just using the basic access to supplement the classes I'm taking at my local gym. It's really helpful when something comes up and I can't make a normal class, because I can pull this up and do a quick session at home. If only my home was as yoga friendly as this app!
Very cool
I recently got a fitbit and started running. Realized I need more flexibility and tried this app. Very happy with the product.
Daily challenge
hey issa idea
on
9/7/2017
You should add a daily challenge like :daily challenge water only for refreshment:
Great idea, poor execution
Even the intro video is jumpy and interrupting itself before finishing a pose. Make its frustrating to follow and altogether not helpful.
Nice Yoga App
I like this app, it lets you do one free personalized session per week and if you want more you can join their paid subscription or choose a non personalized freestyle session. It's really great. The only downsize is the app itself doesn't allow you to clear memory cache so eventually the app takes up like 1GB of memory, so I have to delete it and re-download it when I need memory. I wish I could just clear the downloaded videos from the app but you can't.
Great-better than a DVD
I love having access to choices and timeframes - no excuses about not having time when I can choose any freestyle with varying time commitments ranging from 15min to 40+min. Wish they had modification instruction for ppl who are beginners and can't start flipping over their heads :-) but-with practice maybe I will get there. Worth the premium upgrade-support businesses like this that do good work and charge fair prices. $40 for a year is cheaper than a month at the gym, and I can do it whole dinners cooking!!! I say YES-
Love how this 'talks' to Fitbit!
Easy to use, easy to follow, and it auto tracks. It's a good tool for a yoga beginner like me!
Love!
Dashlane H8R
on
8/16/2017
Love being able to do quality yoga in the privacy of my home.
Awesome!!
Angievvvvvvv
on
8/15/2017
Well worth the money!!
Game changer
I knew for the longest time that I needed to do yoga. It has been hard to find a physical location that would be both efficient and inexpensive. I couldn't find it. I've tried videos and even free stuff online. It didn't quite keep me on ball. I found this app and it has been very efficient and effective as I could do The exercises at home anytime. I can even take it on the road. The exercises are great, though a little fast, but once I am finished, I feel like a million bucks. I recommend this app to anyone, whether you're a beginner or advanced yogi.
No audio if you're not wearing headphones
Miguel Chateloin
on
8/8/2017
That's just stupid, sorry.
Love it
Easy to use and great for a home yoga practitioner
Best yoga app yet
I was in search for a while for a good free beginner Yoga app this one offers premium but I've heard no positive reviews on upgrading so for now I'm sticking to the free version but to me it works great
Enjoying using the app on vacation
It's nice to have the app to take yoga on my vacation. Moves are explained and easy for this beginner.
Great instruction
I have taken yoga in a class setting but needed something to travel with me for work and this has been great.
Same flaws as the personal trainer app
Journeyman2015
on
7/10/2017
Doesn't matter that Tara Stiles is in their corner. I expect the trainer on screen talking to you and doing the routine, not a voiceover that sends the clear message that it's okay to overexert. Fitbit would do well to sell Fitstar off and let them go back to the indie circuit, because it's pretty clear to me that they don't care about people like me who want the trainer sweating along with you.
Definitely Recommend
SarahBStrickland
on
7/2/2017
I really enjoyed the app and was sad that the basic training option didn't let me do as much as i wanted but i decided to go ahead and get premium seeing that it's much cheaper than studio memberships are
Love it!
Really easy to use, great clear instructions, and super easy to personalize!!
Very cool free app
TrillBillTheKing
on
6/23/2017
I'm learning yoga at my own pace in my own home and it's great.
Awesome app
@SPONTANEOUSYAZ
on
6/15/2017
Helps me relax my body and mind
Please fix
I want to love this app, but the coach integration with the music is absolutely horrible and makes for an unpleasant experience. Please add a volume slider for the 'iPod' section. It makes no sense to not be able to adjust the music in-conjunction with the coaching. Please slow down the coaching, I've been doing yoga for almost 2 years every day and I still find this app to be incredibly fast paced. I don't care if this becomes a premium feature, but sometimes I ONLY want to hear the cues from pose to pose. I don't care what benefits this pose has to offer me or to pull in my core tighter. I use yoga for relaxation and meditation and the coaching just becomes squawking that is unbearable.
Fact Sheet
Publisher:

FitStar, Inc.

Category:

Health & Fitness

Released:

Dec 09, 2014

Current Version Released:

Sep 28, 2017

Version:

1.2.3

Size:

102.9 MB

Compatibility:

Requires iOS 8.0 or later.

Recommended Age:

4+

Game Center Certified:

No

Supported Languages:

English;