Screenshots
New in version 2.2.227.0
* You can answer calls without unlocking the lockscreen.
* Added support for calling phone numbers through Echo devices in the US, Canada, Mexico from Echo devices.
* Bug fixes and performance enhancements, including issues related to regional language support.
Description
A NEW WAY TO BE TOGETHER
In addition to managing your devices with Alexa, the updated Alexa App lets you call and message Amazon Echo and Echo Dot owners, and anyone else with the Alexa App on their phones. With the Alexa App, conversations and contacts go where you go. When you're away from home, use the app to make a quick call or send a message to your family's Echo. Make video calls to friends and family who have an Echo Show or the Alexa App. You can also enable a new feature called Drop In for the special cases when you want to connect with your closest friends and family. For example, you can drop in to let the family know it's time for dinner, see the baby's nursery, or check in with a close relative. Calling and messaging are available to customers with iPhones on iOS 9.0 or later.

ALWAYS READY, CONNECTED, AND FAST
For Alexa device owners, the free Amazon Alexa App is a companion to your Alexa device for setup, remote control, and enhanced features. Alexa is always ready to play your favorite music, provide weather and news updates, answer questions, create lists, and much more. Alexa's brain is in the cloud, so she continually learns and adds more functionality over time. The more you use Alexa, the more she adapts to your speech patterns, vocabulary, and personal preferences.

HOW IT WORKS
Interactions with devices with Alexa are automatically mirrored visually on your Amazon Alexa App, providing more information as you want it. The Amazon Alexa App lets you easily manage your alarms, music, shopping lists, and more -- wherever you are.

FAST WI-FI and EASY SET UP
Connect to your home's Wi-Fi network using the free Amazon Alexa App, with its simple guided setup. Now you can stream all of your music, listen to radio stations, and have access to news and information, all by voice -- or with the Amazon Alexa App's intuitive interface.
iPad Screenshots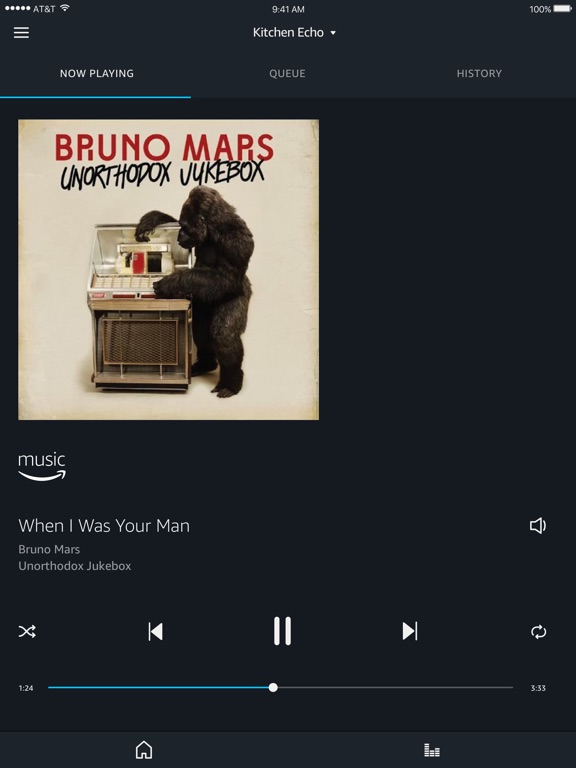 Reviews
Works as advertised
I see so many low reviews. Since I added the app I haven't had any issues. I just want Amazon to add more features so it can work with my Fire Stick w/Alexa or at least let me use my Fire Stick remote with my Echo Dot. Update 10/18/17: I now can use my Alexa to control my Fire Stick. Thank you for upgrading it. There are still some features I am looking forward to being added. Can't wait. I still don't understand all of the low reviews. Oh well.
Useless for fully automated house
With nearly 300 home devices, Amazon wants me, my children, their friends, and my guests to remember the names I give my 300 devices....all because (even with a dot in every room) you can't say in simple, natural, everyday english "Alexa, turn on the light."
My music won't connect
Miiiimiiiii5
on
10/17/2017
Alexa won't connect to my music and telling me I don't have the Amazon Unlimited. My bank account states differently!
Bluetooth bug and skills issue
Happy to discover that the echos can be setup into groups for simultaneous play, however doing this disconnects from my Bluetooth speakers, which works fine when playing from a single echo device. Fix this!! Also, it's so dumb to have to tell alexa which "skill" to perform in order to perform the request. This is so unnatural. After not using a skill for a while and having so many, I can't remember the exact name of the skill to call. I don't have to ask my friends to used their translator skill or stock skill before asking them a question?!? Figure this out!!! Plus, the Alexa app should have a feedback or suggestions button. Otherwise this app review list of the apple App Store gets used for the wrong purpose. I actually like the app, but want these features fixed.
Ugh. Frustrating in so many ways.
A.B.Wallace
on
10/17/2017
Unless you're just asking Alexa to play a known radio station, it is more frustrating than it's worth. The weather reports are wrong, it doesn't understand many commands no matter how many times you retrain the voice recognition. The app to change settings or skills in Alexa is not intuitive and poorly developed. Most of the skills available or silly and lack substance. Key newsflash sources repeat the same headlines day after day after day.
Best assistant - worst app
The actual Echo device is great, but this app hinders the experience. Toggling alarm times too quickly freezes the app. You have to precisely tap the on/off switches like a surgeon, otherwise you'll open that alarms settings. Also, you have to wait about 30 seconds before tapping anything or the app will freeze entirely. Talking to customer support will only get you a generic "delete and reinstall the app" when it's not my device that's making the app run terribly, it's the code behind the app. The developers need to redo the app entirely. This app is a nuisance to use.
What happened?
This app was great until iOS 11. All of a sudden Bluetooth headsets do not work and the volume buttons do not work. I purchased two Amazon Shows to be able to call my kids or to have them call me and I can't video chat with them because the app doesn't support Bluetooth headsets. It'll work 1 out of 30 times. The developers really need to update this app. Disappointing on the consumer end.
This app lost is org purpose
We used this app a lot initially to control, manage and change music on Our Alexa. Not sure what happen after some updates but it is useless to us now.
iPad calling support?
NightHawkCA
on
10/16/2017
I know the "official" reason is that you have to supposedly have a cellular enabled device. But if I switch my iPhone to Airplane Mode - disabling the cellular radio - I can still make WiFi-based "Drop In" calls to my Dot and friends' devices, so that negates that theory. Any word when the feature will make it to iPad? Thanks
Can't sign in the app
The app just kept asking me to sign in and each time I did it it just let me to enter my amazon account immediately. I can't even set up my dot. Fix that
Settings not available (working now)
Can no longer access settings in the app. Repeatedly receive error message to try again later. Restarted phone, force close app, and reinstalled app but nothing seems to fix it. Working as of 10/15.
Music cuts in and out
Updated now music plays for about 30 seconds then cuts out for 10 seconds, then back on, off/on...unlistenable. Previously was fine . Don't know if problem is iOS update or Alexa update. Echo dot.
Wifi
It won't let put my wifi password in
Stop asking for my contacts!
Every time I run the app, it claims it "needs" access to my contacts. This is a lie. Amazon just wants access to every last bit of information about me. The wanting is ok; the lying is not.
Wants too much data
Anonymous980
on
10/15/2017
You don't need my phone number or name if I've already signed into my amazon account. Screw you!!!
Don't like
Not sure where to begin how much I dislike this app. Amazons music unlimited feature is the worst out of the rest. It plays a song then stops when the song is over instead of going to the next. The app no longer displays what song is playing within the app. The actual unlimited music app is great. Why can't this app just mirror its own app.
Can't use it
Girlintheback
on
10/15/2017
I've never even used the app. My phone freezes up every time I open it. :(
It lags like there's no tomorrow
thedavisclan
on
10/14/2017
I mainly use the Alexa app to control the alarms on my Alexa from afar. When I'm downstairs and hear her go off, things like that. However, when the alarm blares at 6 am and my family's asleep I can never turn it off, at least not quickly. I'll push on the icon to do so but it does not work. I'm lucky if five minutes of fidgeting finally quiets Alexa's cry. The app continued to fail and lag with every update and I am starting to lose hope. PLEASE FIX THIS because the app is not doing its job!!!
Can no longer sign in
Chitownshoegirl
on
10/14/2017
Just before the update, all of a sudden I couldn't sign in. Keeps saying 'error try again' . Updated, reset password. Nothing still can't sign in! What now!??
From useful to useLESS
This is an epic fail.
I can't even start
It gives me an error message every time I try to login to setup my dot... If it doesn't work soon I'm going to return the device.
Horrible app doesn't work refuses login
This app was always bad horrible design. The latest update just doesn't allow you to log in. So disappointing. Makes me not want to do business with this company
Won't work
App won't work anymore. Worked fine with my kid's Dot. Bought my wife an Echo, tried to set it up and 'settings' would not load. Turned phone off and on. No luck. Uninstalled and reinstalled. Now I get an error every time I try and log in. Fix your app or return my money.
App Fail
Update to add multiple music playback is an absolute fail. Fails to understand command "play music everywhere" even though that is the suggested command. Now has caused overall app failure. App is at this point broken.
Used to love this app
Critic_at_work
on
10/14/2017
Used to love this app, but with new update, cannot sign into my account. Too bad that we mess up things that works.
Sloooooow
Had to replace my router, and even though I used the same SSID and pwd, two of my three Echo Dots failed to connect after a reboot. I went to the Alexa App to set them up, and this app is so slow, it's non-functional. Setup continuously failed. I restarted the app, even reinstalled it. Garbage.
Oct 13 2017 update
Absolutely destroyed functionality. Cannot get app to work with device at all. Was working perfectly fine prior to update.
Settings are Inoperable
The app force-closes often, and the settings take minutes to load (if they load at all).
Terrible, unable to sign in
le e e e e e e e e e
on
10/13/2017
I wasn't able to sign in after the app updated. Terrible
Little disappointed 😔
Trailwinder50
on
10/13/2017
There should be a smart watch integration. In today's tech world Should not need to go to the alexa app when you have an Apple Watch. Or any smart watch.
Notification of things to use
This app is terible
Can't find a song by name
Hathaiwan2003
on
10/13/2017
I can't find a Vietnamese song that is on music unlimited. Please update.
Still Terrible
Yankee15655
on
10/13/2017
Very difficult to set the volume accurately. You should have left it alone. Update: months later and still not fixed. Nice job Amazon. Can I give less than one star. Garbage app.
Not enough
Slow...App needs improvement but the actual Echo works great.
Horrid
Supercrap2003
on
10/12/2017
I should have just gotten the Google Home. Alexa has been proven to be useless. It can't even search anything and wants money for music? Nah I got YouTube and Soundcloud for that.
Very buggy and frustrating
Brewsterw65
on
10/12/2017
I've been using this app for about a year and it has only been an ok experience. It does not seem like Amazon tests this very well before they throw out a new version. It often crashes. The video integration with the echo show is poor and there is no way to control what output device you want to hear from Specifics Whenever I use the app and then let it go dormant, when I switch back to the app it generally will crash and I have to restart and wait for it to load up again Whenever I do a drop in , once I finish the call and try to drop in again the app tells me the person is no longer available. I have to restart my phone or delete and re add the app to clear this up I use blue tooth head phones and the app sends output to them , there is no way however to switch to speaker if you don't want to use headphones . If for example we are talking to grandma I have to turn off Bluetooth so it goes to the phone speaker so everyone can participate. This app seems to be the weak link in the echo ecosystem. I hope amazon apps starts taking this seriously and puts out a better product
Getting worse
App loads really slow. When it doesn't load really slow, it won't load at all. Trying to set an alarm is impossible (just locks up). Drop-in has about 50% chance of working (seems like it never gets past trying to connect via video ... which I don't have). I like the fact the developers are attempting to make it do more, but the more that is added, the slower it seems to perform. Nearly lost all utility .... please streamline and get it working at normal iOS app speed.
If my head were any further up my....
It looks like my students put this app together. It may be one of the most useless things that is required by amazon for a purchase. Until I bought the echo, I was a loyal amazon consumer. This bad apple has ruined my taste for the amazon brand. Please guys, get your head out of your...
It can't work!
Josephvvvvv
on
10/11/2017
I can't log in!!!Always ask me to type in my username ad password.This happens on several IOS devices.
Can't even set up
.&!;6$;);(&!?()((
on
10/10/2017
It says I need to open a 3rd party page in order to connect, but every time I try it automatically fails to load the page
Please modify code for iOS version check
For some reason, this app doesn't show the Conversation icon on my iPad, yet it does on my iPhone. I looked on-line and googled this, and many are having this problem. In my case, my iPad is running a later dot version of iOS 11 than my phone. Perhaps whatever checks iOS version should check the version differently? Or perhaps something else is interfering? My iPad (pro, latest version, 12") and phone (7 plus) both have cellular capability and are both on the same wi-fi, so I have no idea what else could cause this issue. Next, the "add skills" feature is clunky, but ok. Still, it's hard to figure out if a skill is what you need. I have webcams that are D-Link, created and available in MyDlink. Yet using the MyDlink "skill" doesn't allow Alexa Show to access the webcams, just DLink plugs and switches - and that's also true for the Alexa App. I get why it's set up this way, but the third-party integrations could be more uniformly packaged, displayed, described, and integrated than they are. The app is great for video chats with Alexa Show on my iPhone. Useless on my iPad. Still, it has promise.
No longer able to log in after update
Shinikami206
on
10/10/2017
After the last update, it logged me out and Brings me right back to the log in screen after i put in my log in info.
Indian address and location?
Hi when will this app be updated to allow Indian addresses and location?
Can't login
Jerry95927261
on
10/9/2017
After I updated the latest version app, I just can't login with my amazon account. It says that we can't find an account with that email address. It's so ridiculous!
Still terrible...
App is just too slow and glitchy to be very useful. Volume control is practically impossible to set.
Still needs work.
Love the new update, you can now play all your music on all Devices at once. The only problem is you can't use the Alexa remote while it's playing music on all devices 😭. You should be able to use the remote control while all devices a playing music, for Alexa commands and volume control. Please fix this!!😭.
I cannot even login in
It constantly pop back to login page
Reconnecting
How hard would it be to have the unit reconnect to the internet when it loses an internet connect...for this crap, impossible. Absolutely worthless if you have to reconfigure your whole house every time you have a power outage or someone is working on electrical or phone.
Unintuitive user interface.
I love all three of my echo devices but I fully hate the recent versions of the iOS app. Start with the new icon which does not stick out at all. But the real issue is the user interface which it takes multiple clicks into sub menus just to get to the most used controls. Why isn't the volume just always available, why is it in a sub menu? Or the device selector for those of us with multiple echos? How come from the home screen can't I just click an always up device list and the select an always up volume slider. The home screen has nothing useful save cryptic icons to go to sub menus. Here is some advice, don't design your app like a dislikable customer service phone tree. Take what people do most and make it always available from the moment the app launches.
Super low quality software
Douglas Berry
on
10/8/2017
This application lacks in features, stability and general UX. Even something basic like a scrolling list behaves horribly (choppiness on latest iPhone)
Fact Sheet
Publisher:

AMZN Mobile LLC

Category:

Music

Released:

Dec 10, 2014

Current Version Released:

Oct 16, 2017

Version:

2.2.227.0

Size:

145.9 MB

Compatibility:

Requires iOS 9.0 or later.

Recommended Age:

4+

Game Center Certified:

No

Supported Devices:

iPad2Wifi-iPad2Wifi, iPad23G-iPad23G, iPhone4S-iPhone4S, iPadThirdGen-iPadThirdGen, iPadThirdGen4G-iPadThirdGen4G, iPhone5-iPhone5, iPodTouchFifthGen-iPodTouchFifthGen, iPadFourthGen-iPadFourthGen, iPadFourthGen4G-iPadFourthGen4G, iPadMini-iPadMini, iPadMini4G-iPadMini4G, iPhone5c-iPhone5c, iPhone5s-iPhone5s, iPadAir-iPadAir, iPadAirCellular-iPadAirCellular, iPadMiniRetina-iPadMiniRetina, iPadMiniRetinaCellular-iPadMiniRetinaCellular, iPhone6-iPhone6, iPhone6Plus-iPhone6Plus, iPadAir2-iPadAir2, iPadAir2Cellular-iPadAir2Cellular, iPadMini3-iPadMini3, iPadMini3Cellular-iPadMini3Cellular, iPodTouchSixthGen-iPodTouchSixthGen, iPhone6s-iPhone6s, iPhone6sPlus-iPhone6sPlus, iPadMini4-iPadMini4, iPadMini4Cellular-iPadMini4Cellular, iPadPro-iPadPro, iPadProCellular-iPadProCellular, iPadPro97-iPadPro97, iPadPro97Cellular-iPadPro97Cellular, iPhoneSE-iPhoneSE, iPhone7-iPhone7, iPhone7Plus-iPhone7Plus, iPad611-iPad611, iPad612-iPad612, iPad71-iPad71, iPad72-iPad72, iPad73-iPad73, iPad74-iPad74, iPhone8-iPhone8, iPhone8Plus-iPhone8Plus, iPhoneX-iPhoneX,

Supported Languages:

English; French; German; Italian; Japanese; Spanish; Castilian;