Screenshots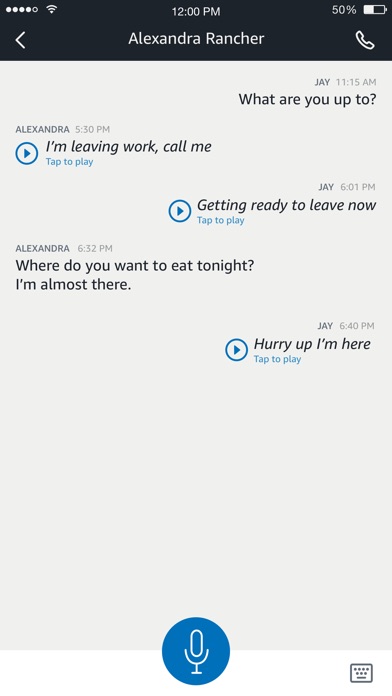 New in version 2.2.790.6
* Easily add, control and remove your Smart Home devices.
* Automate a series of actions with Routines.
* Bug fixes and performance enhancements.
Description
A NEW WAY TO USE INTEGRATED DEVICES
The updated Alexa App Smart Home section lets you view the state and control your smart lights, locks and thermostats. When you are on-the go, use the app to quickly check the status of your lock or turn off your lights. You can also navigate to the device's settings page to rename the device or disable it. The new Multi-Room Music section allows users to designate a group for devices on the same Wi-Fi network. Once created, group names can be used to control music playback. The new Routines section allows users to automate a series of Smart Home and audio actions with one custom command. The new capabilities are available to customers with iPhones on iOS 9.0 or later.

CONNECT WITH FAMILY AND FRIENDS
With the Alexa App, you can call and message Amazon Echo device owners and anyone else with the Alexa App on their phones. When you're away from home, use the app to make a quick call or send a message to your family's Echo. Use Drop In to instantly connect with your devices for a call. For example, you can drop in to let the family know it's time for dinner or check in on the baby's nursery.

ALWAYS READY, CONNECTED, AND FAST
For Alexa device owners, the free Amazon Alexa App is a companion to your Alexa device for setup, remote control, and enhanced features. Alexa is always ready to play your favorite music, provide weather and news updates, answer questions, create lists, and much more. Alexa's brain is in the cloud, so she continually learns and adds more functionality over time. The more you use Alexa, the more she adapts to your speech patterns, vocabulary, and personal preferences.

HOW IT WORKS
Interactions with devices with Alexa are automatically mirrored visually on your Amazon Alexa App, providing more information as you want it. The Amazon Alexa App lets you easily manage your alarms, music, shopping lists, and more -- wherever you are.

FAST WI-FI and EASY SET UP
Connect to your home's Wi-Fi network using the free Amazon Alexa App, with its simple guided setup. Now you can stream all of your music, listen to radio stations, and have access to news and information, all by voice -- or with the Amazon Alexa App's intuitive interface.

Communications features like calling and messaging are only available in the United States, Great Britain, Germany, and Austria
iPad Screenshots
Reviews
iPhone X
The app is still not iPhone X Compliant
No support
No support for iPhone X and voice setting never works! Lazy people running this platform
Still no iPhone X support?
Really? Still? And the app is still sluggish.
Also, where is iPhone X support?
esotericmixer
on
12/16/2017
I can definitely echo (pun intended) what other reviewers have said. The app seems to be losing support and features, which is pretty much the opposite of what's supposed to happen, right, Amazon? On top of that, we still don't have support for the iPhone X screen size!
Too glitchy
On my iPhone I 6, this app has a lot of problems. It is very slow at best. THe problems arise when revisiting the Settings area. After the first visit, the Settings simply remains blank. The only recourse is to quit the app and relaunch. Eventually, one can accomplish needed tasks, but I always brace myself for an irritating experience when using it. Amazon: you must be kidding with this.
support iPhone X?
support iPhone X?
Will not link with dish hopper
The dish hopper is not discoverable. Was able to connect it for a couple days and then stopped working.
:(
When is the app going to be Iphone X compatible? Keep closing.
Cannot sign in
Cannot sign in at all
Crashes on iPhone X
Update bugs on iPhone X
Slow/glitchy/awful
Boosted Honda
on
12/15/2017
Have had to close and open the app far more than I should have to to reset it. Very slow and glitchy been stuck in the settings window for 10 min. Does not connect to verizon mobile hotspot. When trying to connect to my xfinity wifi it says i need third party access but the shortcut on the app sends me to a "website unavailable" screen. Until I get a different internet provider Alexa is pretty much useless to me at this point. It's like all the money/good people were used on building the physical Alexa and the task of the app was left to a couple burnouts in the basement of a old sears.
So much potential
Christian_Anime
on
12/15/2017
To begin with, let me say I love my Echo and all the dots I have spread around the house. I have converted much of my home light switches to z-wave switches, and have a Wink 2 hub. I have z-wave plugs everywhere, and am enjoying my home automation, especially when it works with Alexa. I also enjoy the multi-room music capability, or did when it worked. With progressive "updates" to the app, it seems that functionality continues to step backwards. The app now refuses to communicate with my early generation Echo (bought during the Beta-wonder if they're trying to make me update), and now the multiroom music just doesn't want to work. Further, the app has taken to freezing up, especially if I try to enter the settings section of the app to figure out what's wrong with my hardware. As you can tell, I am an amazon fan, and really enjoy the Alexa environment; however, Amazon is not necessary for my Wink and all my remote controlled devices, and I'm close to looking into the new Google device or the Invoke. Frustrating that something that started so strong seems to be falling fast in reliability.
Not working
carsoncarroll7
on
12/14/2017
It won't open on the new iOS update
Freezes a lot
Tom73838778388282
on
12/14/2017
Y'all need to hire some real iOS engineers.
Can't connect to my echo show
rorybreaker69
on
12/14/2017
Worthless app. Will not see my Echo Show despite numerous resets, so unit will be sent back as it's a worthless paper weight. Come on Amazon, you can do better! I think I'll stick with Siri.
App is broken
App doesn't let me pass the setup page. Buttons are useless on my iPhone X. This phone has been out for a while and I cannot believe this is still an issue.
Constantly freezes up
cirtbrethren
on
12/14/2017
How is it Amazon can't write a usable API for this app. When opening the app it takes at least 20 seconds just to get past the Alexa splash screen. When trying to use a shopping list where there is little or no cell service, it's unresponsive and doesn't seem to have a reliable off-line mode. The alarm function of the app causes the app to crash most of the time and I have to force close the app and restart it.
App Needs More Attention
This app constantly runs into all types of issue. Taking forever to load or not connecting to the network. 5 different times now I have had to uninstall and reinstall I.T just to update my echo dot to a different WiFi. As much I wanna enjoy this product it hasn't been the simple seamless connection I feel I.T brags about. I shouldn't have to do a whole set up just to connect the dot to a different WiFi. It's a hassle
Needs watch app!
This app is ok. Could look a little better and have more features but overall it works.
Can't set time zone / location
Please fix.
Fix the app ya dumb sh*ts
Setting and other things won't load, freezes all the time
Not sure what's going on
With these last few updates the app had additions but they didn't mention the removal of the drop in feature or not having access to contacts through the app. Yes Alexa can still play must and tell me jokes but I can't use it's intercom feature anymore. I agree with other user and hope Amazon gets on improving the app because Alexa is awesome.
Unreliable
PacCoastGirl
on
12/13/2017
Doesn't work most of the time. Can't access lists let alone anything else. Makes Alexa far less useful as it is supposed to be an extension of her.
Does not work
The app just doesn't work. I got the Echo Dot brand new and it doesn't connect to the Dot at all.
Jesus is a fictional character
You got that right, here is one star sticker for you!
Can't use on ipad pro
Can't get past thenew challenge. Very disappointed
The App Doesn't Even Work!
onebluehaze
on
12/13/2017
It's a good thing Amazon is focusing on verbal, non-visual AI because whomever is creating these apps doesn't know what they're doing. It doesn't work. It won't even load passed the first permissions page. I cannot set up our Echo now either. Amazon products are a waste of money, time, and energy.
Alarms
Setting an alarm can be difficult because you have to tell Alexa and be very clear with the instructions. This takes A LOT of time. It would be better if we could set an alarm through the app. It doesn't make sense why you can set reminders through the app, but not alarms and timers. It's very time consuming and confusing. Please fix it.
Amazon can do better
This app needs a lot of work. The glitches make it almost unusable! There is a screen that asks for permission to see contacts for the call/text feature, but that screen continues to pop up even after I've allowed them. It is not the full permission screen and has errors when you press Allow or not. The only fix I've found is to delete the app and reinstall it. What a waste of time! There are other glitches almost every time I use the app as well. Disappointing!
Near Useless App.
No search option for music. This app will leave you playing songs over Bluetooth instead of controlling Alexa through the app. The developer should be fired.
It's good but...
I don't have any main problems with app but the fact that I can't add individual skills to a routine instead of playing my whole flask briefing is ridiculous. They really need to get on that. If that can happen then I'll give the app a perfect 5.
Needs IPhone X Screen support
App doesn't fit phone screen
Most stupid app I've ever used
Cannot login. Having my echo dot as a bullsh*t
Alexa is good, this app is terrible.
Horace Gumboot
on
12/11/2017
1. Slow. Takes forever to navigate to the shopping list if your connection is less than perfect. 2. Crappy refresh routines make the shopping list feature unusable in a grocery store. 3. Cards sometimes show what you ask - but not always. 4. Useless 'drop in' gets a button on the main screen, but the useful 'shopping list' takes three steps to get to. 5. You can't talk to this app as Alexa - for that you have to use the Amazon shopping app!
Worthless!! It doesn't work
What a worthless junk app!! First time I come up with such a failed app. I have to return the echo just because the app wouldn't work since you can't setup the device without the app. Shame on you amazon !!!!!!!
Don't update to NOV 29 Version
Matt N4 at Drexel U
on
12/11/2017
The player function does not work. Hello Amazon, how can your QC on your flagship new product be so bad?
Home smart skills not working
Can not enable smart skills, there is a bug. When tapping enable, I receive a blank screen only. I cannot link my tp-link smart plug
Useless junk
It is impossible to add about half of my Smart Home devices to a new routine. No explanation, no logic. They're all listed in Smart Home menu but don't appear in available list. What a pile of 💩! A note to Amazon: if you think I'll take longer than a second to dump you if I suspect you're intentionally crippling my iPhone experience, you have a surprise coming!
Won't get pass permissions
When starting the app won't get pass permissions page. So it's useless at least on iPhone 10
Unusable
Taylor810ce
on
12/10/2017
This app is unusable, it launches and then doesn't finish loading...hangs. Amazingly surprising for Amazon.
Keeps failing at basics
Vulgar demos
on
12/10/2017
Extremely slow. Shopping list doesn't always load which has made me abandon that feature. In other words, this app makes Alexa's shopping list feature useless because it is so unreliable at loading.... plain text. The third party services that pull data from shopping list don't always collect things. Sometimes there's a multi-day delay. And let's not get started with smart home skills. A really embarrassing software companion to otherwise impressive hardware.
Broken on iPhone X
Not possible to get past the page where it asks for permissions (none of the buttons except "Learn more" work).
Painful
PreliminaryHerring
on
12/10/2017
Amazon wants you to get used to asking alexa for everything, but while she can answer questions she can't DO simple things like simply search for bluetooth devices, tell you what she finds and you tell her the one to pair to. Nope. Anything remotely technical requires you to use this app. And this app is painful to use. It starts off tyrying to push echo dot conversations on me. It's got 3 buttons that all seem to do the same thing (start conversations with people over echos). If you tell alexa to conncet to bluetooth she tells you to use this app (why? Its the 21st century! Why cant you just find and pair without me having to manually do it in an app), but she then says to install the skill in smart home. Smart home, list devices.. Cant find bluetooth speakers. Ok, skills, i guess i have to install a stupid skill for bluetooth. The skills section of the app is a hot mess. The search funtion flatout DOES NOT WORK. On top of that, apparently we're still in the dark ages of smart devices because every vendor under the sun has their own stupid skills app they want you to install on alexa. This s reams of no standadizations yet. Alexa shouldnt need to learn "skills" to connect to smart devices. She has to simply because smart device manufacturers havent standardized things yet. Everyone of them wants to be primma donna with their own skill app, so in addition to painfully digging for it, you have to pray the vendor actually put time into making it work (theres a reason they have star ratings on the skills...ugh). Anyways, i have to google up how to pair alexa to bluetooth speakers (that very necessity means alexa is failing at her GD job, bc she tells me to go to this stupid app instead of doing it directly, and this app is a hot mess to use). There is a bluetooth section. But the app can only seem to find ONE device at a time. Your device didnt show up? Hit back and try again, like you're at a roullette table hoping your number comes up. Ugh! Finally my speakers show up, and the app sits there trying to connect. My phone takes like 2 seconds to connect to them when I do it through settings. But alexa (echo dot) takes forever. Why?! Then you exit, try again, but she lists them as a decice she knows BUT IS NOT PAIRED TO. PAIR TO THE GD SPEAKERS FFS! You click on them in the list, app cooks then finally pairs. Does alexa say anything to automatcally confirm she's using the speakers? No. So you have to ask her something stupid to get her to speak and see if shes using the speakers. This way more painful then it should be. You can make a list using her, but to delete it "use the app". Why? DELETE THE GD LIST WHEN I TELL YOU! And lists are useless. I make a list of songs. Tell alexa to play the songs in the list. Nope. She can't do that. I make a list of numbers. Give me the sum total of those numbers. Nope. They need to add WAY more functionality to lists if they're going to be of any use. They're basically one dimensional string arrays you cant do anything with. So close yet so far. Next we have the tplink smart plug amazon suggested we buy when we got the echo dot. Well we have a living room lamp thats a pita to turn on and off so it'd be great to just tell alexa to do that. Try to get that thing going is a pita in and of itself (plug in, install ANOTHER app, hook to it, hook to network, create yet another login, etc). Finally get it going as a smart plug. Now we have to pair it with alexa. Open skills, install more crap, look for device IN THE APP bc alexa is too stupid to pair using just voice, finally get them paired. "Alexa turn on the (light name)". "I'm sorry I can't find that device." YES YOU CAN! I'M LOOKING AT IT RIGHT IN YOUR APP! I CAN EVEN USE YOUR APP TO MANUALLY TURN IT ON AND OFF! WHY CAN'T YOU VOICE COMMAND IT?! This was one of the reasons we got the echo dor and it CAN'T DO IT'S GD JOB! They need to make alexa be able to do more of this maintenance crap through her instead of this stupid app. They need to standardize smart devices and get rid of skills. But if they force you to install skills, FIX THE GD SEARCH. This app is painful and makes me want to get rid of alexa.
Useless
Smart home screen does not work ever! Very bad experience. I'm waiting Google home to arrive after 2 days!
Alexa app works well for me
I have had no problems with this app. I do have high speed internet. Everything works as stated. Updates have been clean and without problems. I have forced updates though to the latest version on devices and this is important as their have been some major updates. Only once recently my amazon music did not show up in the app but that was only for a day. Can not makes calls with my ipad wifi only but have no problems with my android phone. Would be nice if they could get calls to work on any wifi enabled device (not just cell side). The different ways of calling eg drop in, call to a contacts mobile, call to devices could-this interface could be made a little more intuitive but I have had no problems calling; indeed have had no problems functionally with this app or the devices working with the app.
Not good
"Sunshine09"
on
12/10/2017
This app is very buggy!! I am so very tired of reading "oops something went wrong..."
totally cannot login!!!
tried around one hour and still get dead recursive call!!!
This app is a complete disaster
Hard to use and skills can never be disable
Latest version is Useless!
Just because you offer a new option, why must you keep trying to FORCE us to use it? I want to use the shopping list option, but you keep trying to to make me use my contact list for messaging. I do NOT need to continue to log in when I just want to have my shopping list available when I get to the store!!! I have uninstalled and reinstalled a number of times but it is unusable. Thanks for screwing us a good app. 😖
Update 12/9 Epic Release Fail
Update 12/9...Once again Amazon fails with a bad app release!!!! Why can't you guys fix this! Honestly it can't be that dang hard!!! For all things you get right and something this simple you can't is amazing!!! Now skips forward more than 30 seconds when reading my kindle books then locks up and won't read them at all!!!!
Fact Sheet
Publisher:

AMZN Mobile LLC

Category:

Music

Released:

Dec 10, 2014

Current Version Released:

Dec 16, 2017

Version:

2.2.790.6

Size:

150.8 MB

Compatibility:

Requires iOS 9.0 or later.

Recommended Age:

4+

Game Center Certified:

No

Supported Devices:

iPad2Wifi-iPad2Wifi, iPad23G-iPad23G, iPhone4S-iPhone4S, iPadThirdGen-iPadThirdGen, iPadThirdGen4G-iPadThirdGen4G, iPhone5-iPhone5, iPodTouchFifthGen-iPodTouchFifthGen, iPadFourthGen-iPadFourthGen, iPadFourthGen4G-iPadFourthGen4G, iPadMini-iPadMini, iPadMini4G-iPadMini4G, iPhone5c-iPhone5c, iPhone5s-iPhone5s, iPadAir-iPadAir, iPadAirCellular-iPadAirCellular, iPadMiniRetina-iPadMiniRetina, iPadMiniRetinaCellular-iPadMiniRetinaCellular, iPhone6-iPhone6, iPhone6Plus-iPhone6Plus, iPadAir2-iPadAir2, iPadAir2Cellular-iPadAir2Cellular, iPadMini3-iPadMini3, iPadMini3Cellular-iPadMini3Cellular, iPodTouchSixthGen-iPodTouchSixthGen, iPhone6s-iPhone6s, iPhone6sPlus-iPhone6sPlus, iPadMini4-iPadMini4, iPadMini4Cellular-iPadMini4Cellular, iPadPro-iPadPro, iPadProCellular-iPadProCellular, iPadPro97-iPadPro97, iPadPro97Cellular-iPadPro97Cellular, iPhoneSE-iPhoneSE, iPhone7-iPhone7, iPhone7Plus-iPhone7Plus, iPad611-iPad611, iPad612-iPad612, iPad71-iPad71, iPad72-iPad72, iPad73-iPad73, iPad74-iPad74, iPhone8-iPhone8, iPhone8Plus-iPhone8Plus, iPhoneX-iPhoneX,

Supported Languages:

English; French; German; Italian; Japanese; Spanish; Castilian;