TapNova doesn't recommend this app.
New in version 2.0.2511
* Bug fixes and performance enhancements
* The ability to block contacts from calling and messaging you. Scroll down on your contact list and tap the "Block Contacts" button.
Description
A NEW WAY TO BE TOGETHER
In addition to managing your devices with Alexa, the updated Alexa App lets you call and message Amazon Echo and Echo Dot owners, and anyone else with the Alexa App on their phones. Stay in touch with your family while you're out by calling them on their Echo, or send a reminder to them on their iPhone app via a voice message. Calling and messaging are available to customers with iPhones on iOS 9.0 or later.

ALWAYS READY, CONNECTED, AND FAST
For Alexa device owners, the free Amazon Alexa App is a companion to your Alexa device for setup, remote control, and enhanced features. Alexa is always ready to play your favorite music, provide weather and news updates, answer questions, create lists, and much more. Alexa's brain is in the cloud, so she continually learns and adds more functionality over time. The more you use Alexa, the more she adapts to your speech patterns, vocabulary, and personal preferences.

HOW IT WORKS
Interactions with devices with Alexa are automatically mirrored visually on your Amazon Alexa App, providing more information as you want it. The Amazon Alexa App lets you easily manage your alarms, music, shopping lists, and more -- wherever you are.

FAST WI-FI and EASY SET UP
Connect to your home's Wi-Fi network using the free Amazon Alexa App, with its simple guided setup. Now you can stream all of your music, listen to radio stations, and have access to news and information, all by voice -- or with the Amazon Alexa App's intuitive interface.
iPad Screenshots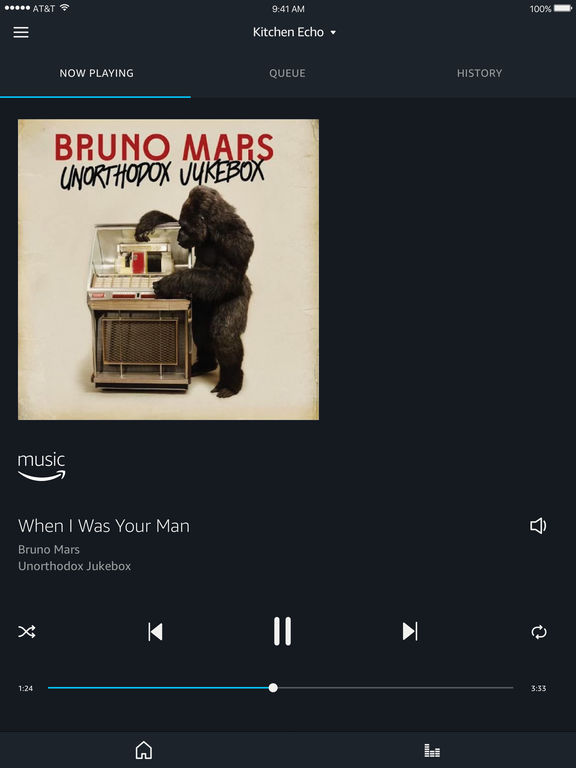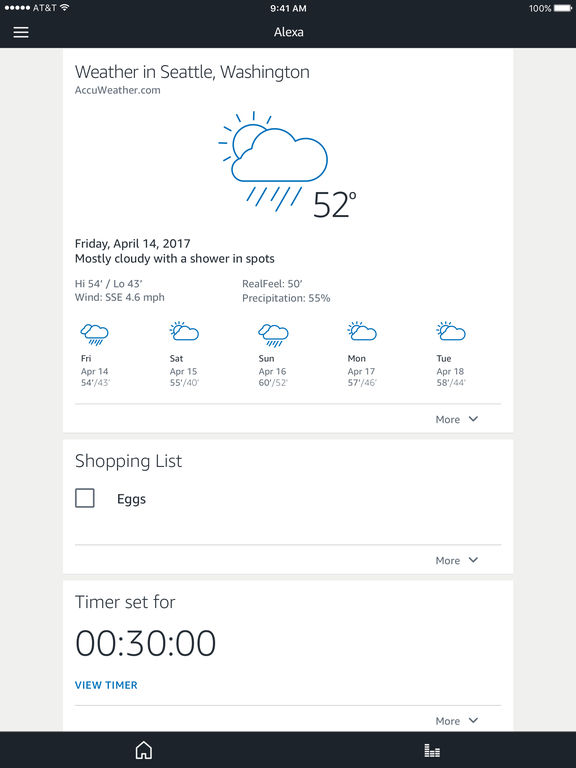 Reviews
Needs Work
Karl Kohlsaat
on
6/27/2017
I love Alexa but it's fallen short of so much that it could be. The app needs more functionality and to connect with more apps.
Aweful update
Comanderincheif
on
6/26/2017
Previous versions of this app worked perfectly in conjunction with my echo, but now it literally takes forever for it to even load or do a simple task. I don't know who was responsible for updating the app, but I wish they had actually tested it out before releasing it :/
Breaking down
Screen turn blank and close app down.
ALEXA IS NOT VERY FRIENDLY
CathyReinert
on
6/26/2017
THE APP IS NOT USER FRIENDLY. SAD FACE.
So buggy
I asked Alexa to add corn and beans to my shopping list using the Dash Wand. There are no items on my Amazon app shopping list, so I looked online and it said to use this Alexa app. I logged in and there are two lists called "shopping list" and one has corn and the other has beans. I tried to delete "beans" from that list and the app errored out saying the shopping list cannot be empty. This is totally useless...
Crap
Eh it's Ight.. not my best investment tho
Update made it useless
Just updated and can no longer use app unless I set it up to make phone calls. I NEVER want to make calls using Alexa. So how about adding a skip option so I can use the rest of the app features? This might force me to replace Alexa with Google's offering.
SLOW & FREEZES It's Worse now!
Good luck setting an alarm. It's always freezing or super slow or crashes altogether. This app is an important tool for your Echo or Dot. Too bad it's not working these days.
Just bought an echo and can't setup because this app
The app keeps crashing as I am trying to setup my new amazon echo. Since the app is useless, yet required for setup... now my new amazon echo is useless. I will have to return it if the app doesn't work. What a waste of time and money!
I don't understand the harsh reviews
I downloaded this app today and I had a great experience setting up the echo dot and using it. Right away, I asked for my sports team update and when I next signed into the app they had the Brewers box score on my homepage. What a nice little surprise! I don't quite understand the complaints that the other reviews have at this point.
Alexa app review
buttface.mcgee
on
6/25/2017
This app does not give many questions to ask Alexa and you cannot do as many things as you can with a bigger Alexa.
No response to voice
I say Alexa play Howard 100 when I open the app on iPhone 7 plus nothing happens. Then I try anything else what's the weather today, turn on fire stick. Where's the closest Starbucks etc. nothing happens like not accessing my voice. Everything is on in settings and access to mic. So annoying and no help in the menu for how to get it to start listening. Very crap. Back to Siri.
Latest version is crap
There is no way to opt out of Alexa calling once you have put your personal data in! Your only choice is to call Amazon. They also removed the search field for music. You can only choose pre-selected genres. So, forget about choosing 1 song that you like- not possible.
Glitchy, slow.
This thing used to work better than it does now, but not much. It is so slow that it is essentially worthless. I can't stand it.
Grocery list
You should be able to say "Alexa clear the shopping list." Instead you get instructions to go the app to do this. Next you go to the app, but you have to check each item... THEN delete each item checked. Replay of last 5 items would be nice too. Instead I have to listen to the whole list again. Lots of extra unnecessary steps. These are simple glitches I figured would be fixed some after we Beta tested, but it's been years and still not user friendly. You're so close!
Horrible Engineering
iOS app is just a lazy and awful web port. Unresponsive. Entire app freezes when you enable/disable alarms, indicating programmers were either too stupid or too lazy to do it asynchronously...UI is clunky and unintuitive. Very bare bones and disappointing app. I expected a much higher standard from a large tech company like amazon
Full of bugs
Extremely slow load times and filled with bugs.
Customers expect better.
Signing in looks sketchy like you've downloaded a fake app. Surrendering so much personal info just to get started is offensive. Too bad, missed opportunity to make Echo customers happy with their purchase.
Can't connect to hue, plz fix
Was able to connect before, but couldn't find device to any of the hue light any more last week.
Do Not Update !
Aargh.....this update is horrible. Takes over a minute to open itself....takes minutes to perform a function. Absolute Garbage !
Slow and Buggy
To use your devices you need to go through a buggy and slow app. Please fix the load times so we can make setting adjustments.
Lgbt
Bakalakadakadude
on
6/24/2017
I do not want any product preaching lgbt to me on the app. I don't care about lgbt pride or pride month. Do not force it on me. But since you've already done it, why not preach Christ during December or Allah during Ramadan?
Horrible volume and playback control
I enjoy using Echo and have multiple in the house. The Alexa app, however, has numerous issues. The ability to control volume is useless. It jumps to 10 very unexpectedly and is hard to get to a precise setting. This is an issue at night, when adjusting volume in our child's room while they are falling to sleep. With more than 1 device, you cannot switch directly from one to the other. You have to first select the iPhone option, before being able to control a 2nd Echo device. It is very slow to load and also cannot play/start a prior playlist or station from history.
Need a zero star rating
Have tried to load this app on two iPhones and an android based phone without any success. Amazon has failed miserably with this app! The echo seems like a good product. However, the app is terrible.
App support unavailable???
Can even play music....
Landscape Mode Please!!
For an iPad (in this case iPad Pro) landscape orientation is how we use this large tablet.
Slow and poor UX
The app is immensely slow and the UI fails to give feedback to the user when actions are "completed".
Hate the App Update!
NightTimeDogWalker
on
6/23/2017
Why did you completely change this? I can't seem to find anything now, AND, I have to do it all in portrait mode! What were you people thinking?? Please change it back.
Landscape Gone!!
The last two releases did not include landscape. I thought it was my settings, but it's the App. FIX IT!!!
Why isn't app as good as Alexa!?
PonyTail_Mom
on
6/23/2017
The app is terrible. No landscape mode? Crazy. Doesn't load easily at grocery store? What? How hard would it be to keep an offline list. Common Amazon, spend $$$ on app development.
Forgets what it's doing
At the grocery store. Every time you lock your phone the next time you unlock it this dumb app isn't showing you your list anymore. ARG!
And i thought it was clunky before!
Dr Balkanstein
on
6/23/2017
Yes, the Echo works great. I was an initial Prime user. But I always found the app had slow response, reset too often, but it was usable.BUT NOW IT"S USELESS! As others have pointed out, the UI is obscure, iPad landscape display is gone (!!!!), it's now wayyyyy slow to do anything. I'd not use it but I mostly listen to Pandora and like to search out stations on my long list. Otherwise, I don't use it or for any of the so-called skills. But, c'mon Amazon, isn't it a bit humiliating to even give away such a terrible app? Too busy buying food stores"
Please fix this app!
Every time I open it it churns and thinks but never does anything. I just added another device and had to set it up on my ipad. Iphone version not working, can't manage anything remotely like setting alarms, etc.
Asscheese
Meee384214890
on
6/23/2017
This app is literally asscheese, why does this move so slow. Pretty much renders Alexa useless.
Hate the update, DON'T UPDATE, if you like landscape mode !!
Precious1995
on
6/23/2017
I wish I read the reviews first, the landscape is gone after I updated it, can't use this anymore. Guess I'm going to google, and stop telling everyone how great the echo is. Why do companies try to "FIX" what isn't broken ???? It's just garbage now !!!!!! I want to rate this minus 0, not even a one star, it don't rate any stars whatsoever !!!! I won't be buying anymore alexa or echo, or any new devices, till you put back the landscape mode, for this app, cause it's useless now on the iPad, having to turn it. Please put the landscape back !!!!
iPad landscape view
I use my iPad and automatic landscape view is sorely missing. Without it, it isn't a true iPad app.
Slow and useless
The app takes forever to load. It doesn't really do anything that I can't do using some other app. The app won't work at all without an internet connection (Need to add milk to the list while camping? Forget about it!). Overall, I'm finding this app (and Echo) to become less useful over time, rather than more useful. Amazon should stick with selling books and kindles.
Amazon Alexa
Last update has caused my app to quit working on iPhone 6, was fine up until then. Needs work.
Update killed my smart home
Blah7391)426
on
6/22/2017
Just updated the app and now none of my smart home devices are recognized by my echo.
Wifi disconnects frequently
This is so terrible after the update. Wifi connection of both my Tap & Dot disconnects frequently. My Wifi is good cos I have a good signals on my other device. Terrible App! The app is very slow to load. If Amazon cannot fix this I will ditch Amazon for Apple's Home Pod this Fall.
This app is NEGATIVE star
I cannot even get passed the sign in process NOT because either my account name or password is wrong, but because the additional security process does not work
Can't set alarms from app anymore
emergesunscathed
on
6/22/2017
I use our Tap as a secondary alarm clock in the bedroom, and I can't stand that you have to actually tell it to set an alarm add opposed up just setting it in the app. Why did this functionality disappear? Makes no sense. SAD.
Alexa app
Absolutely the worst app I have ever tried to use.
Crashing😡
My app was working fine and now won't even open...grrr!!!
Love Alexa, Hate the app
Princesskittyrock
on
6/22/2017
I've never been a fan of the Alexa app, especially on the iPad. Constantly disconnects and I often find myself closing and restarting the app to get it to work. Now, they even removed some features; like the ability to use the app in landscape mode, which is my preference, and the responsiveness of the app has not improved. But I love Amazon and have faith they'll revamp the app soon... Fingers crossed.
Slowest app on my phone
Sankalp Kalbag
on
6/21/2017
Very disappointed with the app. This is the slowest app on my phone. It hardly loads on LTE. Might be little luckier on wifi. Sometime click on some options brings the app to the homepage. 😡
No longer supports landscape view of app
petercriddell
on
6/21/2017
I've been using this app with my iPad in Landscape mode as it was easier for me to read while in my iPad stand. Now its only in portrait mode.
Upgrades are a joke
Before the latest upgrades, I enjoyed making my shopping lists with Alexa. I get everything on my phone, then go to the store, and nothing happens. Sometimes it says Sign On, but that never works. Wish I had not upgraded.
Until they fix the lag I can't give more stars
Seriously sometimes it seems you can go get coffee while waiting for this app to respond. Doesn't say much for a computing superpower like Amazon, but it is what it is. Two stars for the lagging.
Horrible app
It takes forever for thus app to load. Not sure why. All other apps function well. Slow.
Fact Sheet
Publisher: AMZN Mobile LLC
Category: Music
Released: Dec 10, 2014
Current Version Released: Jun 12, 2017
Version: 2.0.2511
Size: 78.8 MB
Compatibility: Requires iOS 9.0 or later.
Recommended Age: 4+
Game Center Certified: No
Supported Devices: iPad2Wifi-iPad2Wifi, iPad23G-iPad23G, iPhone4S-iPhone4S, iPadThirdGen-iPadThirdGen, iPadThirdGen4G-iPadThirdGen4G, iPhone5-iPhone5, iPodTouchFifthGen-iPodTouchFifthGen, iPadFourthGen-iPadFourthGen, iPadFourthGen4G-iPadFourthGen4G, iPadMini-iPadMini, iPadMini4G-iPadMini4G, iPhone5c-iPhone5c, iPhone5s-iPhone5s, iPadAir-iPadAir, iPadAirCellular-iPadAirCellular, iPadMiniRetina-iPadMiniRetina, iPadMiniRetinaCellular-iPadMiniRetinaCellular, iPhone6-iPhone6, iPhone6Plus-iPhone6Plus, iPadAir2-iPadAir2, iPadAir2Cellular-iPadAir2Cellular, iPadMini3-iPadMini3, iPadMini3Cellular-iPadMini3Cellular, iPodTouchSixthGen-iPodTouchSixthGen, iPhone6s-iPhone6s, iPhone6sPlus-iPhone6sPlus, iPadMini4-iPadMini4, iPadMini4Cellular-iPadMini4Cellular, iPadPro-iPadPro, iPadProCellular-iPadProCellular, iPadPro97-iPadPro97, iPadPro97Cellular-iPadPro97Cellular, iPhoneSE-iPhoneSE, iPhone7-iPhone7, iPhone7Plus-iPhone7Plus, iPad611-iPad611, iPad612-iPad612, iPad71-iPad71, iPad72-iPad72, iPad73-iPad73, iPad74-iPad74,
Supported Languages: English; German;