Screenshots
New in version 2.1.104
Bug fixes and performance enhancements.
Description
A NEW WAY TO BE TOGETHER
In addition to managing your devices with Alexa, the updated Alexa App lets you call and message Amazon Echo and Echo Dot owners, and anyone else with the Alexa App on their phones. With the Alexa App, conversations and contacts go where you go. When you're away from home, use the app to make a quick call or send a message to your family's Echo. Make video calls to friends and family who have an Echo Show or the Alexa App. You can also enable a new feature called Drop In for the special cases when you want to connect with your closest friends and family. For example, you can drop in to let the family know it's time for dinner, see the baby's nursery, or check in with a close relative. Calling and messaging are available to customers with iPhones on iOS 9.0 or later.

ALWAYS READY, CONNECTED, AND FAST
For Alexa device owners, the free Amazon Alexa App is a companion to your Alexa device for setup, remote control, and enhanced features. Alexa is always ready to play your favorite music, provide weather and news updates, answer questions, create lists, and much more. Alexa's brain is in the cloud, so she continually learns and adds more functionality over time. The more you use Alexa, the more she adapts to your speech patterns, vocabulary, and personal preferences.

HOW IT WORKS
Interactions with devices with Alexa are automatically mirrored visually on your Amazon Alexa App, providing more information as you want it. The Amazon Alexa App lets you easily manage your alarms, music, shopping lists, and more -- wherever you are.

FAST WI-FI and EASY SET UP
Connect to your home's Wi-Fi network using the free Amazon Alexa App, with its simple guided setup. Now you can stream all of your music, listen to radio stations, and have access to news and information, all by voice -- or with the Amazon Alexa App's intuitive interface.
iPad Screenshots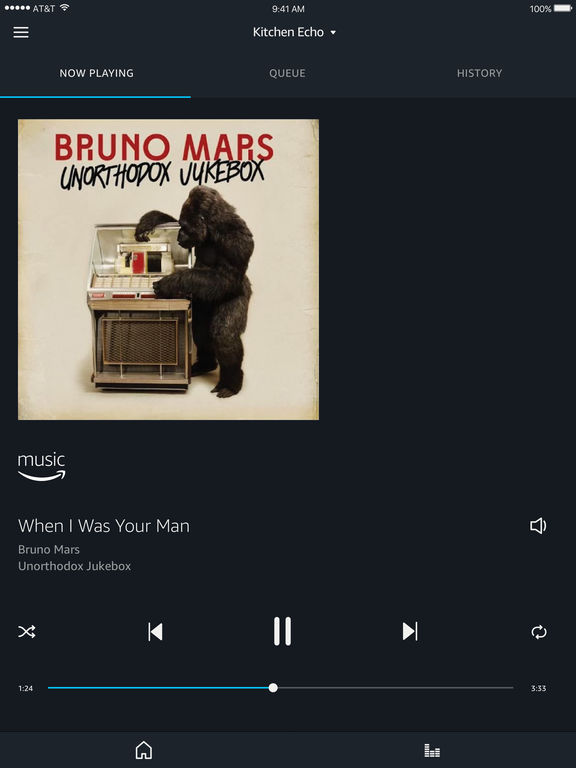 Reviews
Good trash
Gggggggggggggggre
on
8/21/2017
It's hard to use
Slow, missing basic features
Slow missing basic functions
Fix it!
I never write reviews but the latest update of this app deserves it. What happened to the functionality! I can't even search music to play and since Alexa doesn't recognize the album I'm asking for, I'm now wasting money on unlimited music! I hope you'll consider fixing it!
Media experience left a lot to be desired
App has very bad user experience. Both the way content is organized and how application work are very disappointing. No search functionality. Artists catalog represented by lengthy list, which is extremely hard to navigate even on Plus sized iPhone. App build using proprietary Amazon controls for iOS; which means that everything work different from common iOS way. Problem with how controls respond to tap, scroll dynamics in lists, navigation in alphabetically ordered items; it all simply breaks iOS user experience. But, with enormous amount of patience, one can use it for basic things hence 2 stars.
Need help
Can't enter to Alexa. When i put the set up yellow button its ok. But after that Alexa app can't connect. Setting isn't coming.
Needs more functionality
The shopping list is just a list. It should have different categories like meat, dairy, bread and cereal. It should be a shared list so other people can view and edit it. Being able to name your timers is nice.
Volume control is horrendous
I've never seen worse volume control in an app. When you start to use the slider, it sometimes jumps right to zero, muting the Echo, or even worse, to ten, blasting it. I'd think Amazon would be able to do better. It's also strange that you can't search for a song/title in the app like you can with voice. Two stars rather than one because other than these things, the app is fine.
Frustrating
Nothing is easy in this app. Cannot find a song or artist to play, can only browse by genre or playlist. Nothing is intuitive or logical. Still don't know how to just add something to my shopping list in here. And I'm a young adult who is tech savvy.
No search on amazon music?!
PlatinumLuthier
on
8/19/2017
It's Amazon's own service! Why can't they provide a search function within the Alexa app for something so basic?
Don't try to use this to control your Echo
Try adjusting the volume of a song that's playing. I DARE you!
What's going on?
Ever since the update, I'm unable to connect my Echo Dot with my wifi network. Tried to delete the app and reinstall and it won't let me delete.
Stinky App
So frustrating
Connectivity
Posterboards
on
8/19/2017
Alexa app doesn't open anymore. I connect to wifi at the store and toe app says no service. Didn't have this problem before. Guess I'm going back to paper and pencil for shopping. Really disappointed. Let me know when u fix this.
Needs a lot of work
For whatever reason, it won't let me sign in on my Sirius XM app even after attempting to log in with username and password multiple times. The app is slow, even on some of the best wifi. Needs a butt-load of work...
The worst
definatly not josh
on
8/19/2017
The app always freezes just 10 sec into using it I'd like to do a lot but with such a crappy companion app I can't even use my echo to its full potential.
Unintuitive and uninspiring
Guerrilla999
on
8/18/2017
I have always been an Apple guy but after getting the Amazon echo as a gift I decided to try it out. It's not nearly as useful as I thought it was going to be. I much prefer using Siri and the apps on my phone then using the Amazon echo.
Half baked very slow with limited functions
German Green Apple
on
8/18/2017
The app could is missing proper search functions (for amazon music no there) scrolling 1MM songs is rather silly and dial up speed slow.....
So bad....
PI$$ed off former customer
on
8/18/2017
....you're better off WITHOUT IT.
Swapping for google home.
Alexa is terrible. Even after enabling ALL of these "useful" skills she still can't do anything without you having to remember the EXACT scripted way to ask and even then she screws up. The ONLY thing Alexa on amazons echo is good for is playing you music and the occasional weather update. Can't update me properly on traffic or translate things for me 9/10 times even wth all of those "useful" translate skills enabled. I'm done after a month, switching for the google home. At least that can do the basics when it comes to traffic and how long it'll take along with translating things on the fly. The amazon echo is a horrible product line. Point blank period.
Apple TV keyboard prompt
After I installed this app now I get a prompt to enter in text as if I were to search something using my Apple TV app. I'm not even using the Apple TV app, uninstalled it but I'm still getting a prompt to enter my search criteria. I wonder if this app has something to do with it. Was working fine before I installed this Alexa app.
Bring Back Landscape Mode
Please bring back landscape mode for the iPad. Portrait mode is so lame. I am so happy that you brought back landscape support. Makes it easier to use my Logitech keyboard with the Alexa app once again.
New app
Fix the volume slider it's no good with the new app. Can't see the number through my thumb/finger. Difficult to slide up down. When finally got it, the slider automatically jumps too high or too low. Very annoying.
Horrible app
This app has made setting up my echo a nightmare. It keeps crashing, won't connect and is super slow. Please fix this app, amazon!
Broken
Update broke the application. I can no longer see lists, settings, or any other screen other than connections and the drop in menu. Drop In and the actual Alexa device work fine, however. Step up your game, Amazon.
Hangs up
kumar_ashish
on
8/17/2017
The app works really slow and half the time I'm restarting it to make it work. Amazing to see such a big company with an app is of this low standard. I really hope they work the bugs asap and make it user friendly and fast interface.
Fun but...
Sometimes I talk to a friend and it just starts speaking to me. Even in the middle of the night when no one is even talking. I mean this isn't the app but it's the object. It answers all of my questions. But sometimes I feel like it'd just be easier to look it up on my phone. And also it likes to disconnect a lot and when I go through the connecting instructions it doesn't ever work. Just in a few days it will randomly reconnect. Plz fix this.
For such a well functioning device, the app is garbage
MichaelllllllZ
on
8/16/2017
Simple tasks are made difficult wih this app.. for instance, Everytime you ask Alexa to set an alarm it is created as a new alarm. The app crashes whenever you try to manage alarms from within it, and it makes "weekday" alarms harder to control. I recommend the echo. It's great. I use it for a lot of random things, but the app is buggy, slow, and not really use able. That's pretty disappointing.
Got it for my car (BMW i3) but doesn't work
Got the amazon echo device specifically to use in my new 2017 BMW i3, but it doesn't pair/connect via Bluetooth with the car. I've tried pairing it and it just keeps saying "your device wasn't paired" So disappointed.
Fun and Easy!
Ticketstock.net
on
8/16/2017
Nice job Alexa!
App forces you to use messaging
App was constantly crashing so I reinstalled it. Now I can't use it unless I sign up for messaging and notifications. I don't want that.
The call and messaging feature does not work.
The app does not send me a code to continue the setup.
Frustrating
How can such a terrific invention provide such an inferior app? And not fix it!
Doesn't let me even sign in
non of youre bussiness
on
8/15/2017
Stupid app
Doesn't connect
I'm trying to connect the echo dot with my wifi but the pages don't seem to load. I wait and wait and nothing happens. It's frustrating. Please try to tweak something so I can use it. Thank you!!
SuzieB
Suzanne52487300x
on
8/15/2017
The August 10 update is much better. I no longer have to wait 15 seconds before my phone responds. The shopping list function also responds quickly. Not sure what happened months ago, but I appreciate the improvements.
The Worst App Maybe Ever. I Wish I was Exaggerating? 🤷🏽‍♀️
I wish I was exaggerating with the title, but I'm not. This has been the most disappointing app I've had in years. The product seems like a great idea and can be convent when it works properly, but the frustration of using this product with the app is unbearable to deal with.
Update is awful
I suppose after hunting around and clicking on everything I will be able to get it to work as well as it used to. Don't like the white on black and I'd rather have a menu visible on the side then a drop down.
Search and play feature from app...
Alexa does a decent job at what we ask her to do, but one thing that I would like is to be able to do that's not available is to search songs, and to be able to play them through the app, that way I can quietly control what my kids are listening to or help them with a song they are trying to get her to play without yelling Alexa from different room, while I'm putting my baby to sleep.
Basic Functionality Missing
No way to search prime music by artist? This is basic functionality no? In fact, you should be able to ask Alexa to search and have it show up on screen. This app is useless, and the only reason I tried it is because the echo can't understand what artist I want to play. So, all and all the whole thing isn't worth the frustration. Get Sonos.
Crash
The last 2 updates keep crashing... please fix it.
App was great until
App was great until this last update. Now I can't connect to my Alexa in my ecobee at all. It crashes every time I try to reconnect. Useless at the moment
Alexa
Saveharambe69
on
8/12/2017
App is clunky and difficult when it comes to setting up and managing separate amazon products for each room if you want them to operate separately.
No music search function with Amazon Unlimited
When selecting music from Amazon Unlimited, you can only browse through stations; you can't search for individual songs like you can if selecting from "My Music" or even the Amazon Music app.
Groups no longer working
Can't turn off my lights via voice command any more after update, tells me "Device doesn't support that"
Fix it Please!! Crashes!!
Cesar_Caceres
on
8/12/2017
I have installed the app and used it without problems. But after a few hours it won't reopen. It crashes and the only work around is to uninstall and install again. USELESS TO A NEW USER who is starting to learn the alexa system. CLUNKY explanations of how to access skills forces new users to study the commands by memory. PLEASE FIX THIS BUG SO THAT I CAN USE THIS THING WHICH I HAVE INSTALLED ALL OVER MY HOUSE OR I WILL SEND IT BACK.
Can't set to new wifi
Axel Faraday
on
8/12/2017
My family just got a new wifi modem and I'm trying to link the Echo to it but every time I'm at that stage where I link it to the wifi it gets to about the first quarter of the loading line and just times out. Is the recent update to blame?
Bad update
Ever since I updated it, I can use the messaging feature. I know I'm receiving messages but I can play them on my phone or device. I've restarted my phone and still nothing. How disappointing! I was really starting to like it!
What happened?!?
Aaron Productions YouTube
on
8/12/2017
App crashes every time I try to open it, I restarted my phone and waited a few days and it's still crashing! Never did this before it updated!
Love the app but update messed up list!
App is good and worked well until last update. Shopping list very sticky and almost non-functional!
Fact Sheet
Publisher:

AMZN Mobile LLC

Category:

Music

Released:

Dec 10, 2014

Current Version Released:

Aug 10, 2017

Version:

2.1.104

Size:

144.6 MB

Compatibility:

Requires iOS 9.0 or later.

Recommended Age:

4+

Game Center Certified:

No

Supported Devices:

iPad2Wifi-iPad2Wifi, iPad23G-iPad23G, iPhone4S-iPhone4S, iPadThirdGen-iPadThirdGen, iPadThirdGen4G-iPadThirdGen4G, iPhone5-iPhone5, iPodTouchFifthGen-iPodTouchFifthGen, iPadFourthGen-iPadFourthGen, iPadFourthGen4G-iPadFourthGen4G, iPadMini-iPadMini, iPadMini4G-iPadMini4G, iPhone5c-iPhone5c, iPhone5s-iPhone5s, iPadAir-iPadAir, iPadAirCellular-iPadAirCellular, iPadMiniRetina-iPadMiniRetina, iPadMiniRetinaCellular-iPadMiniRetinaCellular, iPhone6-iPhone6, iPhone6Plus-iPhone6Plus, iPadAir2-iPadAir2, iPadAir2Cellular-iPadAir2Cellular, iPadMini3-iPadMini3, iPadMini3Cellular-iPadMini3Cellular, iPodTouchSixthGen-iPodTouchSixthGen, iPhone6s-iPhone6s, iPhone6sPlus-iPhone6sPlus, iPadMini4-iPadMini4, iPadMini4Cellular-iPadMini4Cellular, iPadPro-iPadPro, iPadProCellular-iPadProCellular, iPadPro97-iPadPro97, iPadPro97Cellular-iPadPro97Cellular, iPhoneSE-iPhoneSE, iPhone7-iPhone7, iPhone7Plus-iPhone7Plus, iPad611-iPad611, iPad612-iPad612, iPad71-iPad71, iPad72-iPad72, iPad73-iPad73, iPad74-iPad74,

Supported Languages:

English; German;