TapNova doesn't recommend this app.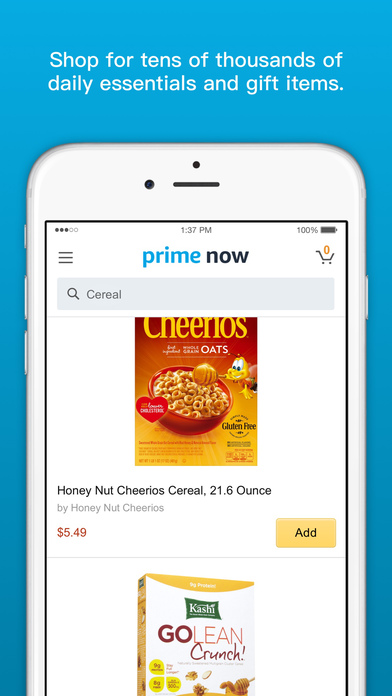 New in version 4.0
Bug fixes and performance improvements
Description
You have better things to do than go to the store. Skip the trip and shop for tens of thousands of daily essentials and gift items through the Amazon Prime Now app.

• Two-hour delivery is FREE and one-hour delivery is available in most areas for just $7.99. Prime Now is available from early morning to late night, seven days a week. Currently available in select areas including:
- Atlanta, Austin, Baltimore, Berkeley, Brooklyn, Chicago, Columbus, Dallas, Houston, Indianapolis, Las Vegas, Los Angeles & Orange County, Miami, Minneapolis & St. Paul, Nashville, New York City, Northern Virginia, Orlando, Phoenix, Portland, Raleigh, Richmond, Sacramento, San Antonio, San Diego, San Francisco Bay Area, Seattle & Eastside, and Virginia Beach.

• Shop for groceries, gifts, goodies and more from your favorite local stores:
- Chicago: Plum Market, Eataly & Eataly Vino, and My Fit Foods
- Indianapolis: FreshThyme
- Los Angeles: Sprouts and Bristol Farms
- New York City: Westside Market, Eataly, Gourmet Garage, Union Square Wine & Spirits, Vintage Grape Wine & Spirits, and Billy's Bakery
- Portland: New Seasons Market, World Foods, Uwajimaya, and Cupcake Jones
- San Diego: Sprouts, Bristol Farms, Northgate Market, and Keg N Bottle
- San Jose: Sprouts
- Seattle: PCC and Uwajimaya

• Get delivery from your favorite restaurants:
- Atlanta: Aviva by Kameel, Chai Pani, Flip Burger, Flying Biscuit, Grindhouse Killer Burgers, Varasano's Pizzeria, and many more
- Austin: Boteco ATX, Chi'Lantro, Clay Pit, Michi Ramen, Moonshine Patio Bar & Grill, Southside Flying Pizza, Sugar Mama's Bakeshop, Terry Black's Barbecue, The Backspace, and many more
- Baltimore: City Cafe,HomeSlyce, Indigma, Locust Point Steamers, Matsuri, Shiso Tavern, The Helmand, and many more
- Chicago: Big Star, Dove's Luncheonette, Chicago Q, RPM Italian, RPM Steak, Balena, Big Bowl, Wildfire, Butcher & The Burger, M Burger, Beatrix, Tallboy Taco, Publican Quality Meats, and many more
- Dallas: Blue Goose Cantina, Bryan Street Tavern, Ellen's Southern Kitchen and many more
- Houston: Beaver's, Dish Society, El Tiempo Cantina, Empire Café, Happy Fatz, Hay Merchant, Luna Pizzeria, Piola – Midtown, Thai Gourmet, Carrabba's, Max's Wine Dive, P.F. Chang's and many more
- Los Angeles: Umami Burger, Baby Blues BBQ, Wokcano, Hurry Curry of Tokyo, Feast from the East, John O'Groats, and many more
- Manhattan: Billy's Bakery, Pick a Bagel, S'MAC, Empanada Mama, Brother Jimmy's BBQ, Junior's Restaurant & Cheesecake, Le Pain Quotidien and many more
- Miami: Baires Grill, Brother Jimmy's BBQ, La Provence, Madero, Michael's Genuine® Food & Drink, Morgans Restaurant, Spris, and many more
- Orlando: Hawkers Asian Street Fare, Artisan's Table, Dexter's, Graffiti Junktion, Tamarind Indian Cuisine, Mamak Asian Street Food, PF Chang's and many more
- Portland: Pok Pok, Sizzle Pie, Waffle Window, Luc Lac, Habibi, East India Co. Bar and Grill, and many more
- San Diego: T Deli, Tajima Ramen House, Carnitas Snack Shack, Alforon, Mama's Bakery & Deli, Rubicon Deli, and many more
-San Francisco: Big Chef Tom's Belly Burgers, DOSA, Les Clos, M.Y. China, The Monk's Kettle, Pressed Juicery, Rosamunde Sausage Grill, and many more
- Seattle and the Eastside: Cactus, Wild Ginger, Skillet, Marination Station, Re:public, Café Yumm, Ten Mercer, Mamnoon, and many more
- Tampa: Taco Bus, India's Grill, Renzo's Gourmet, Curry Leaves, Queen of Sheba, Byblos Café, Datz, Piquant and many more
Reviews
Security characters error
No matter how many times I try I can get past the enter the characters security page at log in. And the audio version to hear the characters doesn't work.
Weekly satisfied customer for at least 7 months
I wanted to share my good experiences. I order $110 in groceries every week. There have been some minor snafus, but they are always adjusted by Amazon. I email or call customer service from the app and within 1 1/2 hours, usually much less, a service rep either calls me or emails me with the solution. I look for deals - wish those were advertised more! This service is much better than the other one, where if they don't have an item they immediately upsell you, and to be honest WF market is already too expensive. Sprouts doesn't do that. I appreciate you can buy bulk, and their organic are awesome. I used the restaurant app two times, for my mom as a surprise and for my fiancé when I was detained in an emergency and wanted him to have something good. Both were very happy customers. Please give this a try and with time you will get a rhythm with how they work. Like, I'm far away from Sprouts so usually mine is almost the last order, but I've learned to deal with that and plan accordingly. Also, if there is one thing I really must have or I'd rather cancel the order, I txt the shopper right away and ask if it's in stock. Also, when I order from the Amazon prime app, usually everything is perfect. They keep great stock of inventory, and package things very well. Always have had great friendly people on the other side. Please keep this service going, I love it!!!!
Don't use for restaurant ordering
Decent app UX, but terrible process execution and customer experience once the order is placed. This is for restaurant ordering specifically. I placed an order and was given a deliver window of 30-60. After 90 minutes and no delivery, I called customer service. After a 10 minute hold, I spoke with a very sweet woman who had no answers. The entire call duration was 19 minutes, but a call back from the CSR was required after she called her support team (they're not allowed to talk with drivers or restaurants directly, which clearly impedes their ability to deliver quality customer service). After over 100 minutes of waiting for my food delivery, amazon canceled my order. I contacted the restaurant, and they prepared it, but no amazon driver arrived. Thus, the restaurant is out the food and labor cost, I wasted over 100 minutes, the poor CSR had no information, and all participated an avoidable poor customer experience. Prime Now is dramatically inferior to amazon's other products, and dilutes their brand. Don't install - you will be disappointed as it doesn't come close to delivering on amazon's customer or brand promise.
Wth happened to my order!?!?!?
Ordered 5 items on Amazon prime now. Received a notice that my items were unable to be shipped to my address. Ok, that's fine, but why?? I did not receive a phone call or any other information. Noted to leave items at front door. Even still, I am at home. I have no way of getting in contact with them either, so a review it is.
Really Bad Experience
KevinChang54321
on
6/20/2017
I've used it a couple times without problem. Then the shitstorm hits. I placed an order and when it says delivered, it wasn't. Then they were kind enough to refund me and gave me $10 credit. So I used that credit and immediately ordered again. Awesome. Same thing happened again. I spent 4 hours waiting for each order and I got nothing in the end. Top notch service quality.
Restaurant Feature Is Total Garbage
I love Amazon Prime however their Prime Now Feature for Restaurant delivery is HORRIBLE!!! Their drivers are pretty inept and the GPS doesn't work (what did people do before GPS good grief??). Their drivers don't know areas well at all, before GPS people figured this stuff out somehow. Bad service and now I have a credit that I can't use because I refuse to order from Prime Now in the future. Yuck!!! Oh well I guess they couldn't be perfect at everything.
Thumbs down
Have been using prime now for over a year and was so happy with it. Now Amazon wants to charge a delivery fee of 2.99, plus tip. Nope not worth the money.
Third party is tarnishing Amazon's amazing rep
I have ordered four times thru prime now. Two orders came with the wrong item/size. I notified amazon and they gave me 30 dollar credit, which I'm grateful for. The third party delivery people could be rude and don't give a s f g t. If you know what I mean. Overall very convenient and deserves a five star if it wasn't for the third party a holes. Amazon needs to seriously think about this and rectify this issue before we all get tired of it.
Good app
Dyllywilly00000
on
6/16/2017
No problems at all. Super convenient
Don't bother with restaurants
They cancelled my order an hour after placing it on two separate occasions. Don't waste your time with Amazon food delivery. I've had issues with Postmates too so my advice is go with UberEATS.
Love it
I don't see any of the issues in previous reviews. They must've worked through some of those issues. Anyway, I needed groceries today, so I added things to my cart (all of which were available and clearly labeled with price), logged in with my prime account, and Sprouts delivered to me in 2 hours. Amazing.
Price more expensive than Amazon
I would not use Prime Now because of the below drawbacks: - Price is way more expensive than regular Amazon. People can wait a day or 2 saving an average of 30%. - $5 Tip is automatically added? Come on the price is already 30% more than on Amazon, plus tax and tips that becomes ridiculously expensive. I'm sure other competitors can do better. The tip should have different buttons where you can click on suggesting the percentage of tips and not add $5 by default.
Works well
SuperHappyUser2016
on
6/12/2017
I have been able to use this app without any problems. I placed an order and received it in under two hours.
Expensive
Double to triple the price of shopping in store on most items I saw.
Stupid and waste of time
Gary in Colorado
on
6/11/2017
Zero stars
Great app
Deliveries are one time and very reliable
Flooded With Unavailable Items!
Xerxesleviticus
on
6/6/2017
Why are my search results flooded with unavailable items to purchase? Now you must click on "option" to see if you can add an item to your cart for purchase. Most of the time the item listed is unavailable or does not contain a button for you to add it to your cart. This makes shopping on PrimeNOW incredibly annoying. I rather go to the store now to save time & trouble. (This just started happening recently; please fix it & release an update)
Have to click each item to view price?!
What tf happened? They updated the app, making it so you have to click each individual item to see the price. Total waste of time and the most unintuitive thing they could have possibly done. Won't use the app until they change that back.
Like restaurants delivery function
Wish there were more restaurants to choose from.
Crashed my iPad
I had to uninstall it. It tried to update itself for half a day then up and crashed my iPad.
Still doesn't work
Has not worked in over a month. Installed update today and still get "amazon prime now appears to be having trouble return to cart" message when I open app.
First Impressions
The app: The interface is clunky. The delivery tracking is almost useless. The app constantly shows products that are not in stock. That is unacceptable. Some itms are listed in the wrong area, which often mean they are not in the correct area. There is no real time inventory tracking. The choices are very limited, which makes this service fee gimmicky.
The greatest thing ever
I tried PrimeNow for the first time today, and I am very excited about it. I have two small children who currently both have colds. This service delivered my groceries and other miscellaneous items within two hours, on a day when I was dreading the thought of piling both kids in the car for errands. I will definitely be using this service over and over.
No native iPad support. Seriously?
iPhone app that does not run natively on iPad (runs as small app in center of screen or at 2X zoom). It's absurd that this app, by one of the largest companies in the world, is not iPad-aware. Other than that, it's easy to use and provides what one needs to choose and order merchandise. It is depressing to see complaints about a $35 minimum to get free two hour delivery. Have those complaining ever seen what a courier charges for a 2 hour delivery? Do they think that Amazon has an army of elves that transport the items to customer homes for $0/hour using magical vehicles that require no fuel? How is Amazon supposed to pay a driver $18/hour to deliver a $20 bag of dry dog food and make a profit?
It *used* to work
Stuck in an endless signin loop now, but I really wish I could use it.
Careful if you're using for produce.
Love prime now for some things but using Fresh Thyme is horrible. They gave me (inedible) kale, I ordered one kind of apple and they gave me another... and it's expensive. Bad experience both time I used.
Impressed
Thephoenixlights
on
5/20/2017
Tipping is optional and very easy to change. Quit bashing a great service because you weren't paying attention! My ONLY complaint is that just now I accidentally submitted an old method of payment (a lost debit card that no longer exists) and instead of notifying me and allowing me to resubmit the same order, it was cancelled and I had to select every single item again. Please make resubmitting a cancelled order an option!
Not so good, app or service
Amazon kinda dropped the ball on this one! They could be the "Costco" of delivery services. The app is ok, but you have to search or scroll through everything. The grocery service is much like a corner gas station, with expensive somewhat weird product selections. Items you buy once, after quickly learning a lesson. You can buy bread, but peanut butter and jelly is all you can get to put on the bread. Bologna and cheese, forgetaboutit! Just about every grocery store delivers now, so amazon doesn't even come close with what they offer, unless you shop at the corner gas joint, and like high prices, and mini items. Where it sort of shines, is in non grocery products. Need pots and pans, good. Need tools, paper products, other things, maybe. You can get them within a couple of hours. That I do like. They have some high quality offerings in many places, and the opposite. Hopefully they grow it, and expand the product offerings, and grocery offerings. It could be nice!
Student saving time for studies
I saw that someone else said their produce was rotting? I actually came on here to compliment the produce (maybe we are in different areas). In Orange County I'm always pleased with the produce, ESPECIALLY the blueberries and clementines! This app has saved me so much time. As a student, I greatly appreciate any time saving activity. And they have some really good deals for some things on here too! It's starting to get a wider selection. There are a couple go to items or flavors for me that they don't have, but that's the nature of the beast. This is still fairly new. But I am expecting it will widen the selection with time.
Always annoyed
They either constantly mess up my order and/or they are out of everything. It's more annoying than helpful.
The best delivery service so far!
I'm super impressed with how fast they deliver and how many products they carry. From last minute flowers, food and anything you might think, they carry it! Thank you for such a great service
Love this!
Great app! Definitely helps for last minute items I don't have the time, patience or energy to run to the store for!! Craving ice cream but it's raining? Perfect I can order Ben & Jerry's on here!
Thankful
As a mother of 2 under 3 it is definitely a challenge to get the babies to the grocery store without the husband. Although I end up spending a little more than needed with the $20 minimum, I get what I need and it's worth not dealing with tantrums in the checkout lane. So far the people have been wonderful and on time. I will continue to use until given a reason otherwise.
Worst service.
Cancelling my order every time.
Lack of items
Lack of items I ordered this app thinking it'll be just like the original Amazon but they don't have anything right in what I'm looking for The Real Amazon has tons of things I'm looking for all I'm looking for is an airsoft gear and they don't have a single thing that's actually airsoft
Payment Method Needs to be fixed once and for all
Mooogie Oooogie Wooogie
on
5/10/2017
I've bee using this service for about a year. This is this fourth time an order has been cancelled due to payment issues. The first few times it was due to the app not recognizing the card I chose at checkout, and instead choosing another card I have on my account. To solve this, I've had to delete the secondary card multiple times but the app seems to pull it up from my Amazon account without me actually entering in the card information into this app. This last time an order failed, it was due to the app pulling up a card that I deleted from my Amazon account 2 years ago! Where is this app pulling card information from? This is unacceptable!
I love it
Don't change a thing. I love the service. Oh, except, add more store availability. Kind of getting tired of Sprouts. Whole Foods and Ralphs would be nice.
Started out GREAT! Now not so good.
SilentDolphin
on
5/2/2017
When Prime delivery first started, so much of the items, especially cases of soda, were cheaper than local stores even with sales! Now Amazon has marked up most of each case $1.50-$2.50 MORE than store prices, not on sale! I will probably still use Prime delivery as needed when I'm not physically able to make it to the store, but the prices here are no longer saving me money.
DELIVERY NO LONGER FREE.
Please everyone notice that there is a delivery fee and do not make the mistake we did placing an order in a hurry because there hasn't been one before. Had an alert shown up that there is now a delivery fee, I would happily continue to use this service. But I feel tricked. I have used this service at least 50 times, but no more.
Awesome
Eduard raptunovich
on
5/2/2017
Works super well, and one time it did not get delivered to the right place not only did customer service entirely refund me but gave me 20% off my following order. They do a great job!
Great, when it works.
I had a promo code, so thought I'd give this a try. I was so happy to get the things I needed within two hours, and I live in the suburbs outside of Sacramento. Yes, there is a minimum order amount. Yes, there is a $5.00 currier fee to pay the person who made a special delivery within two hours of me paying. No business is going to send someone out for free for an item I bought for $6.50. The gas one way comes to that. So, it's an opportunity to make the most of a special trip and snag a few other items. The downsides: Number one, the app is hinky and needs to be revamped. Big time. I have an iPhone and more than half the time I'm sent to a page with a non-working "add to cart" button. Number two - and this is just the reality - inventory is select. Think of it as a convenience store. Quick access to a limited quantity of popular, general items. Great for emergencies. The truth is that once the app is fixed up I will be happy to continue using it and give it a higher rating. Until then, I give it three stars at the most and won't utilize it.
Ridiculous
First you had to have $20 worth of food for a free delivery, now you need to have orders worth $35 for a free delivery. WHY! This is ridiculous!!
Disappointing
Red Dragon AZ
on
4/26/2017
I've been using this app for a while now. The last three times, I've received rotting produce. Today, when I attempted to place an order, the app wasn't working. I reported this to customer service and was told to install a new browser, which was the last straw. In theory, this is awesome, however, don't waste your time until they get their act together.
Awesome hopefully the sale items are updated!
BEST SHOPPING EXPERIENCE EVER! So yesterday i couldn't sleep by thinking that i had so many errands the next day and stuff i had to do and on top of that, i had to do grocery shopping (havent for a week now)😩 so that means me driving to driffent stores plus having milk and eggs in my car for a long time so i decided to shop at 2 am (primenowapp)woke up at 10 am and BAMM MY groceries were here!!😭☺️😌😊im so happy i just hope it continues with free delivery! I was able to buy from 3 different store and someone came and brought it all! NO THE ITEAM R NOT MORE EXPENSIVE THEY COST THE SAME!!! And saves u time and money! What? Did u forget what u were going to the store for.. No worries the answer is PRIME NOW ! I was unable to use the 10$ off:( but still had a great experience! I recommend it!!!!!!!!! #primenow #loveit #primenowamazon #primenowsandiego #amazon #amazinprime
Dumb concept/app
Claim to deliver to San Antonio and I can get same day shipping to my area on tons of items through the normal amazon app, but Prime Now is "not in my area." Yet my coworker who is just over a mile down the road can. Arbitrary is arbitrary.
Food and groceries in an hour!
I discovered this app today and ordered delivery (from an app) for the first time ever. Was surprised it was available in my relatively small city so SHOUT OUT to Amazon! Got restaurant food AND grocery items delivered in an hour and I may never leave my home again.
Good
Preciousbwoy
on
4/21/2017
Waiting for the service in my area!! Will rate accordingly once available :)
Love it!
I've used the app & service since it became available in Orange County, CA in fall 2015. In my delivery area I can shop from Amazon, Sprouts and Bristol Farms. Each item shows who offers it and the price. The minimum order is very small for an invaluable service. Their shoppers text you if something is out of stock and ask if you want a substitute. Delivery couriers are polite & trustworthy. You can get everything from toys, books, printer ink, cards & wrapping paper, fresh flowers, canned goods, frozen foods, deli items, organic produce and grass fed beef to light bulbs, electronics and diapers! I'm thrilled they recently added restaurant delivery, too. I usually choose the 4 hour delivery option, which goes to midnight, but you can order for the next day, too. Try it!
Wrong address on profile when contacting customer support
bobalooandthebigjew
on
4/21/2017
Had to spend 10 minutes trying to find the address associated with my profile. Out of the 30 addresses I have -- it was a 3 year old address that I have never had prime delivered to.... bush league amazon.... bush league....
Fact Sheet
Publisher: AMZN Mobile LLC
Category: Shopping
Released: Dec 17, 2014
Current Version Released: Jun 01, 2017
Version: 4.0
Size: 48 MB
Compatibility: Requires iOS 9.0 or later.
Recommended Age: 4+
Game Center Certified: No
Supported Devices: iPad2Wifi-iPad2Wifi, iPad23G-iPad23G, iPhone4S-iPhone4S, iPadThirdGen-iPadThirdGen, iPadThirdGen4G-iPadThirdGen4G, iPhone5-iPhone5, iPodTouchFifthGen-iPodTouchFifthGen, iPadFourthGen-iPadFourthGen, iPadFourthGen4G-iPadFourthGen4G, iPadMini-iPadMini, iPadMini4G-iPadMini4G, iPhone5c-iPhone5c, iPhone5s-iPhone5s, iPadAir-iPadAir, iPadAirCellular-iPadAirCellular, iPadMiniRetina-iPadMiniRetina, iPadMiniRetinaCellular-iPadMiniRetinaCellular, iPhone6-iPhone6, iPhone6Plus-iPhone6Plus, iPadAir2-iPadAir2, iPadAir2Cellular-iPadAir2Cellular, iPadMini3-iPadMini3, iPadMini3Cellular-iPadMini3Cellular, iPodTouchSixthGen-iPodTouchSixthGen, iPhone6s-iPhone6s, iPhone6sPlus-iPhone6sPlus, iPadMini4-iPadMini4, iPadMini4Cellular-iPadMini4Cellular, iPadPro-iPadPro, iPadProCellular-iPadProCellular, iPadPro97-iPadPro97, iPadPro97Cellular-iPadPro97Cellular, iPhoneSE-iPhoneSE, iPhone7-iPhone7, iPhone7Plus-iPhone7Plus, iPad611-iPad611, iPad612-iPad612, iPad71-iPad71, iPad72-iPad72, iPad73-iPad73, iPad74-iPad74,
Supported Languages: English;