This version of the app is not recommended
App last updated
Jan 19, 2018
Screenshots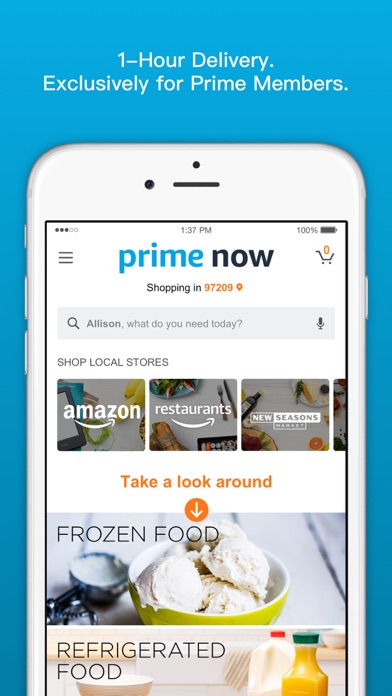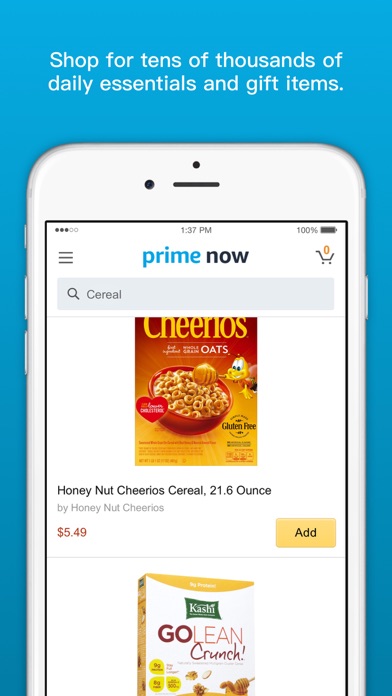 New in version 4.6
iPhone X Support
Bug fixes and performance improvements
Description
You have better things to do than go to the store. Skip the trip and shop for tens of thousands of daily essentials and gift items through the Amazon Prime Now app. In addition to the daily essentials available on Amazon Prime Now, you can shop from local stores and restaurants in select cities.

Choose from three ultra-fast delivery options for orders fulfilled by Amazon Prime Now: delivery in a two-hour window, delivery in a one-hour window, or delivery within an hour. Delivery within an hour and one-hour delivery windows are available in most ZIP Codes serviced by Amazon Prime Now.

•Prime Now is available from morning to night, seven days a week. Currently available in select areas including:
- Atlanta, Austin, Baltimore, Berkeley, Boston, Brooklyn, Charlotte, Chicago, Cincinnati, Columbus, Dallas & Fort Worth, Denver, Houston, Indianapolis, Las Vegas, Los Angeles & Orange County, Manhattan, Miami, Milwaukee, Minneapolis & St. Paul, Nashville, Orlando, Phoenix, Portland, Raleigh, Richmond, Sacramento, San Antonio, San Diego, San Francisco Bay Area, Seattle & Eastside, Tampa, Virginia Beach, and Washington, DC Metro

• Shop for groceries, gifts, goodies and more from your favorite local stores:
- Atlanta: Sprouts
- Austin: Sprouts
- Chicago: Fresh Thyme
- Dallas: Sprouts and Sally Beauty
- Denver: Sprouts
- Indianapolis: Fresh Thyme
- Los Angeles: Sprouts, Bristol Farms, and Mission Wine & Spirits
- New York City: Westside Market, Gourmet Garage, Union Square Wine & Spirits and Vintage Grape Wine & Spirits
- Milwaukee: Fresh Thyme
- Minneapolis: Surdyk's Liquor & Cheese Shop
- Phoenix: Sprouts and Tops Liquors
- Portland: New Seasons Market
- Sacramento: Sprouts and Pet Food Express
- San Diego: Sprouts, Bristol Farms and Keg N Bottle
- San Francisco Bay Area: Sprouts, Peninsula Beauty, Pet Food Express, Sousa's Wines & Liquor and Tony's Market & Liquor
- Seattle: PCC Community Markets, New Seasons Market, Bartell Drugs and All The Best Pet Care

• Get delivery from your favorite restaurants including, but not limited to:
- Atlanta: Chai Pani, Farm Burger
- Austin: Clay Pit, Tarka Indian Kitchen
- Baltimore: Dinosaur BBQ, Home Slyce
- Columbus: Bareburger, Schmidt's Sausage Haus
- Chicago: P.F. Chang's, 5411 Empanadas
- Dallas: Roti Grill, Fireside Pies
- DC: Matchbox, Lebanese Taverna
- Houston: El Tiempo Cantina, Luna Pizzeria
- Las Vegas: Weera Thai Restaurant, Soho Sushi Burrito
- Los Angeles: - Pitfire Pizza, Wokcano
- Manhattan: Tao, Blue Ribbon Fried Chicken
- Miami: Harry's Pizzeria, Versailles Restaurant
- Minneapolis: Quang, Hola Arepa
- Orlando: Hawkers Asian Street Fare, Black Rooster Taqueria
- Portland: Pok Pok, Red Robin
- Phoenix: Pita Jungle, Thai Basil
- San Diego: Chris' Ono Grinds, Dumpling Inn
- San Francisco: Chabaa Thai Cuisine, Boulevard Cafe
- Seattle & Eastside: Cactus, Red Robin
- Tampa: India's Grill, Datz
Reviews
Does not real time track orders
Even if you refresh, Primenow shows your driver as in the same place as where they started. If you have a 2 hour window this allows no flexibility for personal time...annoying. Multiple times they've shown my driver as being 30 minutes out of town and then they just show up suddenly. Also, why should we tip before we know the quality of service we will receive? Lastly, produce is always bruised, frozen foods are always melted. Start with the drones already. I've found day time delivery to be pretty spot on, evening delivery is sketchy.
Stores
They took away the only Grocery Store I liked & everything I want isn't available & whats left ? Stores that charge too much & not enough variety
Junk!!!!
Ordered a $500 Xbox one x at 5 pm and was given a window of 8-10 pm. So being it was a $500 item I waited by the phone for a notification so it didn't get left by the door or something. Hour after hour went by until right before 10 pm and I read it was canceled due to being out of stock about an hour ago but without a notification until I cleared the app and restarted it. What a wasted night. So I erased the app and went to bed. As far as I'm concerned Prime now is a piece of junk!
Disappointed
Alicia Nashion
on
1/20/2018
I'm disappointed that amazon; and I'm a prime member of course, but amazon can deliver everywhere but there's hardly locations for on this prime now app? It would be awesome if there was more especially around even military bases by far! Raleigh is two+ hours away from Camp Lejeune; I would love to try these services out, but I am sure it is sum of the works to keep expanding, especially if anything like amazon prime. Thank you!
Upped the fees
Was great until they upped the fees
Rotten veggies and broken returns
I've purchased several types of items from now. Lawn chair (wouldn't stand up on its own), heater (leg was broken off), children's toy (broken pieces). Fruits such as bananas are so green they never ripened before going rotten, veggies are old and yucky. You can get frozen and shelf foods in ok shape usually but at twice the price a normal store would have them. One extra star for convenience if you only shop shelf items. Keep in mind that returns take two weeks to refund as well. This is not a fast version of amazon, it's a crappy version.
It's NOT 2 hour delivery!
Waist of $$$
on
1/18/2018
The "2 hour" phrase is a scam! You spend time shopping the app with limited selection....then when you go to check out your forced to select "2 hour time windows" that begin 4 or 5 hours from the time you check out. Meaning the delivery is actually 6-7 hours. And that can still be a great thing for the right person at the right time! JUST MARKET IT CORRECTLY!
Good but needs update
This app needs iPhone X support
First Amazon disappointment
AtheGAYLouise
on
1/13/2018
I love being an Amazon Prime member and definitely take advantage of my free 2 day shipping all the time to get anything from towels to my auto delivered cat food. When I heard of Prime Now I was pumped, but then saw all of the outrageous fees and restrictions. The whole purpose of using a service like Prime now is when you think of something you need last minute and can't wait a couple days for it to ship. So when I realized I really need a pair of gloves because of the snow I thought of this app and downloaded it, but then saw the price and realized for that price I could buy 8 pairs of those gloves on my regular prime and just wait two days. Just scrap the program/app altogether
Price is Wrong
App Store states that 2 hour shipping is free if you're an Amazon Prime member. However, the app charges a minimum shipping fee of $4.99 if the items are under $35.
Poor quality app
Every other mobile delivery app is optimized for iPhone X, has live tracking that's functional, and has a wider selection of food. I like the concept of prime now but they need further development.
Terrible with login
This app doesn't allow fingerprint log in or the password key option to easily enter your password. Once you are ready to check out it has you put in your password which takes you to a new screen that makes you enter your password again with additional characters to make sure you are not a robot. I got stuck in the second part because it started saying my password was invalid even though I just entered it in the previous screen to get to that one. Add the keychain or fingerprint option!
NOT AVAILABLE IN MY AREA
Rick Perrimun
on
1/5/2018
PRIME NOW ISNT AVAILABLE IN MY AREA IM CRY UNTIL THEY MAKE IT HAPPEN I WILL PUT THIS REVIEW BACK TO FIVE STARS
iPad support
With all of Amazon's development resources, why can't they format this app to render nicely on an iPad screen??
Not as good as SHIPT
sandisunshinej
on
12/30/2017
Almost every order has a number of items out of stock which messes up my meal plans. Also, much of my frozen delivery is slushy by the time it gets to me. If they can improve upon these items I think that they have a chance at being as good as SHIPT which sadly is not in my area yet.
iPhone X Support
When will this app ever get iPhone X Support. It's been months now and still no update...
Disappointed
leonhui1412_01
on
12/27/2017
After iPhone X released almost three months, this app from one of the biggest company in the world still not support it
Needs iPhone X Support
TheProphetB
on
12/27/2017
It's been awhile since the iPhone X came out and the regular Amazon app has been updated.
Not to support iPhone X
The Amazon prime now app not match iPhone X size
Still not iPhone X ready...
... come on Amazon, get your sh*t together and optimize the app finally for iPhone X. This app and Nest are the last ones i use at least several times a week which are not ready. Shameful for a huge company like Amazon!
Not there yet.
EverySingleDay
on
12/26/2017
Great concept and super convenient but... While I love the concept the execution is poor. Deliveries are often late, drivers quickly flag deliveries as undeliverable, and lastly Amazon Prime Now Customer Care does not have a capability in contacting drivers nor can they request redelivery attempt, but can only refund and submit a replacement order meaning one would have to wait an additional 2-4hours. I hoped this would have been an excellent time saver for grocery shopping, but will pass for now as Amazon can't get this right and doesn't know who is handling my food and drivers are unknown.
Breaking Up With All Amazon Services
Used to LOVE this app! Yeah...my delivery was actually 4 hours because I ordered at 2:03 and it arrived at 5:59, the end of the 4-6 window, but the minimum was $20, all my basics were there and REASONABLY priced. NOW, the delivery minimum is $35, the prices have INCREASED, my stuff STILL takes 4 hours to arrive, the selection is horrible (which is odd since they have Whole Foods at their disposal), I could go on with my insults here. Of course they had to start their own grocery delivery service, Amazon Fresh, which NO, Amazon, I'm not paying extra for. Everything that was once included in my membership is now being carved out, and they are charging extra for. These are our final days together Amazon. You know what you did.
Update to iPhone X
Alex kamaratos
on
12/25/2017
I love this app but could you please update the app to make it compatible with iPhone X?!
Not Updated form iPhone X
Not Updated form iPhone X. Also, they raised the fees for Singapore and refuse to have a website.
Used to be good but not anymore
Besides the fact that they raised the minimum for free delivery, the delivery is also no longer two hours. For example if i order at 5:30 the next delivery window I can choose is 8-10 and as we all now orders almost always show up in the last few minutes of the window, so I've paid the minimum for "free 2 hour deliver" when in reality the way the have it set up the soonest you could actually get anything is 3 hours and that's if you're lucky. Instacart has a much better selection and will get your order to you at the time you choose (not 5 hours later) so as long as I'm paying a fee I'm sticking to Instacart.
A problem every single time
I live in Manhattan so I have access to all services and don't worry guys you are not missing much. Like many others I use this when I am home sick or not in a position to go out. I've had Amazon delivery guys literally throw things at my door and walk away, I've had them mark things delivered then show up after 4 hours (this is so they could avoid a courier penalty for taking more than 2 hours), and the restaurant delivery service is a DISASTER. They'll agree to deliver something then never show up to the restaurant or deliver the wrong thing. Each time it's a nightmare trying to get Amazon on the phone and to fix things. And yes every once in a while they throw you a "sorry" credit but it's really a sorrynotsorry credit because it's been like 2 years and service keeps getting worse not better. And now it's a higher minimum and a delivery fee. I'd avoid this if there is literally any other way you can order what you need.
Lazy
Could you please update the app to support the iPhone X's screen. Thank you!
No iPhone X upgrade
Month after it was released, c'mon...
Restaurants app - developer please improve this aspect
Lodi88 Lodi88
on
12/8/2017
Hi I would love to use Amazon restaurants but end up using other apps for delivery because this app is behind in terms of user interface, selection, and reviews. Please improve the user experience. I look forward to doing everything via Amazon Prime and not have to subscribe to more fees to use other company restaurant delivery apps. I would suggest a separate "Amazon prime restaurants" app and make the interface something like grub hub or Yelp. I know Amazon can do this given their expertise. As of now this restaurants function buried in Amazon now app is basically inferior. I can't use it even though I have Amazon restaurant coupons! Unacceptable!!
Convenient
TweetzWorld2013
on
11/28/2017
Maybe it's because the warehouse is so close to my home and Job but my deliveries are always really fast. I literally ordered some things at 7:35pm was told it will be to me by 8:45pm, it was here at 7:43pm! Seriously I couldn't have any complaints! I love this feature!
Horrifying experience
Robinson862
on
11/26/2017
Ordered groceries to arrive between 6-8 pm after long holiday weekend. Never received them. Had to contact amazon 3 times myself to ask where they were. No one ever reached out. Had I not done that my groceries would have just not showed up with zero explanation. Once I finally realized they were not coming I offered to pick themselves up myself at close to 10pm before store closed but was told I could not do that. I also responded within one minute (it's time stamped) of them telling me something was unavailable via text and they still didn't replace them with what I was asking for. The customer rep was polite and apologized but there are systemic issues with this service that are not being addressed. If you want groceries delivered effectively use walmart.com. Much much much better experience across the board.
Okay
I only order alcohol 😜😜😜
Reviews by City
BlackHButterfly
on
11/25/2017
It is absurd that the reviews cannot be sorted by city. Delivery issues in one city may not exist in another. Amazon, fire your existing app developers. Take some of your profits and hire a team with experience and skill.
Something is terribly wrong
Something is terribly wrong this is happened like four times to me so far in the last few weeks. I placed the order I leave notes for the delivery guy I choose the credit card I hit confirm I think I'm waiting on my order I pick up my phone two hours later and the order never went through.
TY
Djbainfdundtkh
on
11/25/2017
After Best Buy cancelled my order after 59 minutes on Thanksgiving weekend I went to Amazon Prime Now. Never any problem with Amazon, I got delivery of my product at a great price so I thank Amazon prime now. TY Amazon, you take my money and send me stuff, wish other companies did the same. Never Best Buy, never PayPal and never EBay. Amazon loves me!
Non functional with update
Title says it all, with update it is non functional on iPhone 6. Amazon blew it on this one
Does not support iPhone X
Scott James Remnant
on
11/20/2017
Despite having updates since the iPhone X was announced, this app still does not support it.
Delivery area??
I am in the heart of Silicon Valley yet the app says "we do not deliver to that area" for any of the zip codes I need. Deleted.
Terrible design, full of issues
Keith15784586
on
11/18/2017
Hard to navigate. Way too many sub-menus all cluttered into the page(most don't even work). The search function doesn't seem to work at all, it pulls up "no results" for items that they have. They have buttons like "featured items" and "new groceries" that when you press them they load for 10-30 seconds to tell you "your search didn't bring up any results". It's a frustrating app to try and use. I can't believe this is the best app that one of the worlds largest companies, Amazon, could come up with.
PLEASE DELIVER TO WASHINGTON
I've heard this app is amazing and I would kill to use it. You deliver to LA, so please deliver to Washington!!
Prime two day delivery
slowdelivery
on
11/16/2017
I have ordered a few items lately and the package arrives many days late! Why am I paying for Two Day delivery and not getting it in Two Days?
Not so good, app or service
A joke that becomes a far bigger joke! If I had amazon stock I would be selling it. The grocery service is much like a corner gas station, with expensive somewhat weird product selections. Items you buy once, after quickly learning a lesson. You can buy nasty bread isle bread, but peanut butter and jelly is all you can get to put on the bread. Bologna and cheese, forgetaboutit! Just about every grocery store delivers now, so amazon doesn't even come close with what they offer, unless you shop at the corner gas joint, and like high prices, and miniature items. They also can't keep the good items in stock, and it might be weeks or months before you see it again. I have the feeling it is overstock and expired goods deals that they are making for the products they offer. Where it sort of shines, is in non grocery products. Need pots and pans, good. Need tools, paper products, other things, maybe. You can get them within a couple of hours. That I do like. They have some high quality offerings in many places, and the opposite. It's a crap shoot! Hopefully they grow it, and expand the product offerings, and grocery offerings. It could be nice! I take that back. The last thing we want is amazon in the food chain!
Help amazon
I would love to use this app but now living in Utah I am told I will be notified?... I pay for amazon prime so why am I not get this benefit?
COLD food
Late deliveries, past an hour. It's good it you like your food COLD and don't mind waiting over an hour for delivery because they are running LATE.
Rate Increase
Deleting app due to rate increase. Very disappointed.
Not worth it anymore!
For starters Amazon Prime Now was amazing until they "updated" the app. Now the app is a mess and hard to navigate. The biggest problem is the price increase, in the past the minimum purchase amount was $20 and shipping was free. With the update came a minimum charge of $35 for free shipping or you get charged $4.99 for shipping if it's below $35. Where I live the only available time is 8-10pm, even if you order early. Amazon has broken an amazing service.
Not paying for this
Bad selection, delivery always at the end of the window as you can see courier sitting around in one spot on the map, and now you want me to pay? Chyea no
Can't check out
Crashes every time I time I click on the checkout button. Wasted time shopping and adding to the cart only to not be able to complete the order.
Worst customer service
JillianWould
on
11/1/2017
They cannot and will not help you.
Fact Sheet
Publisher:

AMZN Mobile LLC

Category:

Shopping

Released:

Dec 17, 2014

Current Version Released:

Jan 19, 2018

Version:

4.6

Size:

53.9 MB

Compatibility:

Requires iOS 9.0 or later.

Recommended Age:

4+

Game Center Certified:

No

Supported Languages:

English;