Screenshots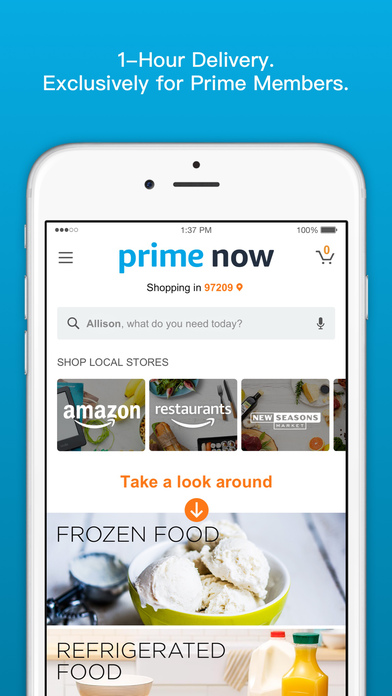 New in version 4.1.1
Bug fixes and performance improvements
Description
You have better things to do than go to the store. Skip the trip and shop for tens of thousands of daily essentials and gift items through the Amazon Prime Now app.

• Two-hour delivery is FREE and one-hour delivery is available in most areas for just $7.99. Prime Now is available from early morning to late night, seven days a week. Currently available in select areas including:
- Atlanta, Austin, Baltimore, Berkeley, Brooklyn, Chicago, Columbus, Dallas, Houston, Indianapolis, Las Vegas, Los Angeles & Orange County, Miami, Minneapolis & St. Paul, Nashville, New York City, Northern Virginia, Orlando, Phoenix, Portland, Raleigh, Richmond, Sacramento, San Antonio, San Diego, San Francisco Bay Area, Seattle & Eastside, and Virginia Beach.

• Shop for groceries, gifts, goodies and more from your favorite local stores:
- Chicago: Plum Market, Eataly & Eataly Vino, and My Fit Foods
- Indianapolis: FreshThyme
- Los Angeles: Sprouts and Bristol Farms
- New York City: Westside Market, Eataly, Gourmet Garage, Union Square Wine & Spirits, Vintage Grape Wine & Spirits, and Billy's Bakery
- Portland: New Seasons Market, World Foods, Uwajimaya, and Cupcake Jones
- San Diego: Sprouts, Bristol Farms, Northgate Market, and Keg N Bottle
- San Jose: Sprouts
- Seattle: PCC, Bartell Drugs and All The Best Pet Care

• Get delivery from your favorite restaurants:
- Atlanta: Aviva by Kameel, Chai Pani, Flip Burger, Flying Biscuit, Grindhouse Killer Burgers, Varasano's Pizzeria, and many more
- Austin: Boteco ATX, Chi'Lantro, Clay Pit, Michi Ramen, Moonshine Patio Bar & Grill, Southside Flying Pizza, Sugar Mama's Bakeshop, Terry Black's Barbecue, The Backspace, and many more
- Baltimore: City Cafe,HomeSlyce, Indigma, Locust Point Steamers, Matsuri, Shiso Tavern, The Helmand, and many more
- Chicago: Big Star, Dove's Luncheonette, Chicago Q, RPM Italian, RPM Steak, Balena, Big Bowl, Wildfire, Butcher & The Burger, M Burger, Beatrix, Tallboy Taco, Publican Quality Meats, and many more
- Dallas: Blue Goose Cantina, Bryan Street Tavern, Ellen's Southern Kitchen and many more
- Houston: Beaver's, Dish Society, El Tiempo Cantina, Empire Café, Happy Fatz, Hay Merchant, Luna Pizzeria, Piola – Midtown, Thai Gourmet, Carrabba's, Max's Wine Dive, P.F. Chang's and many more
- Los Angeles: Umami Burger, Baby Blues BBQ, Wokcano, Hurry Curry of Tokyo, Feast from the East, John O'Groats, and many more
- Manhattan: Billy's Bakery, Pick a Bagel, S'MAC, Empanada Mama, Brother Jimmy's BBQ, Junior's Restaurant & Cheesecake, Le Pain Quotidien and many more
- Miami: Baires Grill, Brother Jimmy's BBQ, La Provence, Madero, Michael's Genuine® Food & Drink, Morgans Restaurant, Spris, and many more
- Orlando: Hawkers Asian Street Fare, Artisan's Table, Dexter's, Graffiti Junktion, Tamarind Indian Cuisine, Mamak Asian Street Food, PF Chang's and many more
- Portland: Pok Pok, Sizzle Pie, Waffle Window, Luc Lac, Habibi, East India Co. Bar and Grill, and many more
- San Diego: T Deli, Tajima Ramen House, Carnitas Snack Shack, Alforon, Mama's Bakery & Deli, Rubicon Deli, and many more
-San Francisco: Big Chef Tom's Belly Burgers, DOSA, Les Clos, M.Y. China, The Monk's Kettle, Pressed Juicery, Rosamunde Sausage Grill, and many more
- Seattle and the Eastside: Cactus, Wild Ginger, Skillet, Marination Station, Re:public, Café Yumm, Ten Mercer, Mamnoon, and many more
- Tampa: Taco Bus, India's Grill, Renzo's Gourmet, Curry Leaves, Queen of Sheba, Byblos Café, Datz, Piquant and many more
Reviews
Eh
The one true yeezus
on
8/20/2017
They have a wide variety of places to get food but it takes way longer to deliver than if I order from door dash or Uber eats. I wouldn't have this app if Uber eats and door dash had all the same restaurants
Error Messages AND Viewing Past Orders
"Amazon Prime Now appears to be having trouble. Please try again" .. It happens constantly; primarily when tapping to read all reviews. Leaving a review is impossible. I've used this app about 3x a month and each time, I hope the bugs get worked out. But, no. Apparently, no one is paying attention in the dev department or they don't care. Further, when I login to my primary Amazon account, I'd like to view all my Prime Now orders without having to use this app.
Love it!!!
This app is a life saver!! I have used it plenty of times! My produce has always been great and any fragile items have always been well and properly packaged whether it's temperature or otherwise. One thing I ask to add is more variety of meat. Like actual meat not just the slim frozen chicken fingers selection. It would be nice to be able to order some steaks etc..
Awesome
captainmorgan109
on
8/18/2017
Awesome concept awesome app. Probably the one thing that need some work is the tracking map. I have to keep closing the app and reopening it to update it. Also what would be nice it is to have a estimated time of arrival as the delivery happens.
Avoid Amazon Restaurants
The restaurants part of this app leave a lot to be desired, especially when you rely on app to suggest local restaurants that are outside of your delivery area. Also it automatically adds a tip which is ridiculous.
Not so good, app or service
Amazon kinda dropped the ball on this one! They could be the "Costco" of delivery services. The app is ok, but you have to search or scroll through everything. The grocery service is much like a corner gas station, with expensive somewhat weird product selections. Items you buy once, after quickly learning a lesson. You can buy nasty bread isle bread, but peanut butter and jelly is all you can get to put on the bread. Bologna and cheese, forgetaboutit! Just about every grocery store delivers now, so amazon doesn't even come close with what they offer, unless you shop at the corner gas joint, and like high prices, and mini items. They also can't keep the good items in stock, and it might be weeks or months before you see it again. I have the feeling it is overstock and expired goods deals that they are making for the products they offer. Where it sort of shines, is in non grocery products. Need pots and pans, good. Need tools, paper products, other things, maybe. You can get them within a couple of hours. That I do like. They have some high quality offerings in many places, and the opposite. It's a crap shoot! Hopefully they grow it, and expand the product offerings, and grocery offerings. It could be nice!
Great service. I use it all the time. But iPad app please!
The delivery is free, so don't complain about deliveries in the last part of the time window! Sprouts delivery in my area is awesome. Prices are pretty similar to retail for many items, so it makes it an affordable way to get groceries when you don't have a car and live to far from an affordable store.
Love Prime Now
Doesn't have everything but it has a great selection of items. I love that it's a free service with my Prime membership. I've ordered all kinds of things and they're all delivered within 2 hours. Today I ordered groceries! So awesome. I especially love that Amazon lets me know where my order is, who's delivering it and lets me track the order process.
Terrible selection
It is too soon for Amazon to launch this service. Selection is extremely limited. Tried search 10 different items and nothing comes up in search. Also the search algorithm used is horrendous. Often it gives me irrelevant results. Not very happy. Maybe need to wait a year while this expands.
Delivery is ALWAYS at the end of window
The selection adds a lot to be desired, but it does a good job for last minute shopping. The problem with the service is they give me a 2 hour window, and it's ALWAYS delivered in the last 10-15 minutes of that window. Heading home quickly, and eagerly awaiting an order for an hour and 45 minutes every single time only to have it show up right before the end is a little annoying when I didn't have to rush home at all. If it's that slammed, get more drivers. Another extremely annoying thing about the app is they do not default your gift card balance for an order. You have to manually select it every time, or you will be charged to your CC, with no way of editing it after the order is placed.
Avoid and go to the Store
I've been using this service since moving to the area Dallas 6 months ago. It started off being great but has progressively gotten worse. The bigger Amazon gets the worse the service becomes. The past 3 times I've ordered groceries, the deliveries have happened 30 minutes after the 2 hour window. Anytime the free delivery is offered when you hit the dollar amount to qualify, the service goes out the window. Items arrive thawed out and like they've been in a hot box for multiple hours. After using this 10 or so times, I will be discontinuing using this monopoly.
Amazon restaurant is extremely terrible
Howardfreedom
on
7/29/2017
Recently I ordered 3 times from amazon restaurant. One time wait 80mins with nothing because they cancel the order but only get $10 credit. No contact from customer with 80 mins wait. One time took 120 mins to deliver. One is deliver the different foods. Recommend to use the app Caviar to deliver food.
Good selection of restaurants tech inadequate
I like the restaurant selection in San Diego. There are many restaurants that aren't on other services. The problem with ordering is you can't see how long the order will take before you order (or if you can it's not very apparent to the user). Today I ordered and found out it would be an hour and a half. If I had known I never would have placed the order. Now I have cranky hungry people at home mad at me. Everyone else makes that part easy Amazon, why not you?
You had one job
First time using this service. Ordered 24 items and 10 essential items were missing. They had to issue a refund on the missing items. Should have just packed the kids in the car and shopped for groceries myself. Won't be using this service again.
Unable to deliver
First order tried to place, I was told one item had to be returned because it contained alcohol -- it was La Croix water. Then when I found one they would deliver, everything was okay, I was told it would arrive soon. Then 20 minutes after I was notified my order would arrive soon, I was sent another notification that my order was unable to be delivered without a clear reason why. The details about why it couldn't be delivered are supposed to be sent to me in 24 hours with a full refund. This app was a waste of time. I had to reach a $30 minimum (which took time to figure out to follow their guidelines) and then nothing. I may try again but with the time spent, I could have ran to the store myself.
No chocolove
wannabefan999
on
7/19/2017
i can't order what I can buy walking in to Sprouts. Guess I still have to walk...
Great!
I'm a woman on the go with 2 kids, and sometimes I forget to run to the grocery store after work because I'm constantly running other errands. This app helps me out a lot! I love it, they deliver fast, and the store options are great! I would give it 5 stars but sometimes they don't have what I want.
Unreliable Contract Drivers
So it's just me
on
7/13/2017
I've been pretty happy with Amazon Prime Now, especially when I'm deadbeat tired from a long day at work and I want some simple groceries. Today was a huge disappointment from an extremely high valued company like Amazon. I was tracking the delivery like I always do and then I received an alert that read, unable to deliver. I'm always home when I order and always tracking so I don't miss them. Come to find out the drivers are not employed by Amazon. They are independent contractors like say Uber. From what was explained to me. To me.... that's a huge risk. I couldn't talk to anyone like their manager because they have no manager. They are their own boss per say. So this means I can't 100% rely on them to come through on delivering an order as what is promoted/ promised. I have to wait days for my refund. I hate that part of the process but yeah I'm glad it's refunded. Now I'm hesitant to use Prime Now even though I've purchased a year membership from them. I understand the concept for the company to save expenses on leasing vehicles and insurances etc but how will they hold the contract driver liable for not delivering??
Never has anything I need. Waste of time
If you need medicine, toiletries, or other sudden items, look elsewhere. Amazon Prime has an amazing selection while Prime Now has much less than your local Target. Do not waste your time. It will be unavailable if listed and not there if you need a particular brand of medicine. They stock next to nothing. It is amazing how little there is to choose from in major cities. Waste of time.
No iPad version
'Nuff said. Good service though.
Vendors won't load
First tap was on Sprouts. Wouldn't load. App is generally slow. I love Amazon, but this app needs work.
Excellent service
Polite delivery people, on time and no problems after several orders. I check the button that prevents substitutions, so if they don't have my exact product, they just leave it out rather than substituting another product. They communicate with me on the iPhone texting and I can watch on the map exactly where the driver is. Excellent Prime feature!!
After hours of waiting
Cute face Jas
on
7/9/2017
My delivery said it was delivered but it was never delivered and all they could offer me is a refund and told me that I have to re-order my purchase again and wait for hours and hours again for something that might not even show up. They should have a way to contact the driver or contact the facility to check to see what happened?
Don't bother
Thanatossassin
on
7/9/2017
Don't bother with Prime now. If the driver calls and you don't answer right away, your order is cancelled. Useless trash, stick with regular Prime.
Useless
Selected the slowest delivery in the amazon app three times, so supposedly I should have gotten $15 credit in this thing right? Nope, not there, so deleting the app. Really, I'd love to use the slow delivery speed in exchange for something useful. Not a pantry credit, not a phantom prime credit. Just discount a dollar or two from the purchase, enough of these dances!
Terrible System and Support
Dfnskqps dbsn
on
7/7/2017
My mother sent me a gift from Amazon and the courier called me. When my phone disconnected I had to download the app in order to call him back. When I went through all the steps to call the courier there were no orders shown on the screen. Then I called customer service, and they advised in the 10 minutes I had jumped through all of their hoops just to get someone on the phone the package had been marked "undeliverable". So they were refunding the money and I had the option to order again. Even though their courier was no more than 10 minutes away I have to jump through all these hoops. When I called my mother to let her know she was crying and upset because she's been unable to get anyone on the phone. Very disappointed by the service. Next time you want to be treated like crap just go down to Wal Mart. Same service, more convenient location.
Love!
Slightly obsessed (not because I'm that lazy, well...moreso because it really is a lifesaver.) App functions smoothly, deliveries are reliable, prices comparable and oftentimes lower than B&M stores. I also like the reduction in shipping box waste from regular prime.
Do not buy
Apparently I bought this app put in my zip code and it simply says we are not delivering to your area yet. Oh ok great thanks. Waste of money
Amazing
The guy delivered all of my heavy grocery items right to my front door on the third floor and on the 4th of July holiday! Amazing service :)
Can't Get Past Logon
JaredFromSanAngelo
on
7/3/2017
I can't get past the login screen. Get stuck at the "captcha". Tried around 10 times, gave up, then uninstalled. No way to get help.
Don't waste your time
This app will charge you $5 extra for the prime 2 hour delivery + $5 on top of that as a tip! So whatever you order will cost you $10 extra to receive even though we all pay $100+ a year for the prime membership anyways. Ridiculous
Has good and bad points
pluckmynerves
on
7/2/2017
It's great to be able to order staples and have them delivered to my front door. Most drivers are pleasant; some aren't and have a difficult time communicating. Automated customer service handles problems with orders quickly. The restaurants portion is hit or miss. Often, menu items are limited compared to other delivery services, and that includes options for each menu item. Occasionally, the app locks up and crashes. It's a average app for a company that prides itself on its use of technology, and fair features.
Awful!
If I could give it a zero star I would. This is the third order and EVERY single amazon prime now grocery order has been wrong! You wait your two hour window and then you will get someone else's order! You call customer service and they say "sorry, but we can't redeliver until they tomorrow", leaving you to sit for another 2 hour window and then to give you the wrong order AGAIN!!! Waste of time! Use another home delivery service, but do not use Amazon! Awful customer service!
Maybe if I could use it...
Thought I would try the app instead of using the website, but after a dozen tries I cannot get the captcha challenge correct and the audio version refuses to load.
Security characters error
No matter how many times I try I can get past the enter the characters security page at log in. And the audio version to hear the characters doesn't work.
Weekly satisfied customer for at least 7 months
I wanted to share my good experiences. I order $110 in groceries every week. There have been some minor snafus, but they are always adjusted by Amazon. I email or call customer service from the app and within 1 1/2 hours, usually much less, a service rep either calls me or emails me with the solution. I look for deals - wish those were advertised more! This service is much better than the other one, where if they don't have an item they immediately upsell you, and to be honest WF market is already too expensive. Sprouts doesn't do that. I appreciate you can buy bulk, and their organic are awesome. I used the restaurant app two times, for my mom as a surprise and for my fiancé when I was detained in an emergency and wanted him to have something good. Both were very happy customers. Please give this a try and with time you will get a rhythm with how they work. Like, I'm far away from Sprouts so usually mine is almost the last order, but I've learned to deal with that and plan accordingly. Also, if there is one thing I really must have or I'd rather cancel the order, I txt the shopper right away and ask if it's in stock. Also, when I order from the Amazon prime app, usually everything is perfect. They keep great stock of inventory, and package things very well. Always have had great friendly people on the other side. Please keep this service going, I love it!!!!
Don't use for restaurant ordering
Decent app UX, but terrible process execution and customer experience once the order is placed. This is for restaurant ordering specifically. I placed an order and was given a deliver window of 30-60. After 90 minutes and no delivery, I called customer service. After a 10 minute hold, I spoke with a very sweet woman who had no answers. The entire call duration was 19 minutes, but a call back from the CSR was required after she called her support team (they're not allowed to talk with drivers or restaurants directly, which clearly impedes their ability to deliver quality customer service). After over 100 minutes of waiting for my food delivery, amazon canceled my order. I contacted the restaurant, and they prepared it, but no amazon driver arrived. Thus, the restaurant is out the food and labor cost, I wasted over 100 minutes, the poor CSR had no information, and all participated an avoidable poor customer experience. Prime Now is dramatically inferior to amazon's other products, and dilutes their brand. Don't install - you will be disappointed as it doesn't come close to delivering on amazon's customer or brand promise.
Wth happened to my order!?!?!?
Ordered 5 items on Amazon prime now. Received a notice that my items were unable to be shipped to my address. Ok, that's fine, but why?? I did not receive a phone call or any other information. Noted to leave items at front door. Even still, I am at home. I have no way of getting in contact with them either, so a review it is.
Really Bad Experience
KevinChang54321
on
6/20/2017
I've used it a couple times without problem. Then the shitstorm hits. I placed an order and when it says delivered, it wasn't. Then they were kind enough to refund me and gave me $10 credit. So I used that credit and immediately ordered again. Awesome. Same thing happened again. I spent 4 hours waiting for each order and I got nothing in the end. Top notch service quality.
Restaurant Feature Is Total Garbage
I love Amazon Prime however their Prime Now Feature for Restaurant delivery is HORRIBLE!!! Their drivers are pretty inept and the GPS doesn't work (what did people do before GPS good grief??). Their drivers don't know areas well at all, before GPS people figured this stuff out somehow. Bad service and now I have a credit that I can't use because I refuse to order from Prime Now in the future. Yuck!!! Oh well I guess they couldn't be perfect at everything.
Thumbs down
Have been using prime now for over a year and was so happy with it. Now Amazon wants to charge a delivery fee of 2.99, plus tip. Nope not worth the money.
Third party is tarnishing Amazon's amazing rep
I have ordered four times thru prime now. Two orders came with the wrong item/size. I notified amazon and they gave me 30 dollar credit, which I'm grateful for. The third party delivery people could be rude and don't give a s f g t. If you know what I mean. Overall very convenient and deserves a five star if it wasn't for the third party a holes. Amazon needs to seriously think about this and rectify this issue before we all get tired of it.
Good app
Dyllywilly00000
on
6/16/2017
No problems at all. Super convenient
Don't bother with restaurants
They cancelled my order an hour after placing it on two separate occasions. Don't waste your time with Amazon food delivery. I've had issues with Postmates too so my advice is go with UberEATS.
Love it
I don't see any of the issues in previous reviews. They must've worked through some of those issues. Anyway, I needed groceries today, so I added things to my cart (all of which were available and clearly labeled with price), logged in with my prime account, and Sprouts delivered to me in 2 hours. Amazing.
Price more expensive than Amazon
I would not use Prime Now because of the below drawbacks: - Price is way more expensive than regular Amazon. People can wait a day or 2 saving an average of 30%. - $5 Tip is automatically added? Come on the price is already 30% more than on Amazon, plus tax and tips that becomes ridiculously expensive. I'm sure other competitors can do better. The tip should have different buttons where you can click on suggesting the percentage of tips and not add $5 by default.
Works well
SuperHappyUser2016
on
6/12/2017
I have been able to use this app without any problems. I placed an order and received it in under two hours.
Expensive
Double to triple the price of shopping in store on most items I saw.
Stupid and waste of time
Gary in Colorado
on
6/11/2017
Zero stars
Great app
Deliveries are one time and very reliable
Fact Sheet
Publisher:

AMZN Mobile LLC

Category:

Shopping

Released:

Dec 17, 2014

Current Version Released:

Aug 15, 2017

Version:

4.1.1

Size:

49 MB

Compatibility:

Requires iOS 9.0 or later.

Recommended Age:

4+

Game Center Certified:

No

Supported Devices:

iPad2Wifi-iPad2Wifi, iPad23G-iPad23G, iPhone4S-iPhone4S, iPadThirdGen-iPadThirdGen, iPadThirdGen4G-iPadThirdGen4G, iPhone5-iPhone5, iPodTouchFifthGen-iPodTouchFifthGen, iPadFourthGen-iPadFourthGen, iPadFourthGen4G-iPadFourthGen4G, iPadMini-iPadMini, iPadMini4G-iPadMini4G, iPhone5c-iPhone5c, iPhone5s-iPhone5s, iPadAir-iPadAir, iPadAirCellular-iPadAirCellular, iPadMiniRetina-iPadMiniRetina, iPadMiniRetinaCellular-iPadMiniRetinaCellular, iPhone6-iPhone6, iPhone6Plus-iPhone6Plus, iPadAir2-iPadAir2, iPadAir2Cellular-iPadAir2Cellular, iPadMini3-iPadMini3, iPadMini3Cellular-iPadMini3Cellular, iPodTouchSixthGen-iPodTouchSixthGen, iPhone6s-iPhone6s, iPhone6sPlus-iPhone6sPlus, iPadMini4-iPadMini4, iPadMini4Cellular-iPadMini4Cellular, iPadPro-iPadPro, iPadProCellular-iPadProCellular, iPadPro97-iPadPro97, iPadPro97Cellular-iPadPro97Cellular, iPhoneSE-iPhoneSE, iPhone7-iPhone7, iPhone7Plus-iPhone7Plus, iPad611-iPad611, iPad612-iPad612, iPad71-iPad71, iPad72-iPad72, iPad73-iPad73, iPad74-iPad74,

Supported Languages:

English;