Screenshots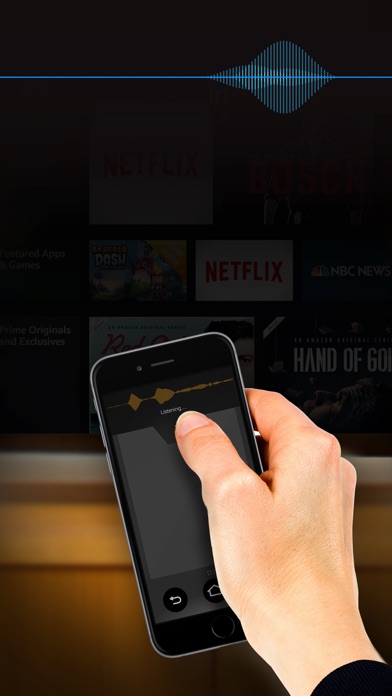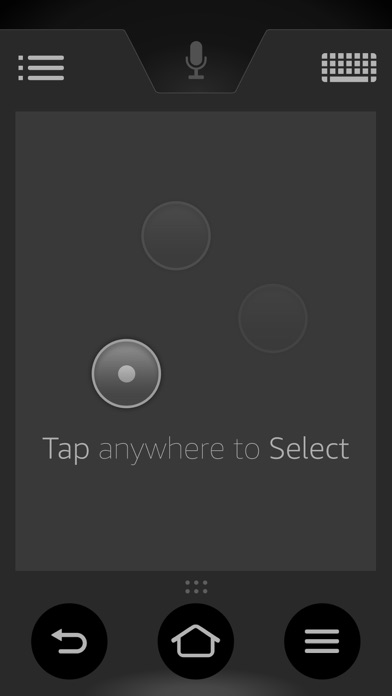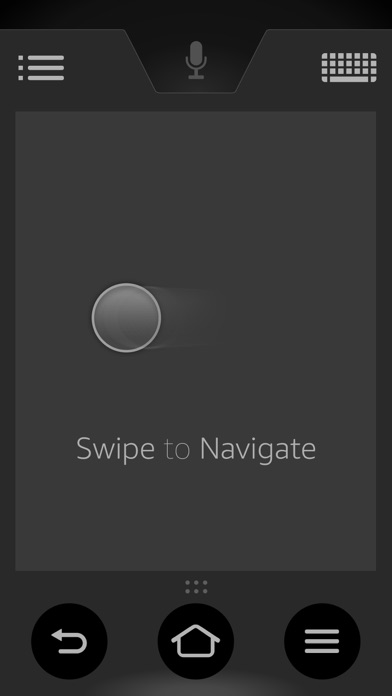 New in version 1.0.15
Adds support for Amazon Fire TV Edition
Description
The Fire TV Remote App enhances the Fire TV experience with simple navigation, a keyboard for easy text entry (no more hunting and pecking), quick access to your apps and games, plus voice search. Voice search is powered by the same voice search engine as Amazon Fire TV and supports the entirety of Fire TV's integrated video, app and game catalogue. Note that voice search does not work directly inside individual applications such as Netflix.

Features:
• Voice Search
• Simple Navigation
• Playback Controls
• Keyboard for simple text entry
• Quick access to your apps and games

Compatibility:
• Multicast-enabled router required
• Designed for simple navigation and playback control of Fire TV and Fire TV Stick
• For gameplay, use the remote included with your Fire TV or the optional Amazon Fire TV Game Controller
iPad Screenshots
Reviews
Totally useless.
joshua87901
on
10/18/2017
I cannot even use it for it's main function which is: connect to my fire TV. It will never connect and it seems to be the case for running on the iOS version. Such a joke, much like the platform it uses.
The original remote stopped working
So I got the app which worked for a couple of days. And now it won't let me navigate left/right or up/down. So frustrating. However, when I contacted Amazon they sent me a new remote. But I still can't watch any shows for a couple more days.
Nice!
Lost the remote a few days and tried to order another one. It said it would take 1-3 months to ship. So I decided to download the remote app which is just like the real remote. Easy to use and manage!
Works fine on my Droid but iPhone can not connect...
Adam N. Carter
on
10/17/2017
I downloaded this app because I hate having to type things out manually with the remote control, and I thought great this might be like how the Apple TV remote app works, I was wrong. I have this fire stick that afraid left at my house and I try to return it and they said that I could have it so I was playing around with it and was able to connect with it initially, but then had issues reconnecting. So I tried resetting my phone resetting the fire stick, I ultimately ended up factory resetting the fire stick and as of writing this review it still does not work on my iPhone. Amazon, I know you can do better I have the android version and it works fine. But I freaking hate my android phone so please fix this app!!!
Ok app
Don't get until they fix it
on
10/16/2017
Easier to use than the remote that comes with the fire tv or stick. Using the keyboard on your phone or tablet is so much better than using the remote. The biggest issue is that the app loses connectivity other the stick a lot. Sometimes it won't reconnect. It can be a nuisance. Overall, good app, just fix it...
Not working
Not connecting no matter what you turn off or reset. FIX!
App isn't working anymore
I used to use the app and it would always connect to my firestick. The past 2 weeks the app won't connect to my firestick. I am using the same WiFi on my phone and on the firestick. I even restarted the device, restarted my phone, deleted and reinstalled the remote app to no avail. It was useful before but now I'm just gonna delete it 🙄
Never wants to connect
Idgivelessstarsificould
on
10/15/2017
I didn't plan on ever writing a review, till the app actually asked me to... Hasn't it heard me talking crap? Telling it was a POS it is when it won't connect and my kid is having a fit about wanting to watch curious george? This app has shown me a level of furious I never thought I'd reach. I'm keeping it tho cuz that remote is long gone and I have no other choice. Just wanted y'all to be aware that anger management classes may be in your future.
Awesome!
My dog ate my firestick remote and I thought I was screwed! I downloaded this app and I got my firestick back!!!!!
Awesome when it works
Jackofalltrades female
on
10/15/2017
It works better than the original remote when it actually connects. However 9/10 times it says cannot connect. I usually have to restart my phone or sign out and sign back in.
Worst EVER
This thing is always "connecting" it's so annoying. Never works right.
Barely functional
I never write reviews but for the past couple months we've been using the app because the remote was lost. Unfortunately everyone in the house with the app on an iPhone lost the ability to control the app. Currently the app will only work on an LG. We've tried everything. The fire stick and tv work fine. But no iPhone will pair with the tv anymore. Needs work.
It's garbage
Billy bighorn
on
10/14/2017
It never loads, takes forever to activate and is more frustrating than enjoyable. Seek other options!
Not working since updated to IOS 11.0.3
Sondy Danger
on
10/14/2017
It haven't work on my wife phone's and mine as well. It used to work fine but Amazon need to release an update to fix the issue. It just won't connect to the FireStick.
How the heck do you zoom out?
Badger Nuts
on
10/14/2017
The fire stick magically zoomed in AGAIN! However, this time around I have only my app to use as the remote. Can't zoom out now. Super stupid.
Connection problems
Appreciated;)
on
10/13/2017
Works great when you connect you can cycle through apps quick but it never connects
Won't even let me try it out
Nenhhdvsfvthy
on
10/13/2017
It won't even let me sign in my amazon account to even get started.
I love this
Is super great
The app is horrible
This remote app is absolutely horrible. Half the time I need to restart everything to get it to reconnect. They have the ability to design a decent app, they just prefer to make you buy a remote.
Inoperable
The "Sign In" button at the bottom of the app doesn't work.
Fix connecting issue
Sometimes it connects, sometimes it doesn't. Probably would b a good idea to replace your remote instead of using this frustrating app.
Connectivity Issues
Fix the connectivity problems and I'll give it 5 stars. Remote is awesome, but it will disconnect within 2 minutes of being connected, won't connect, etc. Have to eventually restart Fire to reconnect.
Works well...when it works
It'd be nice if the app consistently worked. Sometimes it connects and sometimes it doesn't
Have to stay in app to use
Would be great except for the part I have to stay in the app. If you get a text. A phone call. Or simply don't want to drain your battery. You're stuck in the app. The moment you leave the app whatever you are watching stops. 😐. Where is the sense in that?
Good, but...
Really Good! But...
on
10/10/2017
This is really good! My firestick stopped working so I downloaded this app and it works! Theres only been about two times out of five months that it wouldn't connect, but other then that i love it!
Not intuitive
Kateatecake
on
10/10/2017
The swipe directions are backwards of where you think you are swiping. The navigation format isn't intuitive.
Fix it now
It only works when it wants to
Life saver?
Blessed hand
on
10/10/2017
Right after I gave 5 stars, the app started to cut off completely, sometimes couldn't even connect to the fire stick.
Works but not all the time
Sometimes it works, majority of the time it doesn't. If the app dose not connect, then you must unplug the fire stick from the power source. That fixes the problem majority of the time.
Garbage app now: 0 stars
It stopped working after latest Firestick update.
Needs a update or something
It NEVER wants to stay connected. When it finally does it's only for a couple of min. So frustrating!
Ok
Abottom241985
on
10/8/2017
Ok
Doesn't stay connected
Great idea but it doesn't stay connected. Super frustrating.
Doesn't work at all
SoulSinger1981
on
10/7/2017
Can't even click to sign in. Annoying.
Never got it to work
Jimmiesports
on
10/7/2017
Sounds great, but after going through all troubleshooting options I never did get the remote app to work on my phone.
Stopped working
This app was clutch when I first lost my remote. Now it crashes constantly and most of the time will not even open on iOS. Amazon is no help either. So much for customer service one star... should be zero
Remote app
How are you supposed to work this mess it doesn't allow me to scroll up or down right or left
Navigation needs work, but a must have
The app is CRITICAL for rebooting the remote which sometimes locks up (not sure why). It takes awhile to get used to the navigation which is kinda elegant and cool but not so functional. There are good YouTube videos on how to use.
Amazing !!!
Shawna Nikole
on
10/7/2017
Love it!!
Awesome
I love the fire TV love how it functions and everything
Awesome
Lost my remote. This works perfectly
Firestick
Starting not to work as well
No issues
Works perfectly!
Stinks
Don't waste your time. Rarely connects. Had to remove app 3 times in 1 day to get it to work. Complete junk!!
Good remote
Lost the remote that came with my firestick. This works great!!
One of my favorite apps
I always lose my remote and for the longest time I just dealt with losing my mind several times a week trying to look for it. Anyways, I never thought to look for an app until the other day and I use it on my iPad and that's pretty hard to lose. Haven't had a problems yet and easy to use.
Must-have app for all the iPhones & iPads in the house!
Our FireTV is great, but the remote appears to have been designed for the express purpose of getting lost. I installed this remote on all the iPhones in our house, and now whenever the fireTV remote disappears into a sofa cushion, we just grab the nearest phone and we're back in business. I love the "swipe" capability of this app. It allows us to work the remote without looking at it. My one request for improvement would be to make the remote work better on an iPad in landscape mode.
Can't navigate away from app
Level180crash
on
10/4/2017
The app works great until I try to use my phone for something else. After pressing play using the app, if I navigate away from the app on my phone, the show I'm watching stops playing. It's like the fire stick thinks I hit the back button.
Love the Firestick!
I had Roku before & the firestick is so much better!
Fact Sheet
Publisher:

AMZN Mobile LLC

Category:

Utilities

Released:

Dec 23, 2014

Current Version Released:

Jun 21, 2017

Version:

1.0.15

Size:

32.6 MB

Compatibility:

Requires iOS 7.0 or later.

Recommended Age:

4+

Game Center Certified:

No

Supported Devices:

iPhone4-iPhone4, iPad2Wifi-iPad2Wifi, iPad23G-iPad23G, iPhone4S-iPhone4S, iPadThirdGen-iPadThirdGen, iPadThirdGen4G-iPadThirdGen4G, iPhone5-iPhone5, iPodTouchFifthGen-iPodTouchFifthGen, iPadFourthGen-iPadFourthGen, iPadFourthGen4G-iPadFourthGen4G, iPadMini-iPadMini, iPadMini4G-iPadMini4G, iPhone5c-iPhone5c, iPhone5s-iPhone5s, iPadAir-iPadAir, iPadAirCellular-iPadAirCellular, iPadMiniRetina-iPadMiniRetina, iPadMiniRetinaCellular-iPadMiniRetinaCellular, iPhone6-iPhone6, iPhone6Plus-iPhone6Plus, iPadAir2-iPadAir2, iPadAir2Cellular-iPadAir2Cellular, iPadMini3-iPadMini3, iPadMini3Cellular-iPadMini3Cellular, iPodTouchSixthGen-iPodTouchSixthGen, iPhone6s-iPhone6s, iPhone6sPlus-iPhone6sPlus, iPadMini4-iPadMini4, iPadMini4Cellular-iPadMini4Cellular, iPadPro-iPadPro, iPadProCellular-iPadProCellular, iPadPro97-iPadPro97, iPadPro97Cellular-iPadPro97Cellular, iPhoneSE-iPhoneSE, iPhone7-iPhone7, iPhone7Plus-iPhone7Plus, iPad611-iPad611, iPad612-iPad612, iPad71-iPad71, iPad72-iPad72, iPad73-iPad73, iPad74-iPad74, iPhone8-iPhone8, iPhone8Plus-iPhone8Plus, iPhoneX-iPhoneX,

Supported Languages:

English; German; Japanese;