Screenshots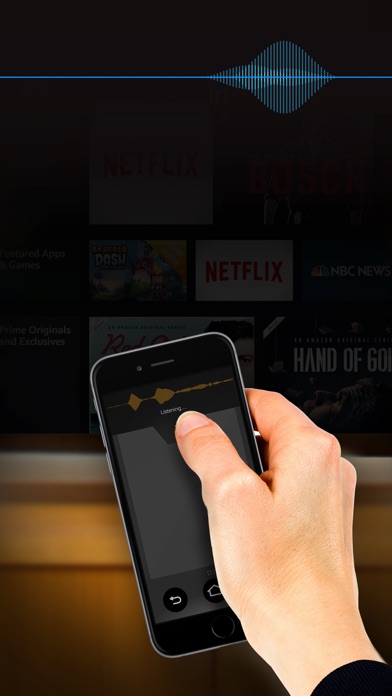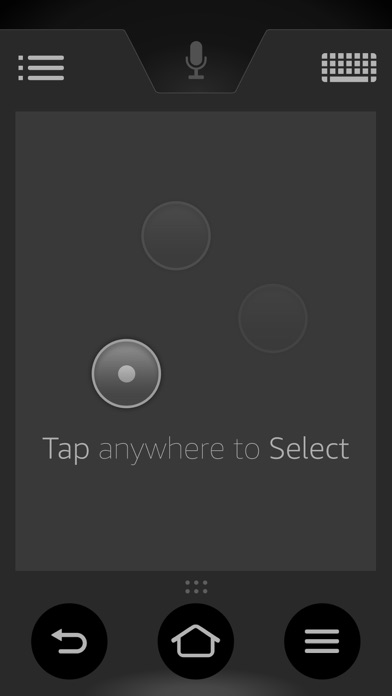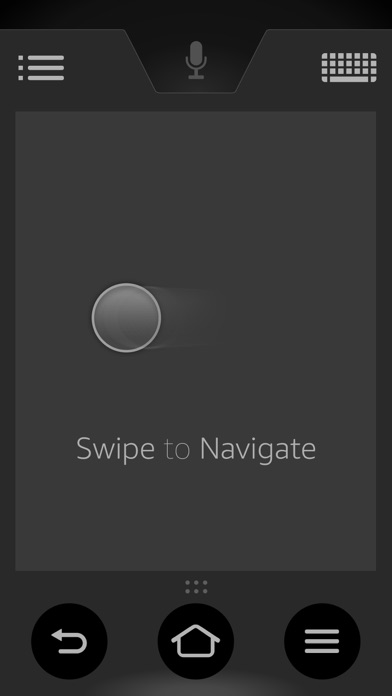 New in version 1.0.16
• Adds support for French, Spanish, Italian, and Portuguese
• Bug fixes and performance improvements
Description
The Fire TV Remote App enhances the Fire TV experience with simple navigation, a keyboard for easy text entry (no more hunting and pecking), quick access to your apps and games, plus voice search. Voice search is powered by the same voice search engine as Amazon Fire TV and supports the entirety of Fire TV's integrated video, app and game catalogue. Note that voice search does not work directly inside individual applications such as Netflix.

Features:
• Voice Search
• Simple Navigation
• Playback Controls
• Keyboard for simple text entry
• Quick access to your apps and games

Compatibility:
• Multicast-enabled router required
• Designed for simple navigation and playback control of Fire TV and Fire TV Stick
• For gameplay, use the remote included with your Fire TV or the optional Amazon Fire TV Game Controller
iPad Screenshots
Reviews
Convenient!
Beachluver6798
on
12/11/2017
With the fire stick remote being so small & me having a 2 year old who loves to hide things, having this app is super convenient when I don't feel like looking for the remote!
Terrible connection
Every time you click your phone to sleep, or switch to a different app, the remote automatically disconnects and takes forever to reconnect. Terrible terrible terrible.
Amazon fire TV
ShakespeareGuy
on
12/10/2017
Works great right out of the box!!!
Not working
caramelmelanin
on
12/9/2017
This remote app only connects when it feels like it. The connection comes and goes
Hate to block YouTube
I'm rating one star to lower the score to contest the blockage of YouTube in the beginning of 2018
NOT WORKING
Idk what's up with the app but for the past month it hasn't been working!! I've been using it for a long time and it use to work just fine. Even when I sign in I won't work.
Simplicity vs. Natural Impluse
Boybarbiejarbie
on
12/7/2017
The app itself was a little odd getting around to it initially but, I must say I do find it rather "Revolutionary". You see I'm not a real tech- hip like most young 30 year olds my age. I known I gotta get with the program and honestly this app has shown me that. Accessing all of what you need whether you can find the remote or just want to pick up your iPad and or iPhone!!! I am satisfied and ecstatic an app can make me feel comfortable!!!
Rating
3 Stars because you're getting rid of YouTube the app itself is 4-4.5 stars! Stop beefing with Google, Bezos!!
Rubish
The remote stops working then there's this amazing app and it decides it doesn't always work. So annoying!! Fix it please!
Can we get an iPhone X update?
App works great for what it's supposed to do. Just would like to see an iPhone X update.
Fire stick app
I've had the app for a good while now only because my remote broke, but it stopped connecting to my fire stick & now wont work at all.
Outstanding
Put the fire stick in the back of my amp and listen to it all day. SWEET!
Great except for the time-consuming disconnects
I use it daily because our remote was lost long ago. The app is great when I'm interacting with it, but if I put my iPhone aside or spend time using another iPhone app while watching, the FireTV app soon disconnects. When I switch back to the app, it can take a long time to reconnect, and frequently it just can't unless I restart the app. I wish the app would stay connected for as long as the iPhone and FireStick are still able to communicate on the local WiFi network. If that's too much to ask, then at least it shouldn't disconnect when the FireStick is actively streaming content.
Thank Goodness!
My Amazon remote unfortunately found itself in the washer (whoops) and I was left SOL. Or so I thought. After searching for replacement remotes on Amazon and seeing that they can take three months to arrive I decided to turn to Dr. Google. I saw this app and decided to download it not expecting much. I was wrong!! It connected easily and gets the job done. Phew. Bullet dodged.
Better find the real remote
Find my self constantly resetting app and in plugging fire stick cause it constantly can't find the fire stick on app
Major bug.
do not follow
on
12/3/2017
While using the remote app, Any time I turn my phone off or if the phone falls asleep, the fire tv app restarts And I'm unable to continue my video or movie. This app is pretty useless to me.
Used to work
Used to work with my fire tv 4K now since the update when ever my iPhone goes into sleep or I switch apps on my phone from the fire tv remote app it closes the application on the fire tv. For example If I am watching a movie and using my phone as the remote when I switch or lock my phone it logs me out of the movie on my TV please fix
FIX HBO NOW
When I navigate to HBO Now using the iPhone remote, then go home on my iPhone, HBO Now on the Fire TV shuts off. It's as if pressing the home button on my iPhone tells Fire TV to close that app. Have read this is other reviews, not just me
Jab 😃😃😃😃
love GOD😘 and Maliki
on
12/3/2017
It is a really good app it just glitches sometimes but other glitch it's really good and I think a lot of people should use it for their TVs because it's a great remote for your TV just in case you lose your TV and also it's great for what you do it's great for everything you do because you can watch TV and if you go to Roku and if you go to Roku you get to look up anything you want to like anything and you get everything .everything is already really cool you should get it
Works great
Lost my remote and this app saves the day, keeps my kids from driving me insane and trying to find out how to get a replacement remote is no longer needed since this app takes care of everything I need! Ty development team.
Very Intuitive
Strongejack5225
on
12/2/2017
I'm often misplacing the remote control but I don't need it because I have my phone and this app does the job just as well. It's very intuitive and easy to use.
Doesn't work
Stteephhannie
on
12/2/2017
I really liked the app but it no longer works on my iPhone .
Horrible connection
Ashleykeywest
on
12/2/2017
It disconnects frequently and it takes forever to reconnect. I have to close the app and reopen it numerous times for it to work. It finds my fire stick immediately, but the connection is where to problem occurs.
*****Suggestion*****
For my part I do like the fire tv stick I do enjoy it so well. But my suggestion would be why do you guys did not think about to make the navigation track on the fire tv stick remote control use as well as a volume device to increase and decrease the volume to the tv that would be so useful and interesting . Specially Would make as a touch volume pad similar as the iPod touch volume pad . Thank you for ready my concern
Save yourself the trouble and buy a remote
MachinGunAuggy
on
11/30/2017
It connects when it wants. The majority of the time it lags. Response time is horrible. App will get stuck and just say it can't connect to the firestick. It's ridiculous.
Great with me!
mommypeanut
on
11/30/2017
So I have my fire stick for about a year now and my remote stopped working couple weeks ago. It said the batteries were low so I switched some new batteries in there and my remote stick still didn't work. I WAS going to buy a new stick until I just searched this app. It honestly works so great! I had no problems with it, but it does take a while to reconnect but it's not that bad of a wait. The way how it's designed like the actual remotes is amazing. The swipe works the same direction.
Great
Works great I have had no problems with this app.
Never works
TheComedian12
on
11/30/2017
It never works
Updates
I use to rate this app at a 1 but since the update it's much much much better good job
Blah🤬
All I want is for the app to work. We misplaced our remote so we went to this app. The seems to not work more than it works. In between waiting for it to find the fire stick and connect to it I'm usually seeing red by the time it chooses to connect. It for sure needs some bugs fixed. I would give -5 stars if possible.
WHEN It works it's good!
Works 50% of the time, says it's searching for the device most of the time.
Want FIOS back...
Frustrated MARVEL Fan
on
11/28/2017
I have the amazon fire stick and I absolutely hate it. I was forced to go to this and I have regretted it since day 1. No DVR capability, half the apps advertise one thing and don't deliver on it and it is just an overall disappointment.
Not intuitive
Trackpad interface is backwards. App constantly has to reconnect. Even the WDTV Remote app is better than this. It's a shame because the physical remote works so well, when it isn't lost inside the couch somewhere.
App needs improvement
My firestick remote stopped working after 6 months. Replaced the batteries, followed instructions on how to pair to no avail. Found this app and it worked fine for a bit however it continues having difficulty connecting to the Firestick. At first I thought it was my IPad however I downloaded the app to my phone and still having the same difficulty. As popular as this device is, I would have expected that significant improvements would have been mad e already however I see the remote issue is a common problem! Would not recommend this to a friend until the product improves.
Bad connection
dmartinez811
on
11/26/2017
I first discovered the app when a girl friend connected it to change what I was playing, I thought this could be handy! A few months after I got my fire stick the remote stopped working, I thought it was strange, changed the batteries but nothing. That's when I really started using the app. It worked great at first but as days went on it would take a long time to find and connect to the fire stick. I tried my controller again which magically worked again. About a year later my dog chewed the controller so only the up and left button worked as well as the other so I couldn't use it on the home screen since the down and right button didn't work. Again same problem with the app, it can connect right away at times. Sometimes I have to try and connect 3-5 times meaning closing and opening the app. Other than getting connected the app works great! I like the keyboard feature which didn't work for my iPhone 6s until the 11 generation update.
Muy bueno
cristhian613
on
11/26/2017
This app helped me a lot 👌
Please fix
I have 2 fire sticks and there is no option to switch between devices.
Great product
HansStuting
on
11/25/2017
Use it all the time. Love it
Works great!
I mostly use it for the keyboard but all the features are awesome
Works good until then
2BetheLight
on
11/25/2017
Continuously kicks me out to reconnect
Bad
emmycloud😂😝😎😎
on
11/25/2017
Worst app ever 😡😡😡😡
Loved at first... now I wish it worked all the time.
I loved this app when I first got it. However it seems to only work randomly... which is really annoying. I've tried everything... I basically a just hope it works any time I try to use it.
It's okayyy but needs some minor tweaks
EricKnowles
on
11/25/2017
I got this app to be an alternative for my fire stick remote, which I lose constantly because of its size. The app connects fairly fast enough though I wish it would remembered the last used device. Having to reconnect to the fire stick every time I reopen the app is little bit of a waste of time in my opinion. My other gripe is with the very nice touch pad of sorts. I wish the gestures were reversed. Currently to go right you have to stroke left to right versus right to left (similar to turning a page in book) which is far more of a natural gesture. If the option to customize these settings were available I think we'd be cooking with gas. Other than those two minor things I have no real issue with the app.
Good remote app
Sledgehammer32
on
11/25/2017
Works really well
Should be more like original remote
I don't like the touch screen on this app. Wish it was more like the original remote with up and down button and select. Something happened with the display of the screen and it is huge now. I can't adjust it back with this remote app. The only thing that I do like with this app is that it has a keyboard. That makes things easier when you are doing a lot of signing in and passwords.
Reconnecting nightmare
My remote for my fire stick died and I can't order one online because they are so expensive... so I downloaded this app... it's works sometimes but it always seems like at the most inopportune time it doesn't want to connect... either when it says "are you still watching" or when I need to pause it... I've tried to rewind before and it was pointless after it took soooo long to Connect. Think I'm going to have to break down and order the remote. Then I can delete this iffy app because it works less often than it doesn't.
Works Great
Bearhunter26739
on
11/24/2017
Works just as advertised
Really good but.....
Coraline 2004
on
11/24/2017
I really like this!!! but I think it would be cool if you almost made a feature that allowed this to have the gamers control as well!! Just a thought! 😝
Good replacement for real remote
We lost our fire TV remote. This got us by for a few days until the remote turned up in the kids' toybox. It disconnects pretty frequently. It just takes a second to reconnect. Mildly annoying but overall the app does everything you need to and saves you from buying a $20-30 replacement remote.
Fact Sheet
Publisher:

AMZN Mobile LLC

Category:

Utilities

Released:

Dec 23, 2014

Current Version Released:

Nov 07, 2017

Version:

1.0.16

Size:

26.8 MB

Compatibility:

Requires iOS 7.0 or later.

Recommended Age:

4+

Game Center Certified:

No

Supported Devices:

iPhone4-iPhone4, iPad2Wifi-iPad2Wifi, iPad23G-iPad23G, iPhone4S-iPhone4S, iPadThirdGen-iPadThirdGen, iPadThirdGen4G-iPadThirdGen4G, iPhone5-iPhone5, iPodTouchFifthGen-iPodTouchFifthGen, iPadFourthGen-iPadFourthGen, iPadFourthGen4G-iPadFourthGen4G, iPadMini-iPadMini, iPadMini4G-iPadMini4G, iPhone5c-iPhone5c, iPhone5s-iPhone5s, iPadAir-iPadAir, iPadAirCellular-iPadAirCellular, iPadMiniRetina-iPadMiniRetina, iPadMiniRetinaCellular-iPadMiniRetinaCellular, iPhone6-iPhone6, iPhone6Plus-iPhone6Plus, iPadAir2-iPadAir2, iPadAir2Cellular-iPadAir2Cellular, iPadMini3-iPadMini3, iPadMini3Cellular-iPadMini3Cellular, iPodTouchSixthGen-iPodTouchSixthGen, iPhone6s-iPhone6s, iPhone6sPlus-iPhone6sPlus, iPadMini4-iPadMini4, iPadMini4Cellular-iPadMini4Cellular, iPadPro-iPadPro, iPadProCellular-iPadProCellular, iPadPro97-iPadPro97, iPadPro97Cellular-iPadPro97Cellular, iPhoneSE-iPhoneSE, iPhone7-iPhone7, iPhone7Plus-iPhone7Plus, iPad611-iPad611, iPad612-iPad612, iPad71-iPad71, iPad72-iPad72, iPad73-iPad73, iPad74-iPad74, iPhone8-iPhone8, iPhone8Plus-iPhone8Plus, iPhoneX-iPhoneX,

Supported Languages:

English; French; German; Italian; Japanese; Portuguese; Spanish; Castilian;